Best Email Marketing Software in 2023 (Ranked & Reviewed)
Despite all the claims that email marketing is dead, this marketing channel is still going strong in 2023. However, if you're doing it wrong, you won't likely witness any promising results.
Email marketing is all about sending the right email to the right person at the right time. This means you need to segment your email list based on historical customer behavior and their stage in the customer journey.
With email marketing software, you can send bulk volumes of emails to specific audiences with minimal effort. In this guide, we'll help you pick the most suitable email marketing software for your business.
Quick Comparison
We have a free comparison tool to make it easy to see what software has the features you need.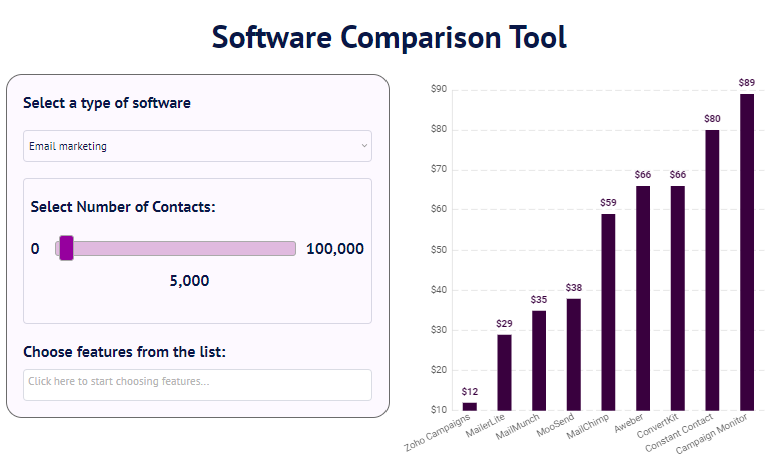 What Is the Best Email Marketing Software?
The best email marketing software solutions include Mailchimp, Zoho Campaigns, Aweber, MailMunch, and MailerLite. Now, let's break down what each tool can do: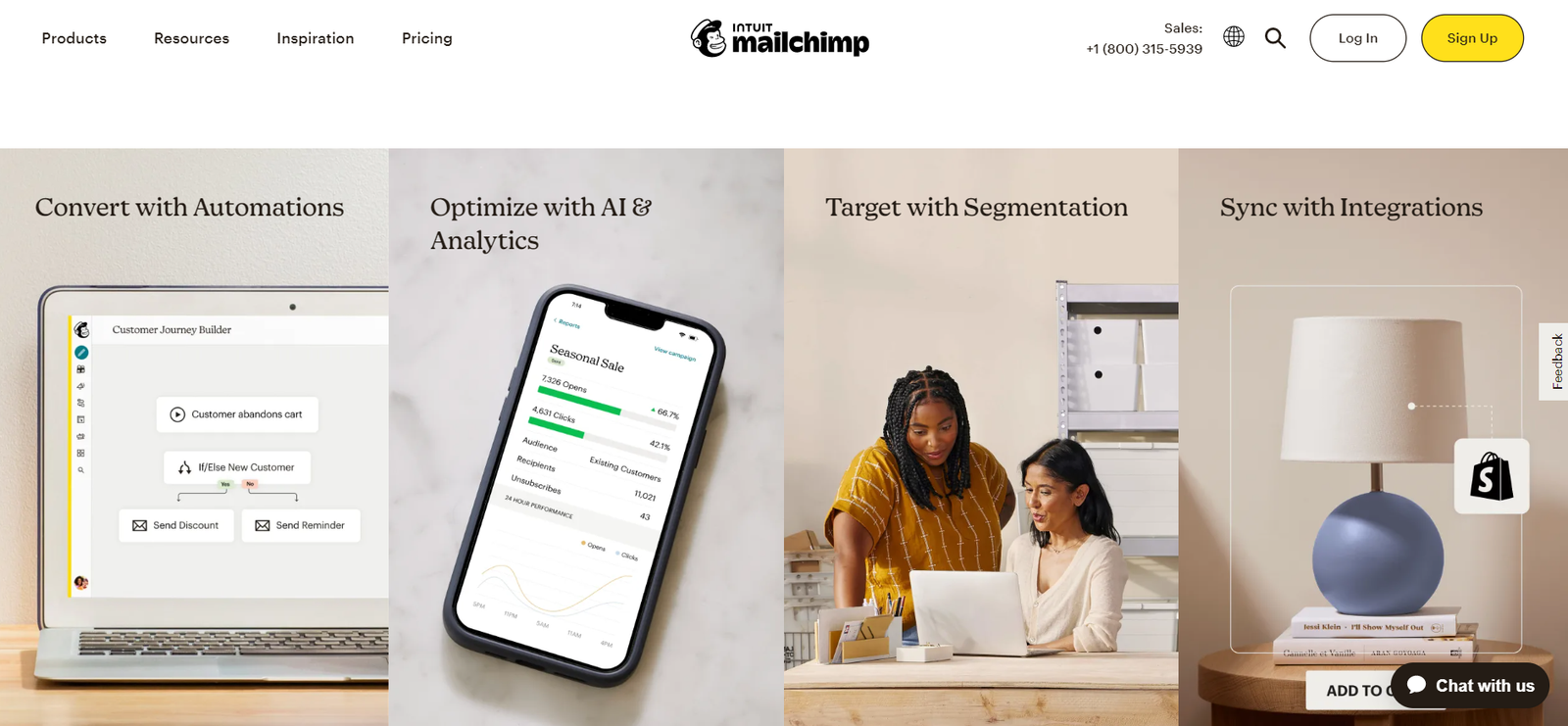 Overview
Mailchimp is one of the most popular email marketing automation tools. It lets you schedule campaigns, run A/B tests, and monitor and analyze your campaigns with in-depth reports and metrics. The software also has built-in forms, a landing page creator, and a website builder.
Highlights
Advanced polls: Create polls for your audience and get detailed results on a user level.

Free website builder: If you don't have a website for lead generation already, Mailchimp helps you build a website easily with a user-friendly drag-and-drop interface.

Email deliverability testing: Make sure that your emails won't end up trapped in spam filters with Mailchimp's powerful built-in email deliverability test.

Integrations: Mailchimp integrates with most major social media, CRM, and e-commerce platforms with APIs.

Appointment scheduling: Mailchimp enables you to schedule appointments with prospects and leads intuitively.
Pricing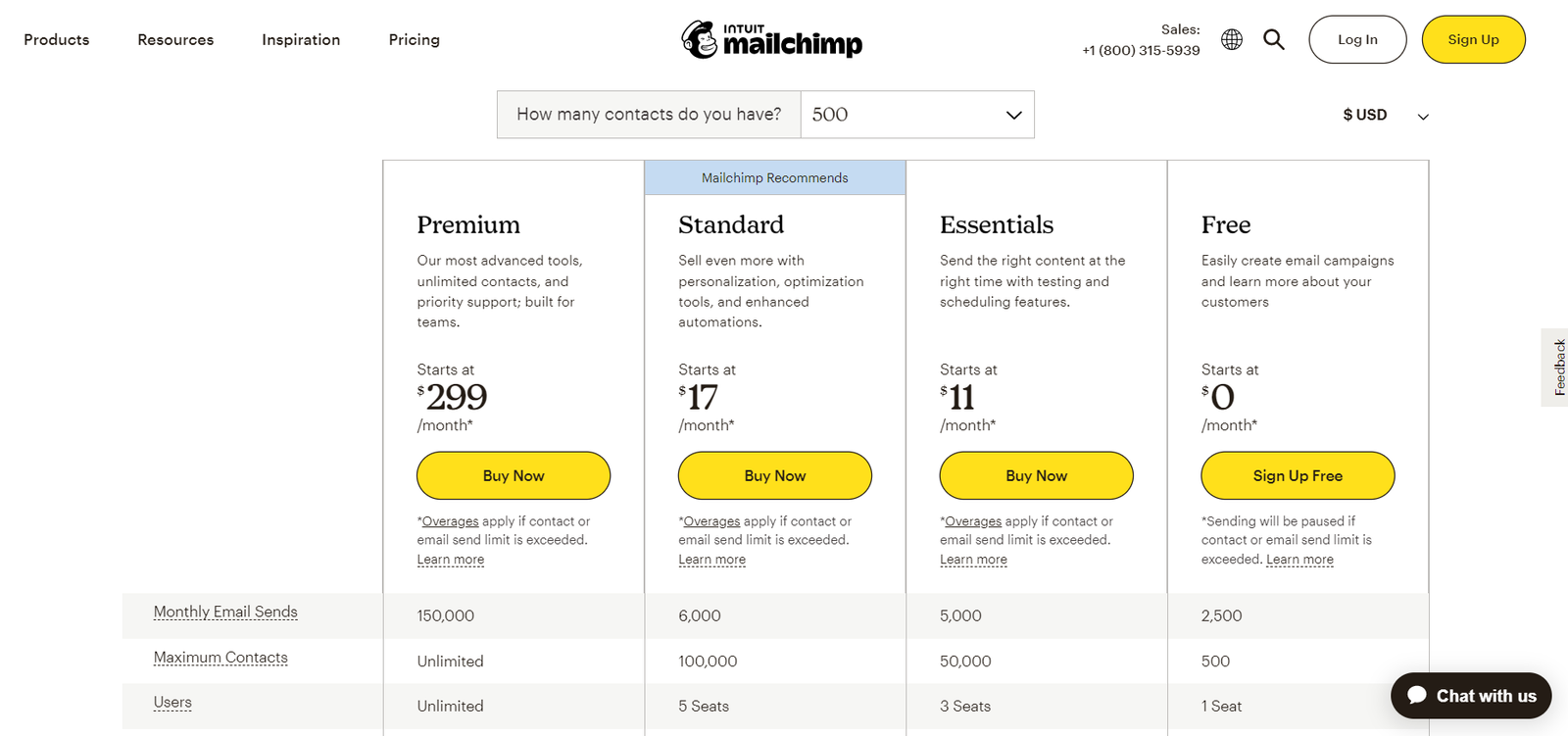 Mailchimp has 3 paid plans: Essentials (starts at $11/month), Standard (starts at $17/month), and Premium (starts $299/month).
There's also a free forever plan that covers basic functionalities like templates, landing pages, and forms. However, you're limited to just 2,500 email sends per month and 500 contacts.
Higher-tier plans include more email sends and additional features like A/B testing, email scheduling, and custom-coded templates.
Bottom Line
Mailchimp is a great email marketing tool for businesses of all sizes that need to send emails to their customers with a simple interface. You can use the free forever plan and upgrade later as your business grows.
Overview
If you're an existing Zoho user, there's a good chance you're already familiar with Zoho Campaigns, the company's email marketing platform. It seamlessly integrates with other Zoho apps, providing you with a comprehensive solution that streamlines your social media, customer relationship management, and email marketing operations.
Highlights
Integrations: Zoho works great with other Zoho apps like the CRM tool and social media platform.

Free business emails: Zoho offers up to 5 free business email addresses with its plans.

Optimal sending time: This unique feature automatically chooses the best time to send the email to the contact to maximize email open rates.

Campaign duplication: Repurpose older campaigns instead of creating new campaigns from scratch with the duplication function.

Workflows: Create automated workflows to eliminate redundant tasks.
Pricing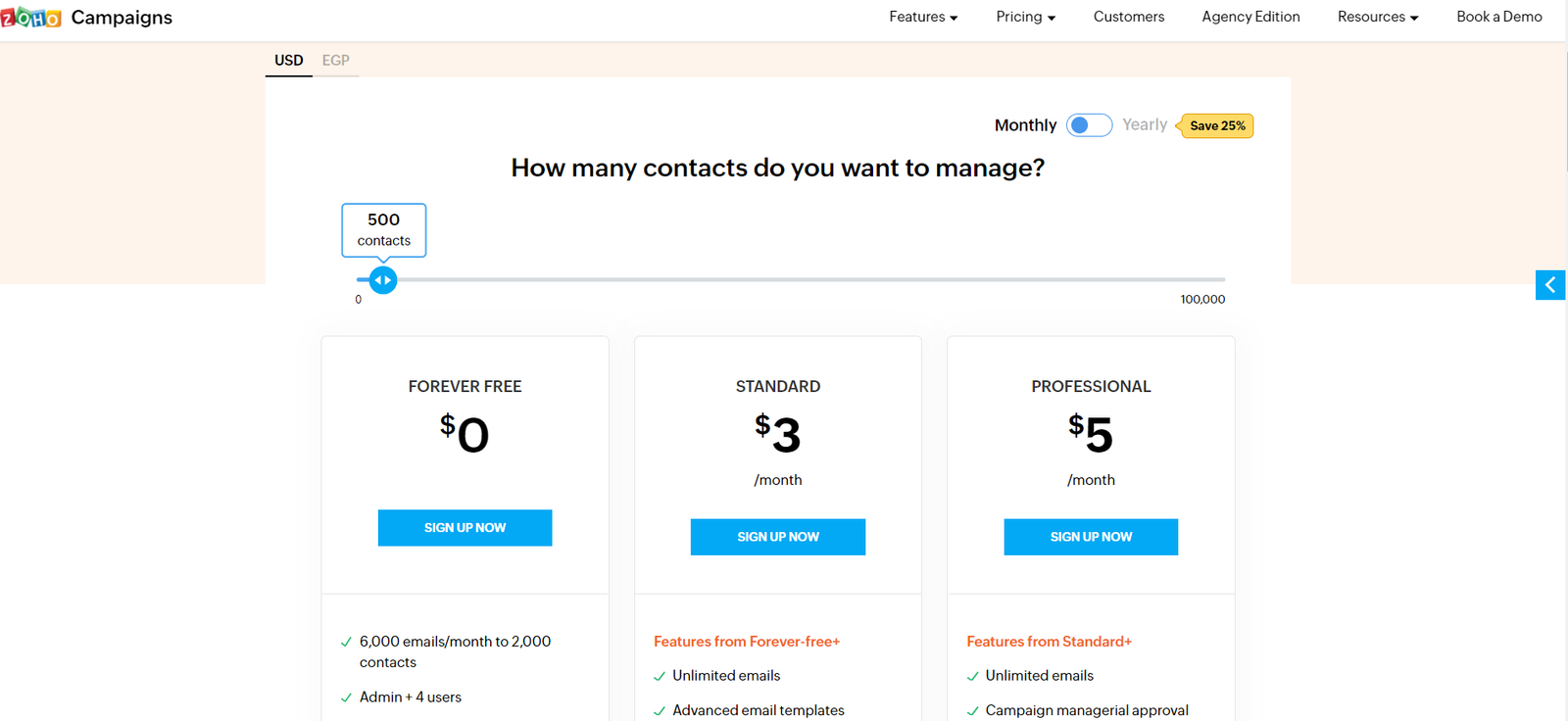 Zoho Campaigns offers 3 plans: Forever Free, Standard (starts at $3/month), and Professional (starts at $5/month).
The Forever Free plan includes basic templates, signup/popup forms, and reports and analytics. Upgrading to the Standard plan gives you unlimited emails, A/B testing, advanced segmentation, and more features. The highest-tier plan has advanced features like autoresponders and drag-and-drop workflow automation.
Bottom Line
Zoho Campaigns is a great choice for businesses that rely on other Zoho apps in their marketing campaigns. You can use the software for free with the Forever Free plan.
Overview
AWeber is an email marketing service with a simple drag-and-drop interface that eliminates the initial learning curve. You can use AWeber to create and manage multiple email campaigns, send emails and push notifications to specific audiences, and get full result reports updated in real-time.
Highlights
Auto-post to social media: Auto-post your email campaigns to your social media platforms simultaneously.

In-app training: Find your way around the app with short, easy-to-understand lessons and highlights.

High-quality stock images: Add eye-catching images to your emails for free without having to leave the app.

Follow-up emails: Create a series of follow-up emails easily whenever a subscriber takes a particular action.

Strict opt-in rules: AWeber ensures a high deliverability rate by enforcing opt-in rules to eliminate spammers.
Pricing
AWeber's pricing structure consists of 2 plans: Free and Pro (starts at $19.99/month for up to 500 contacts).
The Free plan works for up to 500 contacts and offers features like signup forms, push notifications, a landing page builder, and access to the intuitive drag-and-drop editor. As for the Pro plan, you can have up to 25,000 contacts and get key features such as split testing, advanced email automation, in-depth analytics, and sales tracking.
Bottom Line
AWeber is one of the best email marketing services for solopreneurs and growing businesses that need to optimize their email open rates. The free plan is pretty generous, so you might want to give it a shot.
Overview
Mailmunch is an email marketing tool that lets you build email lists, turn leads into customers with email sequences, and create popup forms for your website. The included email templates are easily customizable, and you can use the software with other email marketing services such as Mailchimp and AWeber.
Highlights
YouTube videos: Mailmunch lets you add a YouTube video that plays after people submit their info on your website, encouraging them to take action.

Easy access for free downloads: MailMunch allows your users to access their free downloadable items without having to leave your website.

Integrations: MailMuch integrates with popular platforms and plugins such as Zapier, Mailchimp, Shopify, and WordPress.

Weekly email updates: Get powerful analytical reports on your campaign's performance delivered to your inbox every week without even having to access your account.

Responsive forms: There's no need to create 2 separate forms for both web and mobile because MailMunch's forms are responsive.
Pricing
Mailmunch's primary plan is "Premium", priced at $19.99/month. It includes 1,000 contacts, email automation, advanced analytics, and unlimited campaigns and landing pages.
When your contact list gets more than 1,000 subscribers, you can upgrade to the higher-tier plan that's priced based on the maximum number of contacts. This higher-tier plan lets you use all the features found in the Premium plan, but with a bigger email list. For example, if you have 2,000 subscribers, the plan will cost you $34.99/month.
Bottom Line
Mailmunch is a great email marketing service for small businesses that want to grow their contact list and increase conversions. You can try the Premium plan with a 30-day free trial to get a better idea of how it works.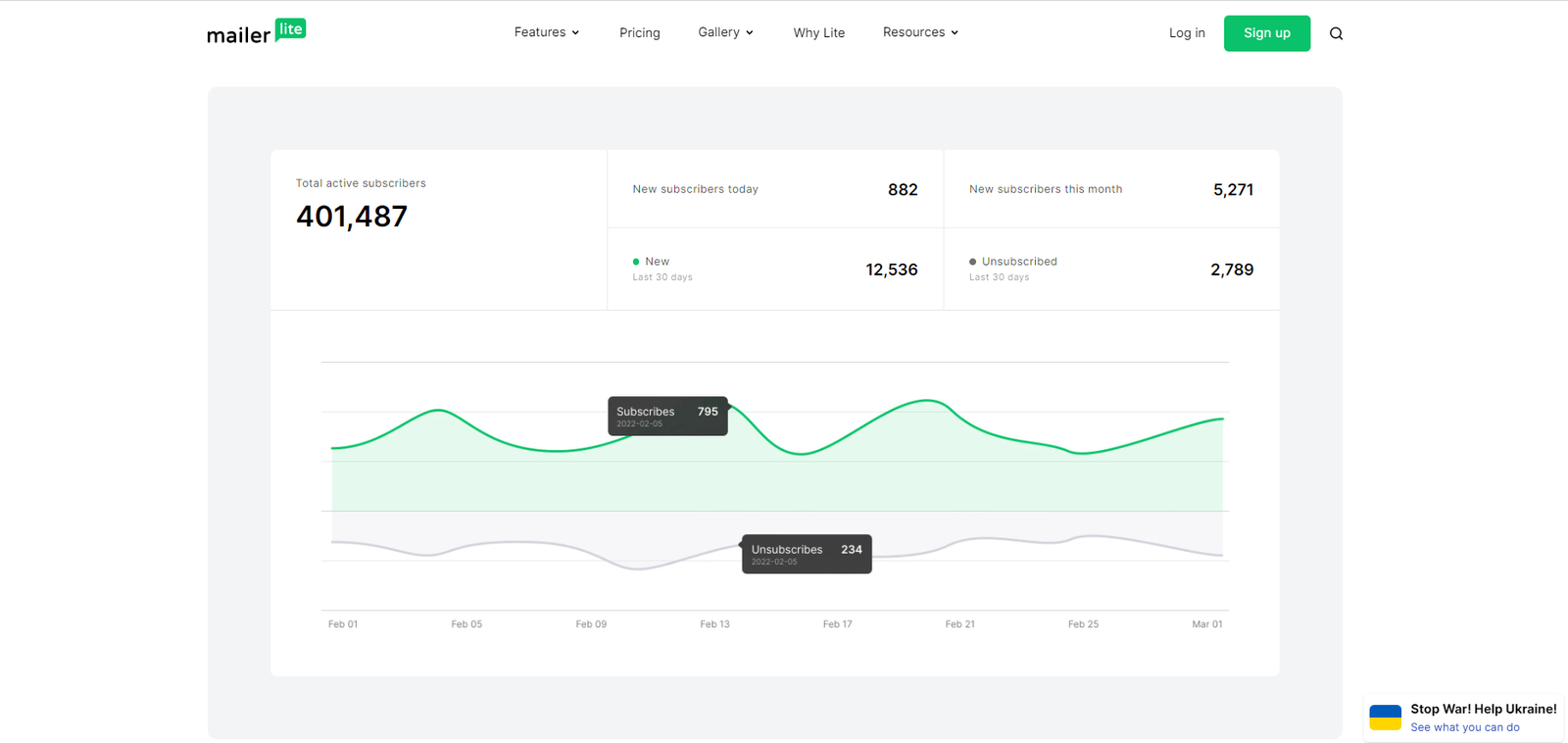 Overview
MailerLite is an affordable and easy-to-use email marketing automation tool that can help you grow your business from scratch. With MailerLite, you can send emails to leads automatically, create landing pages and pop-up forms, customize your emails with templates, and improve your campaigns with powerful metrics gathered on a per-message basis.
Highlights
Gmail integration: MailerLite integrates with Gmail and other email providers, enabling you to embed your tracking code down on a message level.

HTML customization: Go beyond the basic forms with custom HTML input and make your forms look as you want them.

Built-in photo editing: With MailerLite, you can easily edit the images in your emails without having to use another app.

Multiple pop-up form styles: Choose between side boxes, floating bars, half-screen, and full-screen pop-up forms.

User-triggered email flows: Automatically send email sequences to users when they take a specific action.
Pricing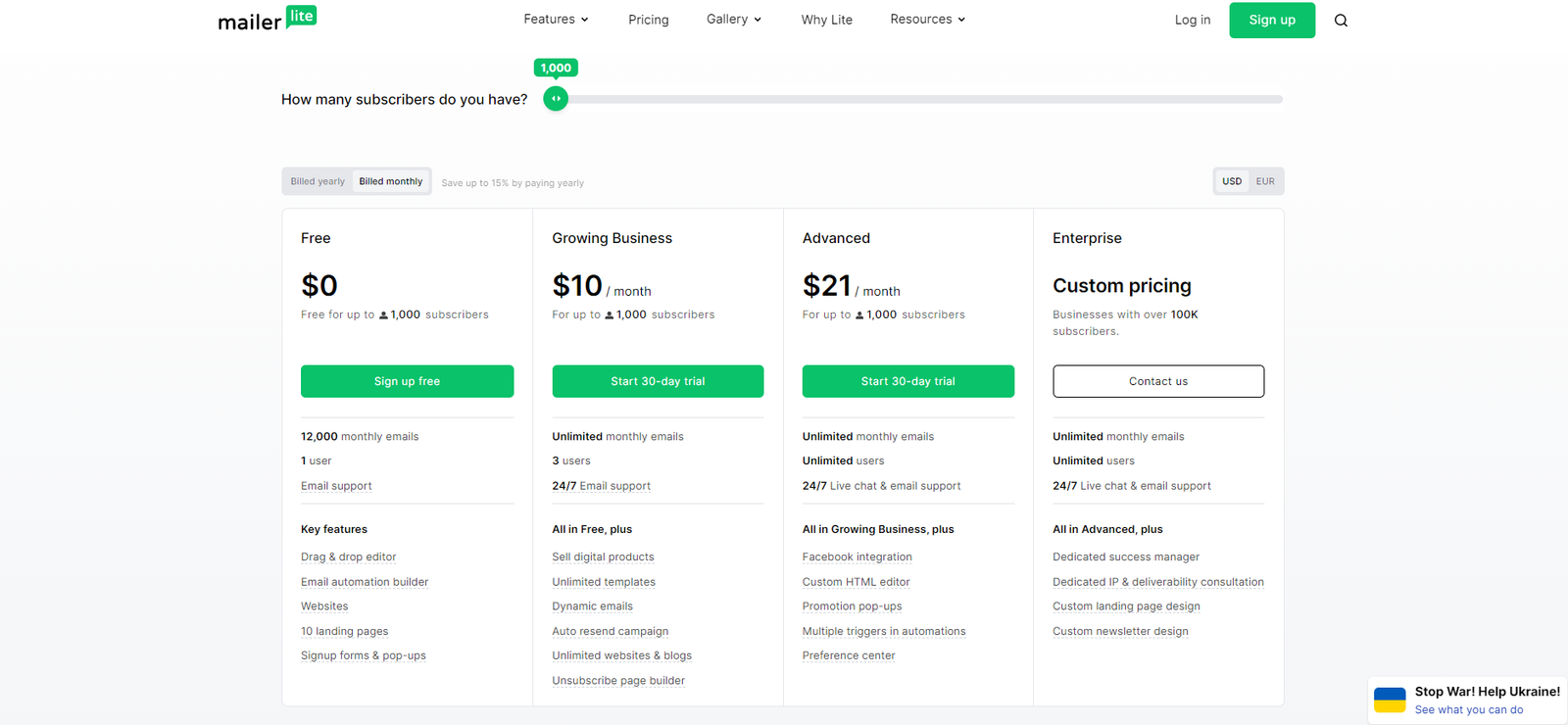 MailerLite offers 4 plans: Free, Growing Business (starts at $10/month), Advanced (starts at $21/month), and Enterprise (quote-based). The Free plan (for 1,000 contacts) has features like an email automation builder, drag and drop email editor, and up to 10 landing pages.
The Growing Business plan adds dynamic emails, unlimited templates, and more. Upgrading to the Advanced plan unlocks Facebook integration, a custom HTML editor, and promotion pop-ups.
The Enterprise plan focuses on customizability with custom newsletter and landing page designs, in addition to Dedicated IP and deliverability consultation.
Bottom Line
If you need an affordable email marketing platform, MailerLite can make your email marketing campaigns more effective and easier to implement. The free plan is worth checking out in case you want to explore the tool yourself.
What Is Email Marketing Software?
Email marketing software tools help you manage your email list, create and send emails with pre-built templates, and track your B2C or B2B marketing performance.
Email marketing platforms provide personalized reports for your email open rate, bounce rate, and other relevant metrics, allowing you to tweak your email campaigns to maximize conversions.
Summary
It should now be easier for you to pick the right email marketing software for your business requirements.
If you haven't made a choice already, we encourage you to try a few of the email marketing software tools reviewed here to get a feel of how they work. Most email marketing tools either have a free plan or limited-time trials.