Top 5 Best Linktree Alternatives For 2023 (Reviewed)
Linktree is one of the most widely used social media creator tools out there. You can use it to create unlimited links and mini landing pages. However, Linktree may not be the best solution for everyone.
For example, with Linktree, you can't use your custom domain, meaning that all of those clicks and page views will be steered away from your real website. Not to mention, the free plan can be quite restrictive, particularly in the customization compartment.
Luckily, there are lots of Linktree alternatives out there that can make you consider jumping ships. In this guide, I'll help choose the best creator tool for your business use case.
What Are the Best Linktree Alternatives?
From my experience, the best Linktree alternatives are Taplink, SeedProd, Milkshake, Pally, and Lnk.Bio. Now, let's see how these bio link tools can be better than Linktree for you.
Taplink – Best Overall Pick
Overview
Taplink is an Instagram page builder that helps you turn your bio link into a mini e-commerce store. You can use it to create a customized landing page with social and messaging links, responsive carousels, and a payment gateway. And unlike Linktree, you can use it to create an unlimited number of pages instead of just one link.
Highlights
Payment integration: Let customers pay for your products or services directly on your Taplink landing page with PayPal.

FAQ section: Add a FAQ section at the bottom of your landing pages to answer your audience's most common questions.

Smart links: Add smart links to your other social media accounts to make it easier for customers to find you.

Messaging links: Add messaging app links to your landing pages that let customers easily start a direct conversation with you.

Image carousels: Describe your product in beautiful image carousels to drive engagement and boost sales.
Usability
Many landing page tools don't give you the option to add custom code. So I was surprised that I can do this in Taplink.
If you want to add a custom widget or service integration with HTML code to your Taplink landing page, click on "Settings" from the top bar and type your code in the HTML insertion section.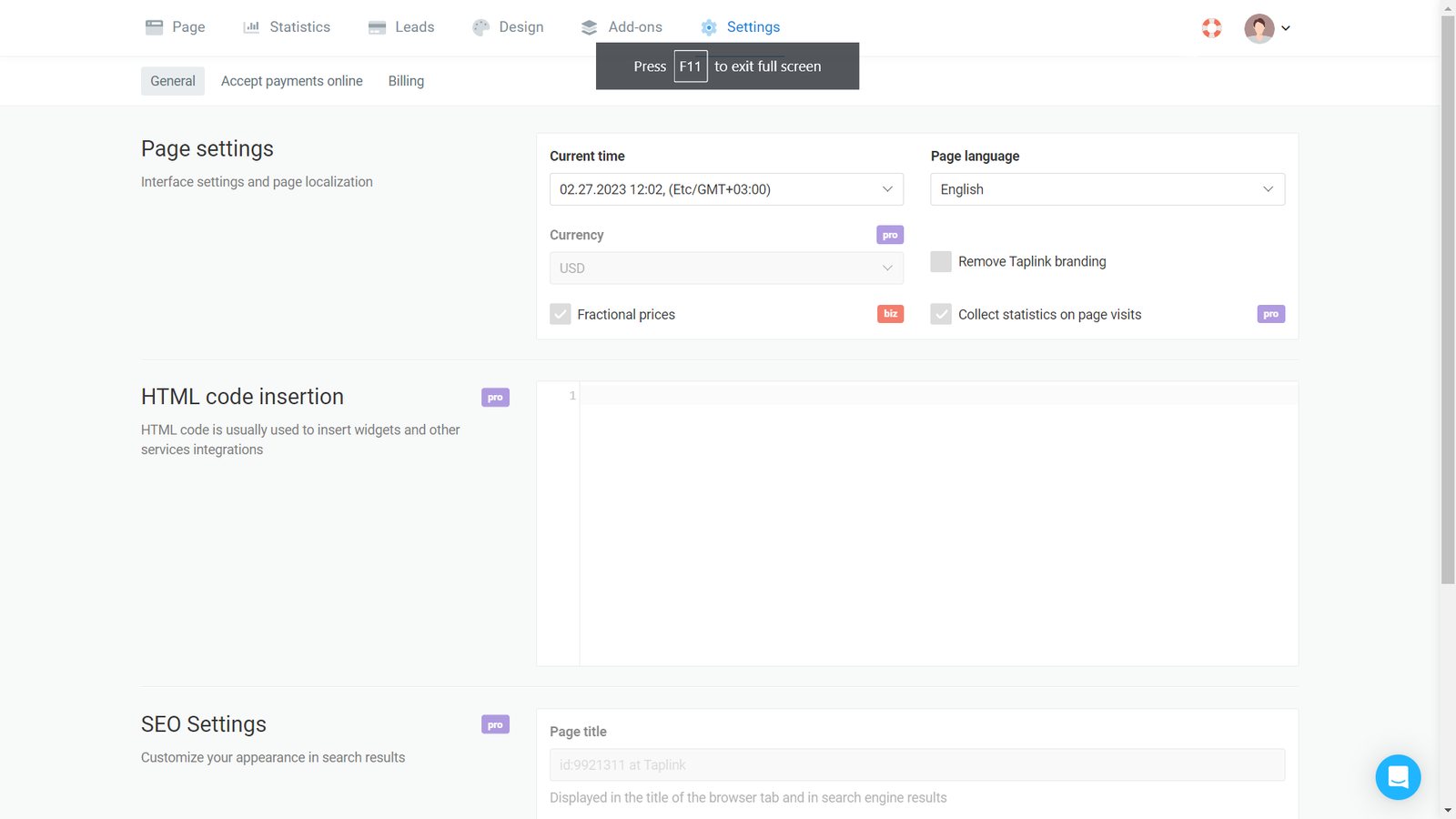 Pricing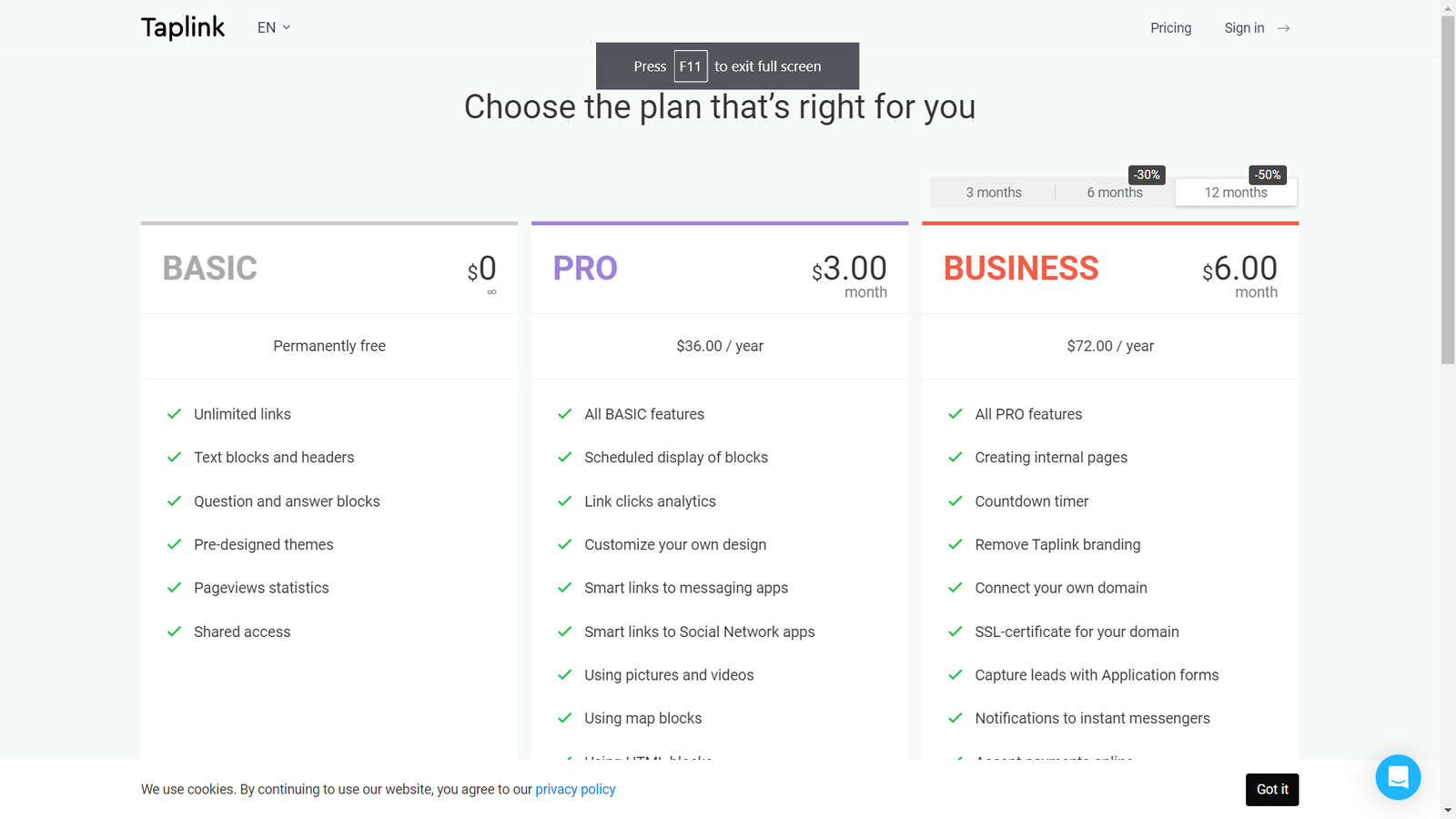 Taplink has 3 plans: Basic (free), Pro ($3/month), and Business ($6/month). You can create unlimited links with the free plan, but you'll miss out on some features that are exclusive to the paid pro plan, such as analytics, customizable designs, and picture and video usage.
The Business plan takes it one step further with features like countdown timers, SSL certificates, and application forms.
Customer Thoughts
The font choices in Taplink's page builder are a bit limited.

I love that I can add multiple subpages to a single link, but it's somewhat frustrating that I can't give them an easy-to-remember link name instead of those random letter/number combos.

The landing pages are great for mobile users, but navigating through them on the desktop just feels awkward.

I appreciate the native integrations that come with Taplink, like Mailchimp, PayPal, and JivoChat.

I like that I can add rotating carousels to my Instagram landing pages.

The landing page template library is accurately categorized, which has made it easier for me to find a theme that matches my business's niche.
Bottom Line
In my opinion, Taplink is an excellent Linktree alternative for businesses that need to create more than one page without giving up their existing page. The free version is definitely worth playing around with.
SeedProd – Best for Capturing Leads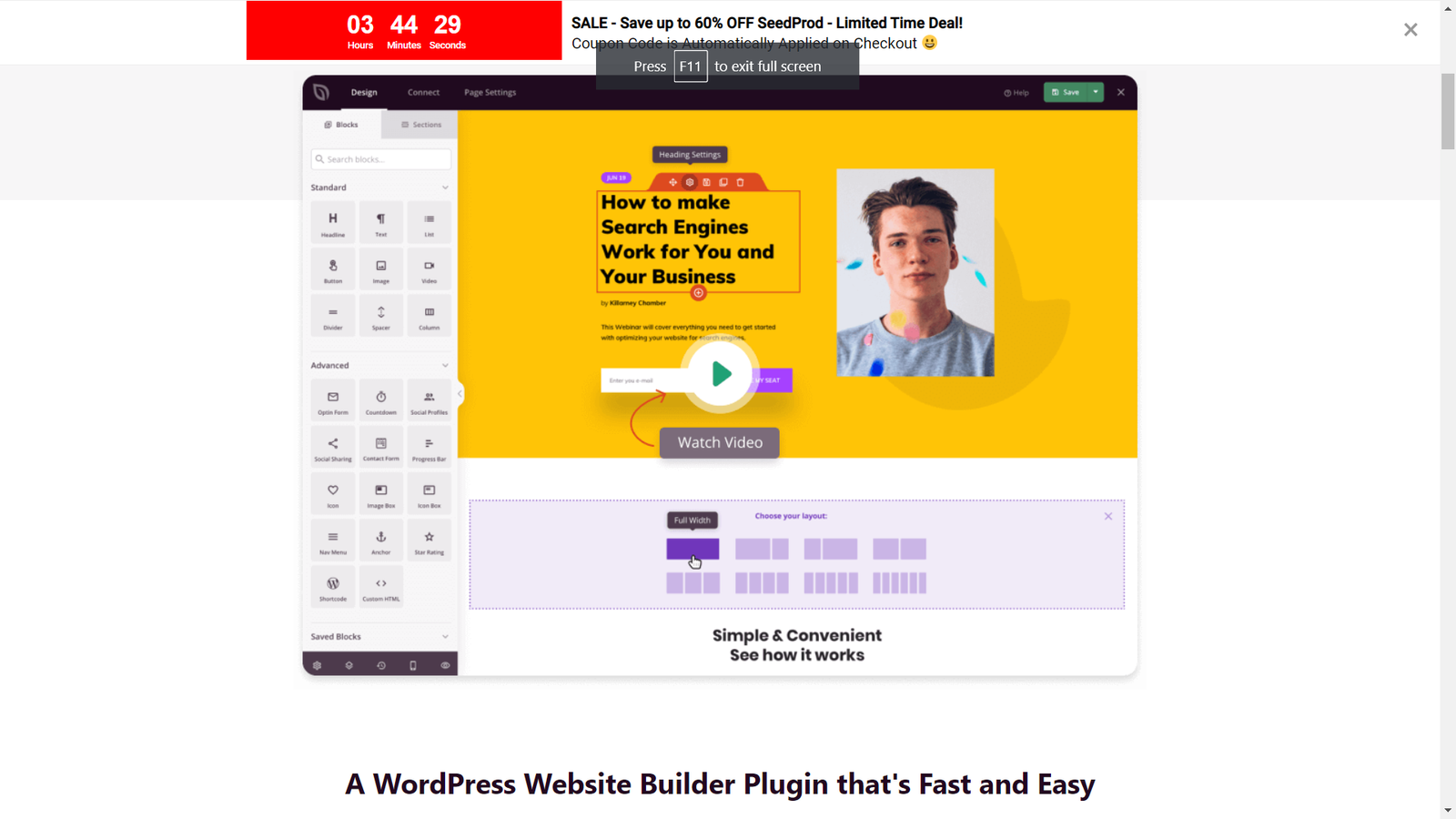 Overview
SeedProd is a landing page WordPress plugin that can help you create bio links while also maximizing your primary website's traffic. Unlike Linktree, you can direct traffic to your custom website instead of the provider's, helping you promote your website more effectively. It also offers more customizable features than Linktree.
Highlights
Customizable page features: Add a "coming soon" or "under maintenance" page to your website to better communicate with your audience.

Custom URL: Use SeedProd to add a landing page to your website and make the link point to it to boost conversions.

Contact forms: Capture more leads by easily embedding a contact form to your micro landing page.

Analytics tracking: Find out how users interact with your landing pages with advanced behavior analytics.

Template library: Choose between a large amount of prebuilt landing page templates to deliver your message effectively.
Usability
One thing I like about SeedProd is that I can use it to build an email list before launching a product or service with a coming soon page.
To create a coming soon page with SeedProd, activate the plugin, then tap on the "Create Your First Page" button.
Then, click on "Set up a Coming Soon Page" and customize it using the provided themes.
Pricing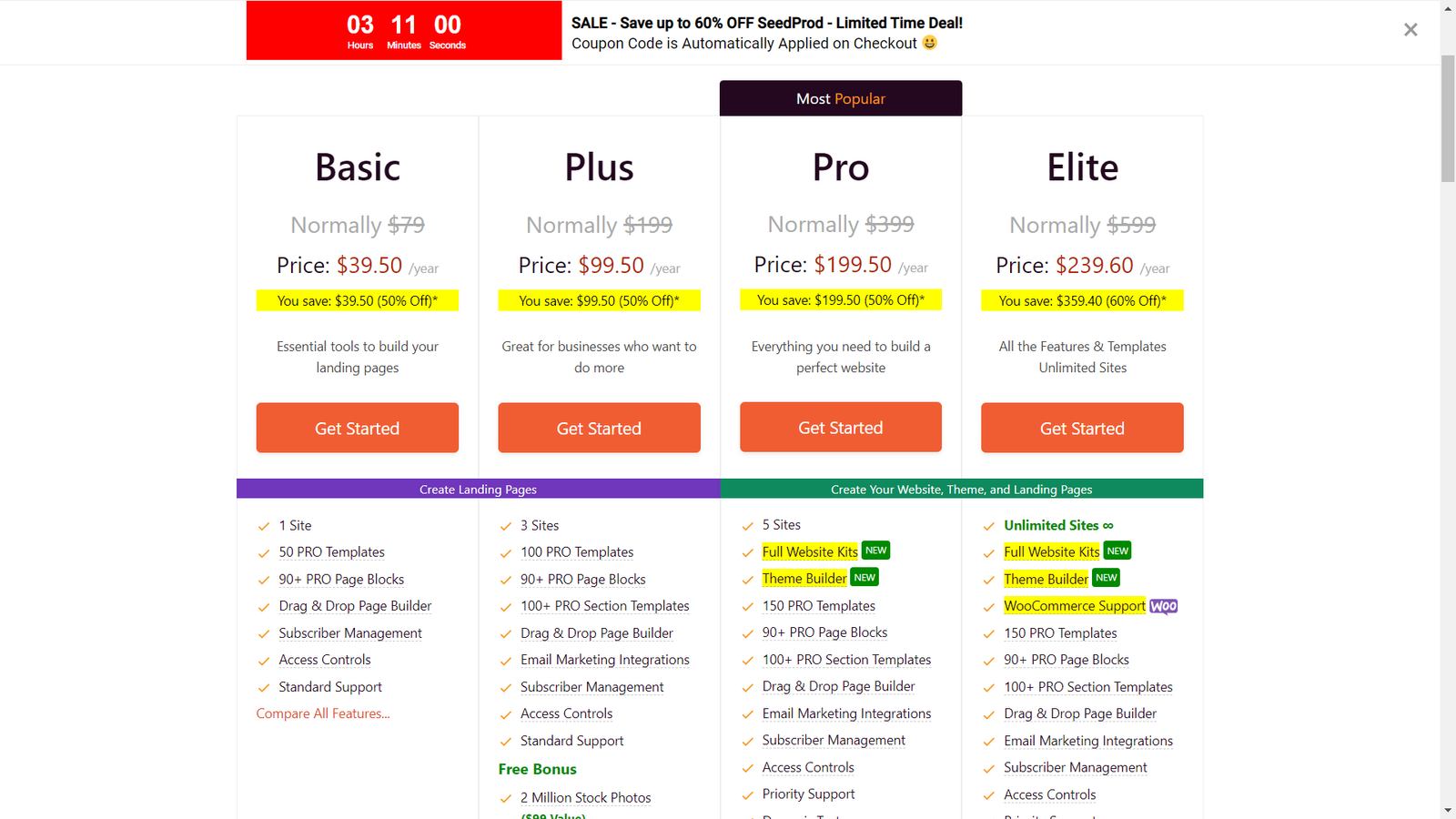 SeedProd offers 4 subscription tiers: Basic ($39.5/year), Plus ($99.5/year), Pro ($199.5/year), and Elite ($239.5/year).
The Basic and Plus plans are heavily focused on landing pages, while the Pro and Elite plans let you create a full website with the theme of your choice using website kits and a theme builder.
Customer Thoughts
SeedProd is great for creating websites, but the block builder is a bit restrictive for me. I would prefer the option to use custom coding to style my landing pages.

SeedProd saves me a lot of effort when I need to schedule maintenance for my website with the "under maintenance" page feature.

I love that I can tease what I'm about to offer with the coming soon pages.

Having the ability to hide certain pages temporarily during maintenance has saved me a lot of work.

The countdown timer feature is really cool!

It'd have been nice if there were more landing page blocks and elements to allow for more customization.
Bottom Line
From where I stand, SeedProd is a great landing page builder for businesses that want to use their own branded website for marketing instead of a third-party tool. There's a free version that you can use for bio links.
Milkshake – Best Free Linktree Alternative
Overview
Milkshake is a free website creator for Instagram and TikTok that lets you create landing pages with social-shareable links. The app is insanely easy to use, and creating your website won't take more than a few minutes.
Highlights
Multiple websites: Create up to 5 websites for multiple social accounts using the same Milkshake account.

Insights: Get useful user insights such as clicks, top traffic sources, new vs returning customers, and more.

Change website URL: Milkshake enables you to modify your website's URL even after you've created it.

Removable branding: Remove Milkshake's branding with a monthly subscription.

Extensive knowledge base: Troubleshoot problems and learn how to make the most out of the app with the included knowledge base.
Usability
When I started using Milkshake, the first thing I noticed is how neatly the templates are categorized. For example, if I want to create a website with top product picks for my followers, I can choose a template from the top picks category.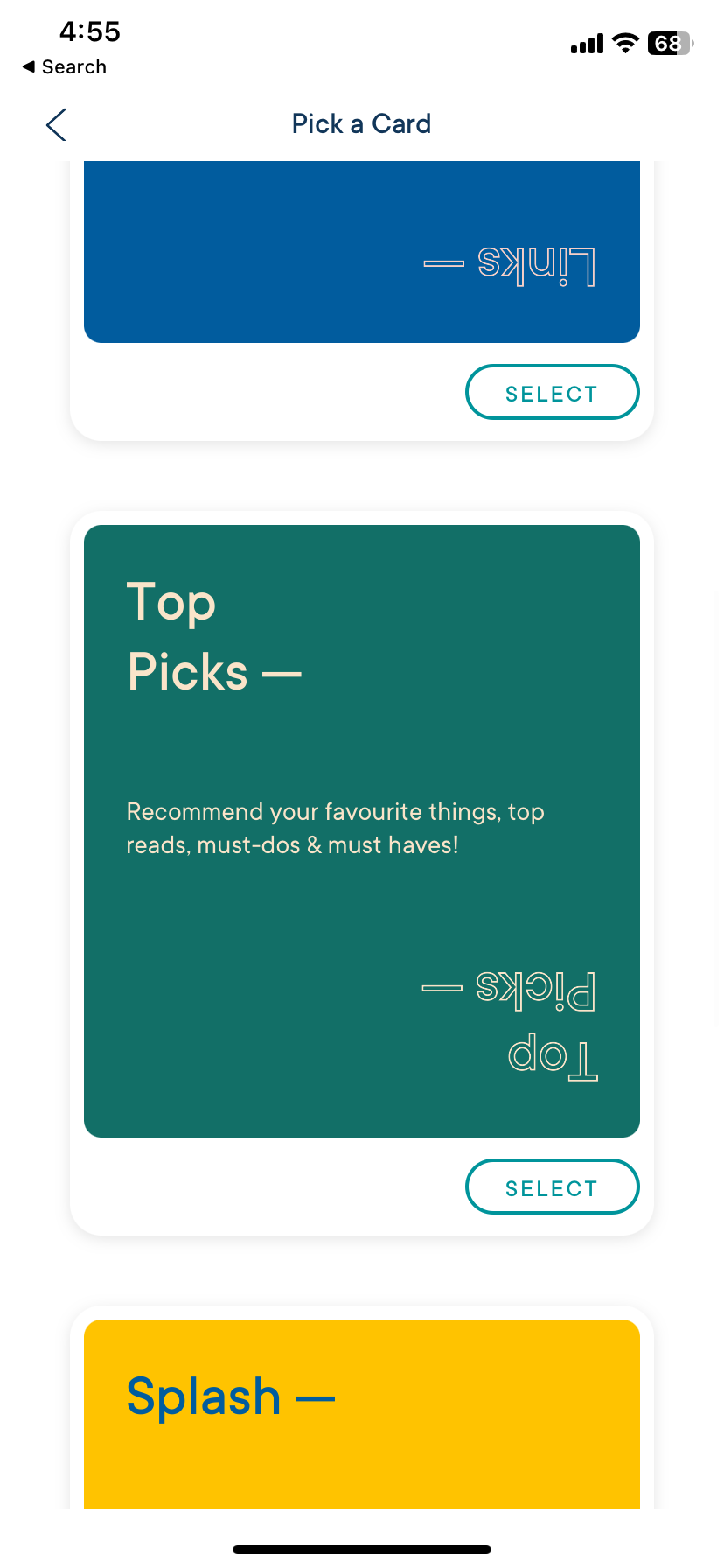 To do this yourself, simply tap on the "Top picks" cards, pick a theme, customize it, and push the publish button.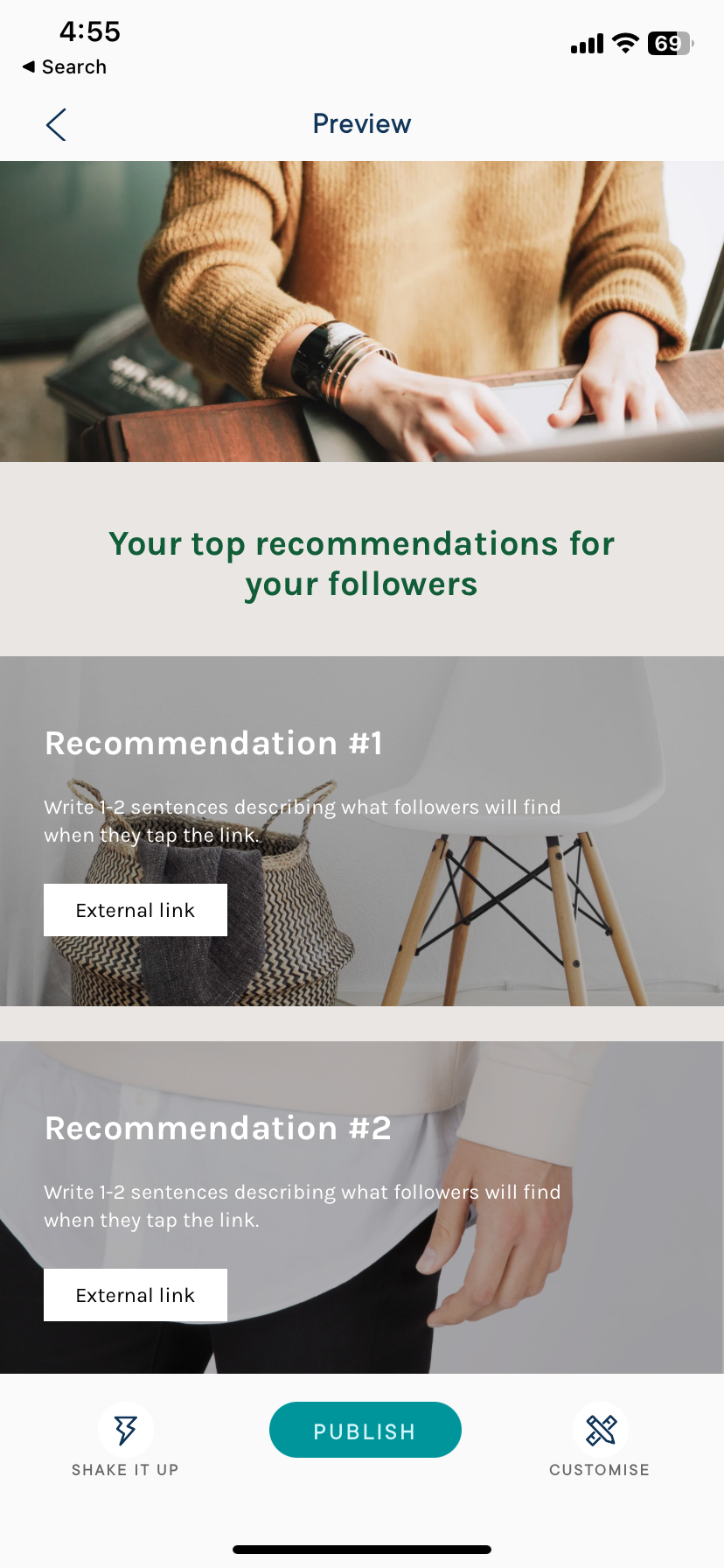 Pricing
Milkshake is 100% free. There are no hidden fees or premium plans – you can enjoy all the features without having to upgrade to a paid plan. The only situation where you'd need to pay is if you want to get rid of the Milkshake branding on your website. In that case, it'll cost you $2.99/month.
Customer Thoughts
I wish I could use my own custom domain with Milkshake. Would love to see this feature in a future update.

I love that I can easily match my Milkshake website with my brand colors and vibe!

I'm impressed with the detailed link insights that this app provides; it helps me keep track of how prospects engage with my brand.

Milkshake has been working great for me, but I wish I could use some custom HTML/CSS code in some areas. Would've made it easier to customize certain aspects of the website.

Milkshake has helped me develop a big chunk of my content strategy without even writing a single line of code; definitely recommended!

This app is great, but it's missing essential features like contact forms.
Bottom Line
Milkshake is one of the best link in bio tools that won't cost you a dime. In my opinion, it's a good place to start if your product is new or in pre-launch phase.
Pallyy – Best for Full Social Media Management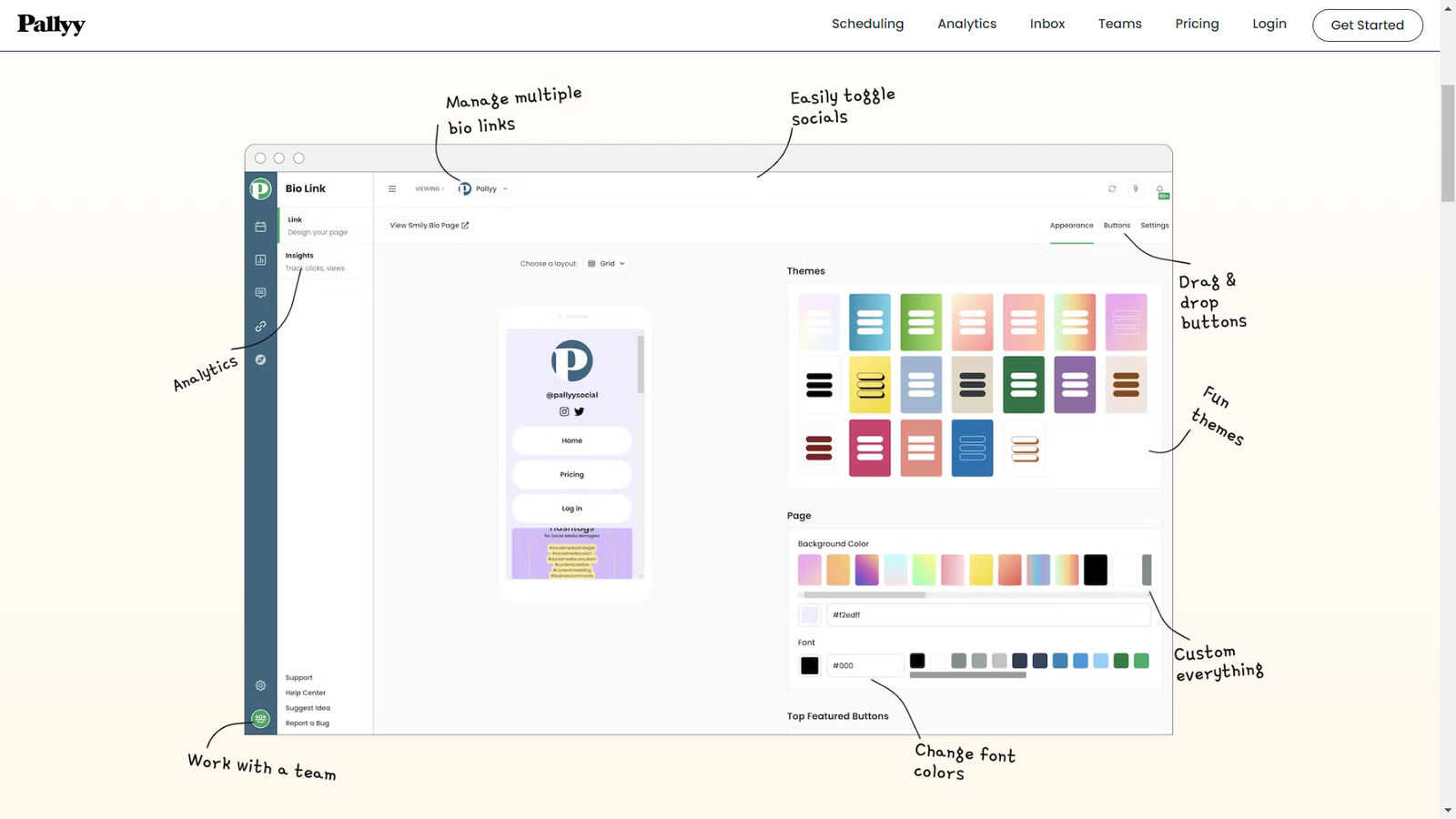 Overview
Pallyy is more than just a link in bio tool; it's a complete social media management platform that you can use to schedule posts, create bio links, and invite users to collaborate. It supports Facebook, Instagram, TikTok, Pinterest, LinkedIn, Google My Business, and Twitter.
Highlights
Custom domain: Connect your custom domain with your social media platforms and boost traffic to it.

Post scheduling: Easily schedule multiple posts to keep your audience engaged and stay ahead of your competition.

More users: Add teammates to your Pallyy subscription and plan your social media strategy together.

Social inbox: Engage with your audience on all of your social media profiles using a unified inbox.

Analytics: Track relevant engagement metrics like clicks and impressions with the integrated analytics dashboard.
Usability
For me, being able to track my social media marketing results is vital. Pallyy's analytics dashboard provides me with a detailed overview of how my audience engages with my content.
If you want to check your analytics yourself, simply choose "Bio link" from the left-sidebar and click on "Insights".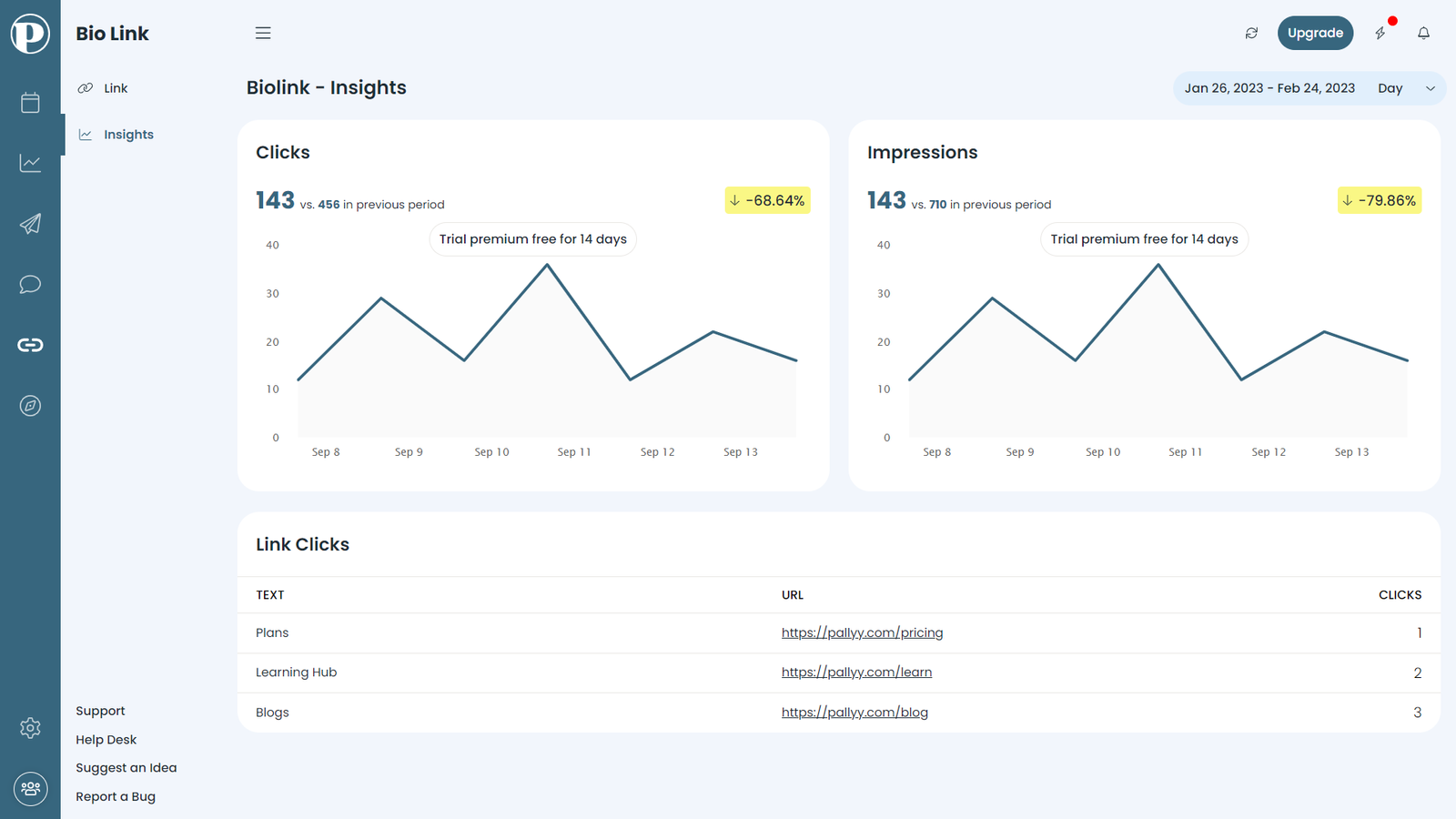 Pricing
Pallyy offers a simple pricing structure consisting of 2 plans: Free and Premium (at $15/month). The free plan includes one user/account, a single social set, and a feed planner. The Premium plan adds social analytics, bio links, and a custom domain. You can also add more users with the Premium plan, but that will cost you $29/month.
Since the bio link feature is only included in the premium plan, the free option won't really be useful for you if the main purpose of using Pally is to create bio links and landing pages.
Customer Thoughts
Scheduling posts to multiple social platforms is super fast with Pallyy and has saved me a lot of time and effort.

I like that we can use different views like table, calendar, grid, and board. Each teammate can just use their preferred view.

I've experienced some issues when uploading pictures using Pallyy, but other than that, It's been working great for me.

I love that I can build my own custom landing page from scratch with lots of customization options.

I find it frustrating to use Pallyy on my mobile device without an app.

The analytics that Pallyy provides are very insightful and have helped me improve my marketing game on my Instagram account.
Bottom Line
If you're looking for a Linktree alternative that can also be used to connect your social media profiles in one place, my recommendation for you is to use Pallyy. I encourage you to try the premium plan with the included 14-day free trial.
Lnk.Bio – Best for Image/Music Links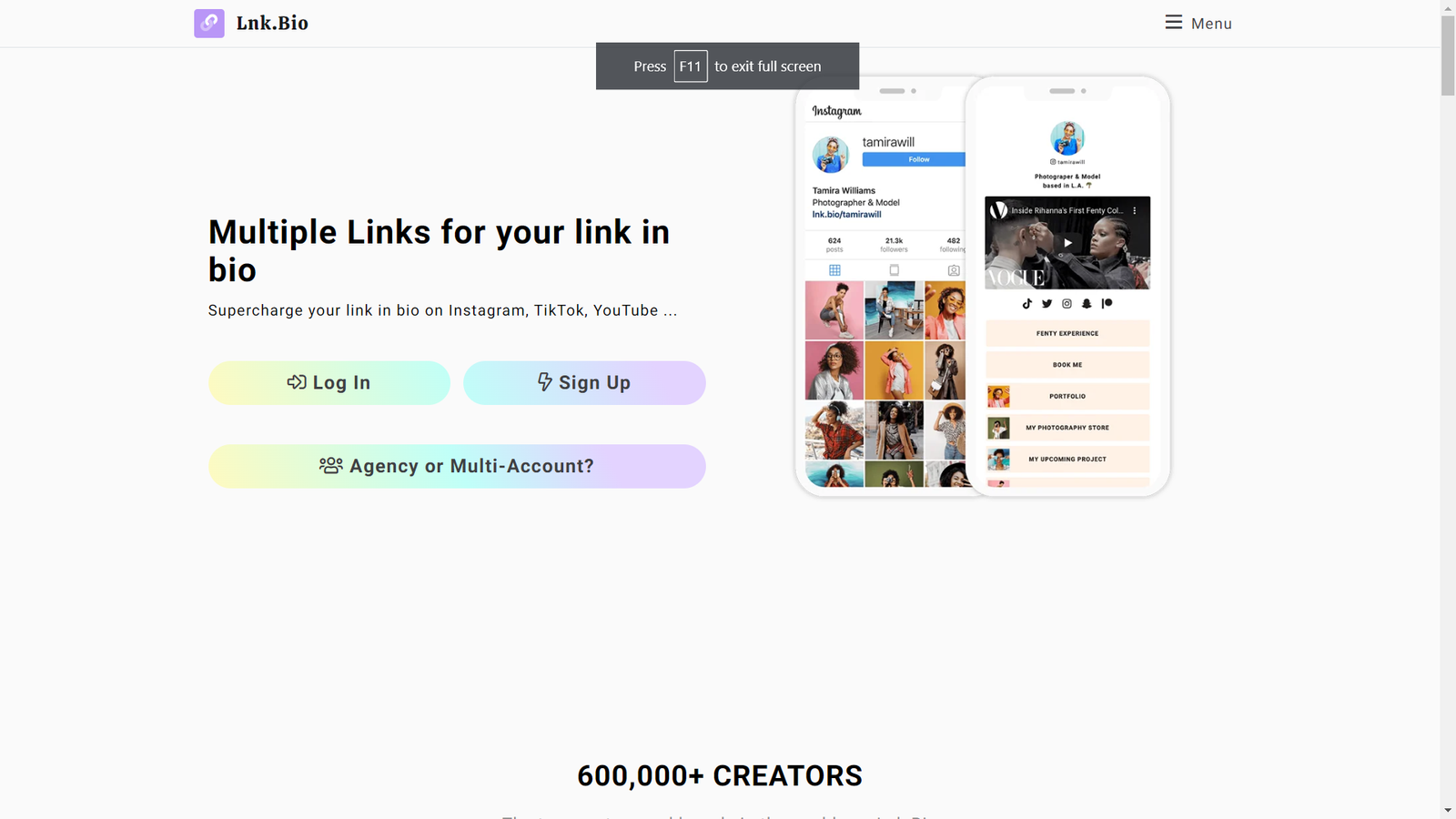 Overview
Lnk.Bio is an Instagram bio link tool that also offers one-time fee premium plans. It lets you add unlimited social media links, use multiple links with the same URL, and add image or music links. It's also a good option if you want to set up an Instagram shop.
Highlights
Multiple accounts: Use the same bio link for all your social accounts.

Music and images: Post links in the form of images and music to draw attention to them.

Newsletter: Engage with your social audience by adding a newsletter signup form to your Lnk.Bio landing page.

Integrations: Optimize your workflow by integrating Lnk.Bio with Zapier, Pabbly, WordPress, and others platforms.

Affiliate embeds: Add affiliate links to your Lnk Bio landing pages to earn commissions.
Usability
Unlike other bio link landing page tools, Lnk.Bio's landing pages aren't limited to simple buttons listed on top of each other. There's a lot more you can do.
For example, if you want to add a newsletter or contact form, simply click on "Style" from left side bar, choose "Add block", and then select "Newsletter" or "Contact Form".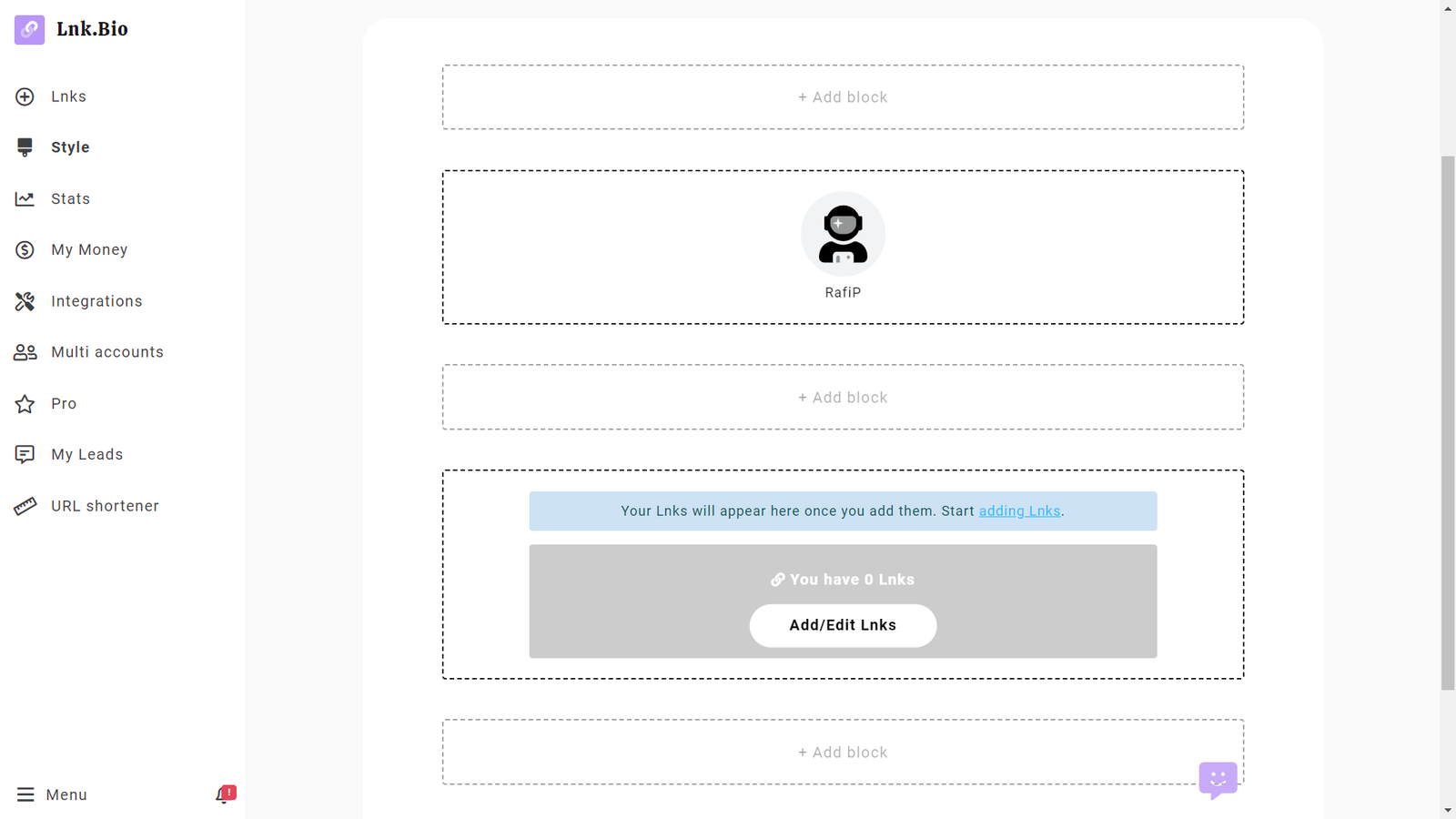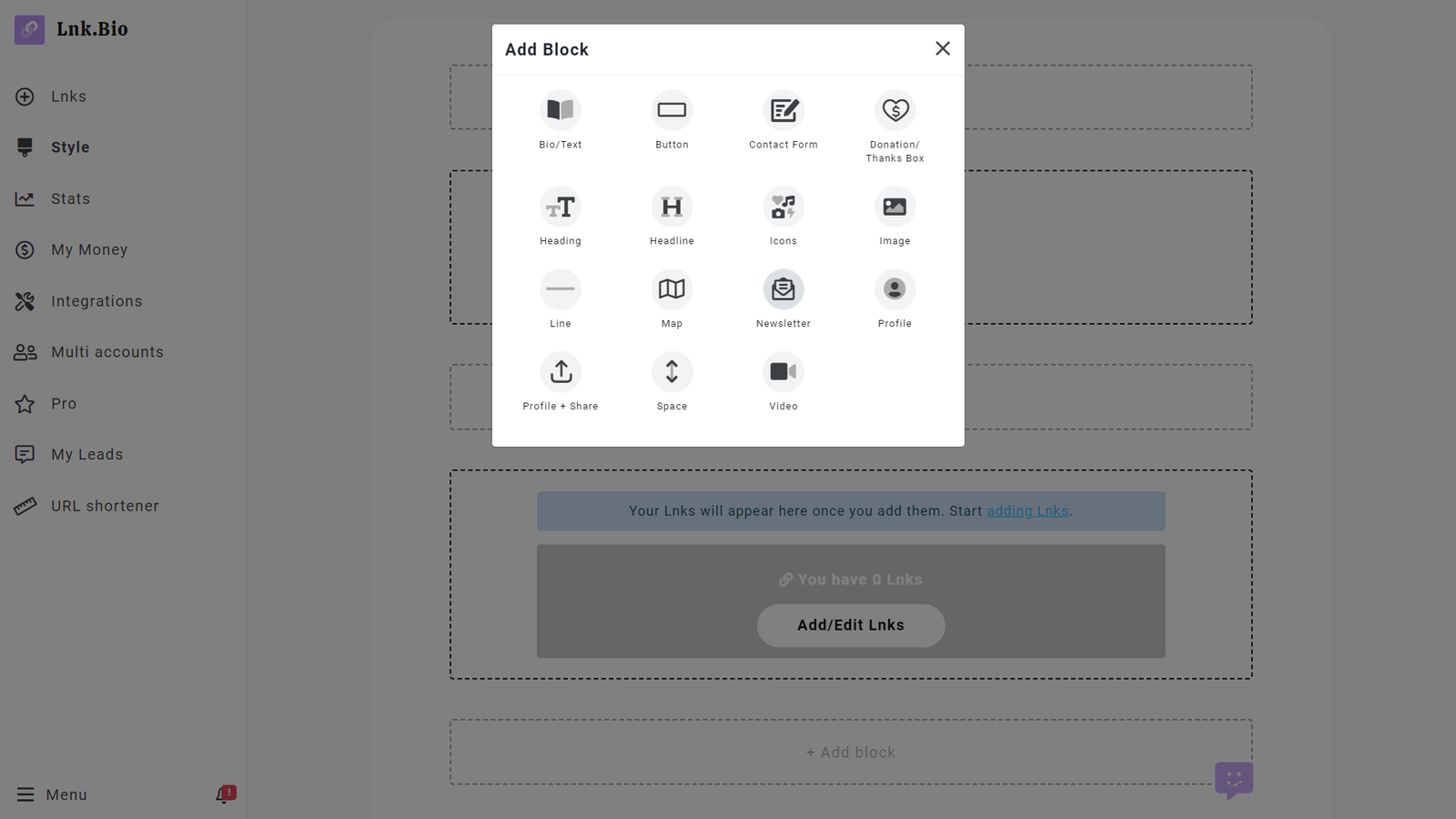 Pricing
Lnk.Bio has 4 plans: Free, Mini Monthly ($0.99/month), Mini One-Time ($9.99 one-time fee), and Unique One-Time ($24.99 one-time fee). The Free plan lets you create unlimited bio links. But with the higher-tier plan, you get additional features such as reports and stats, password-protected links, shops, Instagram and TikTok Sync, Newsletters, link scheduling, link images, and contact forms.
Customer Thoughts
I love that I can put multiple links in the same URL with Lnk.Bio.

Lnk.Bio has helped me create bio links for my IG account easily, but I can't customize my link unless I upgrade to the paid plan.

I believe the customization options for Lnk.Bio's landing pages are somewhat limited.

The ability to add links to my music pieces is what I enjoy the most about Lnk.Bio.

I like that I can add images to my social links; it's definitely improved engagement for my social accounts.

The default image size is a bit awkward and makes it hard to find a cool pic that fits.
Bottom Line
From my experience, Lnk.Bio is a fantastic tool for creating social bio links and engaging your audience in eccentric ways like newsletters and image links. The free plan will give you a taste of how it works, then you can pay a one-time fee to unlock all the bells and whistles.
What Is a Link in Bio Creator?
A link in bio tool is an app that lets you create and add customizable links to your social media bios. These links often lead to your product or service landing pages, which can also be created with the same tool.
Why Your Business Needs a Link in Bio Creator
One study found a 10-15% of traffic comes from Instagram when adding link in bio tools. Other people have said it negatively affects posts but in another study, it only drops by 0.02% so there's not much downside to be afraid of.
Social media platforms, such as Instagram, have many link-sharing limitations. For example, if you want to add a link to your bio, you'll be restricted to a specific character limit. Not to mention, you won't be able to add multiple links that direct your leads to different offers, products, or services.
A link in bio landing page builder helps you create a micro website for your offer with a personalized, social-shareable short link that drives traffic to it. On the landing page, you can add as many links as you want.
Link in bio creators are essential for businesses that rely on social media platforms for sales and lead generation.
Conclusion
Alright, so these were some of your best bio link tool options if Linktree doesn't cut it for you. The Linktree alternatives I've shared here are very different in terms of what they offer, so you might want to consider trying a few ones out first before deciding.
Personally, I'd recommend thinking about whether you need a free tool or don't mind paying a few bucks each month. Then, you can write down how you'll use the tool to drive leads and sales. This should help you pick the best option for your business.