Best Call Tracking Software in 2023 (Reviewed)
As more and more customers prefer the convenience and personal touch of a phone conversation, effectively managing and tracking your call interactions is vital to drive more sales, fine-tuning your marketing strategies, and nurturing customer relationships.
This is where call-tracking software steps in. It enables you to gain valuable insights into your phone-based interactions and make data-driven decisions. More advanced call tracking tools also offer advanced analytics, integration capabilities, intelligent call routing, and performance monitoring.
In this guide, I've reviewed some of the best call-tracking software solutions, hoping this will help you pick the right one for your business requirements.
5 Best Call Tracking Software Solutions in 2023
After trying out many options, I've come to the conclusion that the best call-tracking tools are CallRail, SalesKen, CallTrackingMetrics, WhatConverts, and Invoca. Now, let's uncover their capabilities in detail.
Overview
CallRail is a call-tracking solution that enables businesses to convert more leads into customers. It provides you with deep insights and analytics into your marketing campaigns' performance to make better decisions.
Highlights
Extensive call tracking: Record and track incoming calls from your website, landing pages, and other channels to identify the best-performing ones.

Call transcription: Transcribe calls to improve call data analysis and identify trends and patterns.

Keyword analysis: Find out the keywords that drive calls to your website to improve your SEO (Search Engine Optimization) game.

Form submission tracking: Learn which channels work better for form submission to turn more leads into customers.

Custom forms: Create personalized forms that help you collect relevant customer data.
Functionality
One of my favorite things about CallRail is the call flow template builder. It helps you set custom call routing experiences and save them as templates for future use, or use one of the preset templates to start from.
To create a new call flow template, tap on the Settings icon on the left navigation bar, and choose Workflow from the top of the page.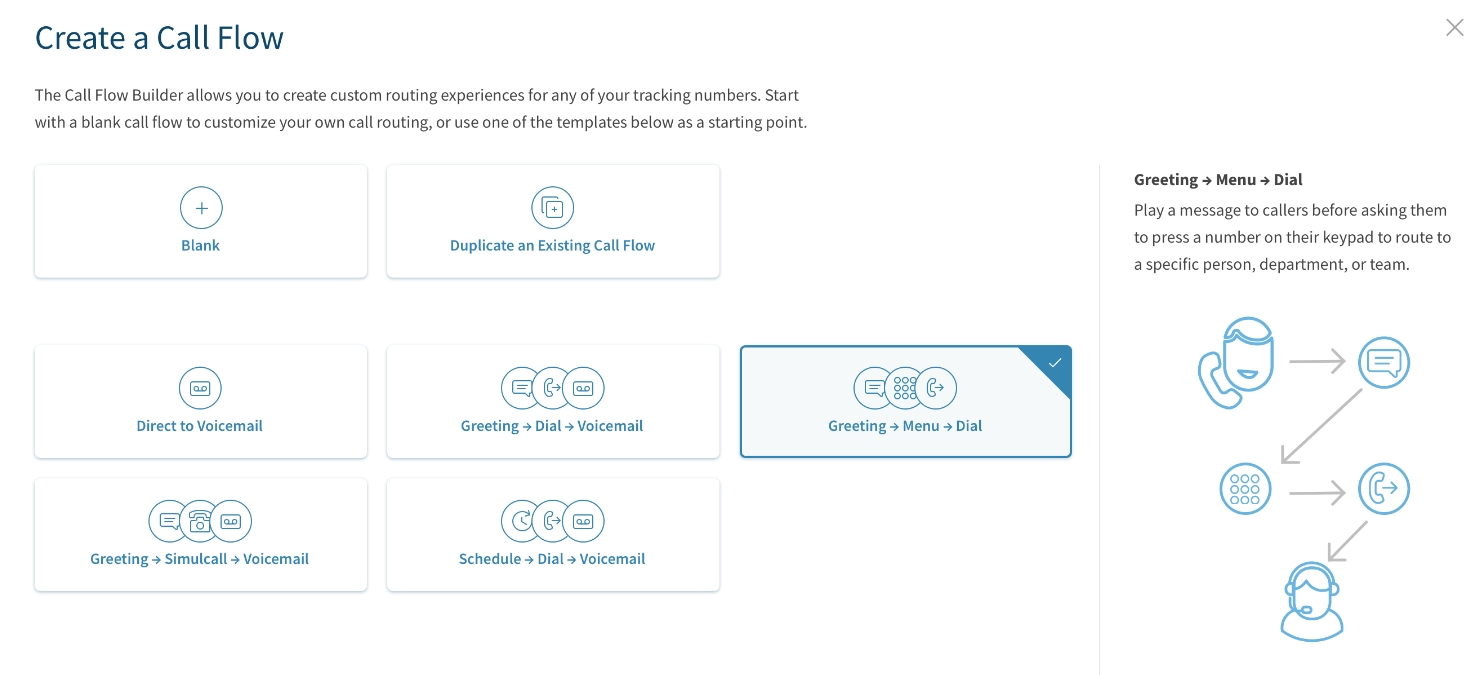 Pricing
CallRail offers 4 plans starting at $45/month for the call tracking plan. It offers 5 local numbers, 250 local minutes, call and text tracking, as well as call recording and routing.
For enhanced insights, the Call Tracking + Conversation Intelligence plan is available for $95/month, offering features like call transcripts and keyword analysis. Alternatively, the Call Tracking + Form Tracking plan, also at $95/month, allows you to attribute form submissions to marketing sources.
The comprehensive Call Tracking Complete plan is priced at $145/month and combines all the features mentioned above. For enterprise pricing options, CallRail provides scalable solutions for organizations of any size.
Customer Thoughts
It is nice to screen the calls we have after they are made.

I like the reporting features and the ability to track the activity of different agents.

It's super easy for us to create call flows with CallRail.

The keyword call tracking capability has helped us optimize our campaigns.

There are more spam/robo calls than tolerable. Hopefully they can resolve their issue in the future.

In some cases, the dynamically inserted numbers don't collect the attribution data, which makes tracking more challenging for us.
Bottom Line
In my opinion, CallRail's offering provides a complete solution for your business to keep track of customer interactions and improve campaigns. You can test it out with the 14-day free trial.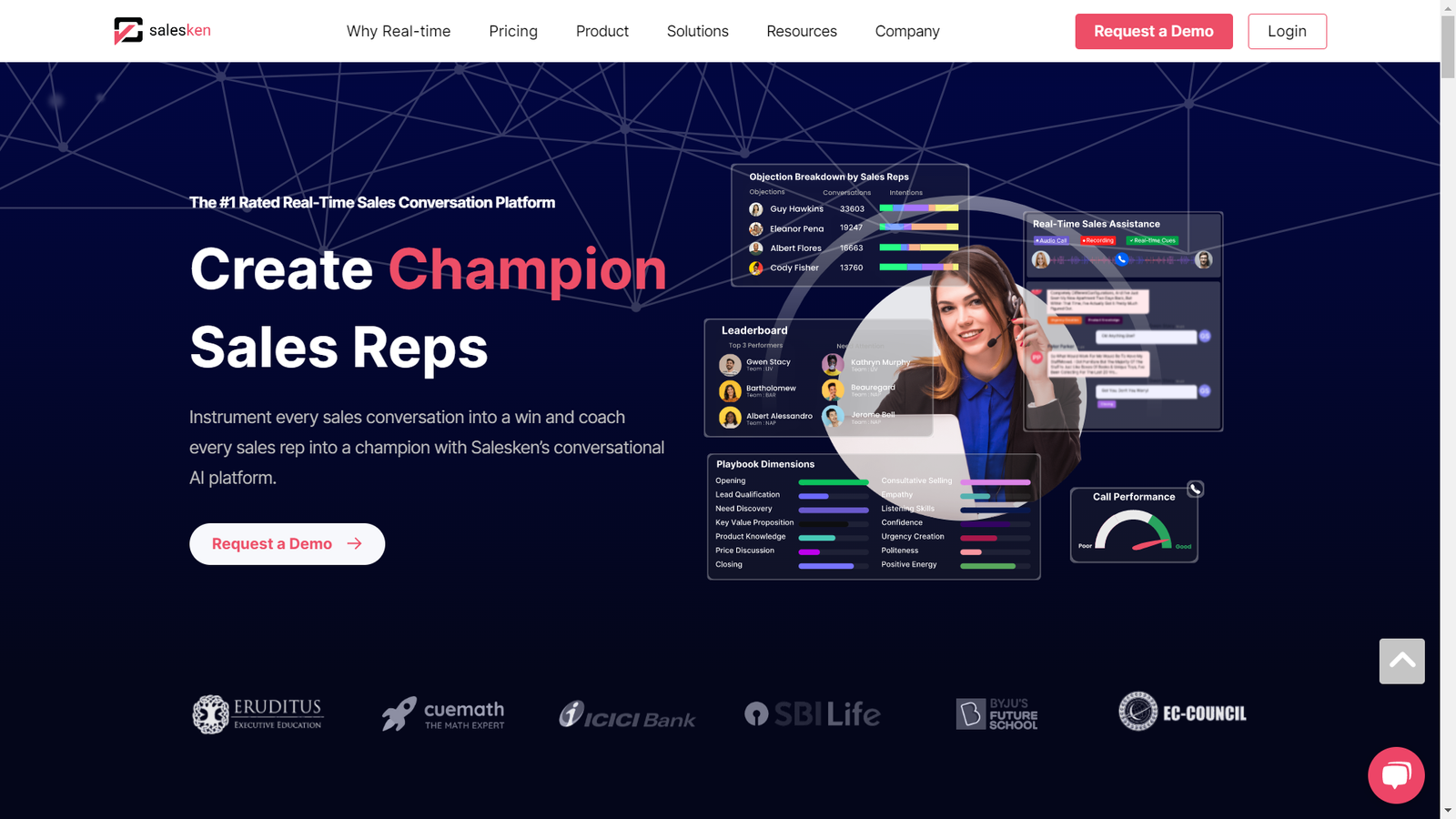 Overview
SalesKen is a conversational intelligence platform that provides your agents with real-time cues during calls to offer more engaging experiences for your customers. It's equipped with analytics tools that provide you with insightful data on your customers' intent and emotions to help you make better marketing decisions.
Highlights
Real-time Guidance: SalesKen assists your reps during calls to help them address customer pain points and respond appropriately.

Pitch Intelligence: Gain in-depth insights into your sales reps' performance and provide them with personalized coaching.

Call Summary: AAutomate after-call work to boost your agents' productivity with call summaries and advisory that help your agents improve their performance.

Pitch Score: Motivate your team by setting measurable goals and ranking sales calls based on successful wins.

Transcription: SalesKen automatically transcribes calls for future reference and training purposes.
Functionality
SalesKen's pitch intelligence provides useful insights about agent performance in intuitive, easy-to-understand reports. You can easily check each agent's performance granularly by accessing the pitch intelligence report for each agent.
Here, you'll find ratings for things like confidence and urgency creation.
Pricing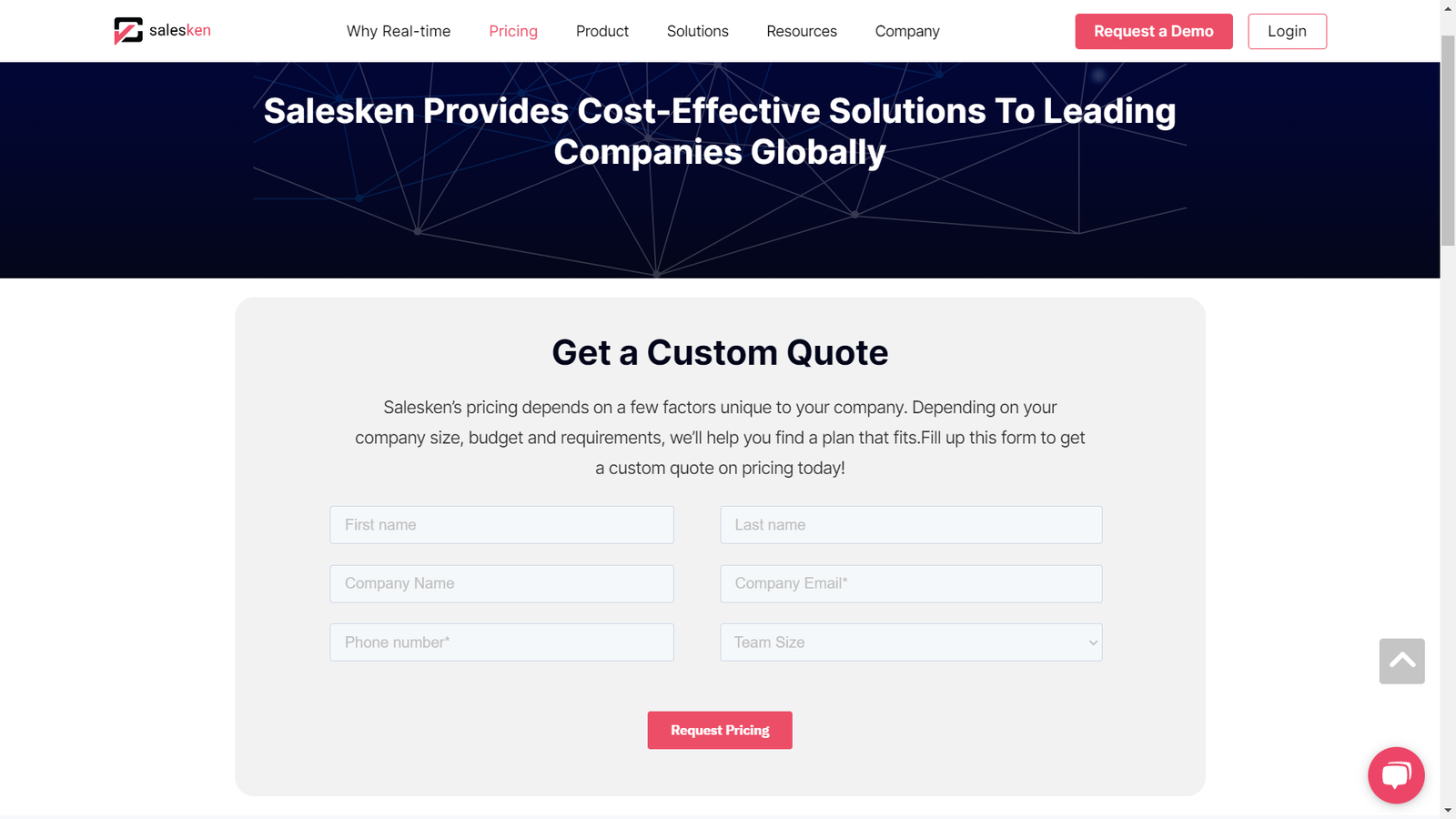 SalesKen's pricing is quote-based. Depending on your company's size and requirements, SalesKen's team will suggest a plan that suits your needs and budget.
Customer Thoughts
I like how SalesKen helps me identify the best reps and learn from their techniques. It's a powerful tool to leverage the strengths of my team and drive progress across the board.

The real-time coaching tools have helped me improve my agents' performance.

What I like best about SalesKen is its ability to provide real-time insights into my reps' activity on calls, webinars, and presentations.

The call connectivity and call recording features of SalesKen have been working great for us.

SalesKen's Lead Intelligence feature is a game-changer for us as it gives us details about how our reps are handling leads.

While SalesKen is great overall, the UI's mobile responsiveness could get better.
Bottom Line
In my opinion, SalesKen is one of the best call-tracking solutions for sales teams. You can book a free demo to explore how it works.
Overview
A platform dedicated to call tracking and analytics, CallTrackingMetrics provides you with invaluable data to make informed strategic decisions. It also integrates with all major marketing channels and platforms like Facebook, Zoom, and Google Analytics.
Highlights
Dynamic Number Insertion (DNI): Automatically connect offline activities like phone calls to site pages and advertising sources for accurate attribution and better customer conversations.

Clear Campaign Attribution: Know where your most valuable leads come from and accurately connect leads to their source.

Proactive Lead Management: Turn call tracking intelligence into action and decrease lead-to-close time to make it all about your customers.

AI reporting and analytics: Access detailed reporting, call recordings, and transcriptions for insights discovery, and leverage AI to identify valuable conversations.

Omnichannel Tools: Manage lead and customer communications across multiple channels and form submissions and consolidate data for analysis.
Functionality
In CTM, you can easily identify whether you need more tracking numbers or not with the accuracy report. It relies on standard deviation to help you decide whether more tracking numbers would generate more insightful data.
To access the report, click on Reports and choose "Accuracy Report".
Pricing
CallTrackingMetrics offers three plans: Performance ($39/month), Growth ($119/month), and Connect ($329/month).
The Performance plan provides attribution essentials to measure the impact of your marketing efforts. It includes unlimited users, call and text attribution, standard call recording, forwarding, and IVR routing.
The Growth plan adds advanced conversation intelligence and automation, FormReactor for tracking web form tracking, AskAI powered by ChatGPT, triggers for automating lead workflows, and more.
As for the Connect plan, you get advanced customizations, real-time dashboards, and sales and experience integrations. For enterprise customers, CallTrackingMetrics provides a customizable plan with features tailored to their specific needs, including account strategy and implementation support, customization options, personalized training, and dedicated account management.
Customer Thoughts
The reporting dashboards can be easily customized, enabling each member of our team to optimize their workflow.

The integration with various sources, such as Google Ads and LinkedIn, has really helped us track and analyze our marketing efforts.

The system charges us for calls that result in hang-ups or robocalls, which are unproductive and a waste of money.

Adding new tracking numbers has been working great for us.

We love that we can attribute our leads to specific channels and campaigns without wasting time deciphering analytics data.

Switching between client accounts is pretty straightforward, and you can even fill out sections while listening to a call.

It can be challenging to filter information when looking for specific types of callers.
Bottom Line
From where I stand, CallCenterMetrics provides a less cluttered call-tracking experience with a high emphasis on analytics and data-driven reports. You can request a free demo to see how it works in action.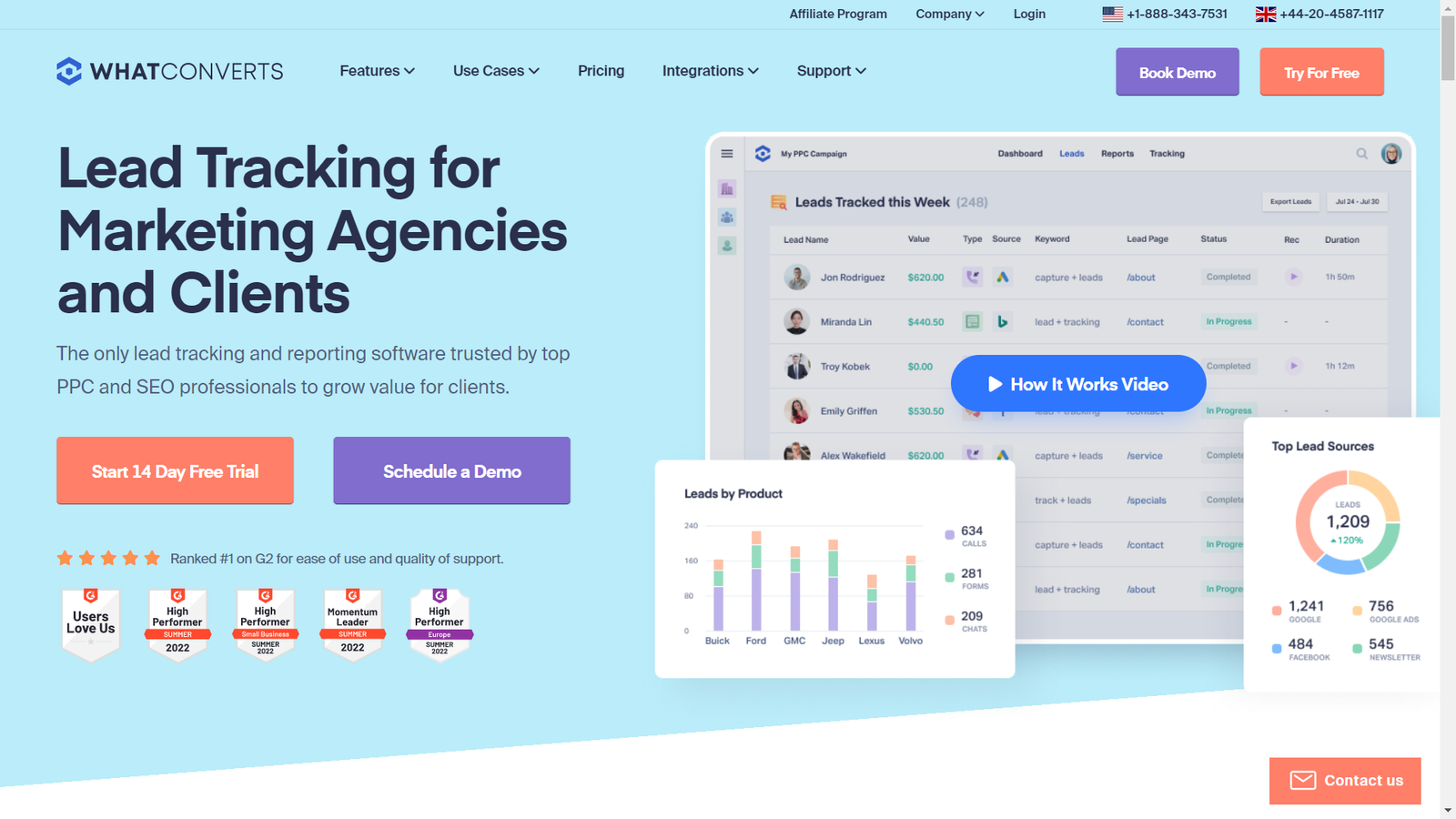 Overview
WhatConverts is a comprehensive lead-tracking solution that provides you with in-depth insights into your marketing campaigns and customer interactions. It can track and report on both calls and chats.
Highlights
First-Party Data Tracking: WhatConverts tracks leads using first-party data, ensuring eliminating concerns about recent bans on third-party cookies.

Custom IVR Menu: Provide customers with options to route their call to the best matching agent.

Post-Call Qualification: Identify leads from incoming calls after the call ends for your nurturing campaigns.

Scheduled Hours and Holiday Routing: Automatically reroute calls that occur outside business hours.

Call Transcription: Access relevant insights from your calls without listening to the entire call recording with advanced call transcription capabilities.
Functionality
I love that I can set up automated call greetings and whispers with WhatConverts.
To set up a greeting or whisper, log into your WhatConverts Profile where the relevant phone numbers are located. From the top menu, click on "Tracking" and then select "Phone Calls." After that, click on "Phone Numbers" and choose "Edit Phone Number".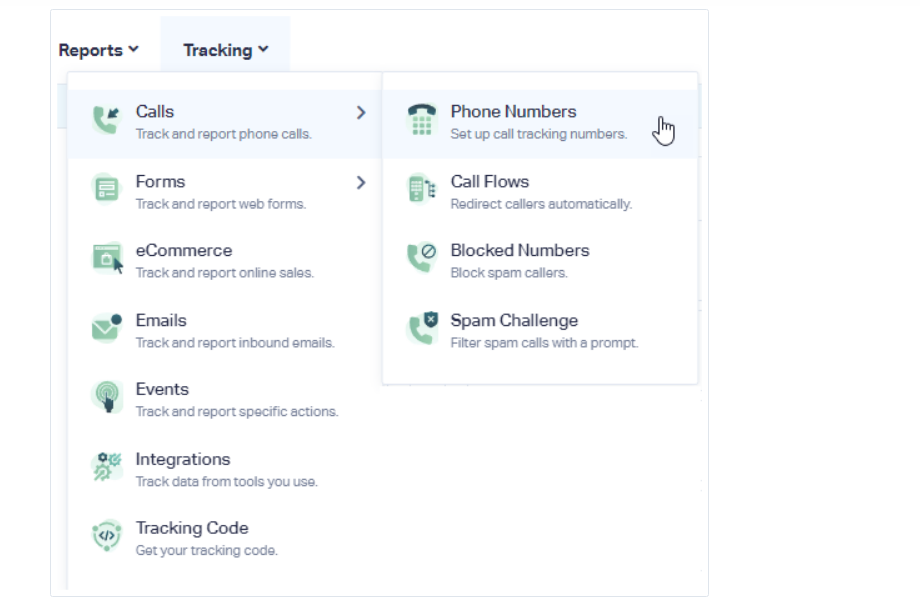 Pricing
WhatConverts offers multiple pricing plans for call tracking: Call Tracking ($30/month), Plus ($60/month), Pro ($100/month), Elite ($160/month), and Agency (quote-based).
The Call Tracking plan includes one account and a 14-day free trial. It enables phone call tracking, instant call tracking numbers, and dynamic number insertion. The Plus plan adds advanced features like form and chat tracking, campaign and keyword reporting, and integration with Bing, Google Ads, and Analytics.
The Pro plan includes all Plus features, with call flows, report builder, scheduled reports, and API access. The Elite plan offers all Pro features, plus customer journey tracking, multi-click marketing attribution, and security controls.
For custom solutions and scaling, the Agency plan offers personalized quotes.
Customer Thoughts
I like that WhatConvers presents the relevant call data in a visually appealing dashboard.

WhatConverts helps me improve my work for clients by providing accurate insights into what's working and what can be improved.

In terms of attributions, WhatConverts has been a game-changer for us.

We love that we can read form fills within the platform and learn where they came from.

The only issue I have with WhatConverts is that only one email address can be added to the agency account, which really doesn't make sense.

There are some restrictions in API and advanced routing capabilities.
Bottom Line
From my experience, WhatConverts offers an excellent toolset for tracking, analyzing, and routing calls from all sources. You can try it with the 14-day free trial.
Overview
Invoca's conversation intelligence platform empowers your business with insightful call data while keeping costs under control. It utilizes AI and attribution to boost sales and maximize your marketing ROI.
Highlights
Call Classification and Attribution: Automatically classify and attribute calls to make better decisions.

Issue Identification: Find out what's causing your customers to abandon their digital journeys and optimize caller experience with data-based action items.

Data-based Agent Coaching: Analyze agent performance to personalize coaching and training.

Conversation Intelligence: Leverage Invoca's AI tools to automate call quality assurance, access and analyze first-party customer data, and gain performance and customer intent insights.

Call Tracking and Analytics Data Integration: Track calls conversion data from multiple channels and sources with integrations.
Functionality
I find it very useful that Invoca combines online and offline data in one place. It creates a comprehensive call profile that captures consumers' digital journey and phone call information by utilizing online data collection and traceable phone numbers.
To check the unified online and offline data, click on a call to expand its details from the primary dashboard.
Pricing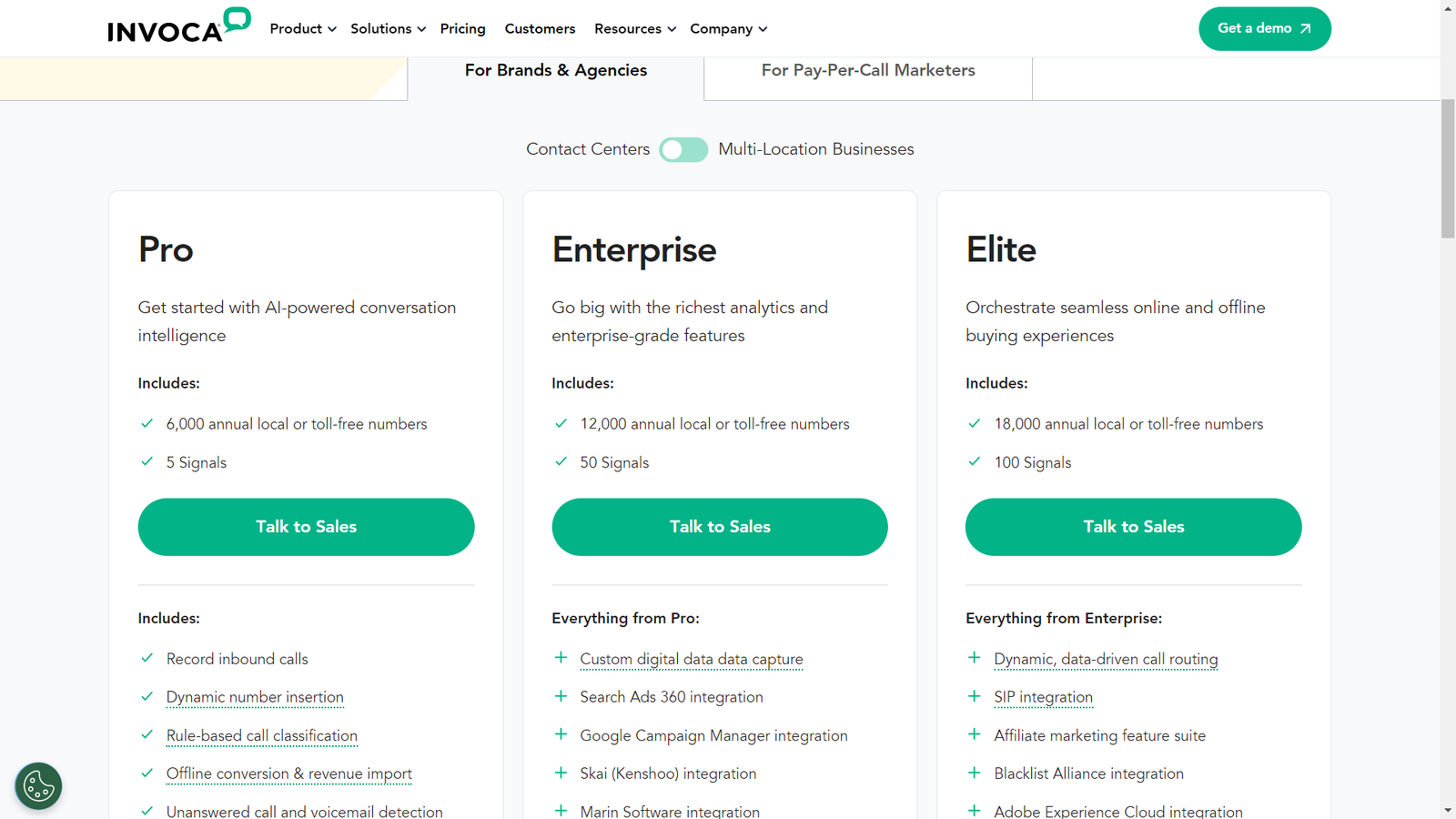 Invoca offers 3 pricing tiers for brands and agencies, as well as multi-location businesses. These are Pro, Enterprise, and Elite. There are also 2 plans for pay-per-call marketers: Performance Professional and Performance Enterprise.
All plans are custom priced, so you need to contact their sales team to get a quote based on your company's requirements.
Customer Thoughts
I love that we can customize and test phone numbers and lines for call auditing purposes.

The reports Invoca provides are very organized and effective for our marketing team.

I don't like that I need to dig to understand what my account allows me to do.

For us, Invoca is somewhat complicated, especially with all the different permissions available to employees.

The best thing about Invoca is that we can track conversions from all sources in a single dashboard.

Invoca's conversation intelligence features have enabled us to improve our agents' performance by helping us identify each agent's strengths and weaknesses during calls.
Bottom Line
If you're looking for a call-tracking software tool that also has native AI-powered conversation intelligence capabilities, Invoca would be your best bet. You can request a demo to explore its potential yourself.
What Is Call Tracking Software?
Call tracking software is a tool that allows you to track and analyze phone calls generated from your different marketing channels. When customers call your business, the software captures and analyzes the conversations to give you important insights that can help you improve and fine-tune your marketing efforts.
Why Your Business Needs Call Tracking Software
Call tracking software offers several benefits that can be valuable for your business and your B2B marketing efforts. It enables your marketing team to measure marketing ROI, optimize Marketing Strategies, offer more personalized customer service experiences, identify and generate more leads, and personalize agent training.
According to a report by Opus Research, organizations have managed to increase the ROI of their marketing campaigns by up to 81% after implementing call tracking and speech analytics software.
Conclusion
Now that you have a better idea about your options, you should be able to choose the best call-tracking software solution for your needs.
Call tracking tools can either be very basic, or equipped with advanced AI and conversation intelligence, so it's up to you to decide which type fits your needs. Just make sure that you at least get a demo of the product before committing.