Best Transcription Software for Video
Recording video interviews and podcasts is a walk in the park, but transcribing them? I wouldn't say it's an easy job.
But here's the good news: there are software solutions that can assist you in summarizing meetings and transcribing professional videos for your business.
In this guide, I'll help you choose the best transcription software for your needs.
What Are The Best Transcription Software?
From my experience, the best transcription software solutions are Otter, Descript, Google Cloud Speech-to-Text, Fathom, and Trint. Now, let's find out how these tools can help you transcribe audio and video files.
Otter – Best Overall Choice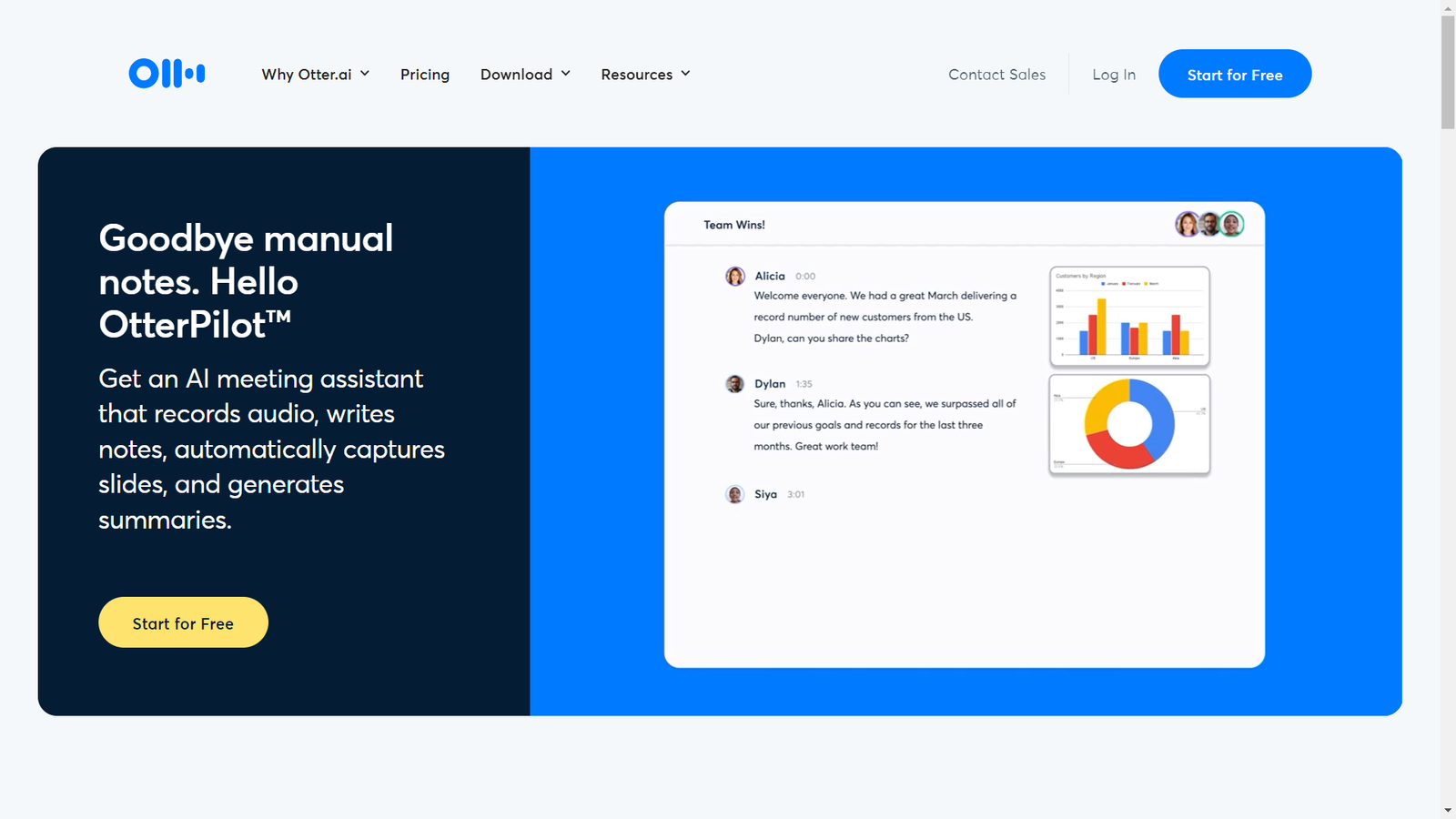 Overview
Otter is an advanced transcription tool that lets you create meeting minutes, interview transcripts, and lecture notes via voice dictation or file transcription. The software leverages artificial intelligence (AI) technology that enables organizations to record, edit, organize, and store video interactions.
Highlights
Extensive search features: Find what you're looking for quickly by searching video transcription and meeting notes by keyword, speaker, or date.

Automated slide capture: Otter captures meeting slides and inserts them into meeting notes in real time, enabling you to provide additional context in your meetings.

Collaboration capabilities: Collaborate with teammates on the transcription notes, add comments and questions, and assign action items.

Automated Meeting Summary: Summarize meetings easily with automated summaries that include hyperlinks to the notes and slides.

Google and MS Calendar integration: By connecting Otter to your Google or MS calendar, you can set it to automatically join and record meetings, as well as take notes even if you're not present.
Functionality
I find Otter's automatically generated notes and summaries very helpful.
To enable this feature, click on the "automated summary" button in the takeaways panel after you've transcribed your video and Otter will use its AI-powered summarization technology to analyze the transcript and generate a summary of the most important points discussed.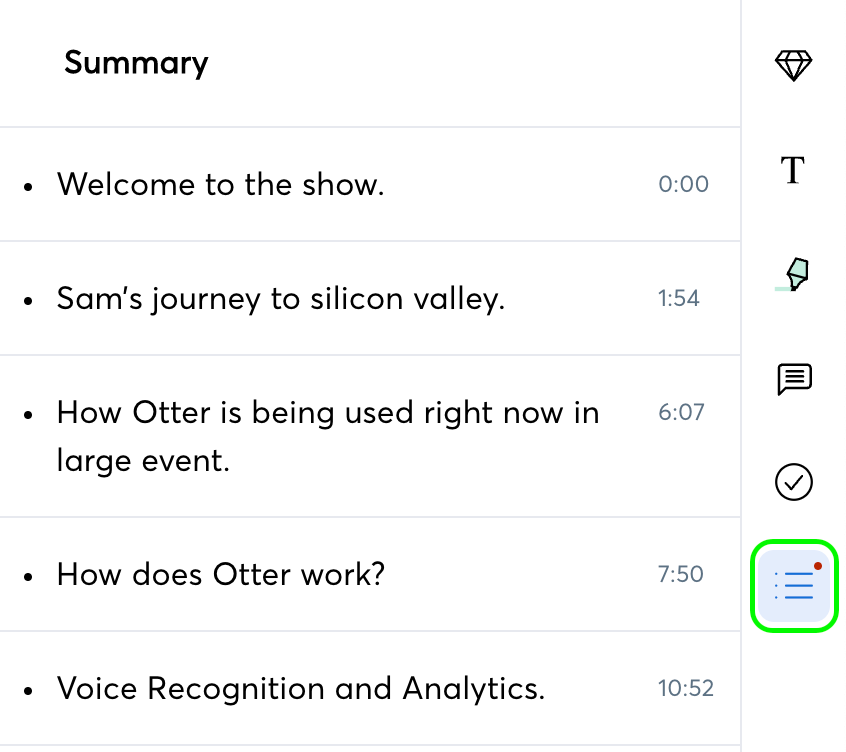 On top of that, you can review and edit the summary as needed, and then save it for future reference or even share it with others.
Pricing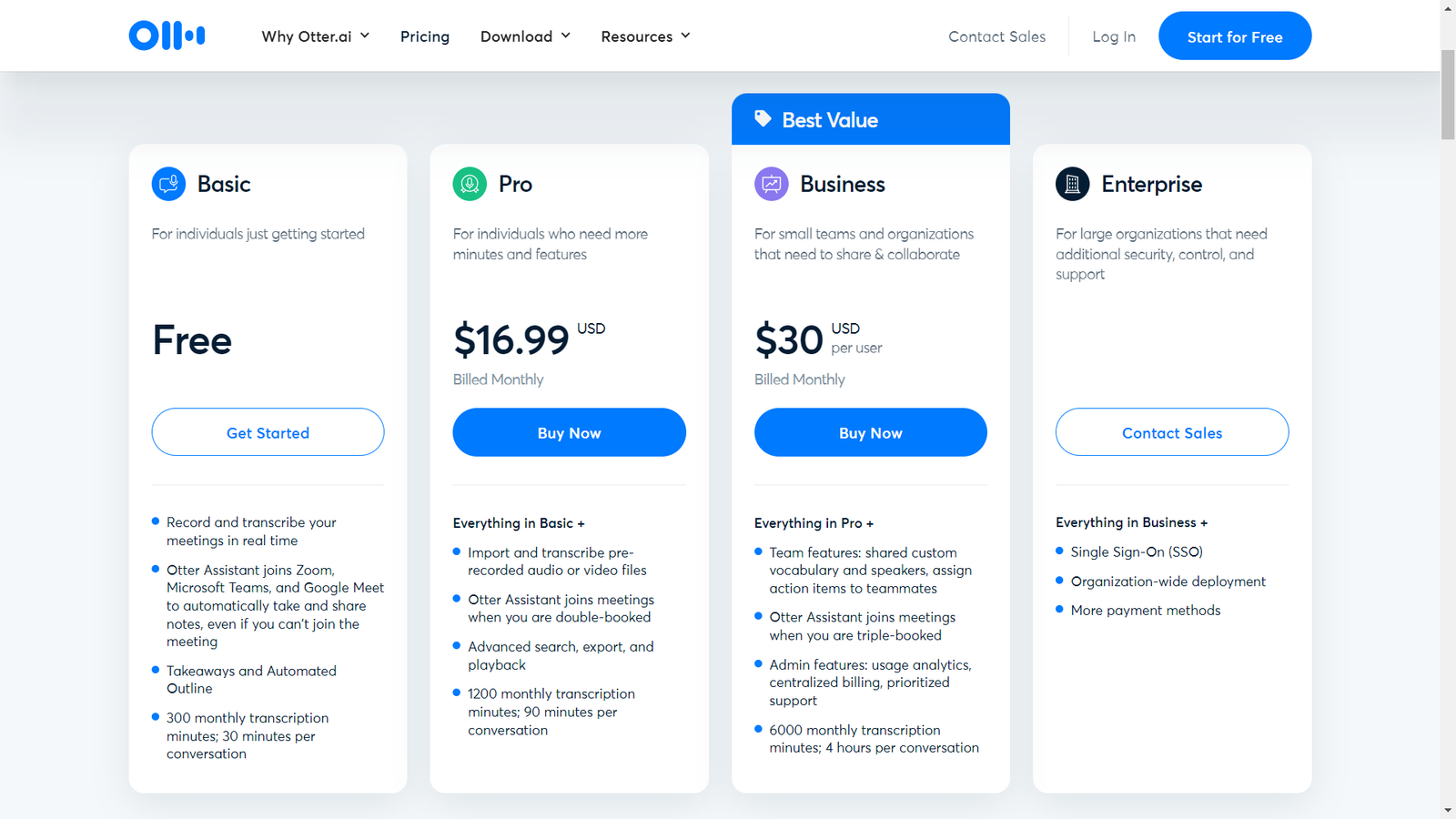 Otter's transcription and note-taking software offers four pricing plans. The Basic plan is free for real-time transcription, with 300 monthly transcription minutes and Otter Assistant joining Zoom, Microsoft Teams, and Google Meet meetings.
The Pro plan costs $16.99/month and includes everything in Basic, with 1200 monthly transcription minutes and the ability to transcribe pre-recorded audio files. The Business plan costs $30/user/month, and offers team features and 6000 monthly transcription minutes, making it the best value.
The quote-based Enterprise plan provides advanced security, control, and support capabilities.
Customer Thoughts
The ability to search by keywords and speakers is very helpful.

I have to edit through the words that are interpreted wrong with Otter, which can be time-consuming.

Otter allows me to be more present in meetings without needing to take notes as it does everything automatically in the background.

The actual language processing isn't always accurate hit-or-miss, especially with non-native English speakers.

Using the upload function is extremely useful as it enables me to upload a pre-recorded video and carry out other tasks while Otter transcribes it.

One problem we have with Otter is that it doesn't always capture action items, which makes collaboration more challenging.
Bottom Line
In my opinion, Otter is one of the best automatic transcription software tools for collaborating on video files. The Free plan would be a good place to start if you want to try it out yourself.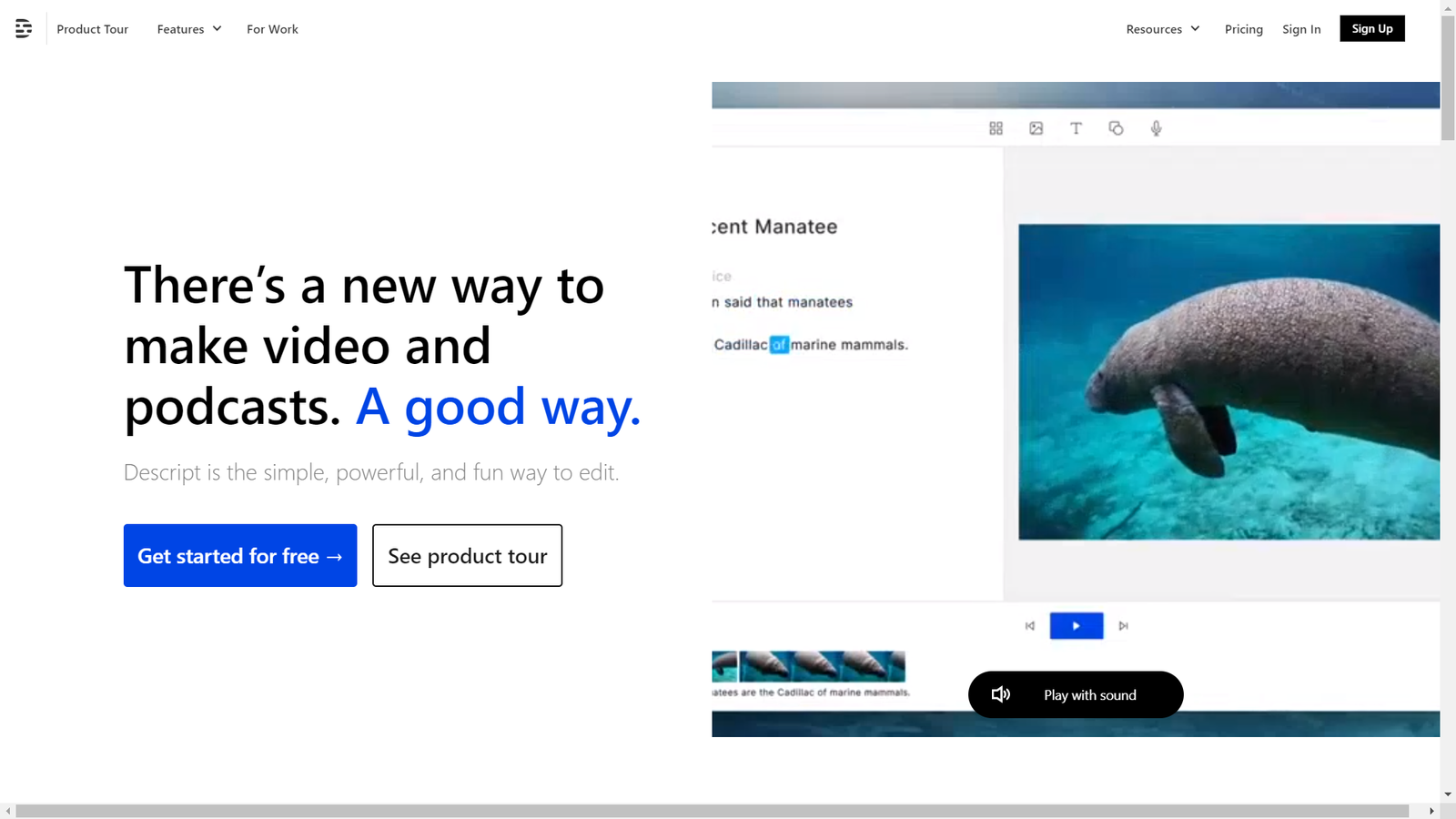 Overview
Descript is a comprehensive editing tool that makes the video editing process as effortless as editing a Word document. By uploading media or recording directly in Descript, the software will instantly transcribe the recording for you. It also lets you modify the text to make direct edits to your media clips.
Highlights
Fast transcription: Descript offers near-instant automatic transcription for videos of all sizes.

Speaker labeling: Use the AI-powered Speaker Detective to add speaker labels quickly, which makes it easy to identify the speaker and when they're speaking.

Multilingual transcription: Descript supports audio transcription in 22 languages, including Spanish, German, French, Italian, Portuguese, and more.

Cloud sync and collaboration: Descript offers cloud sync capabilities for easy remote access and versioning.

Import existing transcriptions: If you already have an accurate transcription, you can import it and sync it to your media for further processing.
Functionality
When you upload an audio or video file to Descript, the software automatically transcribes the audio into text. This text appears in the Descript editor, where you can make edits to the text just as you would in a document.
As you edit the text, Descript will automatically edit the audio and video content to match your changes. For example, if you delete filler words like "but um" and "so…" from the text, the corresponding audio will also be removed.
If you add a new sentence, Descript will use its AI-powered text-to-speech engine to create a new audio recording of that sentence using the voice of the original speaker.
You can also remove all filler words at once by clicking on "remove filler words".
Pricing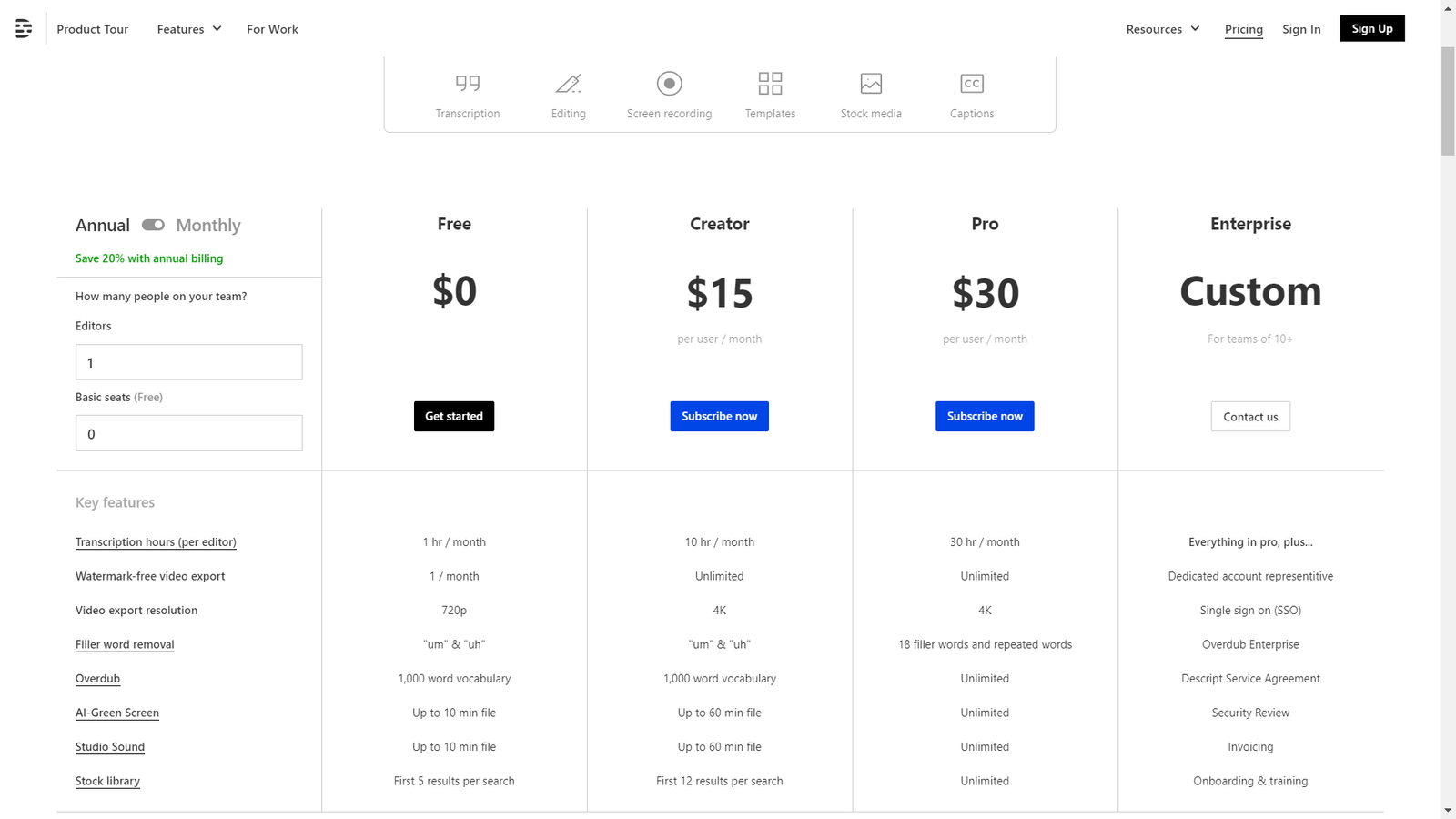 Descript offers three pricing plans: Free, Creator ($12-$15 per user per month), and Pro ($30 per user per month). The free plan offers one hour of transcription per month, while the Creator plan offers up to ten hours and the Pro plan offers up to 30 hours.
The Creator plan includes features such as filler word removal and overdub. The Pro plan, on the other hand, adds options like watermark-free video export and studio sound.
The Enterprise plan, which is customized for teams of 10 or more, includes additional features like unlimited transcription, dedicated account representatives, and AI green screen.
Customer Thoughts
I've been using Descript for filler word removal and it's been doing an excellent job.

I use Descript to record script ads. The ability to punch in and out to get the right cadence is where it stands out.

We love the room tone feature; it makes the recording sound as if it was recorded in a professional studio.

Sometimes, I have a problem with mass editing misspellings or filler words like "uh's" and "um's" in Descript because it can completely cut out that part of the video.

I find it really useful that I can edit an interview or podcast by simply editing the transcription text in Descript's editor.

Sometimes, there are transcription errors when I use automatic transcription, and correcting these errors is a bit tricky.
Bottom Line
From where I stand, Descript is a great transcription solution for quick video editing and instant transcripts. I definitely encourage you to explore the free version.
Overview
Google Cloud's Speech-to-Text API utilizes cutting-edge AI technology to provide accurate transcription of speech into text across 73 languages and 137 local variations. You can use this API wherever you require, whether in the cloud, on-premises using Speech-to-Text On-Prem, or on any device with Speech On-Device.
Highlights
Superb accuracy: Google Cloud Speech-to-Text integrates advanced deep learning neural network algorithms that provide highly accurate transcription.

Easy model customization: With the Speech-to-Text UI, you can create custom resources for your specific speech recognition requirements.

Speech adaptation: Provide hints to improve transcription accuracy of domain-specific conversations. You can also turn spoken numbers into years, currencies, and more with classes.

Domain-specific models: Choose from a selection of trained models for voice control, phone call, and video transcription optimized for domain-specific accuracy.

Speaker identification: Automatically identify different speakers in a video conversation.
Functionality
One thing you can do with Google Cloud Speech-to-Text is to use custom speech models to better fit the specific vocabulary and acoustic environment of your application and improve accuracy, like when transcribing medical or legal conversations.
To select a specific model to use for audio transcription, simply set the model field to one of these values: video, phone_call, command_and_search, latest_long, latest_short, medical_dictation, medical_conversation, or default—in the RecognitionConfig parameters for the request.
Pricing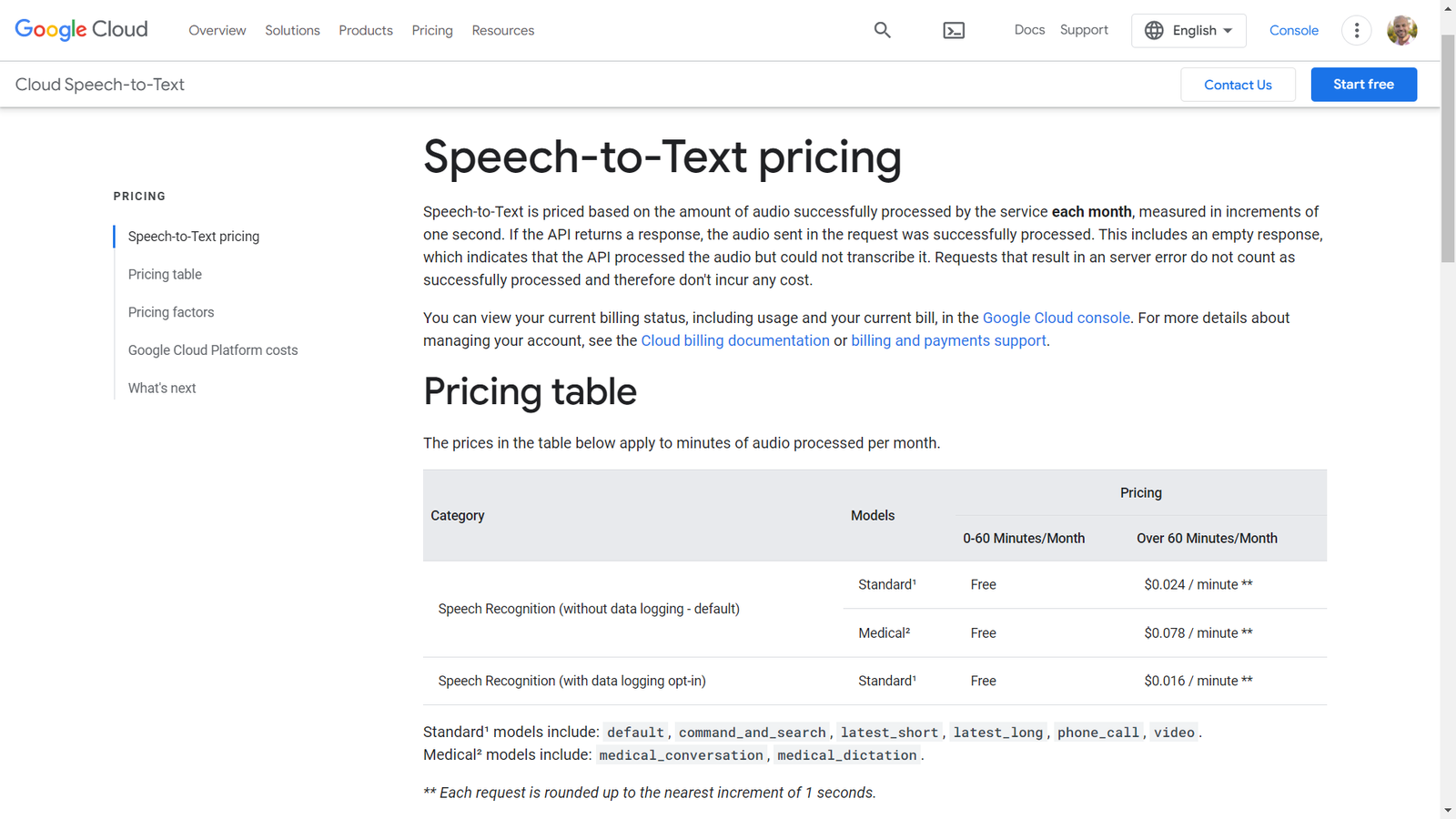 Google Cloud Speech-to-Text pricing is based on the amount of successfully processed audio per month, measured in seconds.
The service offers a free Standard model for up to 60 minutes of processing per month, while additional minutes incur costs ranging from $0.016 to $0.078 per minute, depending on the chosen model and data logging options.
If you opt for data logging, you can benefit from lower prices. Speech-to-Text pricing also depends on the number of channels in the audio, with each channel billed separately. For very large workloads, volume discounts may be available.
Customer Thoughts
I love that I can transcribe both real-time and pre-recorded interviews and podcasts accurately.

The best thing about this service is the Speaker diarization feature that can identify and distinguish different speakers in a video recording.

Its accuracy is very good, and it even supports lots of languages, which is beneficial for multicultural teams.

I love how Google's Speech-to-Text service seamlessly integrates with Google Docs.

Transcribing accurately in the presence of noise, speaker accents, or complex subject matters can be challenging.

I didn't really like the onboarding process of Google Cloud Speech-to-Text because many of the cards we had weren't supported.
Bottom Line
If you're looking for a transcription tool that produces the most accurate results and offers support for a wide range of languages with their local variants, Google Cloud Speech-to-Text would be your best bet. You can try it out for free.
Fathom – Best for Zoom Users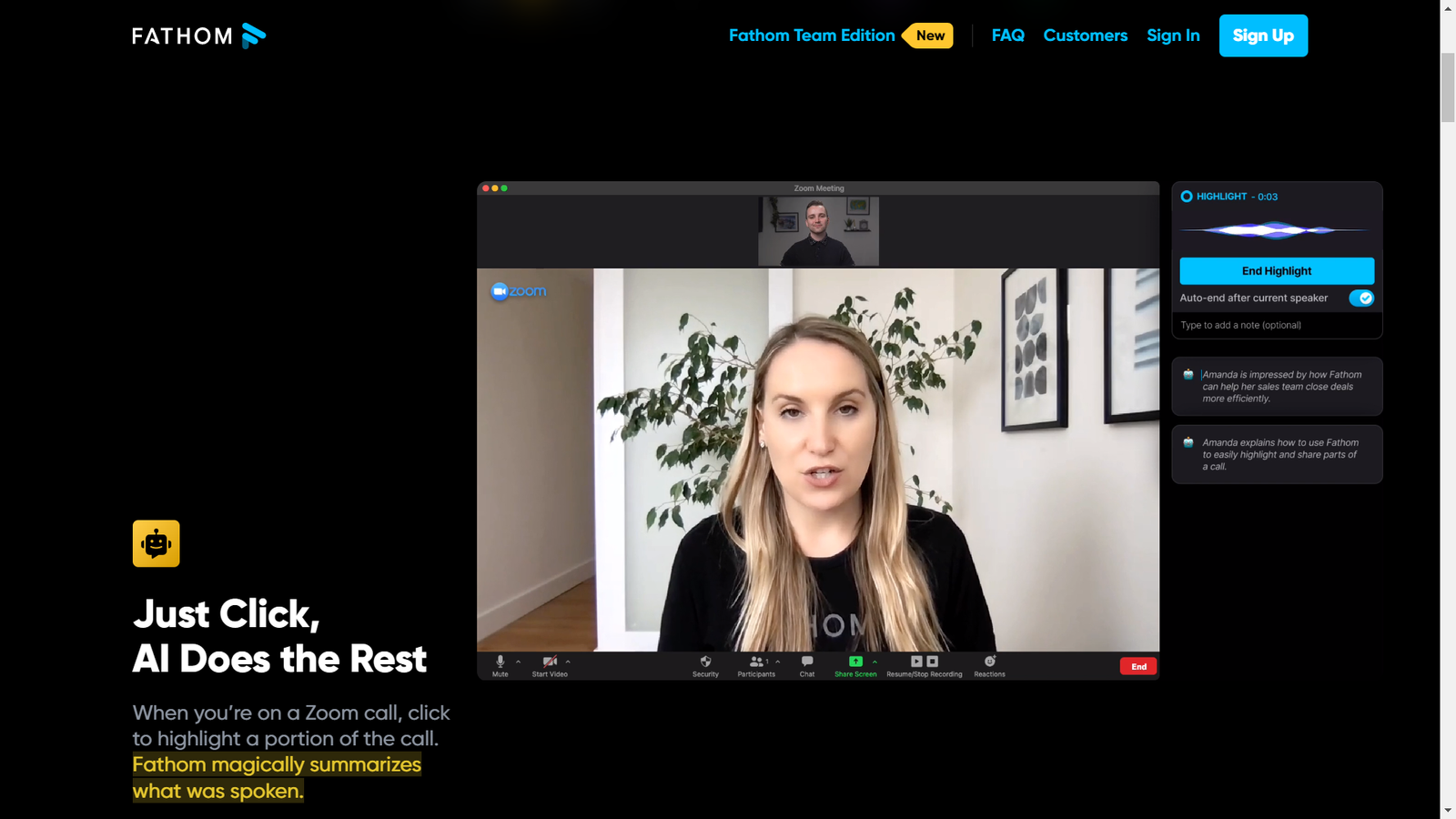 Overview
Fathom is a free Zoom add-on that helps you stay focused during conversations by recording, transcribing, and highlighting key moments for you. Instead of taking notes, Fathom generates call notes from this information and syncs them to your Salesforce or Hubspot CRM.
Highlights
Portion summarizing: Use Fathom to highlight a portion of your Zoom call to summarize.

Instant Access: Access fully transcribed call recordings and all highlighted moments instantly after the call ends.

Multi-lingual support: Fathom supports multiple languages including English, French, Spanish, Italian, German, and Portuguese.

Seamless collaboration: Intuitively copy-paste formatted summaries and action items into Google Docs, Gmail, or task managers to collaborate with teammates.

CRM integration: Fathom generates and syncs your Zoom meeting notes in your CRM (Customer Relationship Management) software automatically.
Share Your Highlights: Instead of just notes, Fathom allows you to share important clips that tell a fuller story.
also allows you to share video clips of these highlights with your colleagues. Additionally, Fathom can send real-time clips of important call content, such as a customer's technical question, to a Slack channel for your team to respond to.
Functionality
For me, the best thing about Fathom is that I can copy and paste the transcription into Google Docs and other apps without ending up with awkward formatting.
It's pretty simple; all you have to do is click on the "Copy Summary" button and then paste the text into a new Google Doc.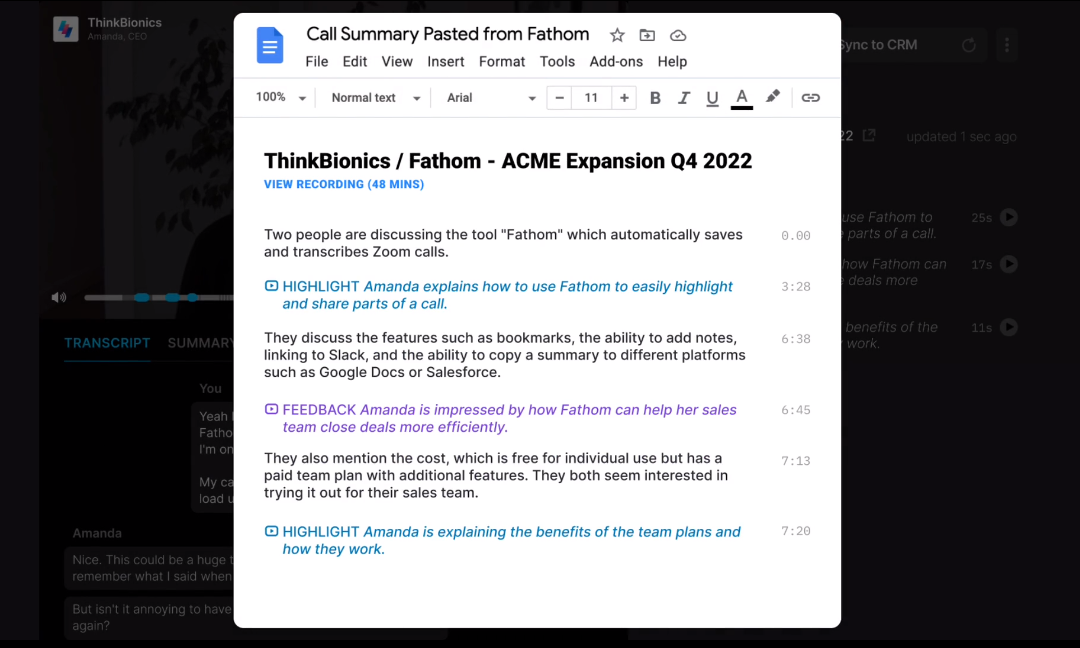 Pricing
Fathom is 100% free. You can use all of its features by just signing up.
Customer Thoughts
If I miss anything important in the meeting, Fathom provides a backstop for me to review action items and key points from the meeting.

Fathom has been working great for us, but unfortunately, it doesn't work with Google Meet or Microsoft Teams yet. Not all of our clients use Zoom.

The dialogue tracker is by far the most useful feature Fathom offers. As I take notes during the meeting, I know that Fathom has captured the important parts.

I love that it has valuable connections to other software tools, such as the AI summary in a format that works with Google Docs.

As a product manager, I primarily use Fathom for user research interviews. It helps me track insights across specific domains.

Using Fathom with multiple Zoom accounts can be complicated since you must log out of both Zoom and Fathom every time.
Bottom Line
If you rely on Zoom for most of your video meetings and interviews, Fathom would be an excellent free transcription add-on for you.
Trint – Best for Content Repurposing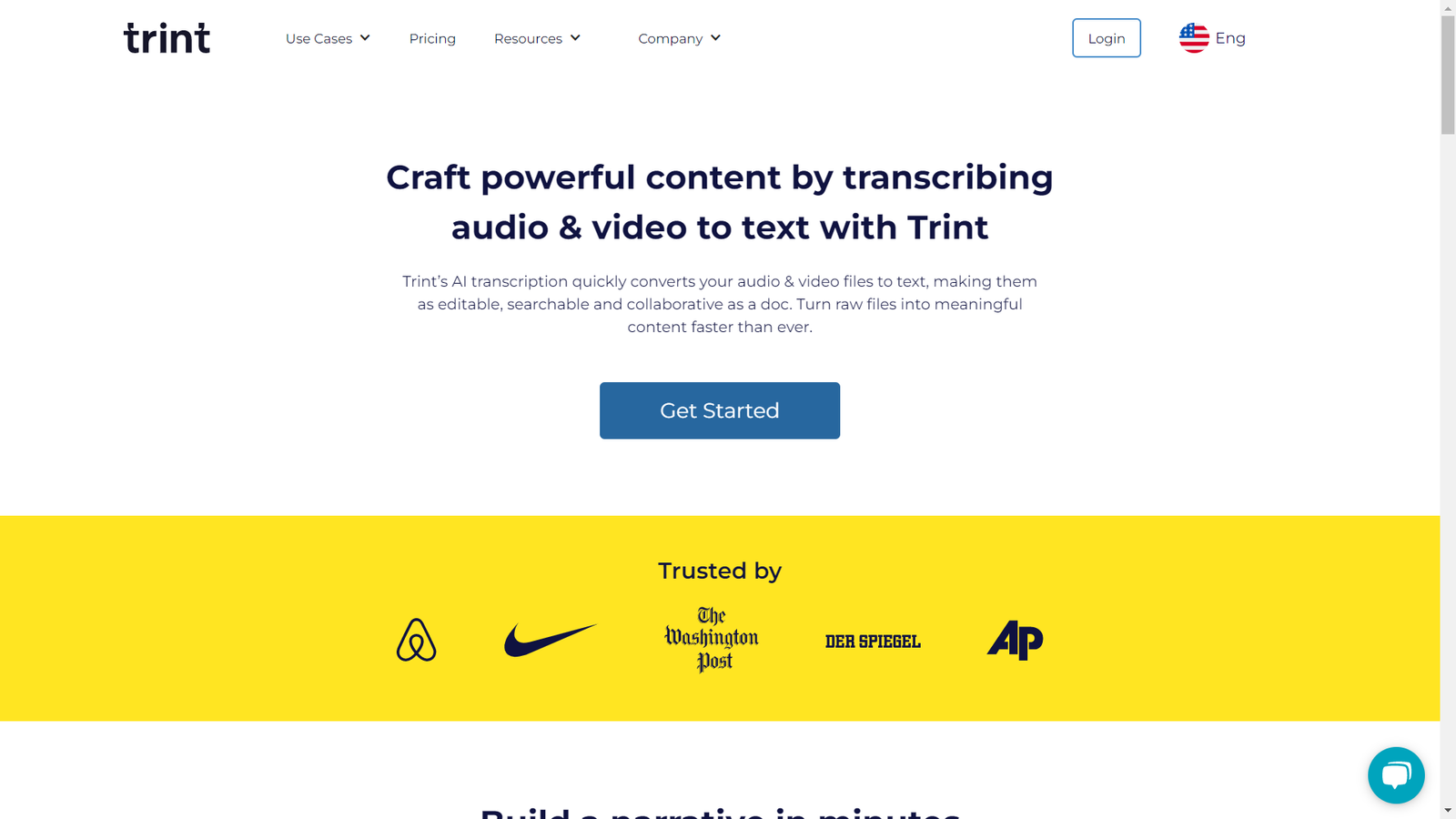 Overview
Trint offers a speech-to-text platform that utilizes AI technology to transcribe any audio or video, allowing users to easily search, edit, and share their content. With powerful collaboration tools, Trint connects teams for seamless and secure content creation in the office or at home.
Highlights
Fast audio and video editing: Capture key moments and re-order clips easily with the easy-to-use text editor.

Closed captions: Make your content accessible to more people by generating and editing closed captions.

Collaboration: Use tags, highlights, and comments to collaborate with your colleagues, as well as share content.

Transcribe in 30+ languages: Trint can transcribe videos in over 30 languages and translate them into more than 50 languages.

Content repurposing: Use Trint to repurpose quotes and soundbites from your transcripts into bite-sized social media and email content with an intuitive search function.
Functionality
Trint's accuracy is very reasonable to me. However, if a speaker has a pronounced accent or uses unconventional spellings, Trint may encounter difficulties in accurately transcribing every word.
To improve its accuracy, you can use the "Add to Vocab" button in the navigation bar to train Trint on how to spell unusual words correctly in the future. Just make sure that you highlight the words before clicking on the button.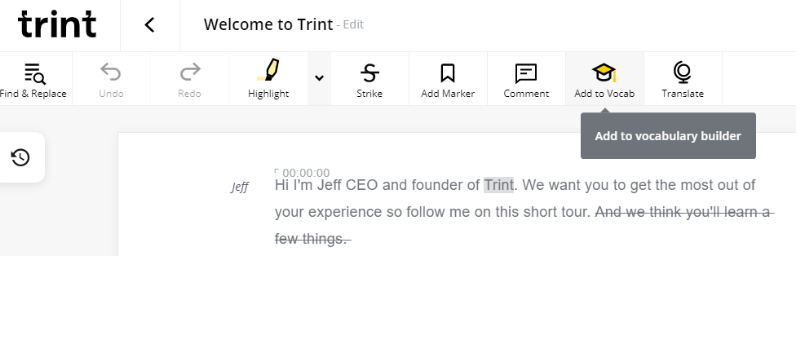 Pricing
Trint offers three pricing plans: Starter ($60 per user per month), Advanced ($75 per user per month), and Enterprise (contact for pricing).
The Starter package is ideal for individuals and teams that need to transcribe up to 7 files per month, with features such as custom vocabulary, and sharing with anyone to view and comment.
The Advanced plan includes everything in Starter and adds unlimited transcription, editing in teams of up to 15 users, and secure shared workspaces.
As for the Enterprise plan, you get all Advanced features, in addition to workflows, extended security, and dedicated customer success.
Customer Thoughts
I like the ability to slow down recordings or speed them up so I can make corrections easier.

The ability to edit transcripts inside Trint has saved me a lot of time.

The best feature is when I click clicking somewhere in the transcription, it automatically takes the audio to that part of the recording.

The accuracy of the transcription is exceptional. Highly recommend.

I'm impressed by how fast Trint is; I can get near-perfect transcriptions in just a few seconds!

The Dutch transcriptions of Trint were below expectations; not sure about other languages, though.
Bottom Line
Trint is a great transcription service for content repurposing. You can try it out with the 7-day free trial.
What Is Transcription Software?
Transcription software is a tool that converts human speech from video and audio files into text to make it easier to edit, search through, and export. Many transcription tools offer both manual and automated transcription.
Why Your Business Needs Video Transcription Software
Transcription tools assist you in editing your videos by converting speech to text. So, instead of editing, trimming, or cutting out parts of the video in video editing software like Sony Vegas Pro, you can just delete the text in the transcription and the video will be automatically edited accordingly.
So, if you, for example, have a YouTube channel and you constantly need to create video content for your business, a transcription software solution is a must-have. It'll skyrocket your productivity and save you a lot of time and effort.
Conclusion
That was my two cents on the best transcription software.
If your workloads are limited, you should be able to use some of the tools I've reviewed for free. For larger workloads, you might have to sign up for a paid plan.
I recommend trying out some of the AI transcription services I've reviewed here to determine which of them works best for your domain-specific B2B marketing requirements.