Best Landing Page Builders to Increase Conversions in 2023
So you've worked so hard on that unique product or service, and now you're ready to tell the world about it. And since we're in 2022, you can't argue that the best way to do this is to market your offering online.
But here's a secret: You don't need to invest in a $2,000 website to get customers online. With a landing page builder, you can easily create promotional one-page websites, even if you don't have any coding experience. Some of these builders are free, while others will cost you a small monthly fee.
In this guide, we'll explore the best landing page builders to boost conversions.
What Are the Best Landing Page Builders?
Some of the best landing page builders include Carrd, Swipe Pages, Leadpages, Unbounce, and Instapage. Now, let's take a look at what each of them has to offer:
1. Carrd
Overview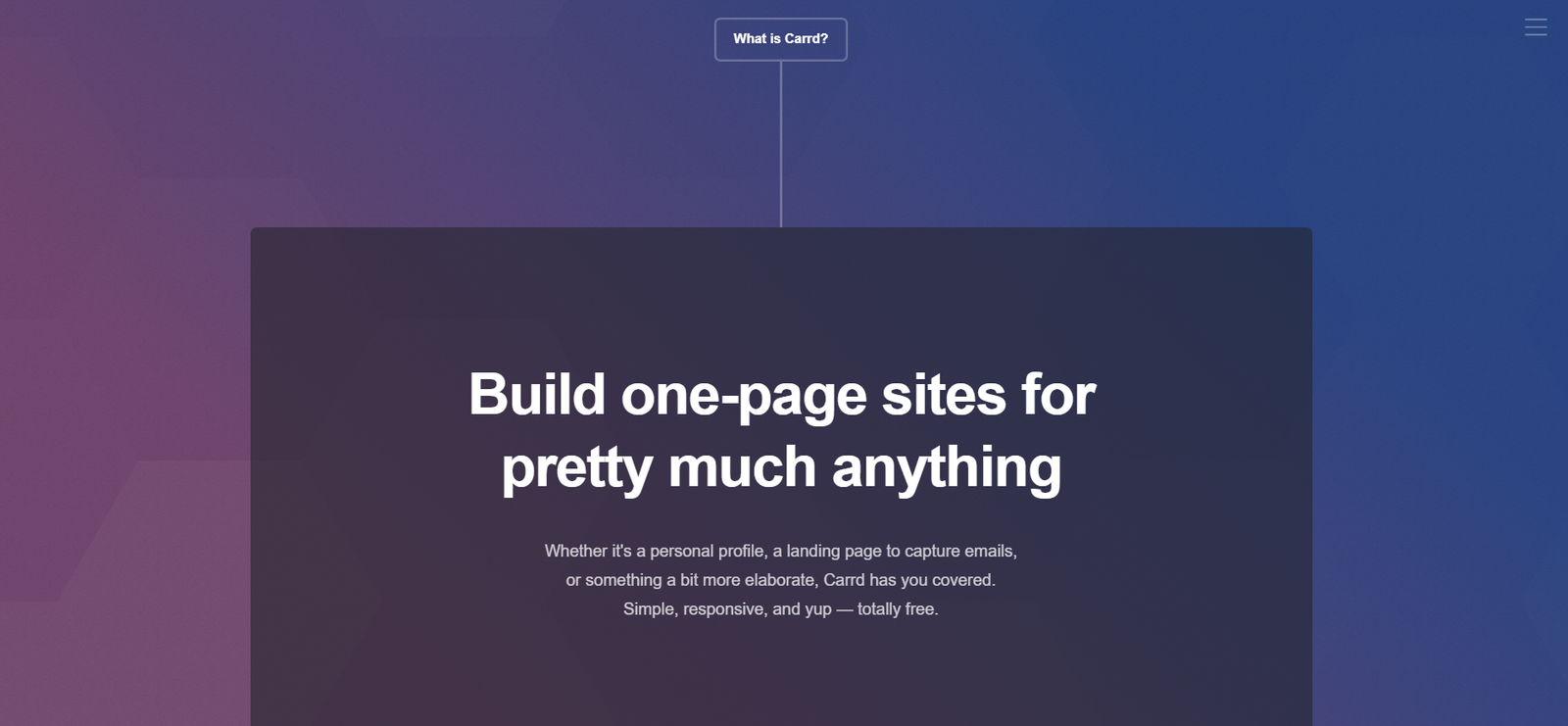 The Carrd landing page builder is one of the fastest and most cost-effective ways to build landing pages. You don't even need to create an account to start crafting your landing page. All you have to do is visit Carrd's website, choose one of the available themes, and work on your free landing pages right away.
Highlights
Smooth drag-and-drop visual editor: The editor of this landing page builder is highly functional while maintaining a smooth user-friendly interface.

Sleek templates: Carrd's massive library of templates includes modern themes that don't even look like they're included with a landing page builder.

Quick start: This landing page builder makes it easy to start building your landing page as soon as you open the website.

Google Analytics integration: The paid plans let you track your landing page performance so you can make adjustments if necessary.

Comprehensive documentation: If you get stuck, Carrd's documentation will help you with any obstacle you face with your landing page builder.
Pricing
The Carrd landing page builder has 4 plans: Free, Pro Lite ($9/year), Pro Standard($19/year), and Pro Plus ($49/year). The Free plan lets you create 3 websites, but you'll miss out on some features. The Pro Lite plan gives you access to more templates and allows you to build up to 10 landing pages.
With the Pro Standard plan, you get features such as Analytics and custom domains, while the Pro Plus plan includes custom forms and downloadable unminified sources.
Bottom Line
Carrd is the best landing page builder tool for those looking for something affordable and functional. You won't even need to pay a penny to start creating custom landing pages.
2. Swipe Pages
Overview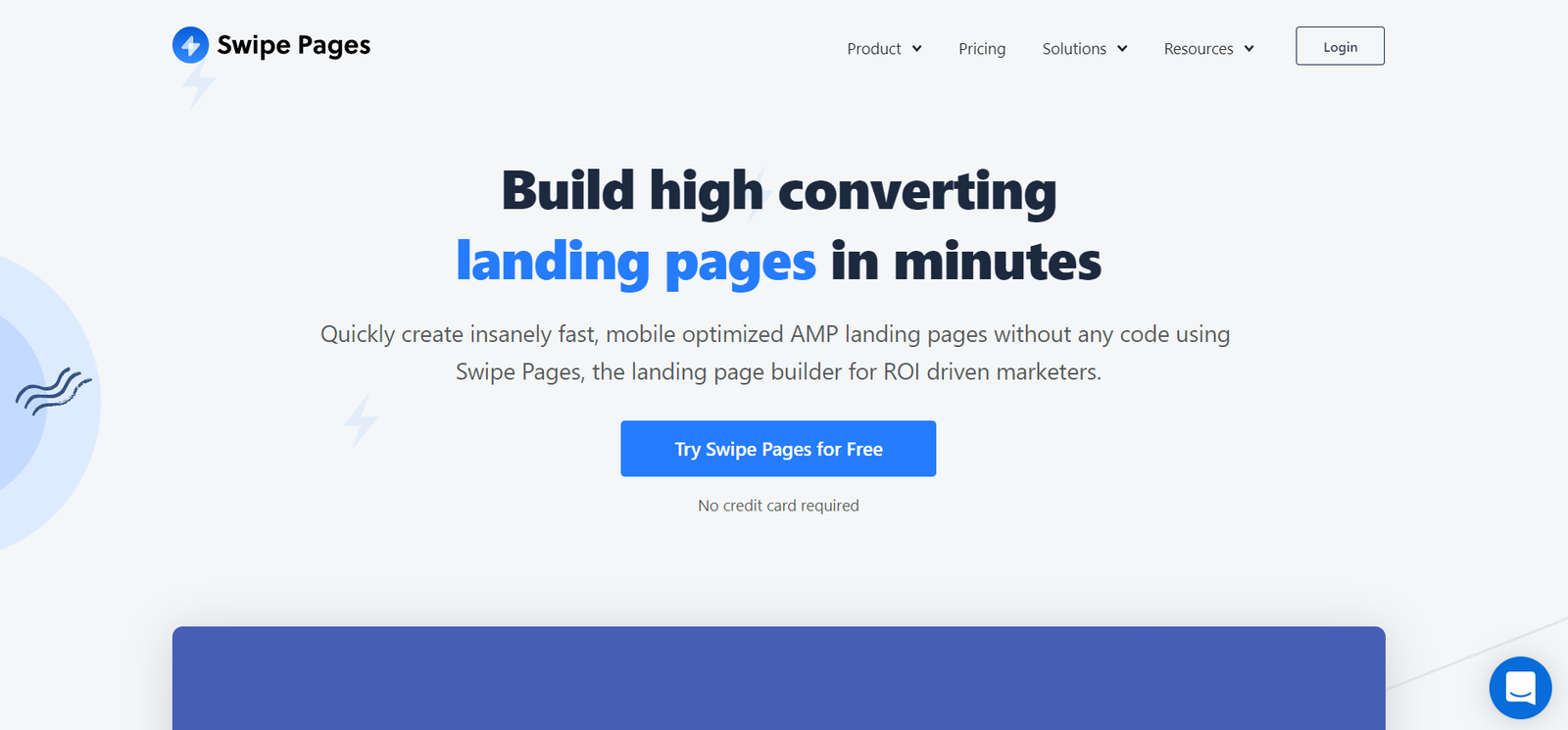 Swipe Pages is a powerful landing page builder that scales with your business. It prioritizes delivering an optimal user experience with A/B testing, rapid load speeds, and a mobile-first approach. The drag-and-drop editor is super easy to use, and the wide selection of landing page templates is impressive.
Highlights
Custom domain publishing: Swipe Pages lets you publish landing pages hosted on their servers directly on your domain.

Mobile responsiveness: Swipe Pages emphasizes mobile responsiveness in its landing page designs to maintain a consistent user experience.

Fast loading: With AMP-enabled smart pages, Swipe Pages optimizes your landing page's load speed.

A/B Testing: This landing page builder supports A/B Testing, enabling you to create 2 different versions of landing pages and compare their performance side by side.

Payment forms: Accept payments easily directly through your landing page without requiring any additional tools.
Pricing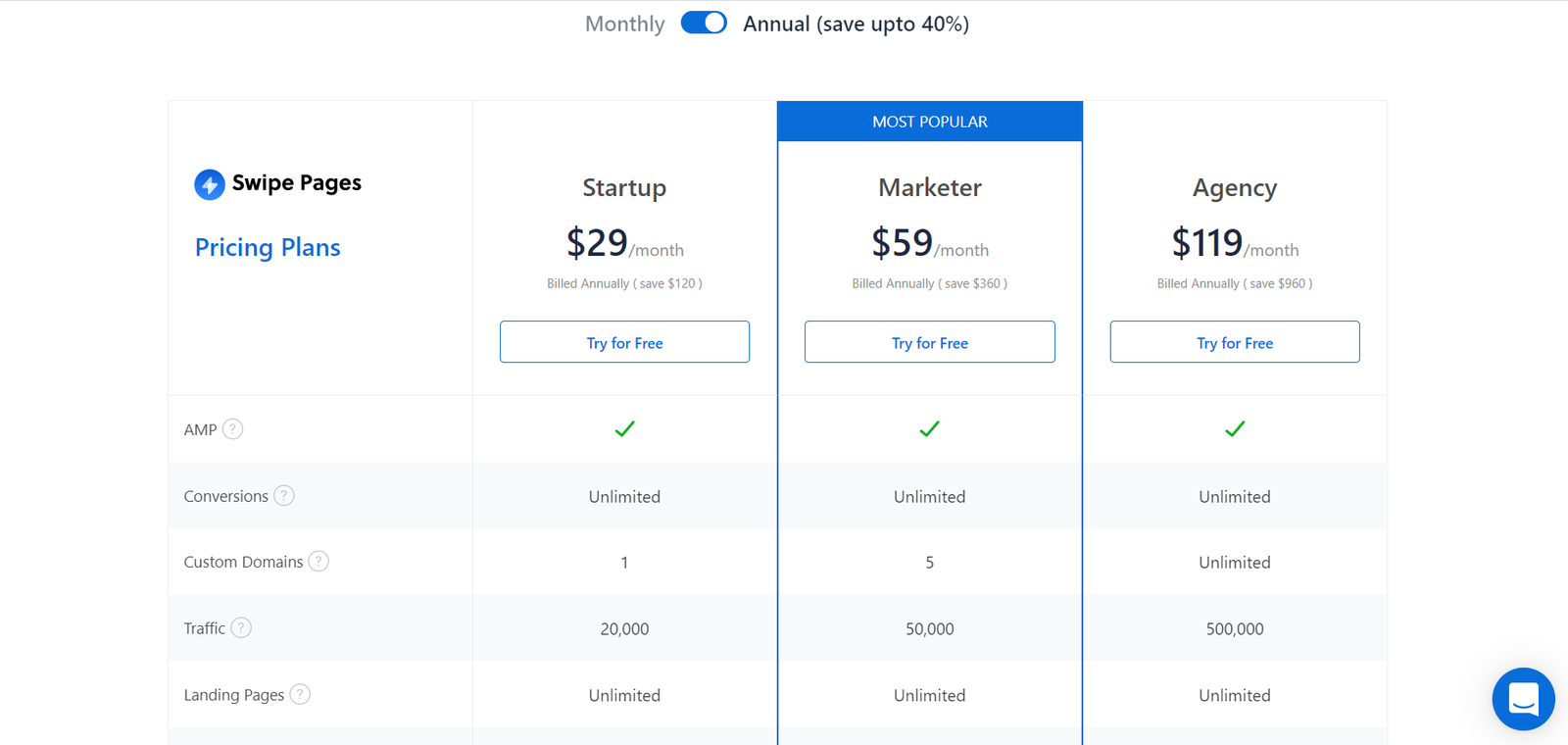 Swipe Pages offers 3 plans: Startup ($39/month), Marketer ($89/month), and Agency ($199/month). If you opt for annual billing, you can save up to 40% on each plan.
All the plans let you create unlimited landing pages, but the higher-tier plans will give you extra features such as client subaccounts, more users, server-side A/B testing, 1:1 onboarding, priority support, and more.
Bottom Line
Swipe Pages is an excellent landing page builder for marketers and agencies, with a long list of features and functionalities that don't compromise its ease of getting started. You can give the tool a shot with a 14-day free trial for any of the available plans and start creating personalized landing pages without committing to a subscription.
3. Unbounce
Overview
Unbounce is designed specifically for small or offline business owners that want to gain online exposure and increase their ROI.
Since the plans are primarily based on the number of conversions, the Unbounce landing page builder is made for people who run offline businesses that already make them money. Any interaction on your landing page counts, like filling out a form or booking an appointment.
Highlights
Powerful drag-and-drop editor: Unbounce's intuitive user interface makes it easy for anyone to create landing pages.

SSL encryption: This landing page builder utilizes automatic SSL encryption to maximize security and increase search engine visibility.

Lead generation tools: Get more leads with landing page builder tools such as two-step forms, lightbox pop-ups, and dynamic text replacement.

Custom scripts: Make advanced landing page builder modifications with HTML, CSS, and Javascript. This is great for people that like to have more control over how their landing page templates look.

A/B Testing: Find out what works by testing multiple landing pages with your landing page builder.
Pricing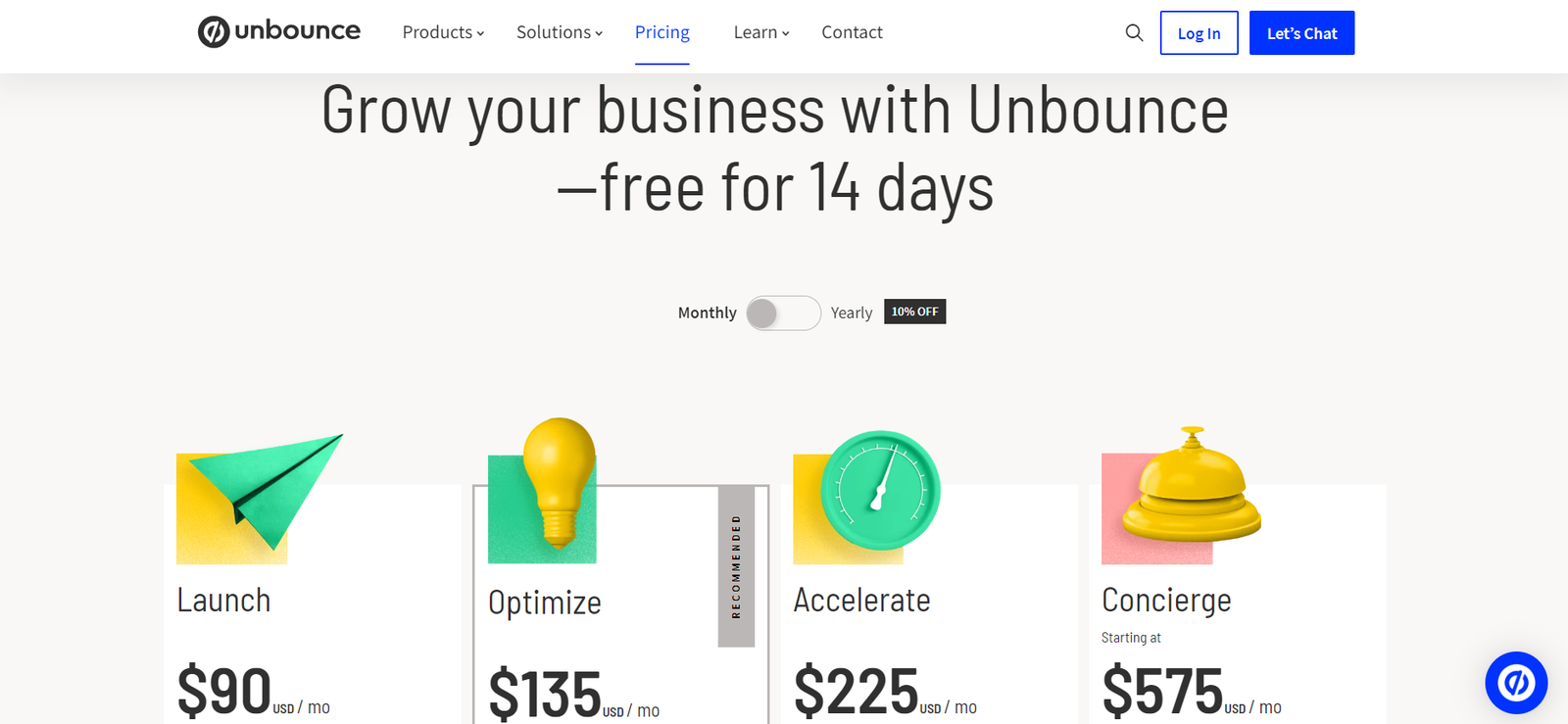 Unbounce has 4 different packages: Launch ($90/month), Optimize ($135/month), Accelerate ($225), and Concierge ($575/month). Each higher-tier plan gives you more allowable conversions, visitors, and domains.
Nevertheless, you can create landing pages without a cap as long as conversions don't exceed the number set in your plan.
Bottom Line
If you have an offline business, The Unbounce landing page builder has everything you need to make it grow and scale with unlimited landing pages. You might want to check out the free trial to get a feel of how this landing page builder works.
4. Leadpages
Overview
Leadpages is an all-in-one landing page builder solution for marketers that want to create unlimited landing pages for their products. It supports payments, form-building, pop-ups, alert bars, and integrations, so you won't probably need other tools to design your landing pages.
On top of that, the analytics dashboard is quite handy, and all the templates are mobile-friendly.
Highlights
A/B Testing support: Run two versions of your landing page and analyze their results to find out which performs better with your landing page builder.

Mobile-responsiveness: Leadpages focuses on optimizing the user experience for mobile users with mobile-responsive landing page templates.

Coming soon pages: If your landing page isn't ready yet, you can tease your leads with a coming-soon page created by Leadpages.

Integrations: Leadpages integrates pretty nicely with WordPress and social media channels to maximize your marketing performance and speed up your workflow.

Powerful plugins: Leadpages supports various plugins such as page design and form building plugins.
Pricing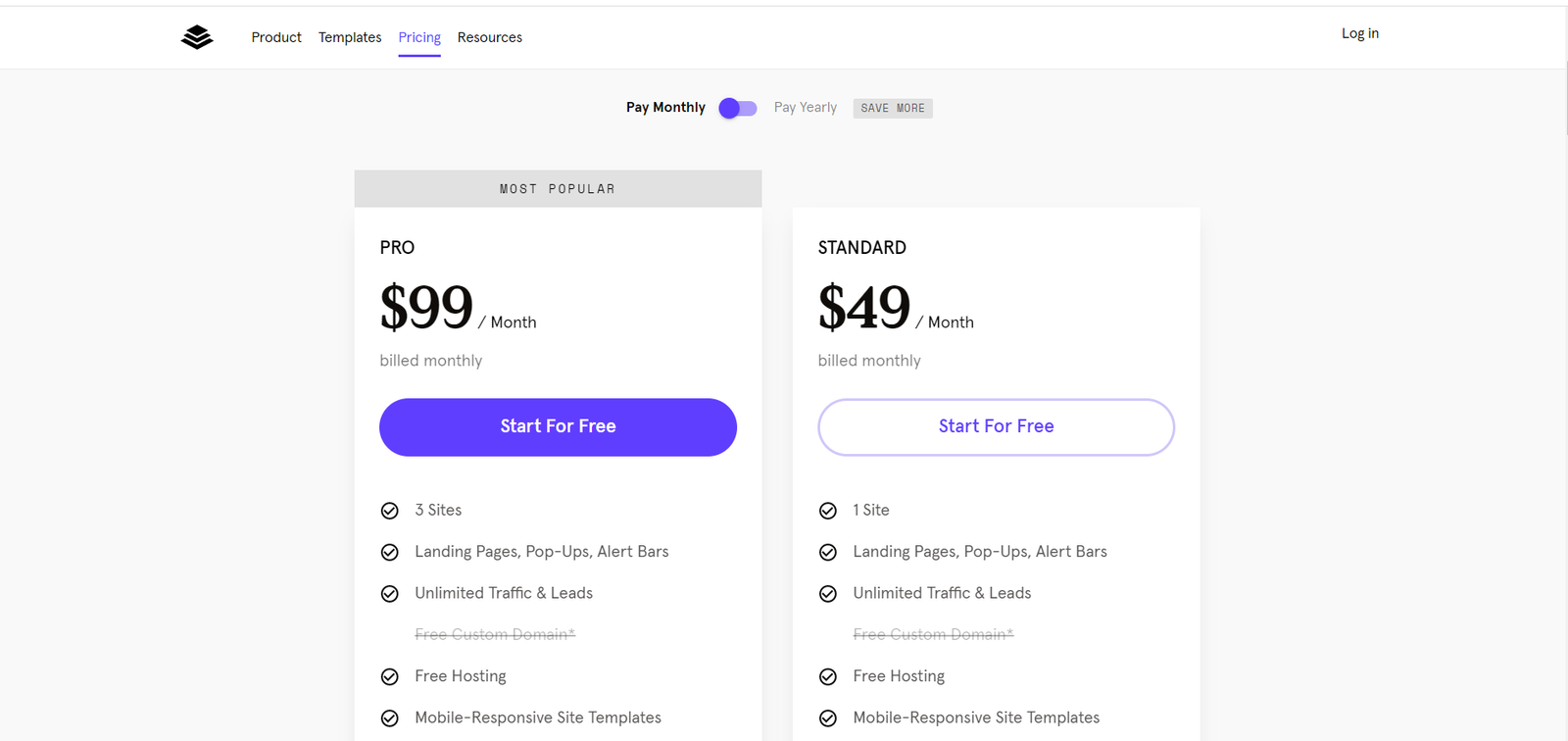 Leadpages has a simple pricing structure: Standard ($49/month) and Pro ($99/month). Paying annually will give you a 25% price cut on both plans. Both plans give you access to all templates, notifications, and free custom domains and hosting. However, you'll only get A/B Testing and online payments with the Pro plan.
If your marketing demands are even higher, you can contact the sales team to get a quote on the Advanced plan.
Bottom Line
The Leadpages landing page builder ticks many of the boxes when it comes to integrations, plugins, testing, and customizability. It's an excellent landing page tool for solopreneurs that handle most marketing operations by themselves, and we highly encourage you to try it with the 14-day trial.
5. Instapage
Overview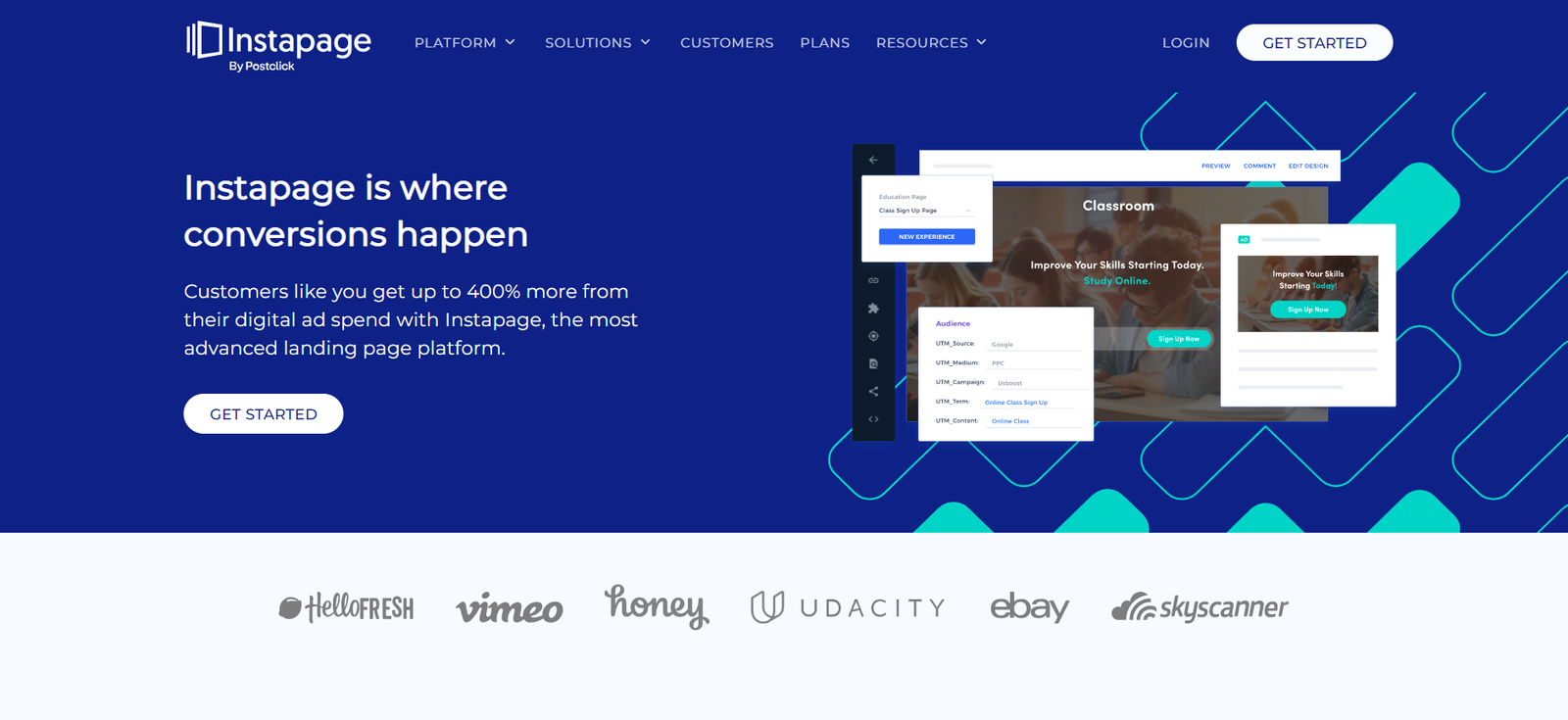 Instapage is a great landing page builder that lets you build mobile responsive landing pages quickly, even if you've just discovered what a landing page is a day before.
The higher-tier plan offers lots of integrations to smoothen your workflow and make the most out of marketing analytics whilst you build landing pages with this intuitive drag-and-drop landing page builder.
Highlights
Intuitive editor: Instapage's block editor is ideal for anyone with a limited technical background.

Dynamic keyword insertion: Target different audiences effectively with dynamic keyword insertion that changes the way landing pages appear to different customers.

A/B Testing: This landing page builder enables you to optimize your landing pages by figuring out which version of your landing page helps you get more conversions.

In-depth analytics: Monitor the performance of your landing pages easily with the Google Analytics dashboard that's integrated with the landing page builder.

Confirmation messages: Let your customers know that their submissions were successful with customizable confirmation messages built into your landing page builder.
Pricing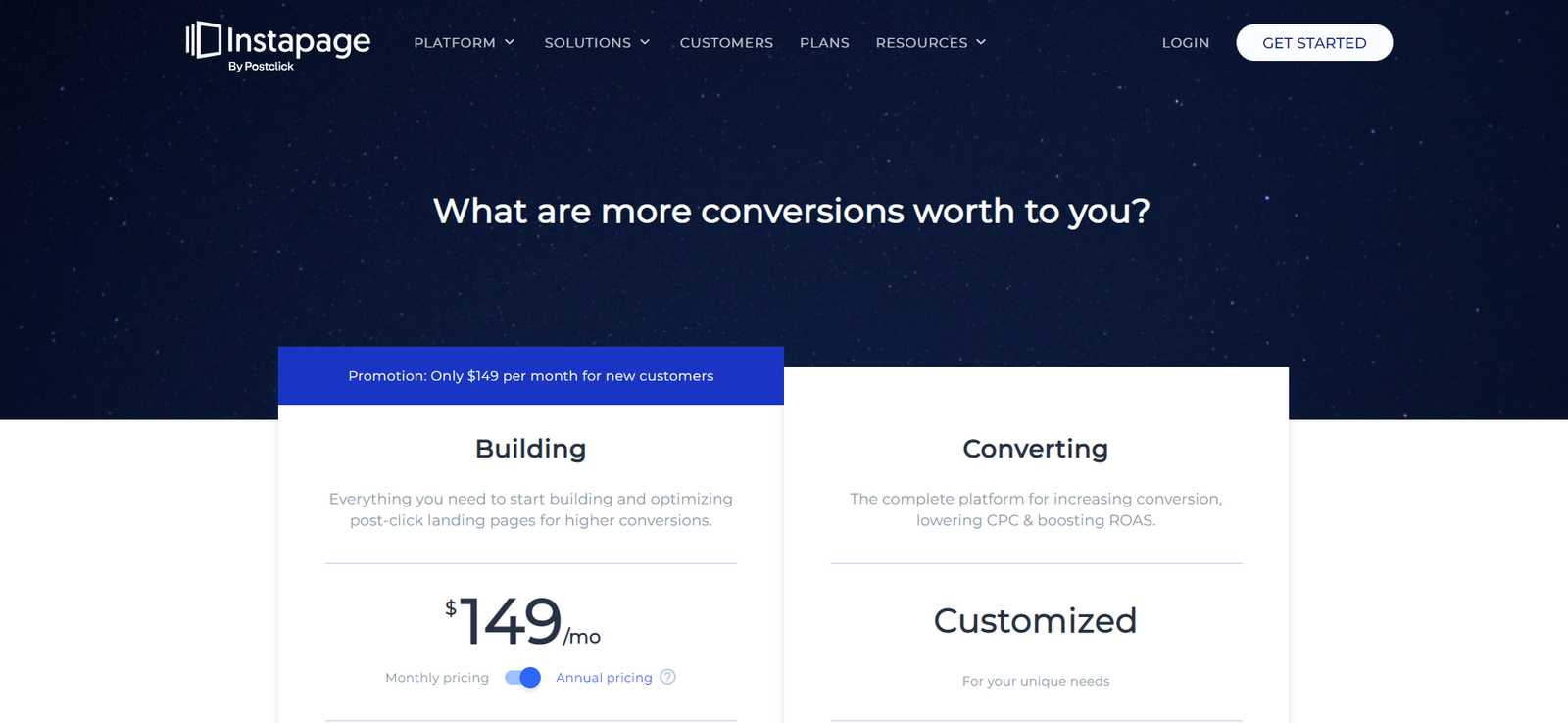 The Instapage landing page builder has 2 plans: Building and Converting. The Building plan costs $199/month or $149/month when billed annually. It gives you everything you need to start building stunning landing pages for your business.
The converting plan, on the other hand, is quota-based. It's targeted at business owners that want to look at advanced analytics and maximize their ROI. It also has extra features, such as multi-step forms, Salesforce integration, and bulk lead downloads.
Bottom Line
Instapage is suitable for entrepreneurs and marketing agencies that want to build their audience and increase conversions by creating landing pages that work. You can opt-in for the Building plan's free trial or request a demo for the Converting plan to start building professional-looking landing pages.
What Are Landing Page Builders?
Landing page builders are low-code tools that let you create high-converting landing pages for your products or services, even if your technical background is limited. With a landing page builder, you can create professional web pages that drive your leads down the sales funnel, boost brand awareness, and maximize conversions.
Conclusion
A landing page builder can be a powerful tool in your marketing arsenal with other AI marketing tools, but only if you pick one that exactly matches your business needs.
Some landing page builders are intended for established marketing agencies, while others target small business owners. You should also explore the opportunities each landing page builder gives you when it comes to marketing performance tracking and analysis.
Ideally, you'd want to try out a few builders to see which of them works best for your B2C or B2B marketing campaigns.