Best Scheduling Apps to Book Sales Meetings
Does scheduling appointments feel like a full-time job for you? You're not alone.
The good news is there are lots of scheduling apps that can help you automate the scheduling process, save time and maximize productivity. However, despite sharing many core similarities, these apps tend to differ when it comes to extra features, ease of use, and pricing.
In this guide, I'll help you choose the best scheduling app for your business requirements. So let's get started right away!
What Are the Best Appointment Scheduling Apps for 2022?
Calendly, Zoho, Acuity, and Square are some of the best scheduling apps that can help you maintain a simple scheduling process with leads and clients. Now, let's explore how each of them can help you save time and money.
1. Calendly – Best Overall Choice
Overview
Calendly is one of the most popular appointment-scheduling apps out there. It lets you create unlimited appointments and surveys, as well as configure automatic event notifications. You can access Calendly on the web or use the official iOS or Android mobile app.
I found Calendly to be particularly useful in speeding up my workflow with the included email templates.
Highlights
Booking restrictions: The Calendly scheduling app allows you to set when invitees can book appointments, so you get more time to prepare for your meetings.
Hidden appointments: Choose between public and private appointments by changing their viewability.
Quick settings application: With Calendly, you can mass apply your availability settings to all your appointments with one click.
Integrations: You can integrate Calendly with all major virtual collaboration tools, including Slack, Google Meet, GoToMeeting, Webex, Zoom conferencing, and Microsoft Teams.
Automatic time-zone conversions: Calendly helps you manage international clients and remote employees more easily with automatic time-zone conversions.
Customer Thoughts
Calendly's automation and 15-minute lead time before calls have been working really well for me.
Meeting location options for in-person and phone/video cannot be included in the same meeting type on Calendly, which results in miscommunication between us and our clients.
It'd be helpful to be able to see other people's Calendly links on the platform.
The best thing about Calendly is that the rescheduling link could remain active after the primary time of an interview.
I like that Calendly automatically blocks spots when events are created in other platforms.
Calendly's automation sequences and reminders, especially text reminders, are helpful for me in streamlining the sales process.
One thing I dislike about Calendly is that it allows only one meeting time option in the free version.
Pricing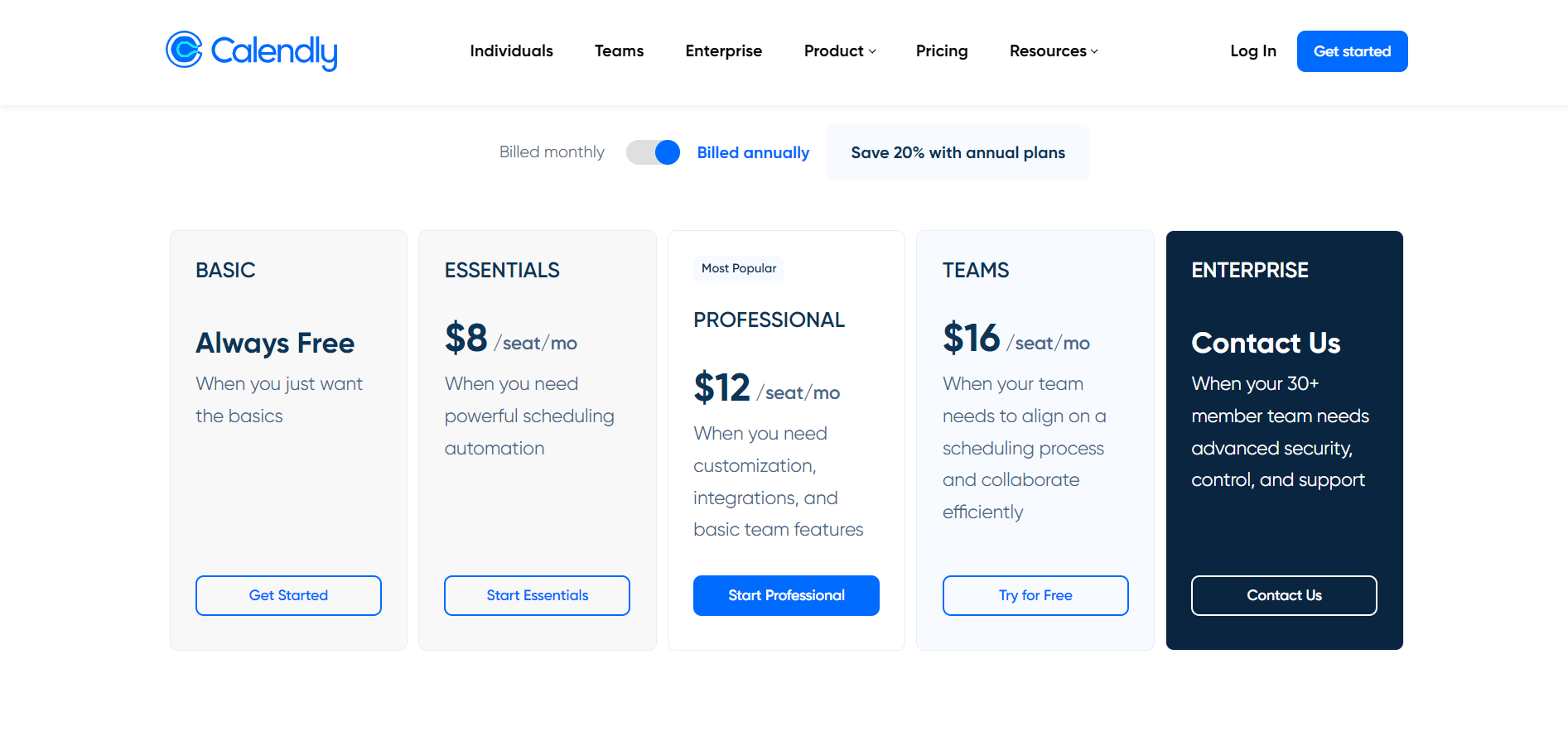 Calendly's pricing structure consists of 5 tiers: Free, Essentials ($8 per user/month), Professional ($12 per user/month), Teams ($16 per user/month), and Enterprise (quota-based).
The free plan gives you basic functionalities like simple appointment schedules and zoom integration, but it's limited in terms of features and the number of calendar connections per person. As you move up with the tiers, you get more calendar connections per person and features like booking link customization, customizable email notifications, metrics, and automated follow-up emails.
Usability
I love that I can easily set special hours in Calendly without having to dig in too much.
To set new date overrides, simply click on "Availability" at the top of your Calendly dashboard and tap on the "Add date overrides" button. Then, you just need to select the dates and hours.
Now you can enjoy your getaway or host special events without getting any surprise bookings from your customers!
Bottom Line
Calendly is an excellent appointment scheduling software for small business owners or freelancers that constantly deal with prospects or clients regardless of their technical skills. Consider checking out the free plan to evaluate how the tool works for you.
2. Zoho Bookings – Best For Service Providers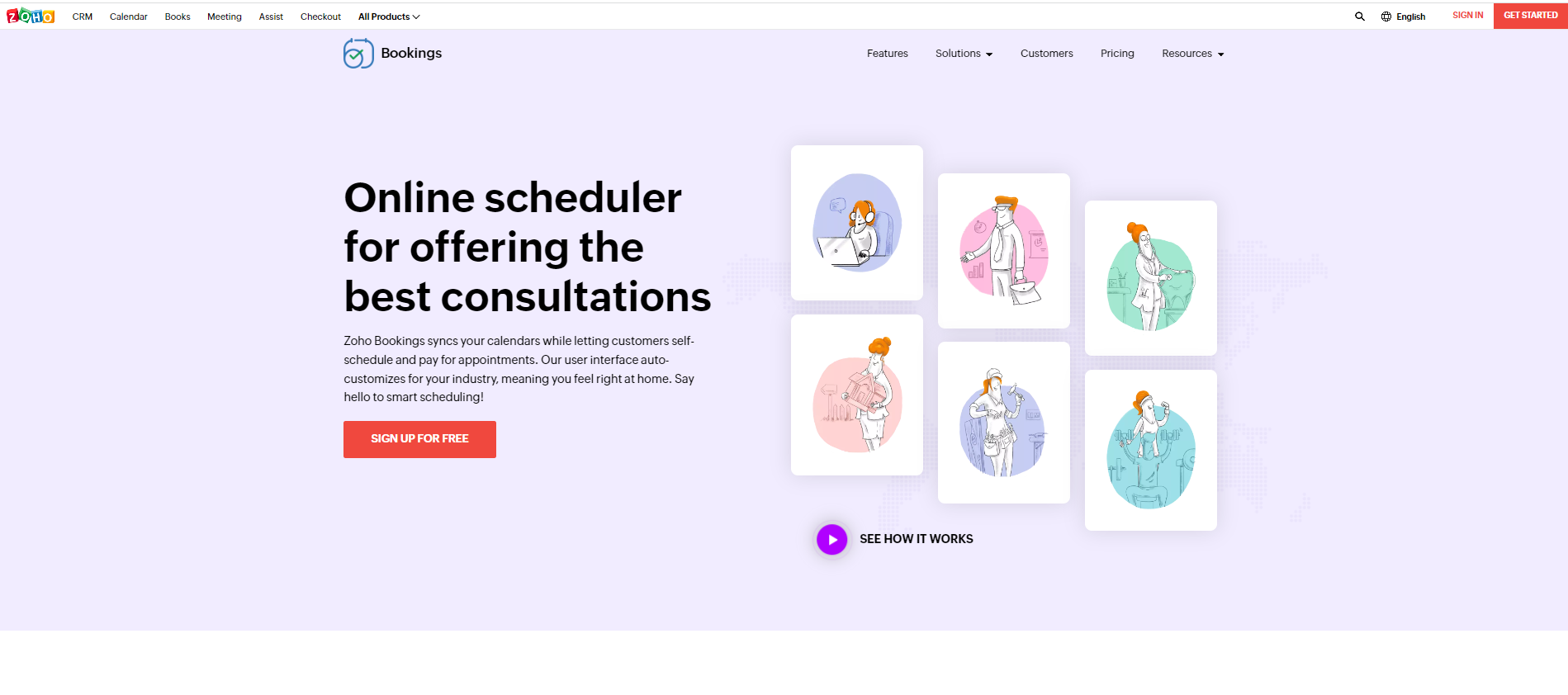 Overview
If you use any of Zoho's apps, you're probably already familiar with its appointment scheduling app: Zoho Bookings.
This app makes scheduling recurring appointments with your clients a breeze, but the real benefit is that it seamlessly integrates with other Zoho apps, including Meeting, CRM, Calendar, Assist, Flow, and Sites.
Highlights
Diverse booking types: With Zoho Bookings, you can let your customers or clients book rooms, equipment, and other resources.
Built-in buffer times: Zoho lets you set up planned breaks with built-in buffer times, giving you time to prepare for the next meeting or have a cup of coffee.
Custom cancellation policies: Choose what will happen when a client cancels an appointment: refund, partial refund, or now-show protection.
Branding: The Zoho scheduling app enables you to use your brand colors to maintain brand consistency.
Integrations: Zoho integrates with Outlook, GoToMeeting, Zapir, and Mailchimp for more streamlined work processes.
Accept payments: With Zoho Bookings, you can schedule appointments with clients and directly accept payments on a single platform.
Usability
One thing I love about Zoho Bookings is that I can easily set triggered actions like automated email sends and reschedules with simple conditional functions.
To create a function, go to "Services" from the navigation bar at the top and select "Custom Functions". Then choose a function and set the action that'll happen.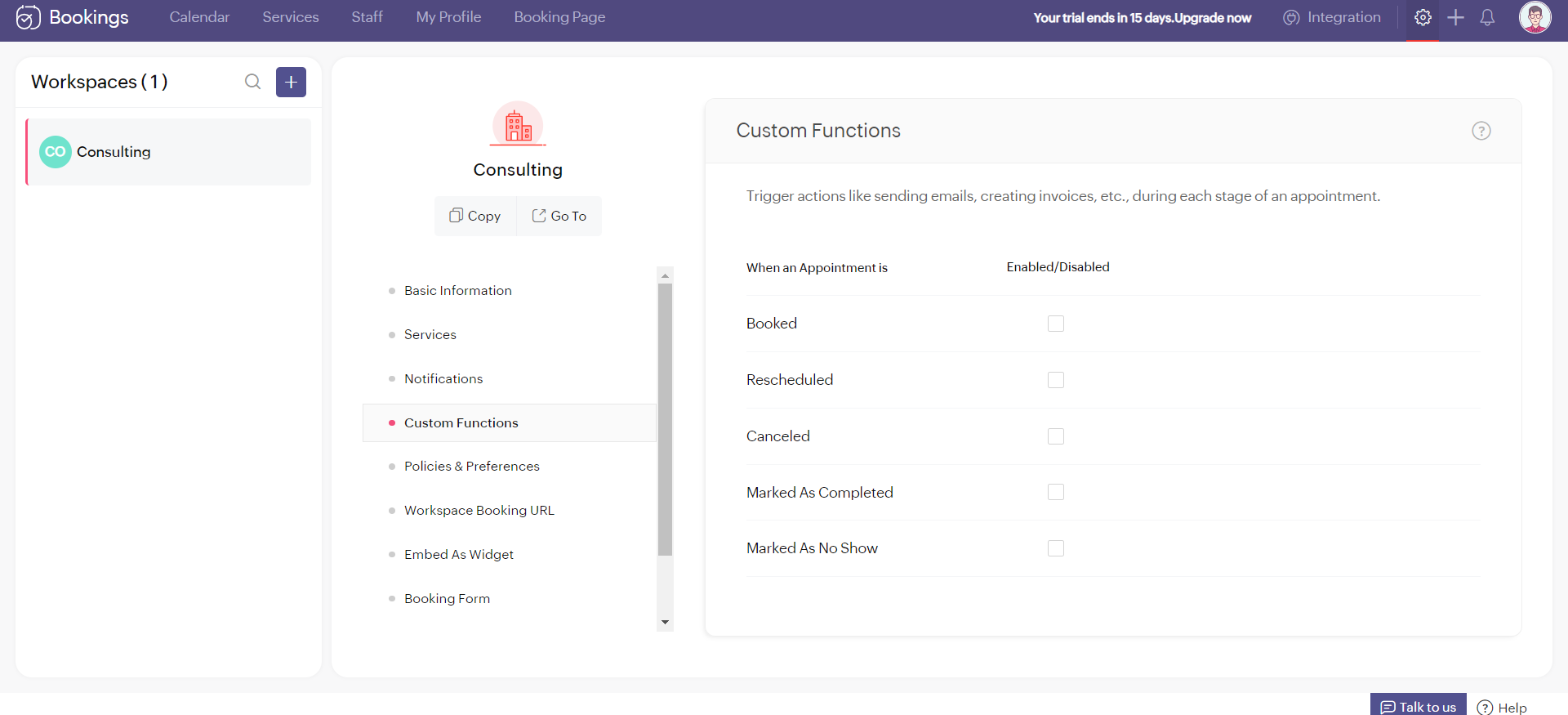 For example, you can automate an email alert to your customer in case you had to cancel their appointment.
Pricing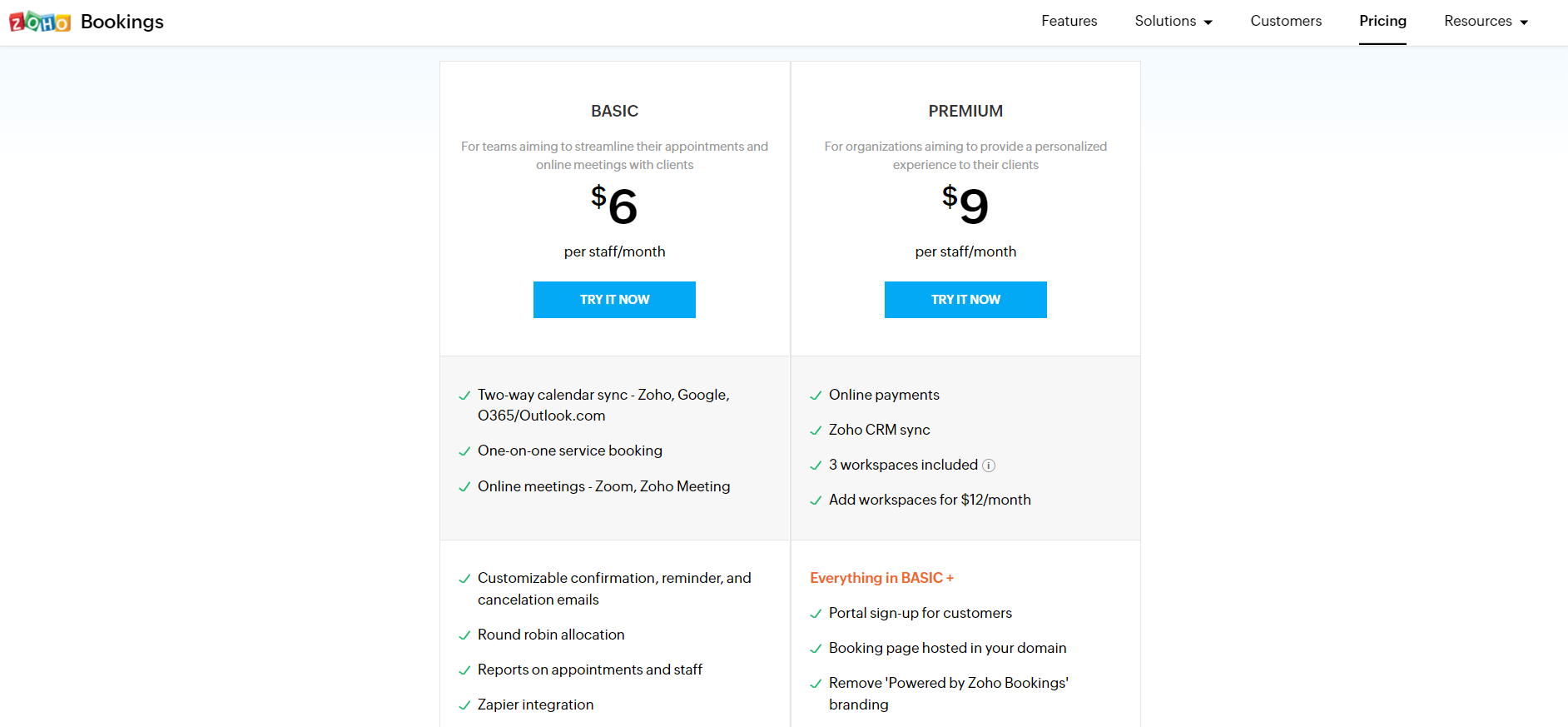 The Zoho scheduling app is available in 3 plans: Free Forever, Basic ($6 per user/month or $8 per user/month), and Premium ($9 per user/month or $12 per user/month).
The Free Forever plan can be used by a single user, and you get calendar syncing and email notifications. The Basic plan includes round-robin allocations, brand color palettes, and appointments/staff reports.
As for the Premium plan, you get everything from the Basic plan, in addition to 3 workspaces, online payments, CRM software sync, customizable text notification templates, portal sign-up for clients, a custom booking page for hosted domains, and more.
Customer Thoughts
I find it easy to set up multiple users and customize for schedule changes in Zoho Bookings, even across different time zones.
I love Zoho's customization options, but there's no cap on bookings per client per month/week and SMS integration requires an extra app
The mobile app has been quite helpful for me, especially for adjusting availability on the fly.
There's no easy way for us to route leads to the right team based on answers and qualification with Zoho.
We can't use the software to set up multiple schedules for different types of appointments or working schedules for different people.
Zoho enables us to collaborate more effectively with Zoom integration. We use it to communicate and meet online to talk about schedule changes.
Bottom Line
If you need a way to easily accept different types of bookings in your service-based business, Zoho Bookings would be a great scheduling software solution for you. I encourage you to give the free plan a shot to see how flexible this software is.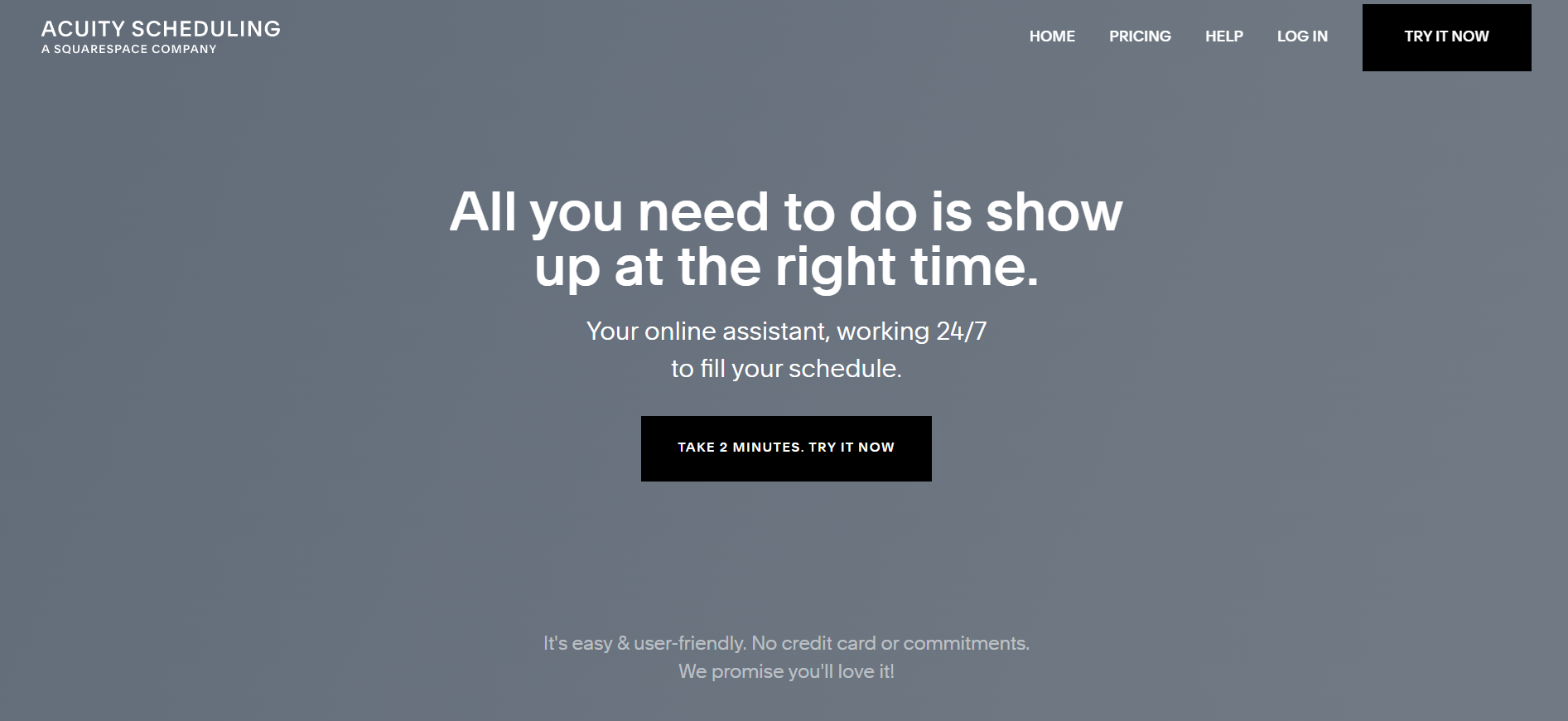 Overview
The Acuity appointment scheduling app allows you to book sessions with prospects and clients with almost no effort from your side. You can think of it as a virtual assistant that handles your appointments and sets your availability.
I like that Acuity has a web interface as well as mobile apps for iPhones and Android devices. This helps me stay updated with appointment reminders and manage my online booking system.
Highlights
Advance payments: Accept payments in advance from customers that schedule appointments.
Personalized confirmations: Acuity lets you send customized branded confirmations to your clients, as well as appointment reminders and follow-up messages.
Customizable booking pages: Add a personal touch to your booking pages with various customization options and presets.
Adjustable appointment links: Use different booking page links for different types of appointments and customer categories.
Appointment packages: The Acuity scheduling app has a native function that makes it easier for you to offer appointment packages to clients.
Usability
One thing that caught my attention in Acuity is how seriously they take customizing the appearance of your booking pages.
To change the appearance of your Acuity interface and match it with your brand, click "Customize your scheduling page" at the top of the page. Then, you'll be presented with various text and image formatting options.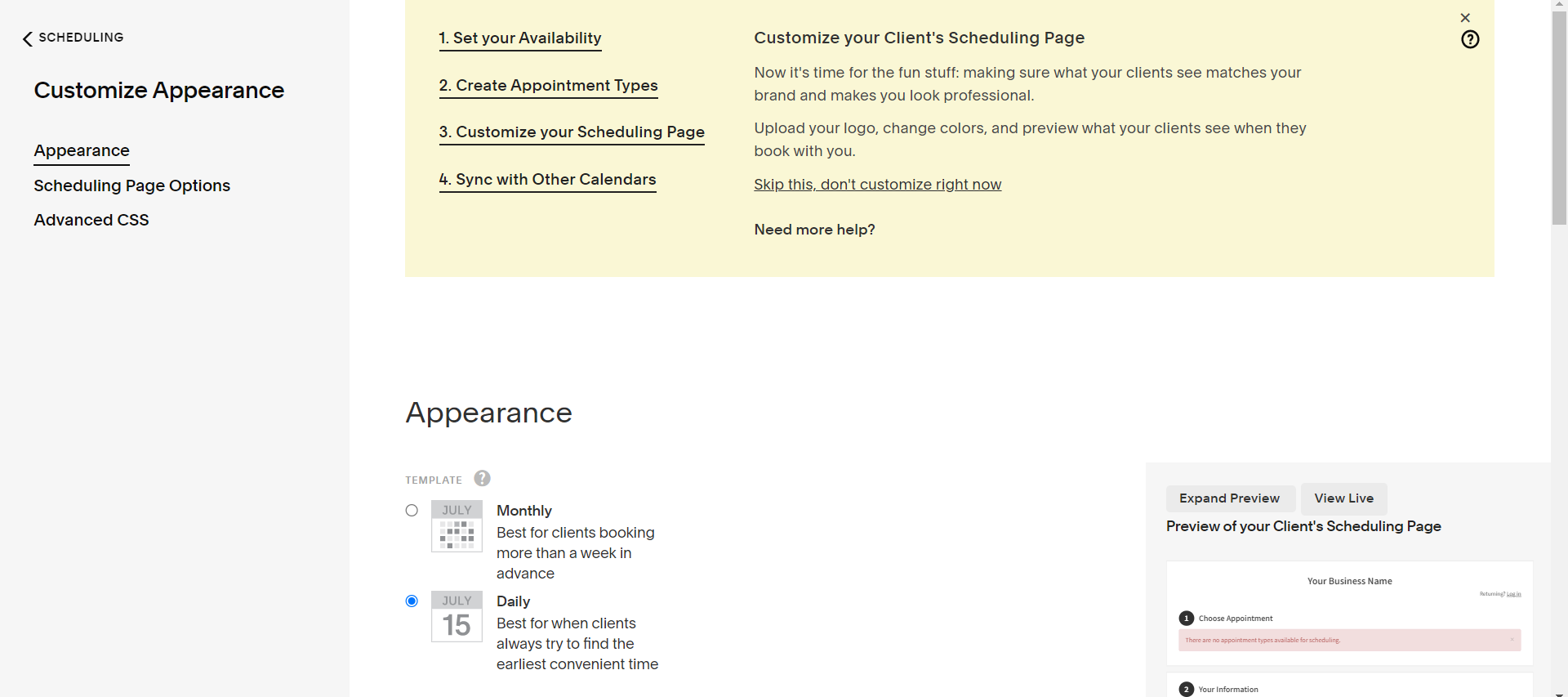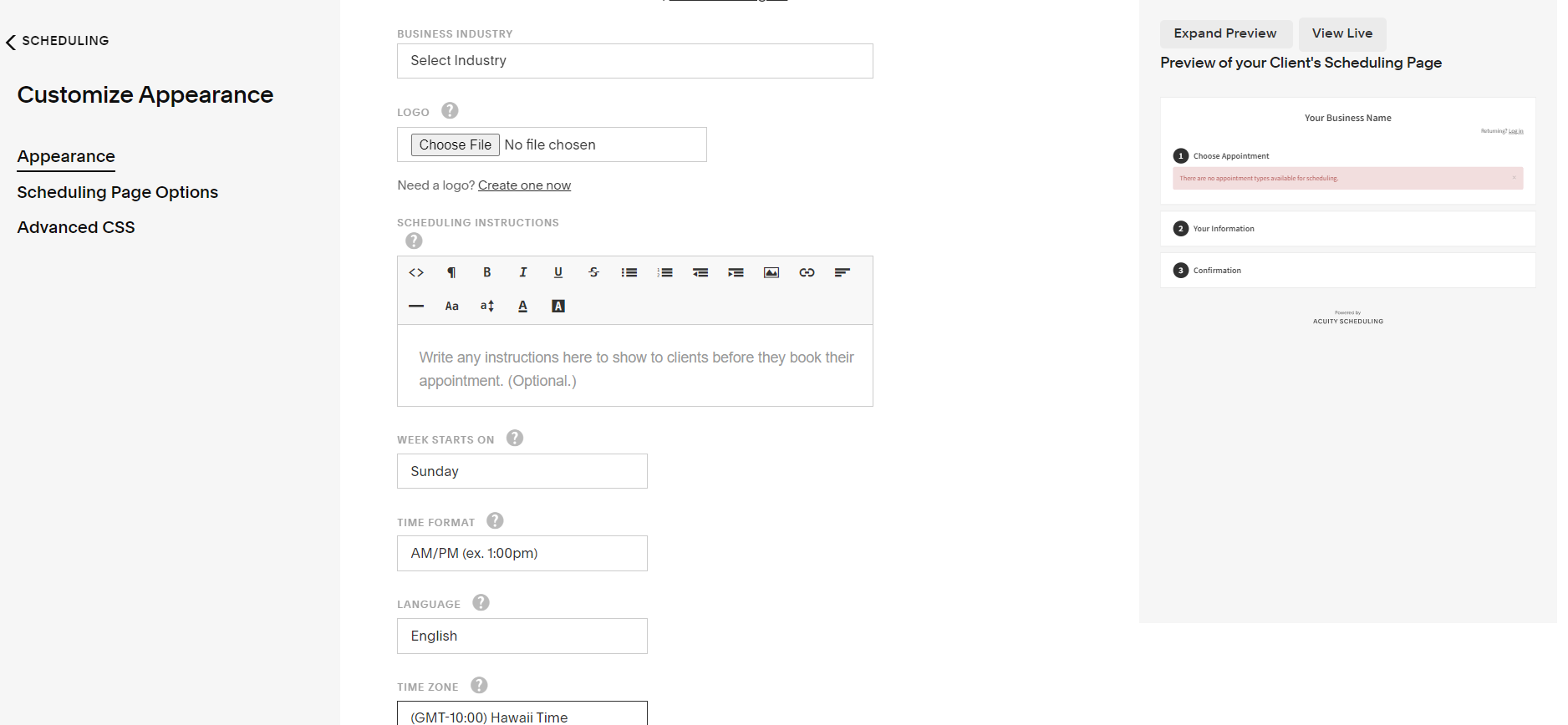 If you're feeling geeky, you can fine-tune the appearance a bit further with advanced CSS styling.
Pricing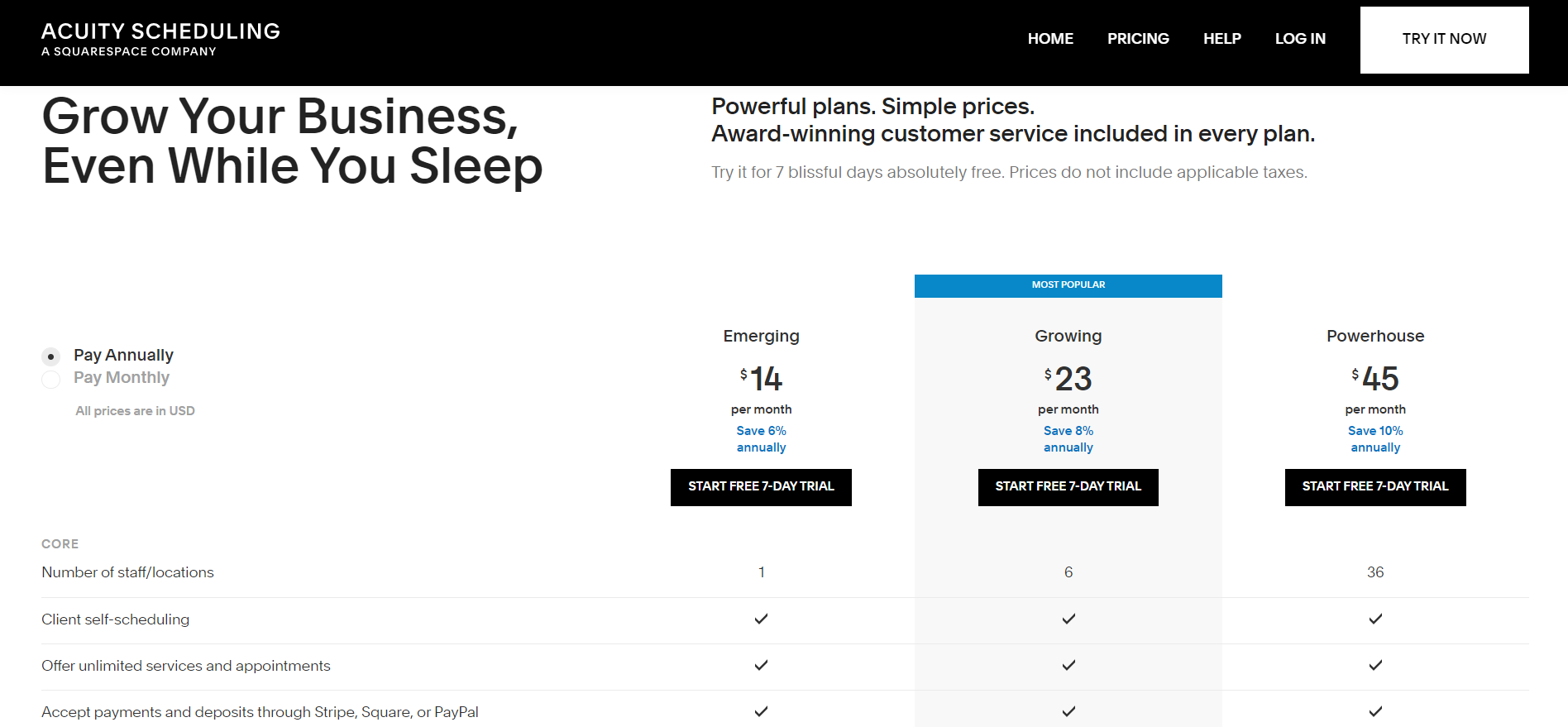 The Acuity scheduling app has 3 packages: Emerging ($14/month – 1 user), Growing ($23/month – 6 users), and Powerhouse ($45/month – 36 users). If you opt for annual billing, you can save anywhere from 6% to 10% on each of the plans.
The Emerging plan offers you the following perks: unlimited bookings, payment processing, and website scheduler embedding. The high-tier plans have all the benefits of the Emerging plan, in addition to text message reminders, appointment packages, and memberships.
Customer Thoughts
I appreciate the ability to add appointments quickly to my Google Calendar, which helps me manage my weekly appointments.
I wish Acuity had text reminders on the lowest-tier plan; it'd have been a game changer for me. When a patient cancels, there is only one alert and the appointment disappears from the calendar without warning.
I like that Acuity integrates with Stripe for payment processing.
I wish there was an easier way to delete an entire series of appointments.
One thing that bugs me with Acuity is that my clients can't book multiple services at once and there's no option for add-ons.
As a business that offers a wide range of services, we love that Acuity have different deposit types for different services. It's made accepting payments a lot smoother for us.
Bottom Line
If you're a small business owner, I recommend you try out Acuity, especially if you're looking for a way to offer your customers customizable packages when they book appointments. There's a 7-day free trial that can help you get a better feel of how it works.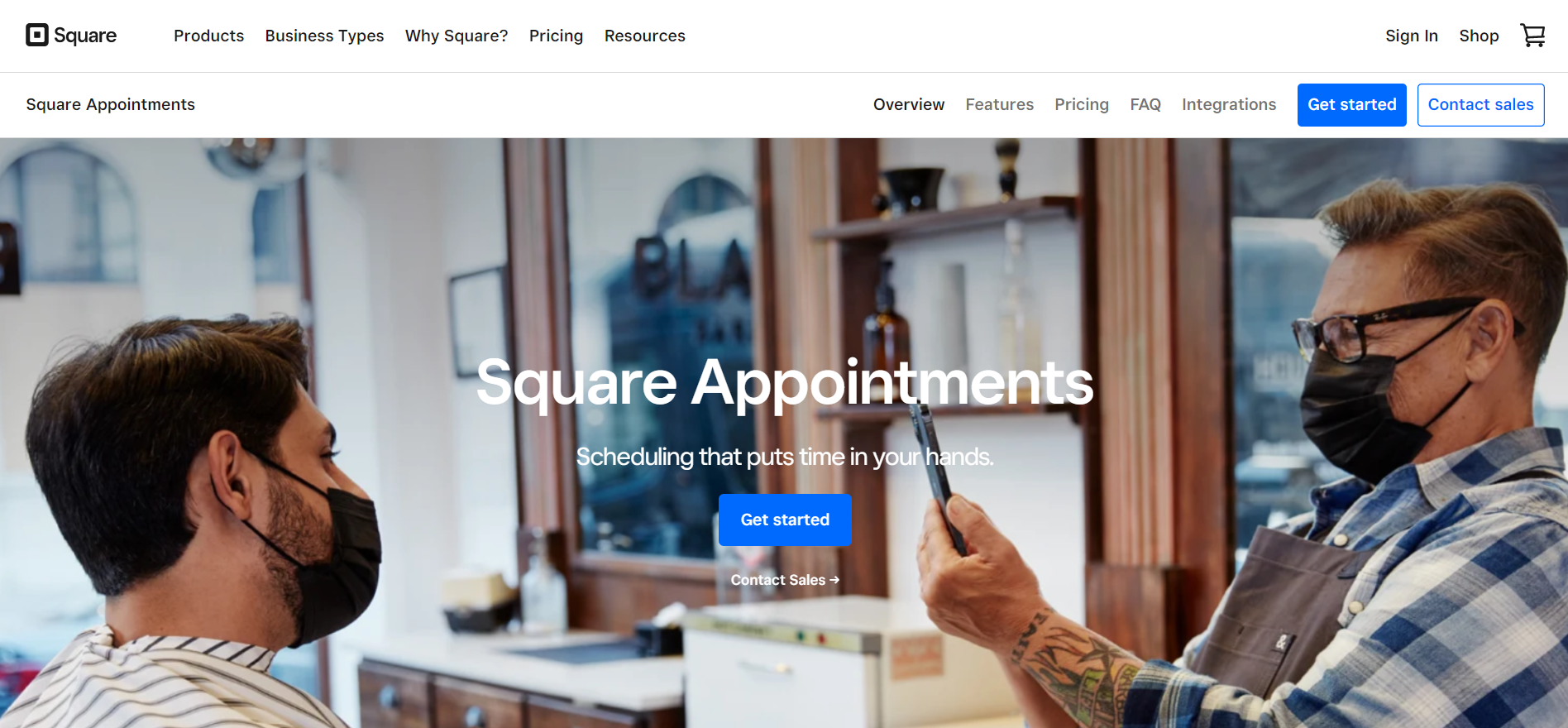 Overview
Square is one of the few free scheduling apps that can do more than just schedule meetings; you can rely on it for other business operations, such as accepting payments and managing clients.
Highlights
Recurring appointments: Square helps your customers book recurring appointments if the activity requires weekly or monthly visits.
Payment processing: With the Square appointment scheduling app, you can directly accept payments from clients for appointments and SaaS sales, as well as charges like no-shows and late fees.
Google Calendar sync: Square syncs your customer appointments with Google Calendar, enabling you to keep all of your personal and non-personal appointments in a single location.
Marketing tools and integrations: The Square appointment scheduling app helps you leverage your B2B marketing tactics with Instagram and Google integrations. You also get SEO (Search Engine Optimization) tools to enhance your organic visibility online.
Website integration: Add an availability calendar to your website to make it easier for your customers to book appointments.
Usability
One thing you can do in Square Appointments is create waitlists. Sometimes, demand fluctuations may lead to revenue loss if your customers can't book an appointment.
The Waitlist functionality gives your customers the option to add their names so that they can book the closest possible appointment when available. So if your customers don't mind waiting an extra day or two to find a free slot, they become less likely to book an appointment with another business.
To create a waitlist, navigate to "Appointments" from the sidebar, and under "online booking", select "Enable waitlist".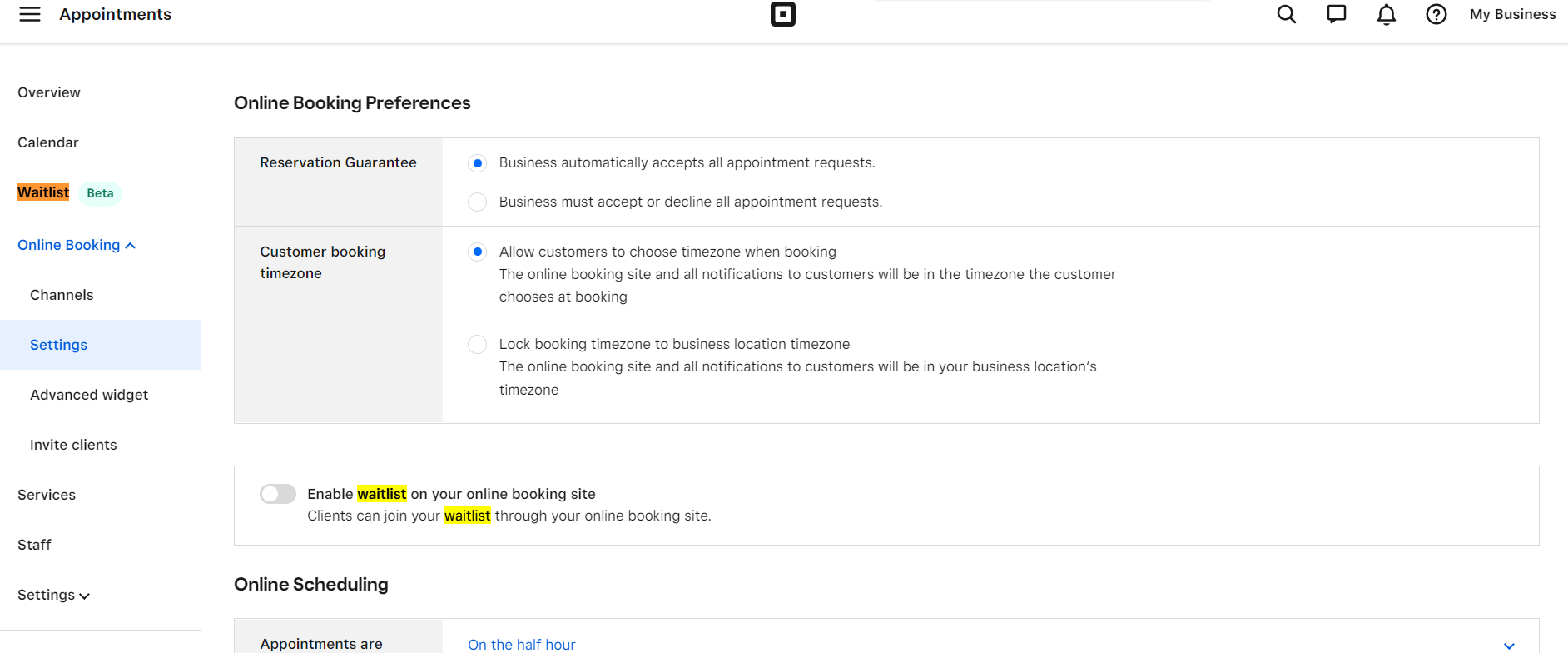 You can also add a waitlist request manually by tapping on the "Add request" button from the Waitlist settings and filling in the details.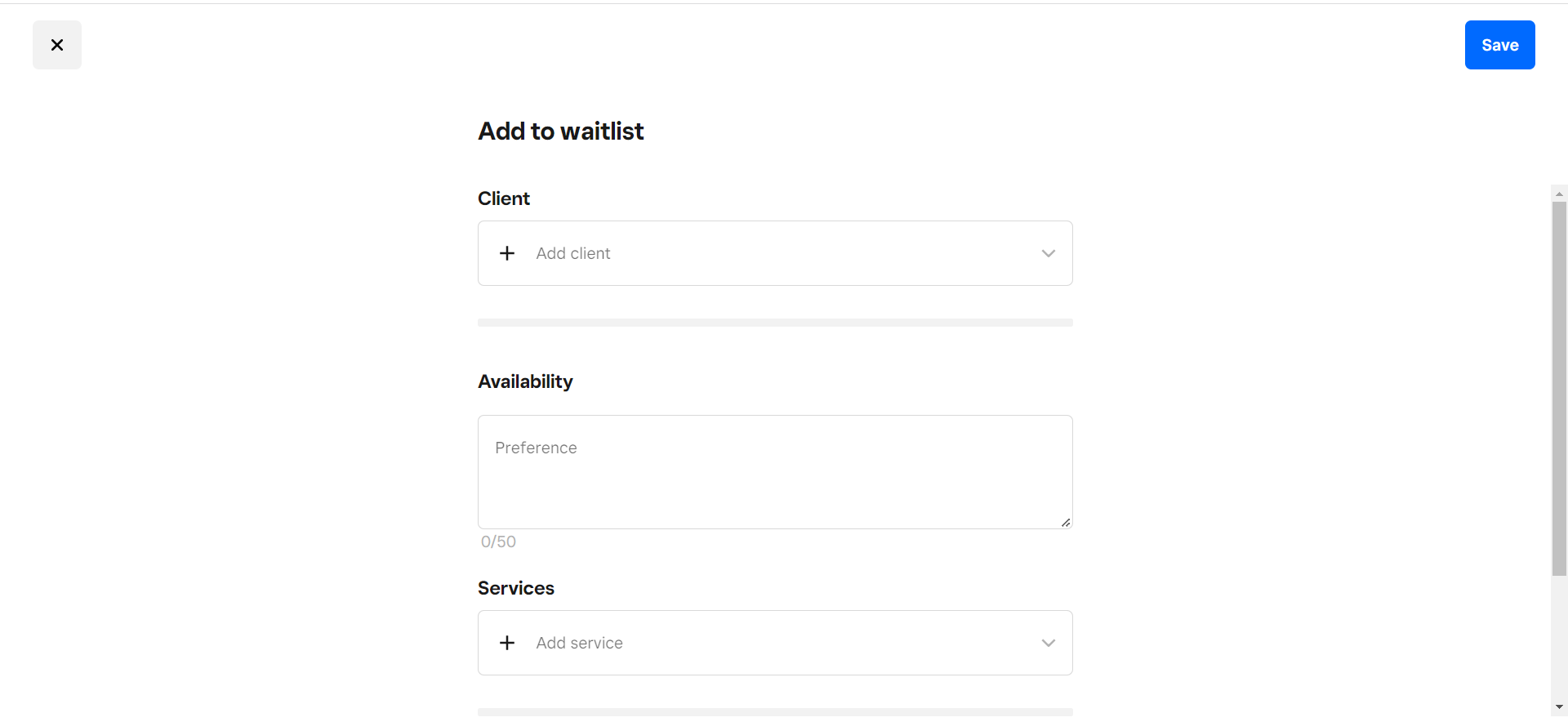 Pricing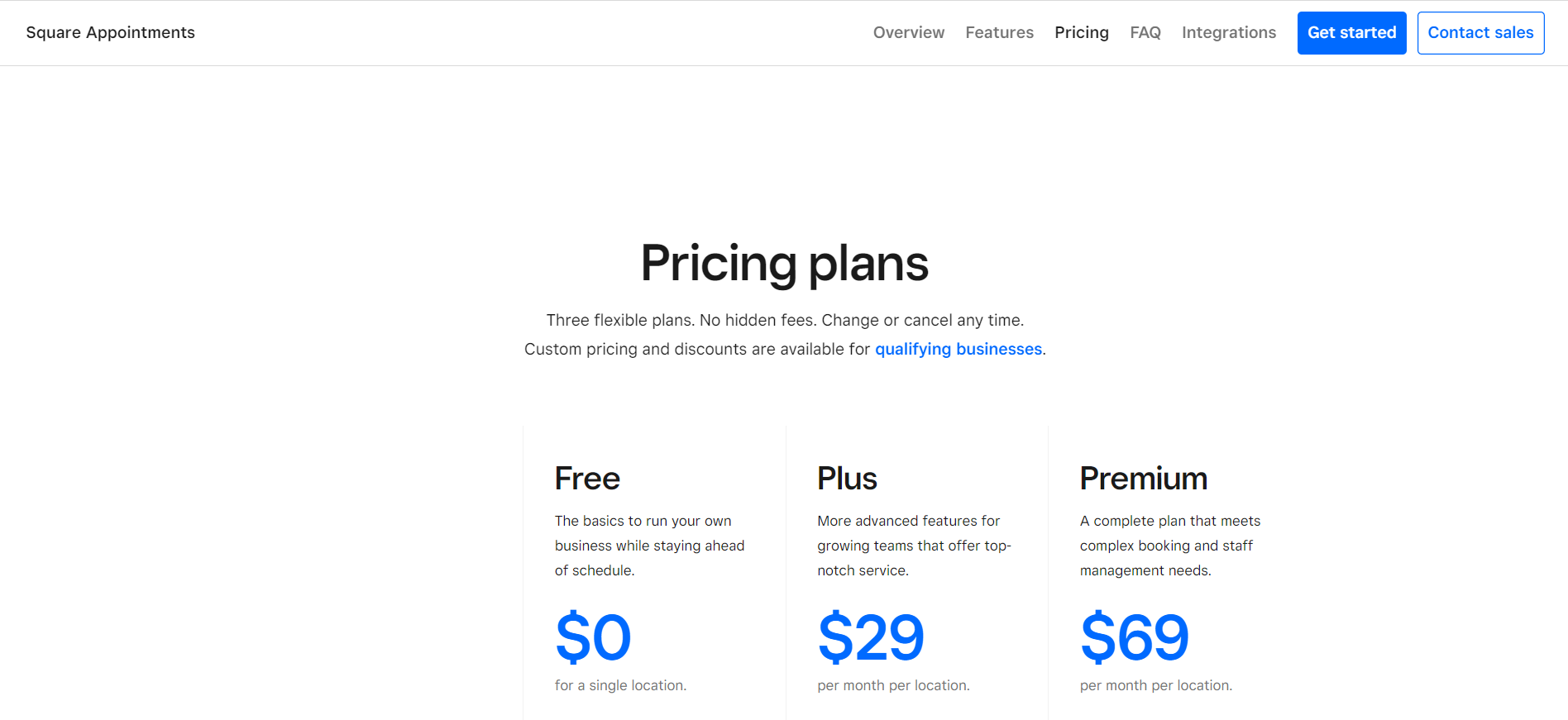 The Square scheduling app offers 3 plans: Free, Plus ($29 per month/location), and Premium ($69 per month/location). If your business is based in a single location, the free plan will do the trick. The Plus or Premium plan is only worth it if you have multiple locations for your business.
The Plus plan offers more benefits like Google Calendar sync, no-show protection, and multiple staff appointments. As for the premium plan, you get earned commission reports and custom access permissions for more control over who can see or adjust appointments.
Customer Thoughts
My clients like the text message option because it goes straight to their phones. I can complete transactions and book clients all in one place, which is convenient as a one-man show.
I struggled with the character limit on the service list and wish I could describe my services in more detail.
I like that I can embed a calendar on my website, which enables customers to request appointment times, and I still get to approve the times before they're confirmed.
I only get notified of initial booking requests, not my appointments the day of/before. I wish they could fix this.
I appreciate the ability to integrate my Google Calendar with Square as it helps me keep track of my appointments on all devices.
It'd be helpful to have more tutorials available to get me familiar with the software faster.
Bottom Line
Whether you run a salon, spa, training facility, or any other appointment-based business, Square would be a great appointment scheduling solution for you, and it won't cost you a dime. However, you might want to consider opting for the paid Plus plan if you're planning on expanding your business.
What Are Appointment Scheduling Apps?
Appointment scheduling apps are tools that make it easier for business owners, talent acquisition officers, and freelancers to schedule meetings and appointments.
Instead of wasting time discussing availability, rescheduling, and follow-ups, you can simply use any of the available free or paid booking apps to automate most of the redundant scheduling tasks.
Why Your Business Needs Appointment Scheduling Software
If you run an appointment-based business and need to manage multiple clients or customers at the same time, an appointment scheduling tool can be vital for you. Businesses that could benefit from booking software include marketing agencies, consulting firms, salons, spas, and design studios.
Utilizing a scheduling app helps you provide a more streamlined customer booking experience, which leads to up to 17% higher profit margins.
Managing client bookings with a scheduling app can also reduce the frequency of no-shows because the clients receive automated reminders before the appointment.
Conclusion
So these were some of the most promising appointment scheduling apps for small business owners that need an efficient way to book sales meetings.
Ideally, you should choose an appointment scheduling app that's easy to use, both for you and the clients. I highly encourage you to test a few tools with free trials or plans so you can pick the best appointment-scheduling app for your particular needs.