Kalviyo and MailChimp are two of the most popular email marketing tools out there.
Each of them takes a different approach to email marketing; Klaviyo is giving users all the cool stuff to play with no matter what plan they're on, while MailChimp is keeping things simple and promising to be more affordable.
Whether you're getting started with email marketing or considering a switch from one platform to the other, I've put the two solutions side by side to make the decision easier. So sit back and let's get started!
Klaviyo vs MailChimp: Key Takeaways
TL;DR, Klaviyo is the better choice if you:
Need a tool for both email and SMS marketing

Want to utilize the most advanced email marketing segmentation and automation capabilities (regardless of the plan you choose)

Like to customize every aspect of your software
Otherwise, you might consider opting for MailChimp if you:
Need an easy-to-use tool

Are on a tight budget

Want to build stunning landing pages along with email creation
Which Is Best Suited for Small Teams?
MailChimp is better suited for small teams than Klaviyo. It's a great choice for small business owners that need a user-friendly tool to grow their audiences and nurture leads. Plus, it has more affordable pricing options, making it a more favorable choice among new entrepreneurs, particularly eCommerce business owners.
Strengths and Weaknesses
Now, let's take a closer look at what these platforms are capable of and how they fair against each other.
Free Versions
Both MailChimp and Klaviyo offer free versions of their products (yay). However, the strategy each provider has taken with its freebies is different.
Klaviyo's free plan has all the features you'd expect in an email marketing platform, including A/B testing for comparing different iterations of your emails, predictive analytics, and email scheduling. On Klaviyo, you might only need to pay for a premium plan when your contact list grows since you get the same features in all plans anyway.
That's not the case with MailChimp, though. While the platform offers advanced features like A/B testing and advanced segmentation, most of them are only available on higher-pricing tiers.
If I were to choose between Klaviyo and MailChimp based exclusively on their free versions, I'd definitely go for Kalviyo. It lets me do more things like email automation and customer behavior analysis without paying anything. The only area where MailChimp's free version takes the lead is the maximum number of subscribers (500 vs 250 contacts).
Learning Curve
If you're like me, you're probably not into software tools that take you forever to figure out how to use. So how do Kalviyo and MailChimp fair here? Let's start with Klaviyo.
After setting up your Klaviyo account, you'll be directed to your dashboard. The first thing you'll notice is a quick "getting started" guide that helps you import data from other apps like Google Analytics data, set up a quick signup form on your website for lead generation, or create welcome personalized messages for new subscribers.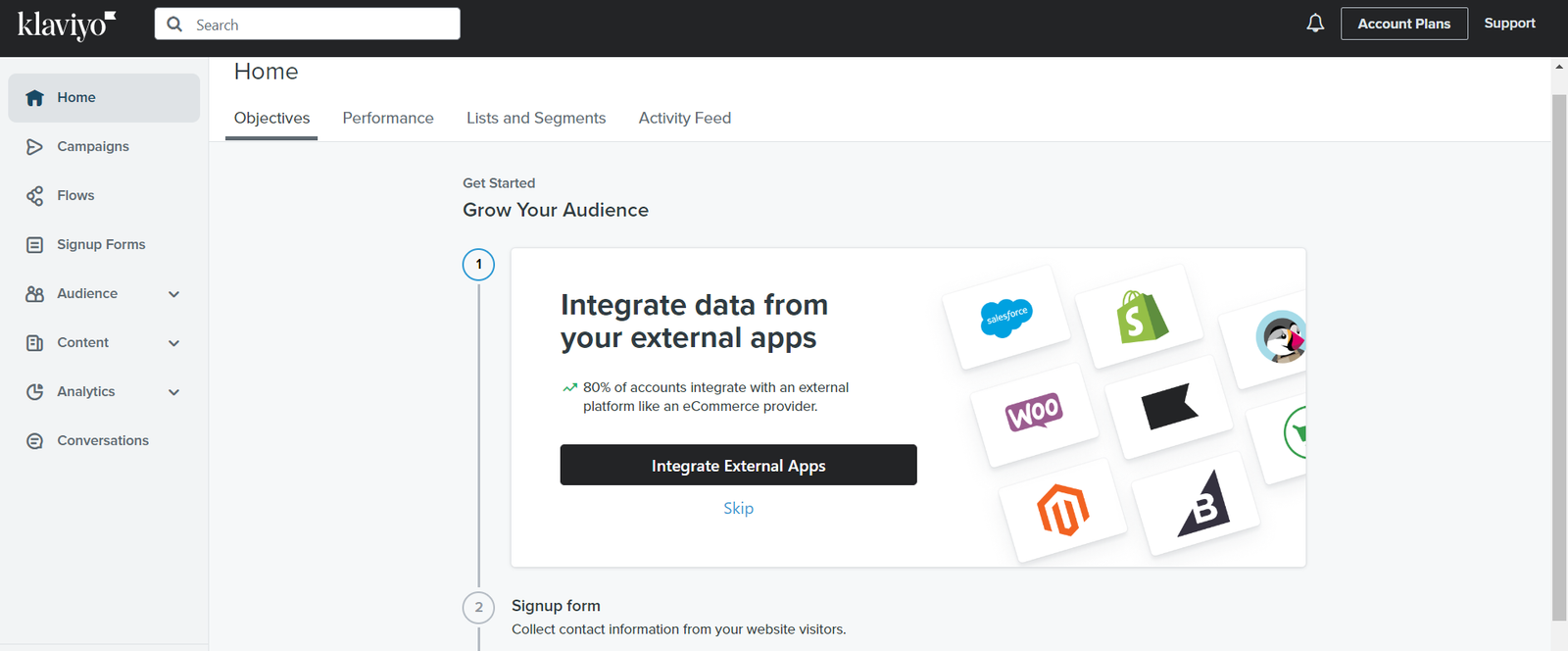 To create a campaign, you need to choose "Campaigns" from the sidebar and tap on the "Create Campaign" button on the right. Then, you can choose between the drag-drop editor, HTML, or plain text.
Selecting the drag-and-drop editor will take you to the platform's template library. Here, you can either use a themed template or a basic one to customize on your own. Klaviyo can even pull your brand colors and logo from your website for consistent branding.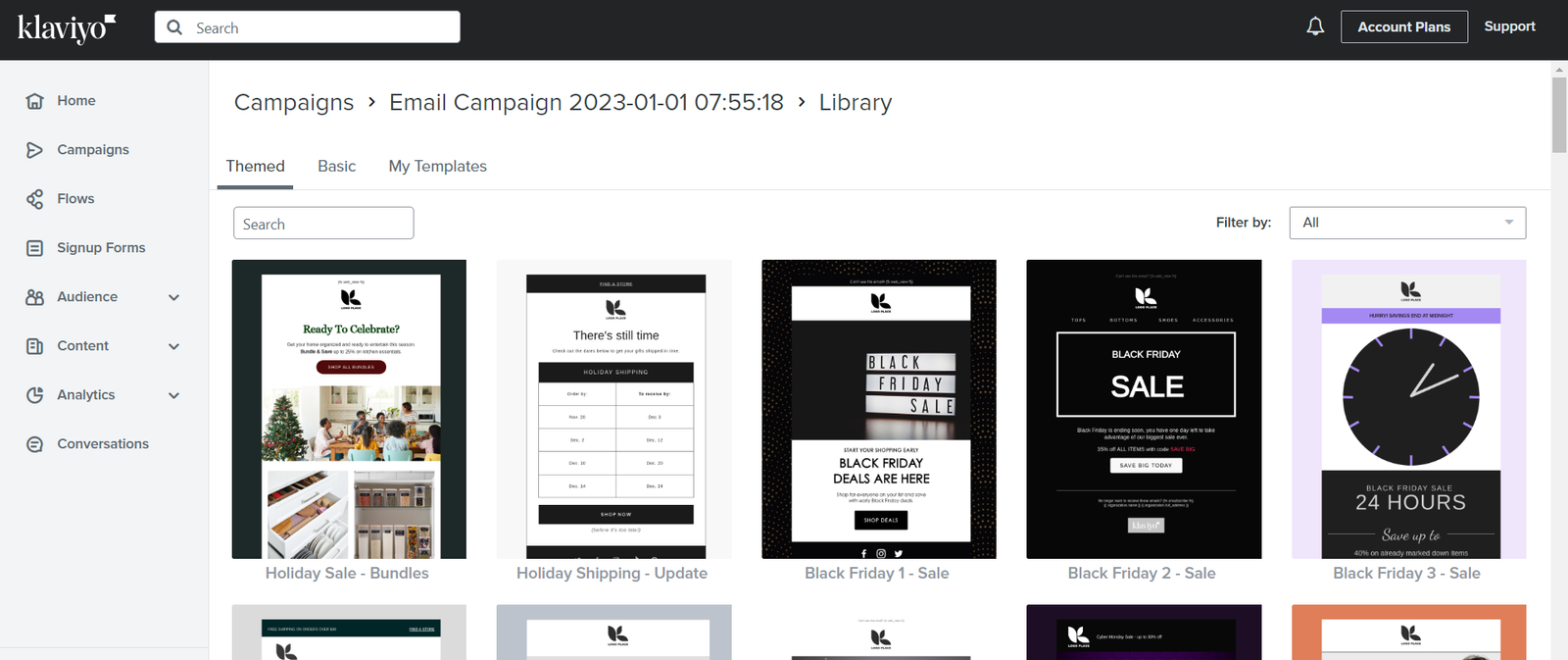 Everything initially looked simple and great, but things started getting more complicated as I navigated to other areas of the platform, like audiences, analytics, and flows. You'd feel like there's a rocket scientist running things behind the scene in Klaviyo with all the data, visualization charts, and customization options you'd see.
That's not necessarily a bad thing for all the geeks out there, but for a small business owner that's just getting with their lead nurturing campaign? I'd pass.
On the other side, we have MailChimp's eye-candy interface and UI elements. Once you set up your MailChimp account, you'll be presented with a sleek dashboard that has an activity feed and a navigational sidebar that takes you to campaigns, audiences, analytics, and other parts of the platform.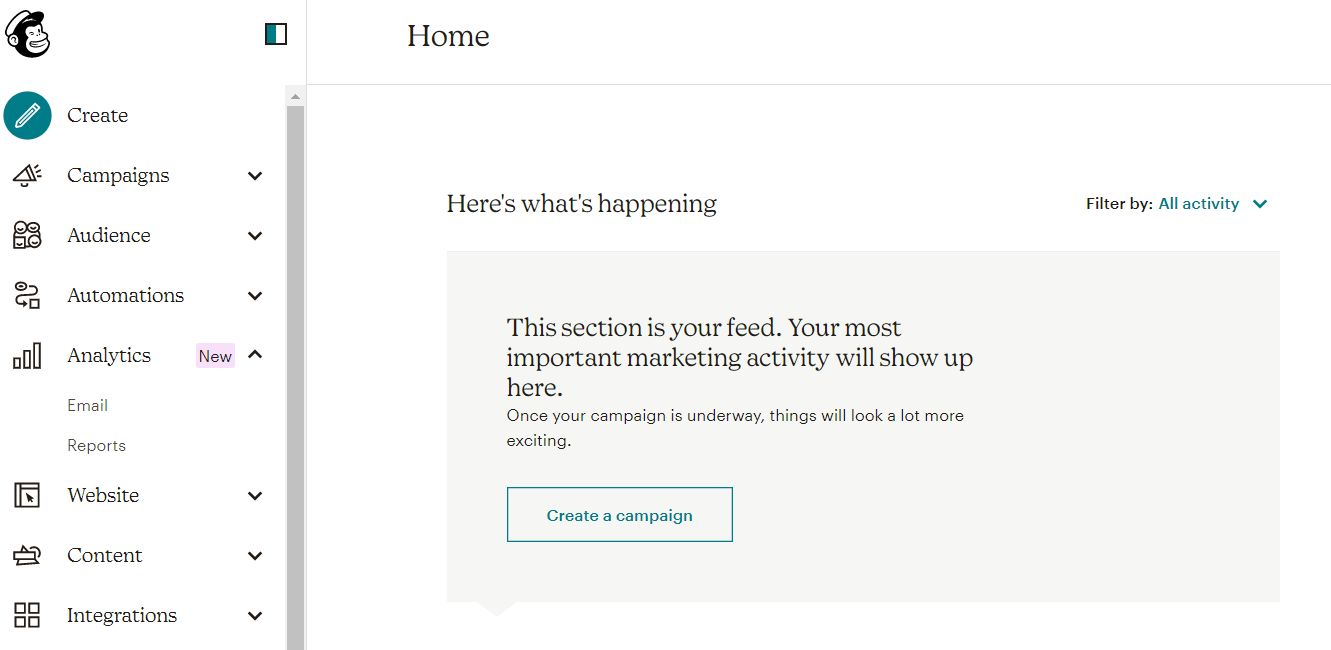 To start a new campaign, all you have to do is click the "Create" button at the top of the sidebar. Then, you'll be prompted to choose between building a regular email, landing page, or signup form.
In MailChimp, There are two email builders to pick from, the classic builder and the new builder.
The classic builder is drag-and-drop based, so all you have to do here is pick a base template and add blocks to customize your email. Of course, you can also code your own template if you have some basic web development skills.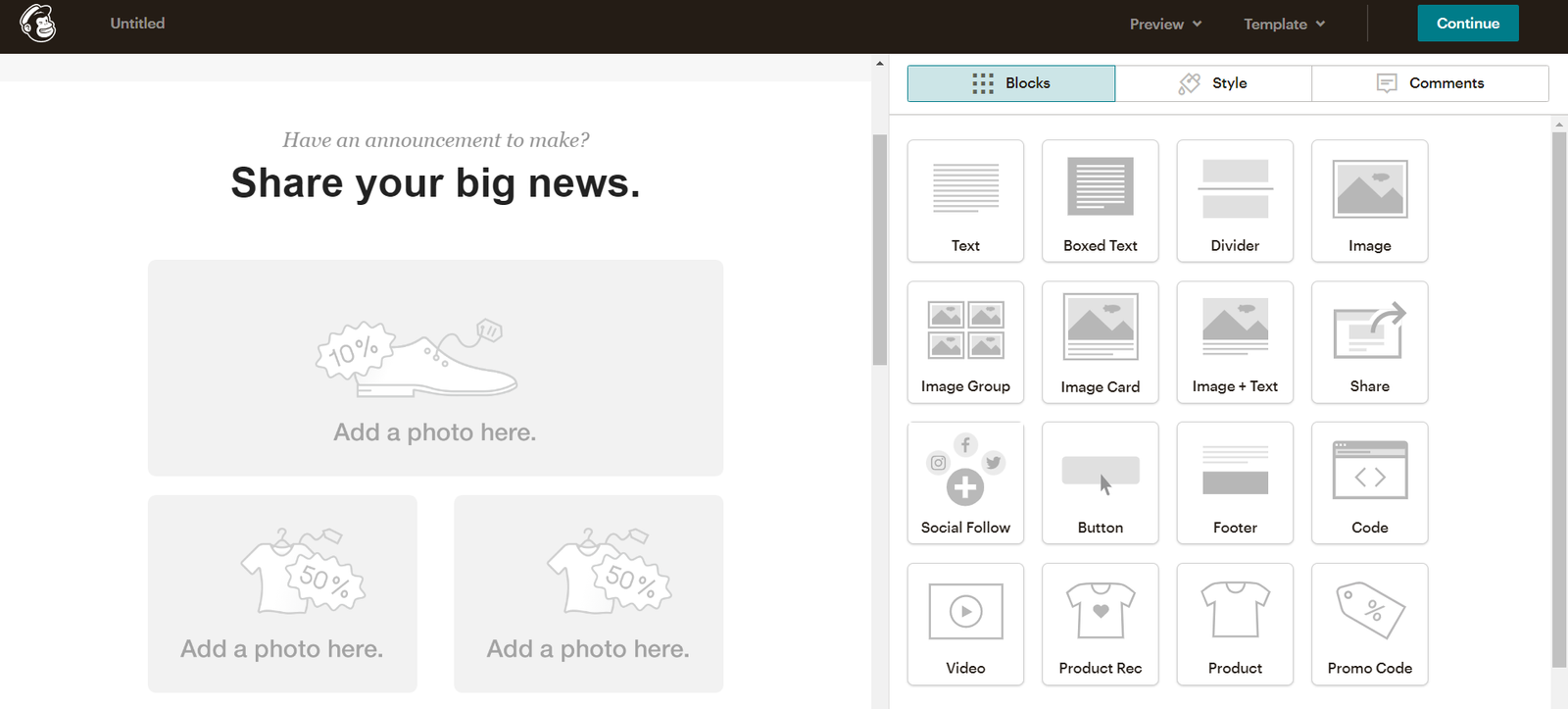 The new builder lets you add or edit the content inside the email itself. For example, instead of using a text block in the classic builder, the new builder has more specific blocks like "Heading", "paragraph", and "layout". You can also pull content from integrated Apps Content Blocks and create survey content blocks.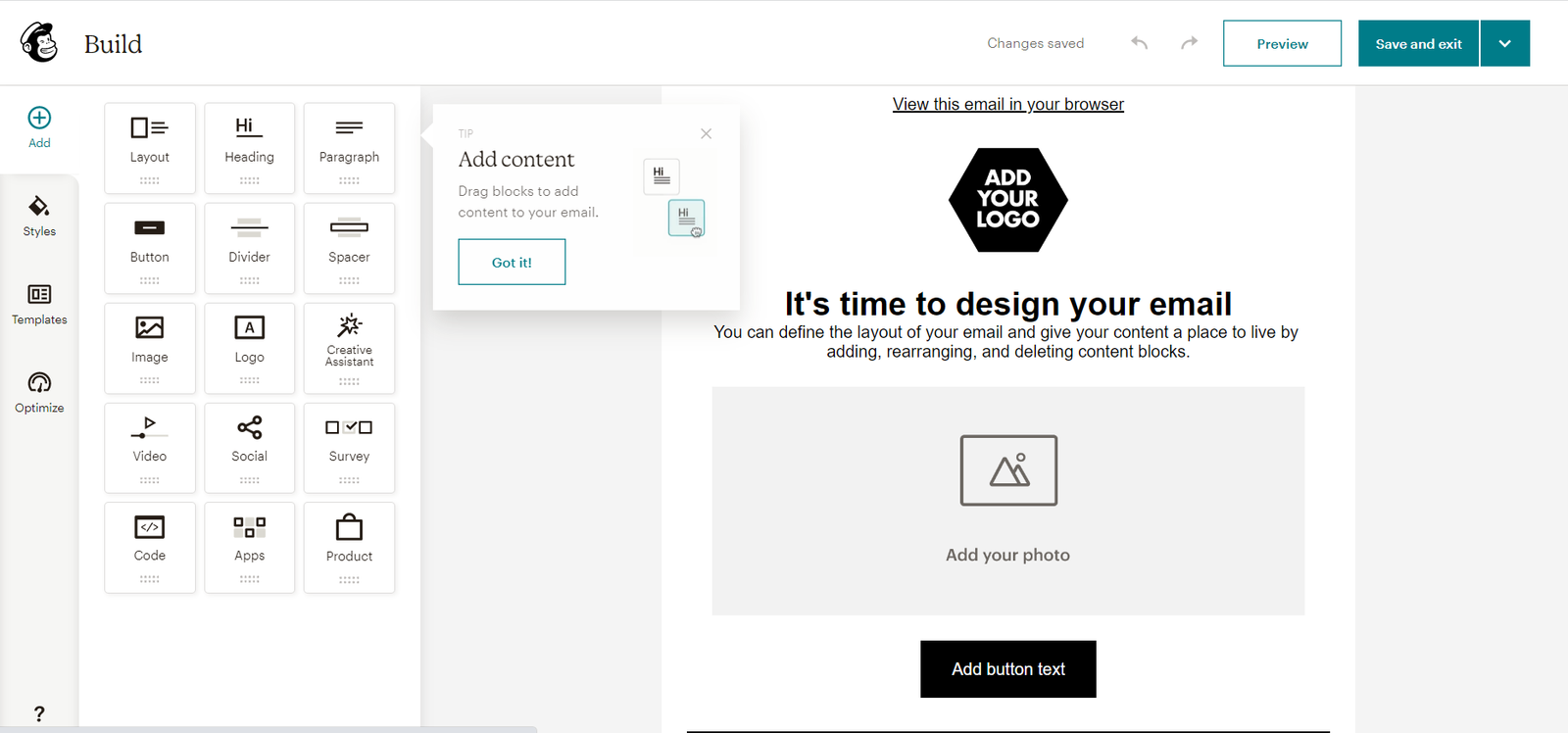 From here, it's a walk in the park. MailChimp will create a preliminary draft that you can customize with content and pre-built templates. Many of the responsive email templates are bare-bone, enabling you to get creative and build your emails from scratch without wasting time adjusting the basic layout.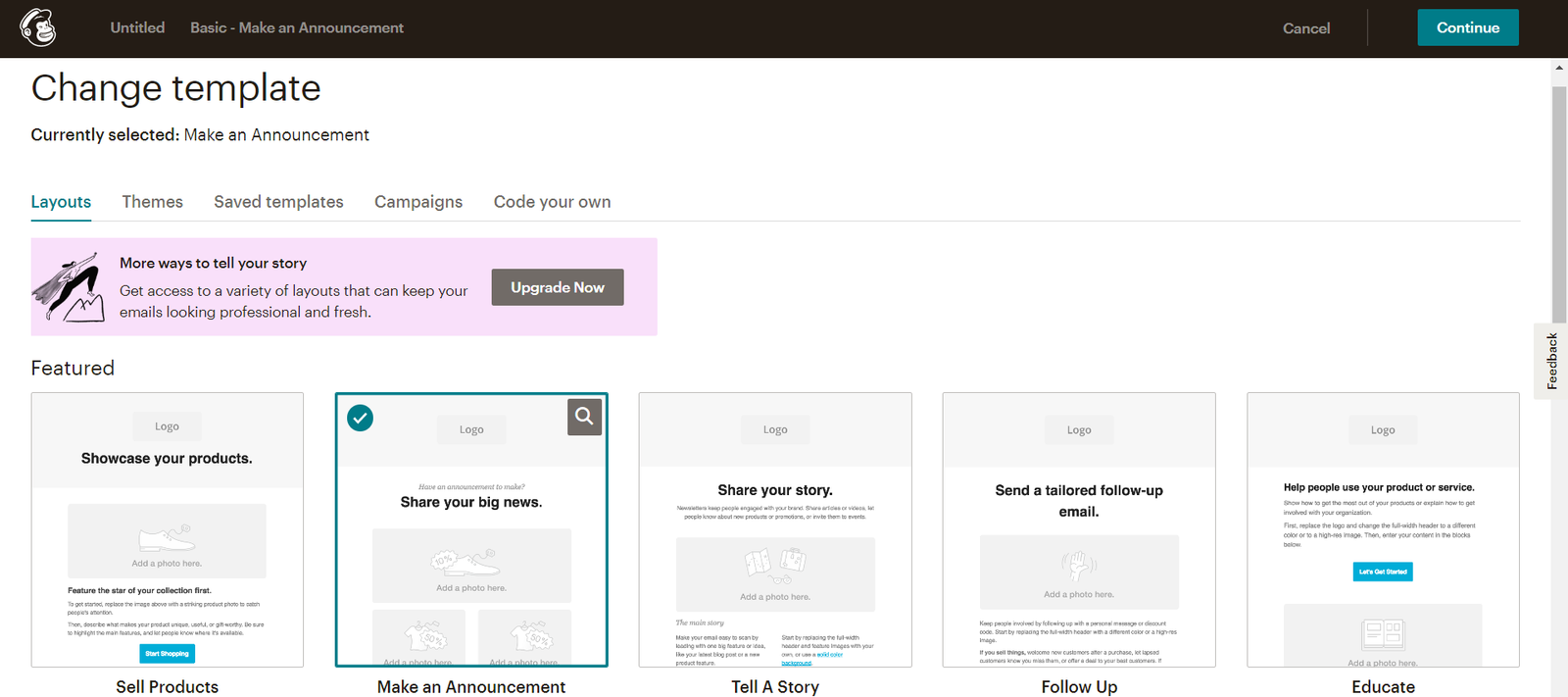 If you delve into more advanced parts of the platform, like the analytics dashboard, you won't feel overwhelmed. MailChimp gives you useful hints and examples with every step you take. Combine that with the intuitive user interface, and you'll rarely find yourself lost on the platform.
I especially like the prebuilt journeys that let you create your first automated flow in a couple of minutes. They can come in quite handy in automated email campaigns. It's not available in the free plan (c'mon MailChimp!).
From my experience, if you need an email marketing platform that you can dive into right away even if you've never used one before, MailChimp is the way to go. Still, Klaviyo isn't that far behind in terms of usability, but it's better suited for people with at least some experience in email marketing automation features and analytics.
Support
Mailchimp offers 24/7 email and live chat support, but it's only available for paid subscribers. Free MailChimp users can still access the knowledge base for FAQs and how-to articles, or chat with the AI assistant bot. If you prefer the good old phone support, you'll need to subscribe to the highest-paid tier (Premium) to enjoy it.
Klaviyo offers 24/7 email support too, but live chat is only available from 9 am to 5 pm (EST). Free subscribers can get email support for up to 60 days from the account activation date.
I'd give this round to Klaviyo. It was easier for me to find out how to contact support on Klaviyo than MailChimp. Klaviyo's help center is also much more comprehensive than that of MailChimp, as it includes webinars, video tutorials, and more helpful resources. The fact that free users get dedicated customer support is a plus, too.
Pricing
Since both Klaviyo and MailChimp have a free version, you can get started with either of them without cashing out a single dime. But what will happen when it's time to upgrade?
If you're a free MailChimp user who's considering an upgrade to a higher-tier plan, you can start with as little as $13/month for the Essentials plan and a 500-subscriber contact list with up to 5,000 monthly email sends. For 1,5000 contacts, the monthly cost will be $26.5.
On the flip side, moving to a premium plan on Klaviyo will cost you at least $20/month for up to 500 subscribers and a hefty $45/month for 1,500 contacts.
In my opinion, MailChimp offers the basic features at a better bang for your buck, especially if you have a small audience of between 500-1,500 contacts. Sure, you might miss out on a few advanced features if you opt for a lower-tier plan, but these won't matter much for small businesses. Per contact, the costs can add up pretty quickly with Kalviyo as your business grows.
Is Klaviyo vs MailChimp Better for Drip-Nurturing?
Both Klaviyo and MailChimp can be used for drip nurturing campaigns. But since Klaviyo's automation and email scheduling capabilities are 100% available on all plans (even the free one), Klaviyo takes the lead here. To maximize the potential of your drip campaign on MailChimp, you'll have to pay more.
On a side note, I've found automating emails on MailChimp to be a bit easier, especially for beginners, so that's something to keep in mind too.
Klaviyo vs MailChimp: My Two Cents
Both Klaviyo and MailChimp are great email marketing software solutions, so the choice here is all about your particular needs.
If you appreciate an intuitive interface that you can get used to quickly, MailChimp seems like a good option for you. It also won't cost you much. Plus, it serves as an excellent Customer Relationship Management (CRM) platform.
On the other hand, Klaviyo goes all in with its advanced features by including them in all plans, giving you the best tools to nail your email marketing campaigns. That comes at the cost of usability, though.
If you're not ready to pay for an email marketing tool yet, you'll definitely love Klaviyo's free plan more than the one MailChimp offers, but when it's time to upgrade, prepare the big bucks.