Best Podcast Software for Beginners
Remember the old FM radio you used to listen to at your grandma's? Well, guess what, it's back! But it's now called podcasting.
Podcasts have grown in popularity in the past few years. If you're a business owner, launching a podcast about a related topic or group of topics can be a great way to connect with your audience and show your expertise.
Not only that, but you can also build an entire business around your podcast, if it's a unique topic capable of helping you build a massive audience quickly, of course.
But if you really want to do it right, you have to pick a reliable podcasting software solution that provides a seamless experience for you, your guests, and your audience. And that's exactly what I'll be helping you within this guide.
What Is the Best Podcast Software?
The best podcast software solutions are Riverside, Adobe Audition, Restream, Audacity, and Spotify for Podcasters. Now, let's see what each of them has to offer.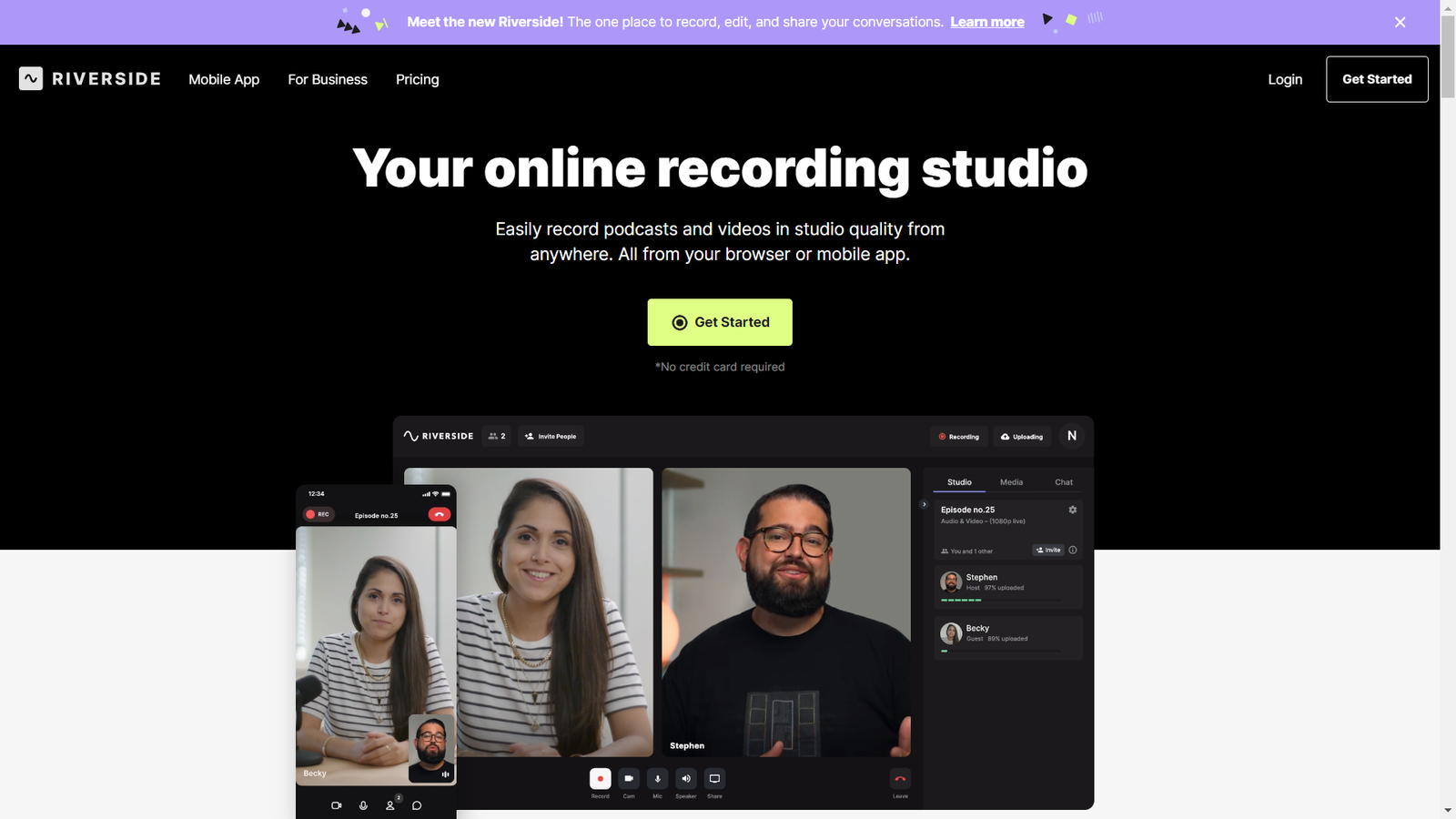 Overview
Riverside.fm is an online recording studio that simplifies the process of capturing remote podcasts and video interviews that possess the appearance and acoustics of a well-equipped studio.
Highlights
Scheduling: Schedule podcasts easily by linking Riverside to scheduling platforms such as Calendly.

Producer mode: Join the podcast as a producer and control the show without getting your voice recorded.

Content repurposing: Easily repurpose your podcasts into short-form clips and other forms right inside Riverside's editing interface.

AI-powered transcription: Get automated AI transcription for each participant separately to scan long conversations for key moments.

Record at source: Video and audio are recorded at source, not over the internet, which eliminates the common connectivity issues that affect video and audio quality.
Functionality
For me, the best thing about Riverside.fm is that I can easily record split audio or video podcasts. It's a default option, so in other words, I don't have to split the audio later as each individual's voice is recorded separately from the start.
To record split audio or video podcasts in Riverside, click the "+ New Studio" button on your dashboard to create a new studio. Name your studio, and then select your recording type.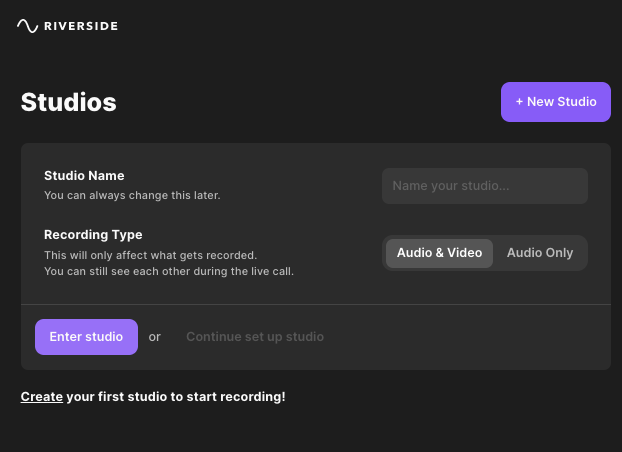 Once you're ready to record, click 'Enter Studio' and push the red record button.
Pricing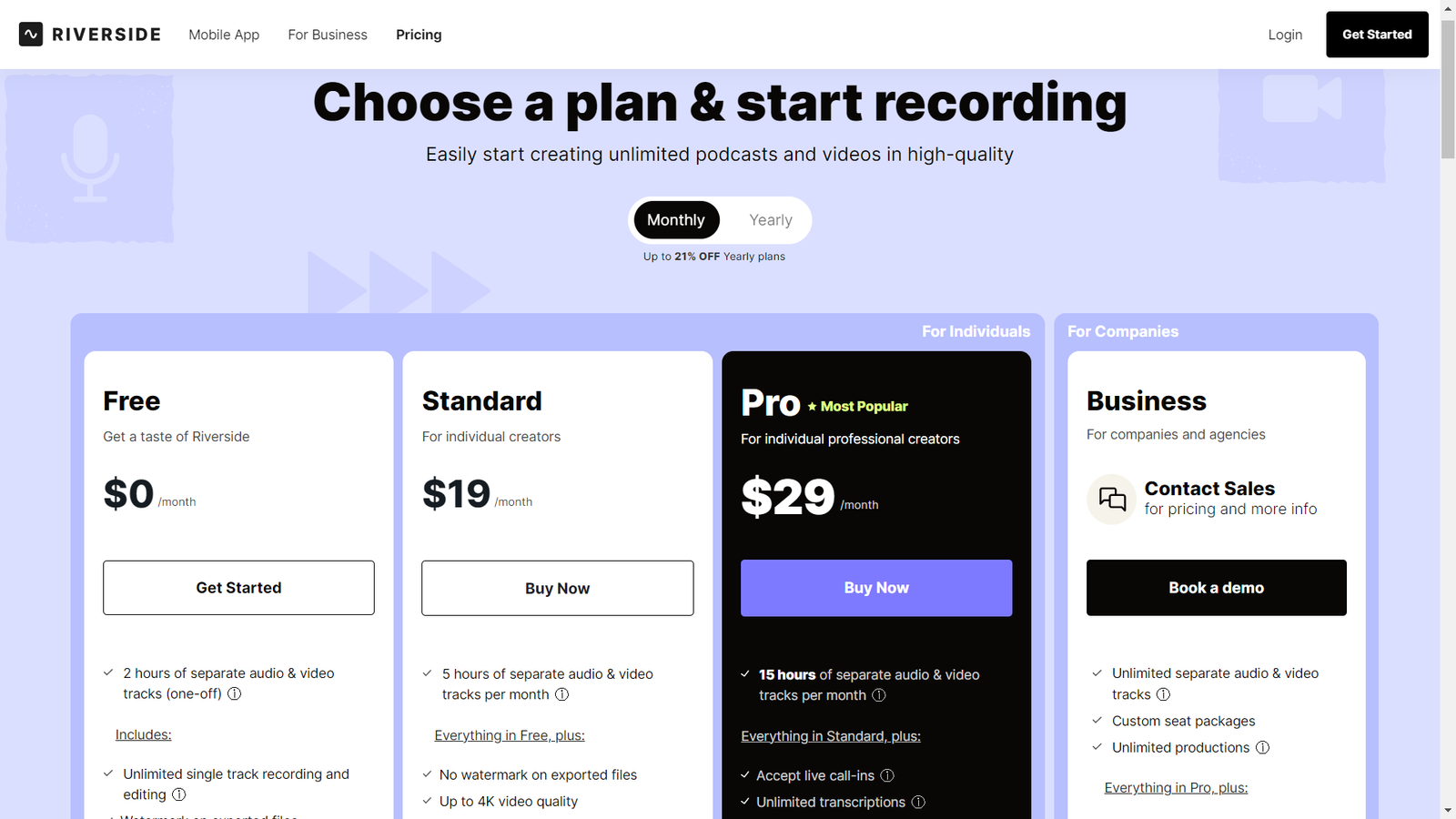 Riverside offers 4 plans: Free, Standard ($19/month), Pro ($29/month), and Business (quote-based).
The Free plan offers 2 hours of separate audio and video tracks with unlimited video calls, and the Standard plan adds 5 hours of separate tracks per month, 4K video quality, and live streaming to social media.
The Pro plan includes 15 hours of separate tracks, unlimited transcriptions, and live call-ins. As for the Business plan, you get custom seat packages, unlimited productions, SSO, and more.
Customer Thoughts
I find it inconvenient to not be able to quit a session until all files are uploaded. Would be helpful to let files upload even after all guests leave.

We love that we can easily archive, backup, and retrieve recordings with Riverside. Being a cloud-based platform, the process is pretty straightforward.

While Riverside does integrate with third-party scheduling tools, it'd have been nice if guests were able to pick an available slot for the podcast inside the platform.

I like that I can locally download my live-stream podcasts in real-time.

For me, the best thing about Riverside is that I can easily share a link with my guests and let them join without them having to download or install anything.

We love that we can create reel-sized videos easily with Riverside.
Bottom Line
In my opinion, Riverside is one of the best solutions for recording podcasts since it's geared toward podcast creation, with tools like scheduling and source recording. Consider giving the free plan a shot to create your first podcast episode.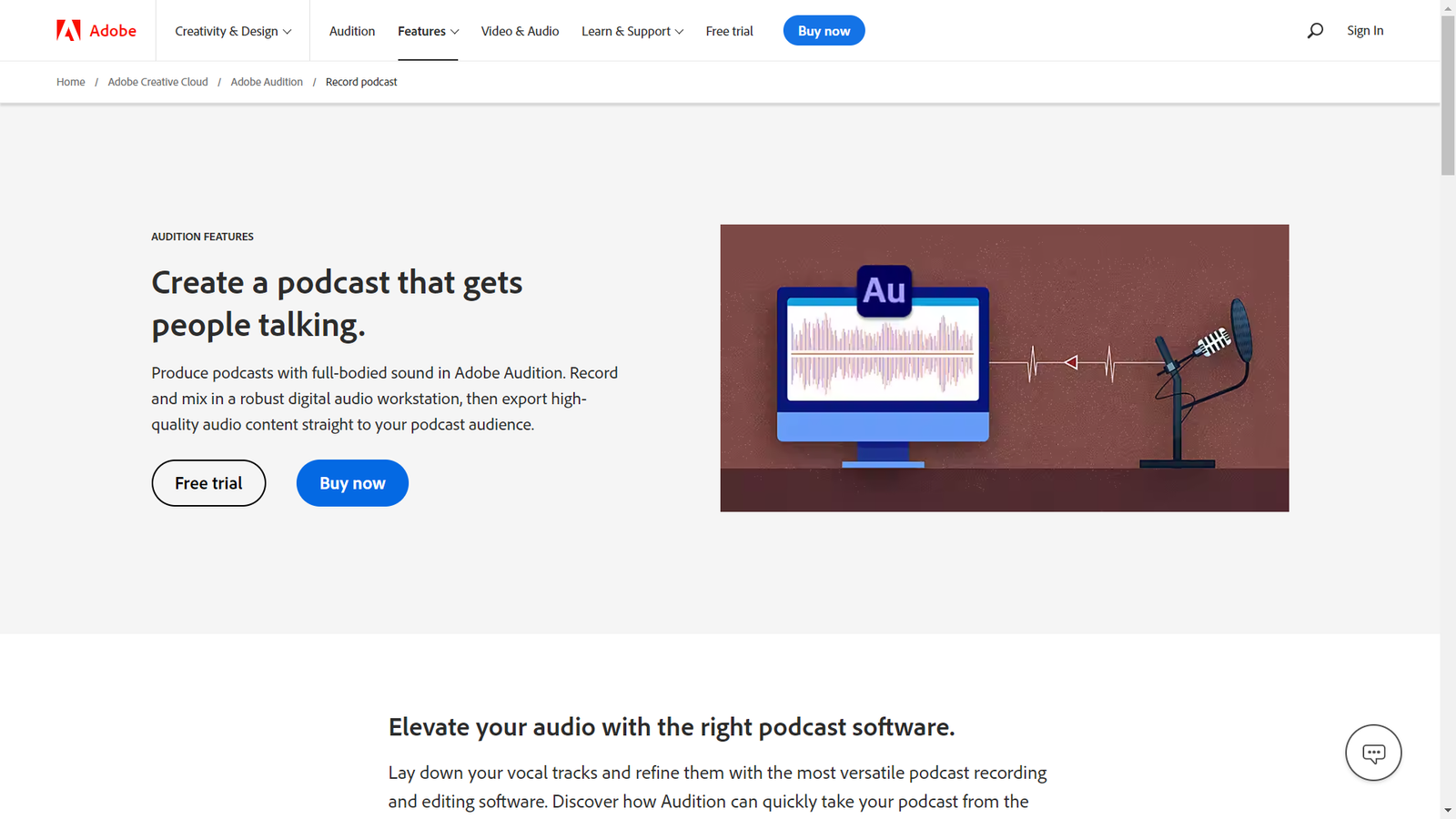 Overview
Adobe Audition is an advanced audio editing software that enables you to create, edit, restore, and mix high-quality audio podcasts. It's a complete digital audio workstation for recording and mixing podcasts.
Highlights
Essential Sound Panel: Adjust levels and remove unwanted noises with advanced editing tools.

Sound library: Access a massive library of royalty-free sound effects to make your podcasts stand out.

Podcast templates: Easily set up multitrack recording to capture multiple speakers with podcast templates.

Loudness matching: ensure consistently high-quality audio across different audio files with loudness-matching capabilities.

Gain adjustments: Easily control on-clip gain adjustments to get the tone you want.
Functionality
One thing you can do with Adobe Audition when creating a podcast is to use its noise reduction tool to remove unwanted background noise from your audio recordings. This can help enhance the overall sound quality of your podcast and make it more enjoyable for listeners.
To use the noise reduction tool, open Audition and import the audio file you want to work on. Now, select a short section of the audio file that contains only the background noise you want to remove.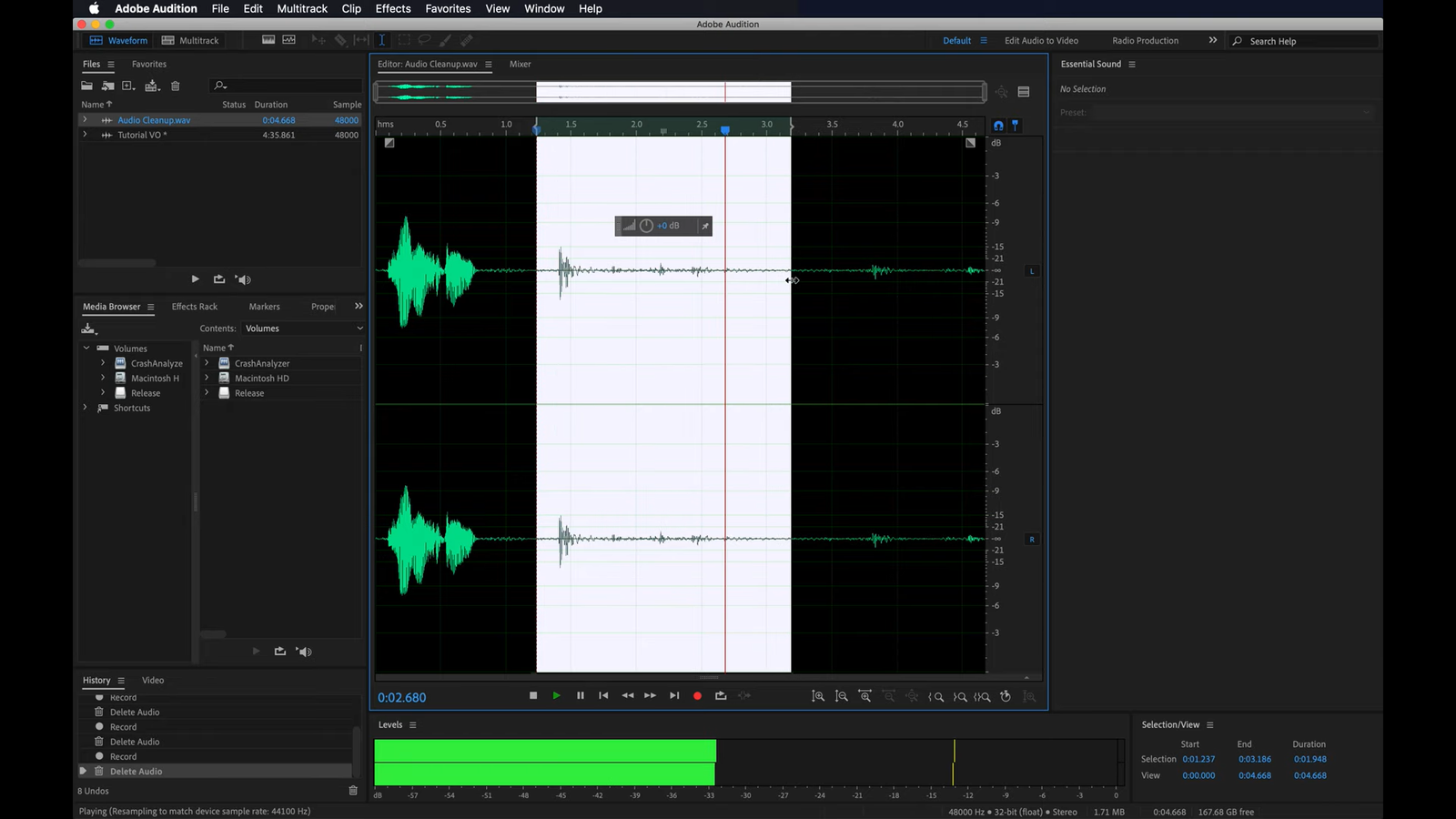 Then, from the menu bar, select "Effect" and choose "Noise Reduction."
Pricing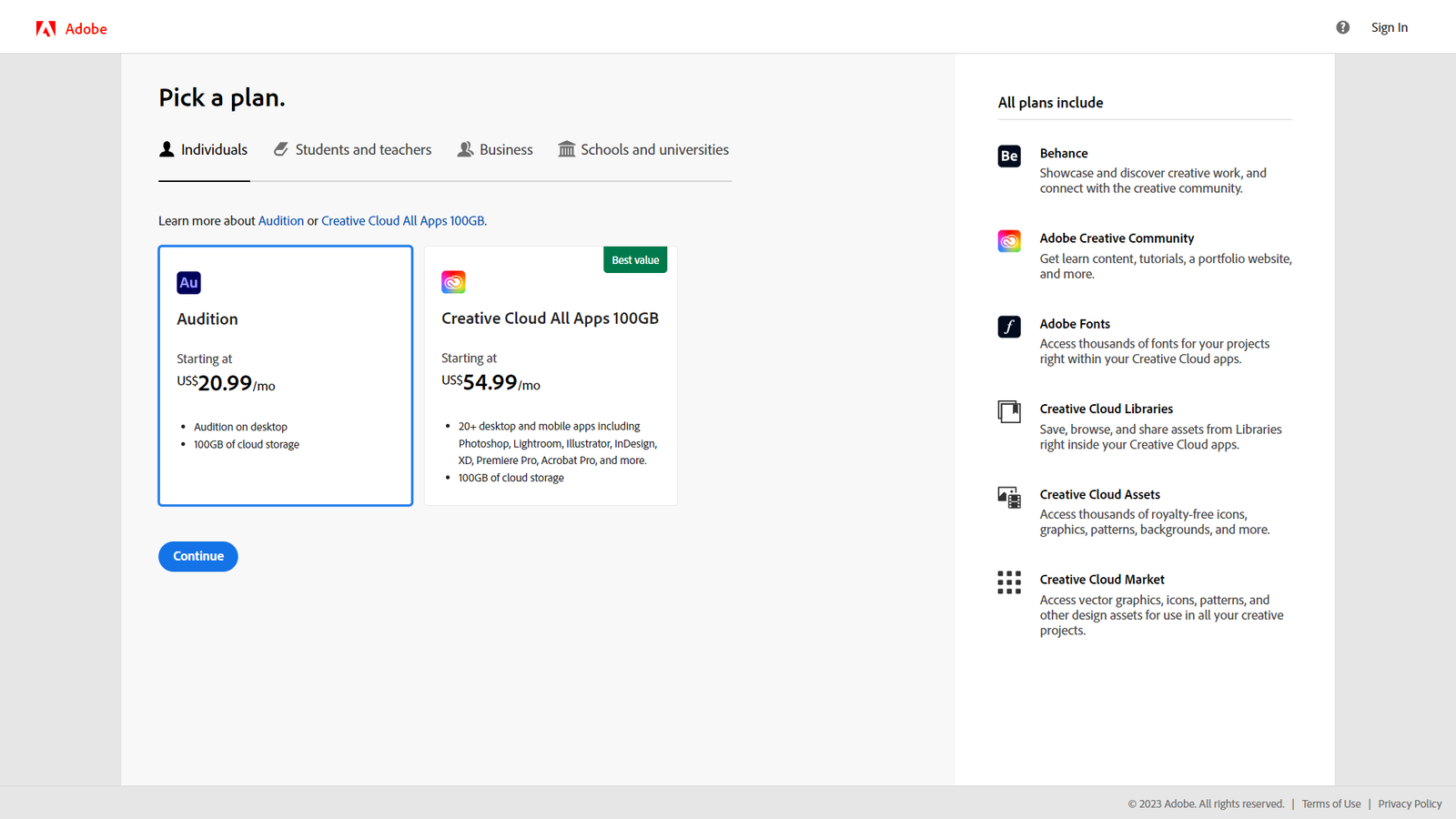 Adobe Audition starts at US$20.99/month.
For those looking for more creative flexibility, the Creative Cloud All Apps plan is available for US$54.99/month, offering access to over 20 desktop and mobile apps including Photoshop, Lightroom, Illustrator, InDesign, XD, Premiere Pro, Acrobat Pro, and more, as well as 100GB of cloud storage.
All plans include access to Behance for showcasing creative work and connecting with the creative community, as well as access to Adobe Fonts, Creative Cloud Libraries, Creative Cloud Assets, and Creative Cloud Market for a complete creative experience.
Customer Thoughts
Adobe Audition has default audio presets which is very good for me.

My primary tool is noise reduction, which has saved my life so many times! I've also used it for recording and editing podcast episodes.

Audition seamlessly integrates with other Adobe Creative Cloud products, which helps me streamline my workflow.

For any in-depth audio creation or sound composition, Adobe Audition is easily outclassed by most other audio workstations.

What I don't like most about this software is that it's very heavy and takes up a lot of RAM space.

I like that Audition lets me do non-destructive altering for my podcasts.
Bottom Line
From where I stand, Adobe Audition is a great audio recording software for those looking for an easy-to-use podcasting tool with more advanced capabilities. I encourage you to check out the 7-day free trial to explore what it can do yourself.
Restream – Best for Multistreaming
Overview
Restream is a powerful tool for creating and streaming live content to your audience. With over 30 supported social media platforms, Restream lets you reach viewers on a wide range of sites, including Facebook, YouTube, LinkedIn, and many others.
Highlights
Stream downloading: Restream allows you to save a recording of your live stream for repurposing and other future uses.

Analytics: Get detailed insights on your live stream performance across multiple platforms to measure your success and identify areas for improvement.

Multistreaming: Reach a wider audience by broadcasting your live podcasts to over 30 integrations, including popular platforms like YouTube, Facebook, Twitter, and LinkedIn.

Restream Studio: Live stream directly from your browser using Restream Studio, with customizable layouts, screen sharing, and on-screen captions and comments.

Hi-res audio and split-track recording: Separate audio tracks for each stream participant, allowing for cleaner, more professional sound.
Functionality
Restream.io offers a feature called "Multi-Stream" which lets me simultaneously stream my podcast to multiple platforms, such as YouTube, Facebook, Twitch, and more. This is a great way to expand my audience and increase my reach without having to stream to each platform individually.
To stream to multiple platforms on Restream, simply click on "add destination" after creating an account, and choose the channels that you prefer from the list of supported channels.
Pricing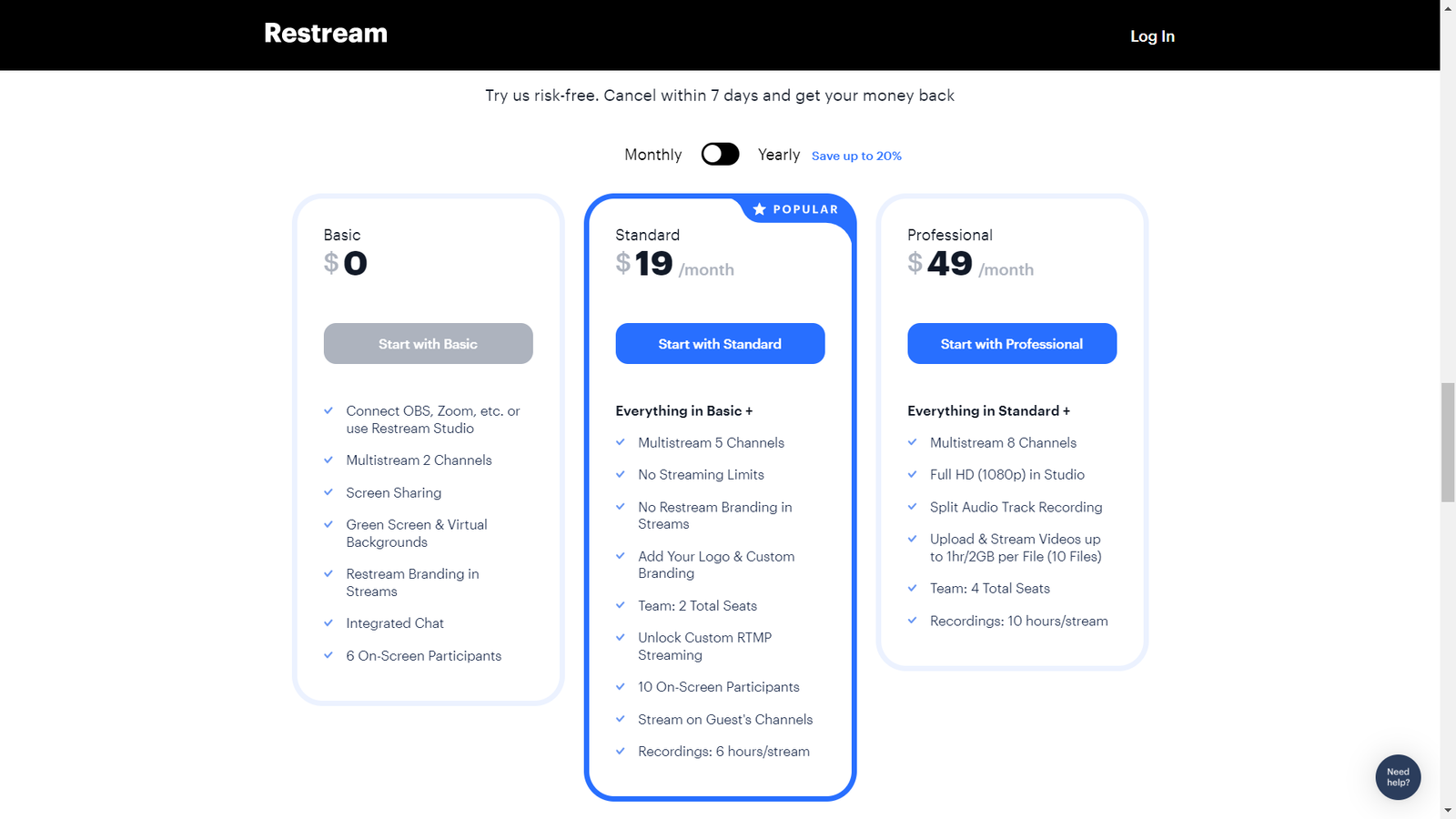 Restream provides three pricing plans: Basic (free), Standard ($16/month or $190/year), and Professional ($41/month or $490/year).
The Basic plan is limited to 2 channels, doesn't offer stream recording, and shows Restream branding. The Standard plan supports 5 channels, custom graphics, guest channels, and 6 hours of recording.
With the Professional plan, you get 8 channels, split audio and video tracks, Full HD streaming, and 10 hours of recording. All plans support cross-platform chat, but the number of guests you can invite and the video storage limits increase with each tier.
Customer Thoughts
The ability to stream to multiple platforms without any lag is a game-changer for me.

The integration with LinkedIn often disconnects, and there is no indication of this until after going live.

I appreciate that I can respond to comments and questions from all channels while live streaming.

We love the Social Alerts feature as it automatically posts links to live streams on multiple platforms.

Restream's chat feature is a bit inconvenient as it aggregates chats from all the platforms you are streaming to.

They don't support Instagram and TikTok, and the only ways to stream to these platforms are unreliable and take a lot of time.
Bottom Line
From my experience, Restream is ideal for podcasters that want to easily stream to multiple platforms without the hassle. You can get a feel of how Restream works with the basic free plan.
Audacity – Best Free Podcast Tool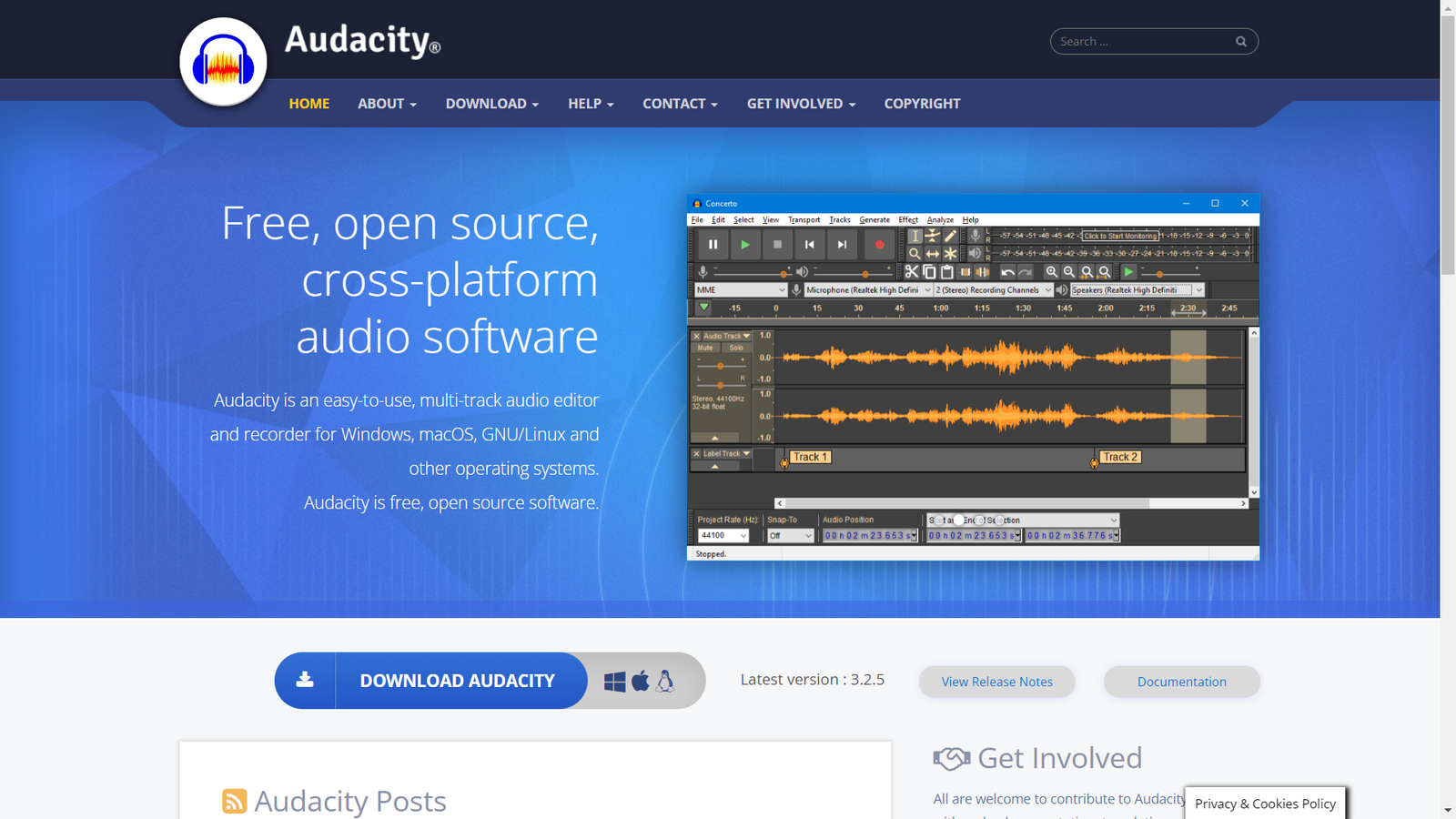 Overview
Audacity is a free, open-source audio editing software solution that you can use to create, modify, import, and export podcasts and remote interviews in various formats.
Highlights
Extensive plugin support: Audacity supports LADSPA, LV2, Nyquist, VST, and Audio Unit effect plugins.

Real-time effect preview: Preview effects non-destructively in real-time.

Tracks and selections manipulation: Quickly manipulate your tracks with configurable keyboard shortcuts.

Spectrogram view mode: Visualize and select frequencies intuitively, as well as plot the Spectrum window for detailed frequency analysis using the spectrogram view mode.

Multiple bit-depths: Audacity supports 16-bit, 24-bit, and 32-bit bit-depths with high-quality resampling and dithering to help you control the audio quality.
Functionality
Audacity's compressor can come in quite handy when I need to make certain parts of the podcast quieter or louder.
to apply compression to your podcast in Audacity, import the audio file you want to edit. Then, Select the portion of the audio you want to compress by highlighting it with your cursor. Then, go to the "Effect" menu and select "Compressor".
Here, you can experiment with settings like threshold, attack time, ratio, and makeup gain.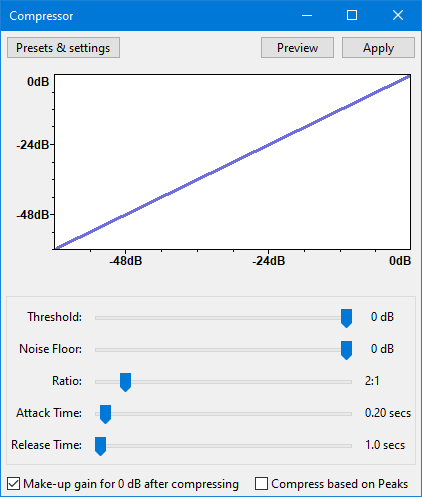 Pricing
Audacity is 100% free. you can access its full feature list without paying.
Customer Thoughts
I love the high-precision editing features. I can pull the outtakes of my podcasts pretty easily.

My all-time favorite feature of Audacity is its "Track" functionality, which enables us to effortlessly add new tracks in any format, be it mono, stereo, labeled, or any other format that we desire.

With Audacity, I'm limited to the number of projects I can work on at a time, unlike some other programs.

Audacity is an excellent tool for podcast editing, particularly for creating sound effects, trimming audio clips, and applying simple effects such as fade in or fade out.

The inability to change the audio on a video can be frustrating.

Audacity is a great option for those who want to record voices for a podcast or demos quickly and easily, its mixing and mastering features are limited.
Bottom Line
In my opinion, Audacity is the best podcast recording software for creators looking for a free solution. It may lack a few advanced features, but for beginners, it's more than enough.
Spotify for Podcasters (Previously Anchor.fm) – Best for Creating and Publishing Podcasts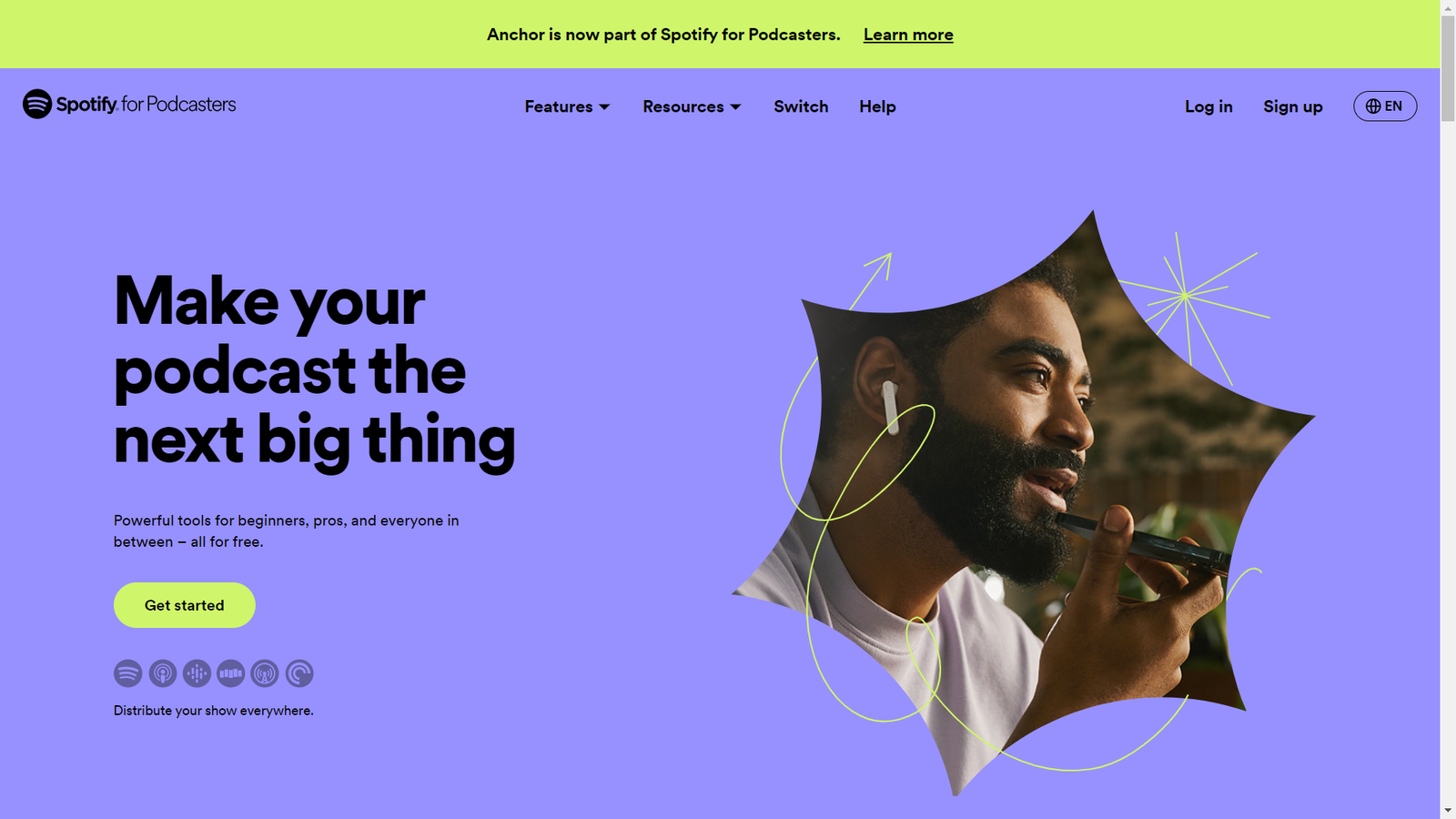 Overview
Spotify for Podcasters allows you to create, edit, and manage your podcasts and track their performance on Spotify. It provides tools to submit and distribute your podcasts to Spotify, track listener demographics, and measure the success of your content.
Highlights
Custom branding: Reflect your brand identity in your podcasts with custom branding options.

Extensive Editing capabilities: Record and edit your podcasts, arrange your segments, and add transitions and background music in one single interface.

Insights: Spotify for Podcasters provides insights on how to grow and engage with your audience.

Audio enhancement: With the Spotify for Podcasters mobile app, you can record your podcasts anywhere with noise canceling and voice optimization technology.

Q&A and polls: Engage your audiences with Q&As and polls and share their favorite replies on social media to boost engagement.
Functionality
One thing you can do with Spotify for Podcasters is to use their analytics tool to track your podcast's performance. To access it, open the "Analytics" tab at the top and choose the podcast you want to view analytics for.
Here, you can see a dashboard with various metrics such as the number of streams, listeners, and followers your podcast has gained over time.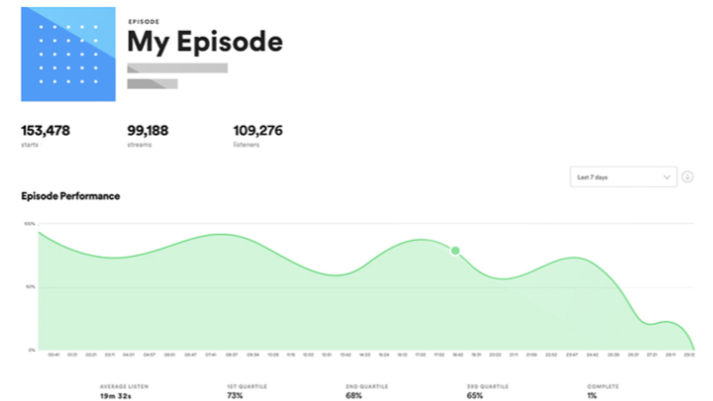 These insights can help analyze your podcast's performance and make adjustments to improve it.
Pricing
Spotify for Podcasters is free. You still need a podcast host to publish your podcast on Spotify, though.
Customer Thoughts
I love that it gives me tips on how best to publish the podcast and the analytics helps me to keep creating relevant content. I can also record and save my podcast if I'm not ready to publish

What I dislike most is that the software has a limited amount of customization available and the ads can be intrusive.

The ability to edit the podcasts and the audio through the app is something different from what other apps do. Most podcast hosting platforms don't have creator tools.

I like that I can easily create a podcast from my mobile device without feeling that I'm missing any desktop features.

I love that Spotify for Podcasters has built-in background music and effects that I can use in my podcasts.

The analytics part has really helped us grow our podcast quickly with insightful metrics.
Bottom Line
If you're looking for a podcasting solution that you can use for both recording and publishing, Spotify would be your best bet. It's 100% free, so it's definitely worth checking out.
What Is Podcast Software?
Podcast software is a digital tool used to record and stream pre-recorded and live podcasts. It allows you to record your own voice, interview guests, and share the podcasts with your audience.
Why Your Business Needs Podcast Software
If you're thinking about starting a podcast for your business, a podcasting tool is irreplaceable. Unlike basic recording apps and tools, podcasting solutions are equipped with advanced capabilities such as HD audio, automated cloud backups, guest invitation, editing tools, and more.
According to Insider Intelligence, the number of podcast listeners in the United States alone has grown to 124.5 million monthly listeners. This number is expected to increase even further, with the percentage of expected monthly listeners to be 36.9% of the US population aged 12 or older. This should give you a good idea of how profitable podcasts can be.
Wrap Up
So these were some of the best beginner-friendly podcasting software options for B2C and B2B marketing.
If this is your first time recording a podcast, I recommend checking out some of the free options first, like Audacity and Spotify for Podcasters.
Once you're ready to take your podcast to the next level, you can try a paid software tool for more advanced mixing, recording, and analytics capabilities.