Best Email Verification Software (Ranked and Reviewed) for 2023
So you've worked hard on your email marketing campaign, hoping that it'd drive more leads and sales, only to find out that many of your emails end up in the internet's black hole.
For email marketing, ensuring that the email addresses on your list are accurate and up-to-date can be challenging. However, it's pretty important to validate the emails on your contact list to avoid bouncebacks, spam complaints, and other issues that can negatively impact your campaign. This is where email verification software comes in handy.
Email verification software helps you validate email addresses and ensure that your email campaigns reach your intended audience. In this article, I've reviewed some of the best email verification software solutions, highlighting their key features, pricing, and what people say about them.
5 Best Email Verification Software
In my opinion, the best email verification solutions I've tried are EmailListVerify, Zero Bounce, DeBounce, Proofy, and Bouncer. Now, let's check out how these tools can help you drive better results for your email marketing campaigns.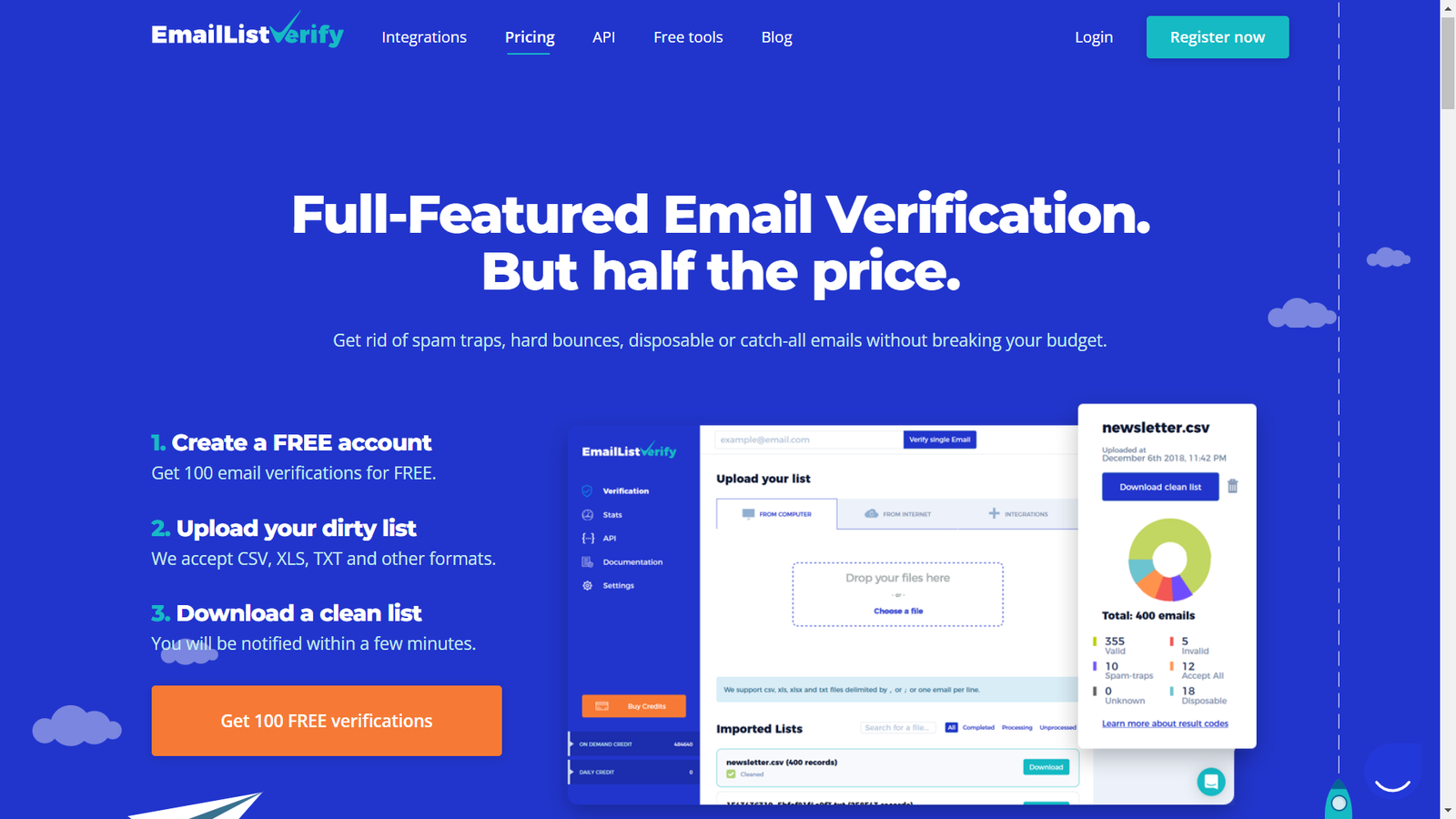 Overview
EmailListVerify is an online email list verification tool that can help you improve the effectiveness of your email marketing campaigns and boost your email marketing ROI by minimizing email bounce rates.
Highlights
Accuracy level: 99.7% on the upper end of email verification tools.
Domain & SMTP validation: Check ISPs and remove all emails with invalid, inactive, parked domains or invalid accounts.

Spam trap checker: Clean spam traps and improve your reputation score to maximize email deliverability.

Disposable email cleaner: Spot temporary emails and get rid of trash email addresses.

Catch-all domains checker: Easily identify domains that return valid for all emails.

Hard bounce checker: Learn whether an email address really exists and can receive email messages by sending undetectable verifications.

Email duplicates remover: Detect and get rid of all duplicate emails to avoid sending unnecessary emails.
Functionality
With EmailListVerify, you can either verify single emails or a full list of emails.
To verify a list, click on the "choose files" button or drag and drop the file from your computer's folder into the designated area on the website.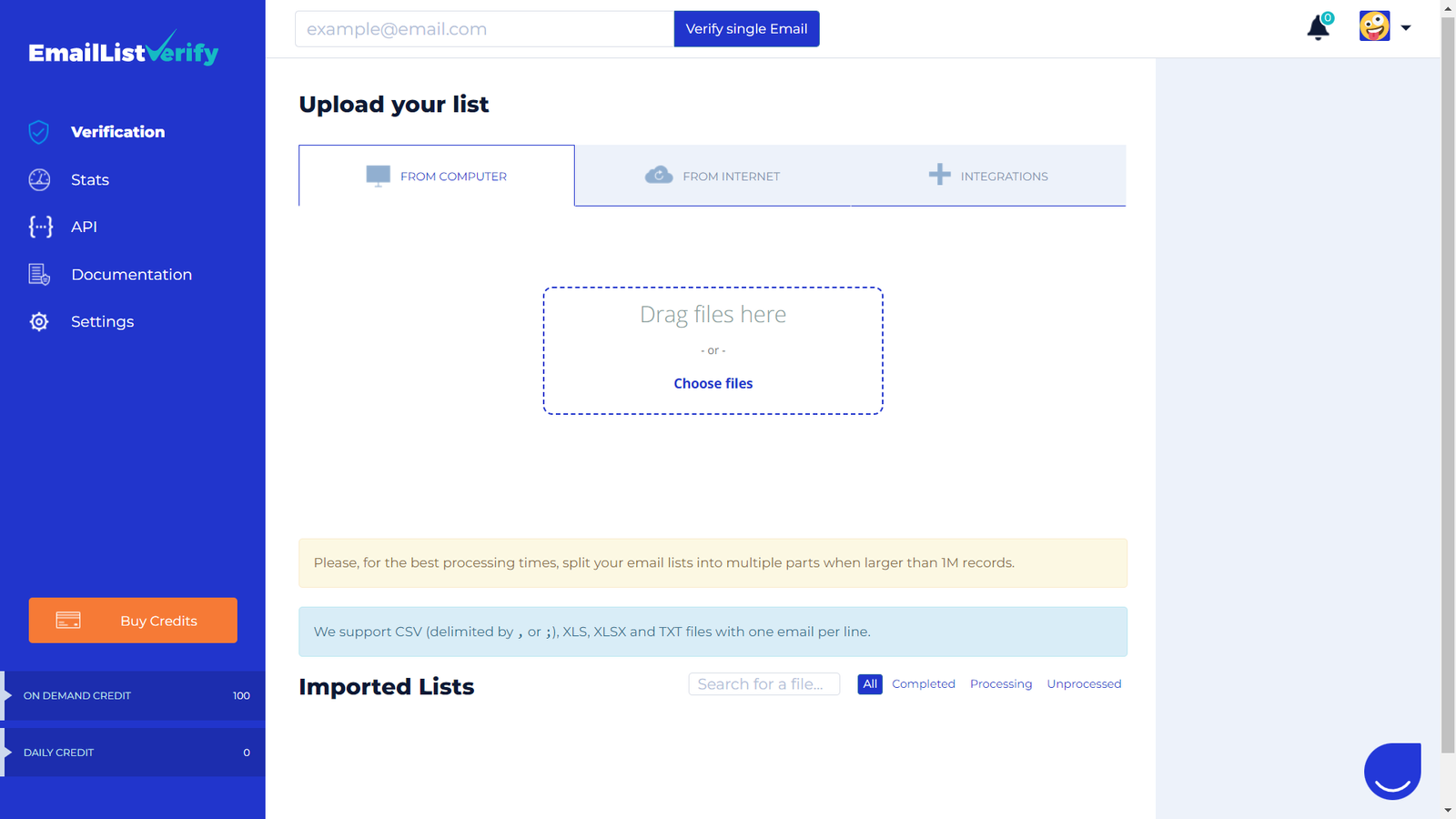 Alternatively, you can just type a single email in the email box and push the "verify single email" button to quickly check if it's valid.
Pricing
EmailListVerify offers flexible pricing options with pay-as-you-go and monthly subscription plans to suit your email verification needs, with a money-back guarantee in case you didn't get the promised accuracy level.
The pay-as-you-go model includes an API and offers various packages with different email volumes and prices per email, ranging from 1,000 to 10,000,000 emails. With the pay-as-you-go plan, you can save up to 93% and buy a package that best suits your needs.
Additionally, EmailListVerify offers monthly subscription plans. The monthly subscription plans are great for API integration and offer email volumes ranging from 5,000 to 100,000 emails per day. The prices for the monthly subscription plans start at $139 per month for 5,000 emails per day and increase up to $989 per month for 100,000 emails per day.
Customer Thoughts
With the email duplicate remover, I can catch duplicate emails, which helps us maintain the data integrity of our database.

For us, EmailListVerify does a great job of detecting and accurately marking all types of emails at utmost accuracy.

When I upload a CSV file, the results aren't always as expected.

We use this software to avoid spam and unwanted emails, which helps us maintain a solid reputation score.

Accuracy could be better. I occasionally come across cases when I know that the email is valid and the tool flags it.

Being in the real estate industry, we frequently send confidential documents, and this tool effectively acts as an additional layer of security for us.
Bottom Line
In my opinion, EmailListVerify is one of the best email verification tools for detecting invalid email addresses and improving email deliverability. You can test the service for free with up to 100 email verifications.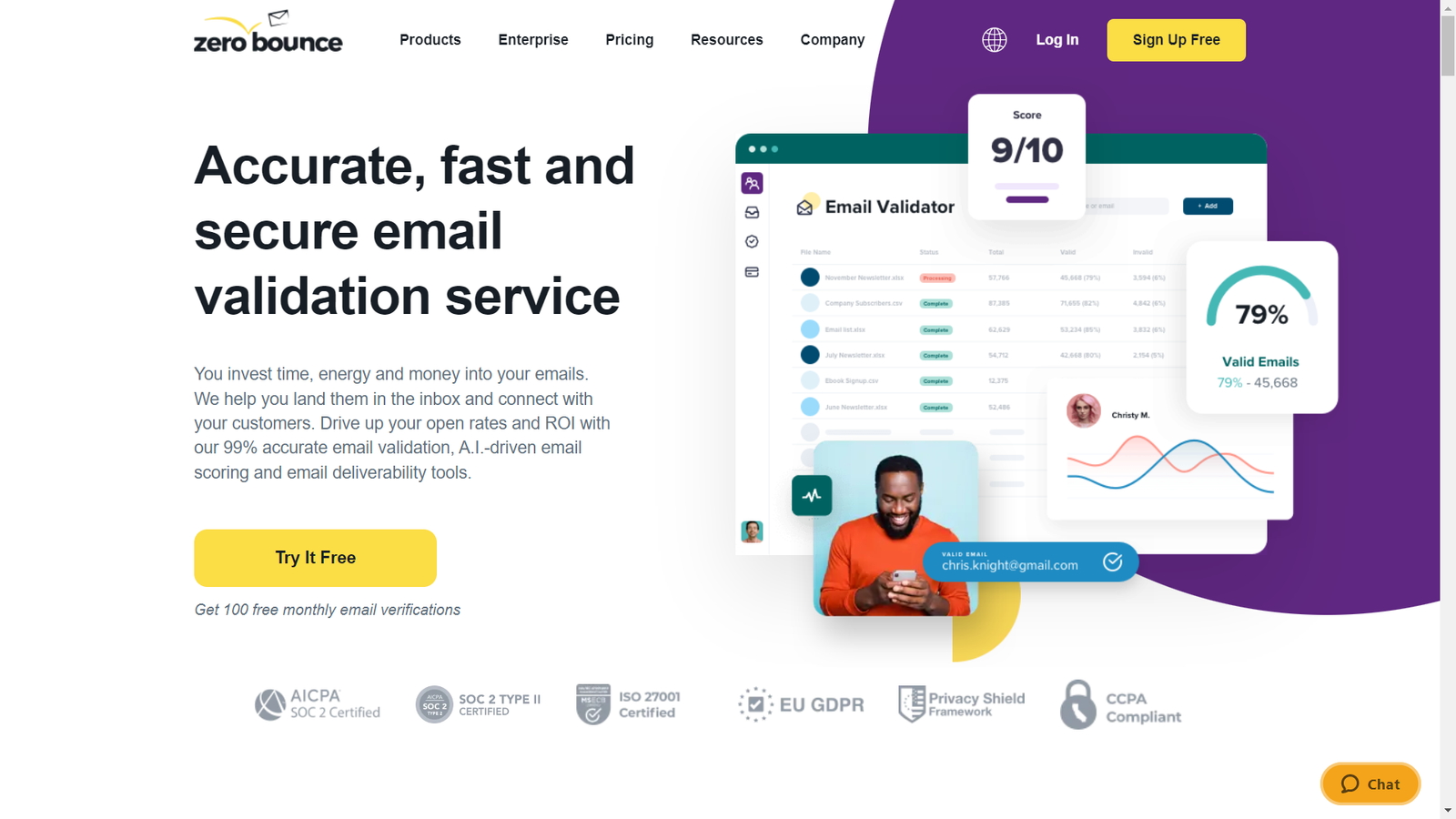 Overview
ZeroBounce is an email validation platform that enables you to validate emails for your email list and maximize deliverability. It offers features like invalid email address removal, bounce rate reduction, IP address validation, and verification of crucial recipient demographics.
Highlights
Accuracy level: 99%; considered average in comparison to other email verification services.

Email Bounce Validator: Keep the bounce rate low by scrubbing your email list and identifying which emails will bounce.

Abuse Email Detection: Protect your reputation by detecting accounts with a history of marking emails as spam.

Spam Trap Detection: Keep your email list clean by identifying and removing spam traps.

Disposable Email Check: Get rid of temporary email accounts that self-destruct and bounce.

Catch-All Email Check: Isolate catch-all domains and score them accordingly.

Toxic Domain Verifier: Spot harmful domains that could hurt your reputation due to abuse, spam, and bot-created emails.

Gender Identification: Identify the gender of some emails in your list for better targeting and more personalized emails.
Pricing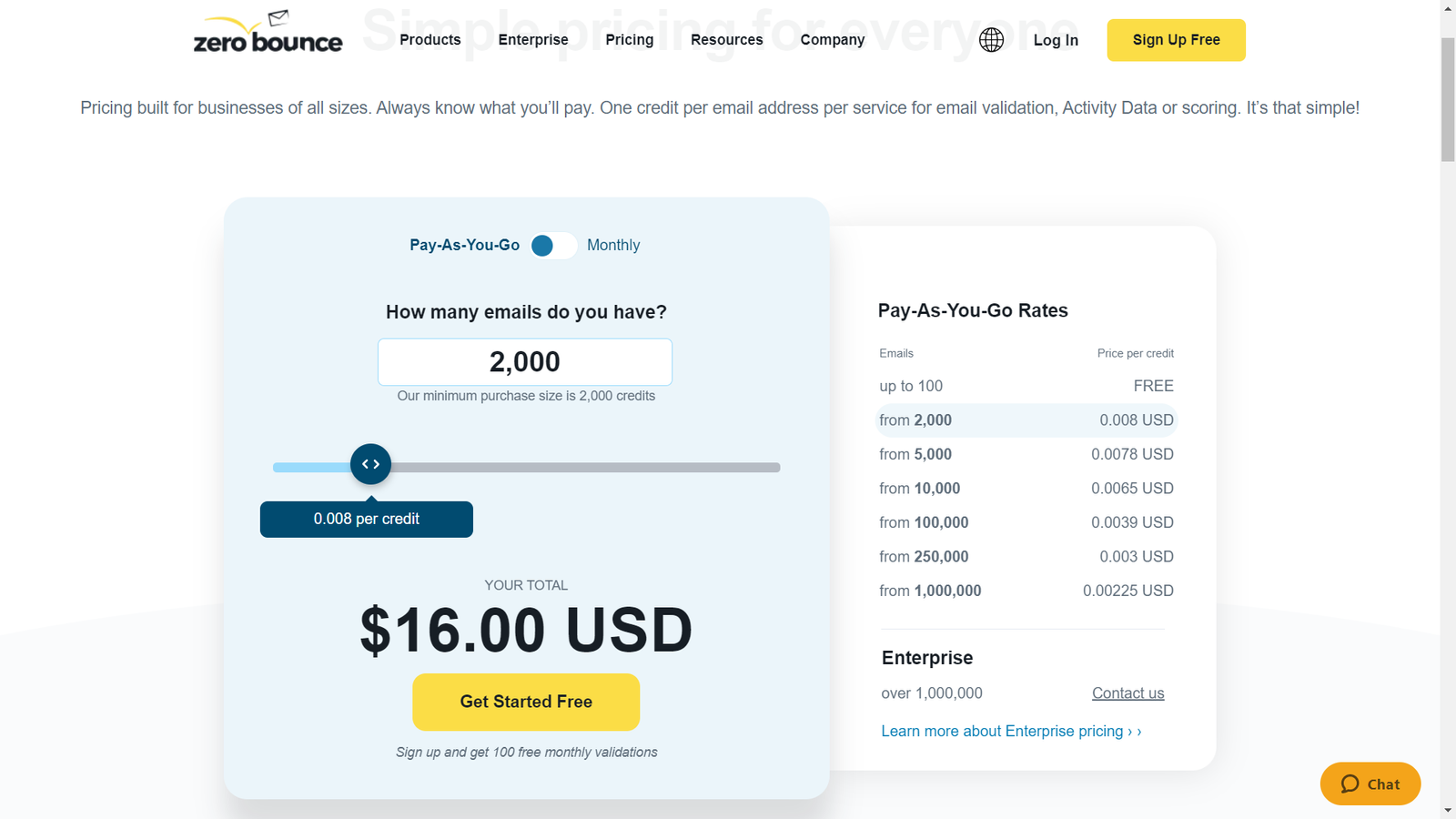 ZeroBounce offers a pay-as-you-go pricing model that charges one credit per email address per service, whether it's for email validation, activity data, or scoring.
The minimum purchase size for credits is 2,000, and the cost per credit is $0.008. So if you want to validate 2,000 email addresses, it'll cost you $16.00 in total.
There's also a monthly plan that allows you to purchase credits on a monthly basis, with no contracts or commitments. The cost per credit for the monthly plan starts at $0.0075 for 2,000 emails.
For higher email volumes, ZeroBounce offers discounted rates for pay-as-you-go and monthly plans. The pay-as-you-go rates start with free credits for up to 100 emails, and then the price per credit starts at $0.008 for 2,000 emails. As you increase your email volume, the cost per credit decreases.
Refund percentage is based on the percentage of emails that were inaccurate. So, for example, if the accuracy turned out to be 2% less than the promised accuracy, you get a 10% refund. If it's 4% below the expected accuracy, you get 20%.
Customer Thoughts
ZeroBounce provides us with not only valid emails but also separates the catch-all addresses, which has drastically improved the results of our email marketing campaigns.

The only thing I don't like about ZeroBounce is that I have to sign in multiple times per session due to inactivity.

ZeroBounce is a lifesaver when it comes to cleaning up email lists and improving our deliverability rates for our email campaigns and outreach. The real-time verification feature, in particular, is super useful.

I like that I can add credits if I'm not doing monthly email validations. I also love the email score feature that helps me check whether the email is receiving-friendly to boost deliverability.

The CRM integrations that ZeroBounce offers have helped us streamline our email marketing operations.

I wish they had a feature that lets me create emails or even use ready-made templates.
Bottom Line
ZeroBounce is a reliable email verification service that also double-checks customer demographics for you. All the plans include 100 free validations when you sign up.
Overview
DeBounce is an email list cleaning service that verifies email addresses by spotting invalid, spammy, or non-operational mailboxes. They make sure that no one on the list receives unsolicited emails during validation, resulting in a clean email list that can be effectively used in result-driven marketing campaigns.
Highlights
Accuracy level: 97.5% on the lower end of email verification tools.
Minimize Bouncing: Remove invalid and hard-bounce email addresses from your database using an SMTP check.

Disposable Email Checker: Easily detect email addresses from disposable email providers like Mailinator to improve deliverability rates.

Anti-greylisting Technology: Reduce unknowns by simulating a well-configured email engine.

Email Deduplication: Automatically remove all duplicate email addresses.

Email Verification API: Verify email addresses instantly on your platform with the DeBounce API.

Selectable Download Options: Download only the results you want with the DeBounce app.
Pricing
DeBounce offers a simple and flexible pay-as-you-go pricing model that allows you to pay only for what you use. The verification plans start at 5,000 verifications for $10. The more emails you verify, the less you pay per email. For instance, the 10,000 verification plan costs $15, which equates to $0.0015 per verification.
There are no overages, and your credits will never expire. All plans include access to the full range of features, including API access and free deduplication.
If the accuracy level was below expectations, you might be eligible for a refund based on how bad the results are. For instance, if you get a 96% accuracy instead of 97%, you can get a refund of 3% of the total cost.
Customer Thoughts
Currently, there's no integration for Acumatica ERP and CRM or Sales Navigator, which is a bit disappointing for us.

I like the credit-based system, as it lets me verify only a few hundred emails occasionally, unlike other similar tools that charge monthly, whether or not you use the service.

DeBounce is very good for bulk email validation and it's very accurate.

Thanks to its accurate and reliable verification process, DeBounce ensures that my email lists are clean, updated, and free of invalid or fake email addresses.

It's difficult for me to interpret DeBounce's results.

We love that we can quickly upload new contacts and review the results within a couple of minutes.
Bottom Line
From my experience, Debounce works great for bulk email list verification with a flexible pay-as-you-go pricing model. You even get 100 free credits when you sign up.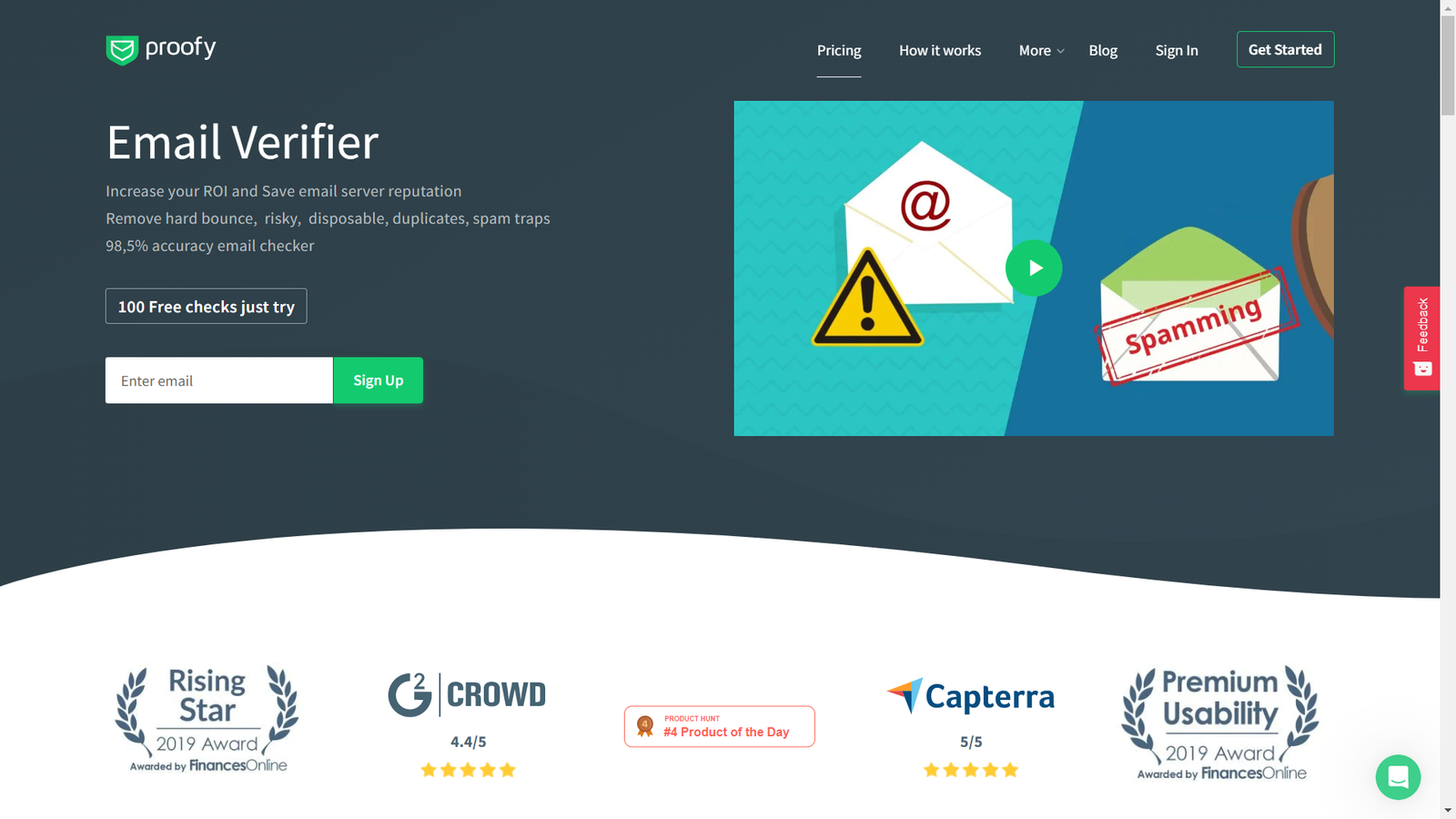 Overview
Proofy is an online email verification solution that enables you to validate email addresses using a variety of tools including domain validation, syntax verification and other features. Using a simple drag-and-drop interface, users can upload email lists in either CSV or TXT format and authenticate recipients' emails with SMTP checks.
Highlights
Accuracy level: 98.5% accuracy; considered average compared to other email verification services
Duplicate email remover: Remove duplicates and bad syntax effortlessly.

Risk validator: Get rid of emails with high-risk keywords or sketchy TLD.

MTA validations: Validator Check whether an MTA has a valid MX record with the automatic Validator.

Real-time bouncing: Identify hard bounces, bad emails, and invalid emails with SMTP checks.

Disposable email checker: Spot temporary email accounts that are used to mask real email addresses to improve email deliverability.
Pricing
Proofy offers a flexible and affordable pay-per-check pricing structure. The first plan is 100% free and includes 100 emails.
For users with more significant email demands, Proofy offers four additional plans that range from $16 to $99. The second plan offers 5,000 emails at $0.0024 per check, saving you 36% off the regular price. The third plan includes 10,000 emails and costs $29, which means you can save 42% compared to the standard price, and each check costs $0.0019. The fourth plan, which costs $63, allows you to check 30,000 emails, resulting in a 58% savings per check at $0.0018.
As for the fifth plan, it's priced at $99 and offers 50,000 email checks, making each check cost $0.0015. Proofy also offers a flexible plan that lets you choose the number of checks you need. The top-tier flexible plan costs $124 and offers 70,000 checks, which translates to $0.0013 per check.
If you don't get the promised 98% accuracy, you can request a pro-rated refund using the service's feedback form.
Customer Thoughts
I like how easy it is to verify email addresses and clean my email lists with Proofy.

The API provides more data compared to competitors.

I love the email list analysis feature of Proofy as it makes it easier for me to quickly remove undeliverable emails.

As a first-time user, it took me a while to figure out how to upload my CSV file for analysis.

For me, the best feature that Proofy offers is Prompt Processing and the clear results it delivers.

The only downside is that Proofy doesn't have a WordPress plugin.
Bottom Line
From where I stand, Proofy is among the most accurate and affordable email verification services on the market. You can give it a test drive with the free plan that includes 100 checks.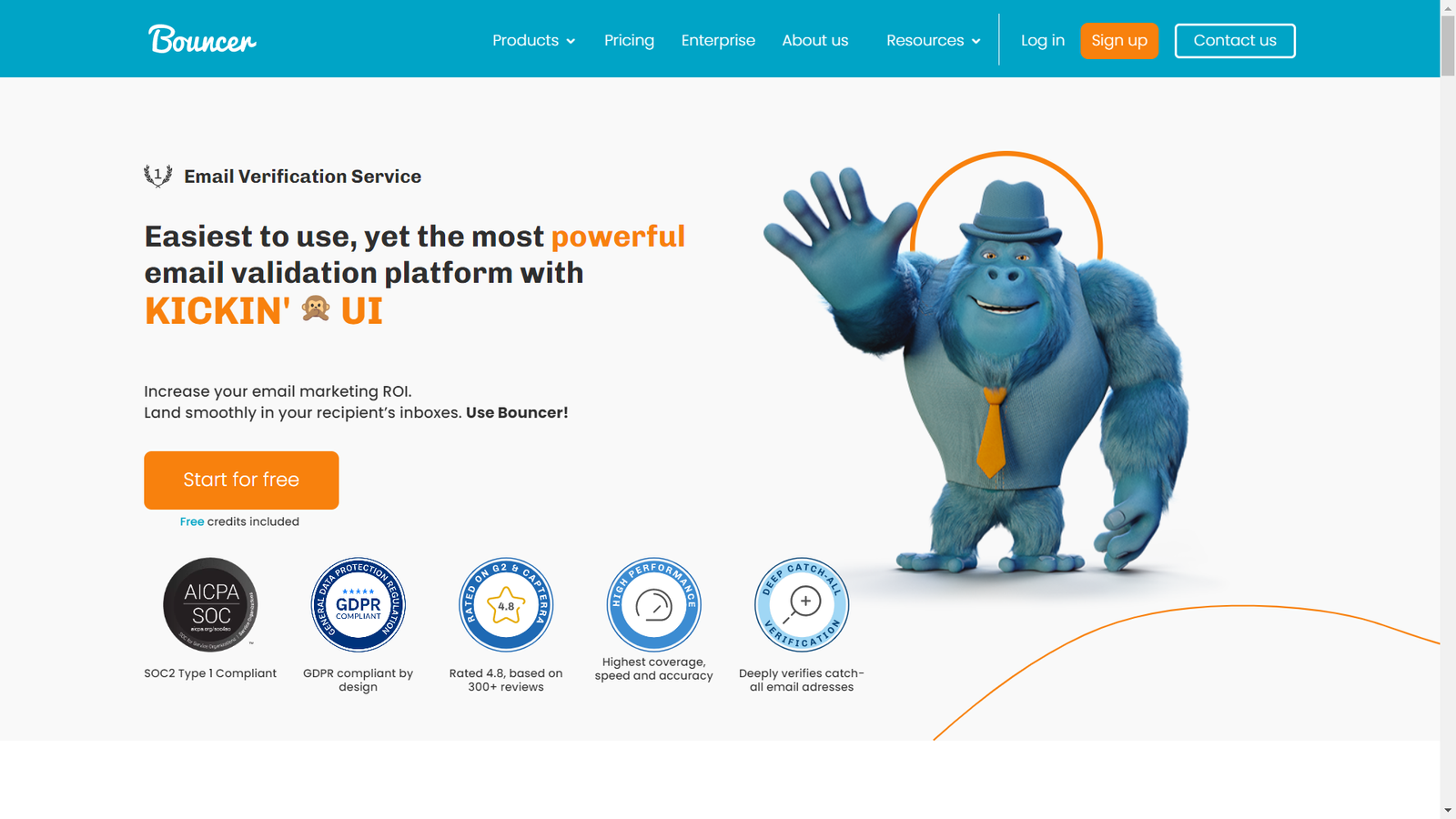 Overview
Bouncer is a SaaS email verification tool that offers email validation for up to 200,000 emails per hour per customer, making it a suitable solution for both Enterprise and SMB segments. It also provides services such as email Toxicity Check and Deliverability Kit.
Highlights
Accuracy Level: 99.5% on the upper end of email verification tools.

Email Checker and Email Verifier: Easily verify up to 250k email addresses with an easy-to-use drag-and-drop interface.

Safe Email List: Detect accept all and disposable addresses to make sure you only send emails to safe addresses.

Bounce Estimate: Find out how many emails in your campaign may bounce back before sending the emails.

Email Verification Integrations: Easily link Bouncer to popular marketing tools for seamless email campaigns.

Easy List Cleaning: Import, verify, and export your email list in a matter of minutes with automated tools.
Pricing
Bouncer's pay-as-you-go pricing model is flexible and includes all features, as well as access to integrations and API. The price per verified email varies based on the number of emails verified. The range is from $0.0070 for 1,000 to 4,000 emails, down to $0.0015 for 1,000,000 to 2,499,000 emails.
Additionally, Bouncer offers multiple monthly plans. The Apprentice plan costs $40/month and verifies less than 10,000 email addresses. The Adept plan costs $150-500/month and verifies 50,000 – 250,000 email addresses. The Master plan costs $750/month and verifies 500,000 email addresses.
All plans come with credits that never expire, quick-refill and auto-refill options, and multi-user set-up.
Customer Thoughts
By verifying emails at the SMTP level, it was possible for us to reduce scammer accounts to zero.

The API connections Bouncer offers are super easy to set up and use.

Bouncer has been very accurate for us. Occasional errors are possible, but nothing that would ruin our email marketing campaigns.

The bulk cleanup tool is a lifesaver.

Importing and exporting email lists and results has been working great for me.

Some email addresses that are valid may still get rejected with Bouncer.
Bottom Line
Bouncer is very affordable and it does a good job at detecting invalid addresses. You can test the quality of your email list for free with a randomly selected sample.
What Is Email Verification Software?
Email verification software is a tool that lets you check if an email is valid or not, avoiding email "bounces" and junk leads that could hold back your email marketing campaigns' results. It validates email addresses using syntax, domain, and mailbox checks, removing invalid, duplicate, and high-risk emails.
Why Your Business Needs Email Verification Software
Email verification software is crucial for businesses that use email marketing or communication with customers via email. It helps to maintain a clean email list by removing invalid and inactive email addresses, prevents sending emails to spam traps, saves money, protects sender reputation by removing risky email addresses, and improves email engagement by increasing open and click-through rates.
According to Adobe, email validation can reduce bounce rate by up to 90%, helping your business grow its email list and engage leads and customers more effectively.
Wrap Up
That was my take on the best email verification software tools.
Generally speaking, there are two factors to consider when choosing a bulk email verification service: affordability and accuracy.
Depending on your budget, and how important accuracy is to use, choosing the best email verification service for your B2B marketing purposes should be easy. I recommend that you test some of these tools and compare their results before making a decision.