Best Flowchart Software in 2023 (Ranked & Reviewed)
Looking to map out business process flows or build entity relationship diagrams, then you're in the right place for the best flowchart software.
Many productivity tools include a flowchart creation feature, but the implementation is often very limited and restrictive. That's where flowchart software kicks in.
Not to be confused with mind mapping software or wireframing software, a dedicated flowchart software solution offers a higher level of customization and team collaboration, shape libraries, and a wide selection of templates to pick from.
In this guide, we'll explore some of the most powerful Flowchart diagram software tools for creating sequenced diagrams.
What Is the Best Flowchart Software?
The best Flowchart software solutions are Lucidchart, Visme, Visio, Cacoo, and Gliffy. Now, let's explore what makes each of these tools stand out.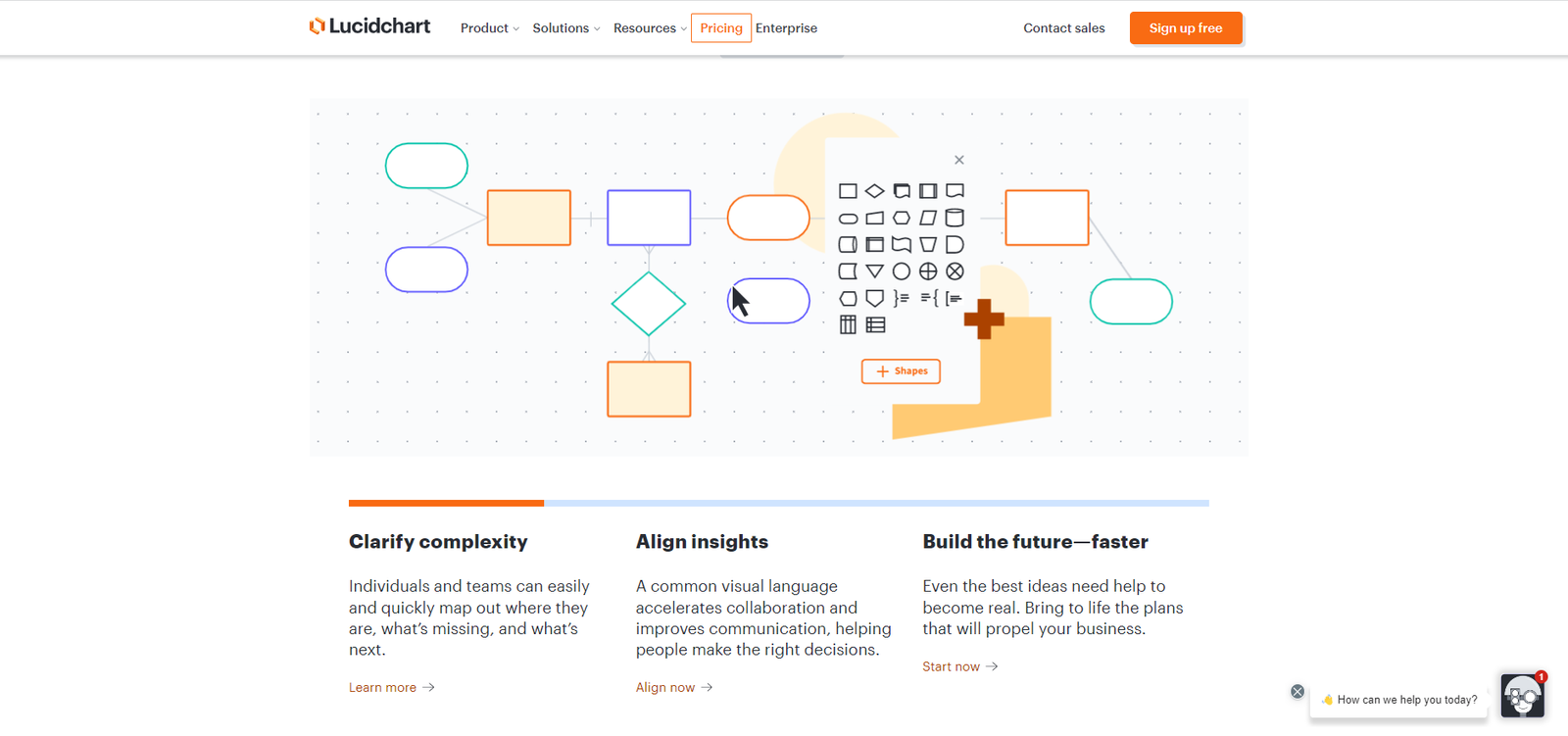 Overview
Lucidchart is a user-friendly visual workspace that lets you visualize data, map processes with flowcharts, and collaborate with your teammates remotely.
With more than 1000 types of charts, Lucidchart isn't exactly a niche solution but a comprehensive software product for product roadmaps, user-flow diagrams, card sorting, and more.
Highlights
Simple drag-and-drop editor: The intuitive drag-and-drop interface makes it easy to adjust the flowcharts and add/remove elements.

Collaboration: Lucitchart is a great tool for distributed teams thanks to the built-in collaboration features that enable team members to communicate effectively. The access tools also encourage brainstorming and innovation.

Export function: This flowchart tool makes exporting to PDF or image format a breeze by automatically sizing your page to fit the content without any copies required.

Customization: If you need more advanced charts, you can add some markup code to make your charts look exactly like you want them to.

Ready-made templates: Utilize pre-made templates to create charts faster, depending on your use case.
Pricing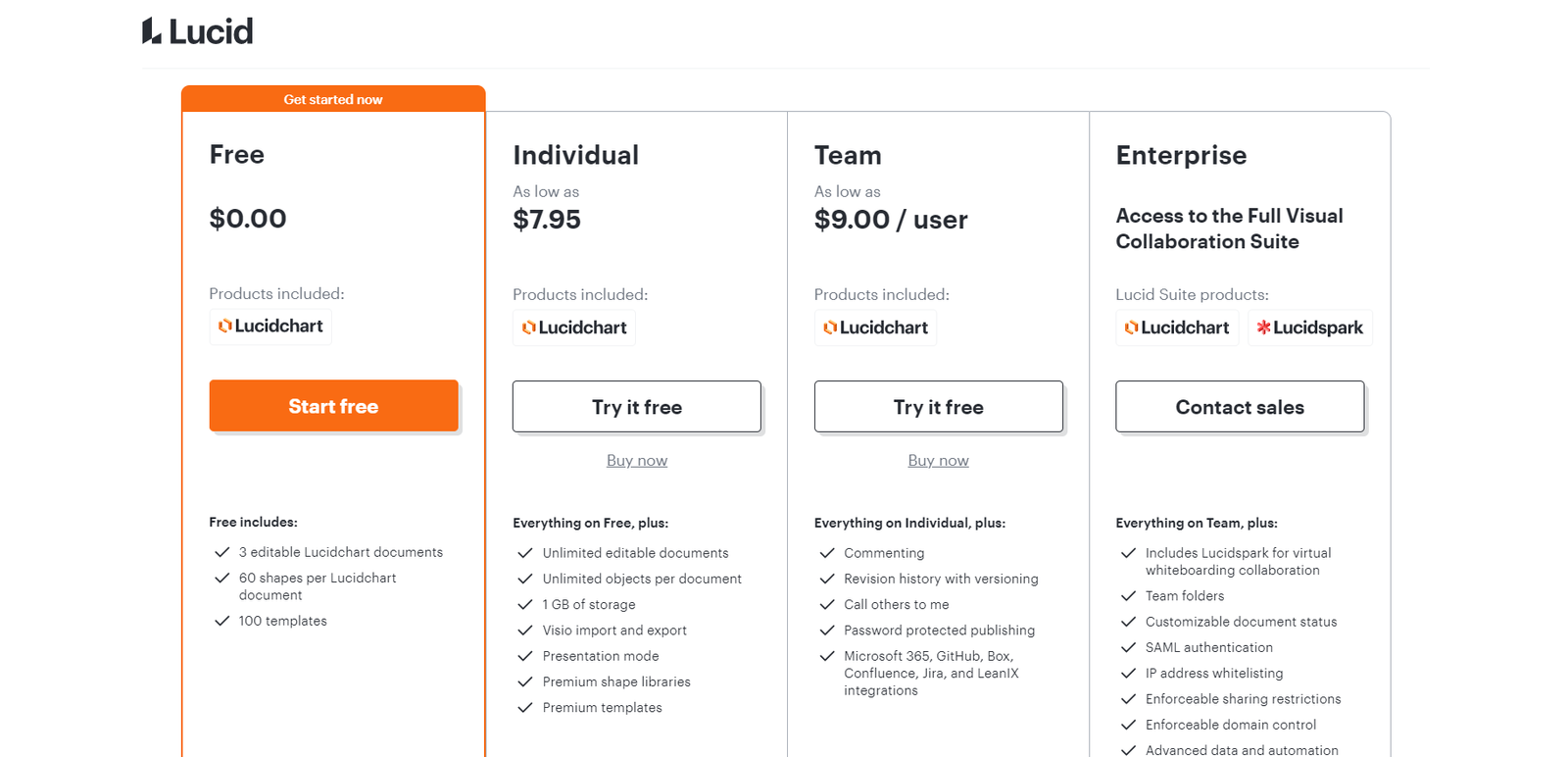 Lucidchart has 4 subscription-based plans: Free, Individual ($7.95/user per month), Team ($9/user per month), and Enterprise (quote-based).
The Free plan gives you 3 editable documents and 100 templates, in addition to 60 shapes per document. The individual plan takes a huge leap with unlimited documents and shapes per document, as well as access to premium templates.
The other two higher-tier plans focus extensively on collaboration and data security and confidentially.
Bottom Line
Lucidchart is one of the best diagramming tools for creating professional diagrams and team collaboration. The free trial isn't time-limited, so you can explore the software for as long as you like.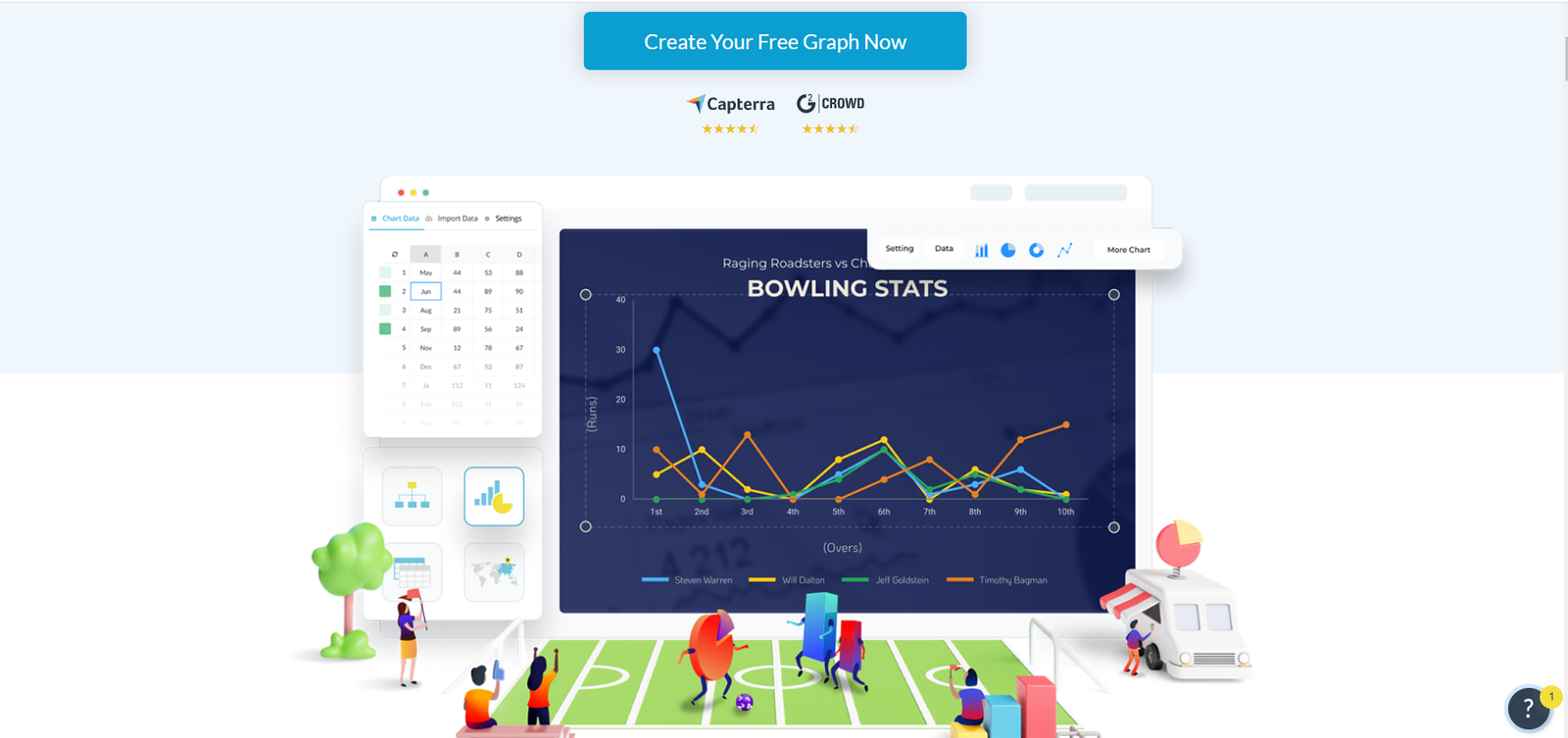 Overview
Visme is more than just a diagramming software tool. It's intended for business professionals that want to create stunning presentations and visualize data in different ways, even if they don't have any graphic design skills. You can also use it to create infographics.
Highlights
Templates: Make use of a large library of templates for flowcharts and other types of charts to make creating presentations faster and easier.

Data import: Collect and import data from various sources like Google Analytics and MS Excel to your Visme flowcharts.

Presentation creation: Visme lets you put your flowcharts in visually appealing presentations for board meetings.

Infographics: Create eye-catching infographics to deliver your message in a clearer and more comprehensive way.

Chart switching: See how your data will look in different charts by seamlessly switching between view modes.
Pricing
Visme's pricing structure consists of 4 plans: Basic, Personal ($29/month), Business ($59/month), and Teams (quote-based). The Basic free plan gives you lots of templates and 100MB of storage, while the Personal plan gives you access to the full template library and increases the storage limit to 250MB.
The Business plan adds analytics, integrations, brand kits, and privacy controls. As for the Teams plan, you get more collaboration and security features, as well as personalized training and onboarding.
Bottom Line
If you need a flowchart tool that can also save you the hassle of having to hire a graphic designer or design presentations from scratch, Visme would be a great fit. You can give it a shot with the free Basic plan to get a feel of how it works.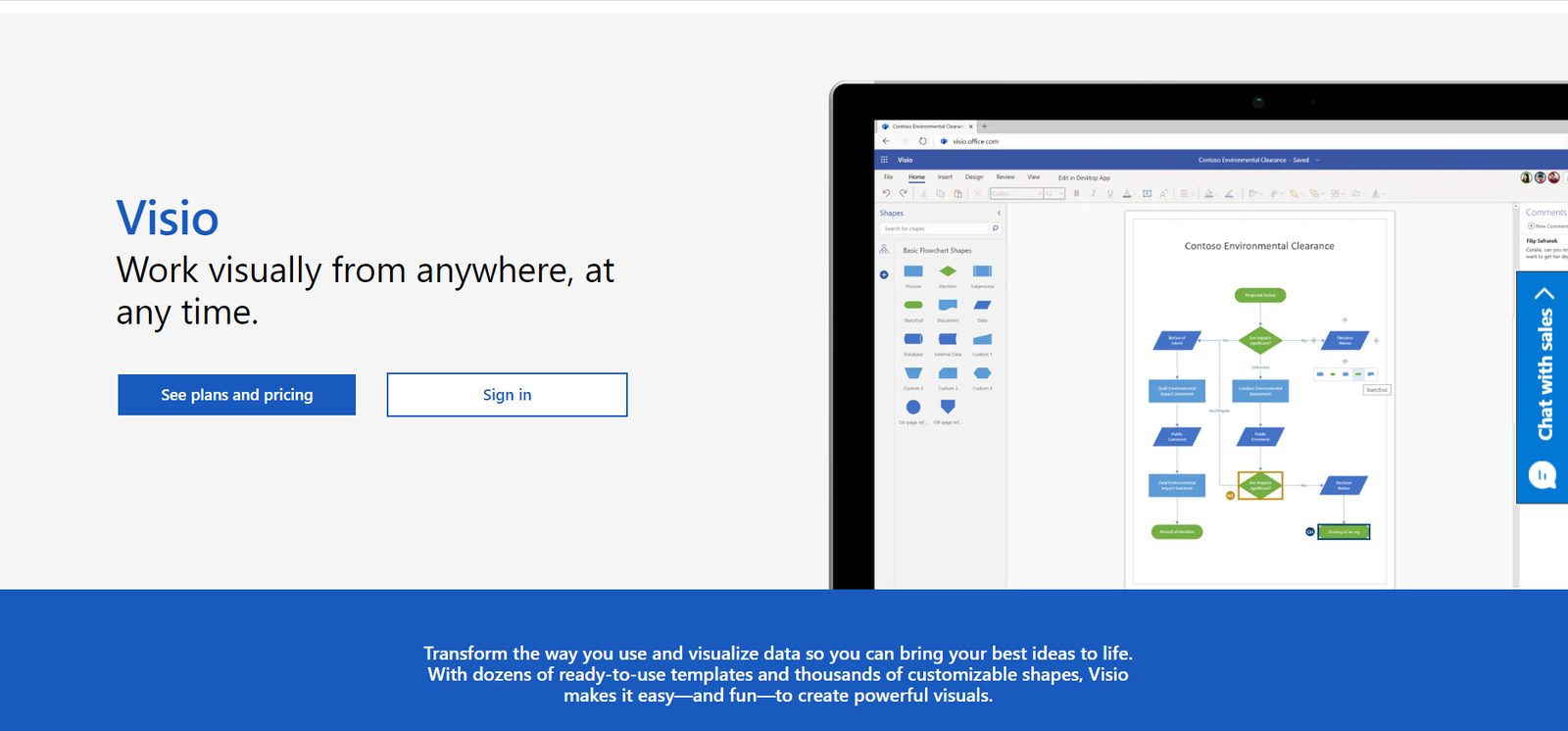 Overview
Microsoft Visio is one of the best flowchart tools for Microsoft Office or 365 users. It integrates quite nicely with other MS products like MS Word, Excel, and Powerpoint, with easy data import/export and copy/paste to and from these apps. It's particularly useful for creating organizational structure charts and IT infrastructure models.
Highlights
Subgrouping: Visio lets you organize subgroups differently from one another to keep your data sorted neatly.

In-depth detailing: You can specify different roles and departments directly on your flowcharts as you create them.

Data importing: With Visio, you can copy and paste from MS Word and MS PowerPoint to add more charts to your presentations.

Integrations: Visio seamlessly integrates with popular HR management software solutions, which facilities the exchange of information between the two tools.

Analytics: Keep informed about your organization's headcount and budgeting with built-in analytics.
Pricing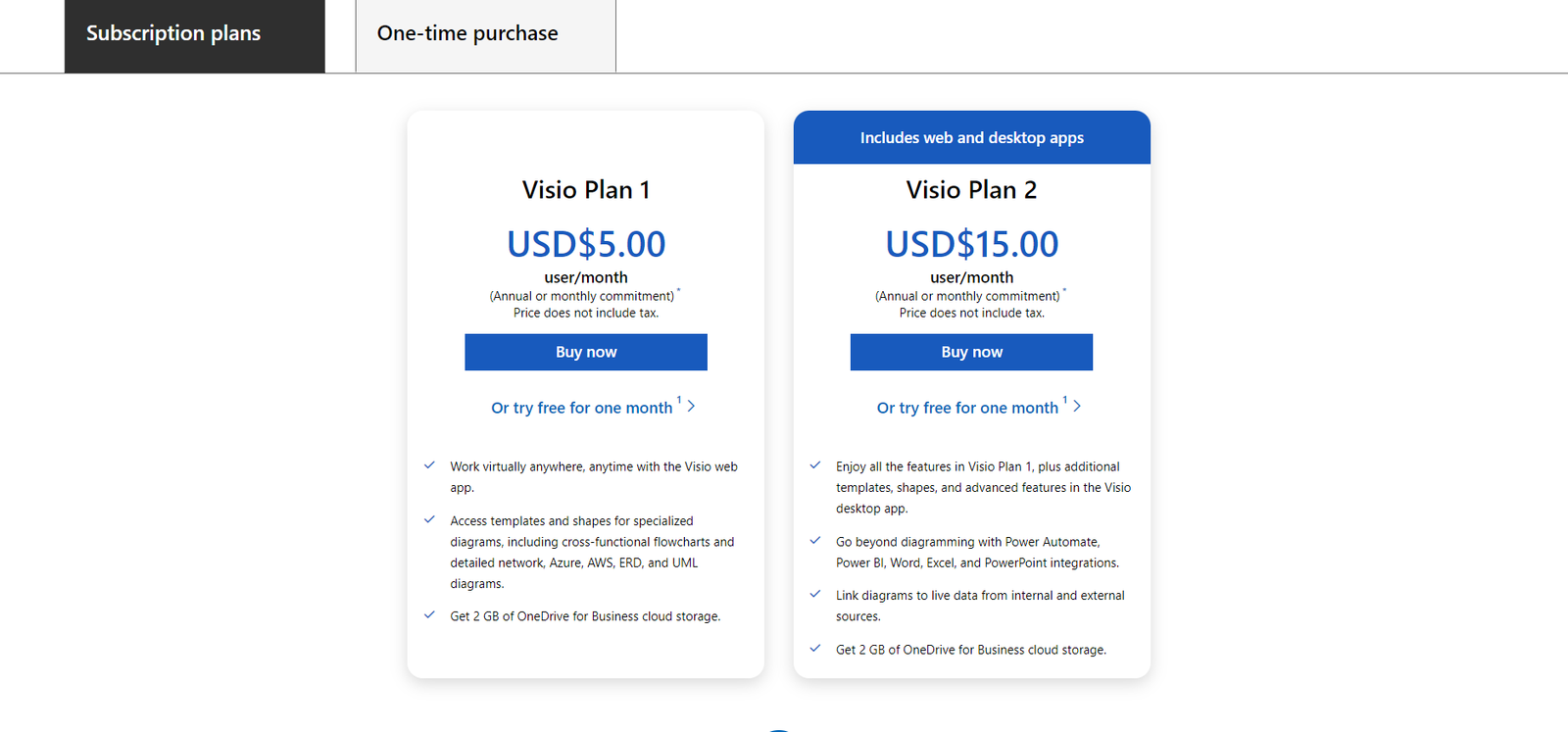 Microsoft has a simple pricing model for Visio that encompasses 2 plans: Visio Plan 1($5 per user/month) and Visio Plan 2 ($15 per user/month). Both plans let you save diagrams to OneDrive with 2GB storage, collaborate with team members, and access templates.
With Visio Plan 2, you also get integrations, more templates, and diagram linking to live chats.
Bottom Line
Microsoft Visio is a great flowchart tool for business owners that already use Microsoft 365 products extensively. There's no free trial, but if you have an active Microsoft 365 subscription, you can use the software to a limited degree until you decide to upgrade.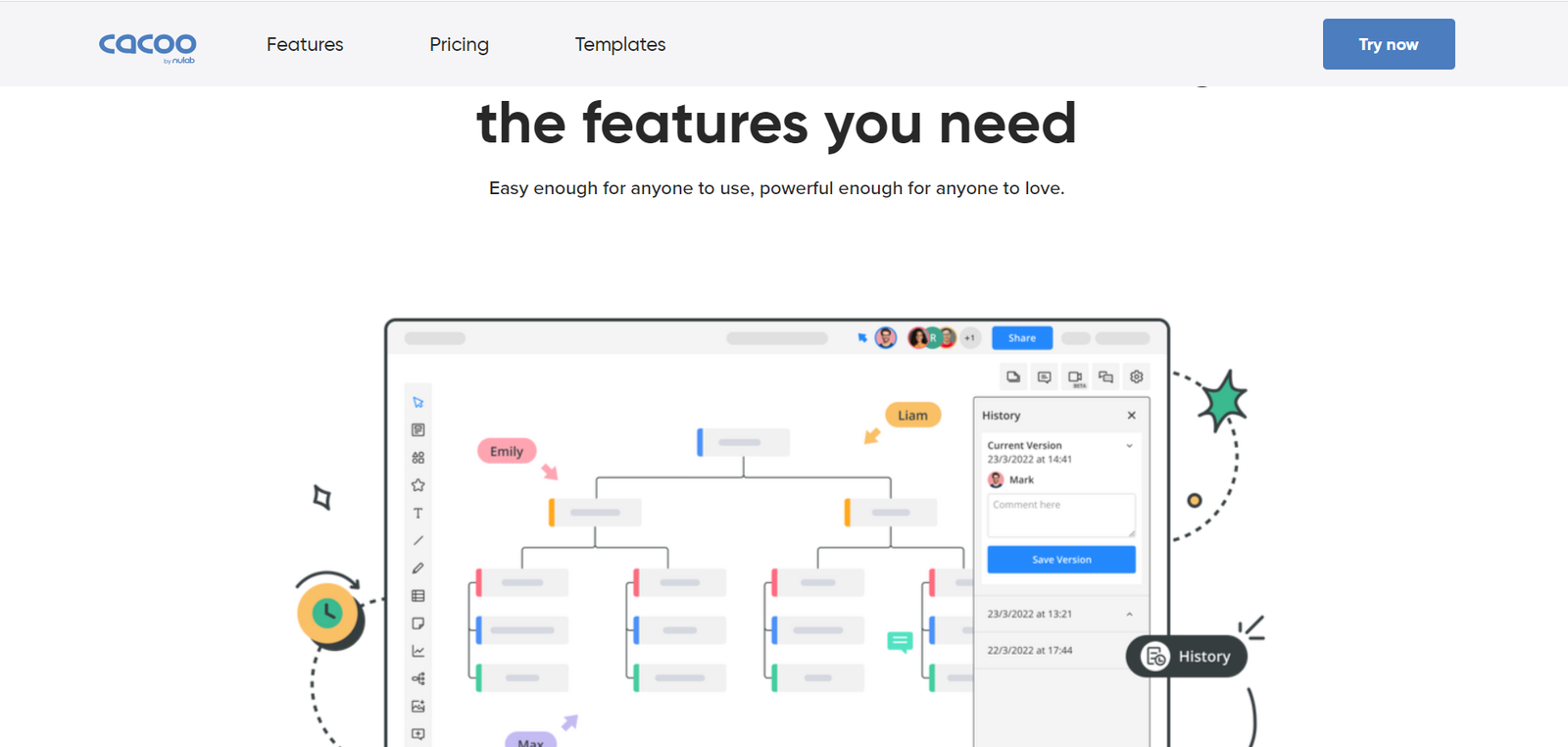 Overview
Cacoo is a simple yet powerful flowchart maker that doesn't require installation. It runs on the web, meaning that you can access it from any modern browser. With Cacoo, you can share and create flowcharts, mindmaps, and org charts pretty easily. It can also be used to conduct product discoveries and team retrospectives.
Highlights
Collaborative diagrams: Work with other teammates on presentations and charts with real-time viewing and editing.

Integrations: Cacoo integrates with TypeTalk, as well as cloud services such as Adobe Creative Cloud, Dropbox, and Google Drive.

Slack update alerts: Whenever one of your Cacoo diagrams is updated, team members will get notified through Slack.

Multiplatform cloud-based interface: Access your Cacoo workspace and continue from where you left off from any of your devices by logging into your account. No need to install the app multiple times.

Presentation mode: Turn your charts into visually stunning presentations quickly.
Pricing
Cacoo offers 3 plans: Free, Pro ($6/month), and Team ($6 per user/month).
With the Free plan, you get unlimited users, access to templates and shapes, collaboration features (for non-guest users), PNG exports, and 6 sheets. The Pro plan, on the other hand, is designed for one user and offers unlimited sheets, as well as collaboration features for guest users.
If you work in a team, you can go for the Team plan and benefit from one-on-one training.
Bottom Line
Cacoo is a great choice for business owners that need a budget-friendly, easy-to-use diagramming tool for business process mapping and team collaboration. The free plan is actually quite comprehensive, so you should definitely check it out.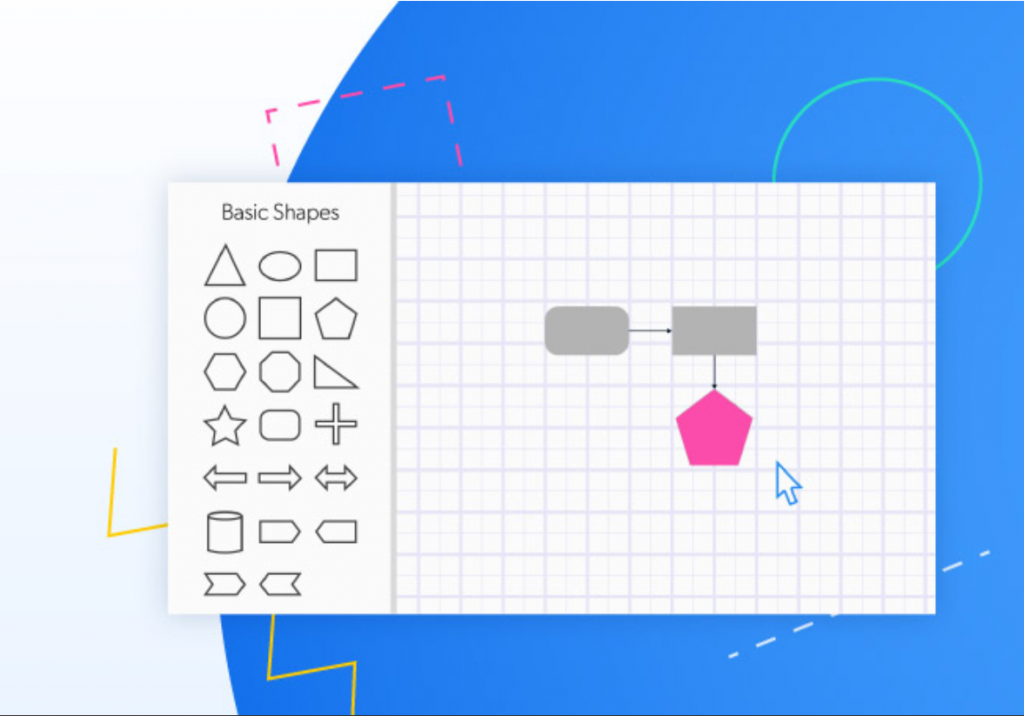 Overview
Gliffy is a diagramming app that lets you create professional-looking flowcharts, wireframes, and UML diagrams with a simple drag-and-drop interface and lots of templates. It also makes collaboration with others much less of a hassle.
Gliffy can either be used in the Confluence cloud workspace or as a standalone online diagramming app.
Highlights
Easy editing: Component links automatically change when you drag blocks around, making it easy to edit your flowcharts and other diagrams.

Offline version: Whenever there's no internet connection, you can use Gliffy's offline Google Chrome version to keep working on your charts.

Whiteboard: Brainstorm ideas with teammates using the intuitive whiteboard function.

Google Drive: Gliffy seamlessly integrates with Google Drive for storage and sharing purposes.

Real-time simultaneous editing and video chatting: Make adjustments to your diagrams for your colleagues to see in real-time and make modifications of their own. With the neat video chat feature, you can also collaborate with up to 5 team members at once.
Pricing
Gliffy has 2 subscription-based plans: Professional ($10/user per month for 1-9 users or $8/user per month for 10-50 users) and Enterprise (quote-based). The Professional plan includes unlimited diagrams, email support, templates, comments, Google Drive integration, live diagram embedding, and importing.
With the Enterprise plan, you get everything in the Professional plan, in addition to more collaboration, security, and team management features like admin controls and Single Sign-On (SSO).
Bottom Line
If your business relies on Google Drive for most of its cloud storage operations, Gliffy would be the right fit for you. There's a free trial if you want to take the tool for a test drive.
What Is Flowchart Software?
Flowchart software is a tool that provides an intuitive digital workspace for the purpose of creating business flowcharts, process maps, and other types of diagrams.
With a flowchart tool, you can customize your flowcharts, save your progress on the cloud, collaborate with others seamlessly, and import and export data.
Conclusion
Creating customizable flowcharts and diagrams is a whole lot easier with a dedicated flowchart tool. You can try any of the tools we've reviewed with a free version (if available) to find out which of them you're most comfortable using.
Just keep in mind that certain flowchart software may work better or worse depending on what software you're currently using for other productivity tasks and storage needs.