Best Wireframing Tools in 2023 (Ranked & Reviewed)
We've come a long way from putting ink to paper, yet the best way to visualize something is still quickly sketching it out. Wireframe tools are the digital equivalent of drawing out your idea. Here are the best wireframing tools to help you quickly build your mockup design.
Adobe XD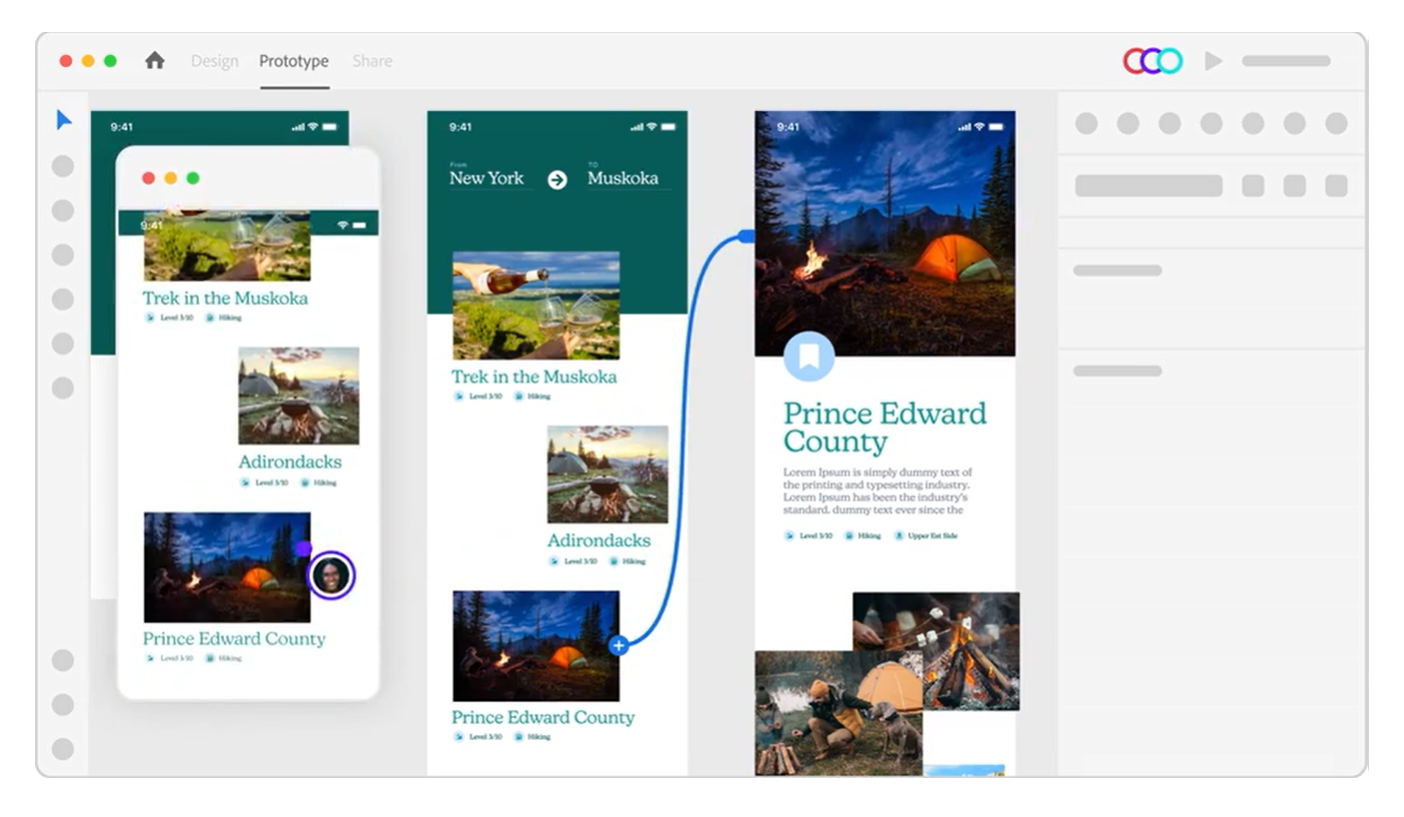 Overview
Adobe XD is a capable tool for beginners and professionals alike. They keep the tool set simple but allow for quickly building assets that can be linked and updated across boards. I've used it for years and like the concise nature.
Highlights
They make it easy to do interactive design and share it with clients for feedback.
Fantastic educational resources and tutorials to help beginners
Clean user interface focused on the core fundamentals of UX/UI design
Pricing
Adobe XD has a free license, but they've made it much more difficult to get access. You can get the paid version which has unlimited publishes for $9.99/month or if you're planning to use the other CC suite tools, get the pack for $54.99/month.
Bottom Line
I've been an Adobe user since my college days, and they constantly improve their products. Adobe XD works well for app mock-ups and interactive designs. If you can figure out how to get the free plan, it's great, but even their paid plan is worth it if you plan to use the tool regularly.
Justinmind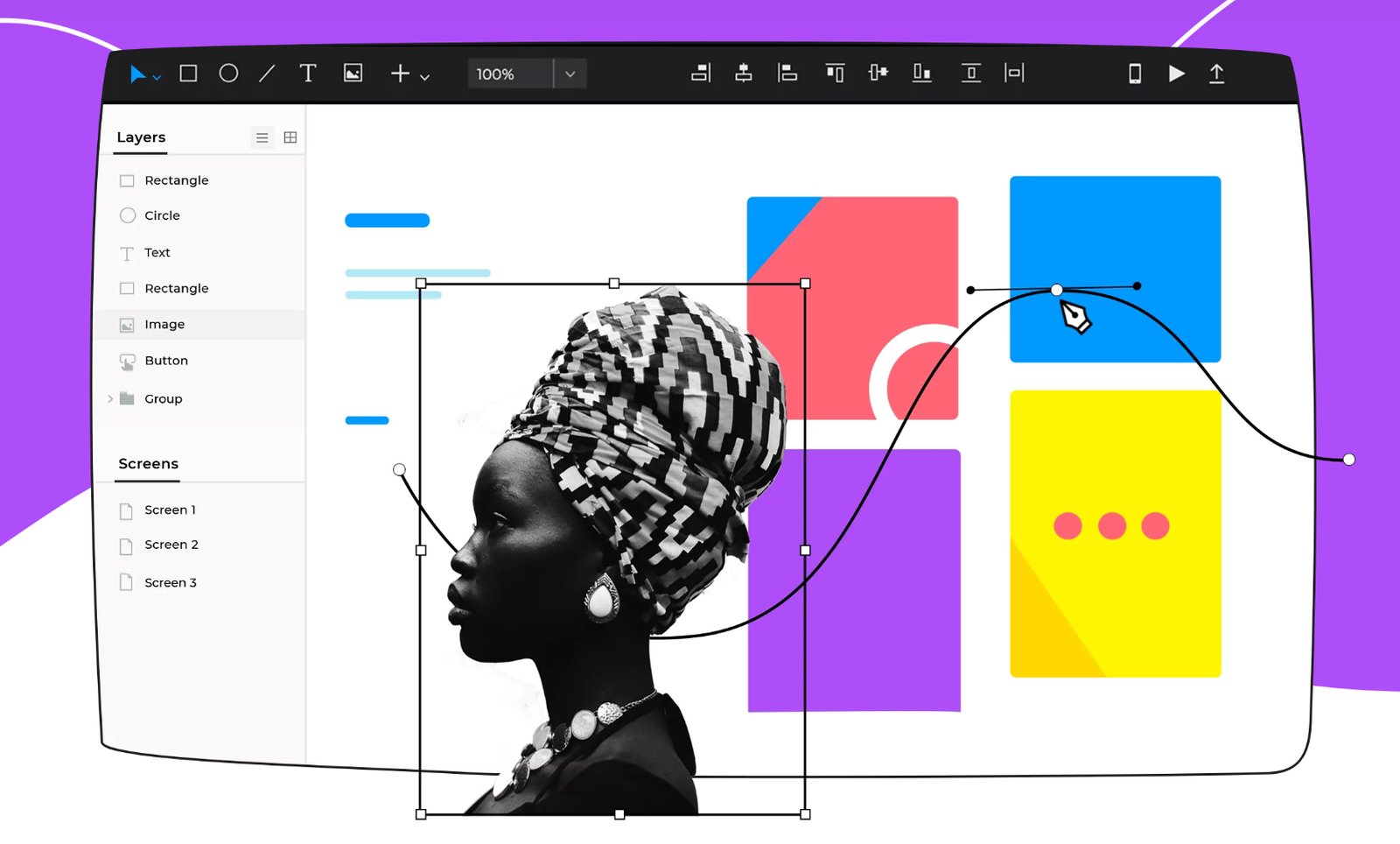 Overview
Justmind is an agency-level tool full of powerful interactive features for building wireframes for apps and web development. It has a solid library of object states and animations along with collaborative editing.
Highlights
Fully-functional form fields that can validate inputs just like on the finished app
Responsive prototyping making it easy to adjust grouped elements
Data grids and mathematical calculations without code
Pricing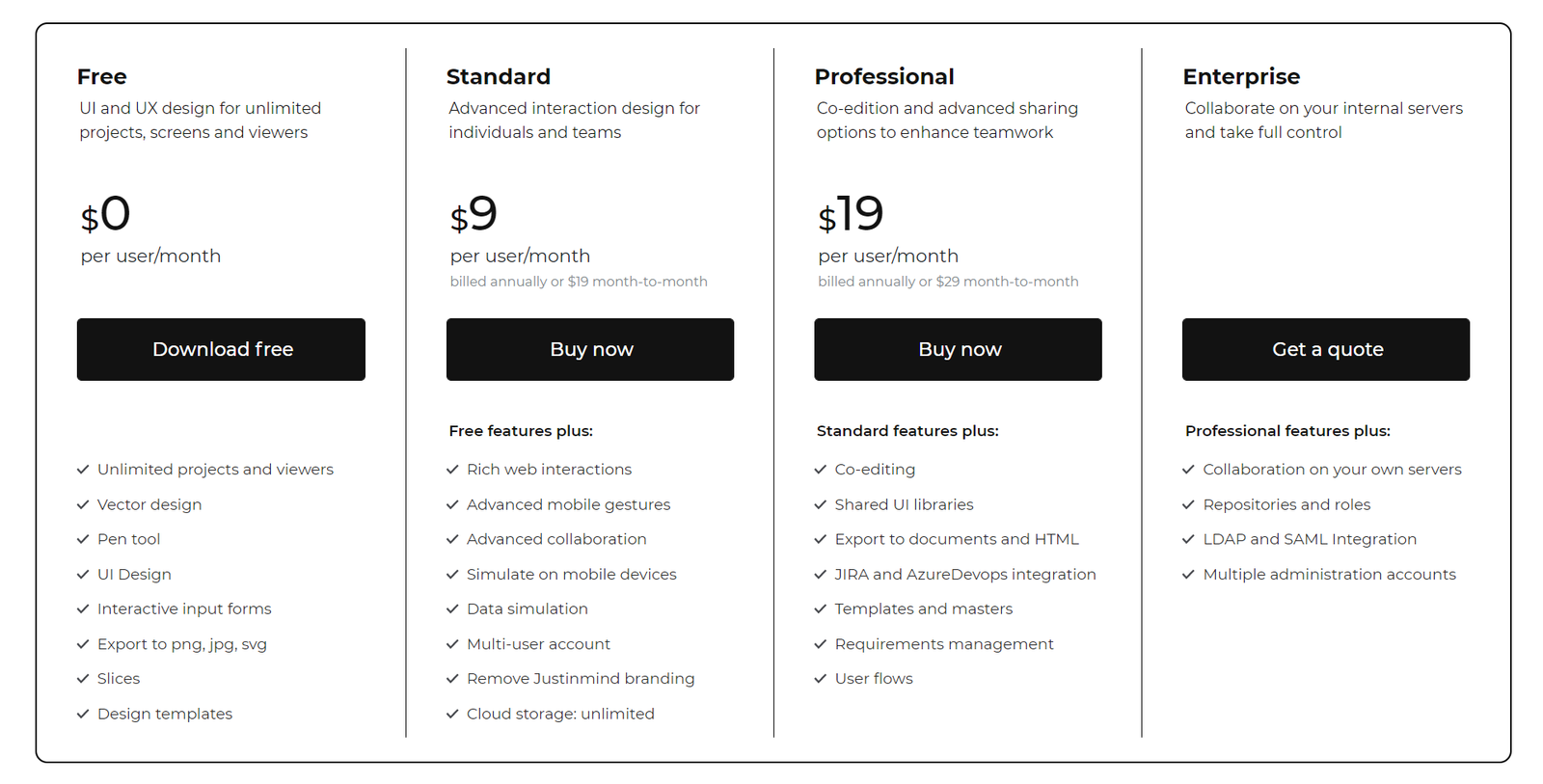 Justmind starts with their free tier of $0 per user/month, allowing unlimited projects. Their Standard tier is $9 per user/month and includes advanced collaboration for teams. The Professional tier, $19 per user/month, grants you shared UI libraries and templates.
Bottom Line
Used by SONY, Google, Verizon, Cisco, and other big names, Justmind is an enterprise-grade platform. It's designed to scale for larger teams. Like any good design tool, it's quick to get your team onboarded but still provides a number of power tools and options.
Sketch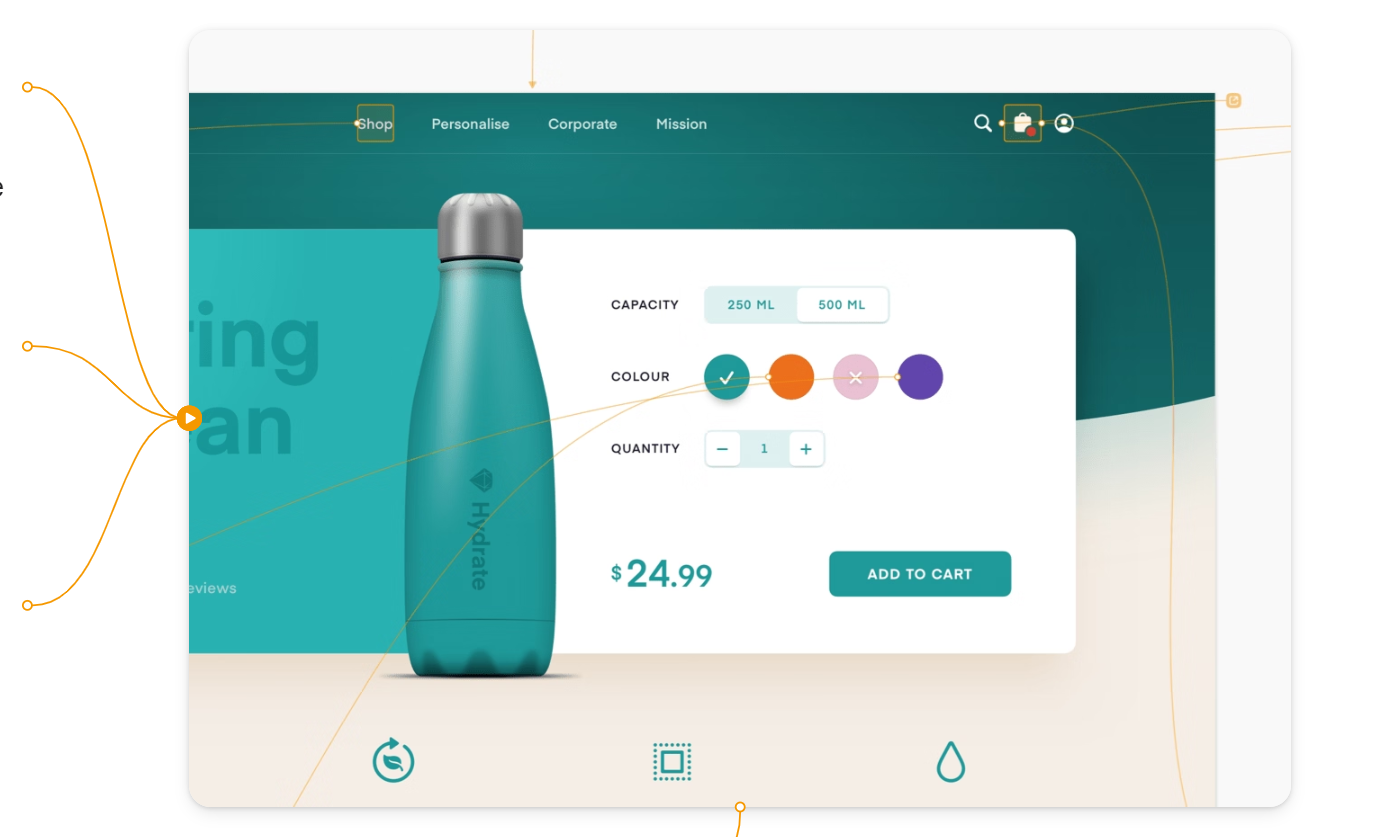 Overview
A Mac OS native software, Sketch packs a powerful set of tools at a lower price point than some major competitors. From smart layout and object interaction to advanced prototyping features, Stretch is another major player in the wireframing space.
Highlights
Allows for A/B testing with multiple start points in the same document
Share libraries allowing for global components to be updated easily
Project and element folders allow for better team organization
Pricing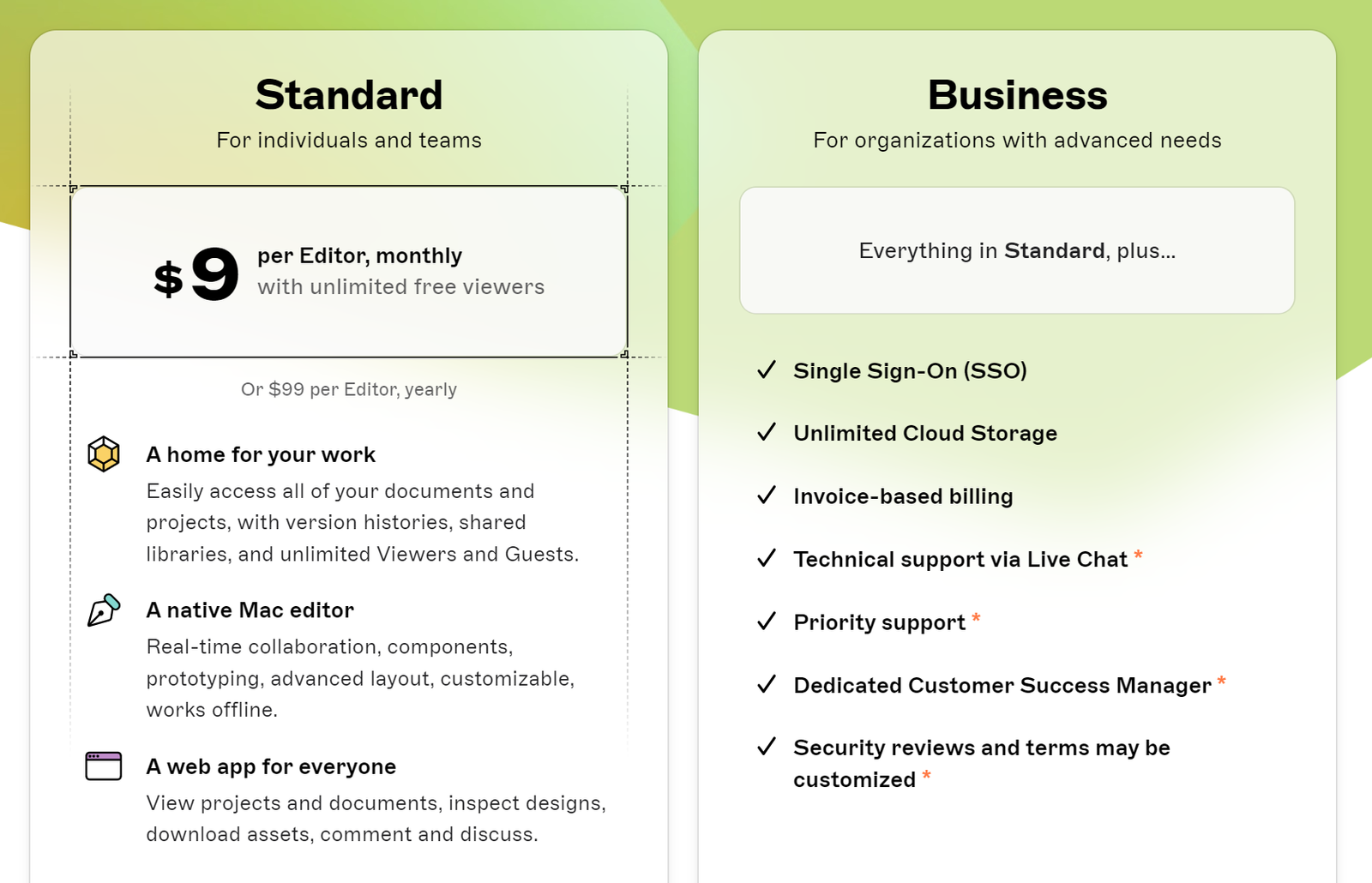 Sketch does not provide a free tier. Starting at $9 per user/month, they allow for unlimited viewers and guests who can comment and interact with your prototypes. This is a good option for agencies that have a lot of clients reviewing designs.
Bottom Line
If you're working with a Mac OS only team, Sketch is a great contender. They offer very similar features to competitors, but their workspace management and UI are more old-school style.
They have a strong documentation library and onboarding course. They could make it easier to preview flex elements for responsive resizing.
Figma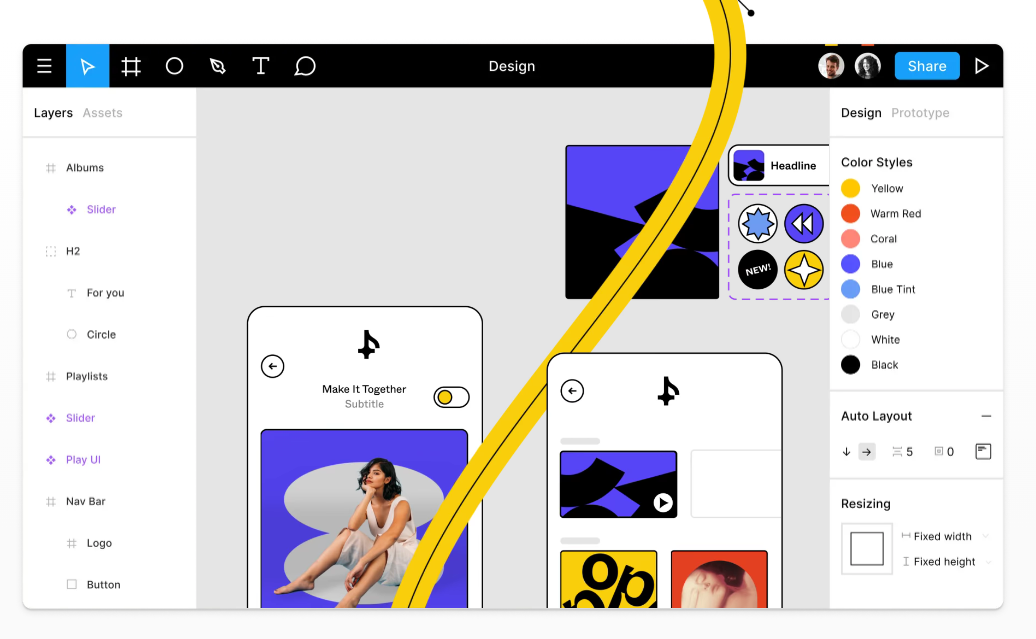 Overview
Figma is one of the leading wireframe tools on the market. Unlike Sketch, it's browser-based, which works across all operating systems. The main tool has all the core features you expect in a top-market tool.
Highlights
Branching and merging tools to allow for more complex development
More admin control and security like SSO, roles, and user defaults.
Advanced vector pen tool that doesn't need to reconnect shapes.
Pricing
Figma has a free Starter tier, allowing for up to 3 Figma files and unlimited collaborators. The Professional tier starts at $12 per user/month and includes more collaborative features and unlimited files. Their Organization tier is $45 per user/month and includes more administrative control and analytics.
Bottom Line
A strong contender with many features you want in a tool along with a well-flushed-out tutorial library and community for support. Figma is slightly more expensive than competitors but not as much as one would expect for a premium player.
Moqups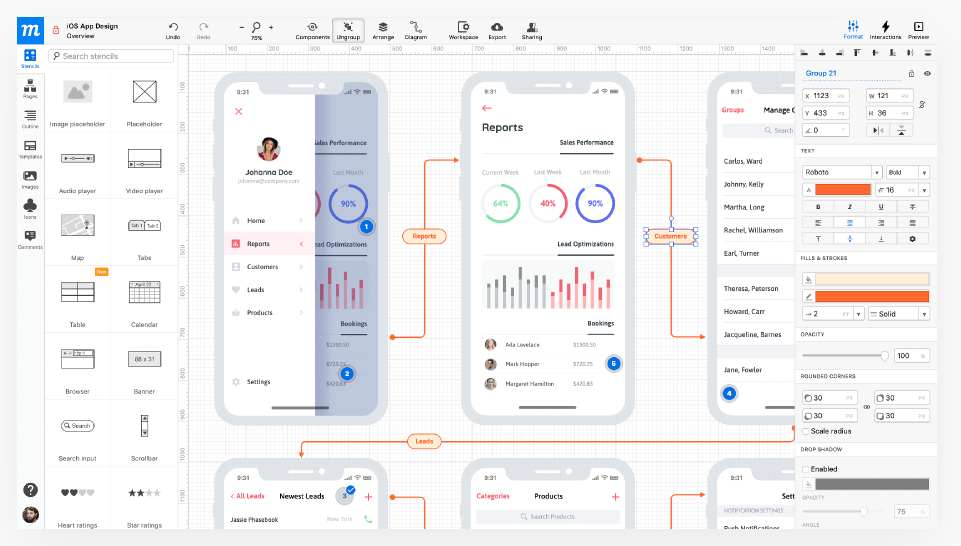 Overview
One of the first wireframe tools I used, Moqups blurs the line between wireframe and mockups tools allowing your team to go from idea boards to user flows in the same app. They chose to branch out into related areas rather than stay deep in wireframing, giving the software a wider use case range.
Highlights
Can create flowcharts, mind maps, and storyboards all in the same tool
Provide NGOs, Schools, and non-profits with full-featured accounts for free
Unlimited users at the highest pricing tier
Pricing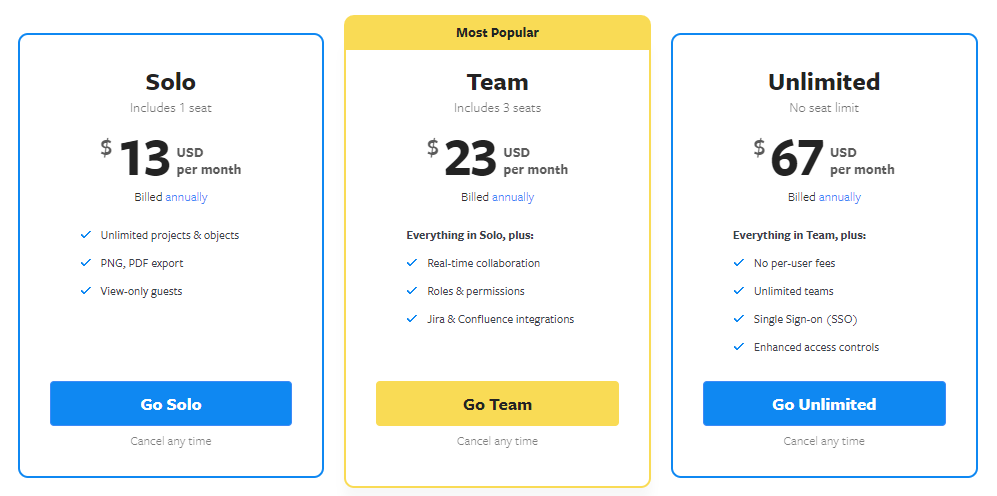 Moqups' has a free tier with a max of 2 projects (limited to 400 objects) and 25MB of storage to test out the software yourself. The solo tier starts $13 per user/month, which includes unlimited projects plus exports. The team tier is $23 per month, including three seats, which have real-time collaboration and permissions. The unlimited tier is $67 per month, and you can add as many users as you like.
Bottom Line
While not as robust in wireframing features as its competitors, it still hits all the requirements for building mockups. Their choice to include the ability to build site maps, flowcharts, and storyboards in the same app could be beneficial when trying to keep the number of software purchases down.
What are wireframing tools?
Wireframing tools are used to build mockups of products, interfaces, and applications. They can be rough sketches of layouts to highly interactive models that look like the finished product. Wireframe software typically has block elements, color pallets, collaborative sharing, interactive components, and responsive previews.