Lucidchart vs Visio: An In-depth Comparison
Lucidchart and Visio are two of the most popular diagramming tools out there.
You can use them for creating flowcharts, organizational charts, mind maps, network diagrams, and lots of other types of charts and sketches.
Lucidchart is simple, easy to use, and has a limited free plan. Visio, on the other hand, has more tricks up its sleeve, integrates natively with other Microsoft apps, offers a desktop app, and can be more affordable for teams of all sizes.
Here, I've created an extensive comparison between Lucidchart and Visio so you can pick the right one for your business. So let's jump right into it.
Key Takeaways
If you're looking for a user-friendly visualization tool with an intuitive interface that also offers a free version, Lucidchart seems to be the best choice for you. On the flip side, Microsoft Visio might be a better option if you need a more powerful diagramming tool with more advanced customization capabilities, coupled with better integration with other Microsoft products and cheaper per-user pricing.
Which Is Best Suited for Small Teams?
Both Lucidchart and Visio offer integrated collaboration tools that make them suitable for small teams. These include commenting, real-time co-authoring, and in-editor chat. However, for teams that rely on other Microsoft Office products, Microsoft's diagramming solution might be a better option as it seamlessly integrates with Outlook, Sharepoint, and other productivity and collaboration software.
Not to mention, at $5/user/month, Visio is a more economical choice than Lucidchart, which charges you $9/user/month. It also offers a permanent license for a single upfront fee, if you're willing to ditch future support for your software version, of course.
Strengths and Weaknesses
Free Versions
Lucidchart's free version is great for creating diagrams, organizational charts, or flowcharts. It includes three editable documents and 100 templates, providing you with plenty of options to get started.
Each document allows for up to 60 shapes, which is ample for basic diagrams or brainstorming sessions. Plus, it includes access to the Visio import and export feature, allowing you to open and edit Visio files within Lucidchart.
MS Visio, on the other hand, doesn't have a free plan. What you can do is try one of their paid plans for 30 days. You can access the software's full capabilities throughout the trial period.
Personally, I'd prefer to use a free plan of a diagram software tool for as long as I can over trying a premium version for 30 days, even if the free plan offers limited capabilities.
For many business owners and entrepreneurs, especially those still starting out, a free version of a diagramming tool is more than enough to get started, and they can upgrade as their business grows.
Winner: Lucidchart.
Learning Curve
Generally speaking, Lucidchart and Visio are easy to get started with. However, in my opinion, Lucidchart's interface is just more intuitive and makes it easier to find the functions I need.
As you can tell, Lucidchart's interface is pretty clean and easy to navigate. Creating a new chart is as easy as clicking on the "Create button" and choosing between a blank document or a template.
And while Visio offers more diagramming tools and capabilities, the sheer amount of features can make it overwhelming for many users.
Plus, the interface looks somewhat dull, and perhaps, outdated, compared to Lucidchart.
Overall, Lucidchart is more beginner-friendly and users can easily get comfortable with it in a few minutes.
Winner: Lucidchart.
Customization
In terms of customization and capabilities, Visio easily outmatches Lucidchart here as it offers more advanced tools and customization options, providing you with more control over how your diagrams look and behave.
For example, in Visio, you can use the Visio JavaScript Mashup API to access and customize your Visio web diagram, as well as its shapes and pages. Such a high level of control is simply not possible with Lucidchart.
Winner: Microsoft Visio.
Support
Lucidchart offers ticket support for all its plans. It's easy to find and they're generally very responsive. Whenever you face any difficulties or have a question, you should expect your query to be resolved on the same day.
Microsoft also offers support via an online contact form, but it's a bit harder to find than Lucidchart's ticketing system. You'll have to go through the knowledge base and even be prompted to get community support before you're able to reach Microsoft. The knowledge base is pretty extensive though, so I get Microsoft's point here.
Neither Visio nor Lucidchat has live chat or phone support, though.
Winner: Lucidchart.
Pricing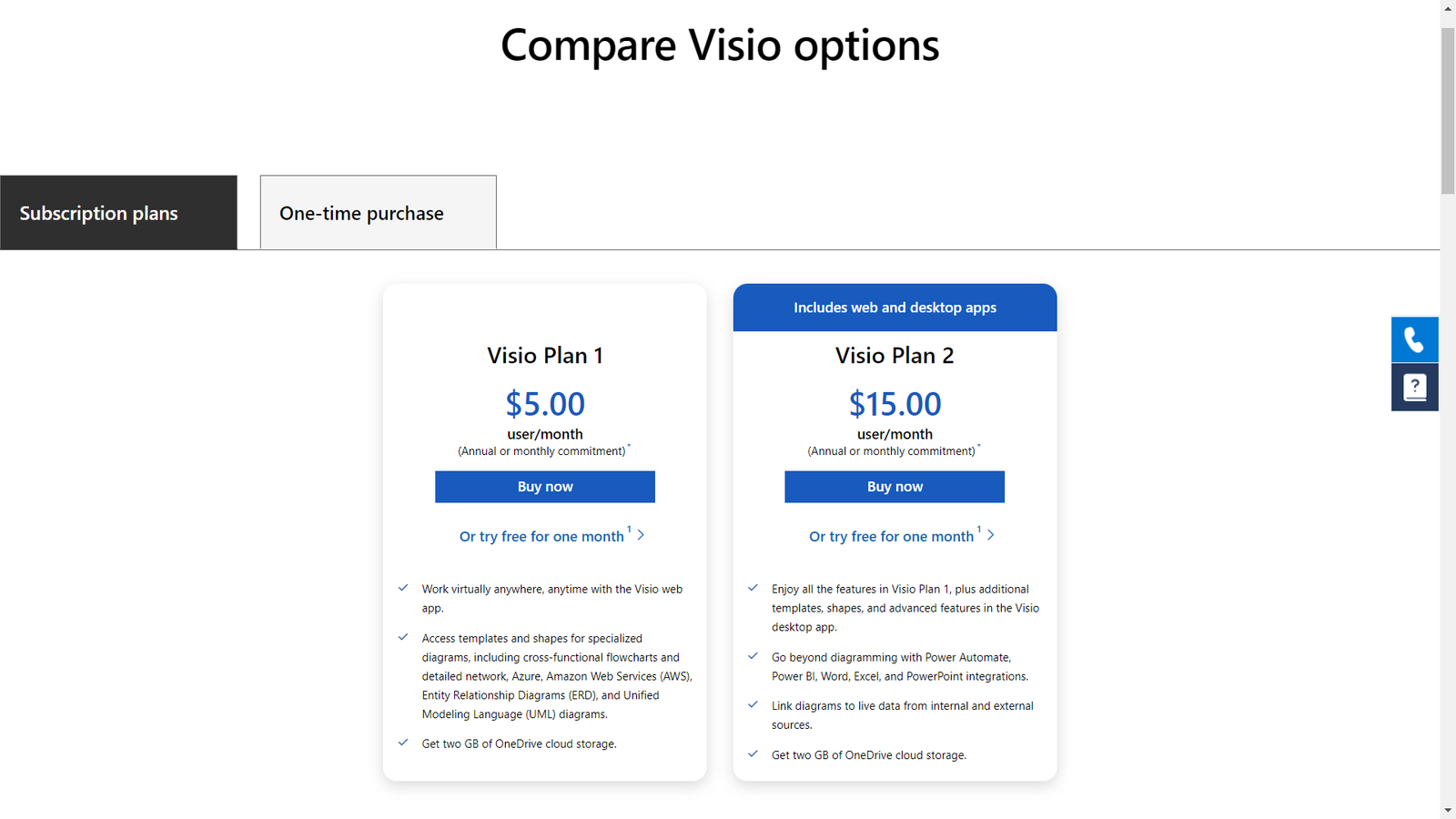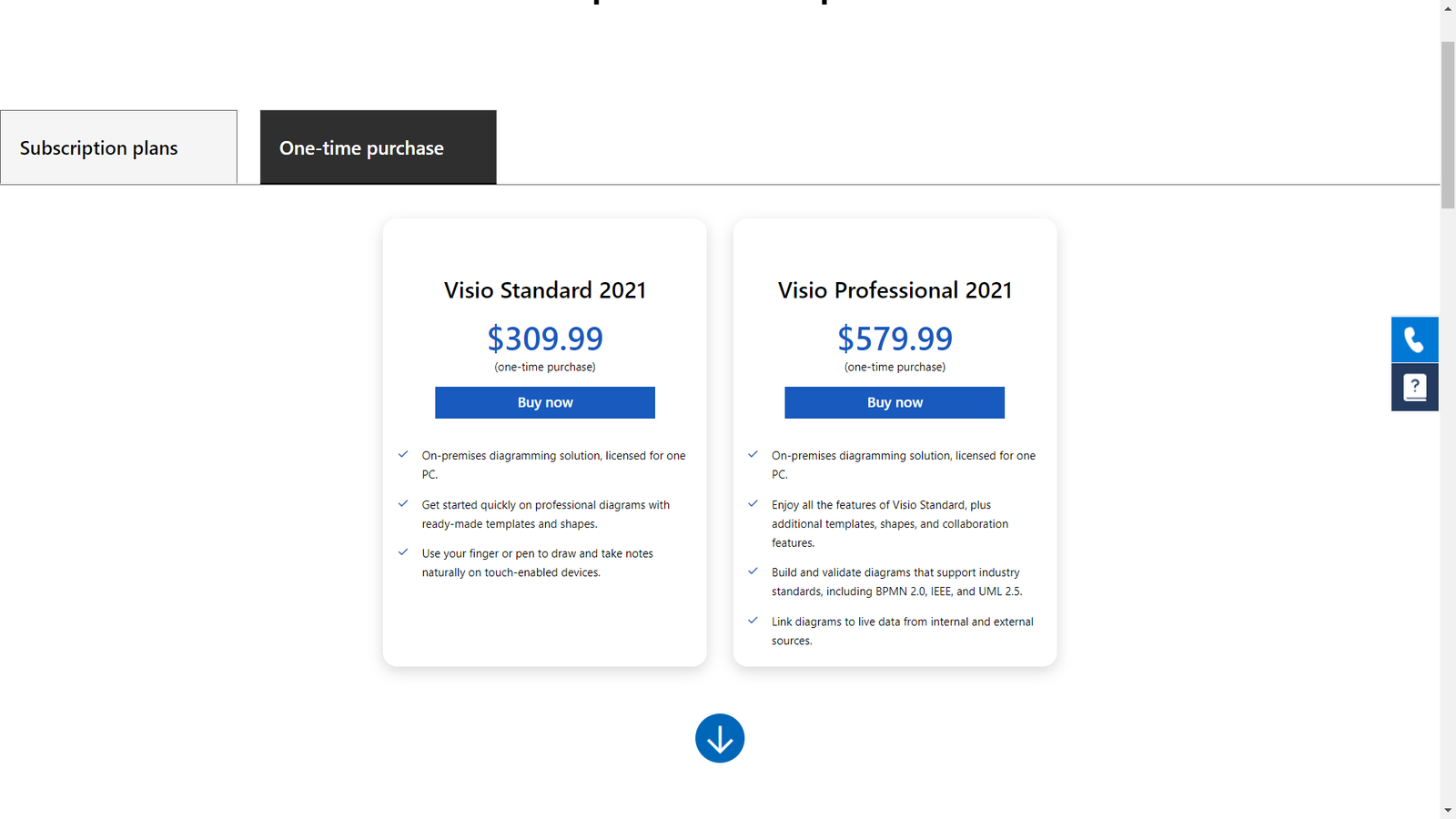 Visio offers two plans: Plan 1 and Plan 2. Plan 1 starts at $5.00 per user per month, with an annual or monthly commitment, and includes access to the Visio web app, templates, shapes for specialized diagrams, and 2GB of OneDrive cloud storage.
Plan 2 starts at $15.00 per user per month and includes everything in Plan 1, as well as advanced features in the Visio desktop app, Power Automate, Power BI, and integrations with Word, Excel, and PowerPoint.
If a subscription program isn't your cup of tea, you can purchase a Visio permanent license for a single fee. You won't be able to receive any future updates for the app, though.
Lucidchart, on the other hand, offers a range of plans to choose from. The Free plan allows you to start for free and includes 3 editable documents, 60 shapes per document, and 100 templates.
The Individual plan starts at $7.95 per month and has unlimited editable documents, unlimited objects per document, 1GB of storage, and Visio import and export. The Team plan starts at $9.00 per user per month and includes everything in the Individual plan, as well as commenting, revision history with versioning, password-protected publishing, and integrations with Microsoft 365, GitHub, Confluence, Jira, and LeanIX.
As for the Enterprise plan, you get access to the full visual collaboration suite, including Lucidspark for virtual whiteboarding collaboration, team folders, customizable document status, enforceable sharing restrictions, enforceable domain control, and more.
Winner: Visio.
Final Verdict
Hopefully, by now, you're able to make a choice between Lucidchart and Microsoft Visio.
And while I can't tell you which software you should choose without knowing your particular B2B business needs, I can give you a few hints.
With Microsoft Visio, you can do more than what you can do on Lucidchart if you don't mind the steep learning curve. It makes team collaboration a breeze with a wide range of collaboration features and integrations, and you can make your diagrams look and behave exactly like you want them to. It also has a desktop app and offers extensive data connectivity capabilities, which makes offline accessibility possible.
On the other side of the coin, Lucidchart is easier and more fun to use. You can also use it for free with the limited free plan. However, keep in mind that Lucidchart is a cloud-based software solution, meaning that offline functionality isn't available.