Best Mind Mapping Software (Ranked and Reviewed) in 2023
Despite being 30x more powerful than the most advanced supercomputer, the human brain has one frustrating issue: you can't "see" what's happening inside. So why is that a problem? Well, humans are visual creators; we digest, organize, and analyze information much more effectively with visual elements. 
Mind mapping is a great way to pour all of those random, unorganized ideas inside your brain onto a piece of paper. And while the classic pen-and-paper mind map can be handy, using digital mind mapping software will make it easier for you to edit, undo, and customize your mind maps, as well as safely store them. 
What Is the Best Mind Mapping Software?
From my experience, Miro, Lucid, Xmind, MindMeister, and MindManager are the best mind mapping software solutions out there. Now, let's take an in-depth look at what makes each of these mind mapping tools unique.
1. Miro – Best Overall Choice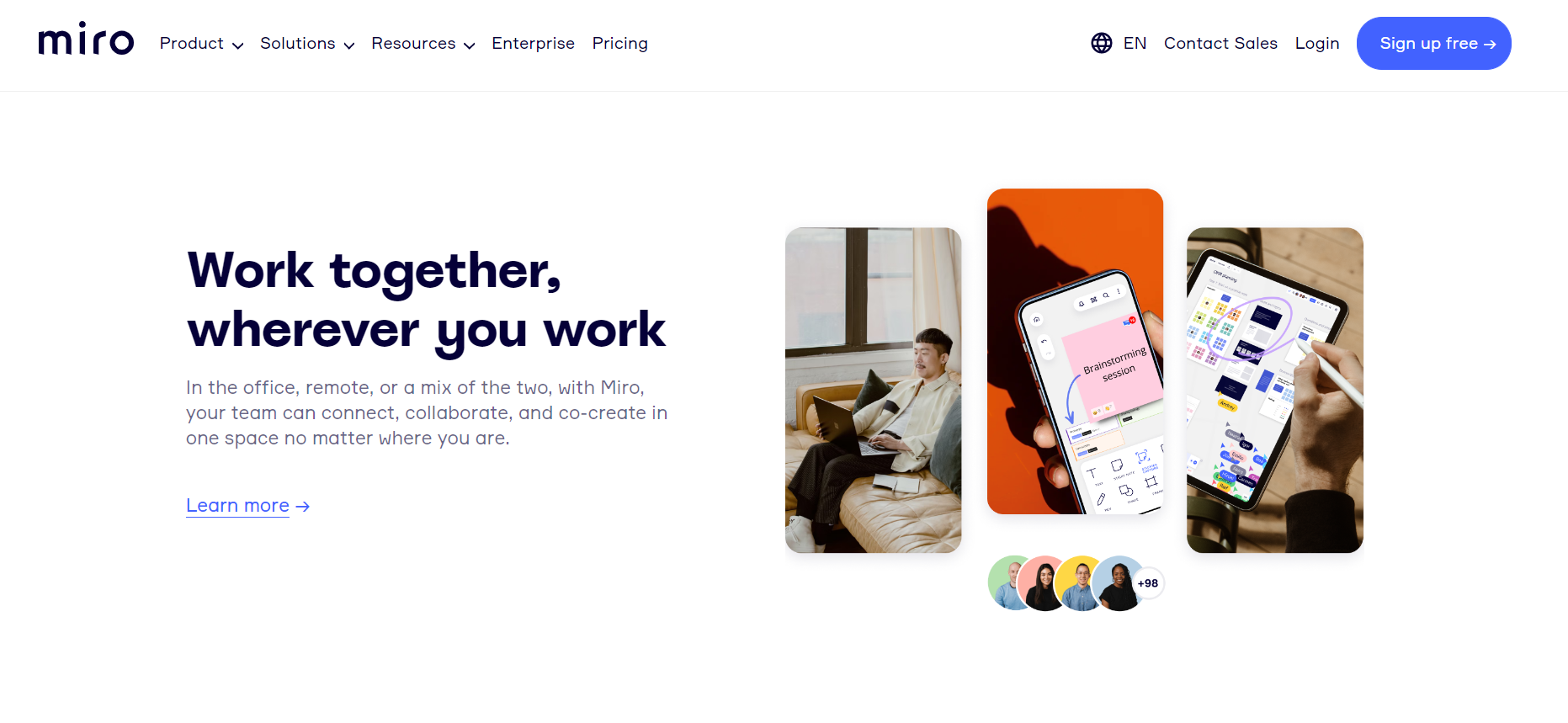 Overview
Miro is a mind mapping tool that offers a wide range of collaboration and communication features for distributed teams in hybrid or fully remote work environments. It also has 1000+ templates to maximize efficiency. Plus, you can integrate other apps with Miro to streamline your processes.
Highlights
Real-time collaboration: View or edit your boards with your colleagues intuitively in real-time.
Built-in communication: Chat with others using native video, comments, and messaging functionalities.
Integrations: Miro integrates with Zoom, Slack, ClickUp, Google Workspace, and more apps for a seamless workflow.
Templates: Save time with Miro's flow chart, mind map, kanban, event planning, Gannt chart, and service blueprint templates.
Virtual whiteboard: Brainstorm ideas freely with an infinite whiteboard.
Presentation mode: Transform your mindmaps into slides easily for presentations.
Usability
One thing I like about Miro is that it seamlessly transforms my freehand drawings into neat shapes with Smart Drawing. You can access Smart Drawing by choosing the Pen tool from the sidebar and selecting Smart Drawing.
Here, I've made a miserable attempt to draw an octagon, and Miro magically transformed it into a real one.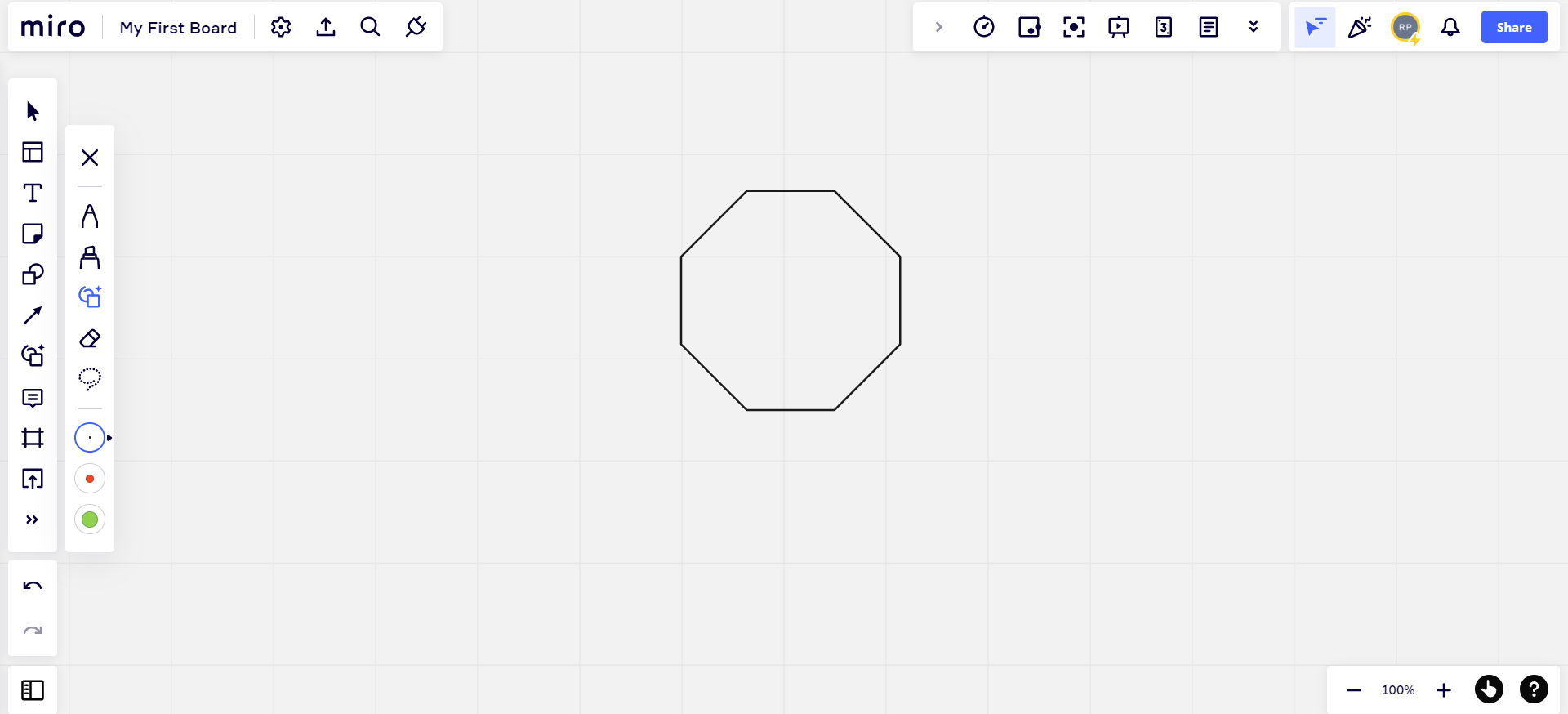 I find this functionality pretty handy since I don't have to restrict myself to pre-drawn shapes or templates.
Pricing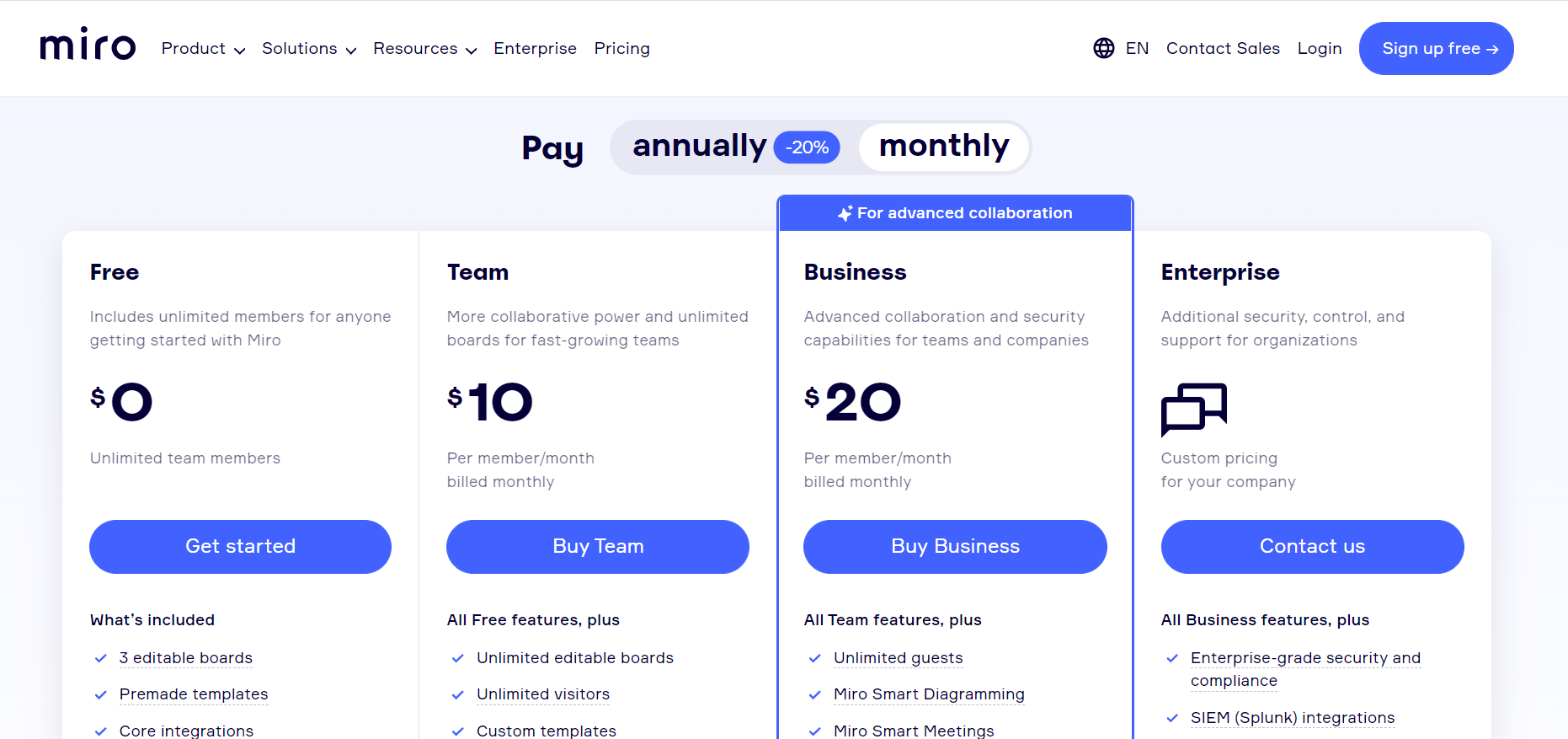 Miro has 4 plans: Free, Team ($10/month), Business ($20/month), and Enterprise (quote-based). The Free plan includes preset templates and 3 editable boards, while the Team plan offers unlimited editable boards and customizable templates.
As for the Business plan, you get additional collaboration and security features like Single Sign On (SSO), Smart Diagramming, and Smart Meetings.
The quote-based Enterprise plan also gives you advanced security, compliance, and account and license management capabilities.
Customer Thoughts
I like that we can use the drag and drop feature to create process flow diagrams; it's made it a lot easier for my team to understand process flows.
We'd appreciate an easier way to track the version history of our charts and maps.
The diagram shapes are somewhat limited; I can't even find standardized UML shapes to create some basic flowcharts.
I find the timer feature to be quite handy, especially when I need to track time for my whiteboard sessions.
We love the custom icons in Miro. Adding these to our mind maps makes them easier to comprehend for everyone on the team.
I'm a big fan of the secret voting feature. It reduces bias and enables everyone to have a voice.
Bottom Line
In my opinion, Miro works best for businesses that heavily rely on remote collaboration. The Free plan covers the basic functionalities, so you should definitely give it a shot.
2. Lucidchart – Best Free Mind Mapping Tool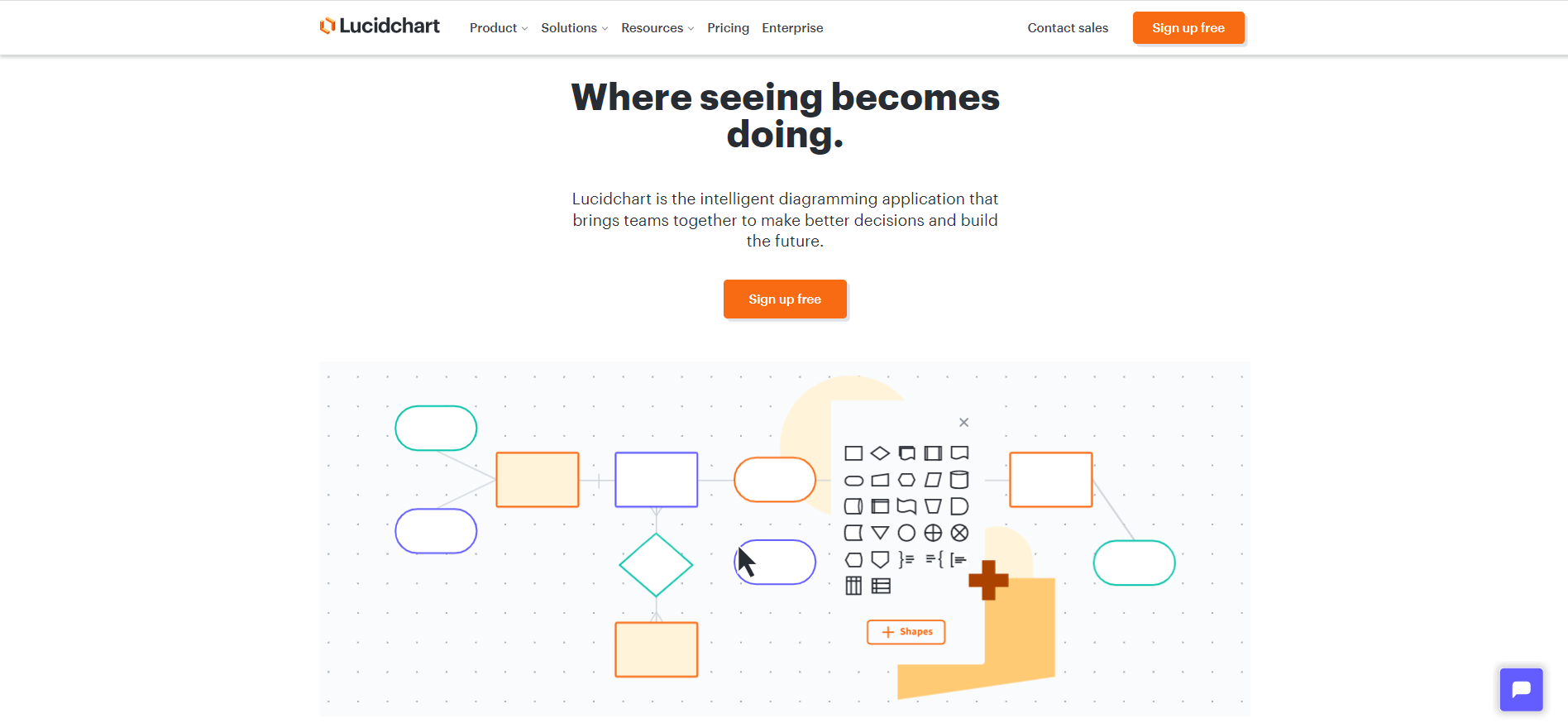 Overview
Described as a visual workspace for remote teams, Lucidchart is a diagramming app that focuses on collaborative flowcharts for business use. It's designed to function as a mind map as well as a tool that helps you map project flows, making it a great addition to your project management software arsenal.
You can scale your scope of work in Lucidchart with centralized document retention and account management.
Highlights
Browser-based interface: Lucidchart runs on any HTML5-enabled browser; no setup or installation is required.
Integrations: Lucidchart integrates with Microsoft Office, Atlassian, Slack, and G Suite for a more streamlined workflow and enhanced collaboration.
Versatile mind-mapping: Use one of the many available templates to create a mind map or build one from scratch with the shapes library.
Powerful importing: Import useful data from .txt files and other resources to aid your mind mapping process.
Seamless collaboration: Collaborate in real-time with colleagues and clients with in-editor chat, co-authoring, shape-specific comments, and cursors.
Usability
I always have gazillions of data spread around randomly in docs, spreadsheets, and other files, which is why I struggle with making my ideas come to life. Lucidchart's data import functionality has made it easier for me to organize my thoughts by allowing me to seamlessly import or link data from multiple sources to use it in my mind maps.
If you want to import your data, click on the "import data" button from the left sidebar and choose the type of data you need to import.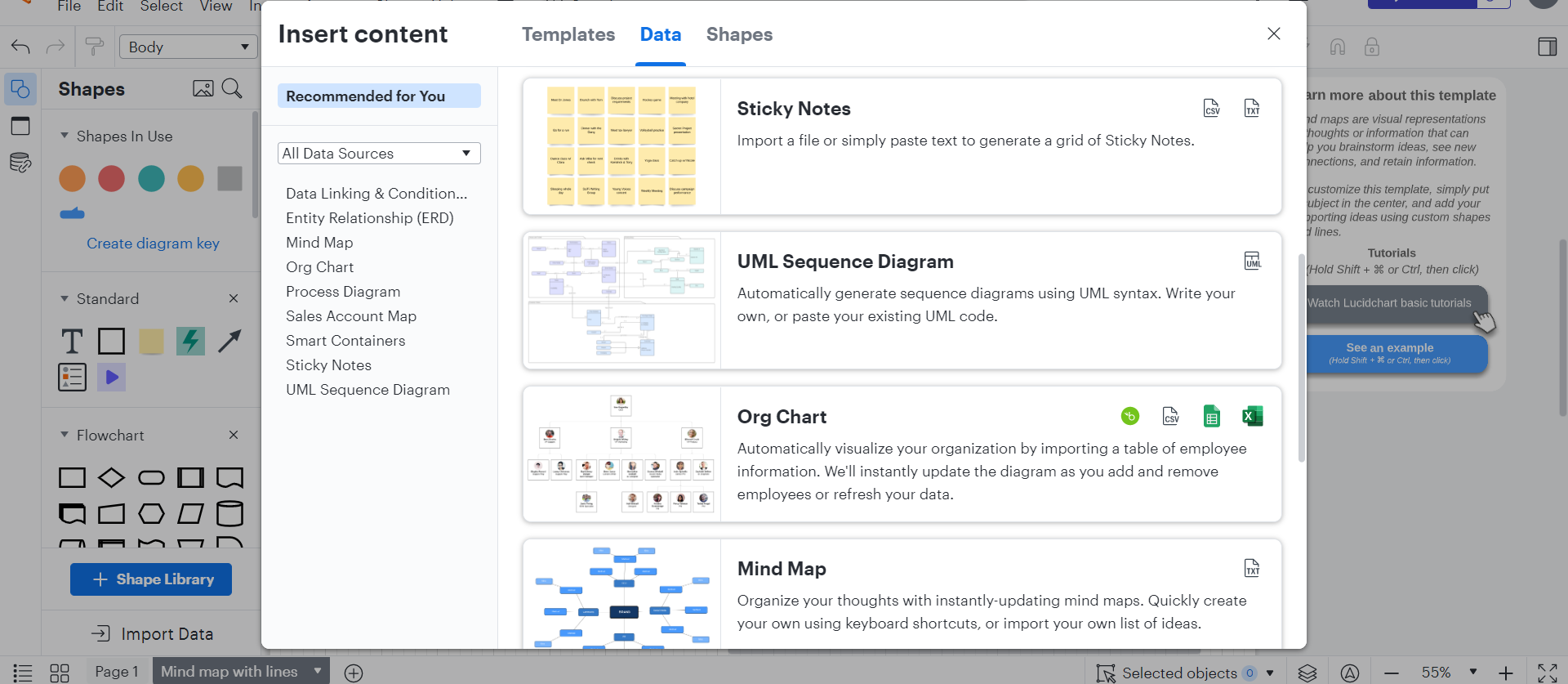 Some of the data types you can import include spreadsheets, Salesforce schemas, and UML codes.
Pricing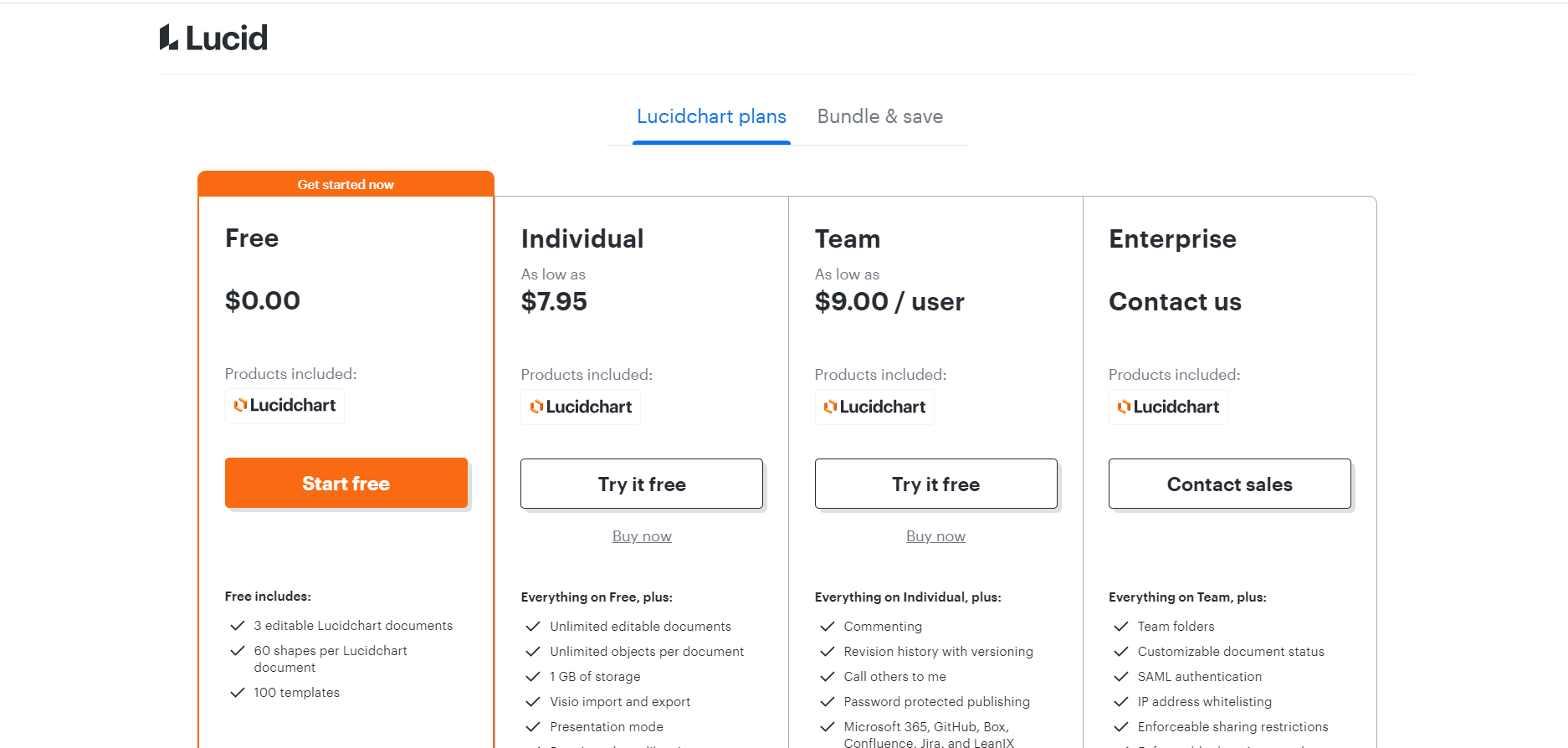 Lucidchart offers 4 plans: Free, Individual ($7.95/month), Team ($9 per user/month), and Enterprise (quote-based).
The Free plan includes 3 editable documents, 100 templates, and 60 shapes per document, which is more than enough to get you started. The individual plan gives you unlimited documents and shapes per document, as well as additional premium templates. You also get 1GB of cloud storage and Presentation Mode.
The team plan has more collaboration features, while the Enterprise plan emphasizes security and data confidentially.
Customer Thoughts
I'm impressed with the real-time collaboration feature. It lets me work with my colleagues and clients on the same mind map.
It would be nice if an invited user could edit the design without requiring a full license.
The integration with other productivity tools, such as Google Drive and Trello, is a game changer for me.
I think the templates are confusingly categorized. It takes me a while to find a relevant template that meets my needs.
I wish could do more things in offline mode; it's very limited.
I love how the page automatically expands when I run out of zoom; it's saved me a lot of time.
Bottom Line
I recommend Lucidchart for teams that need a mind mapping tool that can also be used to manage project flows. It has a Free plan that serves as a good starting point to integrate mind mapping into your thought processes.
3. Xmind – Best for Large Teams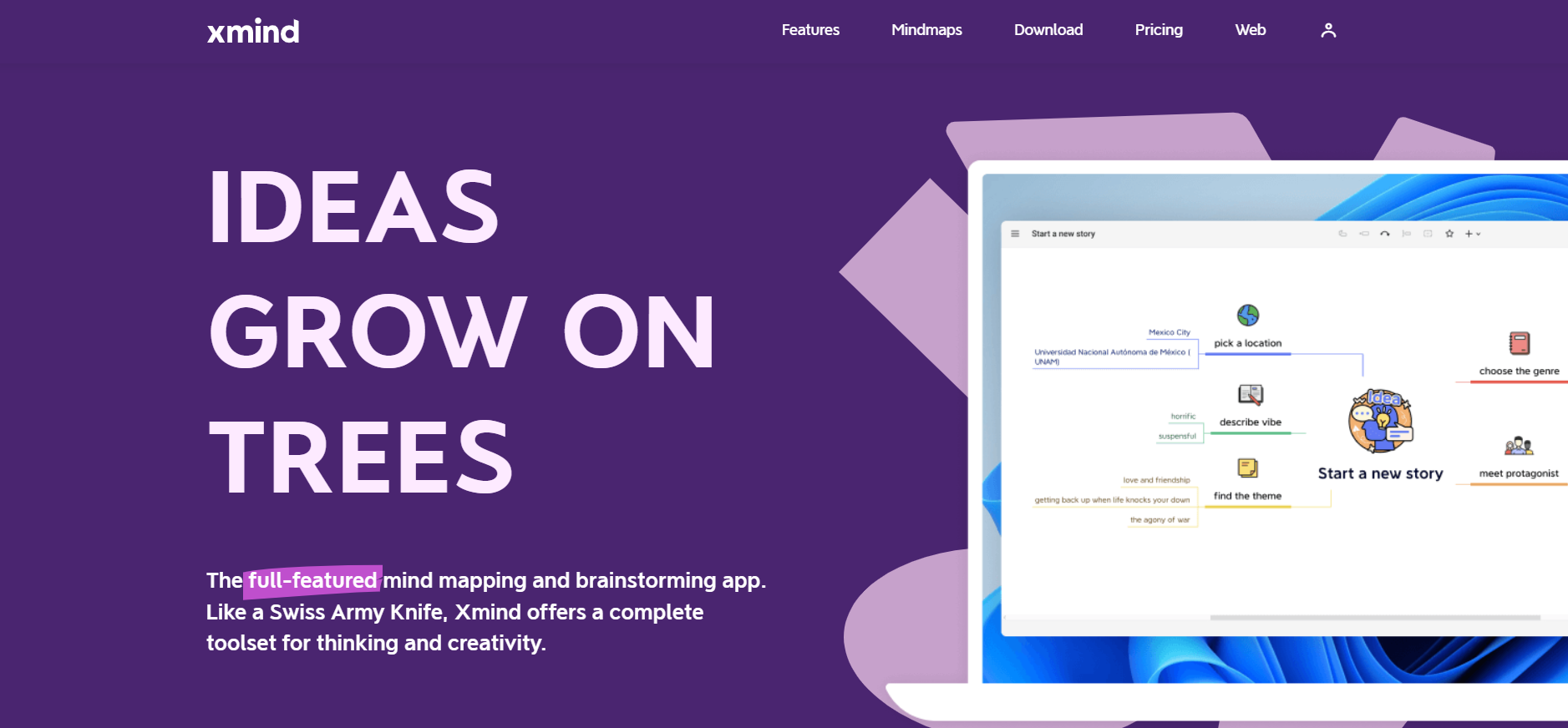 Overview
Xmind is mind mapping software with a sleek user interface and beautiful color schemes. You can use it to create linear and non-linear documents, giving you the flexibility to switch between mind maps and conventional view modes.
Highlights
Presenter view: Turn your mind maps into sleek slideshows for meetings and discussions.
Color schemes: Maintain a consistent look throughout your mind maps by choosing one of the available color schemes.
Versatile templates: Visualize your data in different ways with mind maps, fishbone diagrams, tables, brace maps, tree tables, and more. You can also switch between different views intuitively.
Mind toolbox: Illustrate how different ideas relate with relationships, notes, markers, and labels.
Stickers: Make your visual mind maps more memorable with a large sticker library.
Usability
Mind maps often overlook the finer details of a project or idea. When I'm working on a mind map, I find myself occasionally reverting back to my notes and documents to recall information.
Because of that, I like how Xmind lets me add a summary for each topic or subtopic. This has enabled me to stay focused and take a quick look at the summaries whenever I need to recall something.
To add a summary for a topic, simple click on the topic and choose "Add summary" from the toolbar at the bottom. You can then type the information you need in the text box.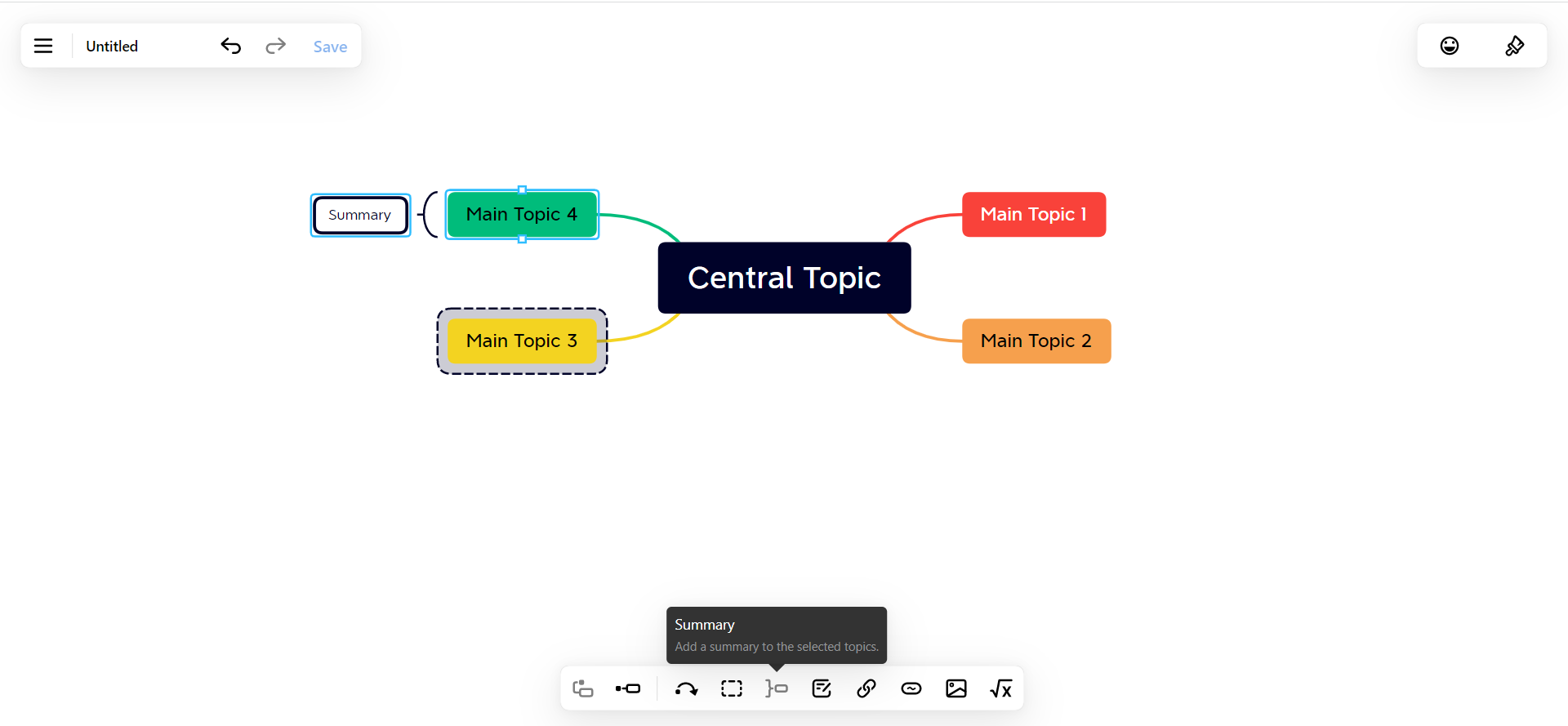 Pricing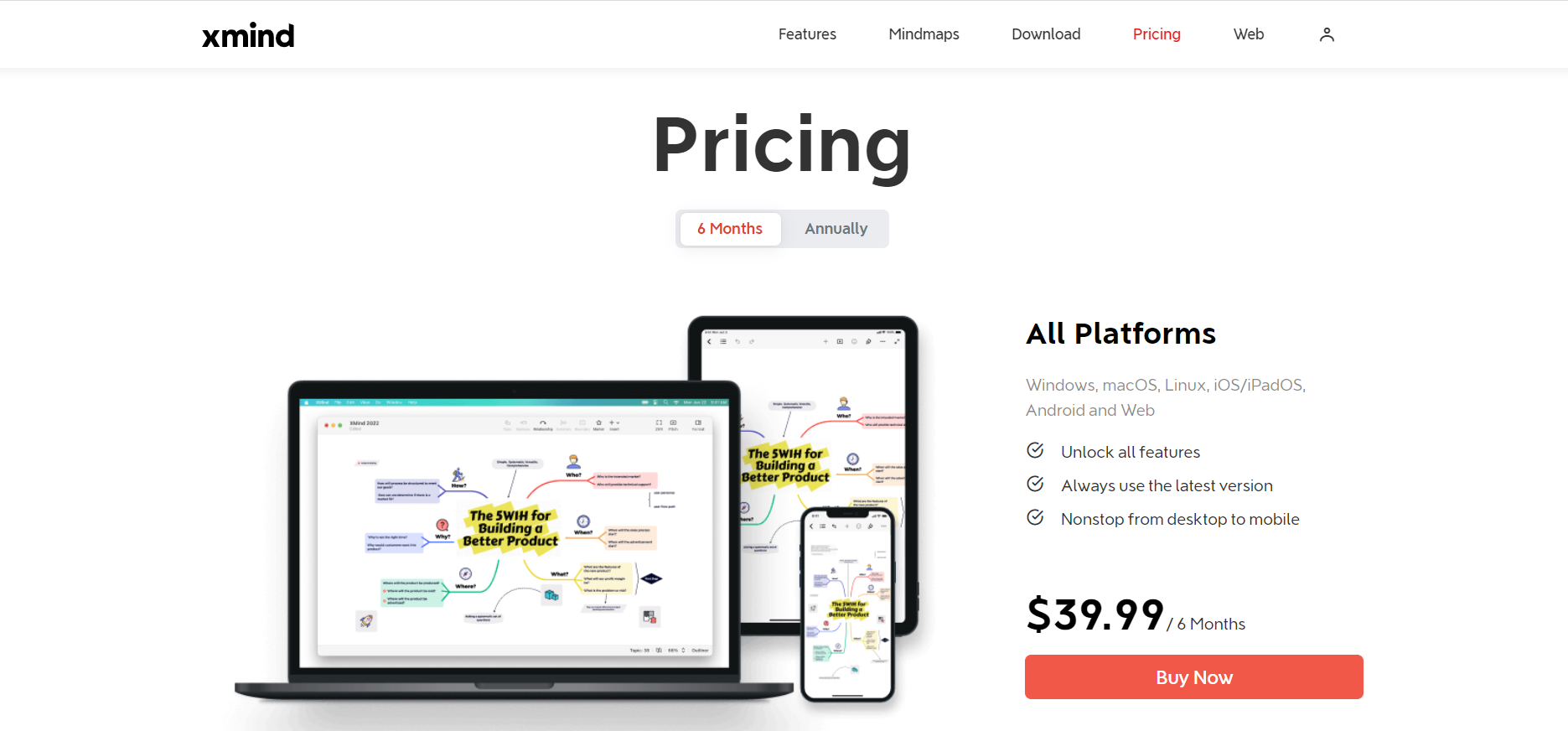 Xmind's pricing is pretty straightforward: Pay $39.99/6 months or $59.99/year. There are no plans to pick from, meaning all users can access the tool's full functionality. It's also worth mentioning that you'll be able to use the tool on desktop and mobile with the same account at no extra fees.
Xmind's pricing model makes it more suitable for large teams than individuals. It's a single fee for everyone at your company.
Customer Thoughts
The export feature is very useful. I can export my mind maps to different formats and use them in other tools.
I like the presentation mode feature, it helps me present my mind maps in a clear and easy-to-grasp way.
Cloud sync hasn't been working well for me. it results in conflicts and duplicate documents.
I think Xmind's schemas are pretty limited and restrictive. I'd love to see some schemas with a higher level of complexity to create elaborative mind maps.
The tree tables are my favorite as that is the way my brain thinks when it comes to mind maps.
I love how easy it is for Xmind to add sectional and/or related segments of ideas. For example, I can add main topics, and then for each main topic, I can add subtopics.
Bottom Line
From my experience with the software, I'd say that Xmind is one of the few mind mapping tools that provide so many different ways to visualize data, so if that's what you need in your business, Xmind would be a great choice. I recommend trying out the free version before committing long-term.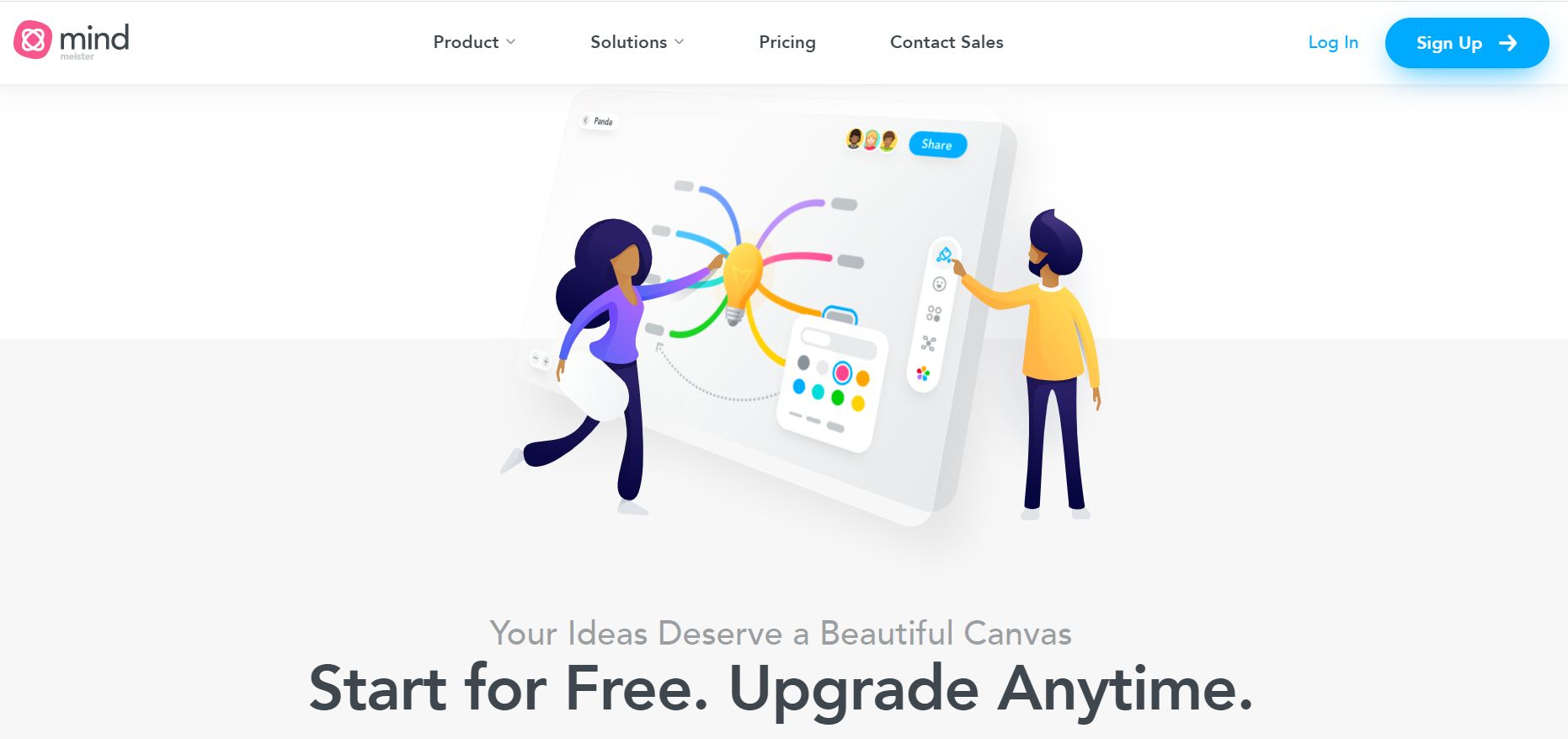 Overview
MindMeister is an affordable mind mapping tool that lets you create mind maps and collaborate with others in real time. With this tool, you can brainstorm new ideas, take notes, and export your creations easily. You can even use it to manage projects.
Highlights
Dynamic slideshows Mode: Transform your mind maps into more presentable dynamic slideshows easily for presentation.
Real-time collaboration: Share your mind maps with your colleagues and work on them together with commenting and voting capabilities.
History mode: MindMeister lets you see how your mind map evolved from the moment you created it.
Customization: Personalize your workspace with colors, themes, formatting, and styles.
Project management: Plan and manage your projects more efficiently with project flows, task allocation, charts, and timelines.
Usability
Sometimes, mind maps can be hard to explain, but MindMiester's ready-made icon pack really help eliminate the frustration. Anyone can quickly get an idea of what the mind map is about by taking a glance at the icons.
To add icons, simply tap on the smiley face in the right sidebar and choose the icons you want.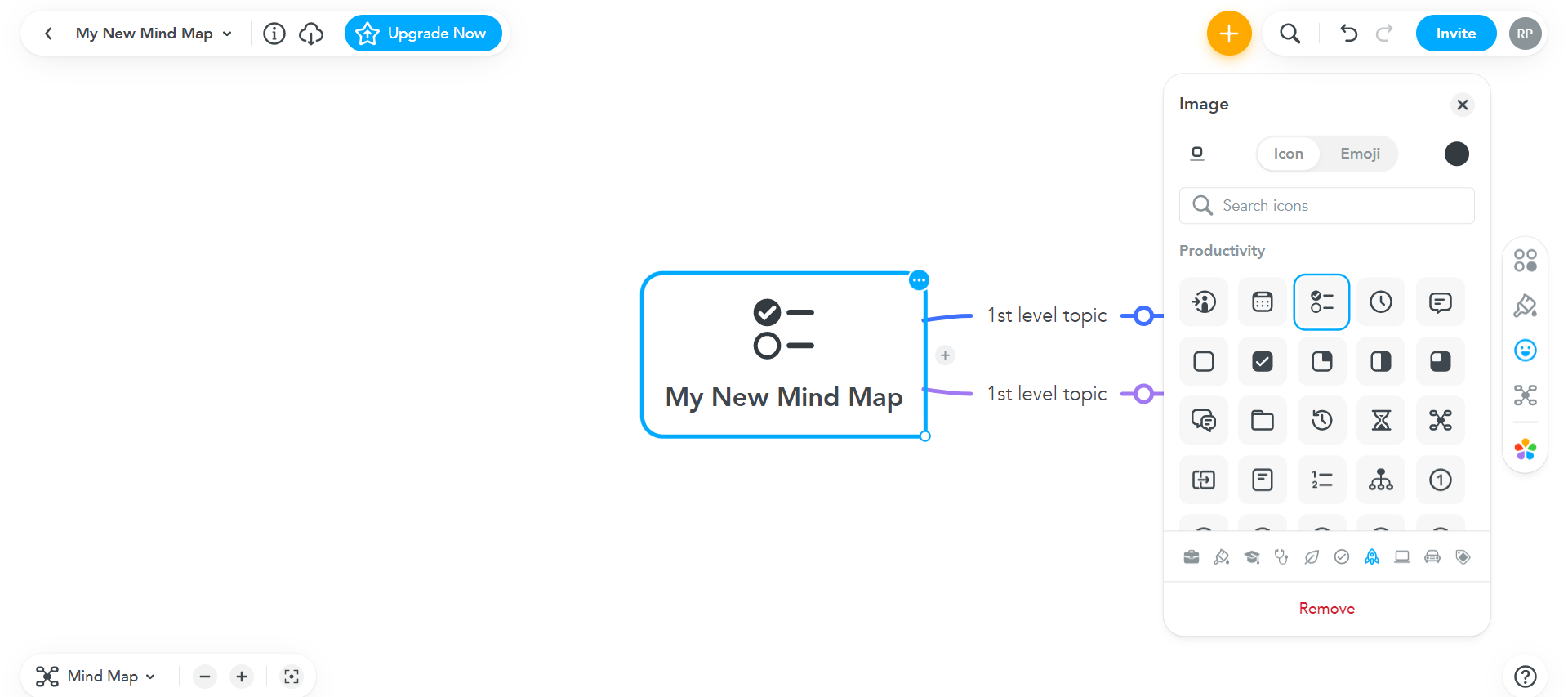 You can even add emojis to make your mind maps look more fun just like I do (don't judge me).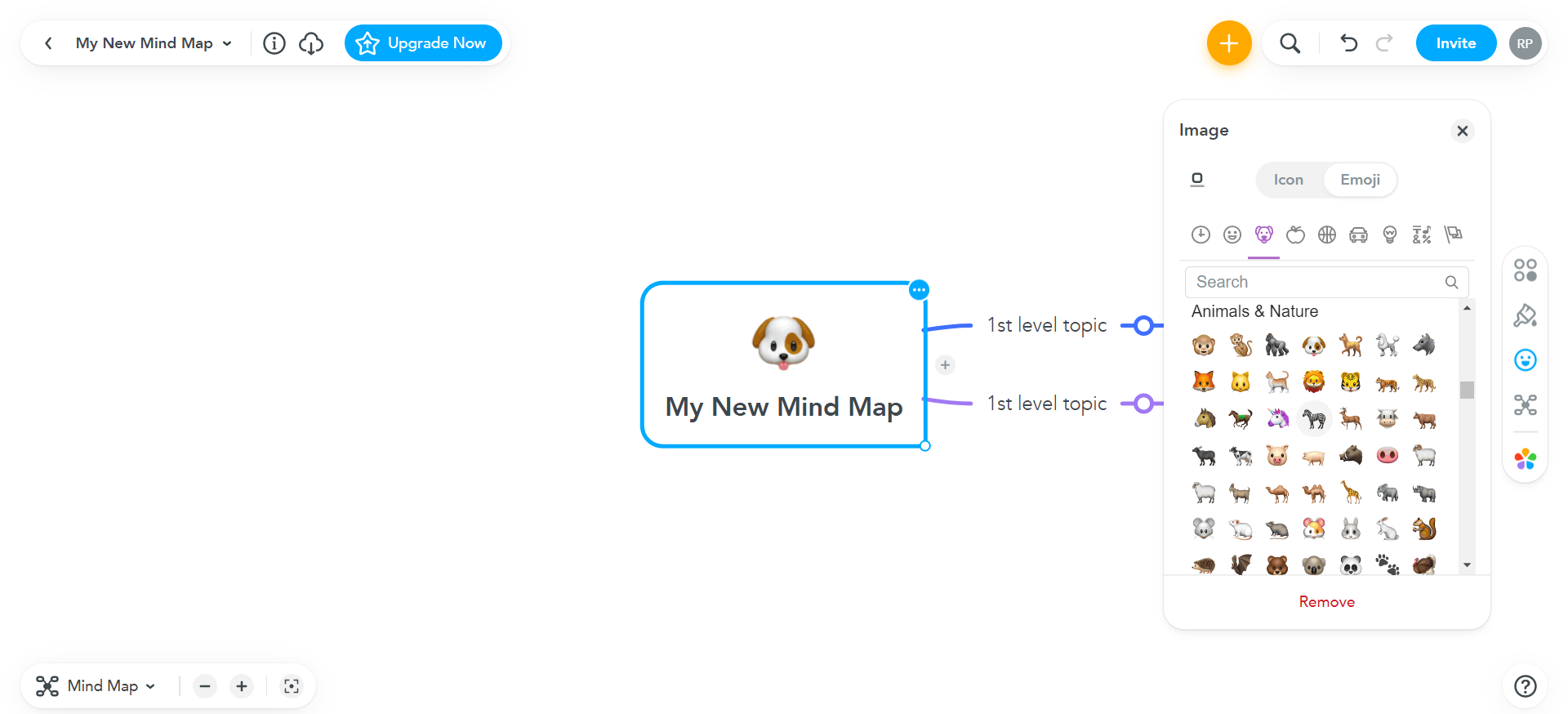 Pricing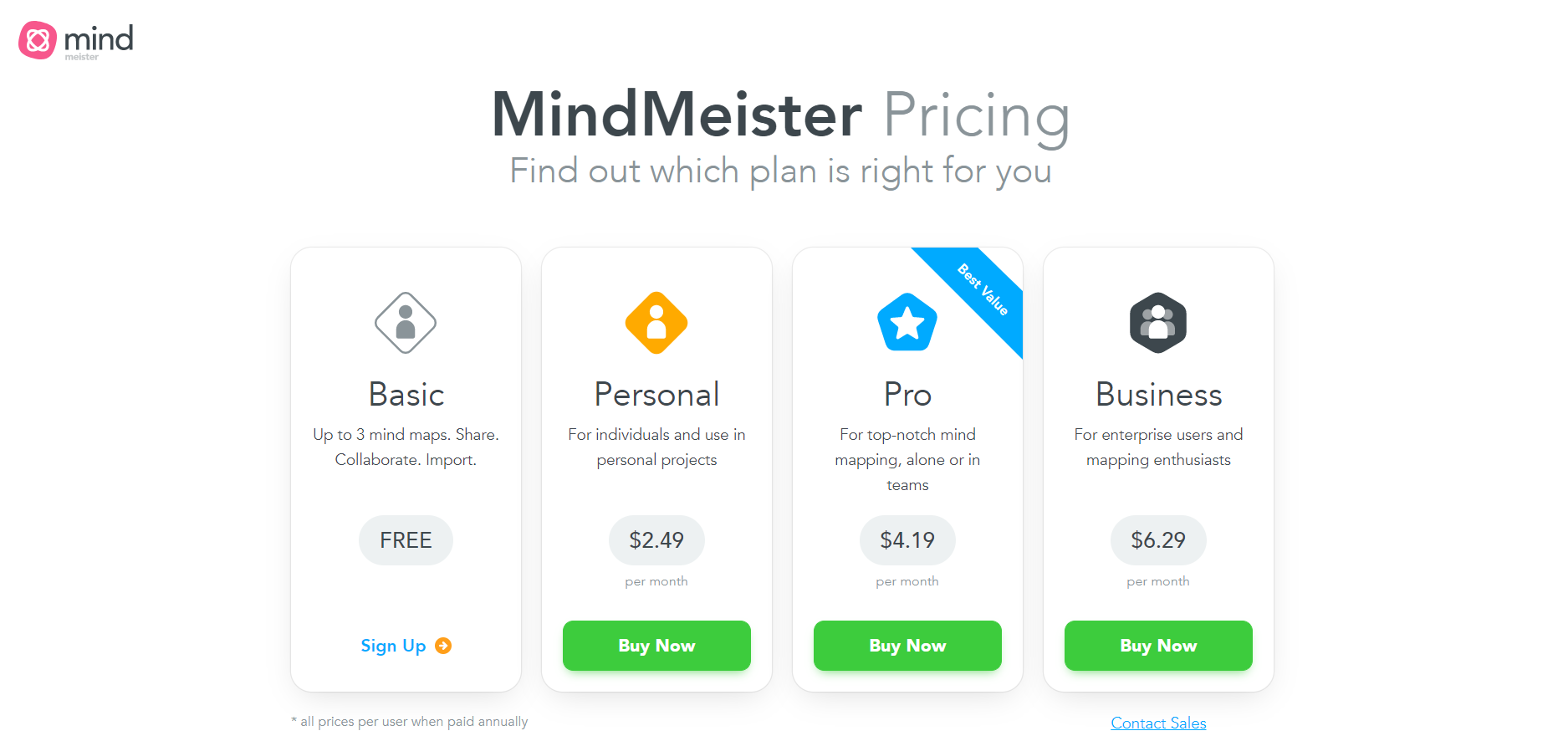 MindMeister has 4 plans: Basic (free), Personal ($2.49 per user/month), Pro ($4.19 per user/month), and Business ($6.29 per user/month).
The Basic plan lets you share, collaborate, and import up to 3 mind maps, while the Personal plan supports unlimited mind maps, in addition to image/PDF export and admin accounts.
The Pro plan includes Word/Powerpoint export and Google Workspace, with priority support and custom team domains reserved for the Business plan.
Customer Thoughts
I wish I could cross-link items without an arrow; could've made my complex mind maps look neater.
I love that MindMeister lets me edit while in search mode.
We appreciate that the whole team can use Mindmeister and collaborate without separate licenses.
I find adding notes and attachments to my mind maps to be quite easy and useful.
One thing that frustrates with MindMeister is that the mind maps aren't "dynamic" enough. The items and subitems don't adapt as I adjust the mind map.
The free version doesn't have any exporting options, which is weird since this is a basic functionality.
Bottom Line
If you want to organize your thoughts more efficiently and collaborate with your teammates in real time, MindMeister will help you do that. You can even use it for free with the Basic plan.
5. MindManager – Best for Enterprises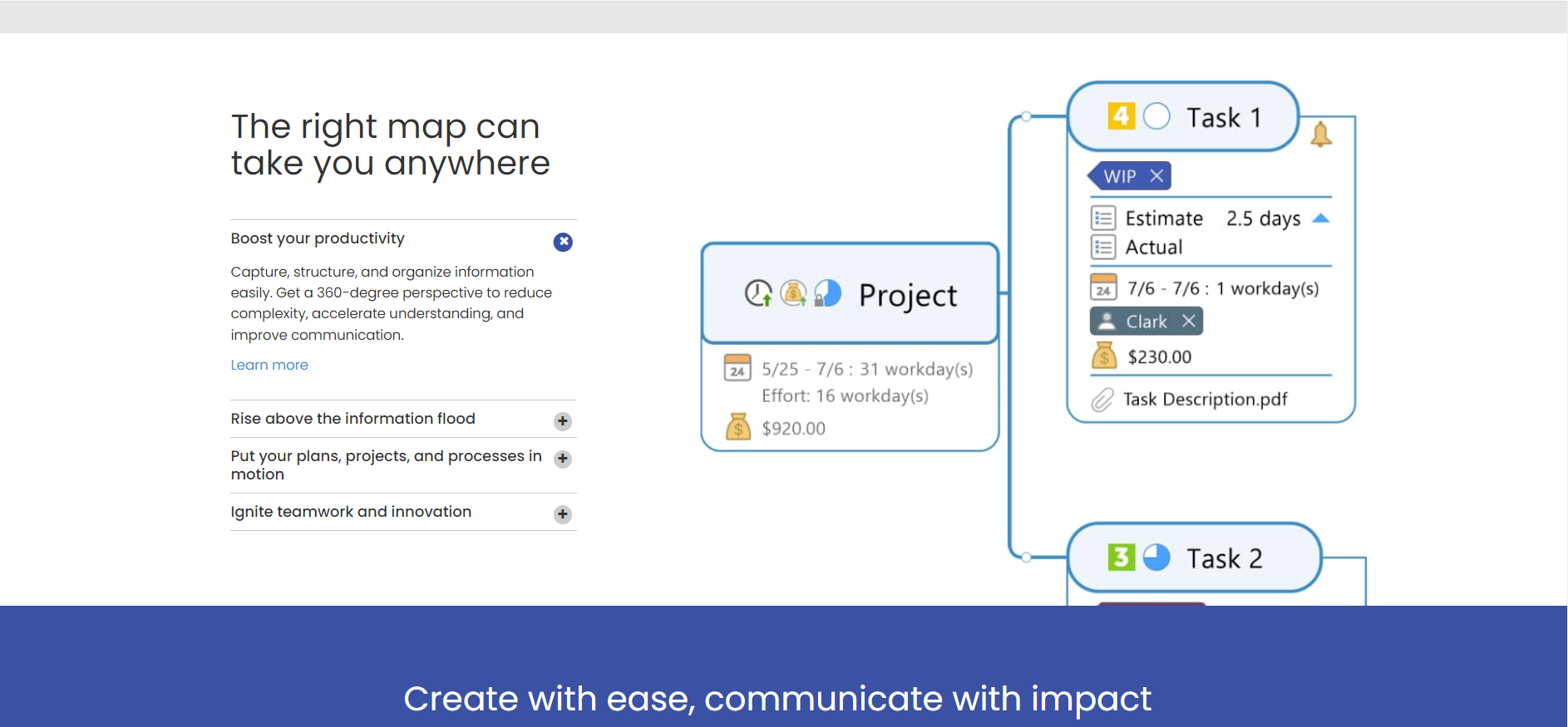 Overview
MindManager is mind mapping and project management software that's intended for enterprises. It deeply integrates with MS Office, to the point that its interface will look pretty familiar if you use Excel or Powerpoint.
Highlights
Professional mind maps: Generate professional-looking mind maps that are suitable for presentations.
Integrations: MindManager integrates with hundreds of apps, including MS Office, Zapier, and Slack.
Built-in text editor and spreadsheet tool: Plan your mega projects with integrated productivity tools.
Advanced formatting: MindManager lets you make your mind maps look exactly like you want them to with versatile formatting options.
Smart rules: Utilize conditional formatting by making your charts adapt to the data being displayed.
Business-focused templates: Make use of the wide variety of templates for development, risk management, and training.
Usability
In my experience, the best thing about MindManager is how easy it is to switch between different views for my mind map.
For example, if you want your mind map to look like an org chart, choose "org chart" from the design tab.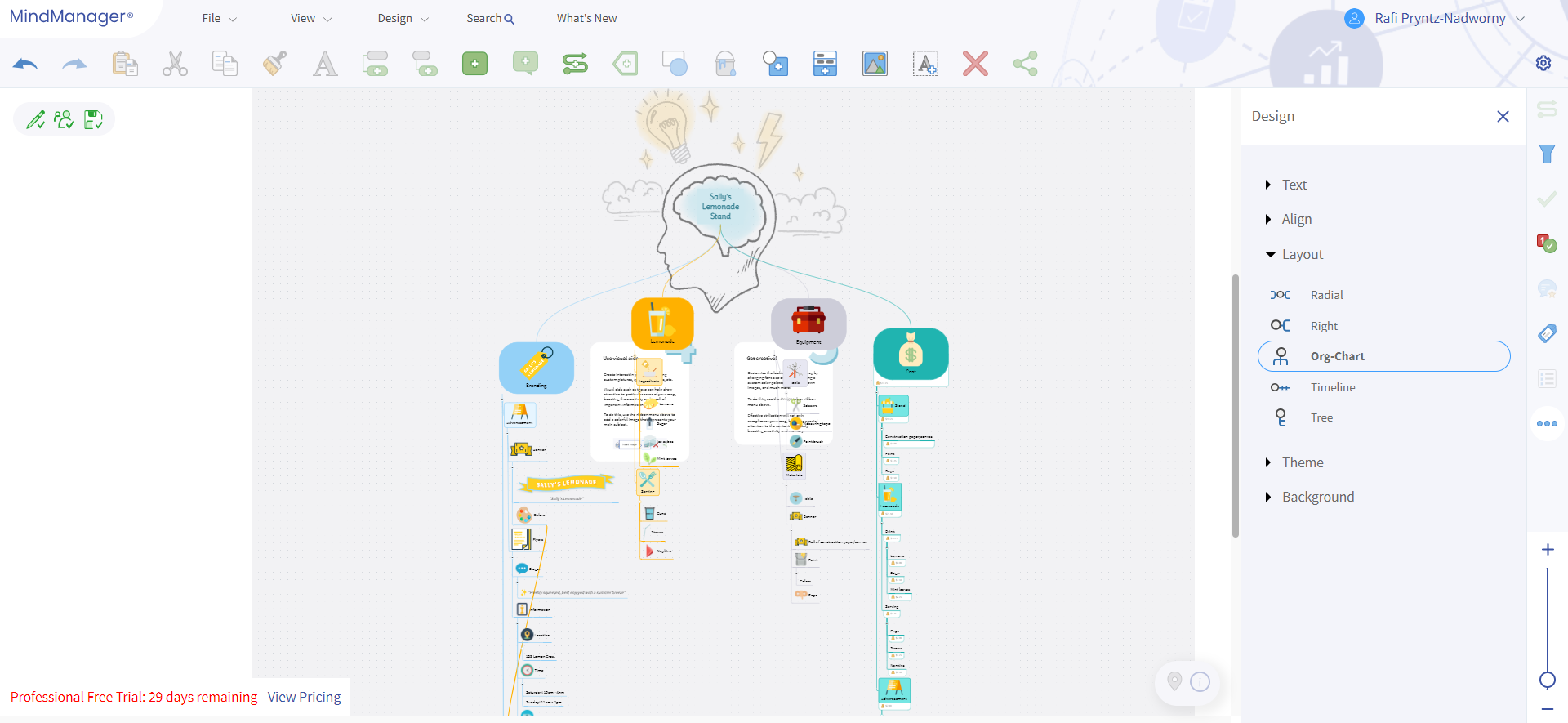 You can even change the view of a limited part of your mind map without affecting the rest of it by simply selecting the parts before changing the view.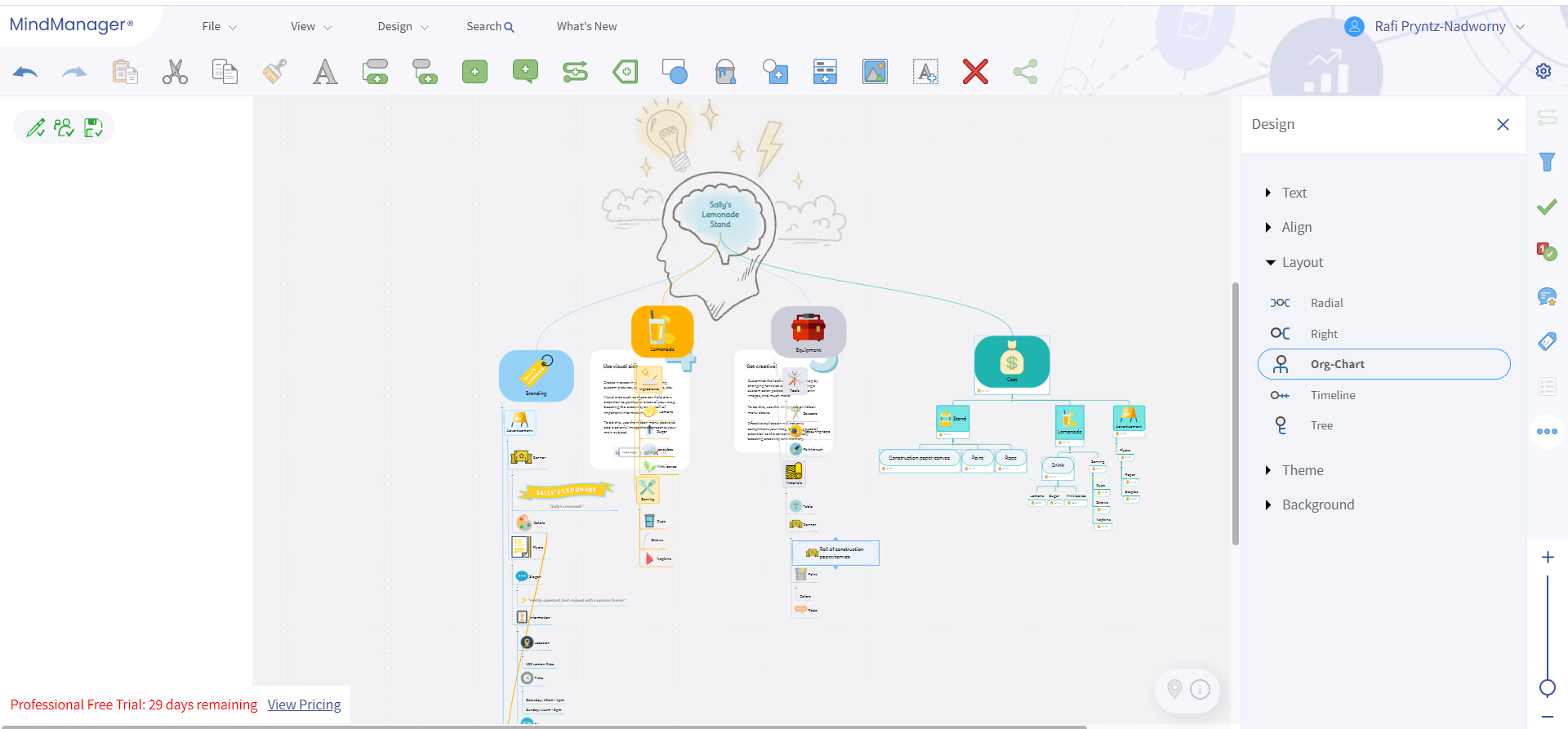 This functionality has made it easier for me to customize my mind maps for different types of projects.
Pricing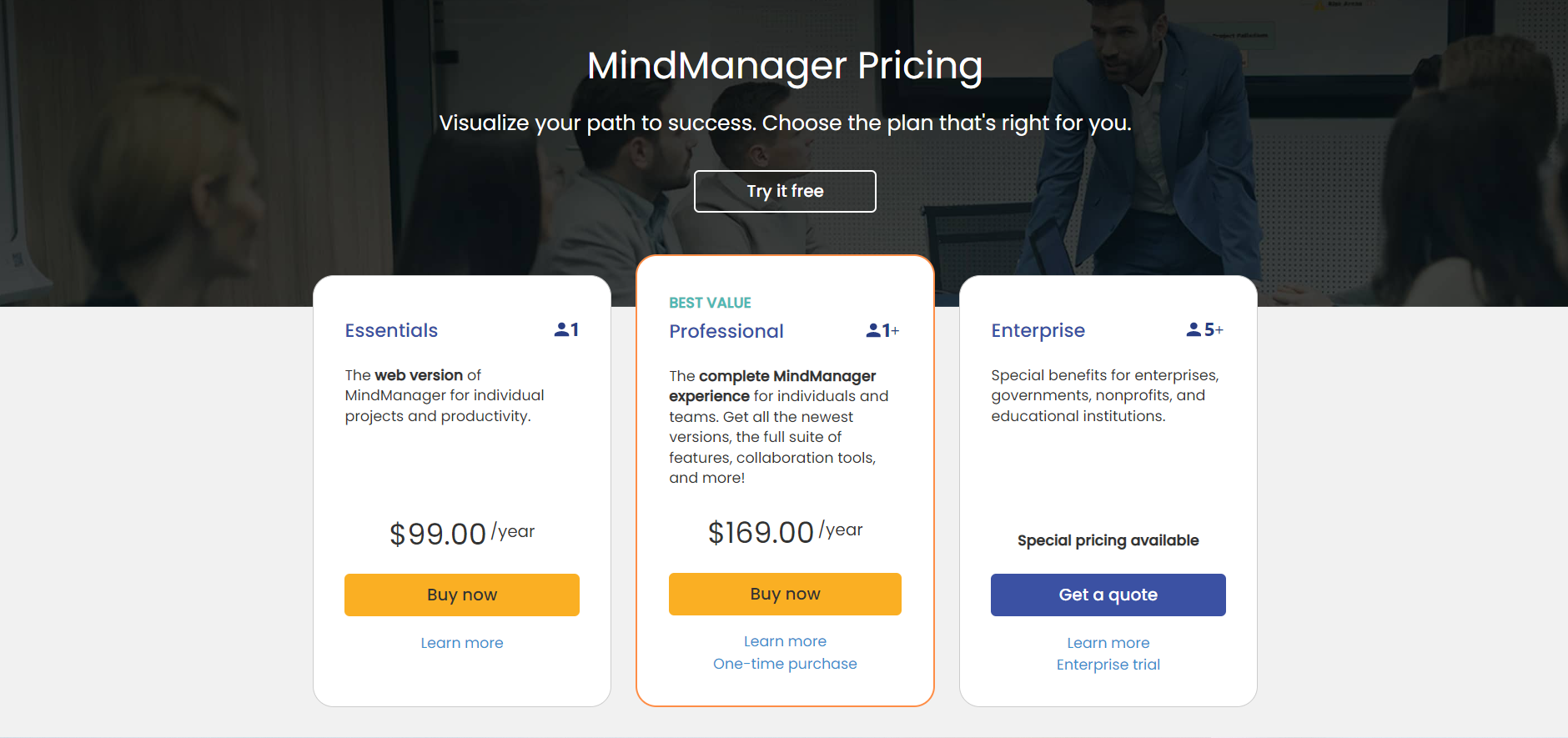 MindManager's pricing structure consists of 3 plans: Essentials ($99/year), Professional ($169/year), and Enterprise (quote-based).
The web-based Essentials plan covers the basics, which include multiple diagram types and a template library, while the Professional plan contains sharing, co-editing, and team content capturing. As for the Enterprise plan, you get additional features like read-only licenses, IT admin portal, single sign-on, and priority support and training.
Customer Thoughts
For me, the best thing about MindManager is that it lets me add notes to table elements.
I love how we can completely restructure the map without destroying it! It's very useful for brainstorming ideas and seeing things from a different perspective.
If I put a html-export into MS-Teams, I have to download it first to open it, which is very primitive.
The ability to add different types of documents to the mind map and export to PDF while maintaining all the features works great for me! No other mind map tool I used can do this.
I find aligning text boxes to the exact position I want to be very challenging.
I love that MindManager integrates with MS Office; makes it much easier for us to optimize our workflows.
Bottom Line
MindManager is an outstanding mind map maker for power users and enterprises. You can try any of the plans with a 30-day free trial.
Why Your Business Needs Mind Mapping Software
If your meetings lead to nowhere, or you're having a hard time brainstorming ideas with your teammates, a mind-mapping tool could be vital for your business.
According to a recent survey, 44% of respondents say that mind mapping saves them up to three hours per week, highlighting a 20-30% increase in overall productivity. The same survey found that 50% of respondents believe that mind mapping helps get their creative juices flowing, enabling them to come up with innovative ideas and solutions for challenging business problems.
And while you can easily draw a mind map with a pen and paper, mind mapping software makes the process more efficient and allows for collaboration and archiving. Functional departments that could benefit from mind mapping software include R&D (Research and Development), marketing, and any other teams that constantly need to generate ideas or solve problems.
What Is Mind Mapping Software?
Mind mapping software is a digital tool that makes it easier for you to brainstorm new ideas and organize your thoughts clearly. With mind mapping programs, you can figure out how dispersed ideas relate in a visual way using diagrams and flow charts.
Wrap Up
I reviewed the best mind map software out there to help you come up with your next big B2C or B2B marketing idea, and now it's time to choose the program that best suits your needs. You can easily find free mind mapping software to get a feel of how the whole process works.