Despite being 30x more powerful than the most advanced supercomputer, the human brain has one frustrating issue: you can't "see" what's happening inside. So why is that a problem? Well, humans are visual creators; we digest, organize, and analyze information much more effectively with visual elements.
Mind mapping is a great way to pour all of those random, unorganized ideas inside your brain onto a piece of paper. And while the classic pen and paper mind map can be handy, using a digital mind mapping software will make it easier for you to edit, undo, and customize your mind maps, as well as safely store them.
What Is the Best Mind Mapping Software?
The best mind mapping software solutions include Miro, Lucid, Xmind, MindMeister, and MindManager. Now, let's take an in-depth look at what makes each of these mind mapping tools unique.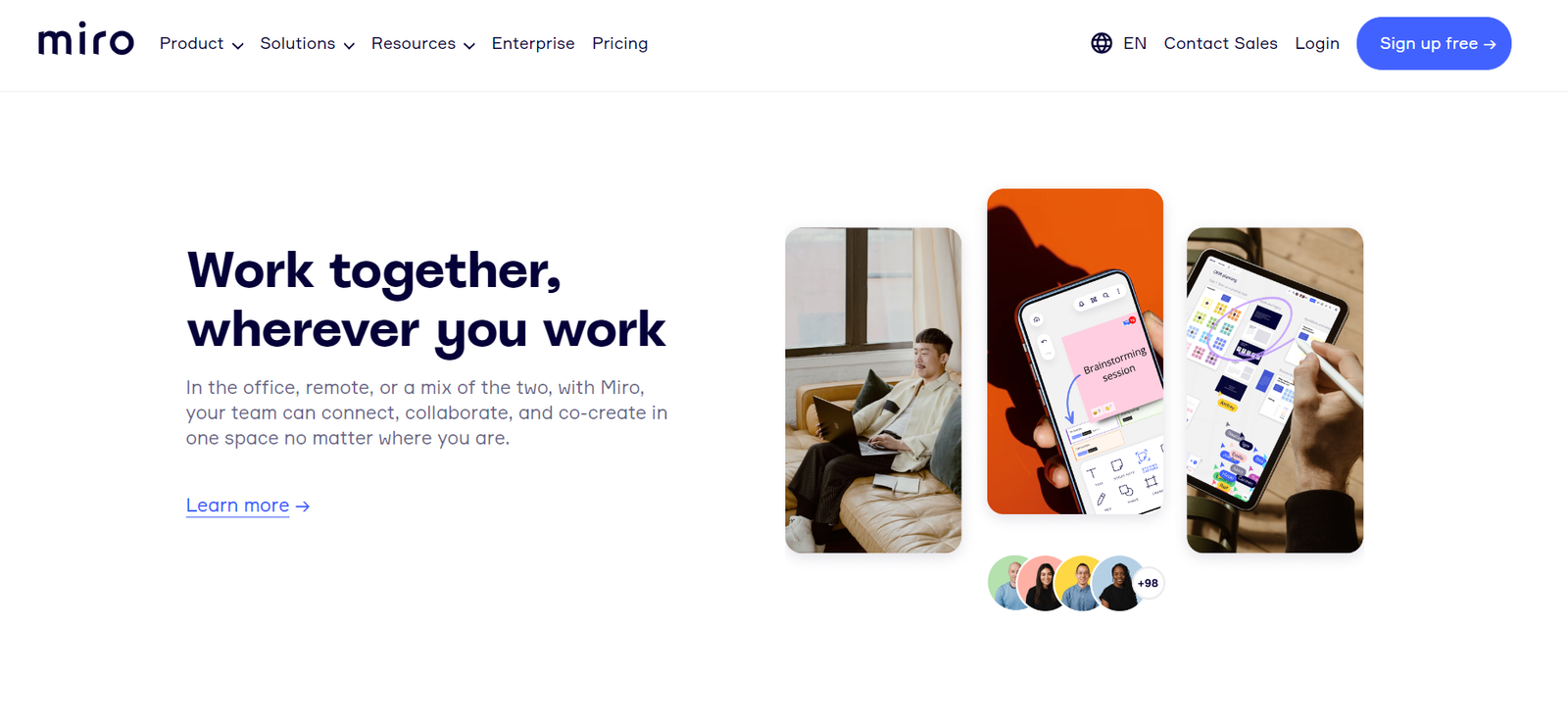 Overview
Miro is a mind mapping tool that offers a wide range of collaboration and communication features for distributed teams in hybrid or fully remote work environments. It also has 1000+ templates to maximize efficiency. Plus, you can integrate other apps with Miro to streamline your processes.
Highlights
Real-time collaboration: View or edit your boards with your colleagues intuitively in real-time.

Built-in communication: Chat with others using native video, comments, and messaging functionalities.

Integrations: Miro integrates with Zoom, Slack, ClickUp, Google Workspace, and more apps for a seamless workflow.

Templates: Save time with Miro's flow chart, mind map, kanban, event planning, Gannt chart, and service blueprint templates.

Virtual whiteboard: Brainstorm ideas freely with an infinite whiteboard.

Presentation mode: Transform your mindmaps into slides easily for presentations.
Pricing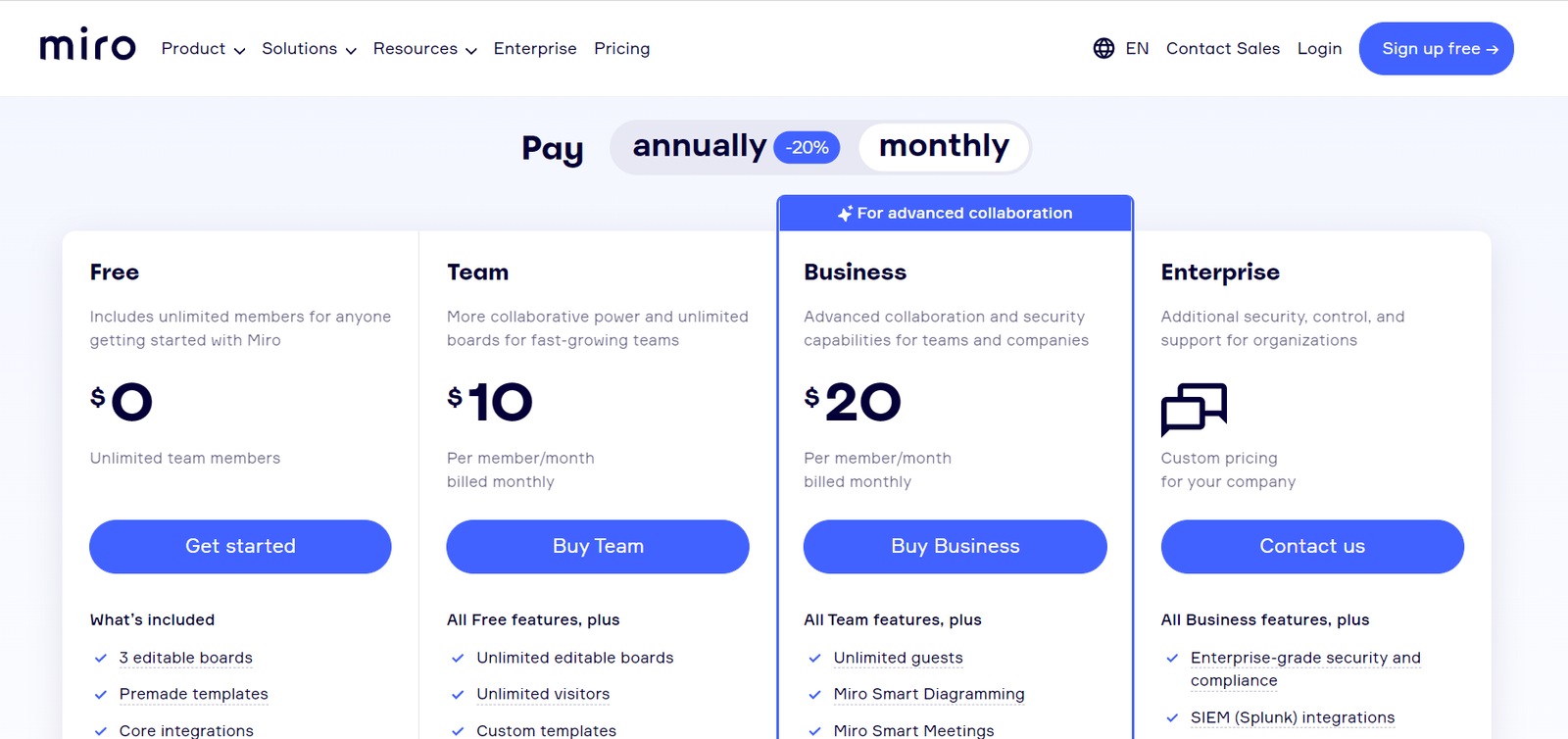 Miro has 4 plans: Free, Team ($10/month), Business ($20/month), and Enterprise (quote-based). The Free plan includes preset templates and 3 editable boards, while the Team plan offers unlimited editable boards and customizable templates.
As for the Business plan, you get additional collaboration and security features like Single Sign On (SSO), Smart Diagramming, and Smart Meetings.
The quote-based Enterprise plan also gives you advanced security, compliance, and account and license management capabilities.
Bottom Line
Miro is one of the best collaborative mind mapping software tools for businesses that heavily rely on remote collaboration. The Free plan covers the basic functionalities, so you should definitely give it a shot.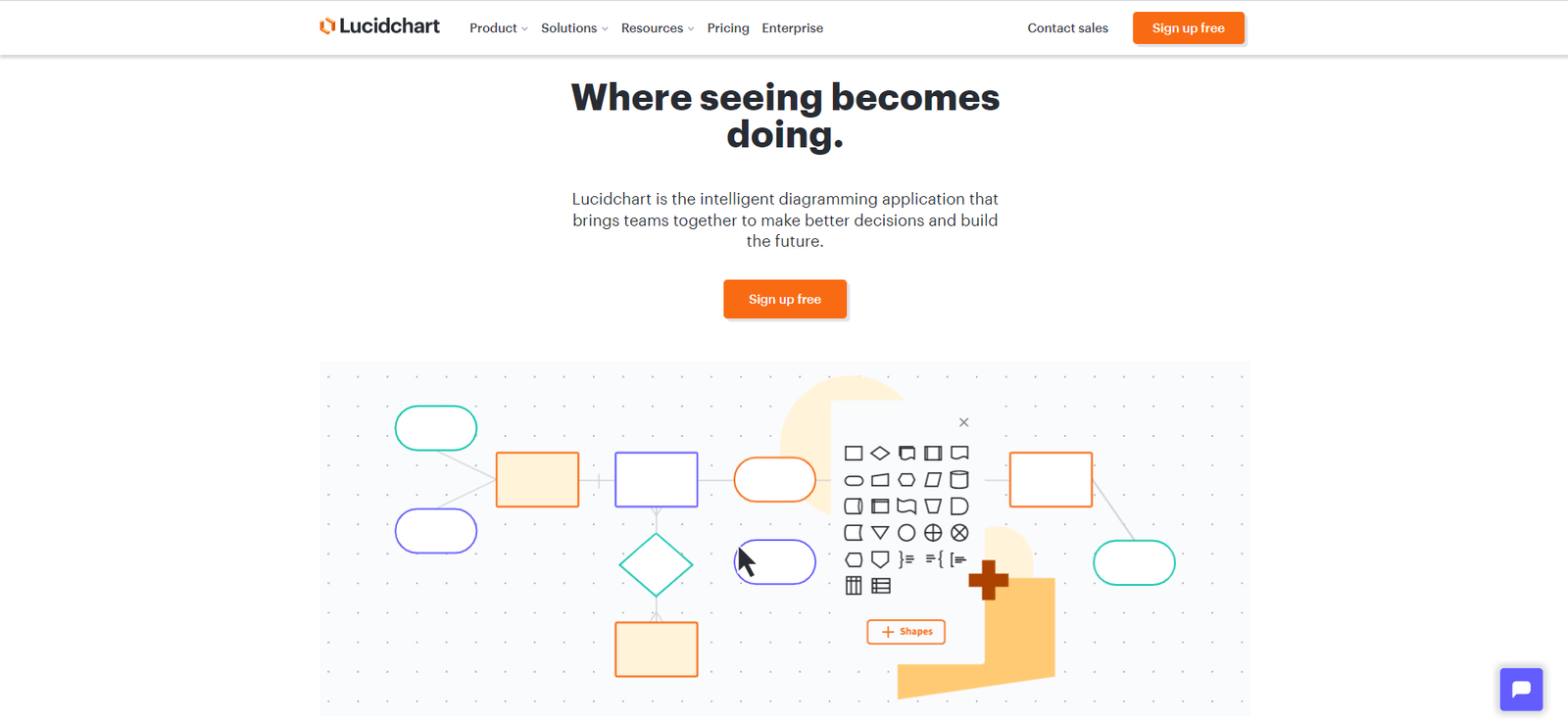 Overview
Described as a visual workspace for remote teams, Lucidchart is a diagramming app that focuses on collaborative flowcharts for business use. It's designed to function as a mind map as well as a tool to map project flows, making it a great addition to your project management software arsenal. Lucidchart is also easily scalable with centralized document retention and account management.
Highlights
Browser-based interface: Lucidchart runs on any HTML5-enabled browser; no setup or installation is required.

Integrations: Lucidchart integrates with Microsoft Office, Atlassian, Slack, and G Suite for a more streamlined workflow and enhanced collaboration.

Versatile mind-mapping: Use one of the many available templates to create a mind map or build one from scratch with the shapes library.

Powerful importing: Import useful data from .txt files and other resources to aid your mind mapping process.

Seamless collaboration: Collaborate in real-time with colleagues and clients with in-editor chat, co-authoring, shape-specific comments, and cursors.
Pricing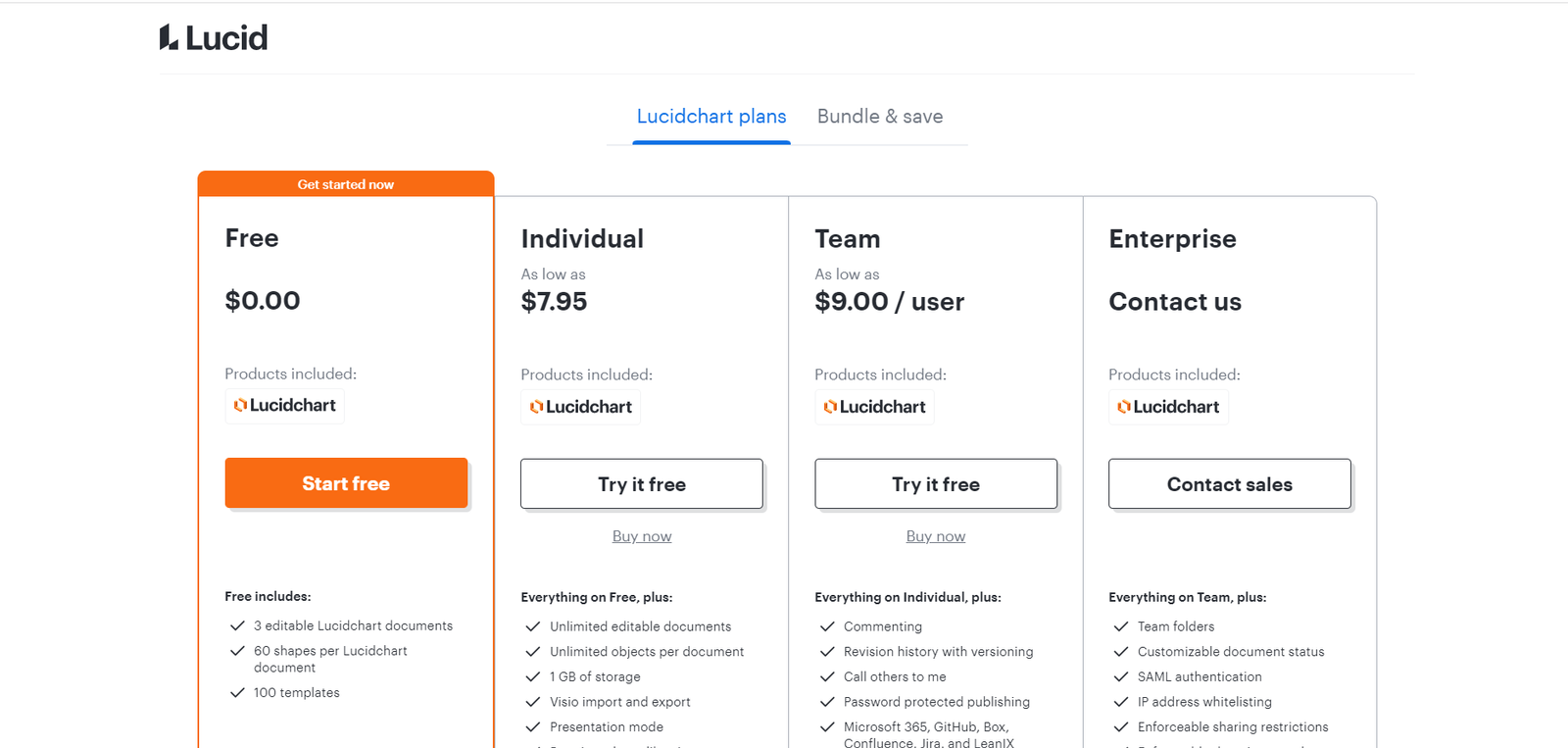 Lucidchart offers 4 plans: Free, Individual ($7.95/month), Team ($9 per user/month), and Enterprise (quote-based).
The Free plan includes 3 editable documents, 100 templates, and 60 shapes per document, while the individual plan gives you unlimited documents and shapes per document, as well as additional premium templates. You also get 1GB of cloud storage and Presentation Mode.
The team plan has more collaboration features, while the Enterprise plan emphasizes security and data confidentially.
Bottom Line
Lucidchart is an excellent mind mapping tool for collaboration-focused teams. It has a Free plan that serves as a good starting point to integrate mind mapping into your thought processes.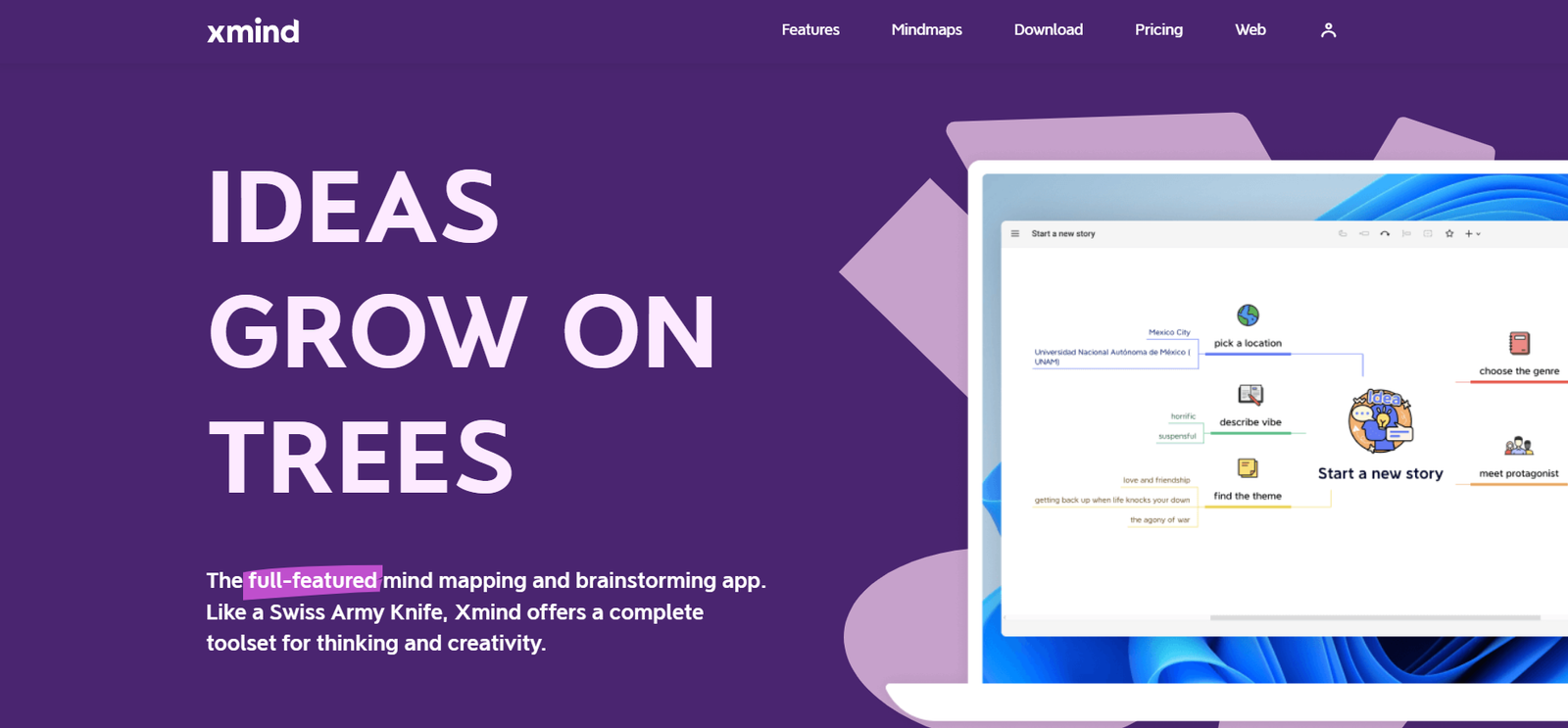 Overview
Xmind is mind mapping software with a sleek user interface and beautiful color schemes. It's capable of creating both linear and non-linear documents, giving you the flexibility to switch between mind maps and conventional view modes.
Highlights
Presenter view: Turn your mind maps into sleek slideshows for meetings and discussions.

Color schemes: Maintain a consistent look throughout your mind maps by choosing one of the available color schemes.

Versatile templates: Visualize your data in different ways with mind maps, fishbone diagrams, tables, brace maps, tree tables, and more. You can also switch between different views intuitively.

Mind toolbox: Illustrate how different ideas relate with relationships, notes, markers, and labels.

Stickers: Make your visual mind maps more memorable with a large sticker library.
Pricing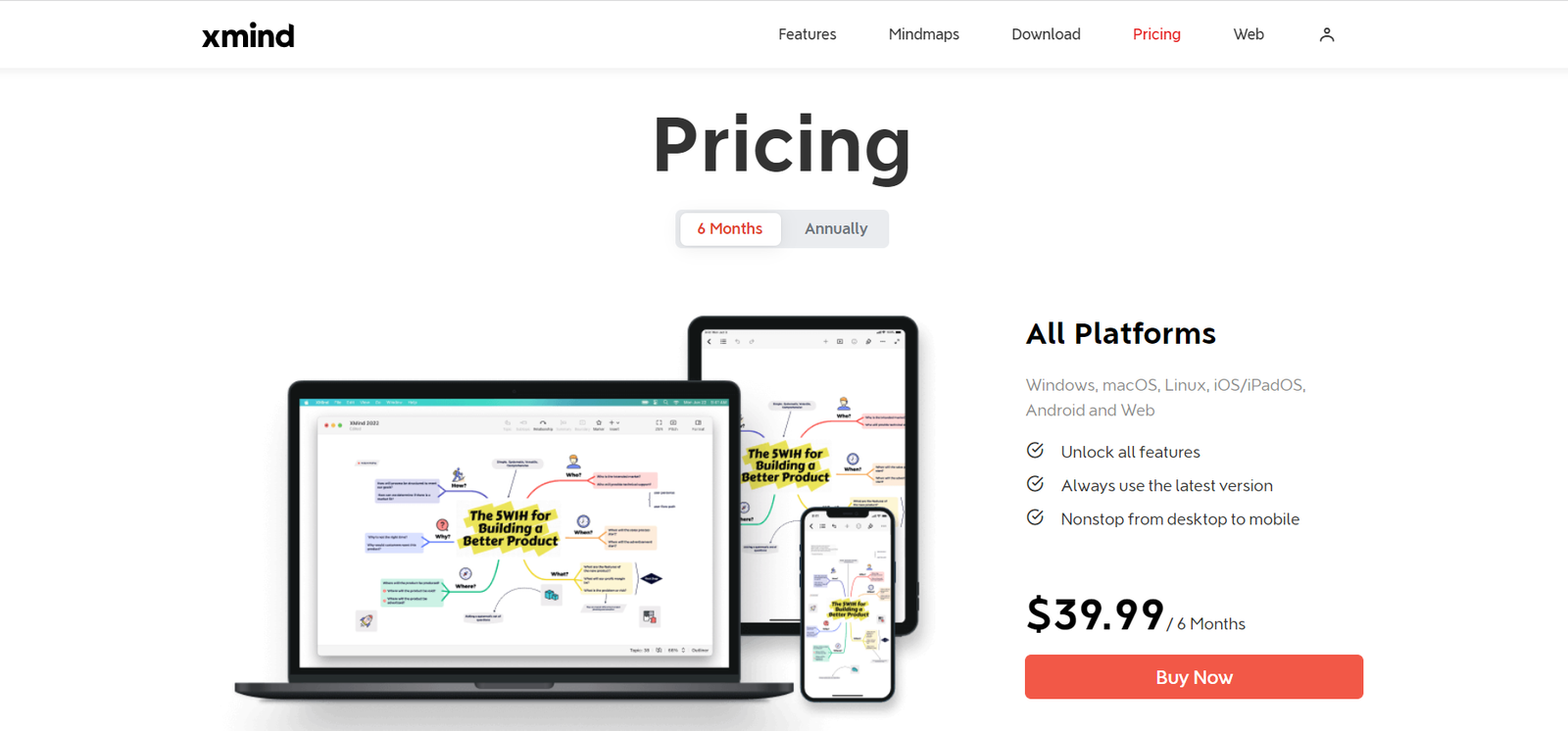 Xmind's pricing is pretty straightforward: Pay $39.99/6 months or $59.99/year. There are no plans to pick from, meaning all users can access the tool's full functionality. It's also worth mentioning that you'll be able to use the tool on desktop and mobile with the same account at no extra fees.
Bottom Line
Xmind is one of the best mind mapping tools for business owners that like to visualize their data in different ways. The pricing is pretty straightforward, but we'd recommend trying out the free version before committing long-term.
Overview
MindMeister is an affordable mind mapping tool that lets you create mind maps and collaborate with others in real time. With MindMeister, you'll be able to brainstorm new ideas, takes notes, plan projects, and export your creations easily. You can even use it to manage projects.
Highlights
Presentation Mode: Transform your mind maps into more presentable dynamic slideshows easily.

Real-time collaboration: Share your mind maps with your colleagues and work on them together with commenting and voting capabilities.

History mode: MindMeister enables you to see how your mind map evolved from the moment you created it with this mode.

Customization: Personalize your workspace with colors, themes, formatting, and styles.

Dynamic mind maps: Add links, notes, images, icons, and more into your mind maps.

Project management: MindMeister allows you to plan and manage your projects with MeisterTask.
Pricing
MindMeister has 4 plans: Basic (free), Personal ($2.49 per user/month), Pro ($4.19 per user/month), and Business ($6.29 per user/month).
The Basic plan lets you share, collaborate, and import up to 3 mind maps, while the Personal plan supports unlimited mind maps, in addition to image/PDF export and admin accounts.
The Pro plan includes Word/Powerpoint export and Google Workspace, with priority support and custom team domains reserved for the Business plan.
Bottom Line
MindMeister is a mind mapping and project planning tool for individuals and teams that want to organize their thoughts more efficiently and collaborate in real time. You can even use it for free with the Basic plan.
Overview
MindManager is mind mapping and project management software that's intended for enterprises. It deeply integrates with MS Office, to the point that its interface will look pretty familiar if you use Excel or Powerpoint.
Highlights
Professional mind maps: Generate professional-looking mind maps that are presentation-ready.

Integrations: MindManager integrates with hundreds of apps, including MS Office, Zapier, and Slack.

Built-in text editor and spreadsheet tool: Plan your mega projects with integrated productivity tools.

Advanced formatting: MindManager lets you make your mind maps look exactly like you want them to with versatile formatting options.

Smart rules: Utilize conditional formatting by making your charts adapt to the data being displayed.

Business-focused templates: MindManager has lots of template types for development, risk management, and training templates.
Pricing
MindManager's pricing structure consists of 3 plans: Essentials ($99/year), Professional ($169/year), and Enterprise (quote-based).
The web-based Essentials plan covers the basics, which include multiple diagram types and a template library, while the Professional plan contains sharing, co-editing, and team content capturing. As for the Enterprise plan, you get additional features like read-only licenses, IT admin portal, single sign-on, and priority support and training.
Bottom Line
MindManager is an outstanding mind map maker for power users and enterprises. You can try any of the plans with a 30-day free trial.
What Is Mind Mapping Software?
Mind mapping software is a digital tool that makes it easier for you to brainstorm new ideas and organize your thoughts clearly. With mind mapping programs, you'll be able to figure out how dispersed ideas relate in a visual way using diagrams and flow charts.
Wrap Up
We reviewed the best mind map software out there to help you come up with your next big B2C or B2B marketing idea, and now it's time to choose the program that best suits your needs. You can easily find free mind mapping software to get a feel of how the whole process works.