Best Time Management Tools in 2023
We've all had our fair share of lazy days at the office, and while a few slow days won't hurt anyone, compromised productivity in your company over the long term may signal a time management problem.
Time management tools can make it easier for you and your time to track your productivity and identify and eliminate wasteful activities and excessively long breaks. They also help you find out which tasks take more time and prioritize them more efficiently.
In this guide, I'll help you pick the best time management software solution for your business.
Best Time Management Tools in 2023
In my opinion, the best time management solutions are RescueTime, Clockify, Timecamp, Toggl, and Harvest. Now, let's check out what each of these tools is capable of.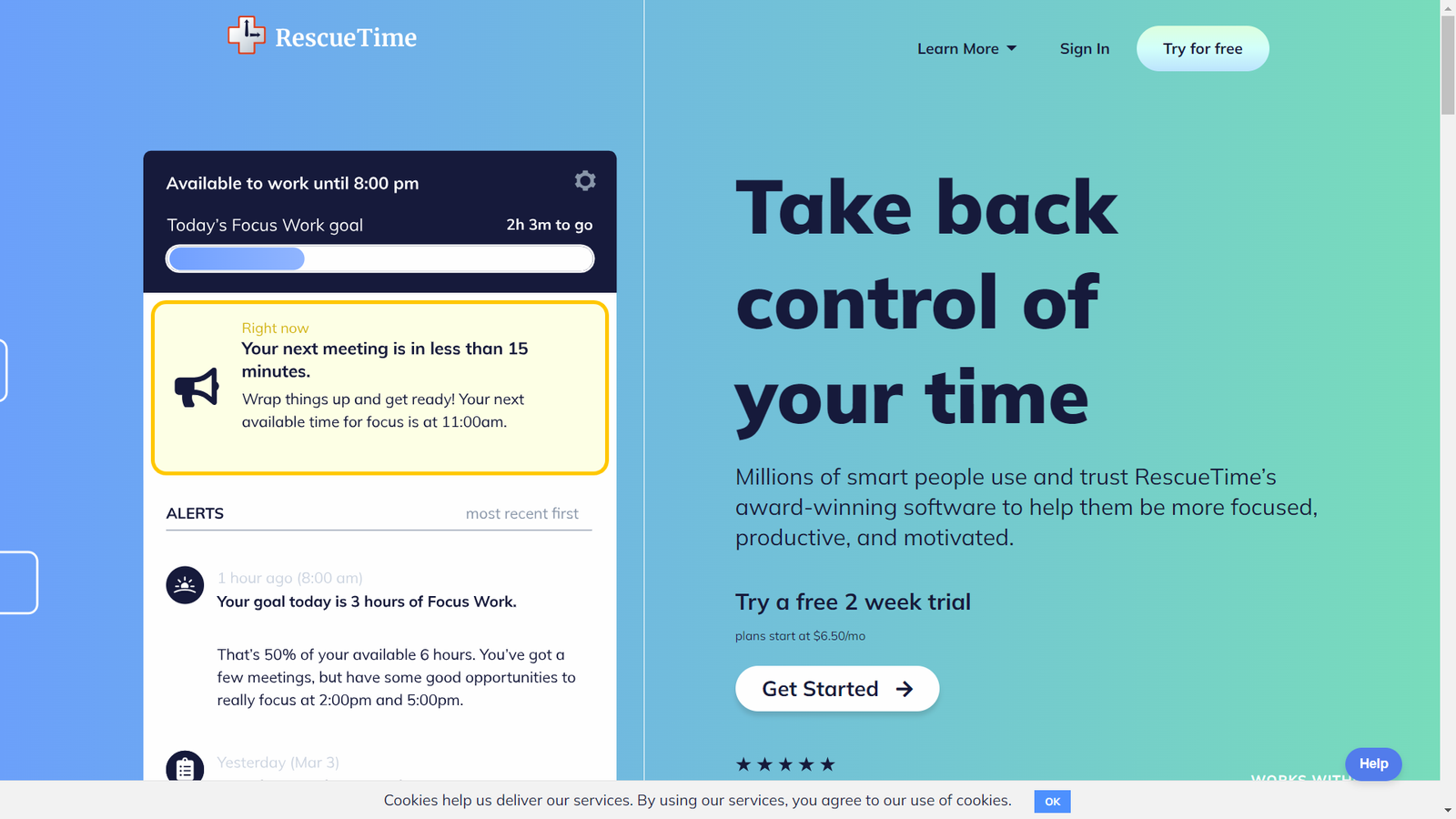 Overview
RescueTime is a time management and analytics tool that provides you with valuable insights into your daily routines, enabling you to boost productivity, identify the allocated time for each task. It also gives you a good idea of your habits so you can optimize your workflow.
Highlights
Focus Sessions: Block distractions and benchmark your session against your average time to focus on your tasks.

In-depth reporting and Productivity Pulse score: Go beyond basic time tracking with in-depth productivity reports that inspire you to be more productive.

RescueTime Assistant: Get real-time focus guidance and end-of-day summaries to make the most out of your work day.

Calendar integration and custom work hours: RescueTime integrates with your calendar and tracks meeting times, enabling you to organize your schedule effectively and prevent burnout and stress.

Browser widget: Easily track and control your time with RescueTime using the intuitive browser widget without opening the app.
Functionality
RescueTime's focus features have worked great for me.
When I try to open an app that I've blocked, it'll redirect me to a page that tells me how much time left I have in my focus session to motivate me to continue working until my next break. This can help you squeeze out every second of your focus session.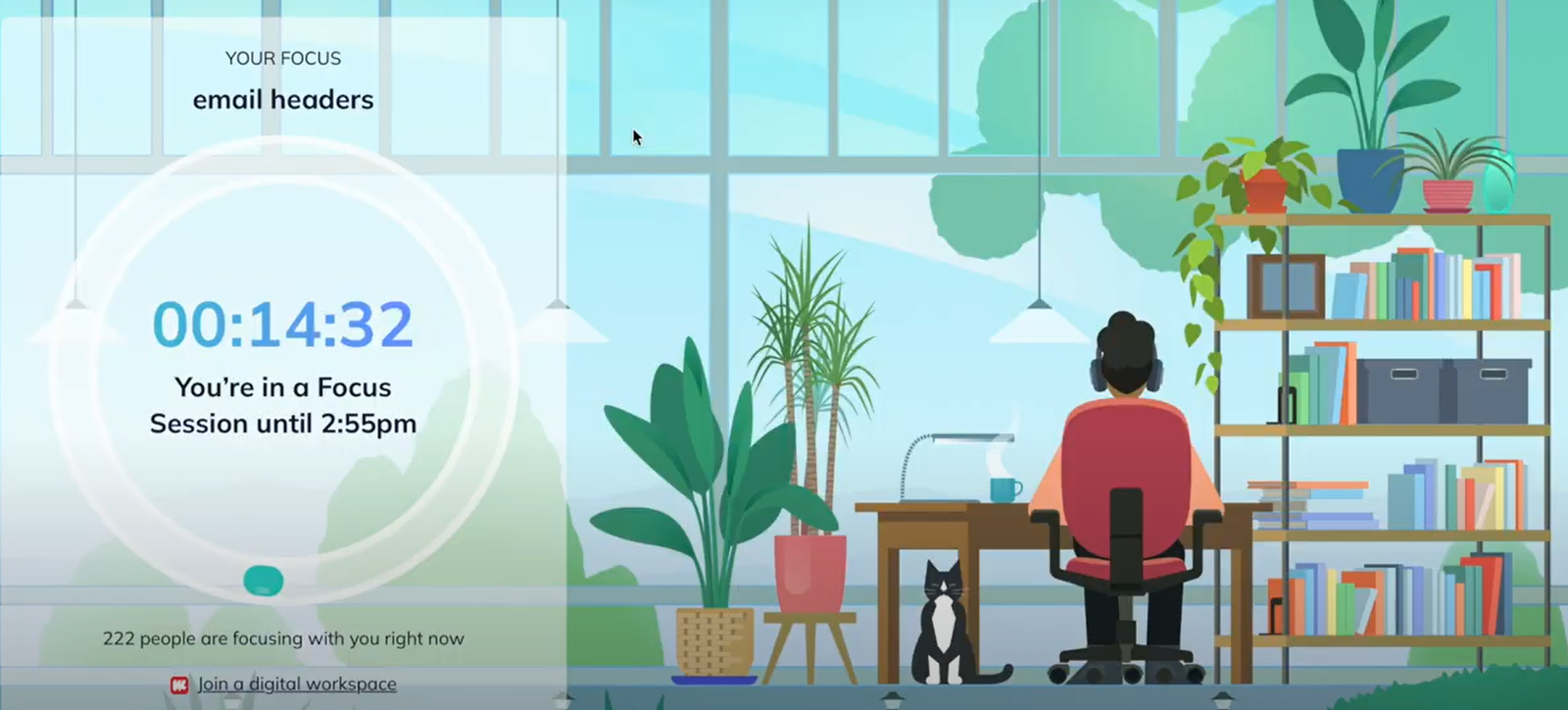 Pricing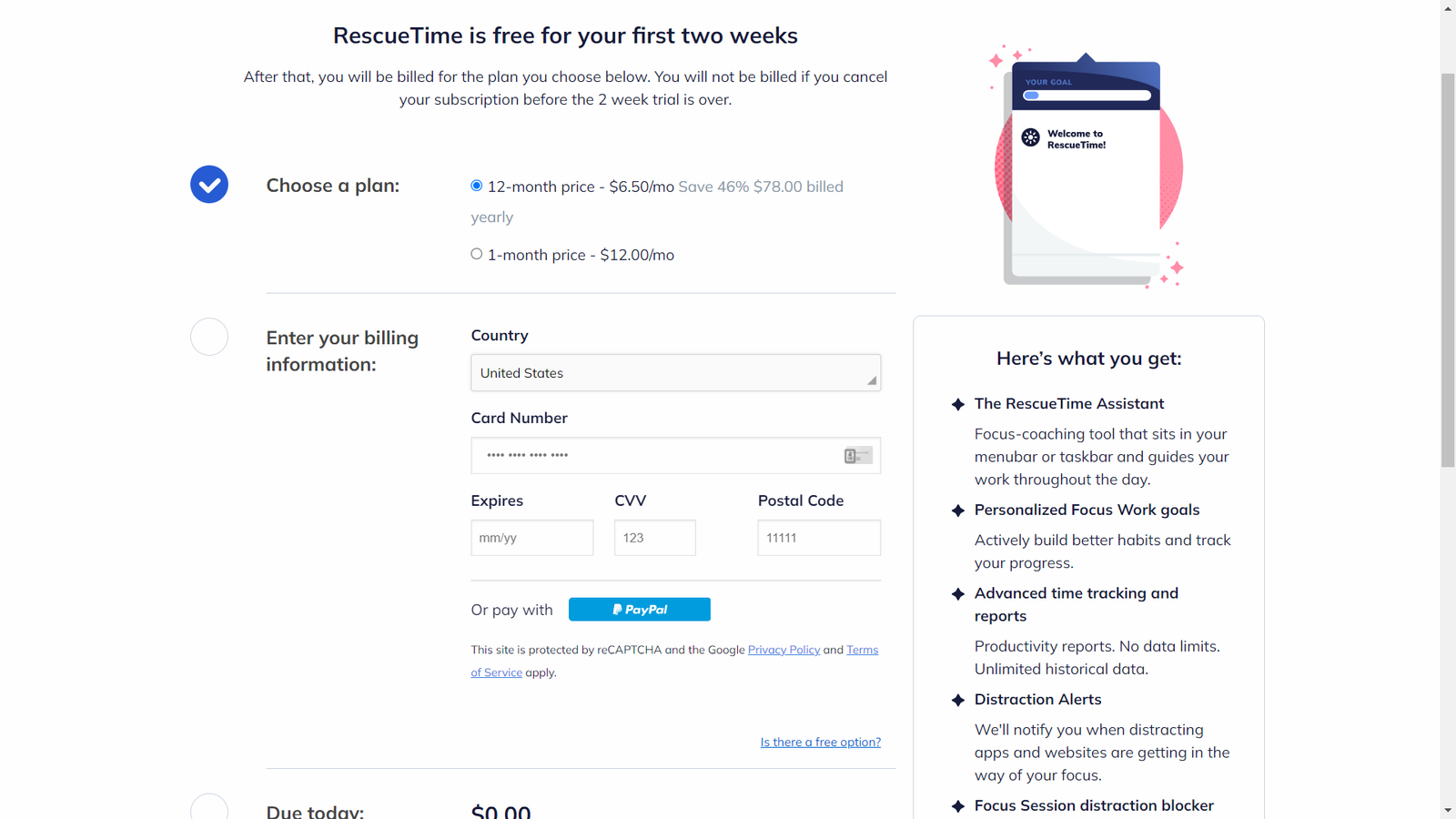 RescueTime offers two pricing plans. The 12-month plan costs $6.50 per month, while the 1-month plan costs $12.00 per month. However, the exact price you get may vary depending on the data they collect from you (company size, use case, etc).
Regardless of the plan you choose, you'll have access to the RescueTime Assistant, a focus-coaching tool that guides your work, personalized Focus Work goals to improve your habits, advanced time tracking and reports with unlimited historical data, and distraction alerts.
You also get a focus session distraction blocker, calendar integration with meeting tracking (compatible with Google Calendar and Microsoft Outlook), and custom work hours with burnout protection to track your recharge time.
Customer Thoughts
The automated sorting buckets have made it super easy for me to set up RescueTime and customize it to my liking.

RescueTime greatly helped us improve how we spent our time with a visual dashboard to detail our activity.

I particularly like the focus sessions that block distracting websites for some time.

We love that we can set RescueTime to only notify us of really important events.

The best thing about RescueTime is the very useful browser widget that lets me access information, set alerts/timers, reports, and other things without actually having to open the app.

Sometimes, the app would log me off on its own and all the recorded work is gone, which can be frustrating.

The lack of integrations like email and messaging clients in RescueTime is a deal breaker for us.
Bottom Line
In my opinion, RescueTime is one of the best time management software solutions for increasing focus. You can give it a test drive with the free 2-week trial.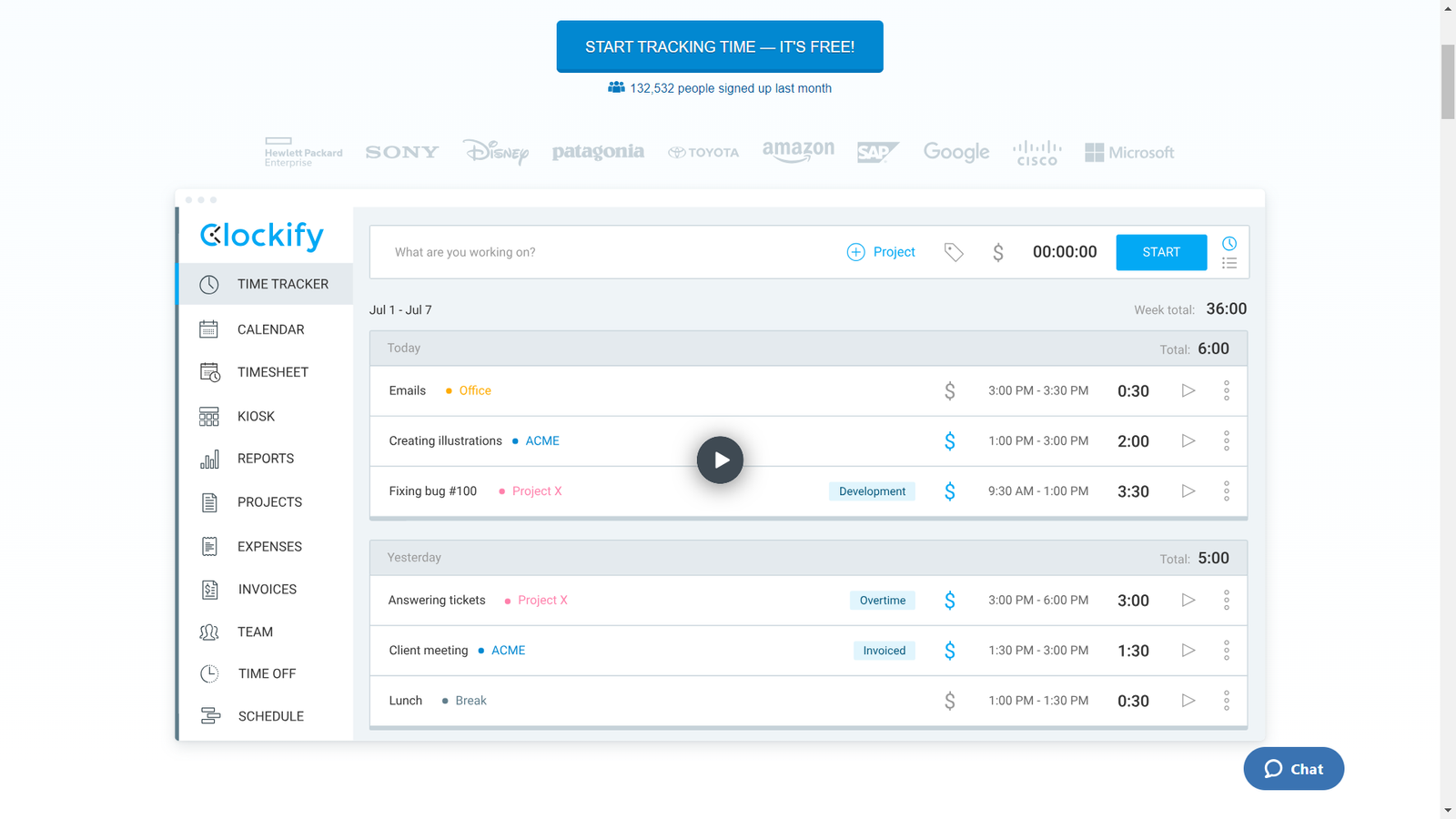 Overview
Clockify is a versatile time tracking tool that lets you monitor employee timesheets and invoices for billable hours. It offers both manual and automatic time tracking, as well as PTO (Paid Time Off) and attendance tracking.
Highlights
Time Tracking: Start and stop timers or manually log hours for accurate work tracking.

Calendar Integration: Visualize your schedule, block out activities, and sync events from Outlook/Google Calendar with easy calendar integration.

Accurate Time Tracking Reports: Gain valuable insights into your time usage, team productivity, and financial performance with in-depth charts.

GPS Tracking: Easily monitor your field-based or remote team's GPS locations and routes.

Integrated Project Management: Efficiently manage projects and carry out budgeting and forecasts with extensive project management tools.
Functionality
One of my favorite features in Clockify is the time clock kiosk. It basically enables invited team members to log time effectively for their assigned tasks.
To create a kiosk, click on Kiosks, set the tasks and assignees, and specify the pin code that team members can use to log into the kiosk.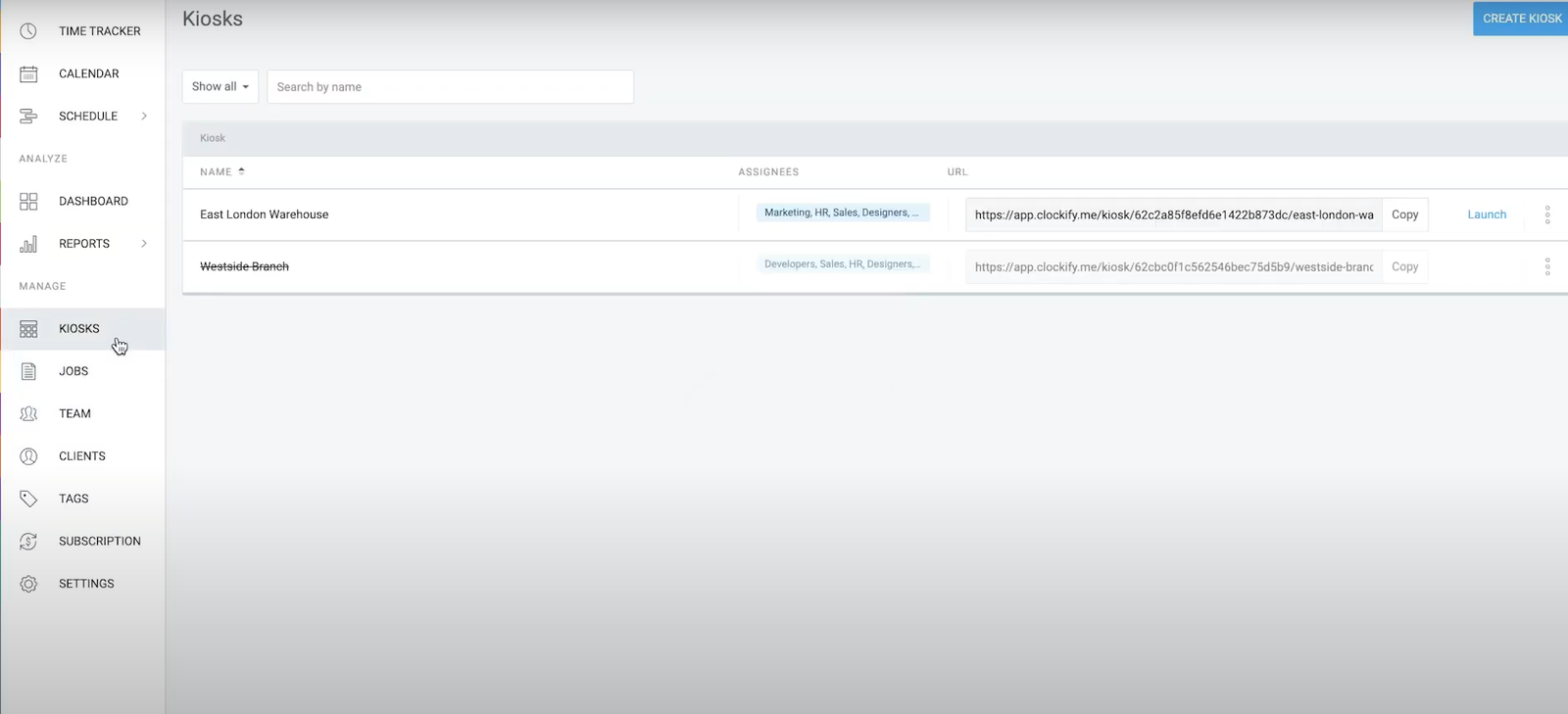 Pricing
Clockify offers 4 pricing plans: Basic ($4.99/month), Standard ($6.99/month), Pro ($9.99/month), and Enterprise ($14.99/month). The Basic plan includes features like adding time for others, hiding time and pages, required fields, and more.
The Standard plan offers additional features such as time off, invoicing, approval, and QuickBooks integration. As for the Pro plan, you get advanced scheduling, forecasting, expenses, and GPS tracking.
Lastly, the Enterprise plan provides advanced features such as single sign-on (SSO), custom subdomain, control accounts, and an audit log.
Customer Thoughts
Clockify lets me effortlessly export my time sheets on a weekly and monthly basis, which helps me keep track of my productivity.

The robust API and customizable reports that Clockify offers provide me with useful insights that can be pretty valuable for my team.

Clockify's UI feels a bit outdated to me.

The graphs that Clockify provides for analysis are very detailed and really helped us improve our efficiency.

The best thing about Clockify is that I can add unlimited users at no extra charge.

The integrations that Clockify offers are a bit limited and basic.
Bottom Line
If you're looking for a free time tracking and task management tool, Clockify seems like a pretty solid choice, and you can always upgrade to a paid plan if you're looking for more advanced features and reporting.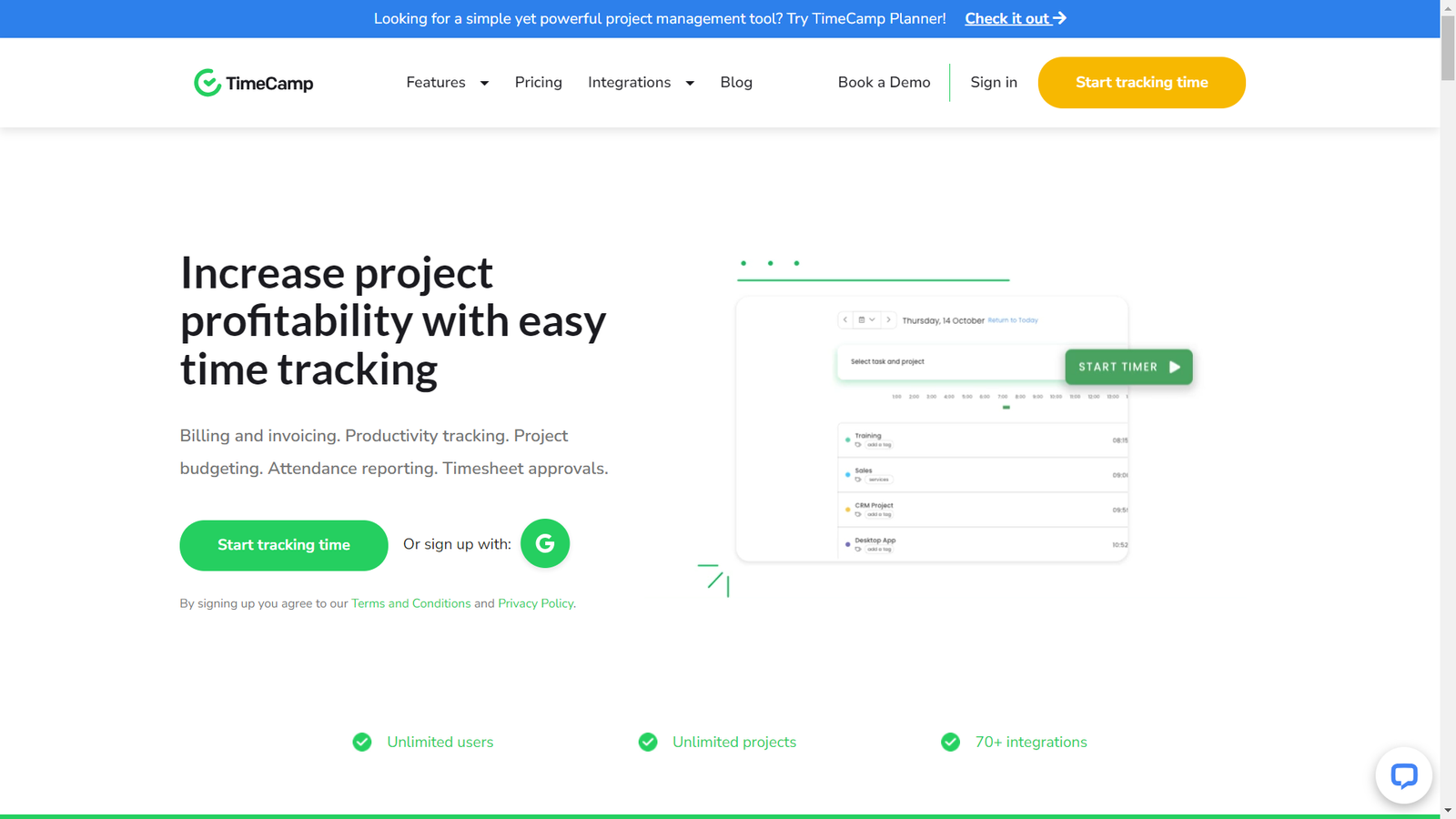 Overview
TimeCamp is a time-tracking solution for teams that enables you to enhance project profitability, track employee performance, and improve collaboration. Its toolset includes accurate timesheets, detailed reports, real-time tracking, and a centralized project management dashboard.
Highlights
Team Performance Tracking: Monitor your team's performance and track the time spent on projects and tasks for better productivity.

Project Profitability Measurement: Easily track project budgets and billing to boost profitability and cut costs.

Automatic Time Tracking: Let TimeCamp automatically track your time by capturing app domain names and creating categories for accurate record keeping.

Timesheet Approvals: Save time and effort by reviewing and approving timesheets with one-click timesheet approvals.

Invoicing: Convert tracked data into invoices to simplify client relationships and ensure that nothing slips.
Functionality
As an entrepreneur, invoicing can be a real pain, but Timecamp makes the whole thing more convenient. Since you're already tracking hours for each project separately, you can simply invoice for each project by entering the per-hour rate for the project.
To create an invoice, go to Invoices and click on "New invoice".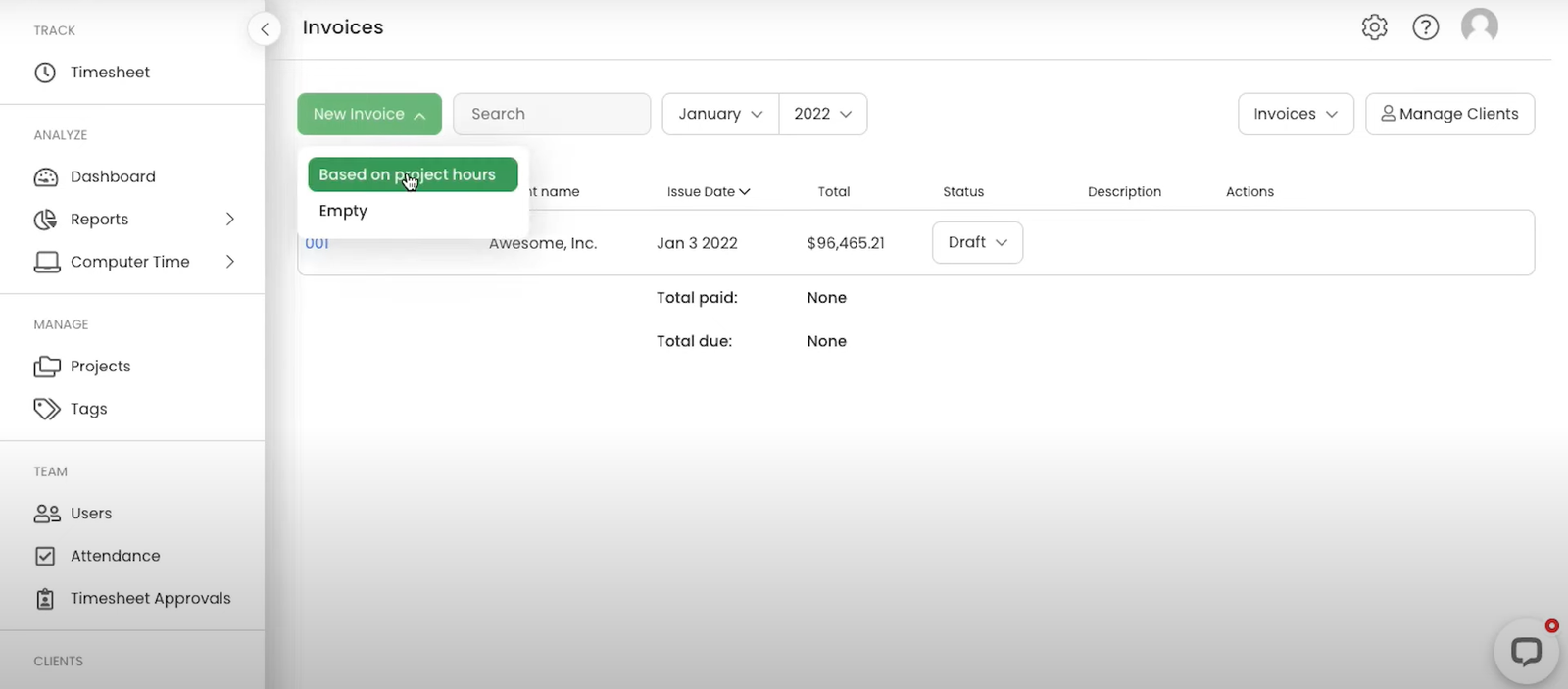 Pricing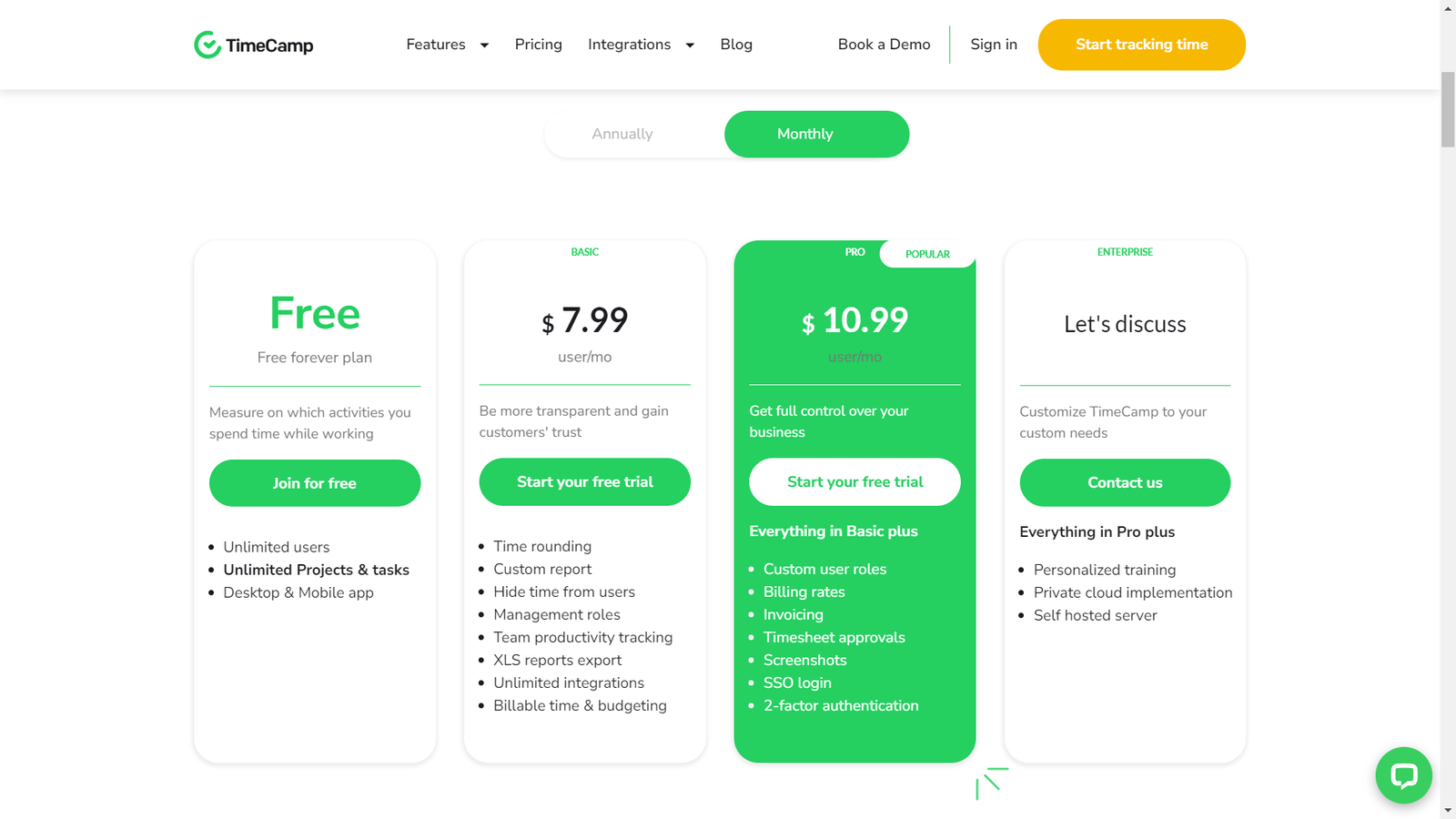 Timecamp offers 3 pricing plans: Free, Basic ( $7.99 per user per month), and Pro ($10.99 per user per month). The Free plan allows you to measure time spent on activities, with unlimited users, projects, and tasks. The Basic plan, on the other hand, offers additional features such as time rounding, custom reports, management roles, and team productivity tracking.
The highest-tier plan provides full control over the business with features like custom user roles, billing rates, invoicing, screenshots, SSO login, and 2-factor authentication. Timecamp also offers an Enterprise plan.
Customer Thoughts
I love how Timecamp effortlessly syncs across all my devices; makes it convenient to track my time and tasks no matter where I am.

Timecamp's reporting features have been a game-changer for me, allowing me to easily analyze my productivity patterns and optimize my workflow.

Timecamp's integration with various project management tools has made collaborating with my team a breeze.

Thanks to Timecamp's accurate time tracking, we've gained a clear understanding of how much time we spend on each task, helping us become more efficient and make better use of our time.

Timecamp's ability to generate detailed timesheets and invoices has saved us countless hours of manual work.

While Timecamp offers many integrations, I encountered some compatibility issues with certain tools, resulting in disruptions to my workflow and productivity.

I wish Timecamp had a more robust mobile app with additional features, as the current version feels limited and doesn't offer the same functionality as the desktop version.
Bottom Line
With both free and paid options, Timecamp is an excellent time management tool that also doubles as a project management and invoicing tool.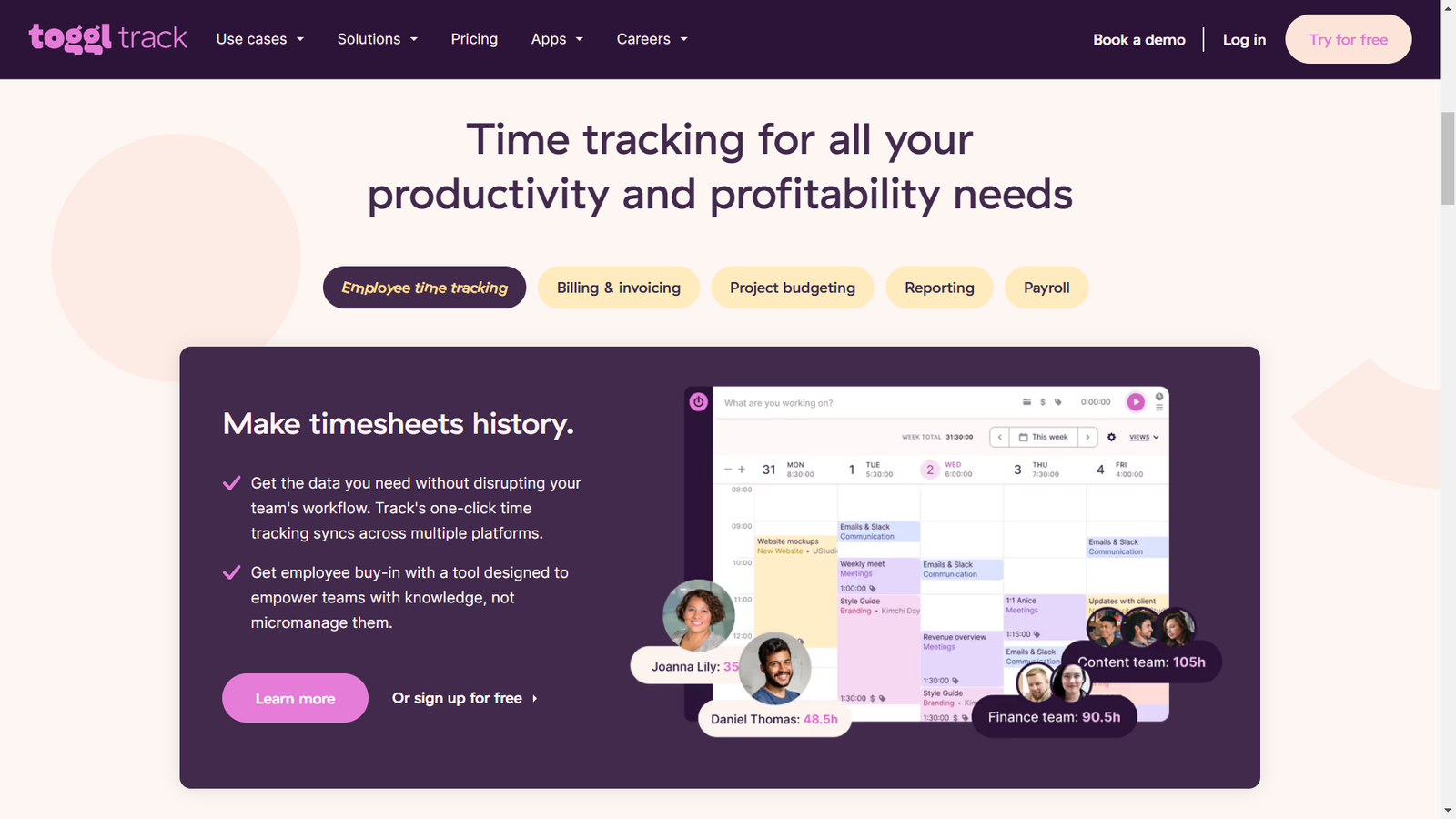 Overview
Toggl Track is a versatile time tracking application that offers plans for both small and large teams that want to make the best use of their time. It provides automatic tracking across different devices, as well as detailed insights and reports that drive decision-making and improve efficiency.
Highlights
Calendar view: Check time entries in a calendar format that syncs with Google and Outlook calendars.

Offline tracking: Track time in real-time or offline and sync later, with timer and manual modes.

Integrations: Seamlessly add Toggl to your workspace with over 100 integrations with popular software like Jira and Salesforce.

Reporting: Get actionable insights from your time management data with scheduled reports.

Project management: Track and manage your projects' progress with project dashboards, alerts, user groups, and reminders.
Functionality
For me, the best thing about Toggl is the Calendar view. It provides easy visibility into my projects and tracked time with simple, color-coded week-by-week tables.
To switch to the calendar view in the timer panel, click on the box in the top right corner and a drop-down list will appear. Select "Weekly calendar".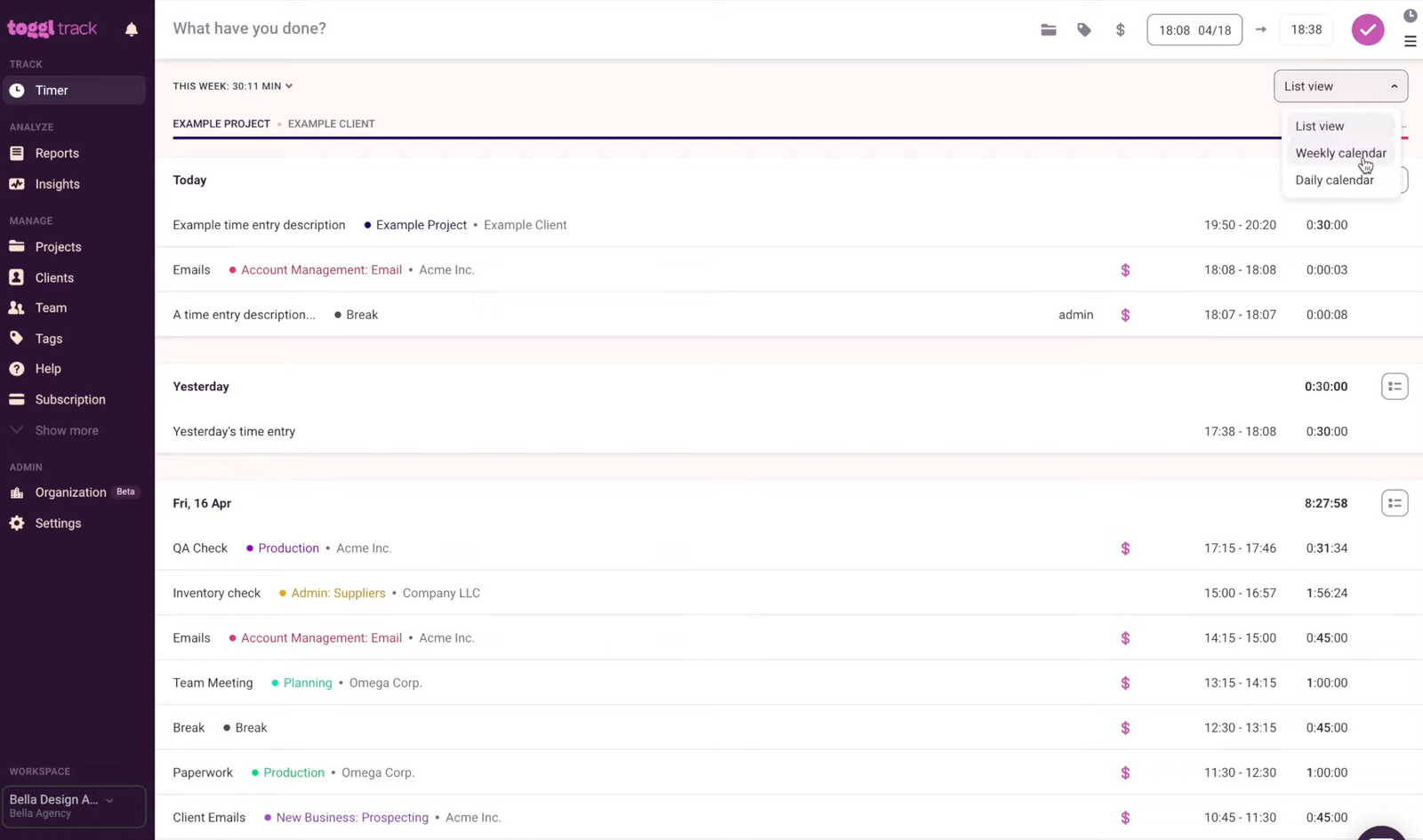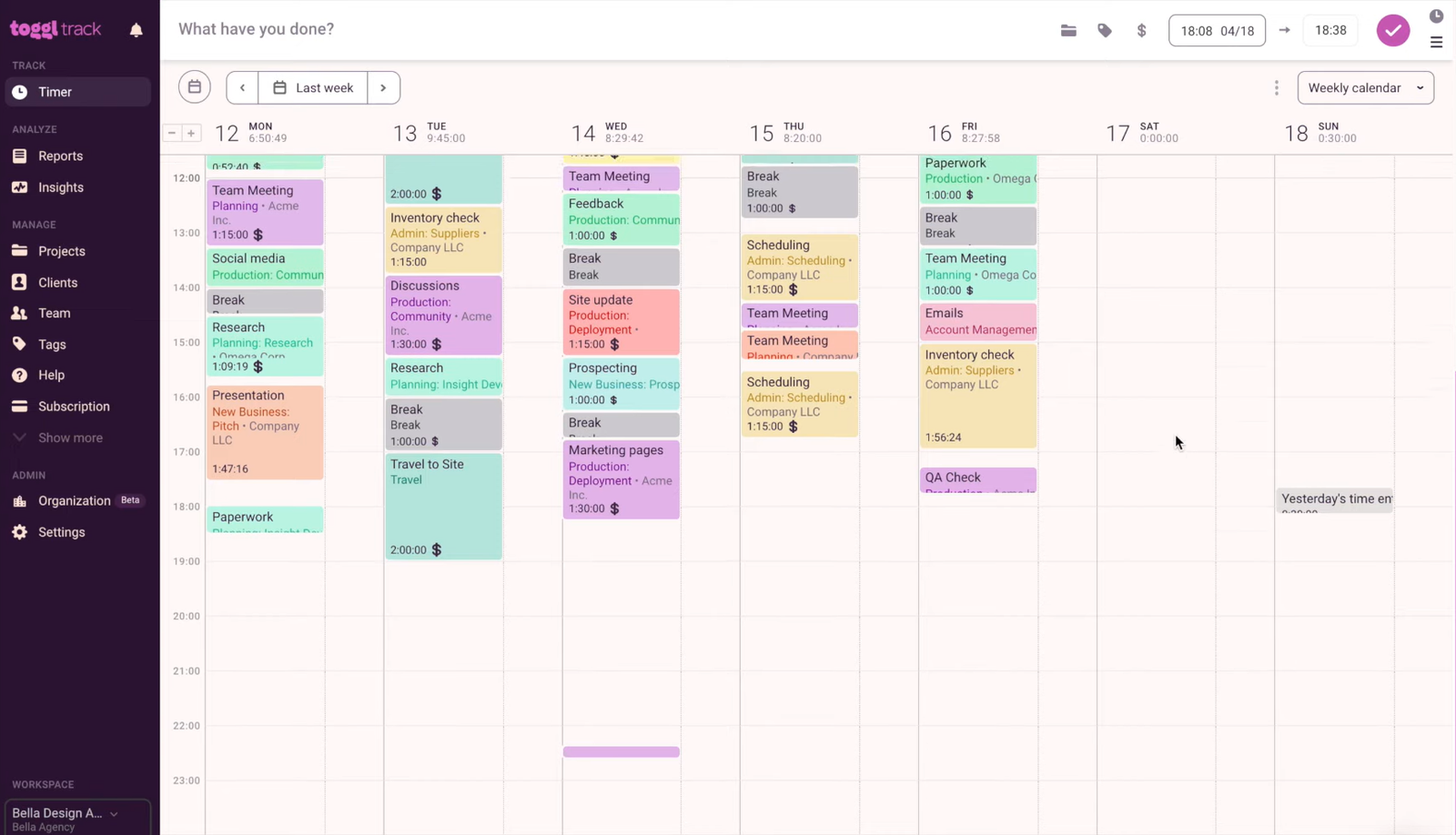 You may also view a month-by-month calendar if you prefer.
Pricing
Toggl offers four pricing plans: Free, Starter ($10 per user per month), Premium ($20 per user per month), and Enterprise (custom pricing).
The Free plan is suitable for freelancers, allowing seamless time tracking and reporting for up to 5 users, with unlimited time tracking, projects, clients, and tags.
The Starter plan is designed for small teams, offering additional features like billable rates, project time estimates, and calendar integration. For growing teams, the Premium plan provides powerful tools such as project forecasts, centralized control of labor costs, and integrations with Jira and Salesforce, priced at $20 per user per month.
The Enterprise plan offers customized solutions, unlimited users, priority support, and expert training.
Customer Thoughts
We use Toggle for both our volunteer work and our accounting business. Its time-tracking reports are very insightful and easy to read.

I often had a hard time tracking my time on client projects, but Toggl has made things simpler as I can now accurately bill my clients.

I wish the software had an audible alarm to alert me when closing a browser.

The fact that you can't pause sessions is very frustrating since you need to create new ones after every break.

The integrations that Toggl offers are quite useful for us.

The best thing about Toggl is that I can track time and sync it later when there's no internet connection. This is particularly useful for remote employees.
Bottom Line
From where I stand, Toggl is a solid choice for those who need a complete time-tracking and project management solution at an affordable cost. It has a free plan, so you might want to explore the tool yourself before jumping to a higher-tier plan.
Overview
Harvest is a comprehensive tool that combines expense management, time tracking, and budgeting capabilities in a single package. It can be used as a standalone tool for small teams, or integrated with accounting software such as Xero.
Highlights
Custom reminders: Set up automated reminders to improve your team's time-tracking accuracy and consistency.

Budget tracking: Harvest updates budgets as your team progresses through the project, maximizing your project profitability.

Visualize team capacity: Manage your team more effectively by identifying overworked and under-utilized employees to prevent burnout and improve efficiency.

Cost tracking: Track internal expenses and analyze past project data to tweak your project's scope.

Invoicing and payments: Easily transform your tracked time and expenses into billable invoices for seamless payment collection. Integrate Harvest with Xero or QuickBooks to manage your business' accounting more efficiently.
Functionality
If tracking time while you work isn't your cup of tea, Harvest lets you input your time for the whole day or week all at once.
To do this, simply go to your timesheet and enter the amount of time you worked on each task every day.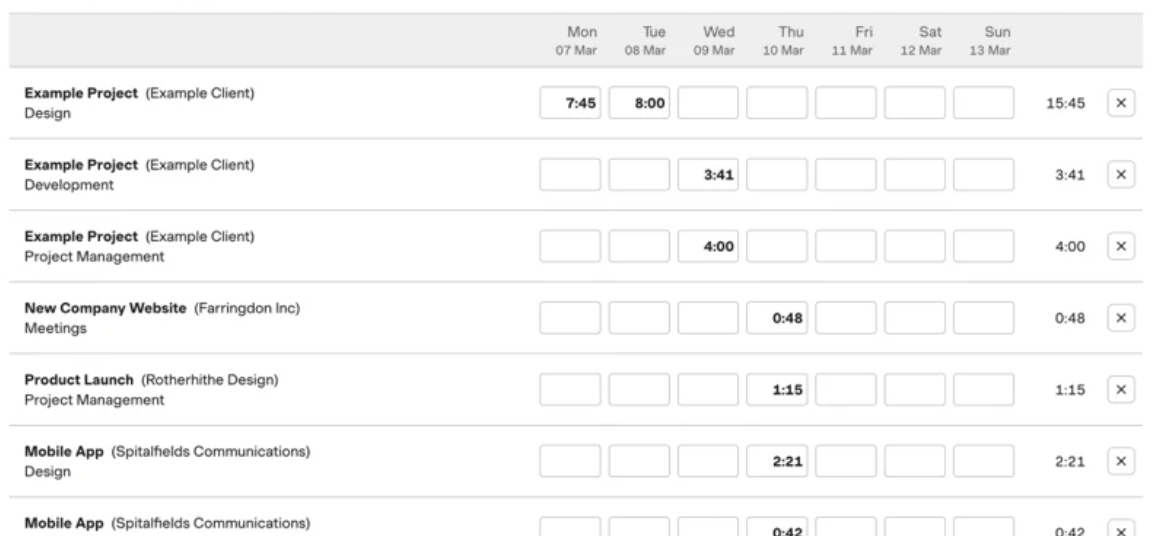 Pricing
Harvest offers two plans: Free and Pro ($12 per seat per month). The Free plan is suitable for individuals or small teams looking to manage their projects effectively without incurring any costs.
The Free plan provides one seat and up to two projects. With the Pro plan, on the flip side, you gain access to unlimited seats and projects.
Customer Thoughts
Harvest is great for tracking hours for projects and tasks. It makes invoicing a whole simpler and less time-consuming.

I love how precise Harvest's time tracking is with the rounding feature.

We appreciate that Harvest offers so much with a single subscription. We don't have to use additional billing and invoicing software as that is already included in Harvest.

The syncing feature in Harvest has been working great for us as it makes it easy to switch between devices.

Harvest lacks some essential features like configurable notifications and PTO tracking.

The search function can be hard to use, especially if you can't remember the exact name of a project.
Bottom Line
From my experience, Harvest is one of the best time and project management apps for small-sized teams that need to track time and measure project profitability. If your business is still in its early stages, the free plan would be more than enough for you.
What Are Time Management Tools?
Time management tools are software solutions that let you track time and maximize your productivity. They also enable you to understand which tasks took more time to finish and whether you can utilize your time more effectively.
Why Your Business Needs a Time Management Tool
A time management tool can be a great addition to your company's software arsenal. It can help your team members be more aware of their on-job time and figure out whether they're utilizing it in the best possible way or not.
On top of that, since many management tools also integrate project bill calculations and invoicing, they can also double as invoicing tools that facilitate your company's finances. This makes time management tools invaluable for your accounting team.
According to a survey by Timewatch that involves 300 working professionals, 90% of employees think that effective time management can significantly boost productivity and help prevent burnout. This gives you a good idea of how a time management tool can be beneficial for your company.
Final Verdict
That was my take on the best time management tools for teams and individuals.
Before choosing a particular time tracking solution, think about your company's needs. Is it only time tracking that you care about? Or are you looking for something more comprehensive with project management functionalities and invoicing?
Of course, your budget here will be the ultimate decision-maker. There are both free and paid options, so you might want to consider whether a paid tool is worth it for your requirements.