Best Zoom Alternatives for Meetings in 2023
Unless you live under a rock, you've probably used Zoom at work at some point.
In the post-pandemic workplace, Zoom has become an integral part of many businesses all over the world, particularly those who have implemented a remote or hybrid work environment.
However, despite packing an impressive feature list, Zoom may not be the best fit for all businesses. It could be missing a feature or capability that your team really needs. You might also be looking for an alternative that does the same job at a cheaper cost.
In this guide, I'll help you explore the best Zoom alternatives for your business.
What Are the Best Zoom Alternatives?
The best Zoom alternatives are BlueJeans, GoToMeeting, Google Meet, Cisco WebEx, and Microsoft Teams. Now, let's uncover what each of these video chat solutions has to offer.
BlueJeans – Best Overall Pick
Overview
BlueJeans provides a comprehensive video conferencing solution for corporate meetings, featuring extensive functionalities such as content sharing, meeting recording, text chat, and the ability to host multiple participants. With BlueJeans, users can join meetings from any device, whether it's iOS or Android-based.
Highlights
Interactive elements: Engage participants with interactive features such as whiteboards.

Meeting Recording: Record important video chats to ensure that everyone is in the loop.

Closed captioning and real-time transcription: Keep people in your team engaged with closed captioning and transcription capabilities.

Background filters: Blur the background or choose one of the included background images to eliminate distractions.

Waiting rooms: Enable participants to join the meeting's waiting room until their input is required.
Functionality
Recording a meeting in BlueJeans is super easy. If you want to record your meeting, simply tap on the start recording and highlights button at the top left corner. This will save everything, including the meeting's highlights.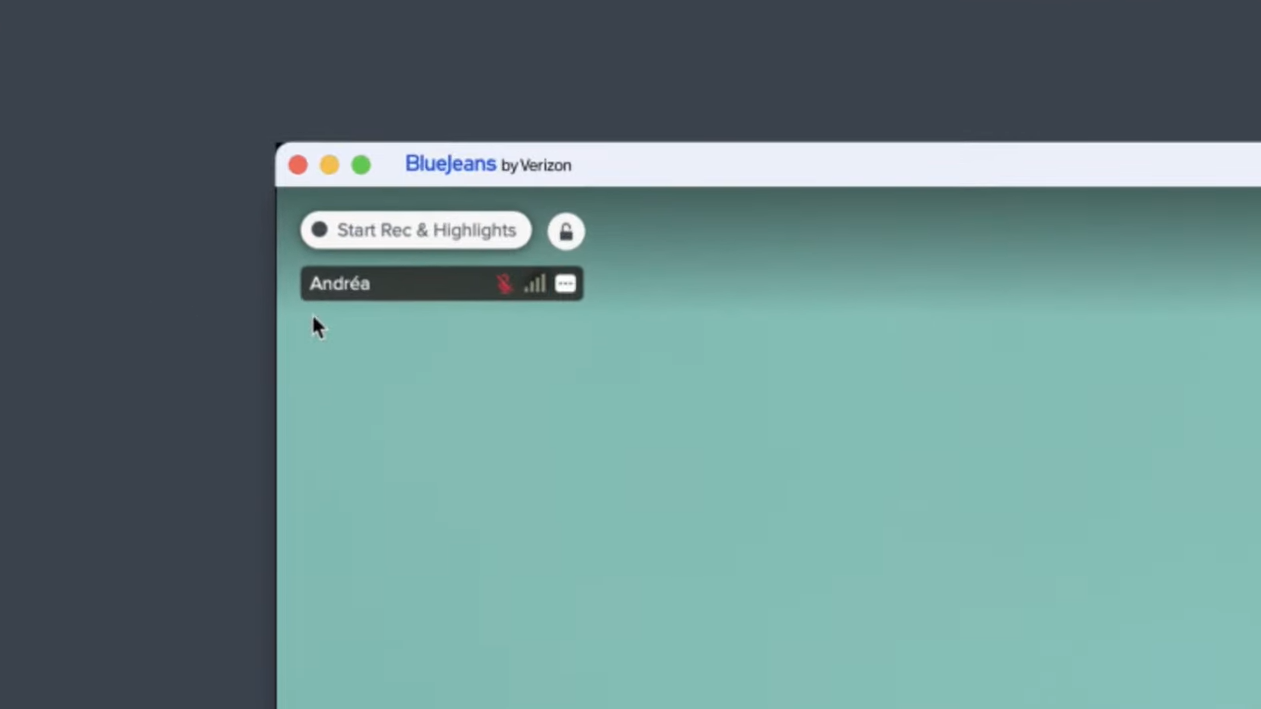 When the meeting is over, click on the stop recording button, and from there, you can choose what you want to do with the recording. You can, for example, share it with other people on your team.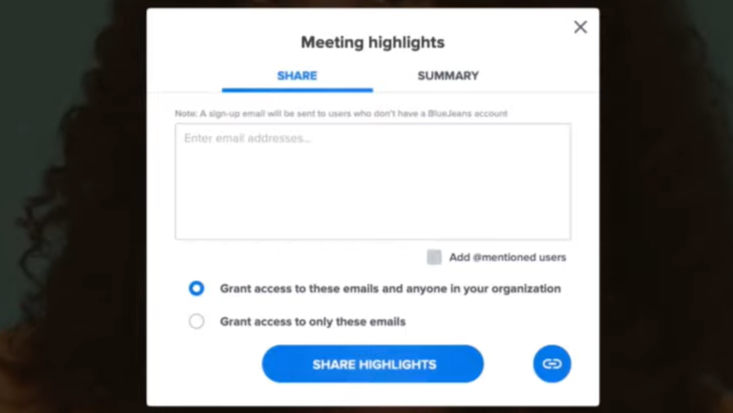 Pricing
BlueJeans offers 3 plans: Basic (free), Pro ($12.49/host per month), and Enterprise ($17.49/host per month).
The basic free plan is good for smaller teams as it enables unlimited meetings for up to 25 participants. The Pro plan increases the maximum number of participants to 150 participants (25 hours of recording max) and adds unlimited collaboration boards, while the Enterprise plan accommodates up to 300 participants with unlimited recording and live transcription and captioning.
Customer Thoughts
I love the meeting recording functionality as it enables us to save important meetings for future reference.

The audio clarity is fantastic; I can easily hear everyone in the meeting as if they were sitting in the same room.

Screen sharing sometimes causes performance issues.

I find it frustrating that I can't send simple files to other participants on BlueJeans.

The mobile app works great for me; I rarely even need to use my laptop for meetings since I can do everything I want with the app.

The screen-sharing feature is very useful since I don't have to use dedicated software to record my screen for tutorials and other purposes.
Bottom Line
From where I stand, BlueJeans is a solid video conferencing tool that serves as a functional and more affordable Zoom alternative. You can use it for free if you sign up for the free plan.
GoTo Meeting – Budget Friendly Choice
Overview
GoTo Meeting is a software platform for internet-based meetings, video conferencing, and desktop sharing. It offers a range of online meeting tools such as live screen sharing and integrated audio to allow users to connect remotely.
Highlights
Annotation tools: Add more clarity to your video tutorials in meetings with annotation tools.

Commuter mode: Join meetings on the go while reducing bandwidth usage with the commuter mode which uses up to 90% less bandwidth.

Cloud recording: Record meetings and automatically upload them to the cloud for future reference.

Smart meeting assistant: Let GoTo Meeting handle meeting note taking automatically while you focus on making the most out of in-person time.

Integrations: GoTo Meeting natively integrates with lots of business tools like Salesforce, Slack, and Microsoft Teams.
Functionality
GoTo Meeting lets me share my screen right from the browser without having to launch the app every time. It does require a Chrome extension, but that's only for the first time and it doesn't interrupt the meeting.
To share your screen on GoTo Meeting, simply click on the "Share your screen" icon at the bottom of the GoToMeeting interface.
Then, you can select what you want to share. For example, you can choose to share your Chrome tab only, or your entire desktop.
Pricing
GoTo Meeting offers 3 plans: Professional ($12/organizer per month), Business ($16/organizer per month), and Enterprise (quote-based). These plans primarily differ in the maximum number of meeting participants which range from 150 to 250 participants depending on which one you pick.
The higher-tier plans also include additional features such as unlimited cloud recording, transcription, drawing tools, and meeting locks.
Customer Thoughts
It'd be helpful if the auto-transcription feature supported more languages, not just English.

I particularly like the screen sharing feature. It comes in pretty handy when I need to show my teammates something or even create video tutorials.

We are in love with the transcription capabilities! It's very accurate.

The tool's built-in background noise suppression mechanism has been working great for us.

I wish I could blur the background in remote work-from-home meetings since I don't like image backgrounds.

The one-click join feature is my favorite feature of GoTo Meeting. It makes it easier for non-registered users to easily join the meeting from their web browser instantly.
Bottom Line
In my opinion, GoTo Meeting is an excellent video calling solution for businesses that need a more affordable Zoom alternative. You can request a free demo to explore its capabilities in action.
Google Meet – Best for Google Workspace Users
Overview
Google Meet allows teams to communicate through messaging, voice, and video conferencing. Some of its stand-out features include high-definition video and audio conferencing that can accommodate up to 100 participants, real-time captioning, multi-device chat syncing, meeting recording, and chat history.
Google Meet is part of the Google Workspace that includes other productivity and communication tools.
Highlights
Gmail integration: Google Meet seamlessly integrates with Gmail to unify communications and make scheduling meetings easier.

Google Docs and Sheets integration: Google Meet is built right into Google Docs and Sheets which facilitates collaboration on projects.

Hide your video: Avoid staring at yourself in the meeting by hiding your video.

Closed captioning and translation: Automatically transcribe and translate participants' speech in real time.

Q&A sessions: Engage meeting participants with structured and organized Q&A sessions.
Functionality
One of the most useful features of Google Meet for me is its integration with other Google Apps like Sheets, Docs, and Slides. It really makes collaboration on documents and presentations more convenient.
For example, if you're working on a Google Slides presentation, you can immediately start a meeting with your peers by clicking on the Google-colored video icon and selecting " Start a new collaboration call".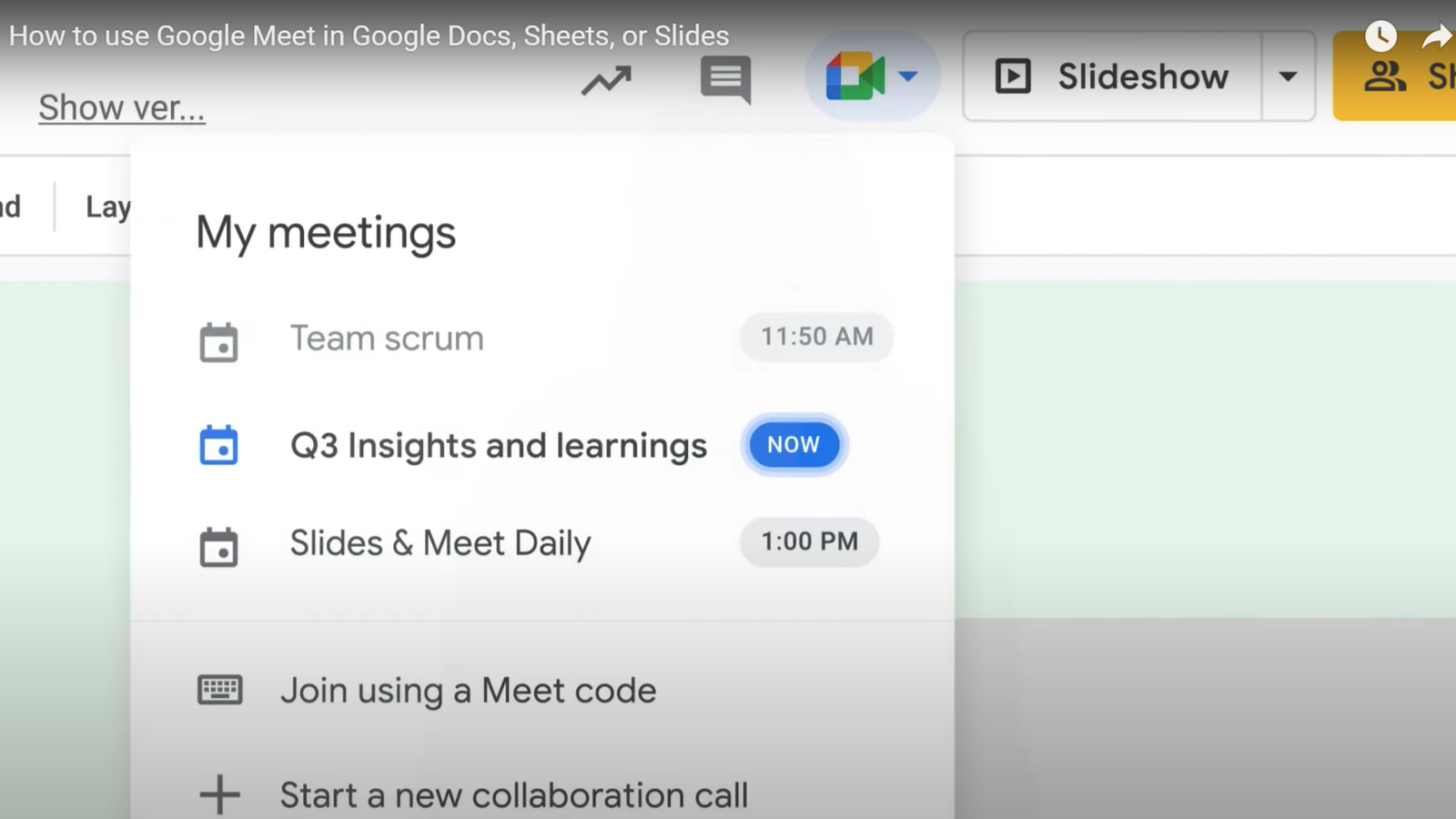 Once the participants accept your meeting invitation, they'll be able to see what you're working on and provide their input. You can also send them a link to the file so you can collaborate in real-time.
Pricing
Google offers 4 paid plans for its Google Meet video meeting software: Business Starter ($6/month), Business Standard ($12/month), Business Plus ($18/month), and Enterprise (quote-based).
The higher your tier is, the more participants you can accommodate in your meetings. You also get increased cloud storage per user and additional functionality, like eDiscovery, video recording, attendance tracking, and more.
Customer Thoughts
We love the screen sharing feature, but setting it up is unnecessarily complicated and time-consuming.
I find it frustrating that I can't add co-hosts to meetings, which makes it harder to organize the meetings and gather participants.

Google Meet automatically switches the view to the talking participant, which makes meetings less confusing.

The transcription capabilities are pretty impressive. They're particularly useful for our non-native English-speaking employees and partners.

The best thing about Google Meet is that I can carry out the meeting in the browser without having to download or install anything.

I like that I can easily invite participants with a shareable meeting link.
Bottom Line
In my opinion, Google Meet is the best Zoom alternative for businesses that rely on other Google productivity and communication products and need to cut costs. The free plan is quite generous, but the paid plans are also worth giving a shot with the included 14-day free trial.
Cisco WebEx – Best for Enterprises
Overview
Webex Meetings is a video conferencing and online meeting platform developed by Cisco. It allows people to conduct virtual meetings, webinars, and online training sessions with colleagues and stakeholders.
Participants can join the meetings from the web browser and the mobile app.
Highlights
Q&A and polling: Keep the conversation going and let everyone share their point of view with live Q&A and polling capabilities.

Overlapping meetings: Join multiple meetings at the same time with WebEx.

Interactive whiteboard: Turn your WebEx meeting into a classroom with the interactive whiteboard feature.

Built-in chat feature: Send messages to anyone in your WebEx contact list before, during, and after the meeting.

Meeting recording: Record meetings locally or on the cloud.
Functionality
Cisco WebEx has a "Spaces" feature that lets me group participants in one place to collaborate on projects with chat and video calls. It's particularly useful for businesses that work on multiple projects at the same time.
To create a new Space, tap on the "Create a Space" button and assign it a name.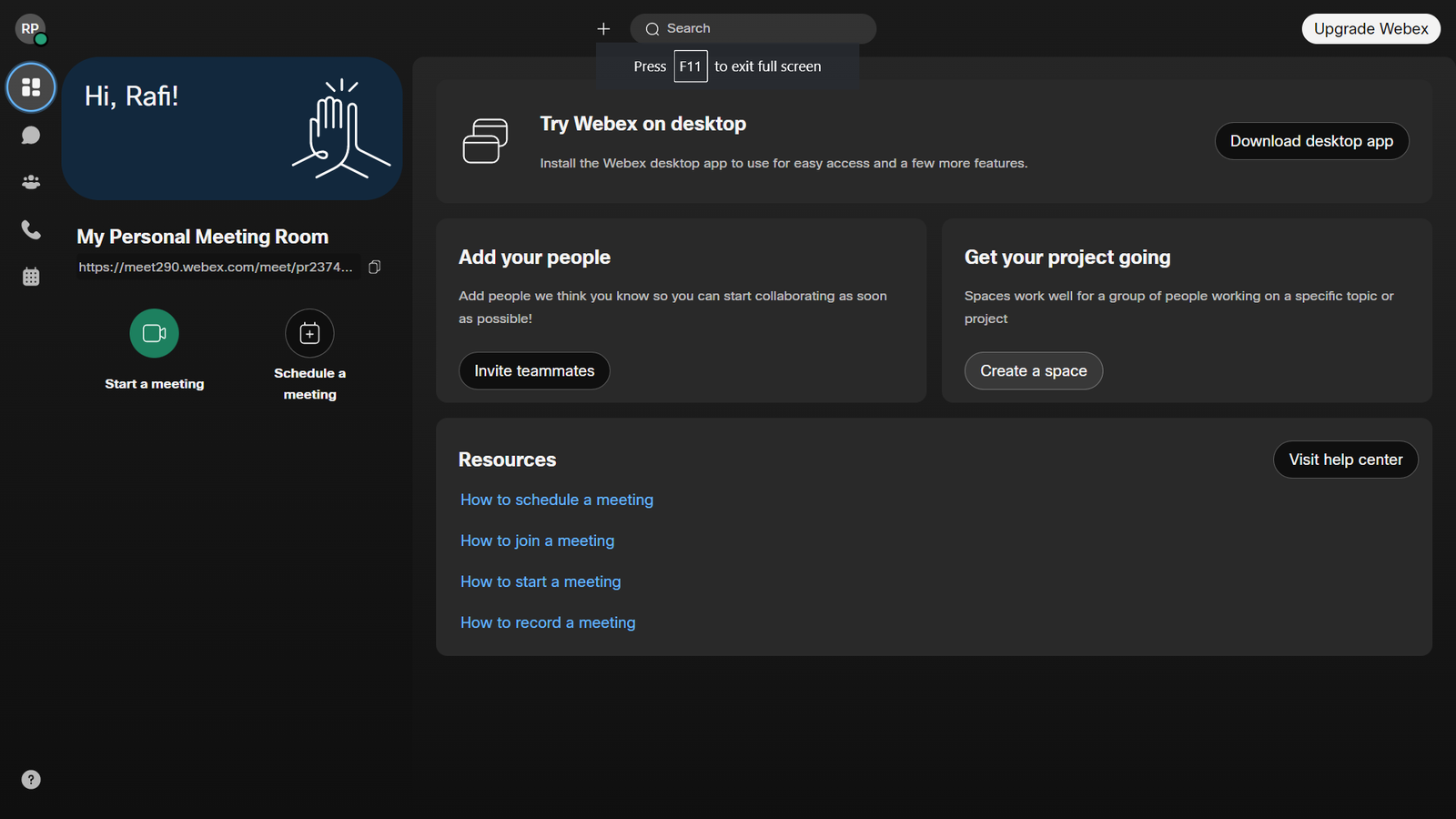 You can also invite users to join the Space, either by adding their names (if they're already in your WebEx contacts) or by email address.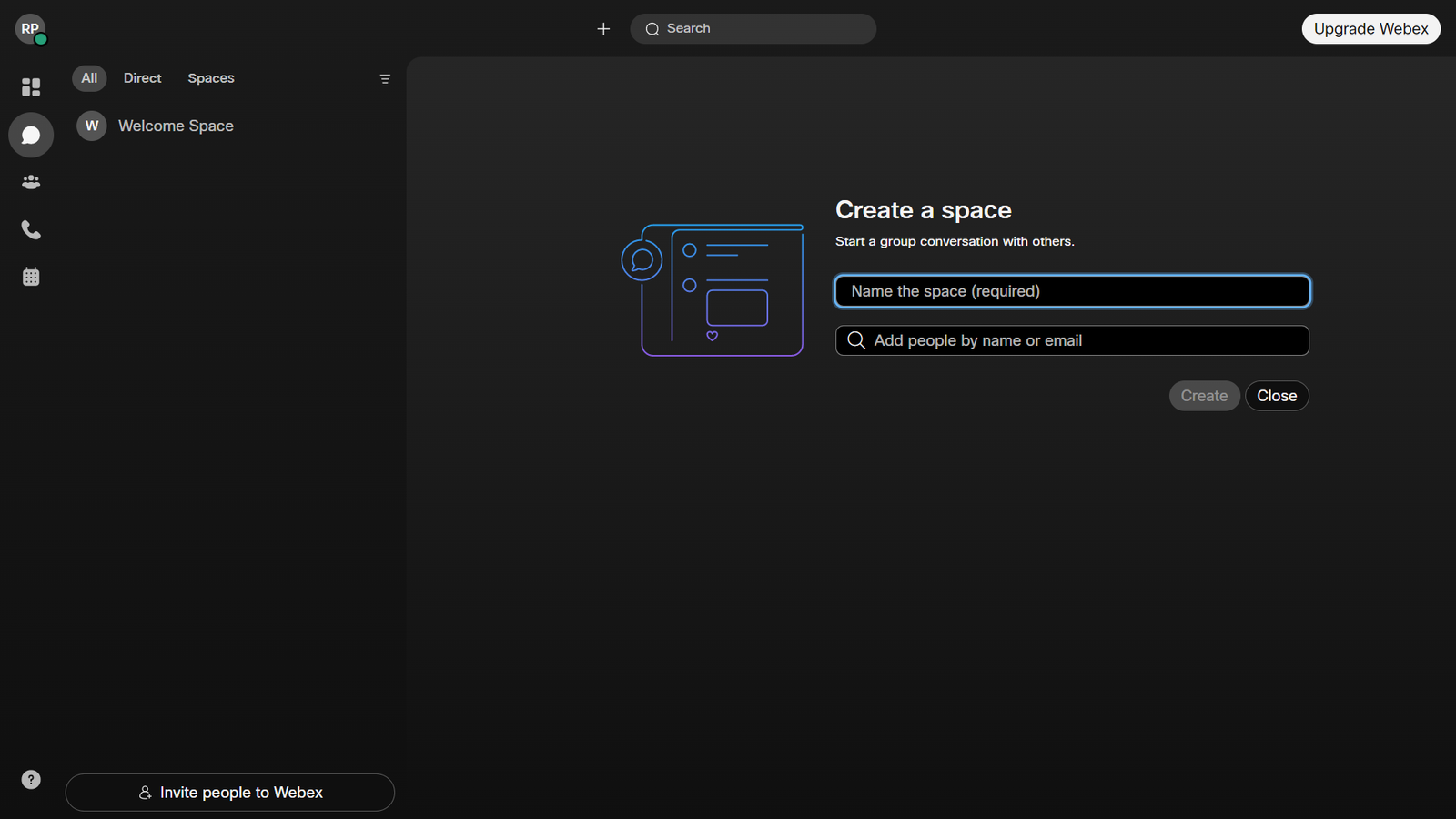 Pricing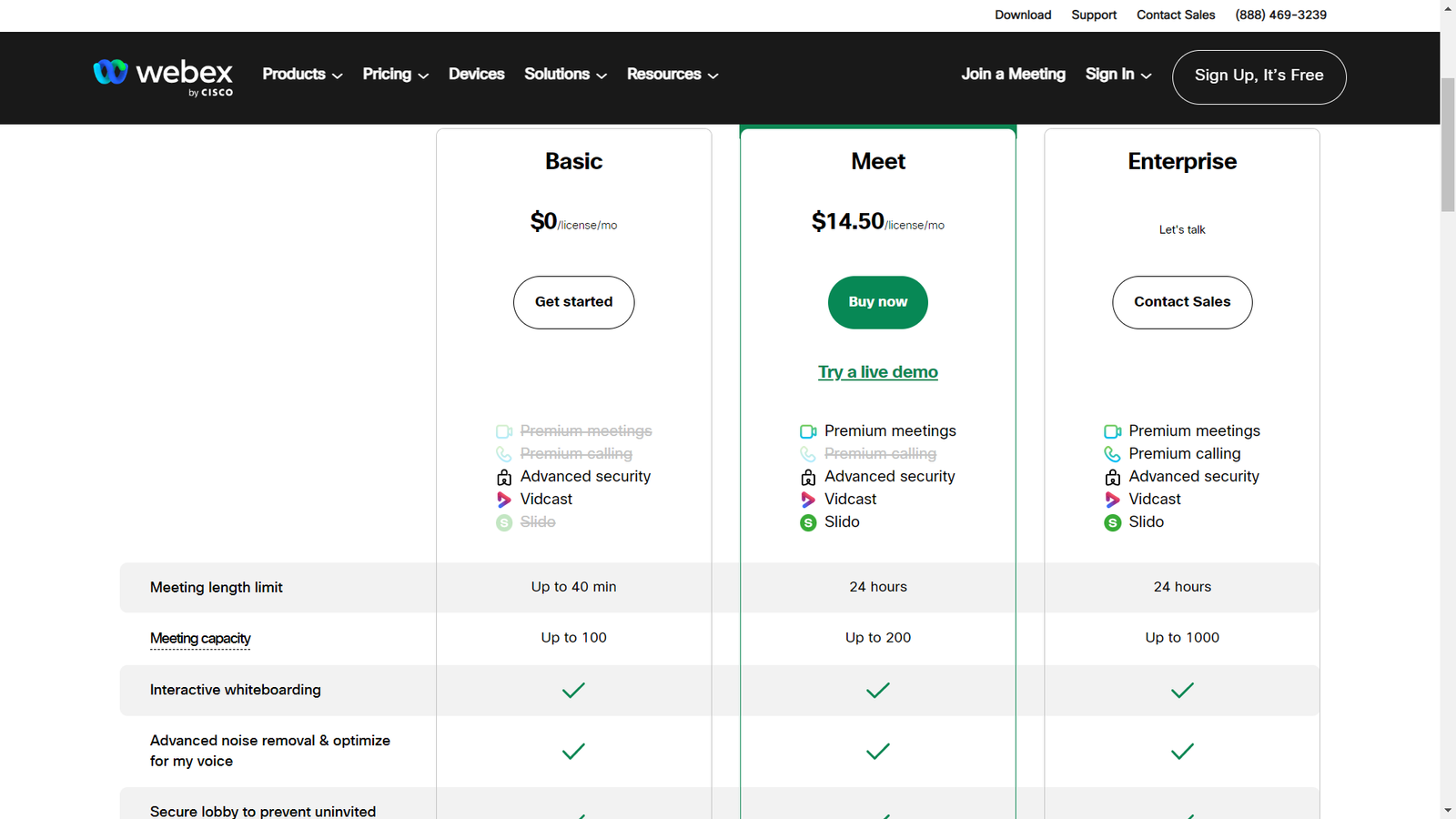 Cisco WebEx is available in 3 plans: Basic (free), Meet ($14.50/license per month), and Enterprise (quote-based).
The basic free version supports up to 40 mins of meeting time and up to 100 participants, while the Meet plan offers 24 hours of meeting time and up to 200 participants. You also get 10GB of cloud storage, Q&As and polls. overlapping meetings, and co-hosting.
The Enterprise plan supports up to 1000 participants and comes with unlimited cloud storage.
Customer Thoughts
WebEx works great for us, but it lacks annotation and drawing tools.

One feature that I found useful in WebEx is the ability to assign co-hosts in video meetings.

I like the screen sharing feature as it helps me explain what I'm trying to say more clearly.

It'd have been better if there were more native integrations available, particularly for CRM and project management software.

The best thing about WebEx is that it's not restricted to the desktop app and anyone can join the meeting from the browser quickly.

The chat functionality is a nice addition as it lets me communicate with my coworkers even before the meeting starts.
Bottom Line
In my opinion, Cisco WebEx is one of the most promising video conferencing services for enterprises, with a volume-discounted enterprise plan that supports up to 1000 participants in the same meeting and unlimited cloud storage. You can try WebEx for free with the Basic free plan.
Overview
Microsoft Teams enables professionals to engage in conference calls and file sharing through SharePoint, as well as participate in or create group chats. It combines video conferencing with team collaboration.
Highlights
Together mode: Avoid confusion and easily spot who's talking with Together Mode which virtually puts all participants in one place.

Speaker Coach: Get real-time tips during the meeting from Speaker Coach that notifies you if you repeatedly interrupt participants or are talking too fast.

Integration with MS tools: Microsoft Teams natively integrates with other M365 tools like MS Word, PowerPoint, Outlook, and SharePoint.

Meeting schedule: Schedule multiple meetings in series easily and let participants know with Calendar and Outlook integration.

Participant list: Get a unified view of your participant list and download it for future reference.
Functionality
The "Together Mode" is my favorite feature in MS Teams. It uses AI to group participants in a shared background.
To enable this mode, tap on your profile icon, and from Settings, tick the checkbox next to "Turn on new meeting experience…".
Now, you'll be able to see all of your teammates together.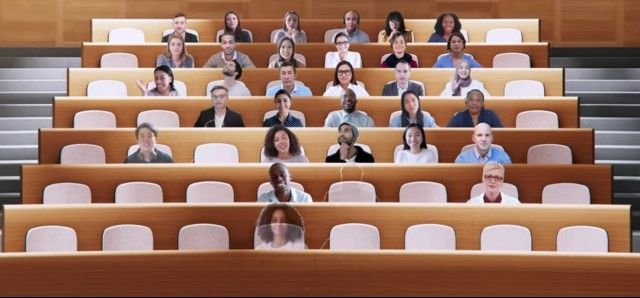 Pricing
Microsoft Teams has 3 tiers: Microsoft Teams Essentials, Microsoft 365 Business Basic, and Microsoft 365 Business Standard. The first option comes with all the standard features of Teams but lacks features such as live captions, annotations, and recordings.
The second and third tiers of Microsoft Teams offer more advanced tools like attendee registration and reporting, collaborative tools, and access to 100+ other MS apps, like OneNote and Sharefile.
Customer Thoughts
The search function doesn't always work as expected, making it harder for me to find what I'm looking for, especially in chats.

The integration with other Microsoft 365 products has definitely made our lives easier.

I find it a bit restrictive that all participants must have the Teams app on their phones to be able to join the call from their mobile devices.

The Together Mode is so simple yet very useful; it's just much more intuitive to see all participants at the same time.

I like the whiteboard tool; it works great when I need to explain a few things to my employees.

I find it very easy to share documents and files with other participants in Teams.
Bottom Line
From my experience, Microsoft Teams is a great online meetings platform for businesses that are already invested in other Microsoft 365 products. It's included in the comprehensive M365 subscription, but you can also try it for one month with the free trial.
What Is an Online Meeting Tool?
An online meeting and video conferencing platform is a software tool that enables people to meet online using their webcams, microphones, and an active internet connection. Video conferencing platforms can be used by anyone, but they're particularly important for businesses that rely on remote communications.
Why Your Business Needs an Online Meeting Tool
Ever since the COVID-19 pandemic, many businesses have adopted a hybrid or remote working environment.
With so many employees working from home and coworking spaces, implementing an online video conferencing solution has become a necessity for most businesses.
With Video conferencing software, you can host meetings, collaborate on projects, interview candidates for open positions, and create tutorials and training materials for your organization. All departments and individuals in your organization will definitely benefit from an online meeting tool regardless of their role.
According to Gitnux, 96% of remote workers believe that video conferencing software has improved team collaboration and communication.
Final Thoughts
That was my two cents on the best Zoom alternatives.
For virtual meetings, video conference software solutions serve the same purpose. So I'd recommend trying a few of the options I've covered and deciding which of them you're most comfortable with.
Of course, you should also consider the capabilities each tool offers and its affordability and integration with other apps compared to Zoom before jumping ships.