Best no-code app builders to make passive income
Have a great app idea but no developer skills? Thankfully there's been a boom of no-code and low-code app builders in the recent few years.
Rather than pay thousands of dollars for code agencies to build your prototype, you can do a small budget-friendly version and scale up once you have paying users.
For those seeking a no-code app builder, Bubble.io stands out. It's recognized for its ability to let anyone create web applications with ease.
The Top 3

Highlights

of Bubble.io
Bubble is one of the more advanced app builders that allows you to build complex apps without resorting to writing code.

It has a sizable user group so the support forms have enough knowledge to help you when you get stuck building your custom apps.

Free to get started and to build most of what you need without paying. There are certain add-ons I had to upgrade to get fancier charts and such but for a functioning mockup, bubble is affordable.
Pricing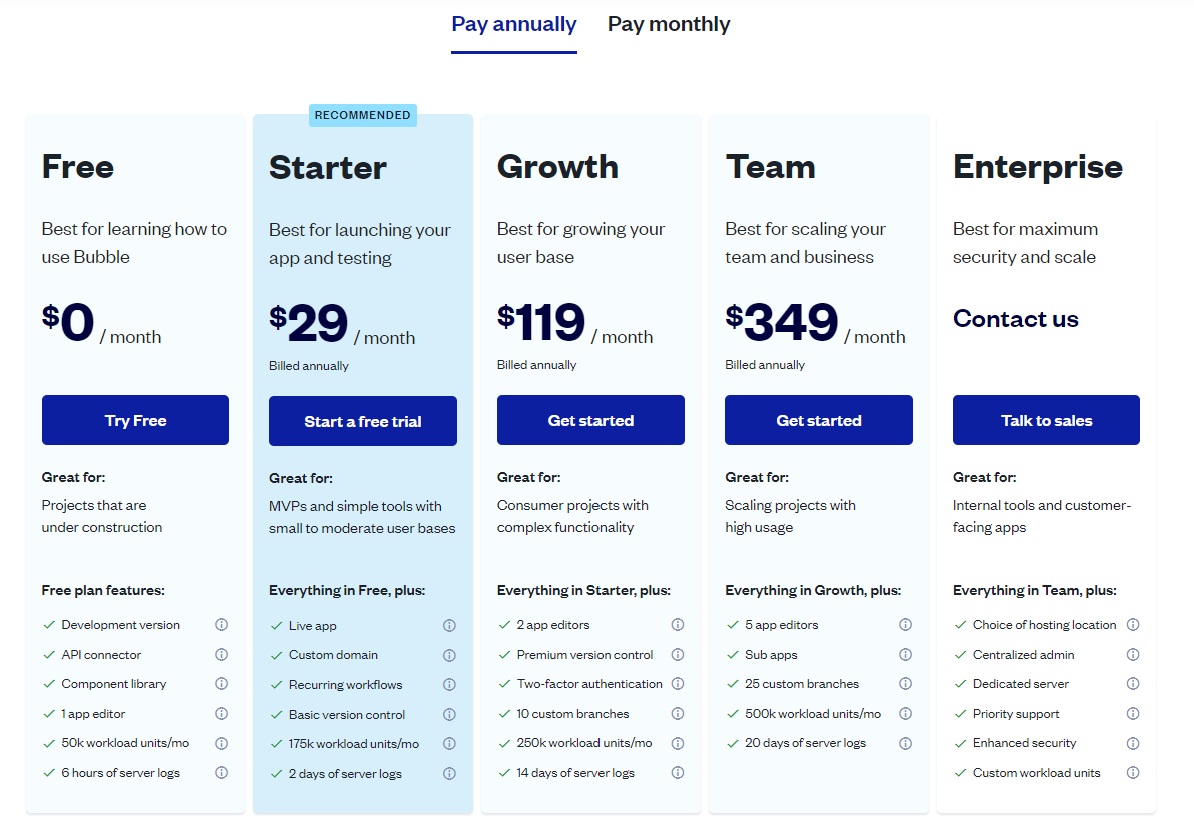 For those seeking to utilize Bubble.io, there are multiple pricing plans obtainable that can be tailored to your needs. For budding entrepreneurs testing out ideas or hobbyists looking to dabble in app creation, they offer a free tier that includes all the core features needed to get started. Once you have the basics built, you'll most likely upgrade to the starter package since workflows are essential for any web app.
The starter tier is $29/month and besides workflows they allow you to get a personal domain, publish your app live, and 175,000 workload units which is Bubble.io's way of controlling usage.
Bottom Line
The learning curve on bubble.io is steep and that's coming from someone who is pretty adept at quickly mastering most software I come across. They have a great in-app tutorial series for the basics but you need to look for 3rd parties to get the intermediate knowledge.
If you're a building web app that is more complex, bubble.io is one of the few tools that can support that complexity. I built a software vendor comparison app that required some advanced logic and bubble.io was the only one that could do everything I needed.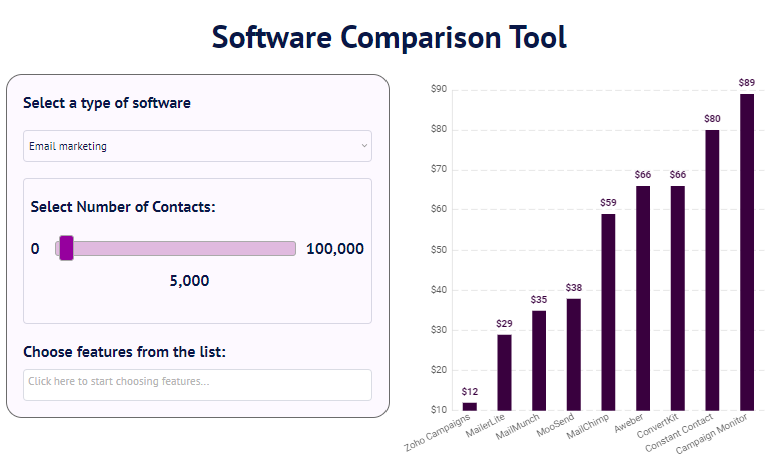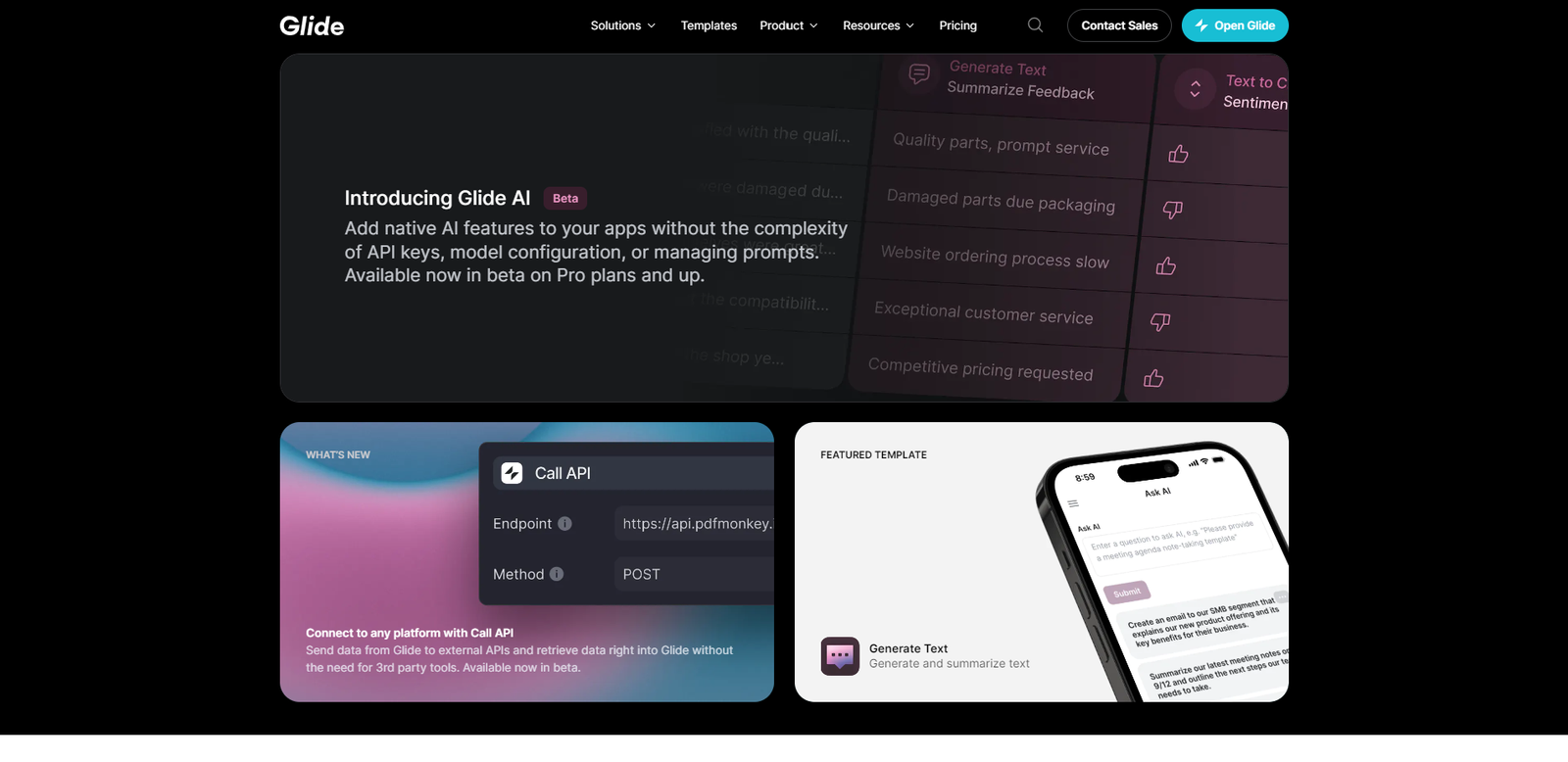 Renowned for transforming spreadsheets into beautiful apps, Glide Apps has been the talk of the no-code app-building town. It's like having an architect who turns your blueprint sketches into fully functional mansions.
Top 3 Highlights of Glide Apps
First, If you know how to use a spreadsheet, you can handle Glide with ease. I was really pleased with how intuitive the interface was.

Secondly, Glide offers real-time data syncing with Google Sheets which means your app updates as soon as you make changes in your sheets, no more pressing refresh all the time.

Last but not least, they give access to templates that make it faster to start an app that has some common functionalities like dashboards or event apps.
Pricing
You can use the free plan to quickly build simple apps but if you want to do user testing you're limited to just 10 people. You can bump that up to 100 users on their starting plan at $25/month according to Glide's official pricing page.
Bottom Line
I built a social event app similar to MeetUp over the weekend so the speed on which you can build simple apps is great. The obvious drawback is the limitations on customization in the free tier. If you're looking for something that is technically simple, I'd go with Glide since it has a nice balance between mockup and prototype. The drag-and-drop interface was simple enough that I could learn most of it in a weekend.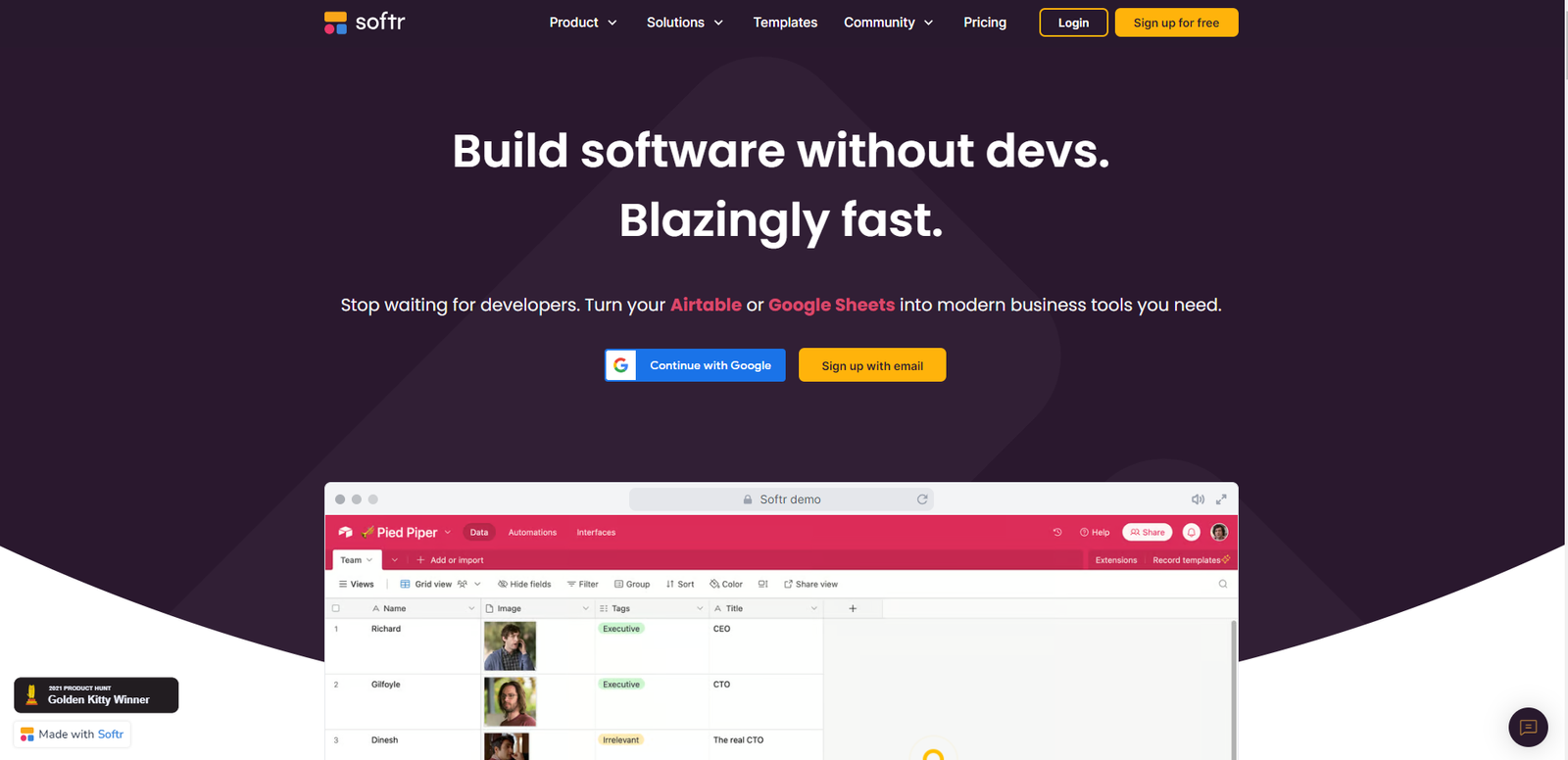 About Softr.io
Softr is more advanced than Glide but easier to learn than Bubble.io. As no code tools go it's a pretty good all-rounder. If you're already playing in Airtable or Google Sheets, it's a good frontend to display your data.
Top 3 Highlights of Using Softr.io
Diverse Template Library: There are a lot more templates to choose from when starting to build apps. With over 60 templates available on Softr's template library, there's something for every type of business or personal project.

In-depth Customization: You can do some advanced design settings and block parameters on the paid plans to allow for unique creations that reflect exactly what you envision.

Unlimited app visitors: Unlike bubble.io which limits the usage after you hit your threshold, you can get unlimited visitors to the page which is perfect if you're still in the validation phase.
Cost of Using Softr.io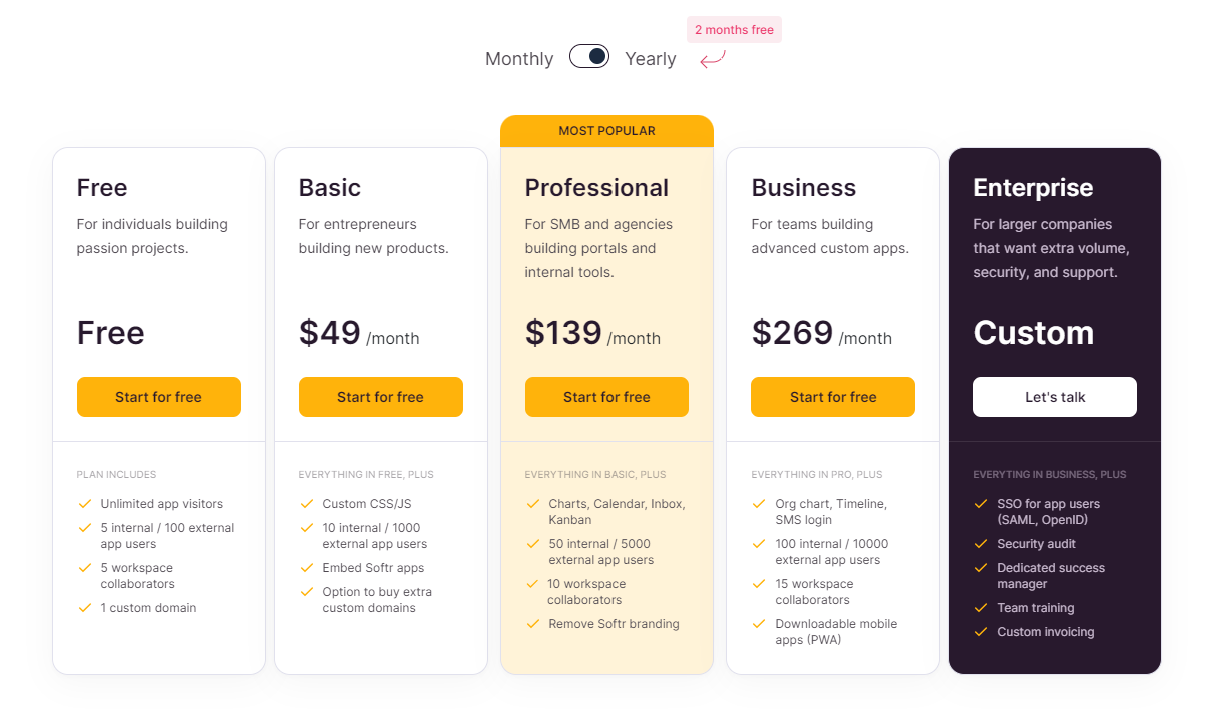 Their basic plan is a little more on the pricey side starting at $49/month but allows for a lot more external users than Glide's starter tier.
Bottom Line
Softr.io was a good middle ground as no code development platforms go but I found some of the templates not quite as helpful to start with as Glide so it took more time to get started.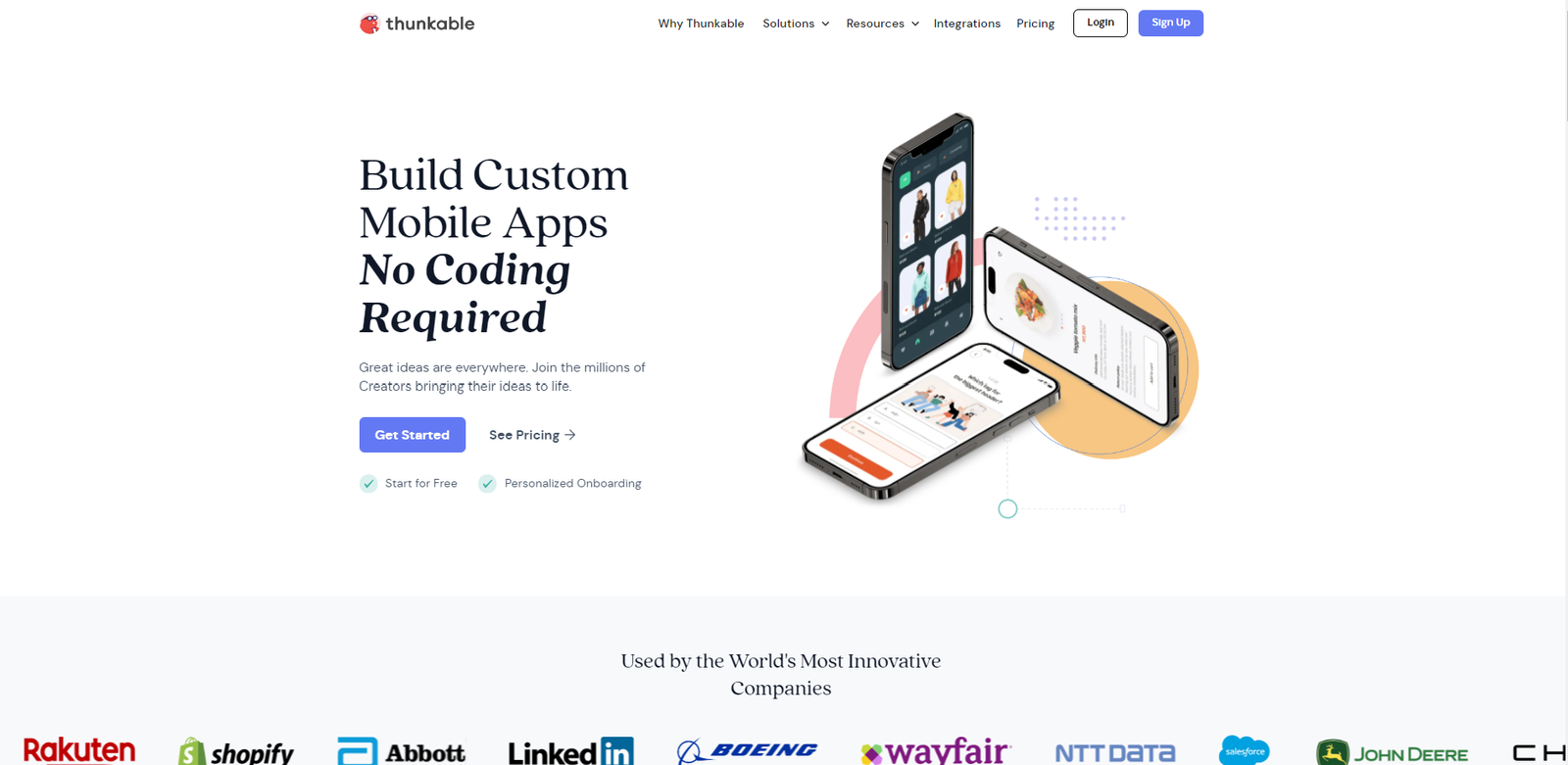 Visualize a universe in which creating your own mobile application is as effortless as dragging and dropping elements. Welcome to Thunkable, an innovative no-code platform that brings this idea to life.
A Platform Known for Ease and Accessibility
In the realm of no-code app builders, Thunkable stands out for its simplicity and user-friendliness. But don't let its ease fool you; it's capable of building robust apps with complex features.
With its user-friendly interface, Thunkable offers a powerful platform to craft sophisticated iOS and Android apps without the need for coding expertise – making it an ideal tool for tech novices and experienced developers alike. It's like being given a magic wand that turns your ideas into fully functional applications.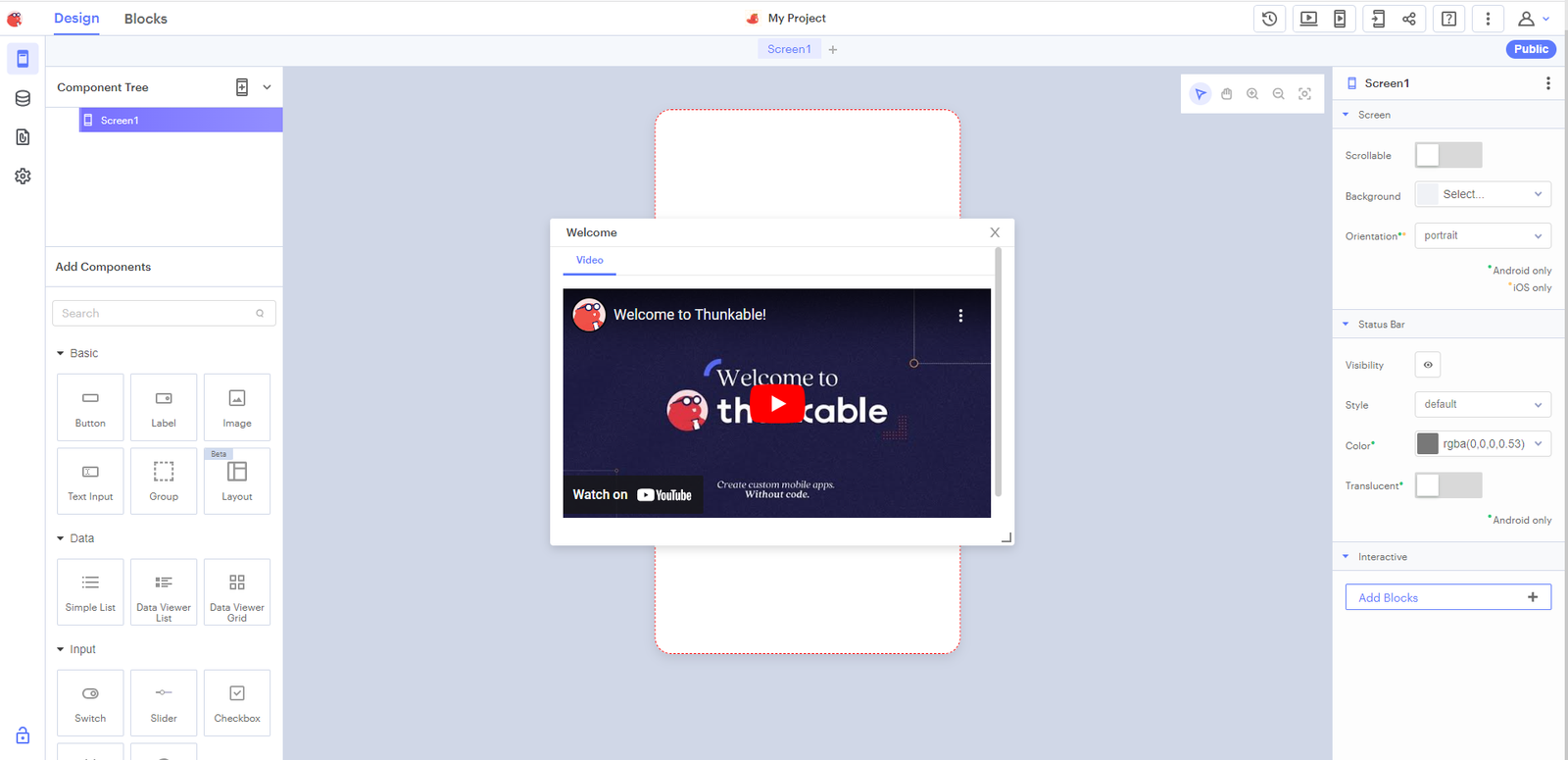 The Top 3 Benefits of Using Thunkable
Simplicity: With intuitive drag-and-drop design tools, creating an app becomes less about coding complexity and more about realizing your vision.

Versatility: They have a good drag-and-drop functionality that you can get quickly accustomed to using.

Cross-platform Compatibility: Build once, run anywhere. Apps created in Thunkable work seamlessly across both iOS and Android devices.
Pricing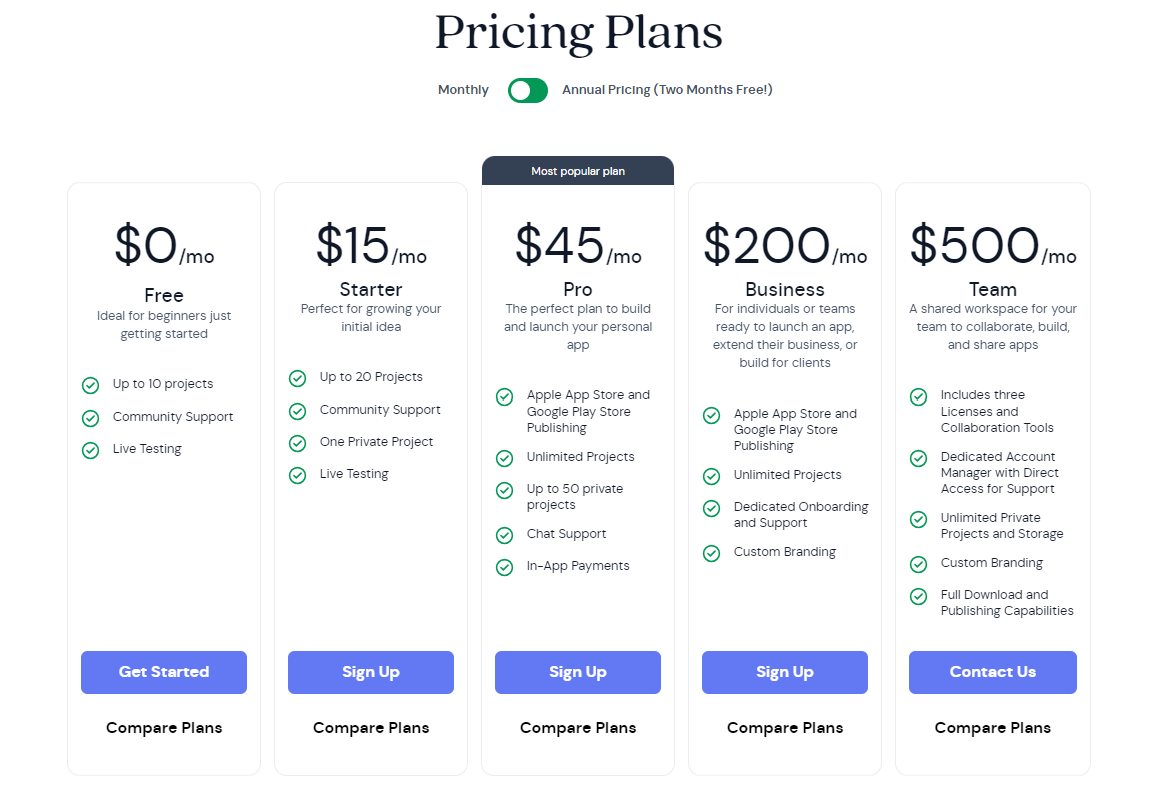 Thunkable provides a free tier to let you test the waters before plunging into advanced features. If you're set to step up, they have a Pro plan at $200/year or $25/month. This offers more perks like top-notch customer help and endless private projects. Taking into account Thunkable's user-friendliness and adaptability
FAQs in Relation to No Code App Builder
Is there a free no-code app builder?
Yes, many no-code app builders offer free plans. However, they often limit features and capabilities compared to their paid versions.
Are no-code app builders worth it?
Absolutely. No-code app builders let non-techies create robust apps without coding knowledge. They save time and reduce development costs.
What is a no-code app builder?
No code platforms are tools that allow users to build software applications without writing any code, using visual interfaces instead.
What is the biggest no-code platform?
Bubble.io is considered one of the largest platforms in terms of user base and functionality for building web-based applications with zero coding skills required.
Conclusion
Mastering the no code app builder landscape isn't easy…
But now you're armed with insights on Bubble.io, Glide Apps, Softr.io, and Thunkable.
You've got a grip on their unique strengths and prices to match your needs.
No more swimming against the tide of coding jargon; it's time for pure creativity!
Your startup idea deserves these tools. Let them shape your vision into reality without breaking a sweat.
Dive right in! Remember: there's power in choice – choose wisely and watch as your app springs to life.