Best Organization Chart Software
Imagine you're a new employee at a company, and you've got no idea who reports to who and which people are on which teams. Sounds overwhelming, right?
Even if someone explains everything to you, you'll probably forget it later. Not to mention, the hierarchical structure of fast-paced organizations changes rapidly, making things more confusing.
Organizational chart software allows you to build, update and share org charts, ensuring everyone is acquainted with the chain of command.
Here, I've tried and tested some of the best org chart tools that can help you improve internal communications in your organization.
What Is the Best Org Chart Software?
From my experience, the best org chart software solutions are Built for Teams, Lucidchart, Sift, Creately, and Organimi. Now, let's delve into the features of each tool so you can decide which is the best choice for your organization.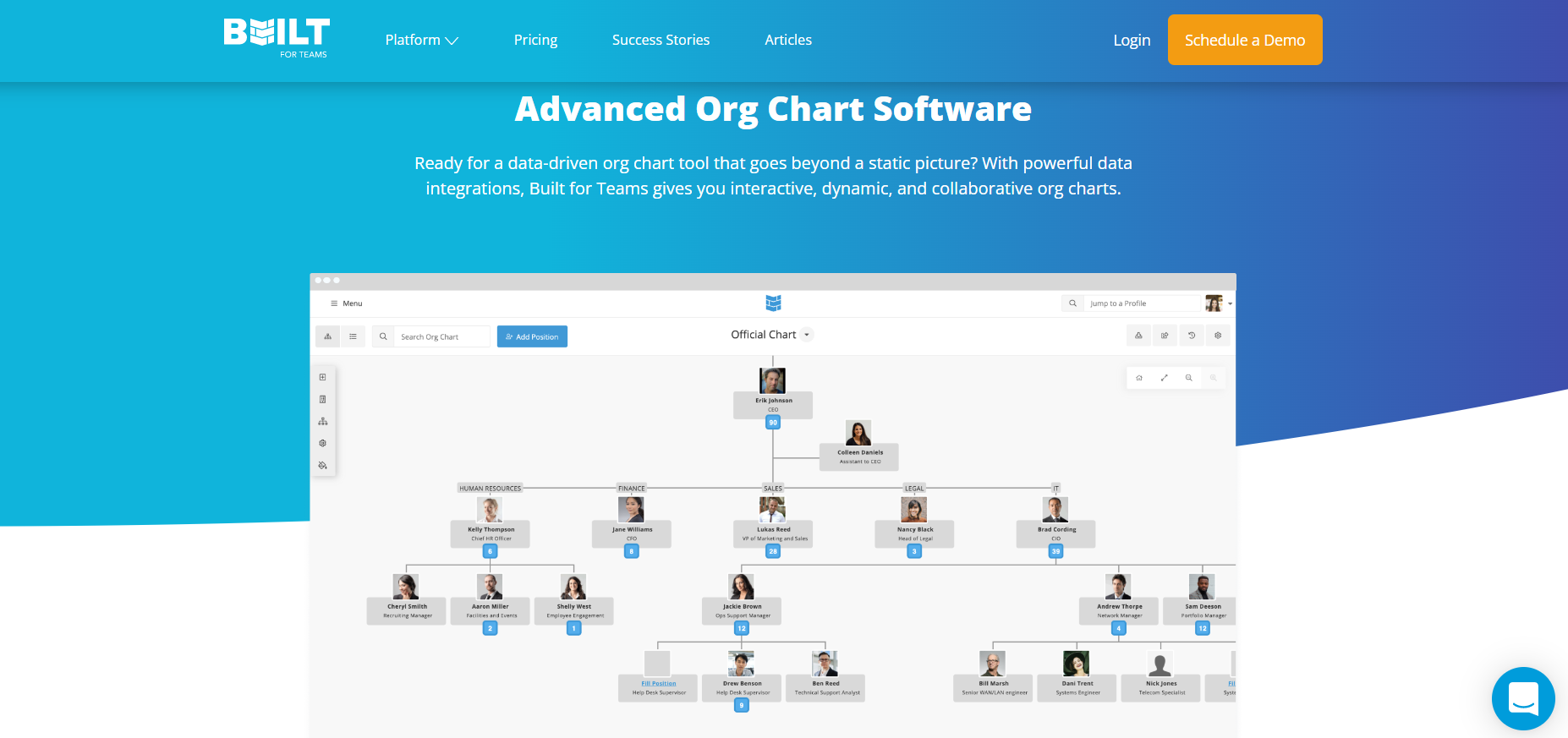 Overview
Built for Teams is designed for small to mid-sized businesses that need to streamline one or more of the following HR functions: organizational chart creation, PTO tracking, recruiting, and recordkeeping. The tool is built with a high emphasis on team collaboration by allowing employees to view, edit, and track different policies and HR functions.
Highlights
Simple drag and drop chart interface: Built for Teams enables you to dynamically adjust your org charts and add or remove employees and departments with an intuitive drag and drop interface.
Shared calendar: The shared calendar allows managers and employees to view approved PTO dates to plan future PTOs.
PTO tracking: Built for Teams makes it easier for employees to monitor their PTO balances for different categories like optional holidays and remote work.
Customizable reports: This tool lets you create and customize reports easily for the required employees and data range.
Detailed employee data: Navigating your org charts on Built for Teams allows you to create employee profiles that new hires and other employees can click on.
Usability
To me, Built for Teams is an extensive database that contains all employee data in one place, not just an org chart. This gets more noticeable when I use the position management panel that helps keep track of open positions, manage positions for existing employees, and check the history of a certain position even if the employee terminates.
If you want to edit the position of an employee in the organization or view it on the org chart, open the "Positions" tab, search for the employee, tap on the small downward arrow, and select what you want to do.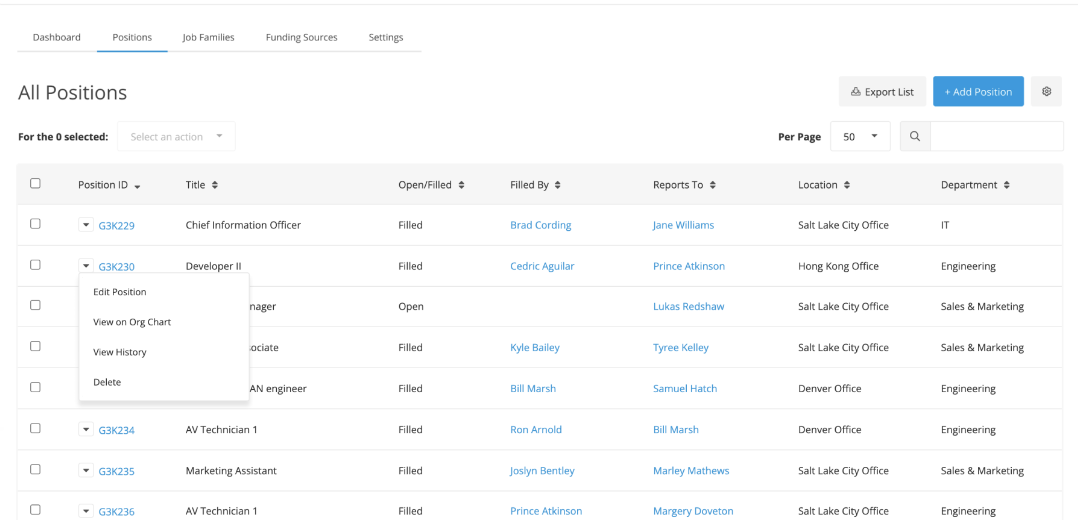 Pricing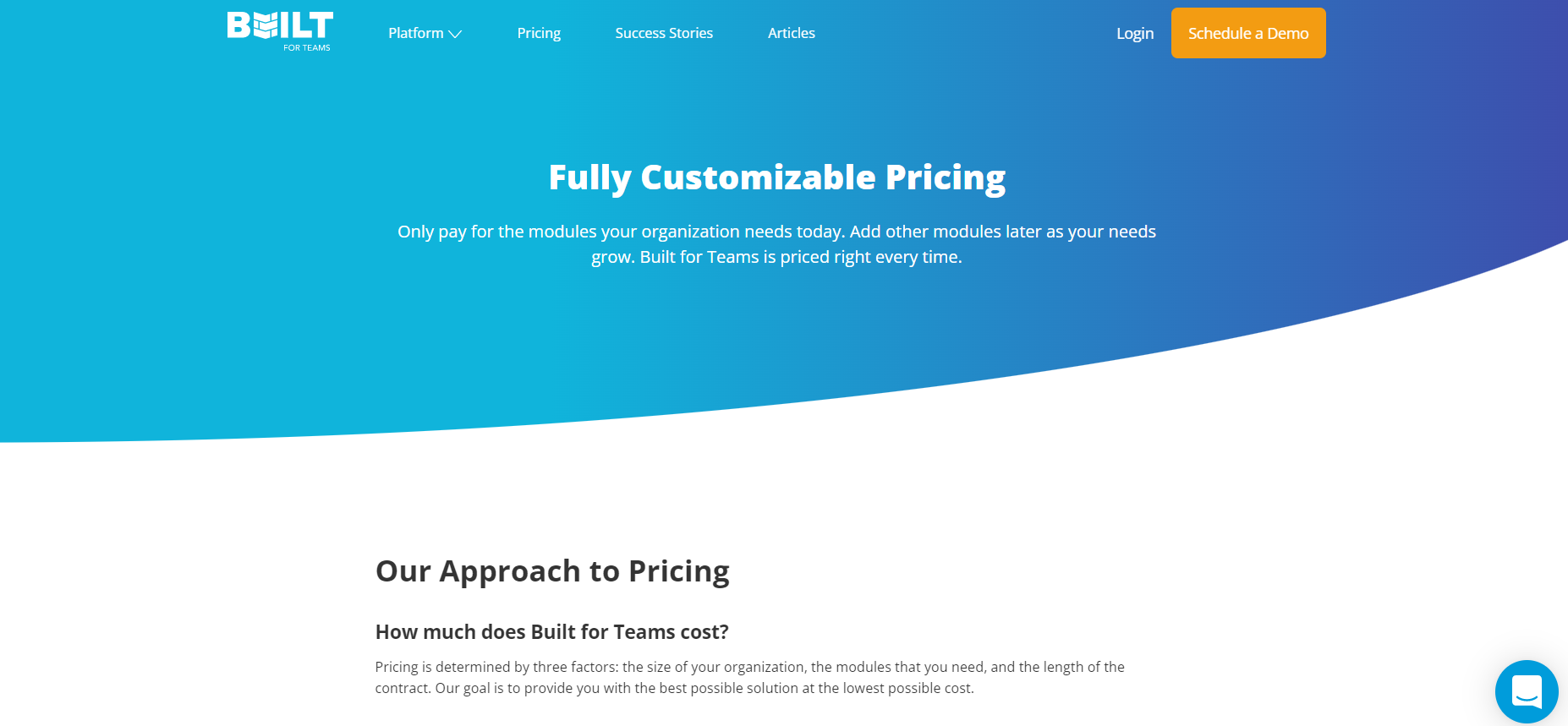 Built for Teams' pricing is quote-based. All you have to do is contact the sales team, and based on your organization's size, requirements, and contract length, you'll receive a quote with a customized package. You may only choose to purchase the modules you need. After searching around some sites said the cost started at around $1 per employee per month.
Customer Thoughts
I love that I can easily add the PTO and keep track of how much time there's left for each team member for the rest of the year.
I wish I could sync Built for Teams' calendar with third-party apps like Google Calendar to make tracking easier.
As an HR manager, I like that I can add so much information about each employee in the company with employee profiles.
We heavily rely on ADP for payrolls and other HR functions, and the fact that Built for Teams seamlessly integrates with it has made our workflows smoother.
Built for Teams has been quite useful for us, but it's really lacking in terms of reporting and analytics. We still need to use another software solution for that.
I like that I can color-code each employee on the org chart and calendar to make it easier for everyone to track their tasks and responsibilities.
Bottom Line
In my opinion, Built for Teams is a great org chart and PTO tracking tool for business owners that prefer customizable contracts and modules. You can see how it works with a free demo.
2. Lucidchart – Best Versatile Tool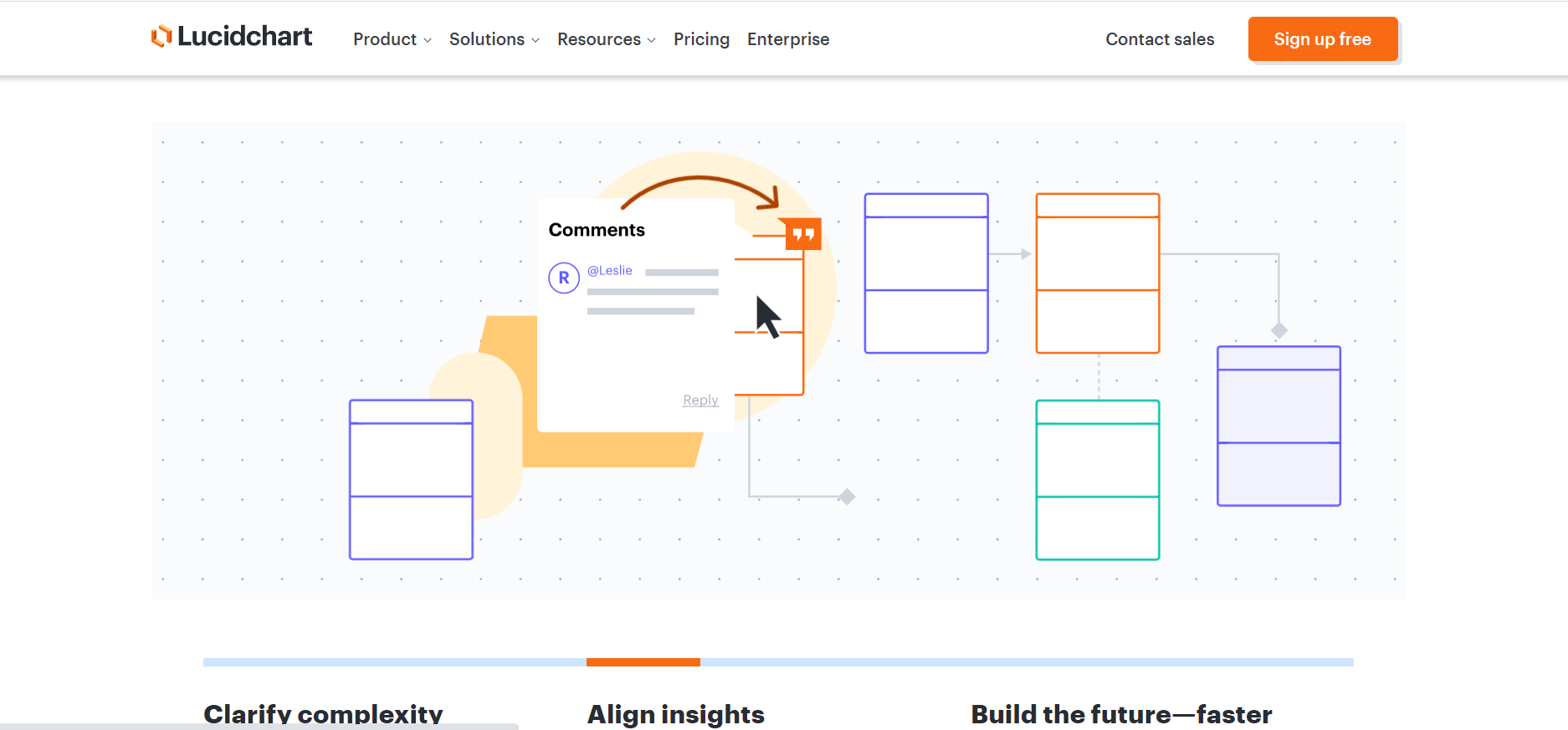 Overview
Lucidchart is a versatile diagramming tool that lets you create dynamic org charts and mind maps, plan product launches, and brainstorm ideas with colleagues and clients. The software is cloud-based, which encourages flexibility and remote collaboration.
Highlights
Web interface: Lucidchart doesn't require installation as it runs on HTML5 browsers with a web-based interface.
Versatile org chart creation: Build your own org charts or use and edit one of the templates to get up and running quickly.
Integrations: This tool integrates with various HR and collaboration apps like BambooHR, G Suite, Office, and Slack.
Easy sharing: Seamlessly share your org charts with everyone in your organization with one click. Adjust view and edit permissions on a granular level for each employee.
Importing: Create your org charts faster by importing data from spreadsheets and other useful resources.
Usability
Lucidchart has a nifty "Diagram key" that makes my org charts clearer. For example, if you want to color-code your team members based on their functional departments, a Diagram key will help you do just that.
To add a diagram key to your org chart, click on "Insert" from the top menu and select "Diagram Key".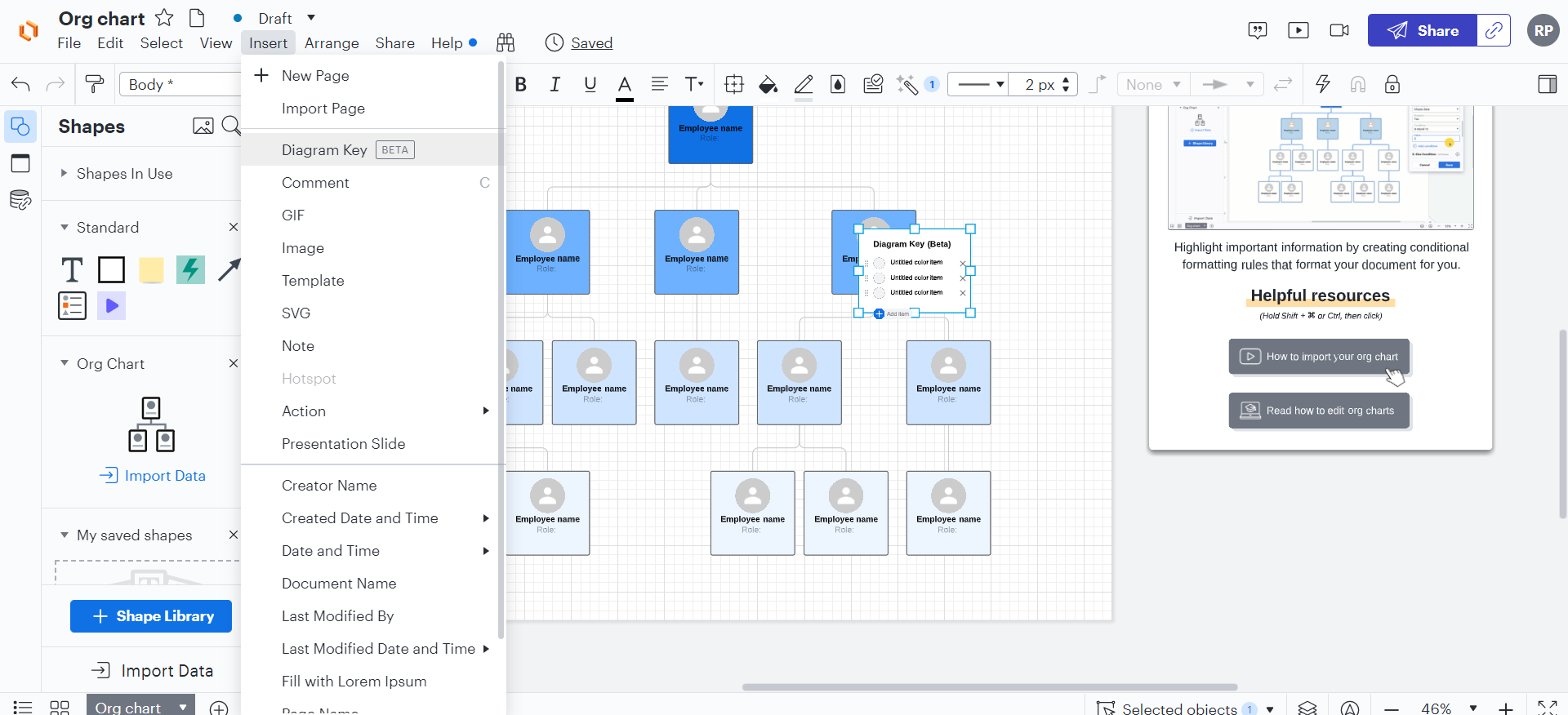 Then, you can specify the colors you want to use and type what each color refers to.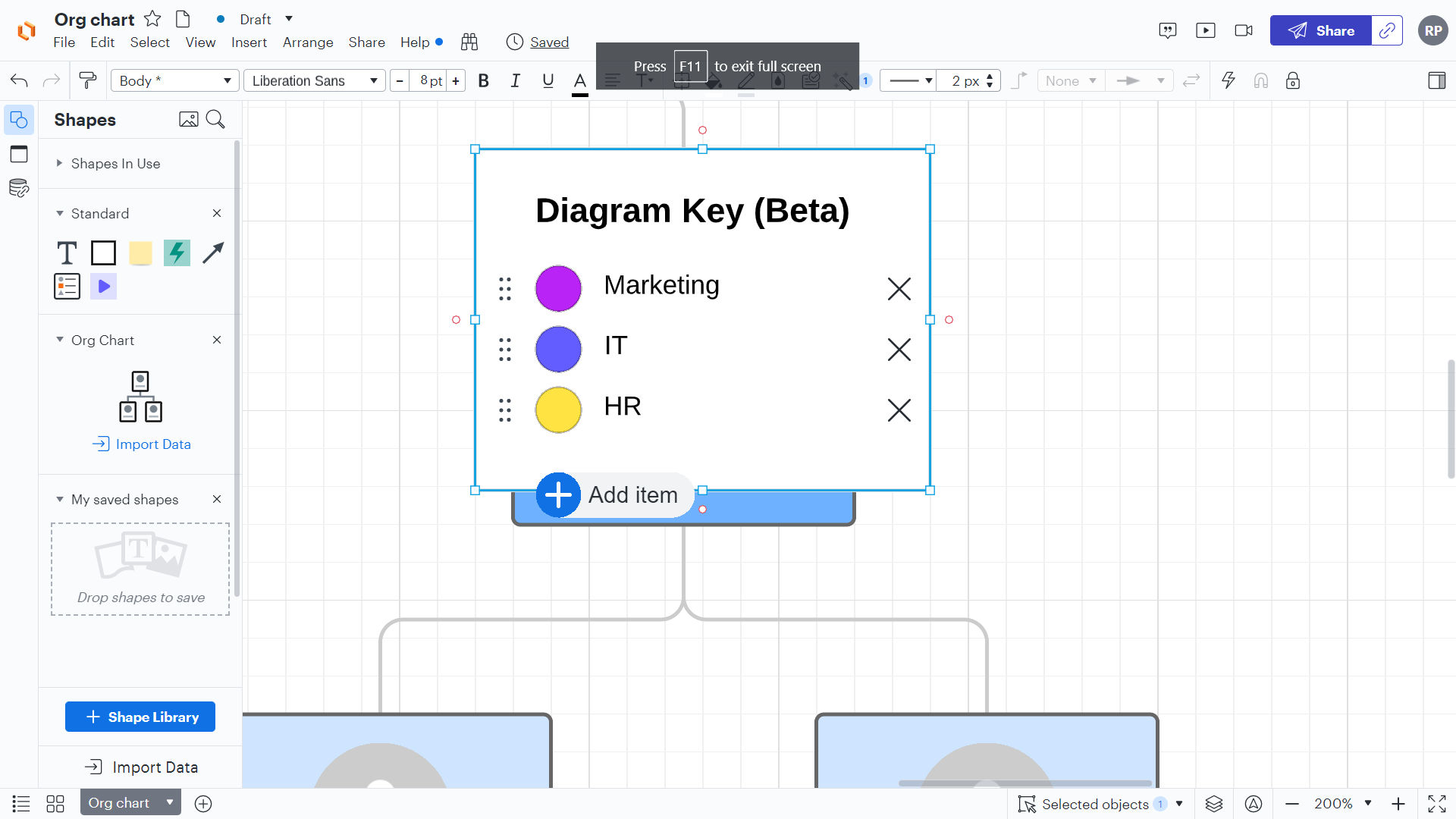 Pricing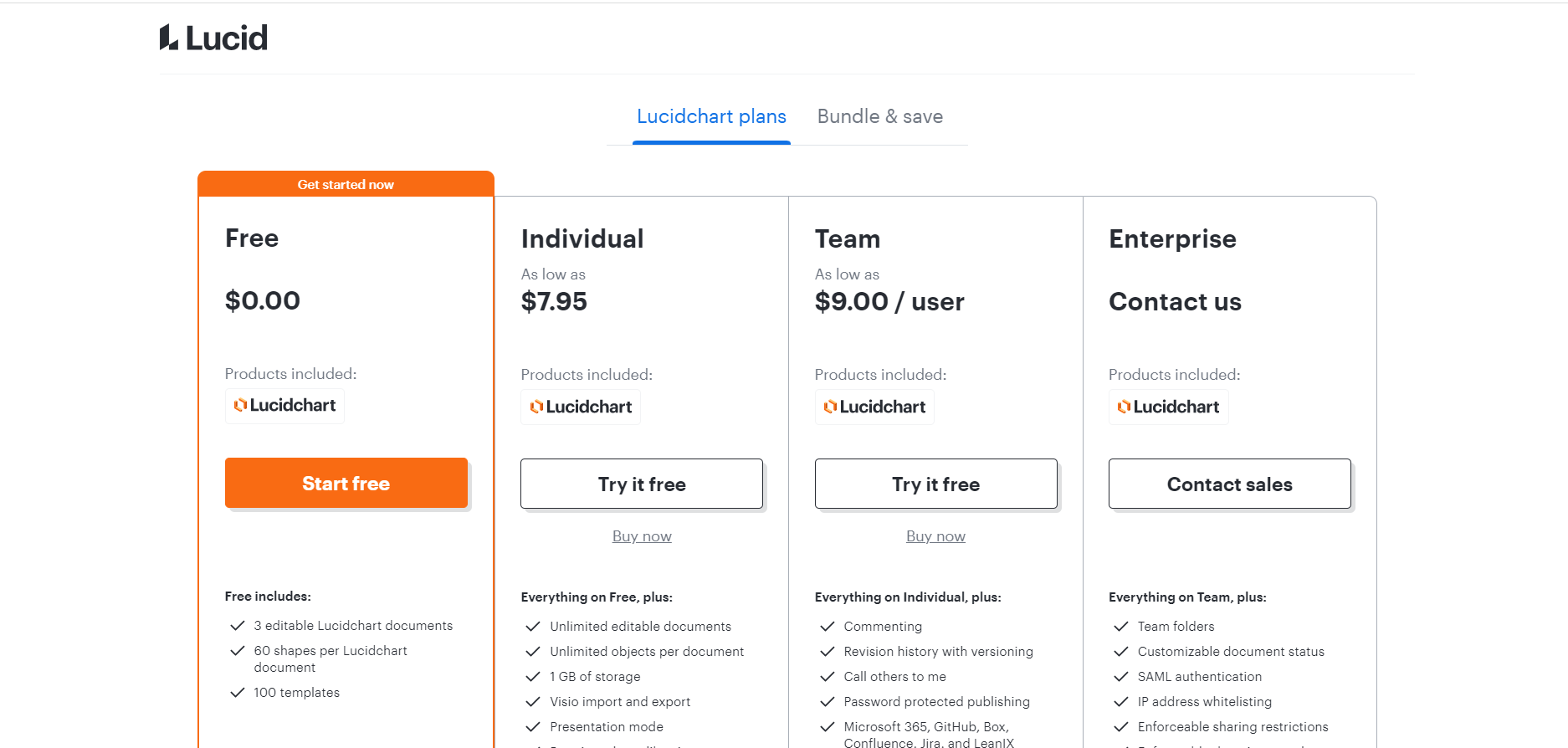 Lucidchart has 4 subscription-based plans: Free, Individual ($7.95/month), Team ($9 per user/month), and Enterprise (quote-based).
The Free plan gives you everything you need to get started with Lucidchart, including 100 templates, 3 documents, and 60 shapes per document. If you want unlimited documents and shapes, you can upgrade to the Individual plan.
For teams, the Team plan would be a more economical choice than creating multiple accounts with separate individual plans. The Enterprise plan adds additional security and collaboration features for large enterprises.
Customer Thoughts
I'm impressed with the customization features in the org charts. For example, I can add names titles, photos, and other info really easily in Lucidchart.
The ability to embed charts into Google Docs or export them in different formats has been a game changer for us.
The free version of Lucidchart is very restrictive. I can't do some basic tasks like adding comments to a chart when collaborating with another team member.
I like that I can easily move org boxes around and keep everything saved in real-time.
Creating an org chart with Lucidchart was super quick and easy for me. All I had to do is import employee data from Excel, and the software created the org chart for me. Just had to fine-tune it a bit to make it presentable for my team.
The default view is excessively zoomed-out. Would've been useful to be able to modify the default zoom percentage so that the app is ready to use once I launch it.
Bottom Line
I recommend Lucidchart for businesses that need a diagramming app capable of creating org charts and other chart types like mind maps and flowcharts. The Free plan gives you access to a decent collection of templates, so you should definitely check it out.
3. Sift – Best for Collaboration and Team Building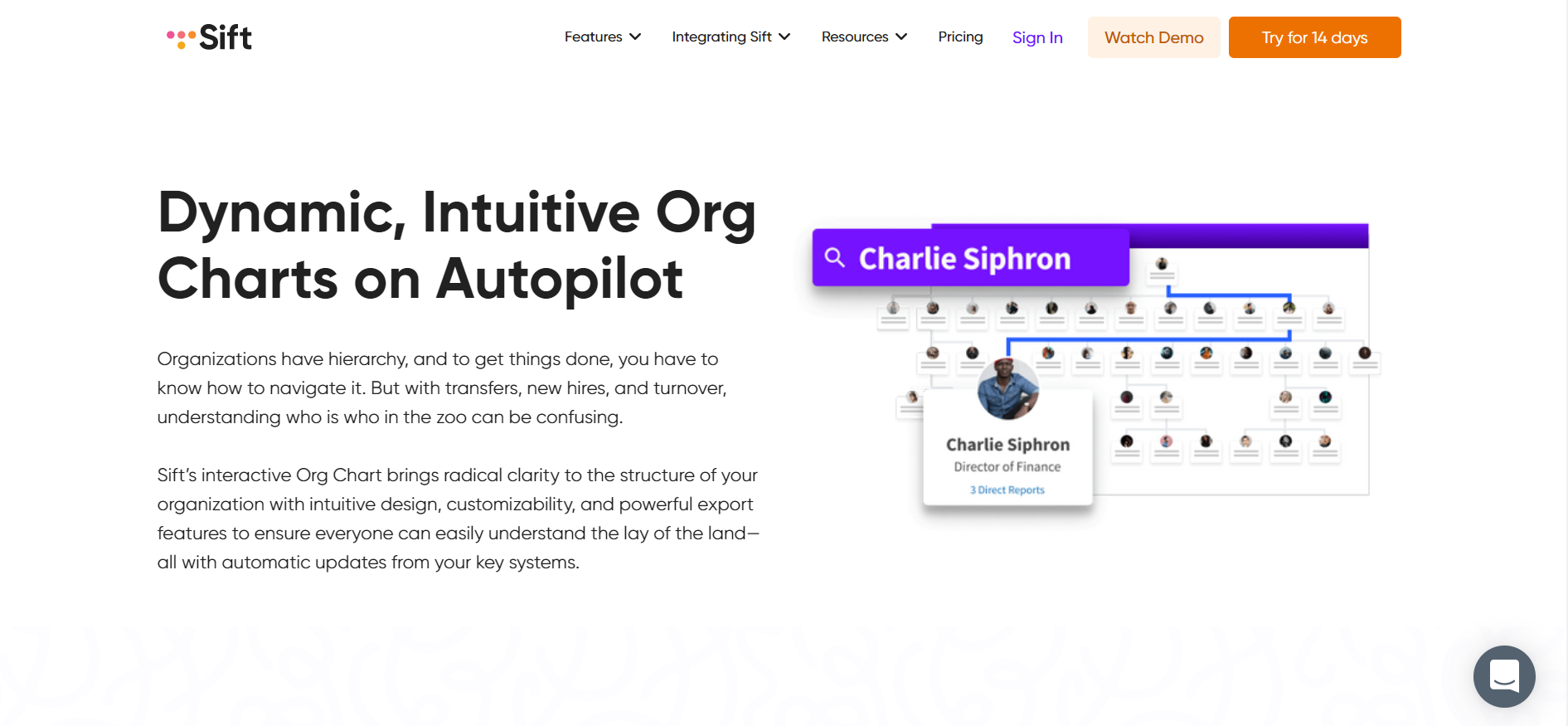 Overview
Sift is an org chart tool that also works as an internal social media platform for your company. Employees can search for their colleagues using the people search bar and learn more about their job roles, work experience, hobbies, and interests.
Highlights
Dynamic org charts: Your org charts on Sift integrate with HR and IT systems to keep them updated in real-time.
People discovery: Enable your employees to break the ice and communicate effectively with simple and powerful people search functionality.
Customizable org chart profiles: Let your employees decide which info appears on their org chart cards.
Analytics: Identify talent gaps and learn more about your organization and employees with powerful analytics.
Integration with collaboration tools: Sift seamlessly integrates with other collaboration platforms to make it easier for your employees to work together.
Usability
I like how Sift makes it easy for me to highlight people in my organization on the org chart based on a specific criterion. For example, if I want to see the employees in a specific office city, Sift will assign a different color for people that share the same office location.
To create this filter, open the org chart view and click on "Highlight by".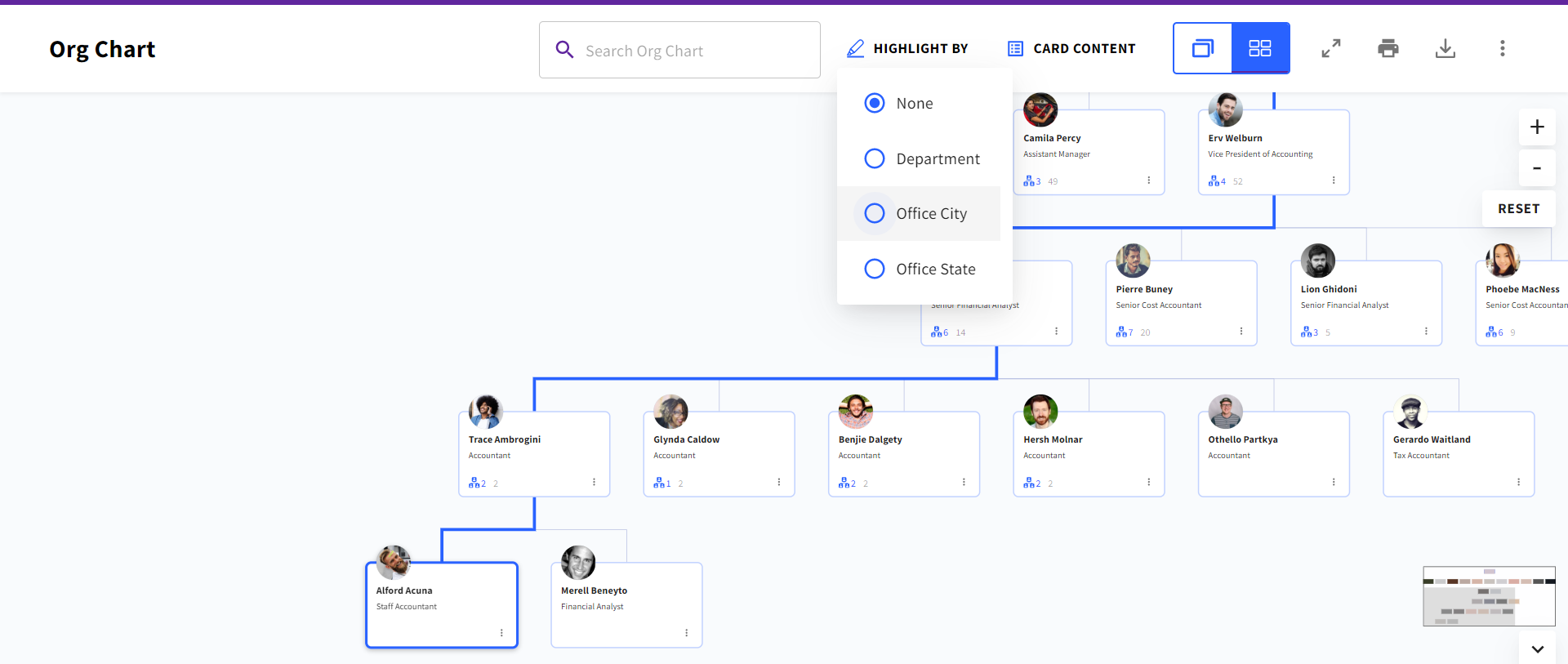 Then, you can choose how you want to highlight people in your company.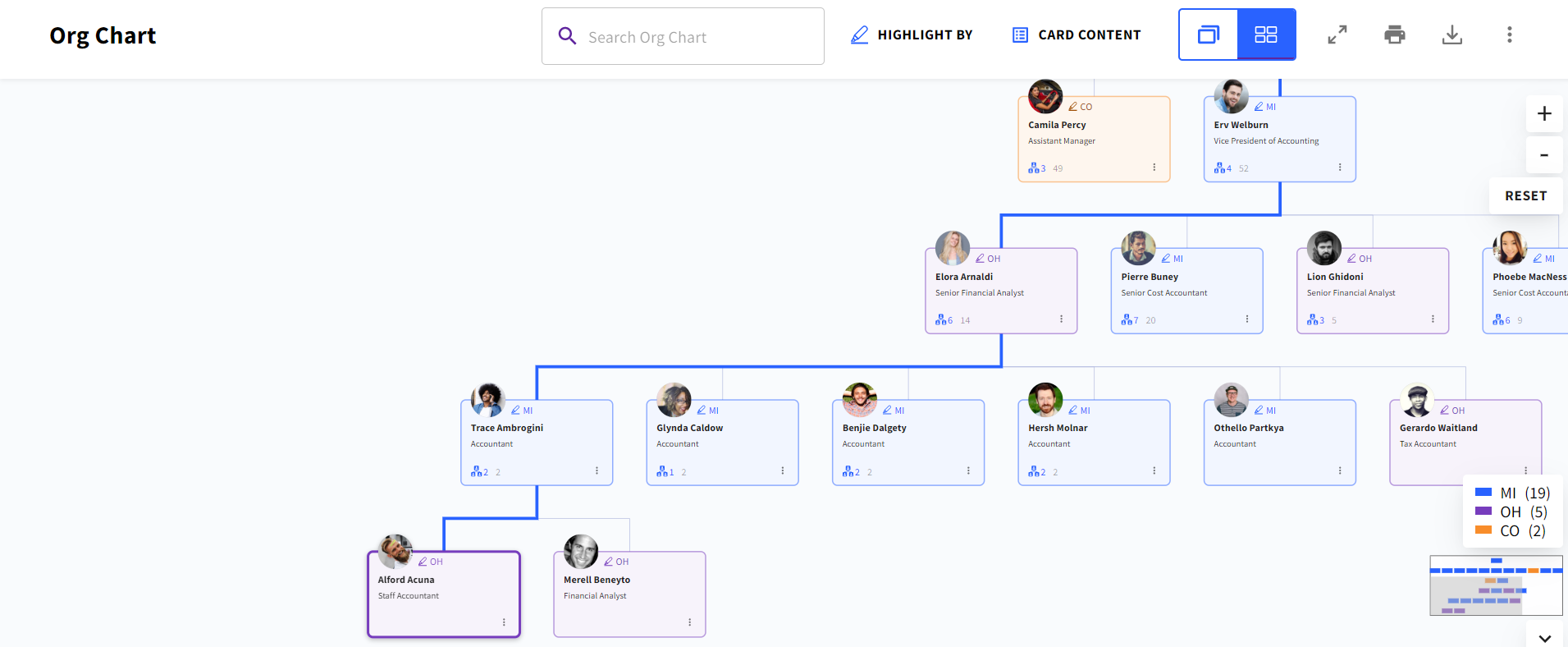 Pricing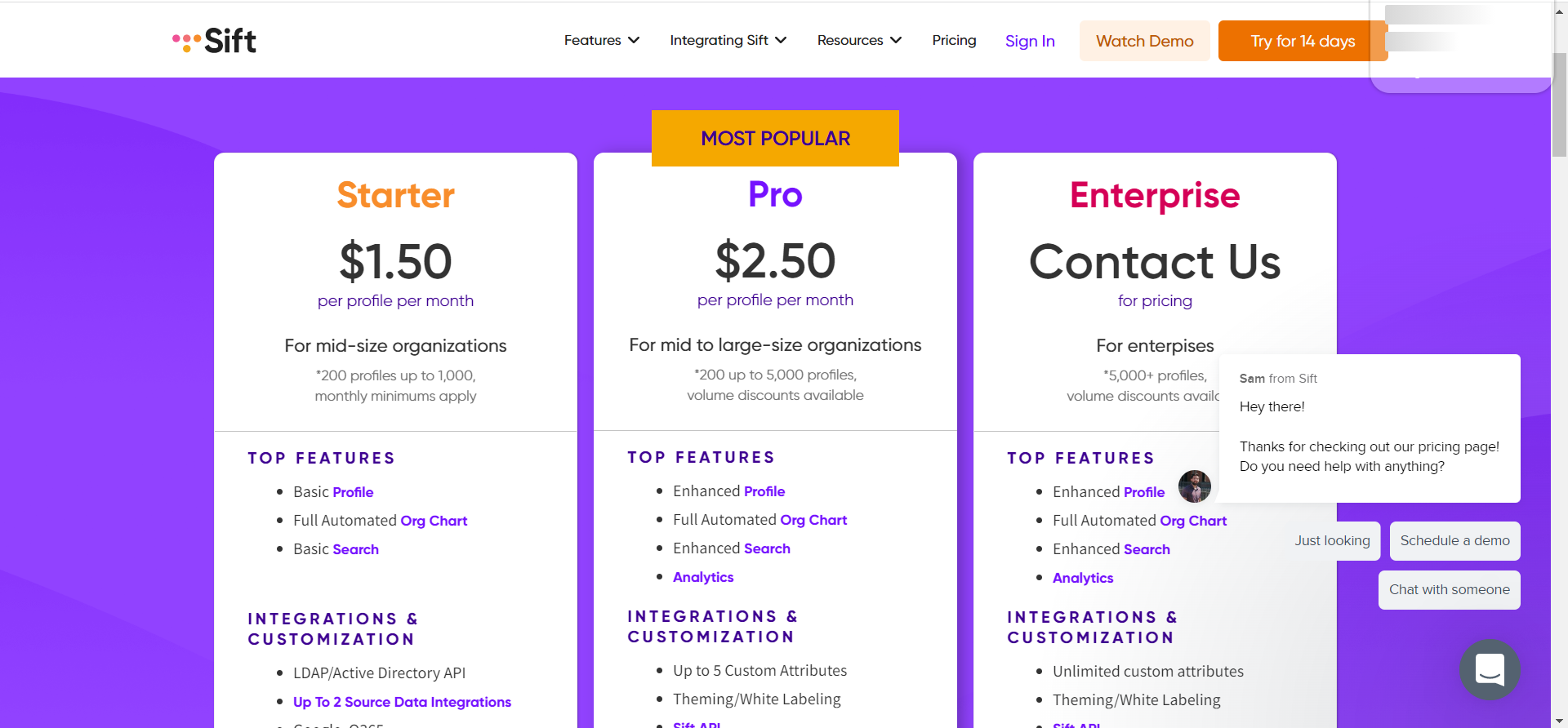 Sift offers 3 plans: Starter ($1.5 per profile per month), Pro ($2.5 per profile per month), and Enterprise (custom pricing).
The Starter plan is intended for mid-sized businesses. It includes basic profiles and search, automated org charts, and 2 source data integrations. The Pro plan adds analytics, as well as unlimited integrations and enhanced profiles and search.
The Enterprise package offers volume discounts and enhanced customer support with quarterly business reviews and 99.99% SLA.
Customer Thoughts
I love the search functionality; It's very intuitive and provides accurate results even with partial/incomplete input.
I like the pronunciation feature that lets each person in the organization add a voice recording of themselves pronouncing their names on their profiles.
The dynamic org charts have been working great for us, but I wish we could export them to third-party apps like MS Powerpoint more easily.
I think some fields in the profiles, such as experience and skills, should be compulsory.
The fact that Sift doesn't natively integrate with Microsoft Office or Teams has made it harder for us to incorporate it into our systems.
I find the employee database feature to be very useful. It helps me keep our employees' data in one place to make it easily accessible when needed.
Bottom Line
From where I'm standing, Sift is a great org chart tool that also serves as a platform for your employees to get to know each and even collaborate on projects. You can request a 14-day free trial to see how it works in action.
4. Creately – Best Budget Pick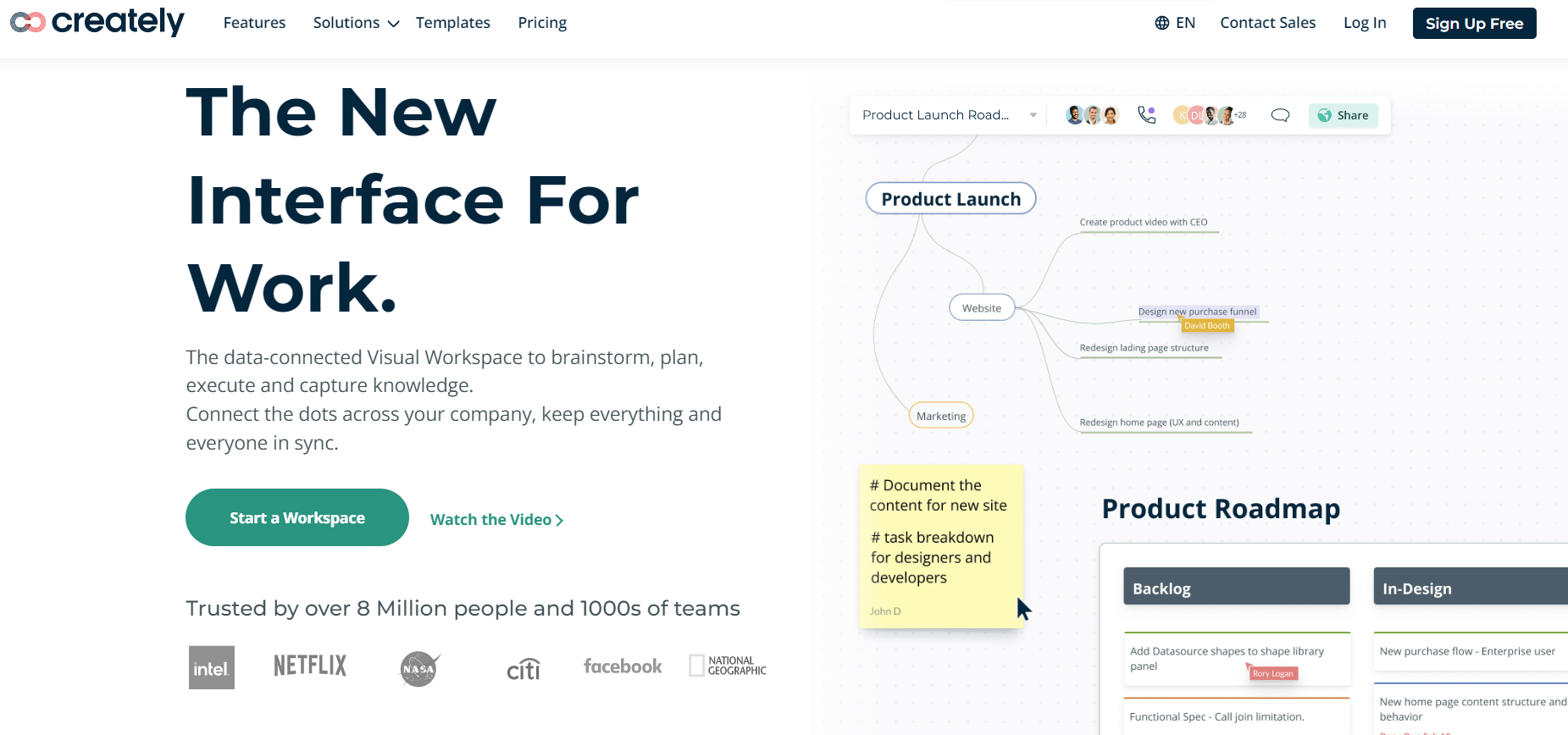 Overview
Creately is a visual workspace that allows teams to create org charts, brainstorm ideas, and map and visualize workflows intuitively. The tool is also highly effective in planning product launches.
Highlights
Real-time multi-cursor commenting: Collaborate with your colleagues easily using real-time multi-cursor commenting on the charts.
Infinite canvas: The infinite canvas can accommodate the most complex org charts and process workflows.
Chart templates: Choose from a wide collection of templates to create your org charts faster.
Integrations: Creately natively integrates with other project management tools like JIRA and Confluence, enabling you to optimize your workflow.
Autoflow line generation: Flow lines automatically connect your respective items, making it easier to switch the flow direction.
Usability
One of the things that Creately does better than other tools is exporting my org charts. In some other tools I've used, it looks as if the provider is trying to hide the function.
In Creately, you get a simple "Export" button that you can easily see without having to look for it in countless menus.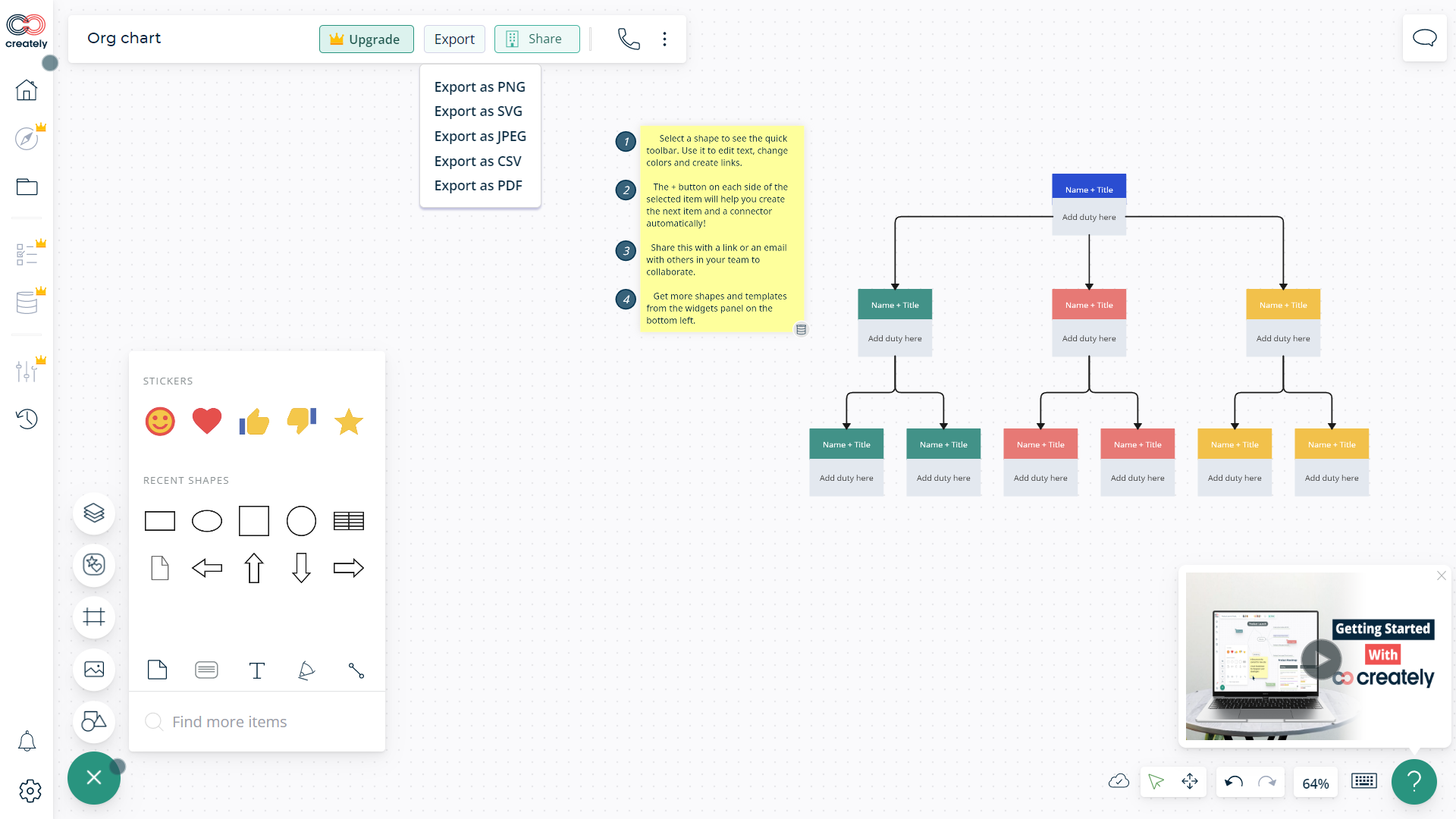 All you have to do is push the "Export" button, select your preferred format, and you're good to go.
Pricing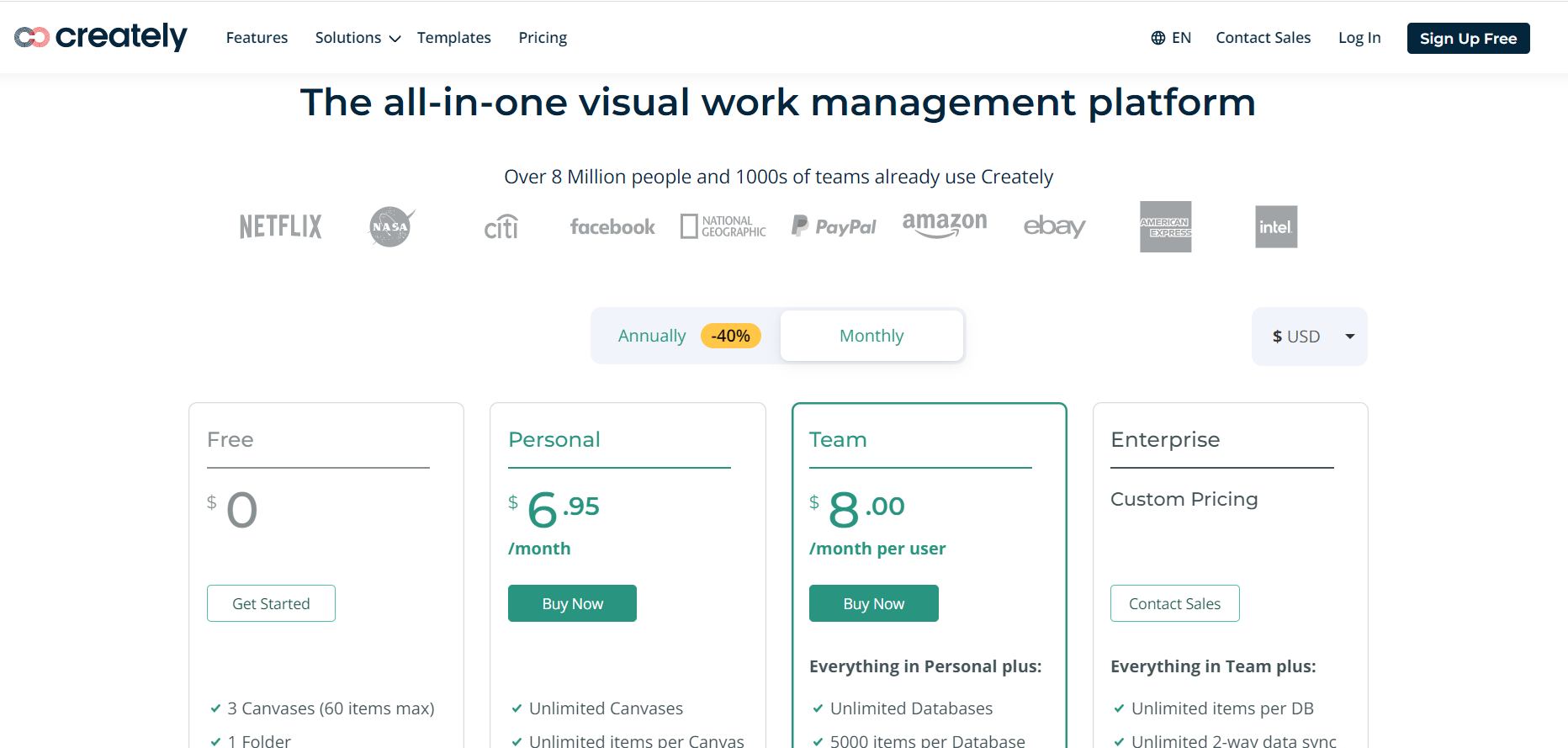 Creately's pricing structure consists of 4 tiers: Free, Personal ($6.95/month), Team ($8 per user/month), and Enterprise (custom pricing). With annual billing, you get a 40% discount on all paid plans.
The Free plan gives you 3 canvases, 1 folder, and basic integration capabilities, while the Personal plan includes unlimited databases, project management tools, HR toolkits, most integrations, and advanced collaboration features.
The Enterprise plan adds extra security and account management features like SSO (Single Sign-On) and sharing controls.
Customer Thoughts
We love that we can export our org chart into a one-page printable PDF. We've tried other tools and none was able to stick to one paper in print mode.
I'd prefer an option to be able to pull existing org charts on the go without needing to have a laptop with me.
A slight adjustment to the org chart ruins the connectors between the boxes, forcing me to fix them every time.
We love that we can easily collaborate on Creately and edit the diagrams and org charts together without having to use additional software.
The ability to add comments and notes on the org chart has really made it easier to explain it to newcomers in our company.
I like Creately's drag-and-drop functionality. I can add and remove elements quickly without having to waste time finding my way around the app.
Bottom Line
The way I see it, Creately is excellent for businesses that need an affordable visual workspace tool to facilitate org chart creation/updating and team collaboration and brainstorming. The Free plan would be a good place to start as it includes pre-made templates for faster chart creation.
5. Organimi – Best for Organizational Planning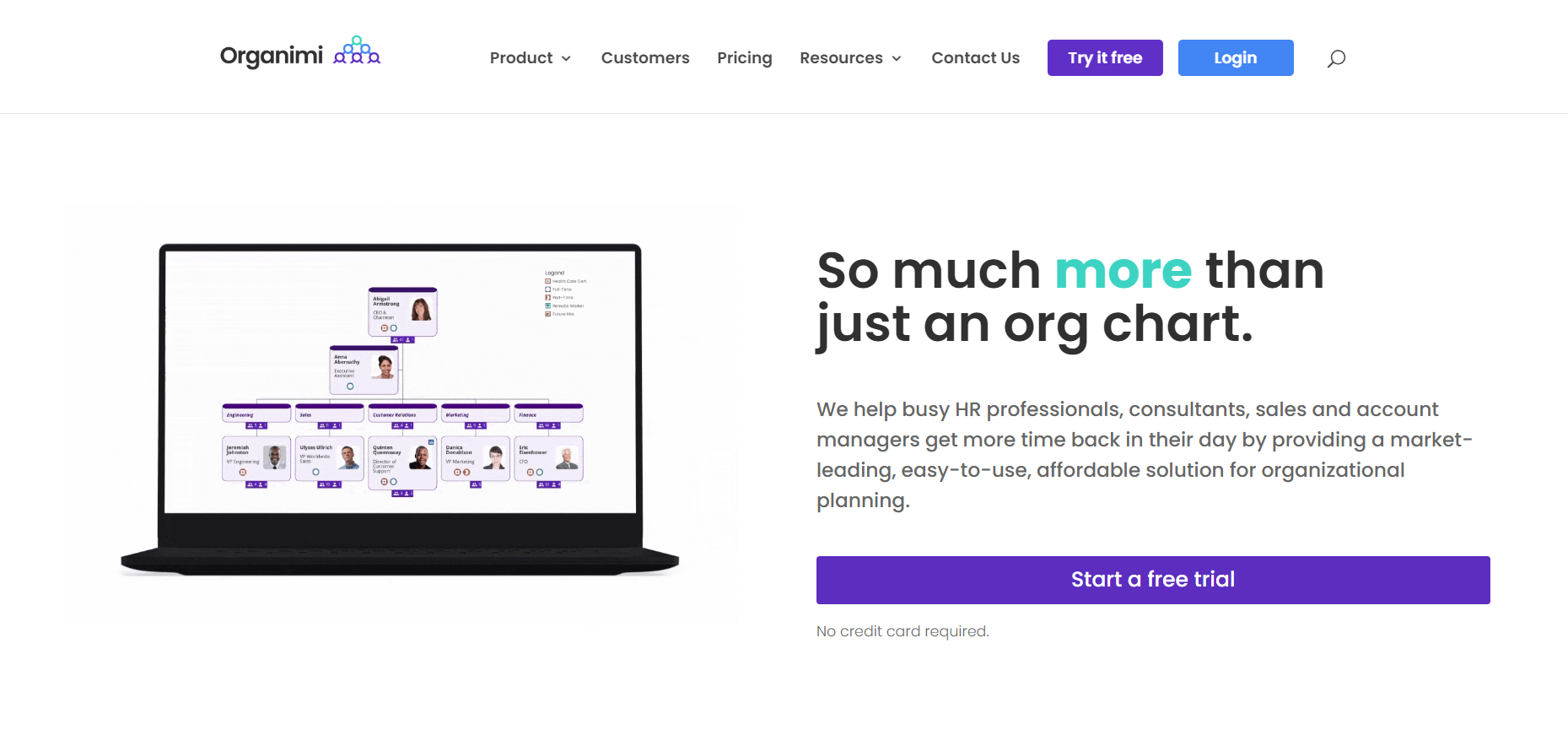 Overview
Organimi is an organizational planning platform that you can use to create customizable org charts, show your company culture, and get automatically generated reports on time-defined organizational changes. It's great for building teams and identifying talent gaps in your organization.
Highlights
Adjustable org charts: Organimi's dynamic interface makes it easy for you to make changes to your org charts and keep everyone in the company updated with a simple drag-and-drop builder.
Powerful customization: Show your company culture and maintain consistent branding with custom avatars, themes, and other formatting options.
Color-coding: Use color coding to make your org charts easier to comprehend and remember.
Seamless data import/export: Import relevant data from spreadsheets and transform it into visual charts. Export and share your charts conveniently with the built-in presentation export function.
Multiple chart views: Switch between different org chart views quickly, depending on the departments and roles you want to focus on.
Usability
While most org chart tools have an import function, Organimi takes it a step further by automatically transforming your data into org charts that require little to no manual editing.
To import data from a spreadsheet, choose "Data Import" from the left-hand sidebar. Then, you can choose whether you want to import both the chart and structure or only one of them.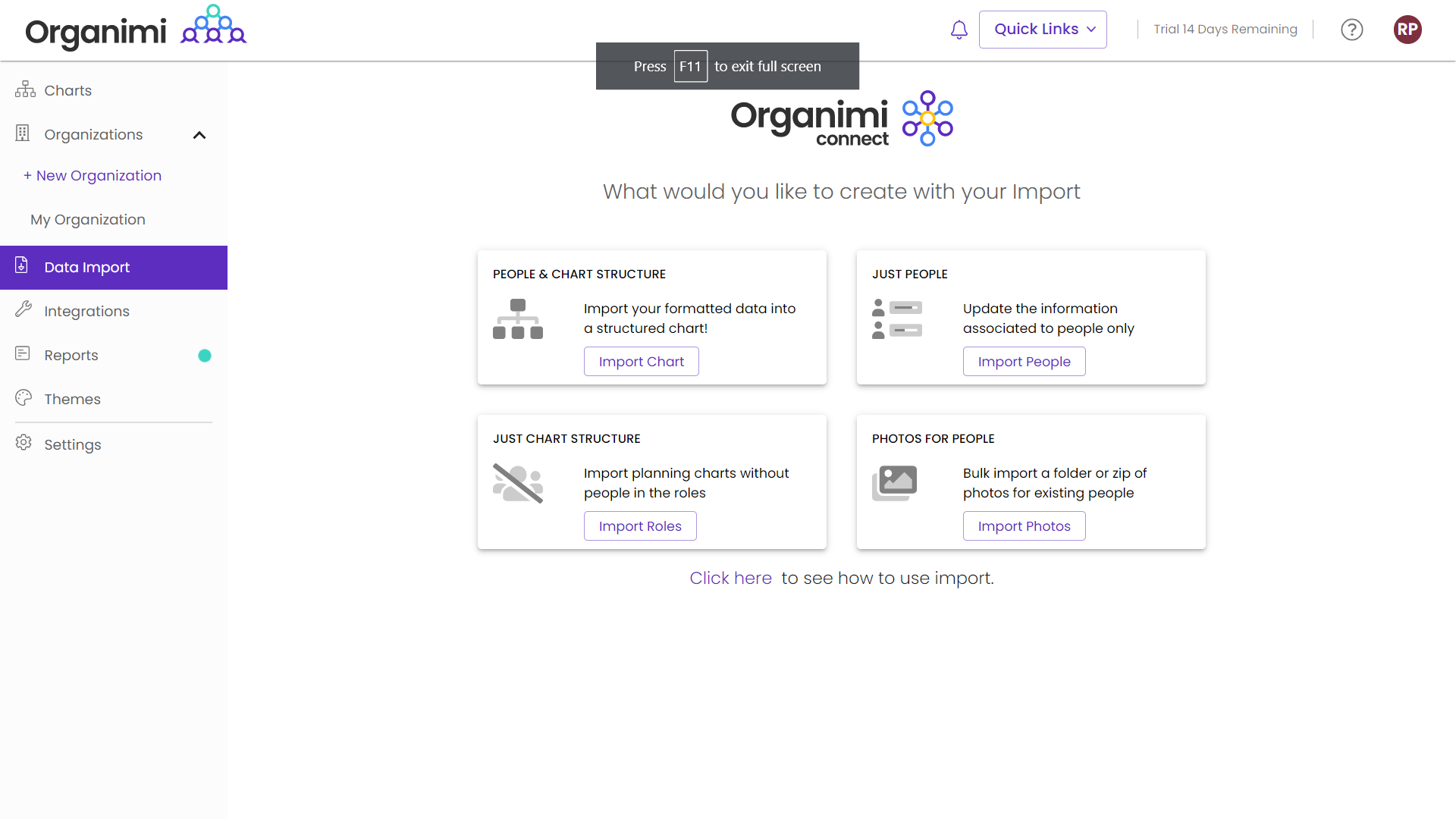 Now, all you have to do is select your organization, and upload the file that contains your data.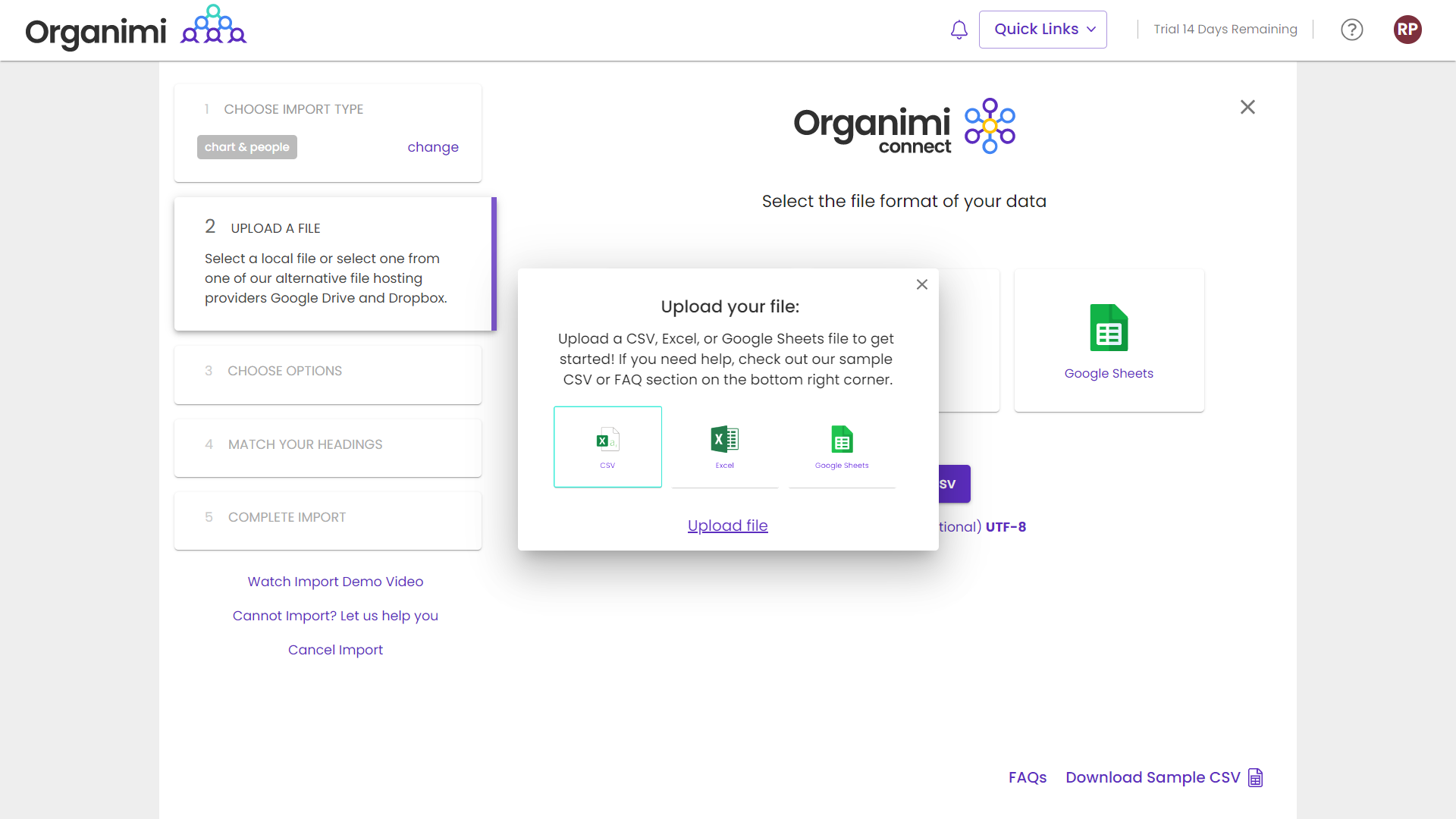 Pricing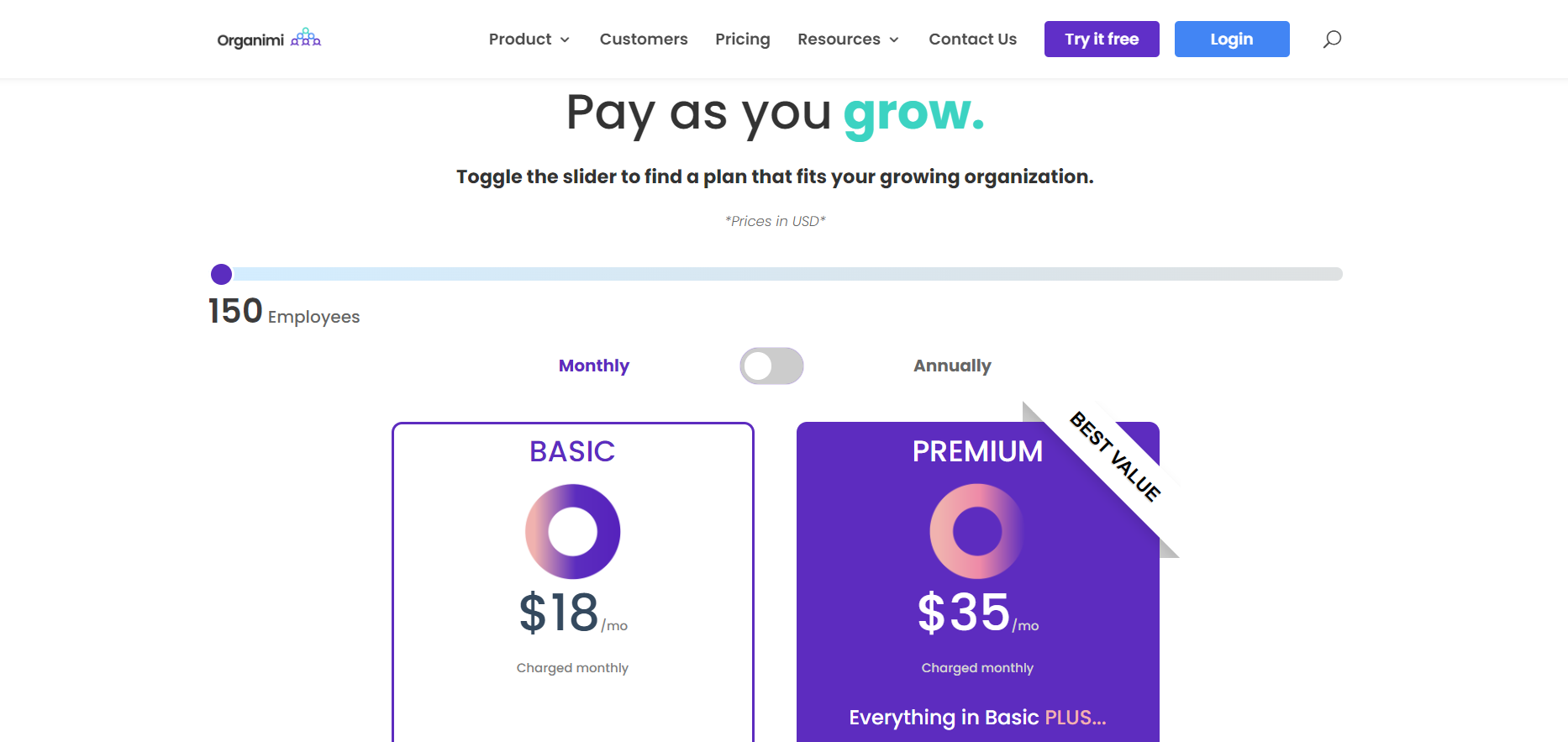 Organimi offers 2 plans: Basic (starts at $18/month) and Premium (starts at $35/month). With annual billing, you get a 40% price cut on both plans. You can customize each plan according to your company size, enabling you to scale your operations as your business grows.
The basic plan lets you create unlimited org charts, automate chart building, and share charts via email and other channels. On the other hand, the Premium plan offers regional hosting options, an interactive onboarding workshop, API access, and other perks.
Customer Thoughts
We love using Origanmi because it seamlessly integrates with our HRIS data.
I wish I could add a dynamic header on each page. The only option I get currently is to add the same static header to all pages, preventing me from adding the name/logo of each department in my company.
I find it frustrating that I can't adjust the spacing between roles in the org chart.
The bulk upload feature is a huge time saver for us.
I like that I can export the org chart in CSV format. It enables us to integrate the org chart into our corporate reports.
The ability to add multiple org charts and keep them updated automatically is a great feature to have. As a large enterprise, we have offices in various locations all over the world, so we use one org chart for each team.
Bottom Line
Personally, I think that Organimi is an excellent solution for businesses that need a clutter-free organizational planning tool that's easy to customize. You can get a hands-on experience with the tool using the free trial.
Why Your Business Needs Org Chart Software
An org chart software solution helps you and your HR team create org charts easily. It makes it easier to explain the company's departments, the chain of command, and reporting structure for new hires. It also helps keep existing employees updated with any changes in the hierarchy, which can drastically enhance internal communications.
With org chart software, your HR team will be able to communicate and familiarize everyone in the company with their duties and responsibilities. It can also be useful in delivering a great onboarding process. After all, an on-point onboarding experience can make new hires 93% more likely to stay at your company for at least 4 years, which significantly reduces your turnover rate.
An org chart tool is nice to have, but if you can't afford one, you can just use any diagramming or sketching app that you already have to create org charts. Of course, this means you'll have to keep updating it manually, and it won't likely be as detailed or intuitive as what you'd get with specialized org chart software.
What Is an Org Chart Software?
Org chart software is a tool that makes creating and sharing organizational charts and demonstrating the hierarchical structure of companies easier. Organizational chart tools are intended to streamline internal communications between employees by familiarizing them with the chain of command.
Wrap Up
So that was my two cents on the best org chart software tools.
Most org chart solutions can help you with more than just org chart creation, so you might want to see which additional features would benefit your business the most.
If you're not ready to spend big on org chart software, try some of the tools that offer a free plan and think about how soon you'd have to upgrade to a paid plan if you continue using any of them.