Imagine you're a new employee at a company, and you've got no idea who's in charge, who does what, and who you should report to and take commands from. Sounds overwhelming, right?
Even if someone explains everything to you, you'll probably forget it later. Not to mention, the hierarchical structure of fast-paced organizations changes rapidly, making things more confusing.
An org chart software allows you to build, update and share org charts, ensuring everyone is acquainted with the chain of command.
Here, we'll take a look at some of the best org chart tools that will help you improve internal communications in your organization.
What Is the Best Org Chart Software?
Some of the best org chart software solutions are Built for Teams, Lucidchart, Freshteam, Creately, and Organimi. Now, let's delve into the features of each tool so you can decide which is the best choice for your organization.
1. Built for Teams
Overview
Built for Teams is designed for small to mid-sized businesses that need to streamline one or more of the following HR functions: organizational chart creation, PTO tracking, recruiting, and recordkeeping. The tool is built with a high emphasis on team collaboration by allowing employees to view, edit, and track different policies and HR functions.
Highlights
Simple drag and drop chart interface: Built for Teams enables you to dynamically adjust your org charts and add or remove employees and departments with an intuitive drag and drop interface.

Shared calendar: The shared calendar allows managers and employees to view approved PTO dates to plan future PTOs.

PTO tracking: Built for Teams makes it easier for employees to monitor their PTO balances for different categories like optional holidays and remote work.

Customizable reports: This tool lets you create and customize reports easily for the required employees and data range.

Detailed employee data: Navigating your org charts on Built for Teams allows you to create employee profiles that new hires and other employees can click on.
Pricing
Built for Teams' pricing is quote-based. All you have to do is contact the sales team, and based on your organization's size, requirements, and contract length, you'll receive a quote with a customized package. You may only choose to purchase the modules you need.
Bottom Line
Built for Teams is a great org chart and PTO tracking tool for business owners that prefer customizable contracts and modules. You can try some of the modules with a 14-day free trial.
2. Lucidchart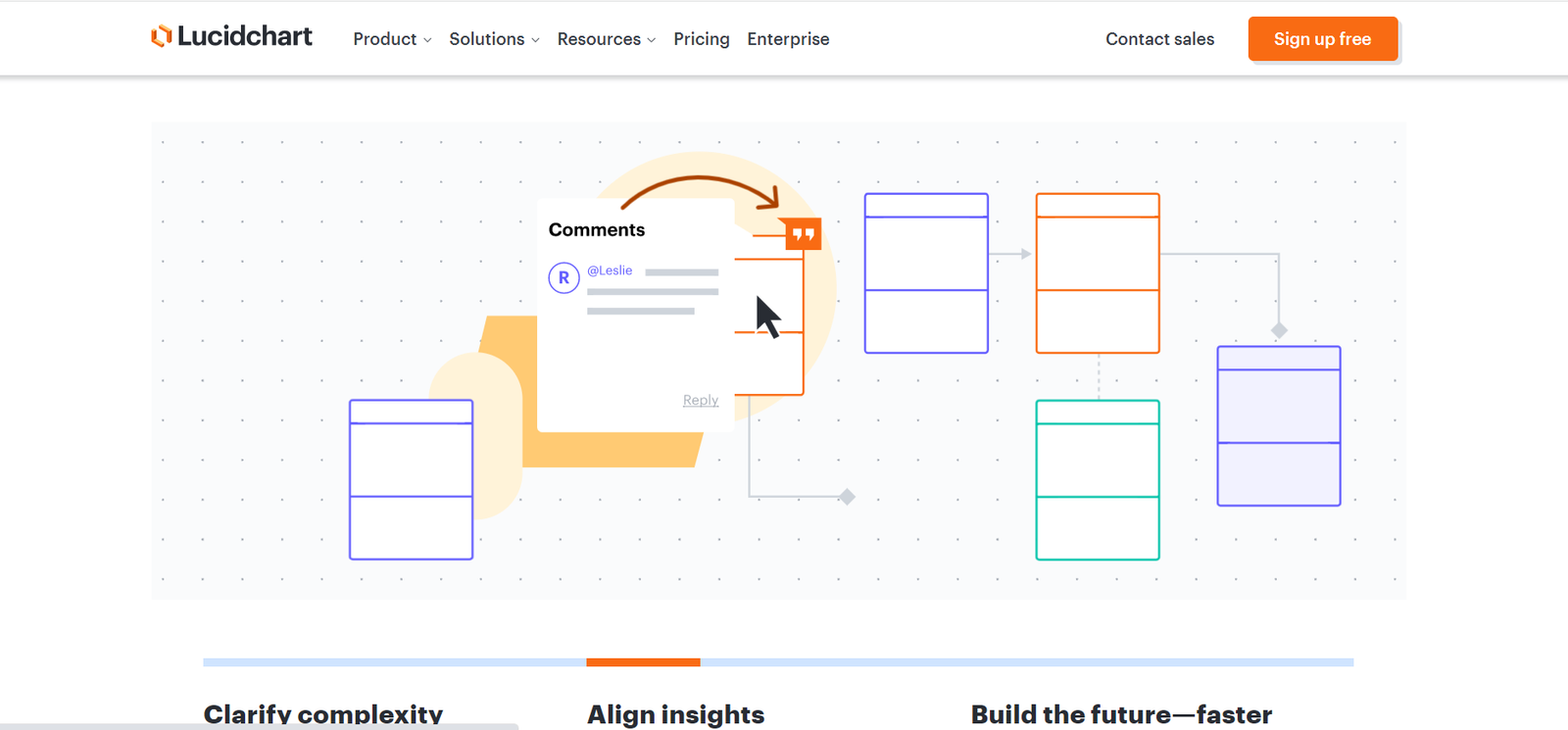 Overview
Lucidchart is a versatile diagramming tool that lets you create dynamic org charts and mind maps, plan product launches, and brainstorm ideas with colleagues and clients. The software is cloud-based, which encourages flexibility and remote collaboration.
Highlights
Web interface: Lucidchart doesn't require installation as it runs on HTML5 browsers with a web-based interface.

Versatile org chart creation: Lucidchart enables you to build your own org charts or use and edit one of the templates.

Integrations: This tool integrates with various HR and collaboration apps like BambooHR, G Suite, Office, and Slack.

Easy sharing: Seamlessly share your org charts with everyone in your organization with one click. Adjust view and edit permissions on a granular level for each employee.

Importing: Create your org charts faster by importing data from spreadsheets and other useful resources.
Pricing
Lucidchart has 4 subscription-based plans: Free, Individual ($7.95/month), Team ($9 per user/month), and Enterprise (quote-based).
The Free plan gives you everything you need to get started with Lucidchart, including 100 templates, 3 documents, and 60 shapes per document. If you want unlimited documents and shapes, you can upgrade to the Individual plan.
For teams, the Team plan would be a more economical choice than creating multiple accounts with separate individual plans. The Enterprise plan adds additional security and collaboration features for large enterprises.
Bottom Line
Lucidchart is suitable for businesses that need a diagramming app capable of creating org charts and other chart types like mind maps and flowcharts. The Free plan gives you access to a decent collection of templates, so you should definitely check it out.
3. Freshteam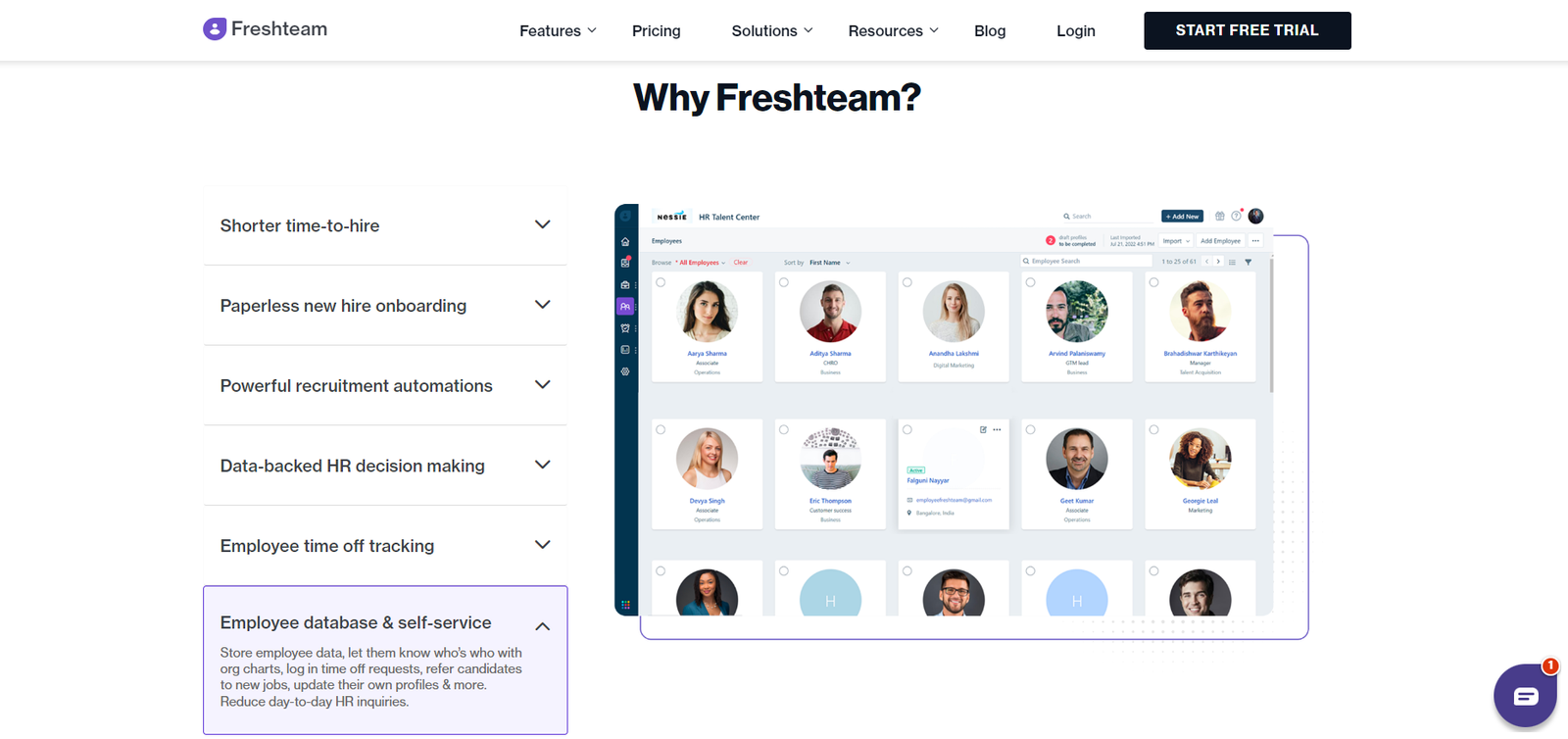 Overview
Freshteam is an HR-management platform that lets you create intuitive org charts, as well as perform other HR-related processes such as candidate sourcing, PTO tracking, and employee onboarding. It basically combines organizational chart creation, ATS (Application Tracking System), and HRIS (Human Resources Information System) in one tool.
Highlights
Auto org chart updating: Once an employee's status changes, the chart will update automatically.

Application tracking: Manage and track job candidates intuitively with an easy-to-navigate ATS.

PTO tracking: Monitor your employees' paid time off and let them log and view their PTO using a shared interface.

Spreadsheet import options: Update your organizational charts easily by importing spreadsheets that include employee information.

Kanban boards: Visualize workflows easily with the kanban boards and maximize your team's efficiency.
Pricing
Freshteam offers 4 pricing tiers: Free, Growth ($1.20 per employee/month + $71/month platform fee), Pro ($2.40 per employee/month + $119/month platform fee), and Enterprise ($4.80 per employee/month + $203/month platform fee). If you opt for annual billing, you get up to 2 months for free.
In case you'll only be using the software for org charts, the free plan would be more than enough for your needs.
Bottom Line
Freshteam is an excellent asset for small businesses that are planning to scale in the near future. You can give the free plan a shot to get a feel of how the software works.
4. Creately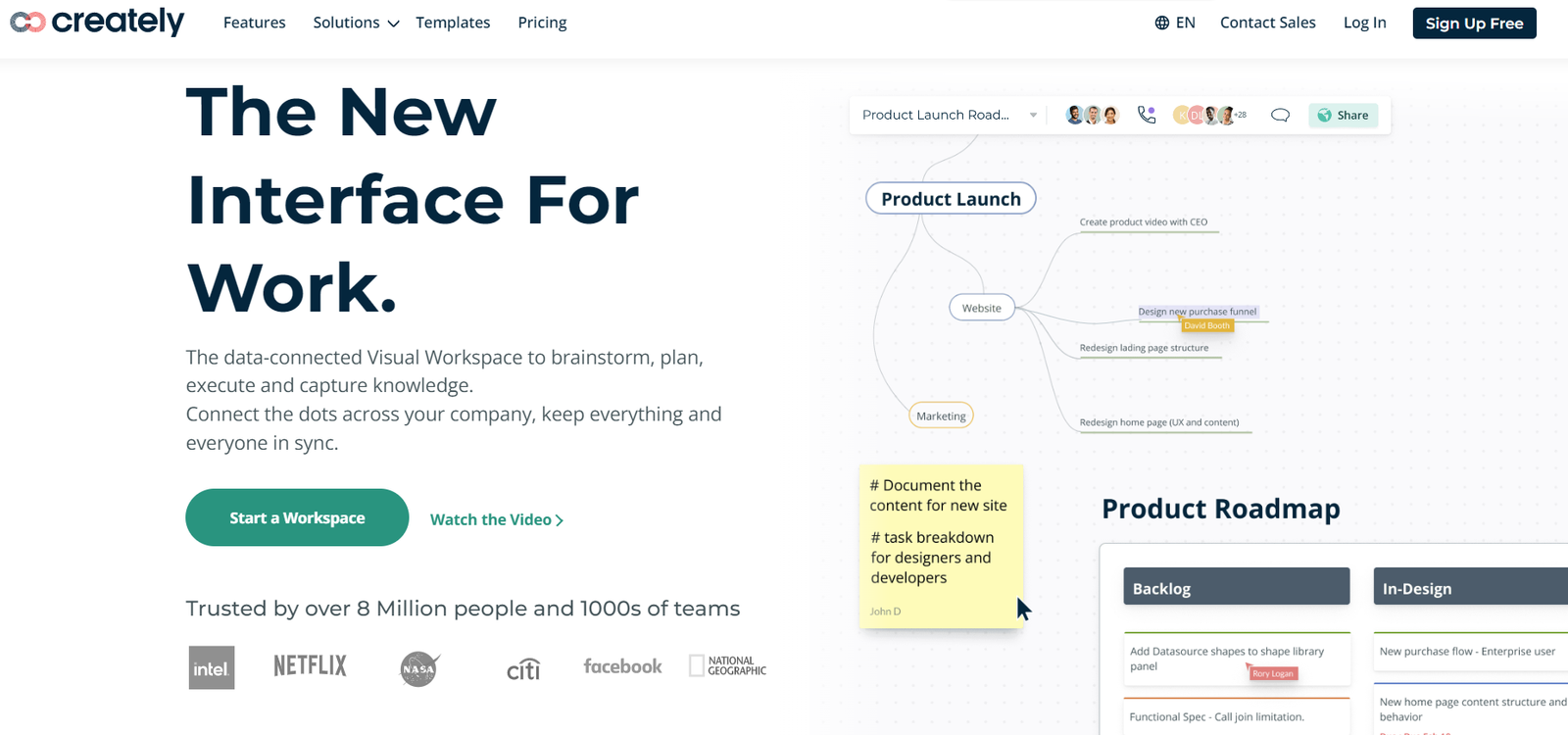 Overview
Creately is a visual workspace that allows teams to create org charts, brainstorm ideas, and map and visualize workflows intuitively. The tool is also highly effective in planning product launches.
Highlights
Real-time multi-cursor commenting: Collaborate with your colleagues easily using real-time multi-cursor commenting on the charts.

Infinite canvas: The infinite canvas can accommodate the most complex org charts and process workflows.

Chart templates: Choose from a wide collection of templates to create your org charts faster.

Integrations: Creately natively integrates with other project management tools like JIRA and Confluence, enabling you to optimize your workflow.

Auto flow line generation: Flow lines automatically connect your respective items, making it easier to switch the flow direction.
Pricing
Creately's pricing structure consists of 4 tiers: Free, Personal ($6.95/month), Team ($8 per user/month), and Enterprise (custom pricing). With annual billing, you get a 40% discount on all paid plans.
The Free plan gives you 3 canvases, 1 folder, and basic integration capabilities, while the Personal plan includes unlimited databases, project management tools, HR toolkits, most integrations, and advanced collaboration features.
The Enterprise plan adds extra security and account management features like SSO (Single Sign-On) and sharing controls.
Bottom Line
Creately is excellent for businesses that need an affordable visual workspace tool to facilitate org chart creation/updating and team collaboration and brainstorming. The Free plan would be a good place to start as it includes pre-made templates for faster chart creation.
5. Organimi
Overview
Organimi is an organizational planning platform that you can use to create customizable org charts, show your company culture, and get automatically generated reports on time-defined organizational changes.
Highlights
Adjustable org charts: Organimi's dynamic interface makes it easy for you to make changes to your org charts and keep everyone in the company updated with a simple drag-and-drop builder.

Powerful customization: Show your company culture and maintain consistent branding with custom avatars, themes, and other formatting options.

Color-coding: Use color coding to make your org charts easier to comprehend and remember.

Seamless data import/export: Import relevant data from spreadsheets and transform it into visual charts. Export and share your charts conveniently with the built-in presentation export function.

Multiple chart views: Switch between different org chart views quickly, depending on the departments and roles you want to focus on.
Pricing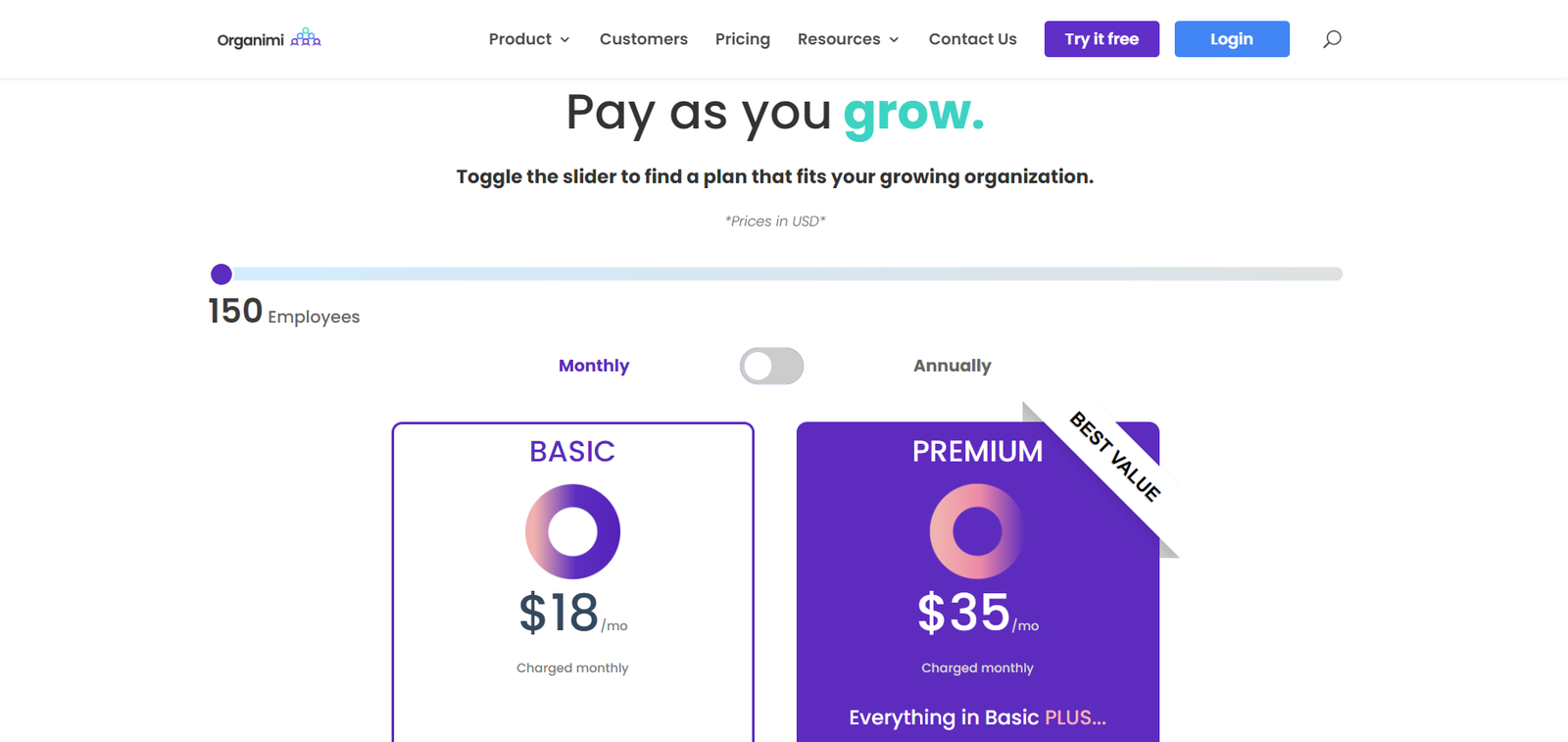 Organimi offers 2 plans: Basic (starts at $18/month) and Premium (starts at $35/month). With annual billing, you get a 40% price cut on both plans. You can customize each plan according to your company size, enabling you to scale your operations as your business grows.
The basic plan lets you create unlimited org charts, automate chart building, and share charts via email and other channels. On the other hand, the Premium plan offers regional hosting options, an interactive onboarding workshop, API access, and other perks.
Bottom Line
Organimi is the go-to solution for businesses that need a clutter-free organizational planning tool that's easy to use and customize. You can get a hands-on experience with the tool using the free trial.
What Is an Org Chart Software?
Org chart software is a tool that makes creating and sharing organizational charts and demonstrating the hierarchical structure of companies easier. Organizational chart tools are intended to streamline internal communications between employees by familiarizing them with the chain of command.
Wrap Up
So that was our two cents on the best org chart software tools.
Most org chart solutions can help you with more than just org chart creation, so you might want to see which additional features would benefit your business the most.
If you're not ready to spend big on org chart software, try some of the tools that offer a free plan and think about how soon you'd have to upgrade to a paid plan if you continue using any of them.