Best Webinar Platforms for Lead Gen in 2023
Webinar is one of the most effective content formats for lead generation. It helps marketers and business owners build meaningful relationships with their audiences through interactive sessions.
There are many webinar software platforms that can help you host webinars and capture and nurture leads. But with the vast number of available solutions and the wide price range and feature list differences, choosing the right solution for your business isn't that straightforward.
In this guide, I'll introduce you to 5 of the best webinar platforms for lead generation and help you pick the best option for your needs.
What Are the Best Webinar Platforms?
In my opinion, the best webinar software tools are BigMarker, Zoom, Livestorm, Vimeo, and GetResponse. Now, let's explore what each of these tools can do in detail.
BigMarker – Best Overall Choice
Overview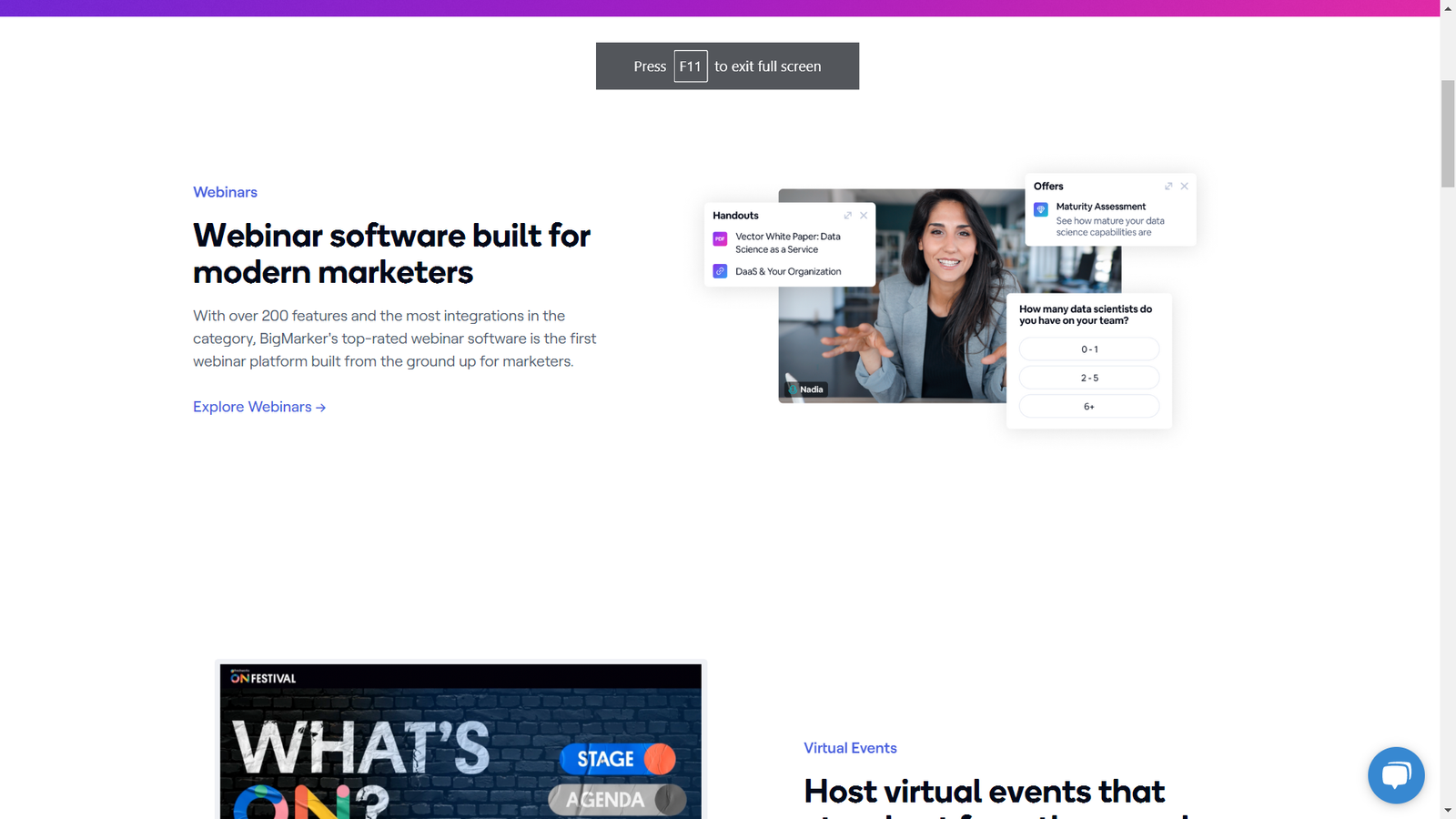 BigMarker is a webinar platform that lets you host classes, presentations, virtual events, and more, both from your desktop computer and mobile devices. You can also use it to host hybrid webinar events, and automated webinars as well as provide a digital-first booking experience for in-person events.
Highlights
Customizable landing pages: Attract more leads with optimized landing pages that tell your story and encourage users to take action.

Easily share recordings: With the same landing page invitation link you used to invite attendees, you can add a recording for your webinar that your audience can rewatch later.

Email marketing automation: Easily automate your email marketing sequences and integrate BigMarker with your favorite email marketing platform to streamline the process even further.

Q&A section: Let attendees ask questions and get answers from you effortlessly with an organized and easy-to-use Q&A section.

Live webinar widget: Stream your webinars directly on your website to drive more traffic and generate and engage leads.
Usability
One thing that BigMarker does great is that it lets me make my video recording more engaging with interactive elements. This way, I'm not just adding a boring classroom-type webinar recording to my landing page, I'm also using it to engage my audience and generate more leads.
For example, if you want to add a pop-up offer, a poll, or a Q&A section to your webinar recording, simply click on "edit video", then choose what you want to add.
You can even specify exactly when you want the interactive element to appear for your audience.
Pricing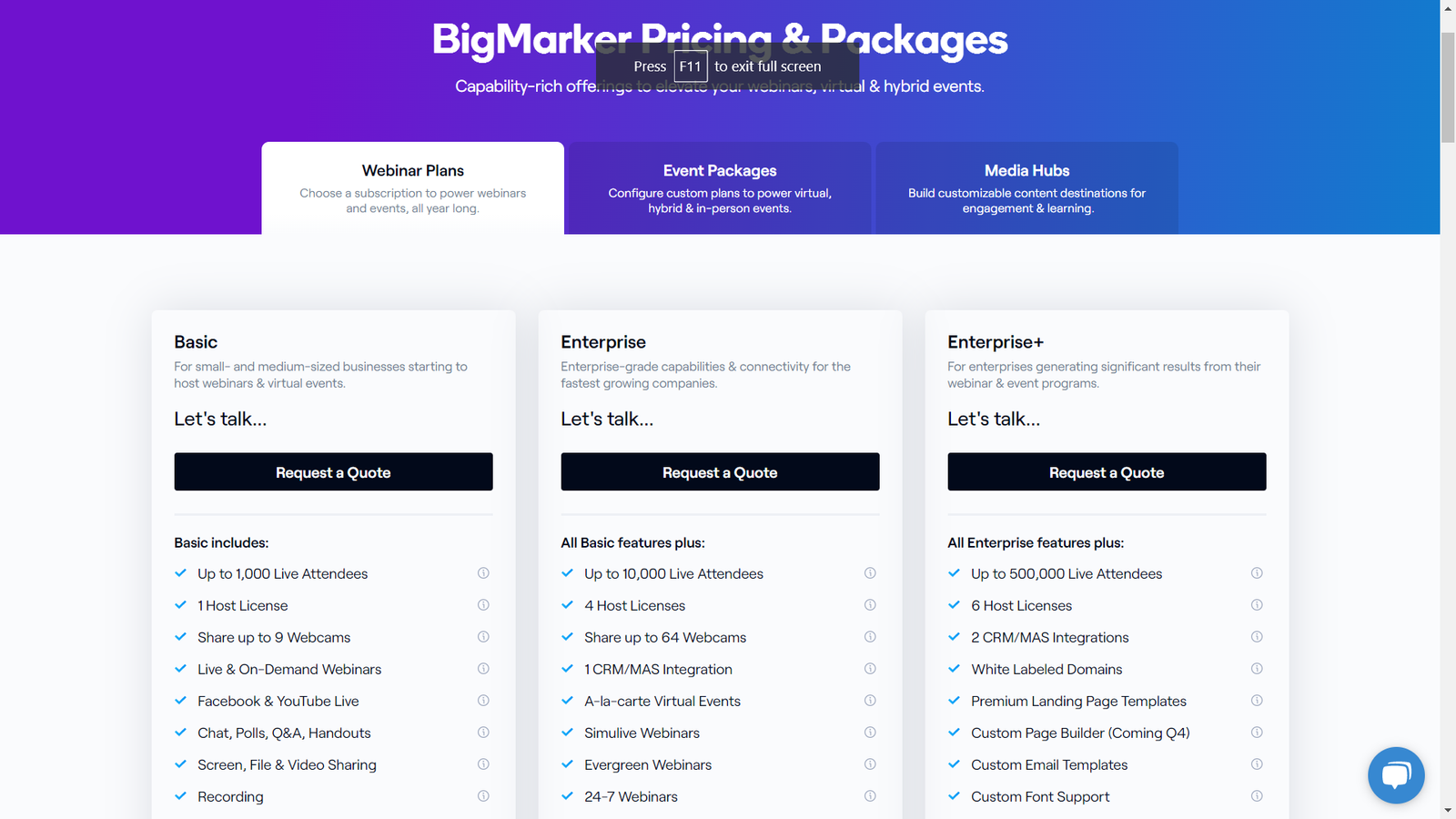 BigMarker's pricing is quote-based. The exact package you'll get depends on your business size and needs, but don't expect it to be super affordable as most users report that it's not cheap.
There are 3 available plans: Basic, Enterprise, and Enterprise+. With each higher-tier plan, you get a bigger live attendee capacity, more host licenses, more webcam shares, and some useful features like landing page templates, advanced analytics, and live translation.
Customer Thoughts
I find the Q&A section very useful as questions tend to get buried down if there are lots of attendees.

I wish I could segment my audience based on the duration they attended the session.

I appreciate that attendees don't need to install the app to be able to attend the webinar, which definitely provides a better user experience.

The number of native integrations is somewhat limited. They do provide APIs though, but we'd still appreciate some more CRM and email marketing tools to be available natively.

I love that I can stream right through the browser with BigMarker without having to download an app and deal with tons of updates and add-ons.

We like the ever-ready meeting room space. It lets us prepare for our live webinars beforehand with minimal effort.
Bottom Line
From where I stand, BigMarker is an excellent webinar platform for lead generation. It's not exactly the most budget-friendly option, but you can request a free demo to see if it's worth it for your usage.
Zoom Webinars – For a Familiar Experience
Overview
Zoom is one of the most widely used video conferencing and webinar tools in the world. Its Zoom Webinar add-on lets you host single-session webinars, stream to third party platforms, add your recorded webinars to your landing pages, and send customizable invitation links.
Highlights
Real-time feedback: On Zoom, attendees can submit real-time feedback with interactive reactions for you to gauge your audience's satisfaction.

Integrations: Zoom has a massive library of native integrations that help you streamline your workflow, including Slack, Dropbox, HubSpot, MS Teams, and Google Drive.

Monetization: For paid webinars, you can allow your attendees to pay directly on your registration page with PayPal integration.

Breakout rooms: Include small group discussions in separate breakout rooms in your webinars to increase engagement and create a workshop-like webinar structure.

Broadcasting: Expand your webinar's reach by easily broadcasting it to other platforms, like YouTube and Facebook Live.
Usability
With room Webinars, I can authenticate attendees with a watermark stamped to their email addresses. This helps improve security and protect the information in private webinars.
To enable this feature, check the "Add watermark that identifies the viewing participant" checkbox under the webinar options section.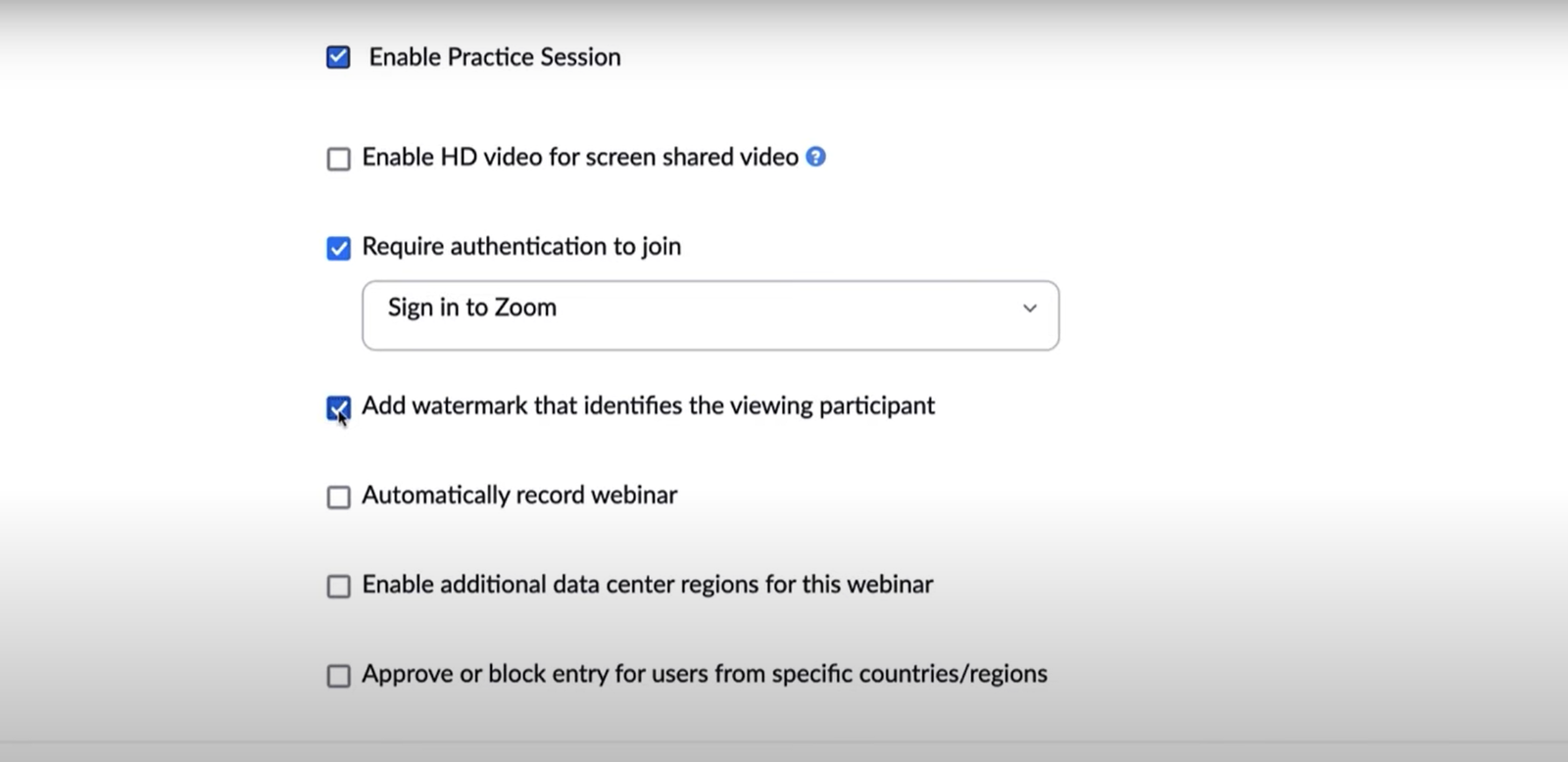 Pricing
Zoom Webinars is offered as an add-on to Zoom's all-inclusive Zoom One Pro product suite, so you must have an active Zoom One Pro subscription. If you don't have Zoom One, it'll be automatically added to your cart on checkout along with Zoom Webinars.
Zoom One Pro will cost you $14.99/user/month, and Zoom Webinars will cost you $79/month for up to 500 attendees.
Customer Thoughts
We love the interactive polling and Q&A elements; they keep our audience engaged throughout the webinar.

The fact that Zoom prompts registrants to download the Zoom app when they want to attend the webinar is a bit off-putting.

I wish I could create unique landing pages with custom images, fonts, text content, etc; the branding options for the default registration page are very limited.

Zoom needs to work on security more. Sometimes, a random, uninvited guest can appear in our private webinars out of nowhere.

I love the breakout rooms feature, but they can be a bit confusing to navigate for some attendees.

The automated features, like calendar sync, email reminders, and after-webinar follow-ups are very useful.
Bottom Line
If you don't want to unnecessarily complicate things for your followers, Zoom would be your best bet as it's very popular and everyone has probably used it at least a few times. It's free for basic usage, so you might want to give it a shot.
Livestorm – Best Free Webinar Software
Overview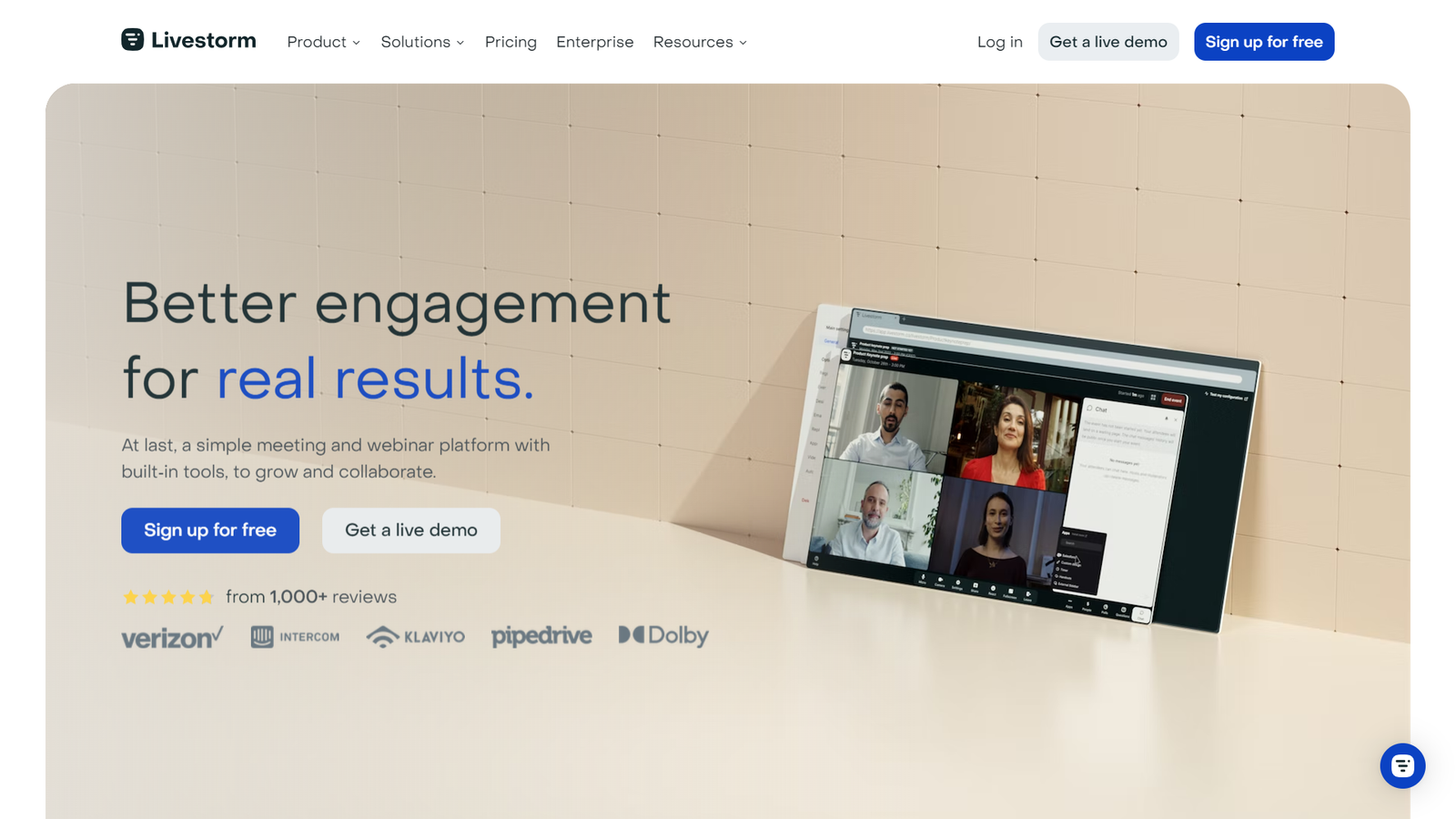 Livestorm is a platform for hosting webinars and online meetings. It supports on-demand, live, and pre-recorded online events. Plus, you get complementary features that help you turn your webinars into a lead gen machine, including landing pages, off-the-shelf events, email follow-ups, and more.
Highlights
Connectivity testing: Ensure that the connection is reliable and working as expected before your webinar to prevent interruptions.

Automated email links: Send automated emails with a link to your recorded webinar for people that couldn't attend it live.

Customizable landing pages: Create branded landing pages for your webinar build-up and generate leads.

Email delivery tracking: Find out whether your emails made it to all of your registrants or not with email delivery tracking.

Off-the-shelf compiled events: Enable your audience to shop through your events and sign up for multiple events at once easily.
Usability
For business owners that host lots of webinars, searching through your library can be time-consuming. Livestorm gets rid of the frustration with an easy-to-navigate dashboard and a powerful filter function.
To filter through your webinar content, simply tap on the "3 dashes" icon, and you'll be able to filter through your webinars by live, upcoming, on-demand, and more.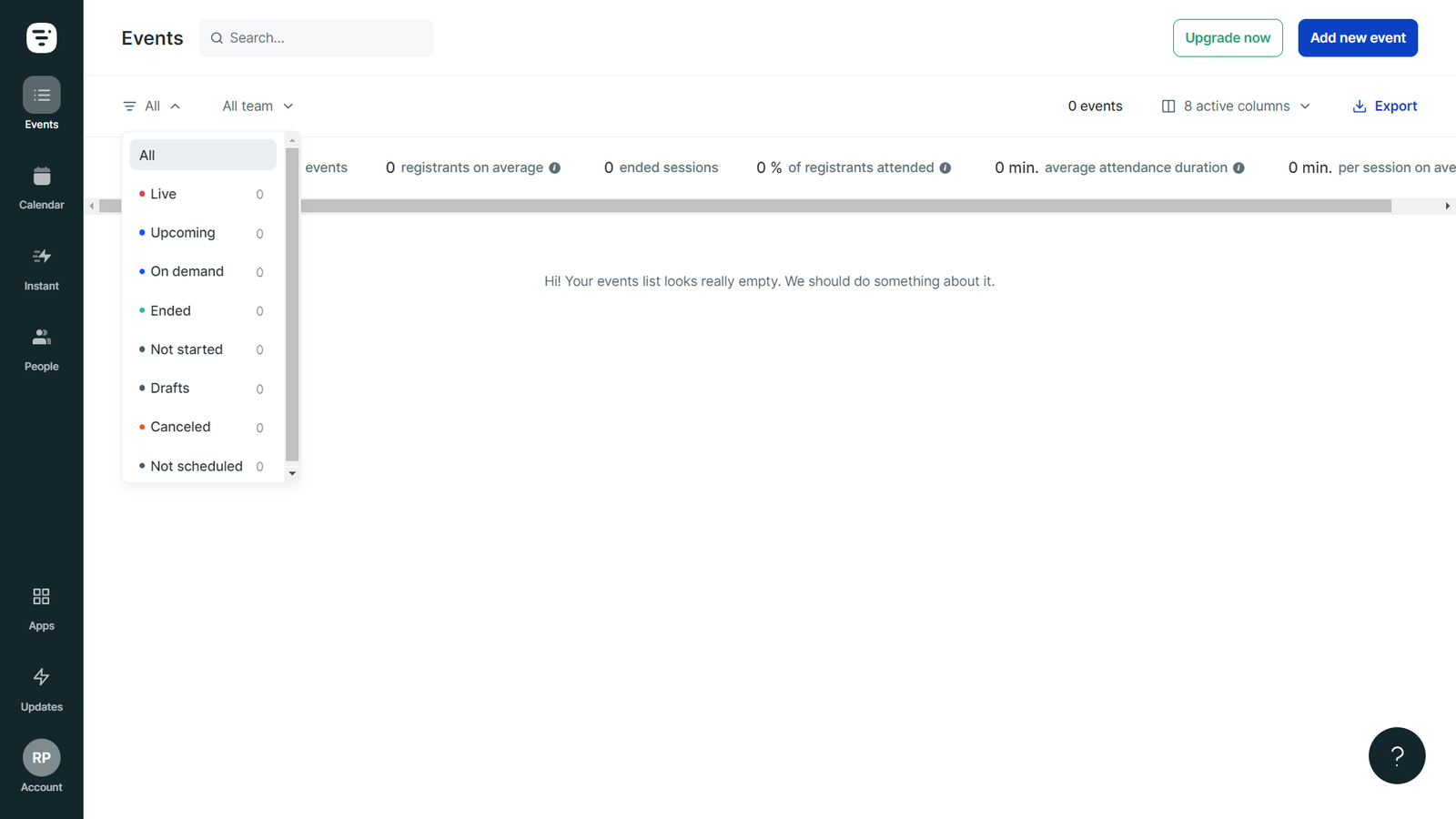 Pricing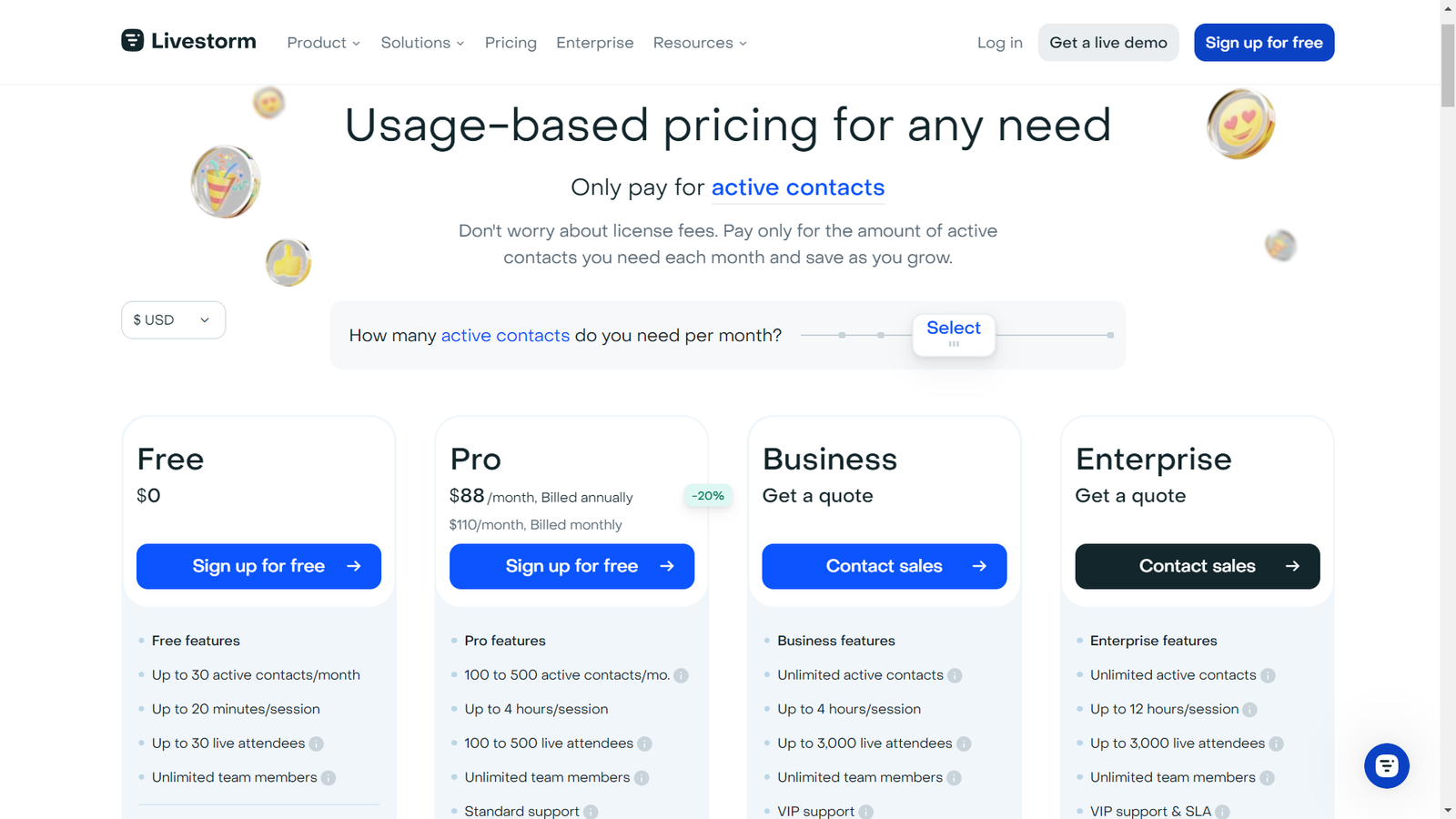 Livestorm has 4 plans: Free, Pro ($88/month), Business (quote-based), and Enterprise (quote-based). Livestorm's pricing model is based on the number of active contacts you have. The free plan includes up to 30 live attendees and up to 20 minutes/session. The Pro plan upgrades these to 100-500 live attendees and up to 4 hours/session.
The quote-based Business and Enterprise plans add features like access to Livestorm Learning, priority support, integrations, onboarding and training, and of course, more live attendees and longer session times.
Customer Thoughts
It'd have been great if registrants get my webinars marked on their calendars automatically without them having to do it manually.
I find it frustrating that I can't see participants, like with a split-screen sharing functionality or something similar.

We love the custom required fields feature for consent management.

When a guest speaker joins, some attendees find it confusing that the video doesn't get disabled by default.

We like that we can engage attendees with interactive elements like polling and questions tab; makes the webinars so much more enjoyable and memorable.

I'm impressed with the detailed results reporting that Livestorm provides; so much useful insights there.
Bottom Line
From my experience, Livestorm is one of the best free webinar software platforms for businesses that want to infrequently host quick webinars. I encourage you to try the free plan to check it out in action.
Vimeo – Best for Webinar Repurposing
Overview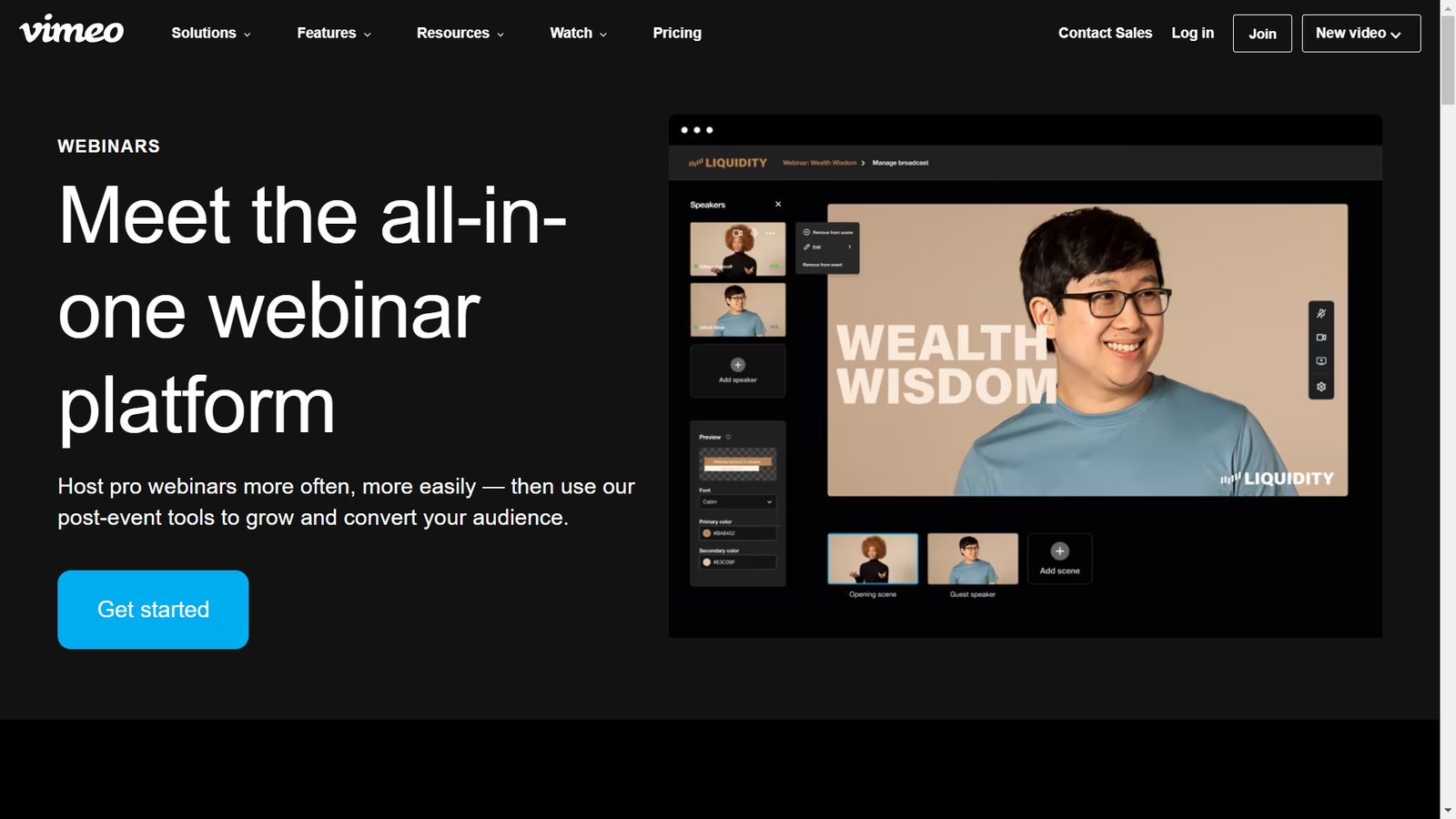 Vimeo is one of the most popular webinar and video-sharing platforms. It lets you host recorded and live webinars and provide an interactive, ad-free viewing experience for your attendees.
Highlights
Interactive features: Engage their audience and let everyone join the conversation with interactive polls, chats, and Q&As.

Video repurposing: Easily transform your recorded webinar into bite-sized content for your landing pages.

Branding tool: Add your unique branding elements to your video with an easy drag-and-drop tool.

Event build-up: Engage your audience and make more people interested in your event beforehand by adding pre-recorded videos, graphics, and guest speakers using Vimeo's creation tool.

Simple webinar archiving: Archive your past events in a central hub for easy searchability and content repurposing.
Usability
I was surprised that Vimeo lets me create these "showcases" that double as a dedicated website for displaying my video content. This can be particularly useful for a small business that doesn't have a fancy website with many customization features.
To create a showcase, click on "Showcases" and start uploading your pre-recorded webinars with the "Add video" button.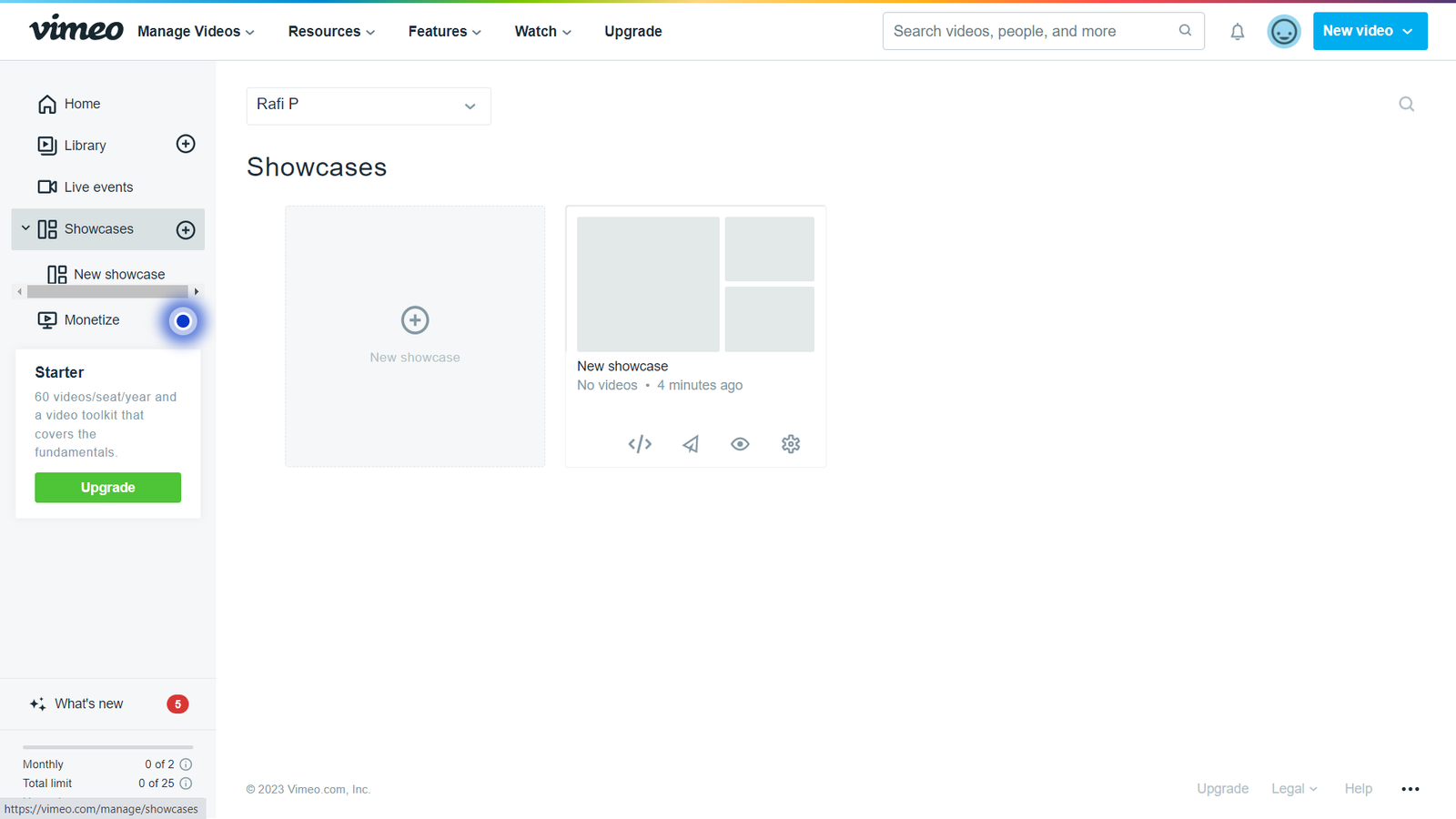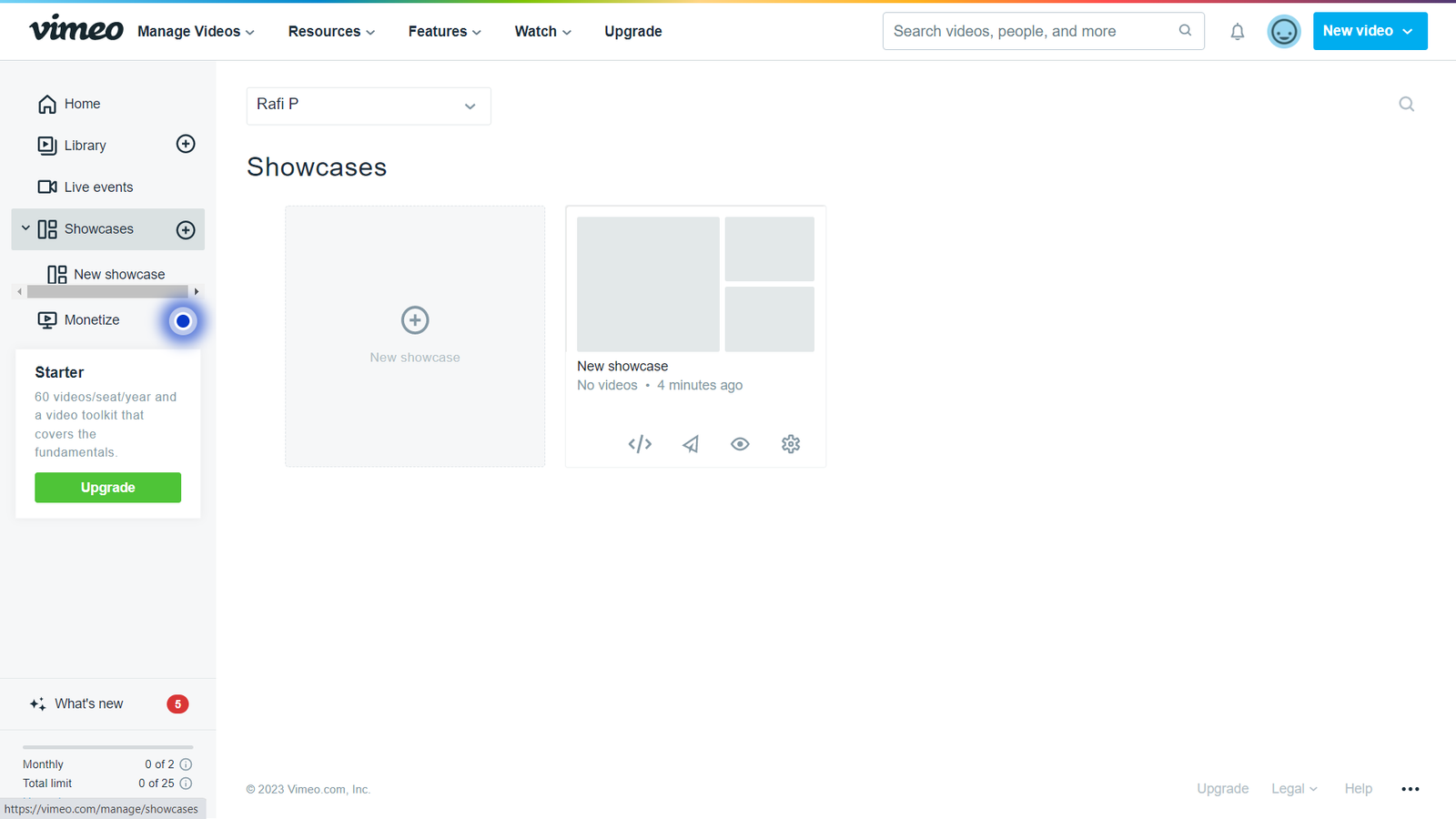 You can even add SEO elements like title and meta description by choosing "SEO" from the navigation bar.
Pricing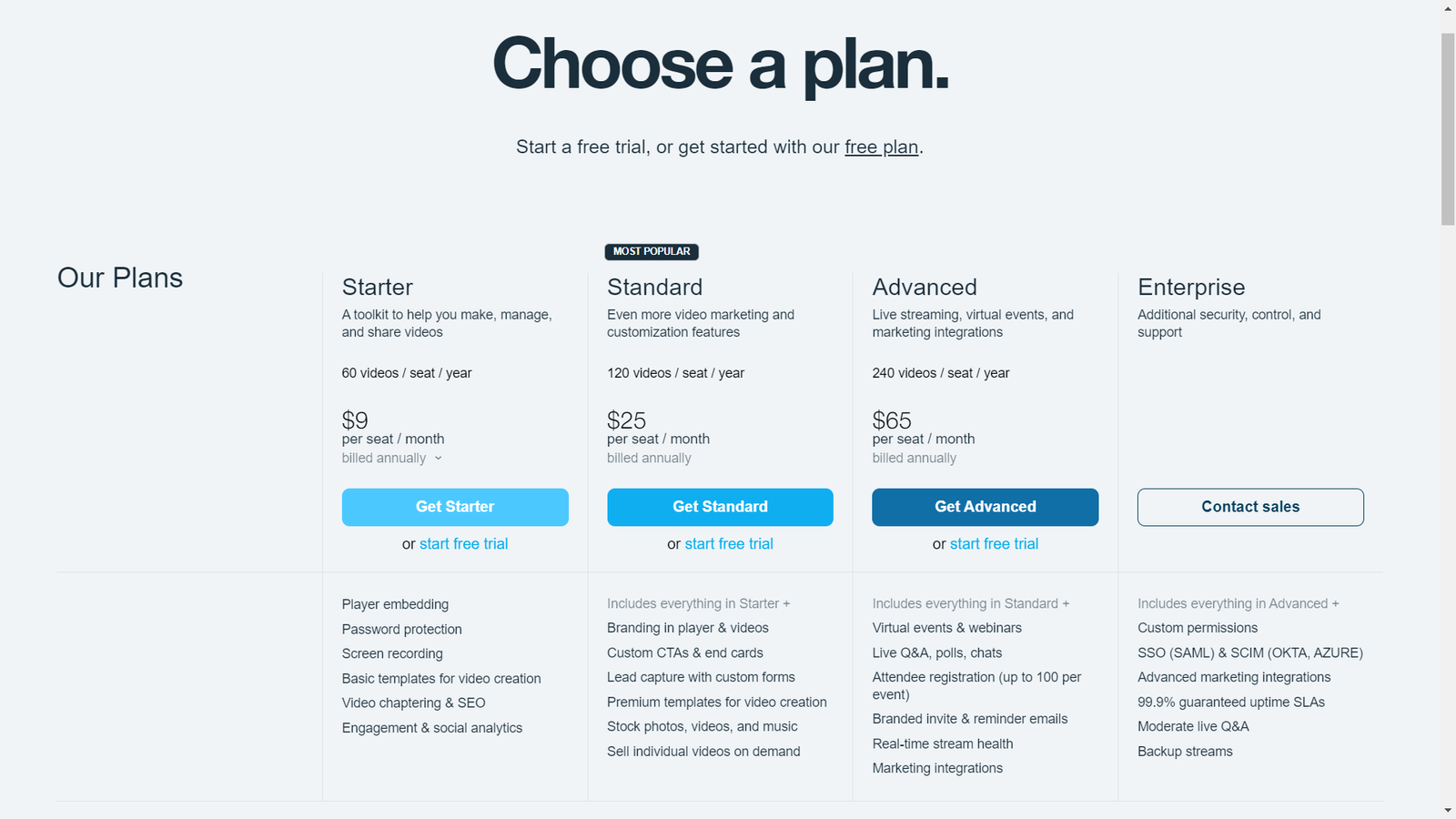 Vimeo offers 5 plans: Free, Starter ($9/seat per month), Standard ($25/seat per month), Advanced ($65/seat per month), and Enterprise (quote-based). With the free plan, you can upload 2 videos per month with a maximum upload size of 500MB per week.
Higher-tier plans give you more video uploads and much bigger cloud storage space. You also get extra features like an attendee registration page, 4K support, automated captioning, templates, content customization tools, and many more.
Customer Thoughts
I particularly like the captions/subtitles feature, especially since not everyone in my audience is a native speaker.

I love that Vimeo isn't so strict with its filtering aspect. Other platforms, especially YouTube, will almost always flag your video for non-existent copyright purposes.

The processing time after the video is uploaded can be a bit long.

We appreciate that Vimeo doesn't enforce any bandwidth limits on live streaming, even for free plan users.

The Vimeo Chrome extension and its screen recording functionality have come in quite handy for us.

The upload quota is very limited in the free plan.
Bottom Line
In my opinion, Vimeo is a great webinar tool for generating leads before your event and repurposing video content. You can try it with the free plan or by signing up for a free trial for one of the premium plans.
GetResponse – Great Webinar Tool With Powerful Marketing Tools
Overview
GetResponse is a marketing automation platform that has an intuitive webinar builder for hosting live and on-demand webinars. Since it's more than just a video conferencing platform, GetResponse places a high emphasis on marketing and lead generation with sequential email marketing campaigns, webinar CTAs, customizable landing pages, and analytics.
Highlights
Simple Facebook Pixel integration: Retarget your landing visitors with one-click Facebook Pixel integration.

Automated email invitations and reminders: Create a lead-nurturing campaign with automatic follow-ups and special promos.

CTA buttons during webinars: Add clickable CTA buttons right on your webinar's screen estate to encourage users to check out your product.

Interactive whiteboard: Deliver your ideas more clearly with the integrated whiteboard feature.

On-demand webinars: Get more leads by enabling users to submit their email in exchange for recorded on-demand webinars.

Customizable URLs: Add your brand name to webinar invitation URLs for consistent branding.
Usability
In GetResponse, I can use my own custom thank you page hosted on my domain instead of being restricted to GetResponse's default one. To enable this, click on "Create Live Webinar", and under basic details, select "page hosted elsewhere" from the drop-down menu.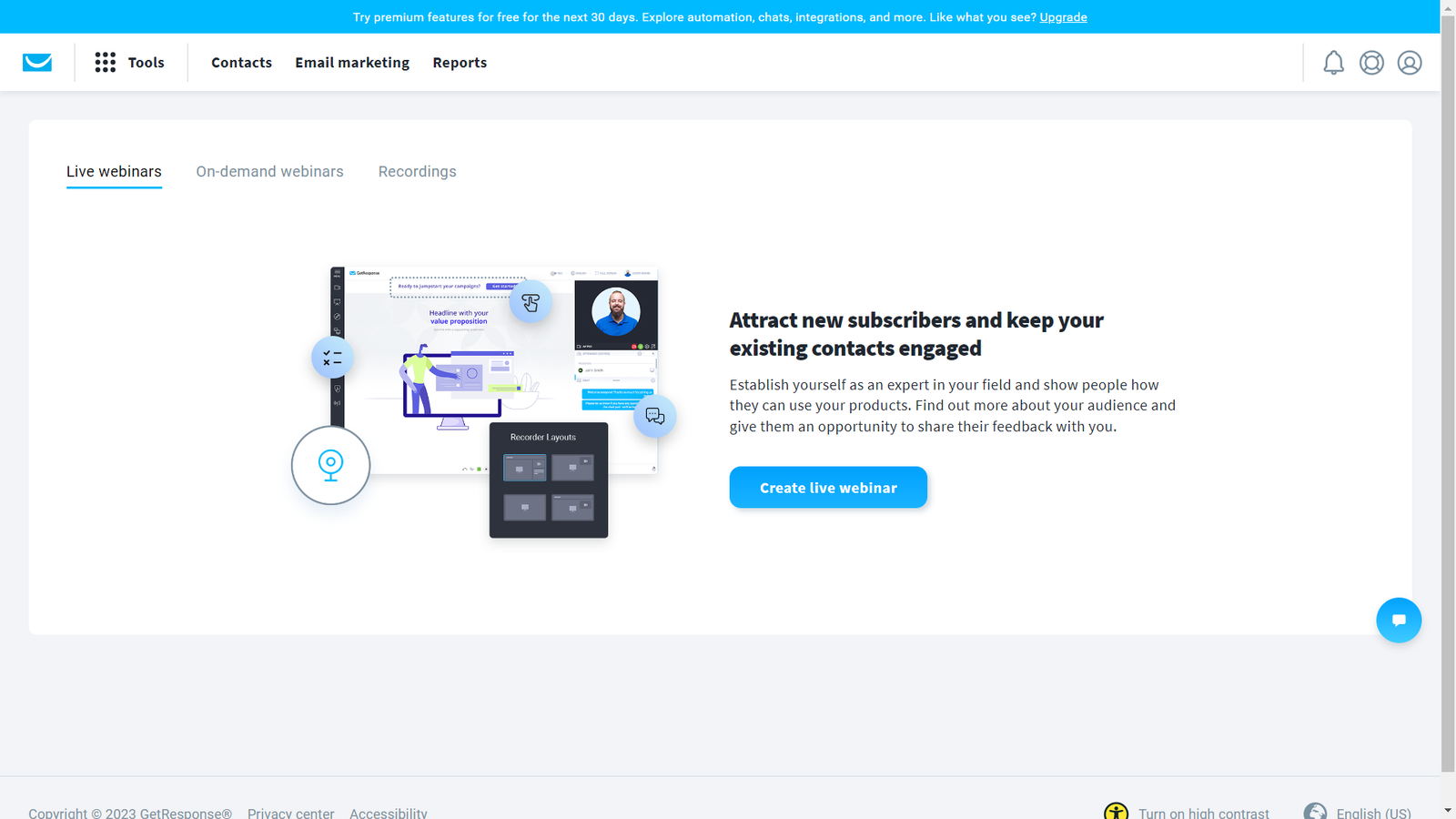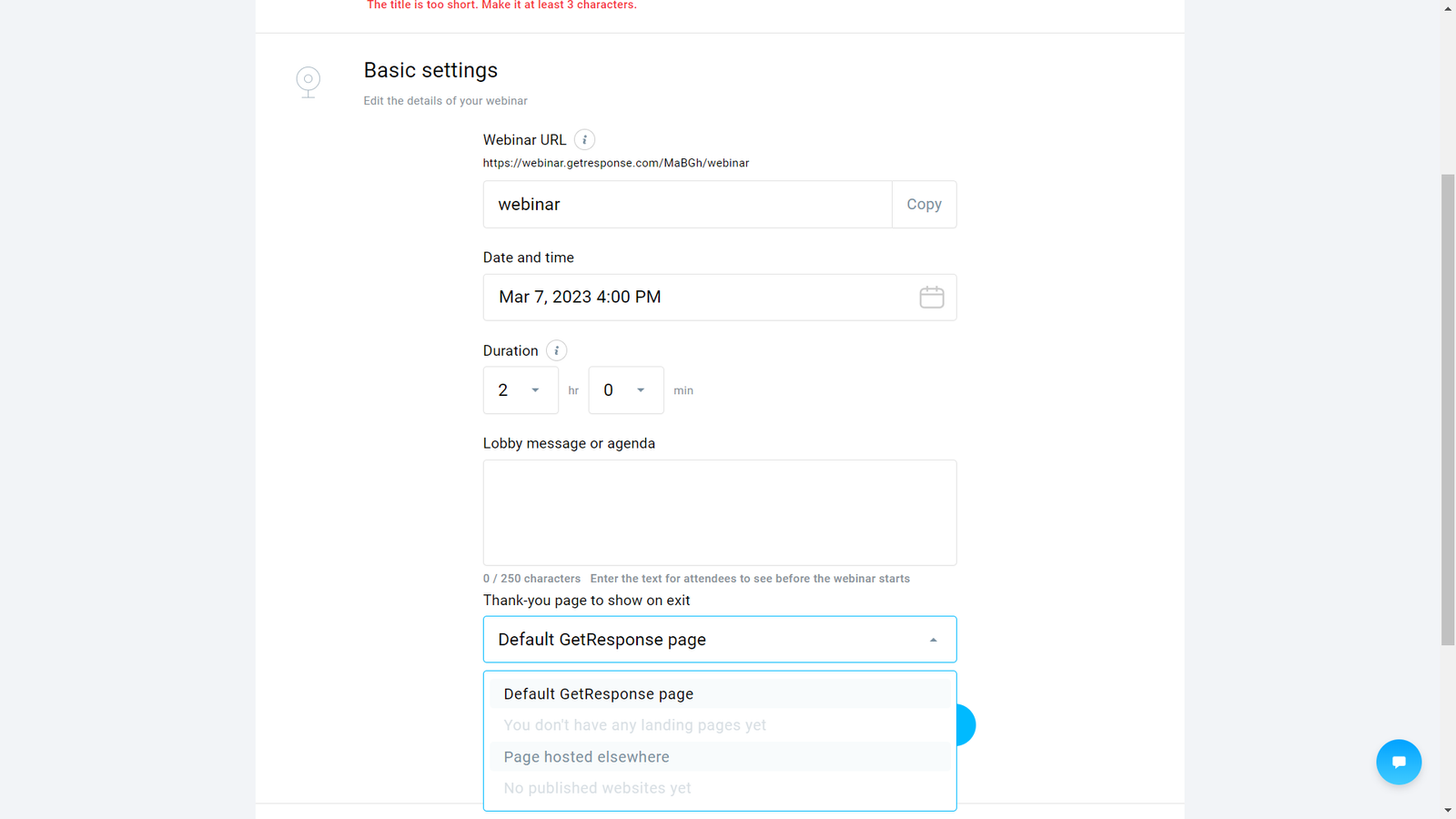 Pricing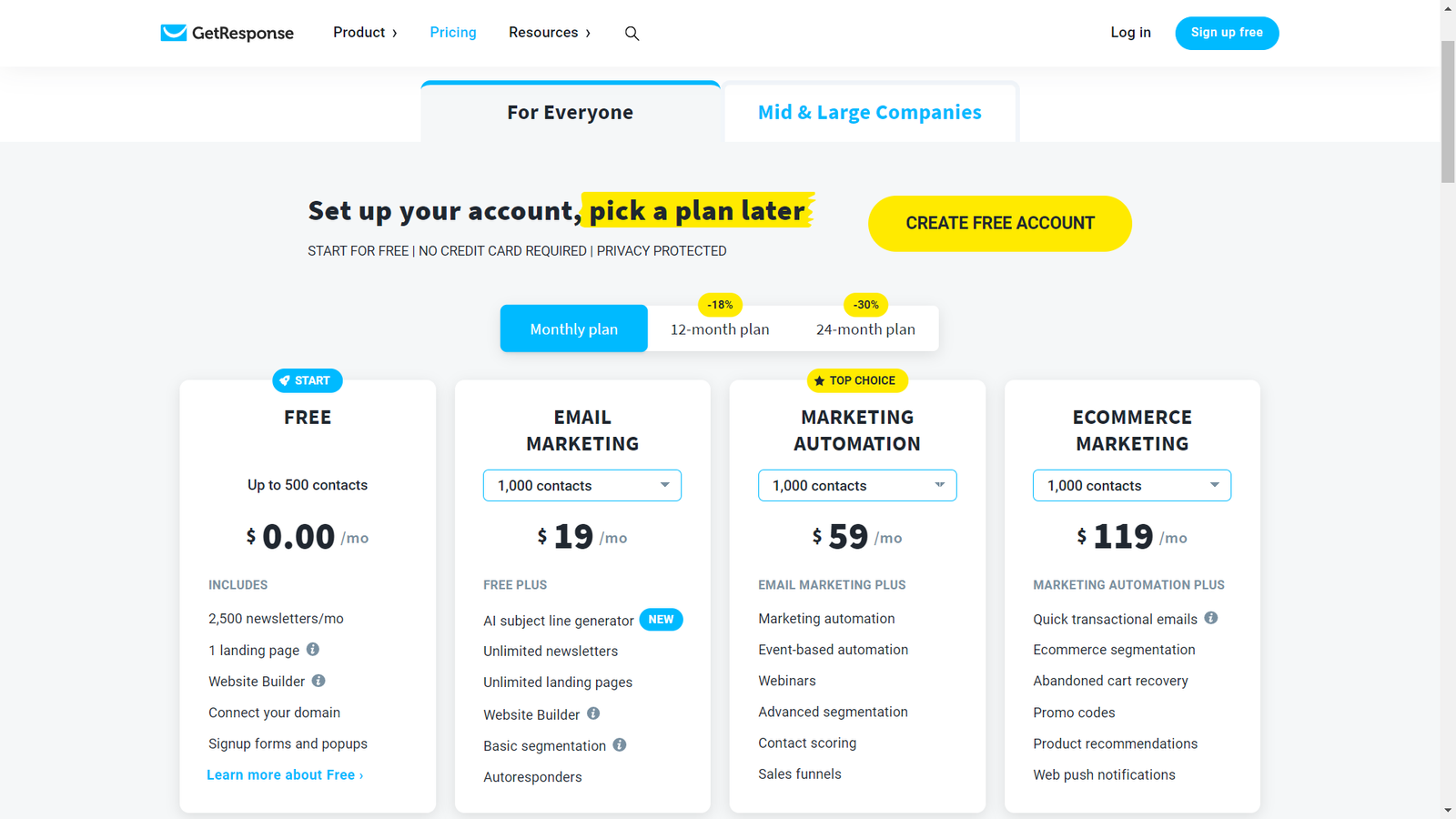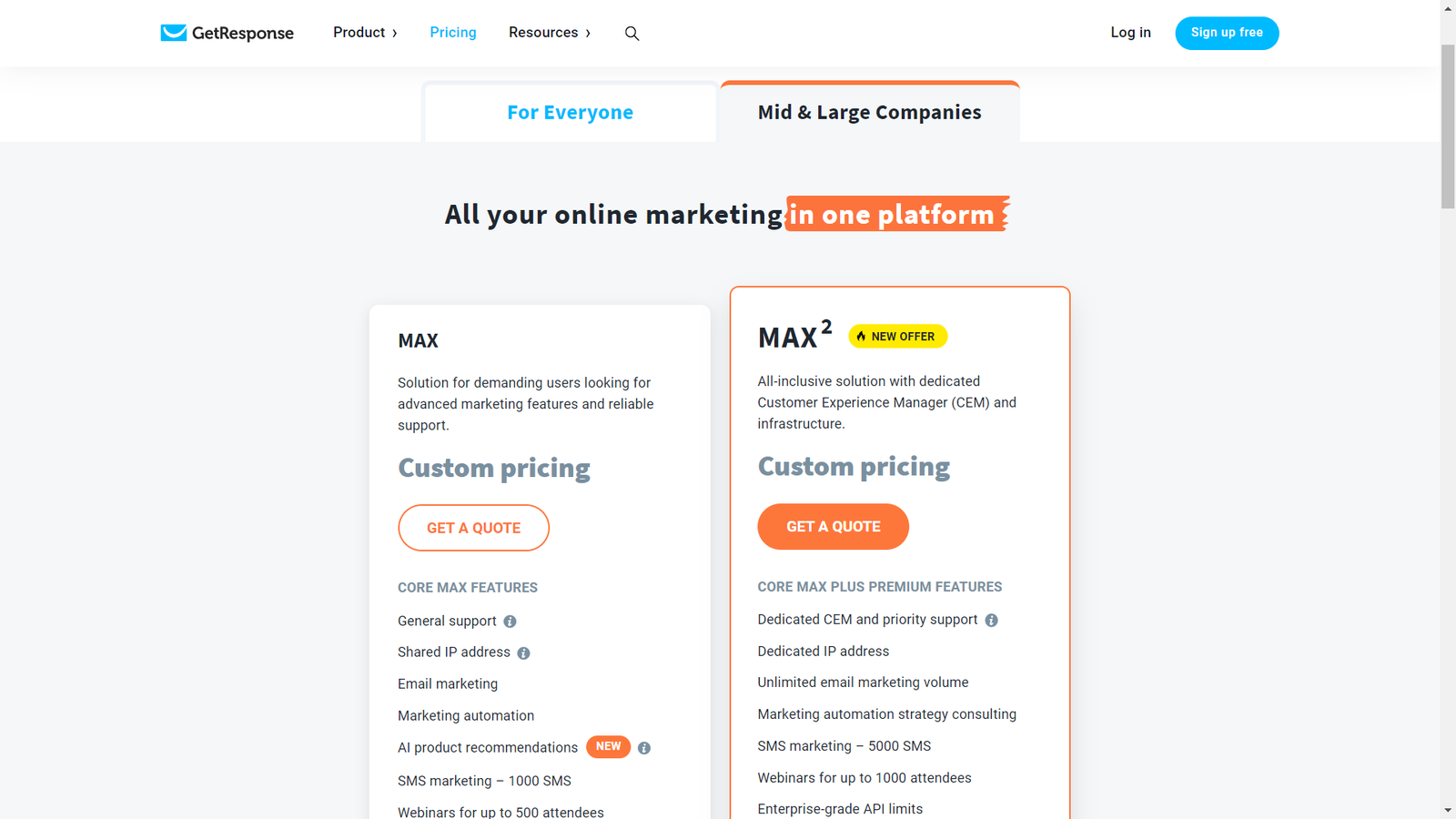 GetResponse offers 4 plans: Free, Email marketing (starts at $19/month, marketing automation (starts at $59/month), and E-commerce Marketing ($119/month). There are also 2 quote-based plans for mid-large sized businesses.
The webinar builder is available starting from the Marketing Automation plan, which also includes sales funnels and event-based automation.
Customer Thoughts
The email templates are great and save us a lot of time, but we'd have preferred more options here.

I love that I can prompt my attendees to check out my offer during the webinar with interactive CTAs.

GetResponse's tracking capabilities are pretty powerful and have helped me define my audience and retarget registrants.

I find it easy to add payment gateways to enable people interested in my webinars to pay for them without having to use Venmo or other additional software.

It'd have been helpful if I could set up multiple webinar dates using the same landing page.

The automation capabilities for webinar build-up and email nurturing save me a lot of time.
Bottom Line
From where I stand, GetResponse is a great webinar software solution for businesses that also want to access powerful marketing automation tools. You can also try one of the premium plans with a free trial.
What Is a Webinar Platform?
A Webinar Platform is a tool that lets you host online, hybrid, and on-demand webinars, live or recorded. You can use Webinar platforms for training employees, education, marketing, and other purposes. Many Webinar platforms also help you improve your lead generation efforts with custom landing pages.
Why Your Business Needs a Webinar Platform
Webinar platforms can be used for a wide variety of purposes, including:
Internal team meetings and training sessions

Sales and lead generation

Education

Product demos

Live events
Depending on the nature of your business and your specific uses, a webinar platform might either be essential or just a "nice addition". There are many free tools that let you host virtual meetings, such as Google Meet, and they won't cost you a dime.
However, dedicated webinar platforms often include additional features like interactive elements, custom landing pages and video branding, automation capabilities, and more.
According to recent research by the Content Marketing Institute, webinars claimed the top spot (51% of respondents) as the best-performing video format for marketing purposes. The same survey found that 58% of marketers agreed that virtual events and webinars resulted in the highest ROI for their content marketing efforts.
Conclusion
So these were some of the best webinar software platforms for lead generation.
Can't make up your mind yet? Start by filtering the webinar features that you really need for webinar marketing and take it from there. Of course, you also need to consider your budget and the expected number of attendees as these will help you rule out some options.