Best Social Media Management Tools in 2023 (Ranked & Reviewed)
Social media marketing can be a great way to reach your target audience and build a relationship with them. However, maintaining a solid presence on multiple social media channels can be time-consuming.
That's where social media management software solutions kick in. If you have one of these, you'll rarely even have to log into your social media profiles. Instead, you'll publish and schedule posts, monitor user engagement, respond to messages, and analyze metrics across multiple social media profiles in one place! How cool is that?
In this guide, we'll help you choose the most suitable social media software for your business requirements.
What Is the Best Social Media Management Software?
The best social media management tools include Sprout Social, Hootsuite, Later, Zoho Social, and Buffer. Now, let's take a close look at what each tool can do.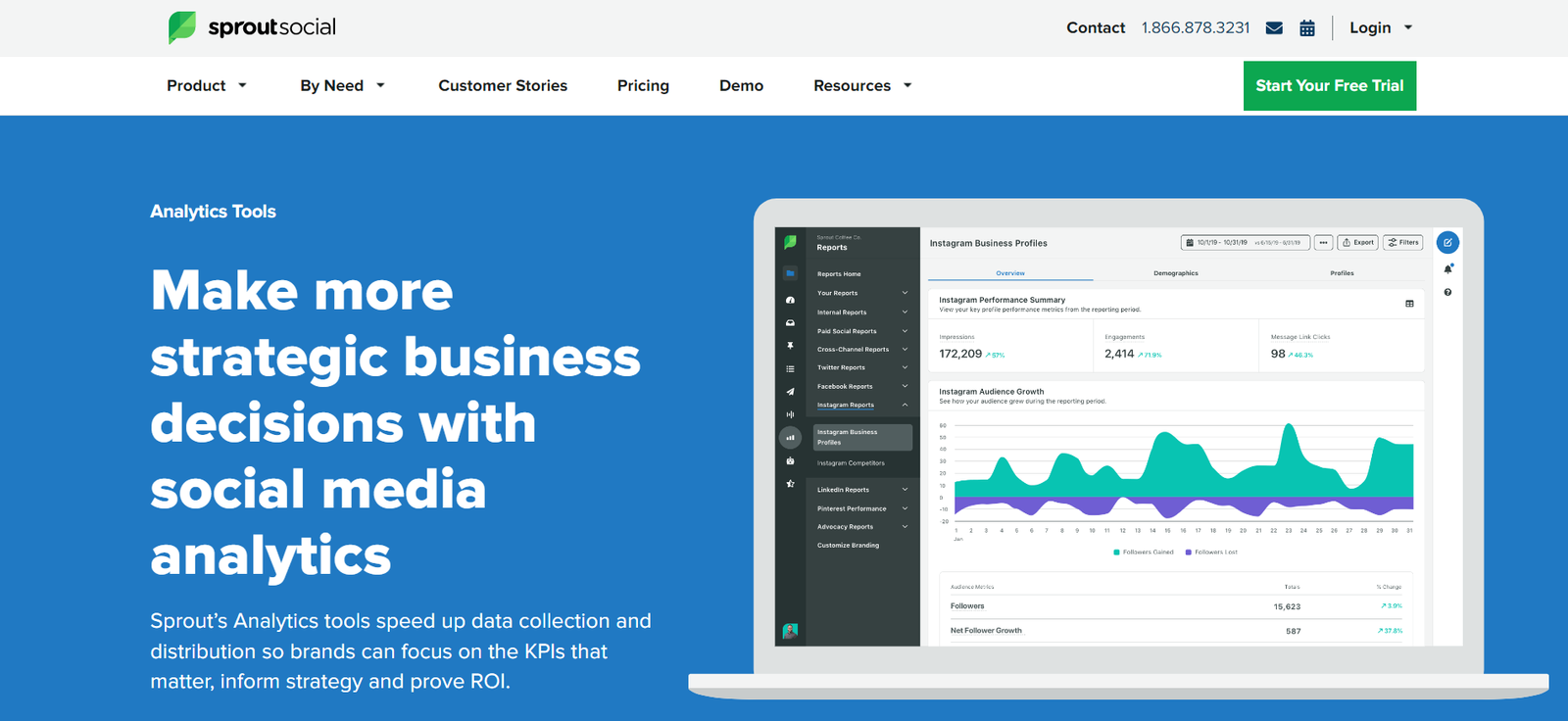 Overview
Sprout Social is an enterprise-focused social media management solution that flaunts advanced analytics and reporting features.
With Social Sprout, marketing teams can analyze what works and what doesn't work with their target audiences by setting demographic and geographic measurements. It also makes scheduling social posts and responding to messages a breeze.
Highlights
Scheduling: Draft social posts easily and specify when they should be posted.

Analytics: Get in-depth insights into the performance of your social media campaigns to maximize your return on investment (ROI).

Powerful user dashboard: Manage your social profiles and get a bird's eye view of key social metrics in one place with an intuitive dashboard.

Unified inbox: View and respond to messages across all of your social profiles with a single inbox.

Multimedia library: Access a huge library of royalty-free images and videos to use in your social media posts.
Pricing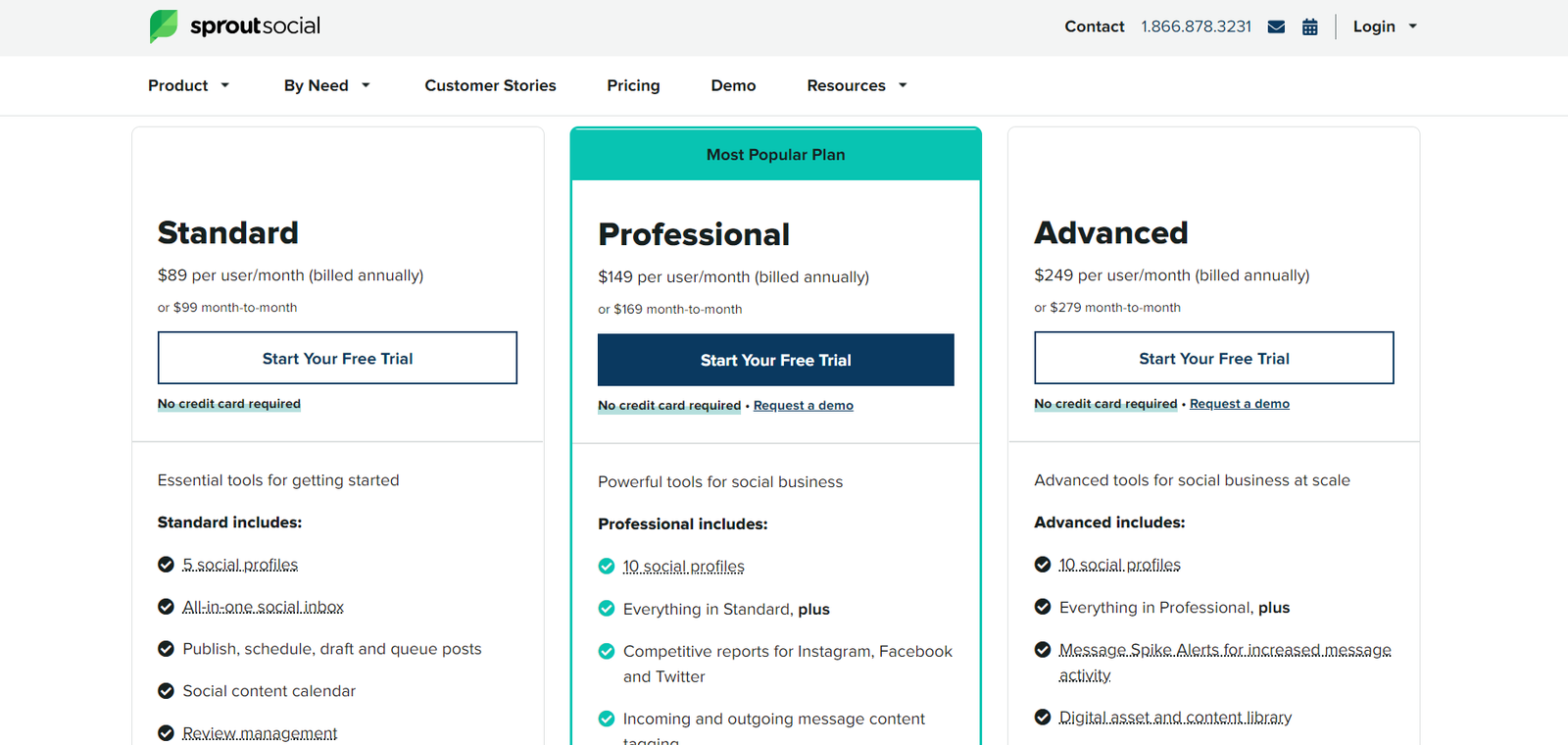 Sprout has 3 subscription-based plans: Standard ($99 per user/month), Professional ($169 per user/month), and Advanced ($279 per user/month). If you opt for annual billing, you can save up to 11% on the monthly subscription fees.
With every higher-tier plan, you get more social profiles, as well as advanced scheduling, analytics, and reporting features. Nevertheless, the Standard plan covers the essentials, including content calendar, paid promotion tools, CRM tools, and mobile app access.
Bottom Line
Social Sprout is one of the best social media management tools for enterprises and large businesses. You can try any of the plans with a 30-day free trial to get a feel of how the tool works.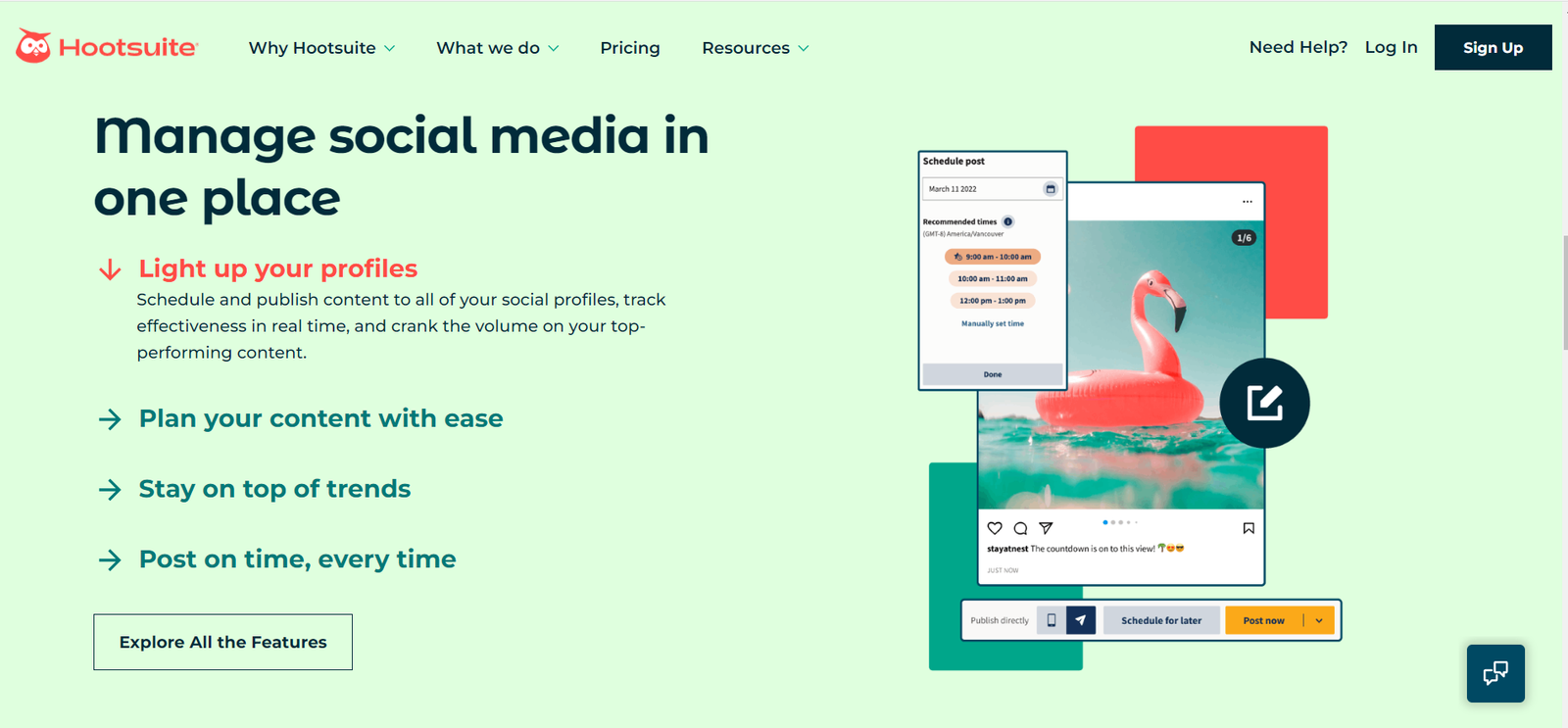 Overview
Hootsuite lets you connect up to 50 social profiles depending on which plan you opt for. But what really makes Hootsuite stand out from the crowd is its powerful social media tracking tools and analytics.
You won't likely need any additional tools for analytics when you use Hootsuite to manage your social profiles with its insightful and customizable reports.
Highlights
Integrations: Hootsuite natively integrates with over 250 apps that include Microsoft business apps, Spotify, Canva, and Adobe, with open API access for more integration possibilities.

All-in-one inbox: Access and respond to social messages from users across your social profiles in one place, including SMS, Whatsapp, and LiveChat messages.

Collaboration: Hootsuite incorporates various team management and collaboration features in select plans, such as post assigning, team productivity reports, roles and permissions, and employee advocacy.

Advanced analytics tools: Track and improve the performance of your social media campaigns with powerful reporting tools and analytics.

Interactive planner: Review scheduled posts and make adjustments effortlessly with the included content planner.
Pricing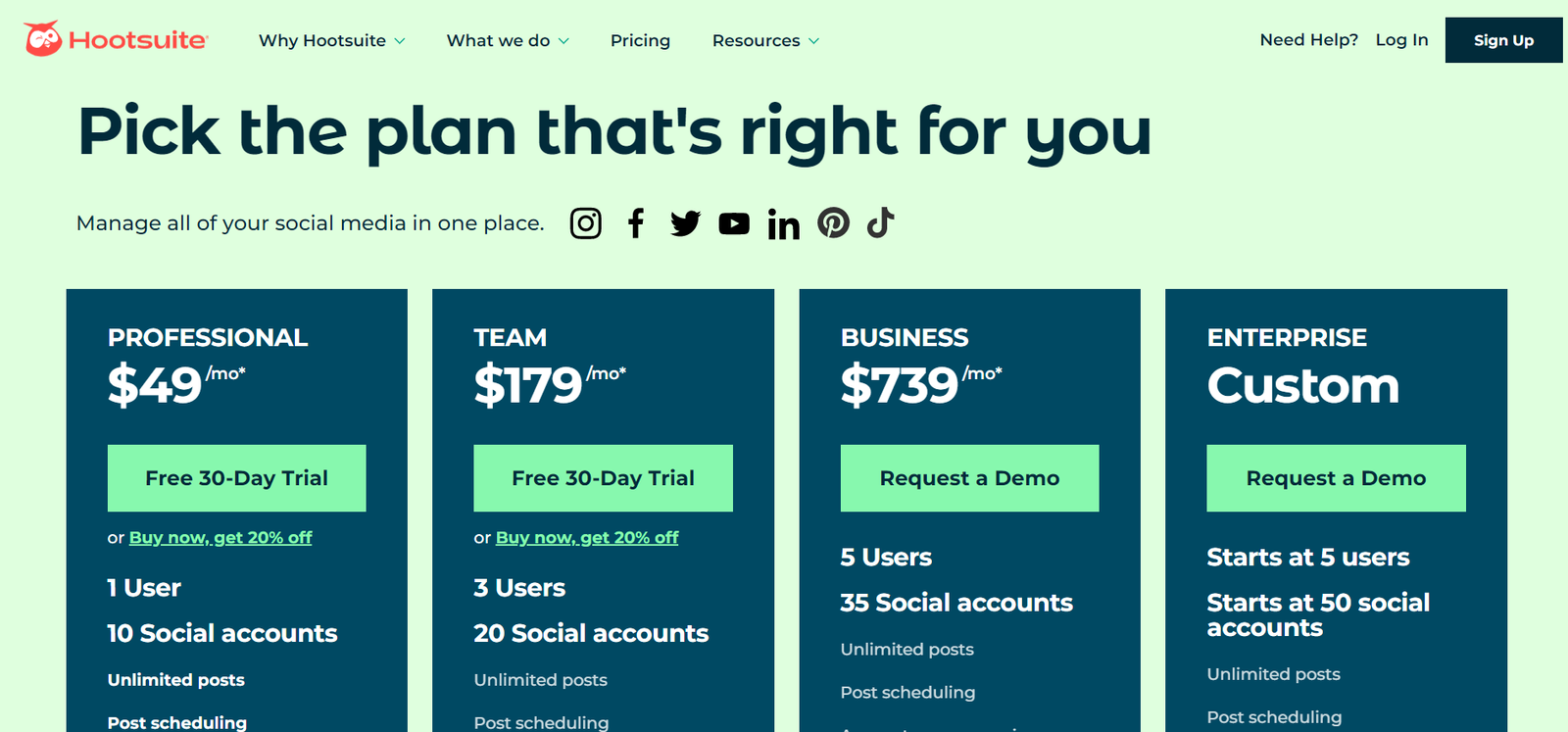 Hootsuite's pricing structure has 4 tiers: Professional ($49/month), Team ($179/month), Business ($739/month), and Enterprise (quote-based). The Professional plan includes 1 user, 10 social profiles, unlimited posts and scheduling, and a unified inbox.
With higher-tier plans, you get more users and social profiles, as well as advanced features such as roles and permissions, team management, content library, analytics and reporting, and Hootsuite customer support.
Bottom Line
Hootsuite is an excellent social media management tool for small and medium-sized businesses that heavily rely on social media networks in their marketing strategy. We highly encourage you to try one of the plans with the free demo or 30-day trial.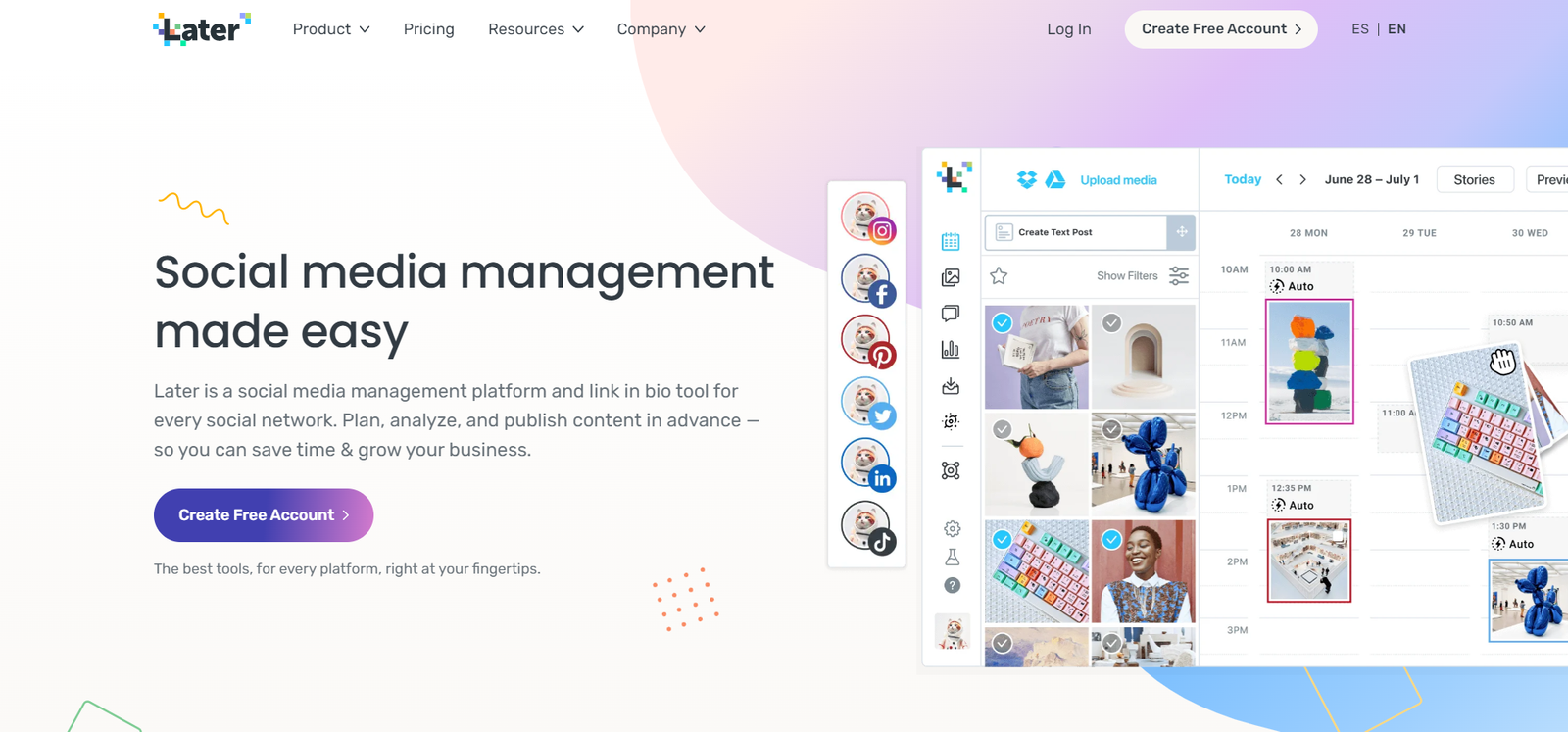 Overview
Later is a simple social media management tool with straightforward functions like viewing, scheduling, and automatic publishing capabilities. The visual calendar makes these tasks seamless.
The tool also integrates analytics to help you optimize your content for your target audience.
Highlights
Visual planner: See all of your posts and schedule them easily with the highly intuitive content planner and calendar.

Analytics: See automated analytics reports for better decision making and content creation and scheduling.

Seamless scheduling: Create social posts and get them published automatically on the date and time you specify.

Linkin.bio: Add links to your Instagram posts directly from Later with linkin.bio.

Best-time-to-publish: Optimize your Instagram post publishing timings to maximize their reach with advanced best-time-to-publish metrics.
Pricing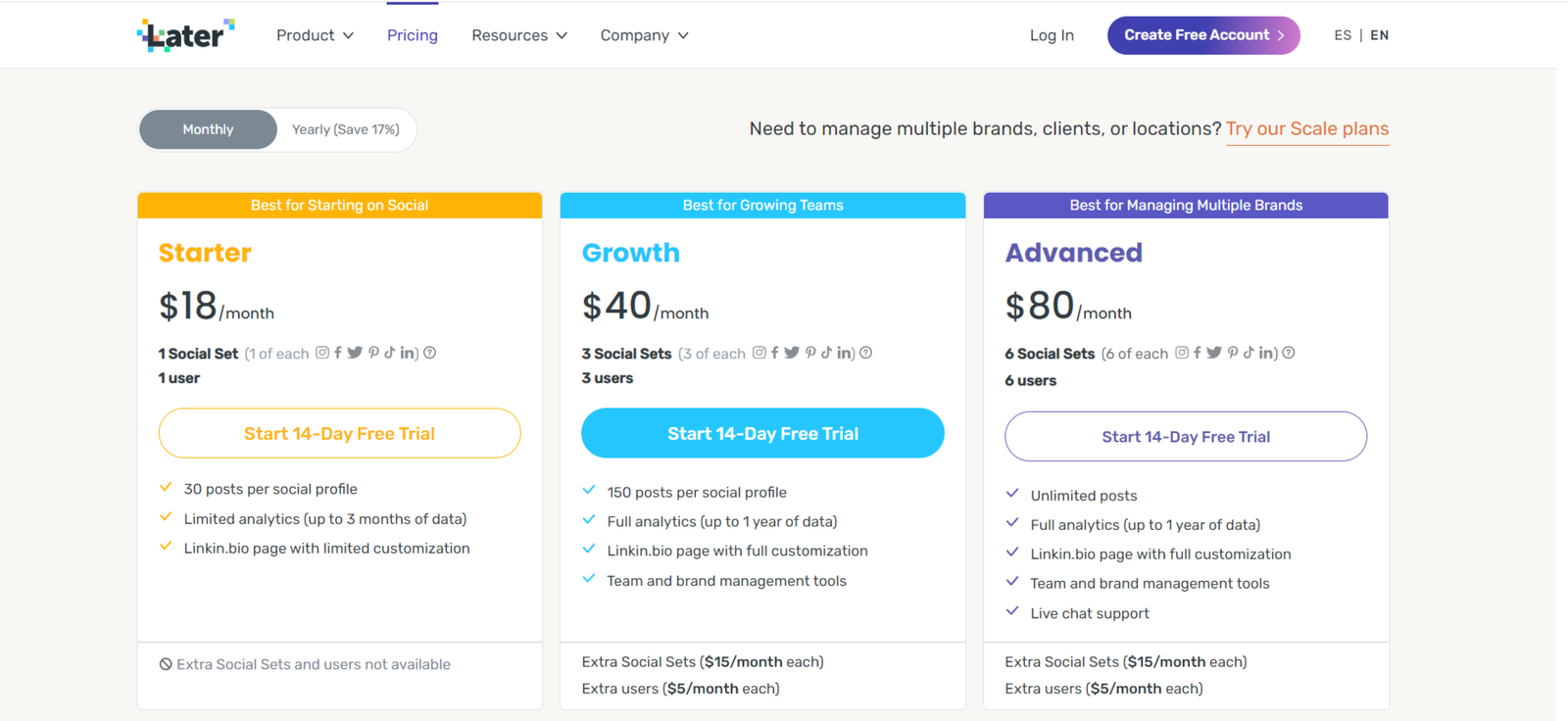 Later's pricing structure consists of 3 plans: Starter ($18/month), Growth ($40/month), and Advanced ($80/month). With each higher-tier plan, you get more users and social sets. The Growth plan includes advanced analytics, as well as team and brand management tools.
The Advanced plan goes one step further with more powerful analytics and live chat support.
Bottom Line
Later is a great social media management tool for small business owners that extensively rely on Instagram in their social media strategy. There's a 14-day free trial with all of the plans, so you might want to check it out.
Overview
Zoho offers more than just a social media tool; its line of software products also includes a Customer Relationship Management (CRM) solution, making it an excellent tool for business growth and lead generation.
It also makes scheduling social media posts a breeze, and with the integrated analytics, getting useful insights into how your audience interacts with your brand is one click away.
Highlights
Pause posts: Whenever an unexpected incident happens, you can easily pause some or all of your scheduled posts to maintain your brand image.

CRM features: Zoho lets you track accounting, respond to emails, and generate leads with CRM software that seamlessly integrates with your social media management platform.

Analytics: Track and analyze the performance of social media campaigns with analytics that show you how your audience engages with your brand.

Intuitive content calendar: Schedule posts throughout each week or month easily with the built-in visual calendar.

Comprehensive dashboard: Find out what's happening on all of your social media accounts easily in one place and engage with your audience.
Pricing
Zoho Social offers 3 subscription packages: Standard ($15/month), Professional ($35/month), and Premium ($55/month). You can save up to 25% if you choose to get billed annually.
The Standard plan includes a Home dashboard, content scheduling, summary reports, and a publishing calendar. If you opt for the Professional plan, you get additional features like live streaming, notifications, messages, retweet scheduling, and more.
The Premium plan focuses on collaboration features, making it more suitable for teams.
Bottom Line
If you don't want to use separate CRM software, Zoho social would be an excellent two-in-one solution for your business to manage your social accounts and maintain client relationships. You can try any of the plans with a 15-day free trial to get a glimpse of what it has to offer.
Overview
Buffer is an affordable social media management tool that offers a free plan and a few budget-friendly paid plans. It lets you schedule posts, build landing pages, and even collaborate with other team members.
Pricing is on a per-channel basis, so if your target audience uses only 2 or 3 channels, you won't have to pay much.
Highlights
Scheduling calendar: Draft social posts in advance and schedule them for automatic publishing.

Link-shortener: make your links more social media friendly with the built-in link shortening tool.

Hashtag suggestions: Learn more about your audience's interests and reach them more effectively with hashtag suggestions.

Collaboration: collaborate with your colleagues with draft tools, exportable reports, and custom permissions.

Two-factor authentication: Keep your data secure with secure login.
Pricing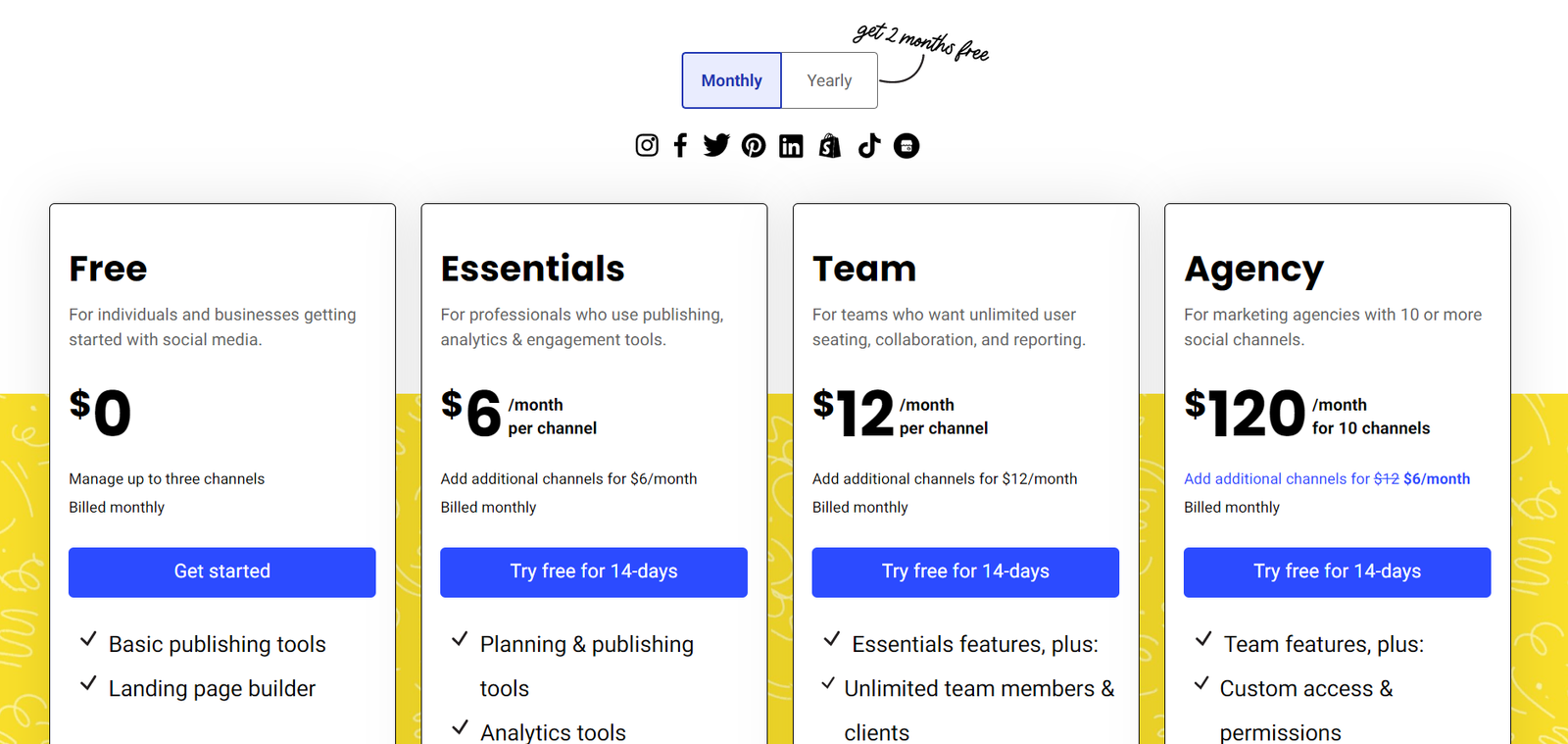 Buffer offers 3 subscription models: an Essentials plan ($5 per month/channel), a Team plan ($10 per month/channel), and an Agency plan ($100/month for 10 channels). There's also a Free plan, but it's a bit limited in functionality.
The Essentials package includes publishing, analytics, and planning tools, in addition to a landing page builder. The Team plan offers additional collaboration features and more user seats, while the Agency plan is intended for larger teams with more agency-suited pricing and custom access and permission controls.
Bottom Line
Buffer is a great tool for individuals or small businesses that want to take their social media management and growth to the next level on a budget. There's even a Free plan that helps you get started right away.
What Is Social Media Management Software?
Social media management software is a tool that makes managing multiple social media accounts and campaigns easier.
With a social media management tool, you can control every aspect of your social media profiles on a unified platform, saving you a lot of time and effort.
These tools usually include performance tracking and analytics capabilities as well.
Wrap Up
So these were some of the most promising social media management software solutions for businesses of all sizes and needs.
If you're unsure which of them to try first, write down a list of your business requirements for social media and check out the reviews to learn which of them fulfills these requirements.
Using a social media platform, along with a scheduling tool like Calendly or other similar apps, can take your business to the next level and smoothen your processes.