Best Knowledge Base Software for Small Business in 2023
A self-service knowledge base can take a massive burden off your shoulders.
By allowing customers or employees to find the solutions to their problems on their own, you'll be able to utilize your resources more effectively.
When a customer or employee needs help with a problem, there's a solid chance that many people faced a similar problem before. Wouldn't make much sense to keep responding to the same queries till the end of time, would it?
Knowledge base software makes it easier for you to create a knowledge base for your customers and employees.
In this guide, I'll help you pick the right knowledge-based software for your business needs.
What Is the Best Knowledge Base Software?
The best knowledge base software solutions are Notion, Zendesk, Freshdesk, HelpCrunch, and HelpScout. Now, let's take a look at the benefits you get with each self-service portal solution: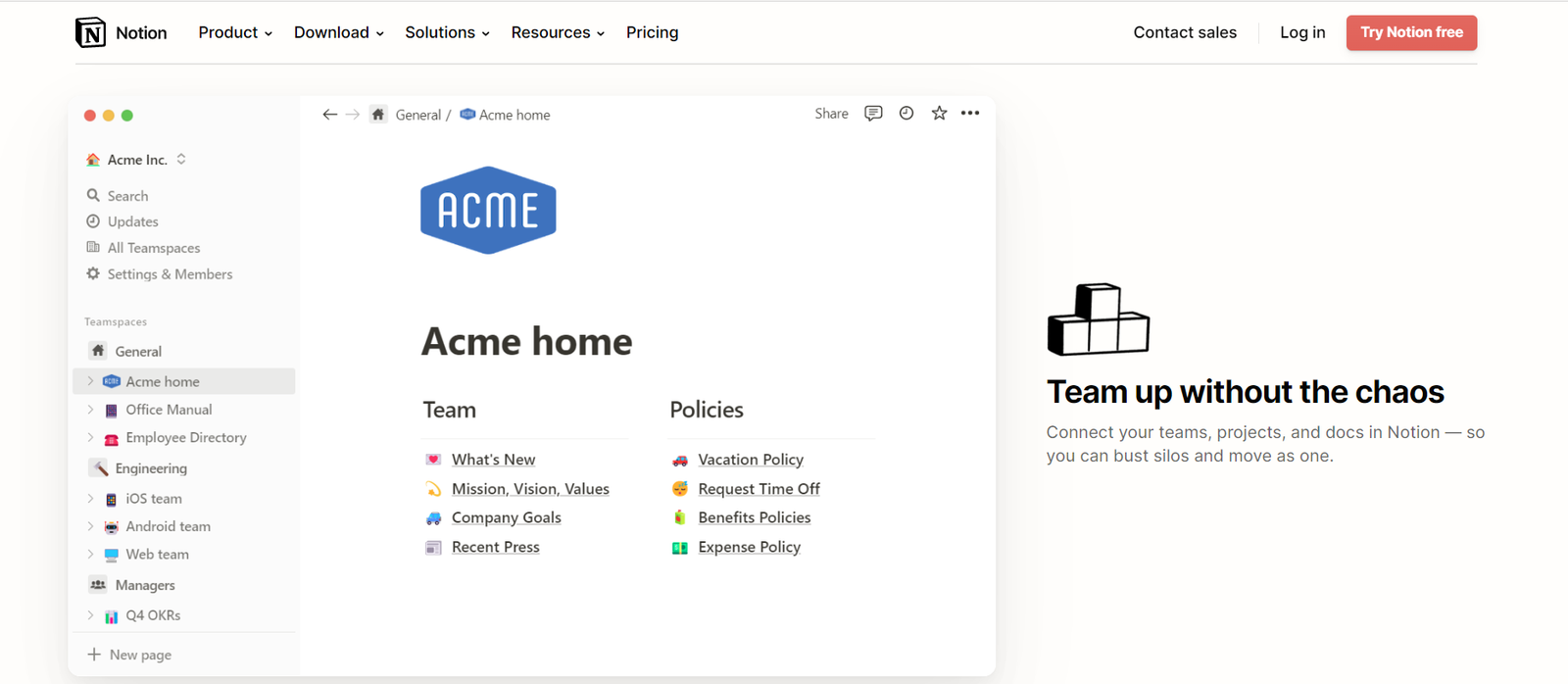 Overview
Notion is an internal knowledge base software that keeps your projects, wiki, and notes in one place. It's designed with team collaboration and productivity in mind by creating a unified knowledge management system for team members to work together and stay informed and engaged.
Highlights
Connections: Notion automatically detects and establishes connections across your knowledge base to deliver the best experience for your customers.

Templates: Notion lets you create templates for virtually anything, which speeds up updating your knowledge base.

Community resources: This knowledge base tool enables you to benefit from community-made integrations, templates, and events.

Workflow builder: Create workflows for any business process with a simple drag and drop interface.

Custom permissions: Set sharing permission rules for individual items easily to control access to information.
Pricing
Notion offers 4 plans: Personal (free), Personal Pro ($4 per user/month), Team ($8 per user/month), and Enterprise (quote-based).
The Free plan is designed for individuals. It covers the basics, like pages and blocks, multi-device sync, and up to 5 guests. As for the Personal Pro plan, you get unlimited guests and file uploads.
The Team plan enhances collaboration with unlimited team members, sharing permissions, admin tools, and a collaborative workspace. As for the Enterprise plan, you also get SSO, advanced security and controls, custom contracts, and an audit log.
Bottom Line
Notion is one of the best knowledge management software solutions for businesses that want to create internal knowledge bases. You can check it out with the free plan for individuals or try one of the premium plans with a 14-day free trial.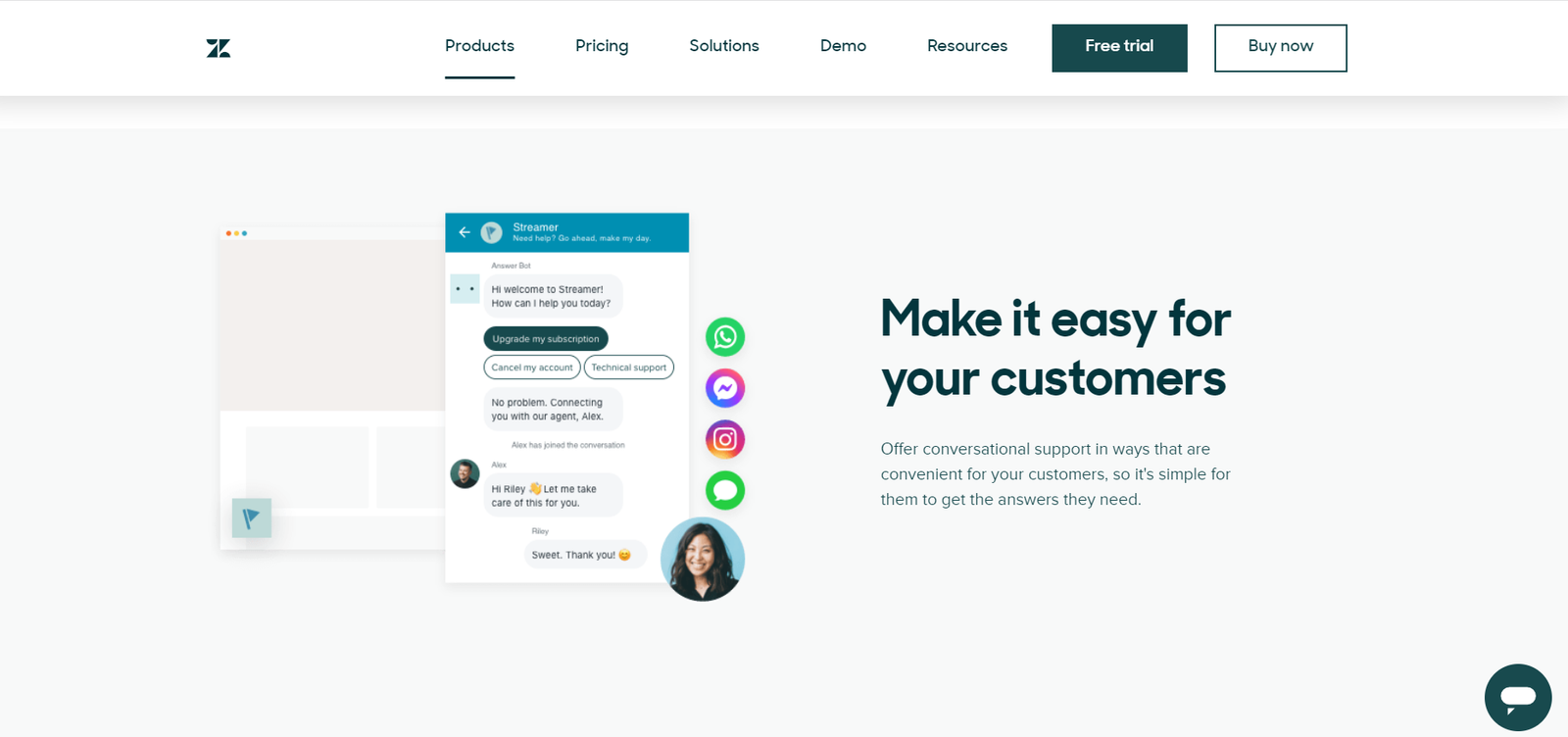 Overview
Zendesk is a cloud-based complaint management software that enables support agents to track and solve customer queries on multiple channels efficiently, as well as collaborate on creating extensive self-service knowledge bases.
With Zendesk, you can create internal, IT, or customer-facing knowledge bases.
Highlights
Macros: Respond to the most frequently asked questions more efficiently with macros.

Integrations: Zendask integrates with popular productivity and project management tools like MS Visio and JIRA.

Integrated analytics: make strategic decisions by getting insights about your customers' interactions.

Triggers: Automate redundant tasks like replies and routing with configurable triggers.

Customizable dashboard: Tweak every aspect of your dashboard to optimize your workflow.
Pricing
Zendesk has 3 pricing plans: Suite Team ($49/month), Suite Growth ($79/month), and Suite Professional ($99/month).
Suite Team includes a ticketing system for support tickets, multi-channel support, workflows, automations, and reporting and analytics.
The Suite Growth plan lets you create multiple help centers, offers more AI automated messages, and enables you to create custom integrations.
The Suite Professional plan adds higher limits to automated messages and other Suite Growth features, plus customizable dashboards, community forums, and advanced voice capabilities.
Bottom Line
Zendesk is a versatile software solution for businesses that want to offer omnichannel support for their customers and streamline the creation and updating of their knowledge bases. You can give the software a shot with the free trial to get a feel of how it works.
Overview
Freshdesk is a cloud-based knowledge base platform that makes it easier for your team to collaborate and deliver a great customer experience. The software features a knowledge management solution, a ticketing system, and other productivity and customer satisfaction tools.
Highlights
Multilingual support: Offer your knowledge base to a global audience with multilingual support.

Canned answers: Set up automatic responses to the most frequently asked questions with canned answers.

Customization: Match your knowledge base's theme with your brand by adding your brand logo and colors.

SEO features: Easily embed meta tags and title tags into your knowledge base to make it more search-friendly.

Automation: Modify and update content across multiple categories and knowledge base articles effortlessly with automated tasks.
Pricing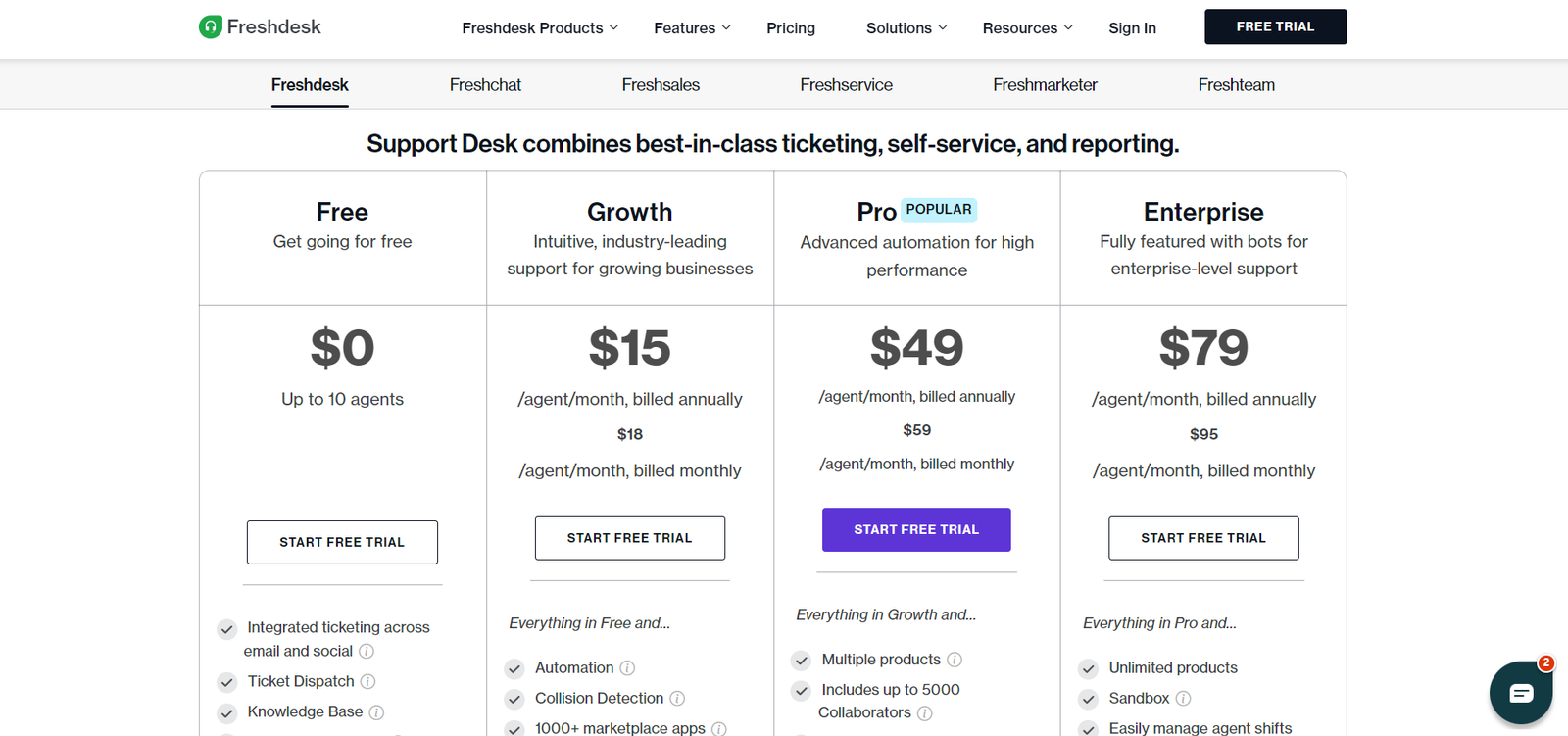 Freshdesk's pricing structure consists of 4 tiers: Free, Growth ($15 per agent/month), Pro ($49 per agent/month), and Enterprise ($79 per agent/month).
The Free plan is suitable for smaller teams (10 agents or fewer). It includes knowledge base management, integrated ticketing, analytics, and team collaboration features.
The Growth tier adds automation, a custom email server, ticket time tracking, and integrations, while the Pro plan includes customer segmentation, multilingual support for knowledge bases, and custom reports.
The Enterprise plan introduces Email and Assist bots, in addition to unlimited products, IP range restriction, and knowledge base approval workflow.
Bottom Line
Freshdesk is a great knowledge base creator for businesses of all sizes. It grows with your business by allowing you to start with the free plan if your team has 10 or fewer members and upgrade as you scale.
Overview
HelpCrunch is a customer communication platform that lets you create internal and external customer-facing knowledge base systems. It allows you to manage sales, marketing, and customer support in one place. Its knowledge base system also comes with a unified Help Desk for seamless customer communications.
Highlights
SEO-friendly text editor: The text editor enables agents to adjust on-page SEO elements like meta descriptions, title tags, and target keywords for better search engineer visibility.

Integrated chat widget: The chat widget has the knowledge base integrated right into it, so customers don't need to manually find the information they need.

AI Chatbot: Send automated responses to your customers with the built-in AI chatbot that provides the best matching solutions.

Unified Help Desk: Manage customer communications on a single pane of glass, with search, assign, merge, and transfer functions.

Integrations: HelpCrunch natively integrates with Google Analytics, WordPress, Slack, and other apps to optimize your workflow.
Pricing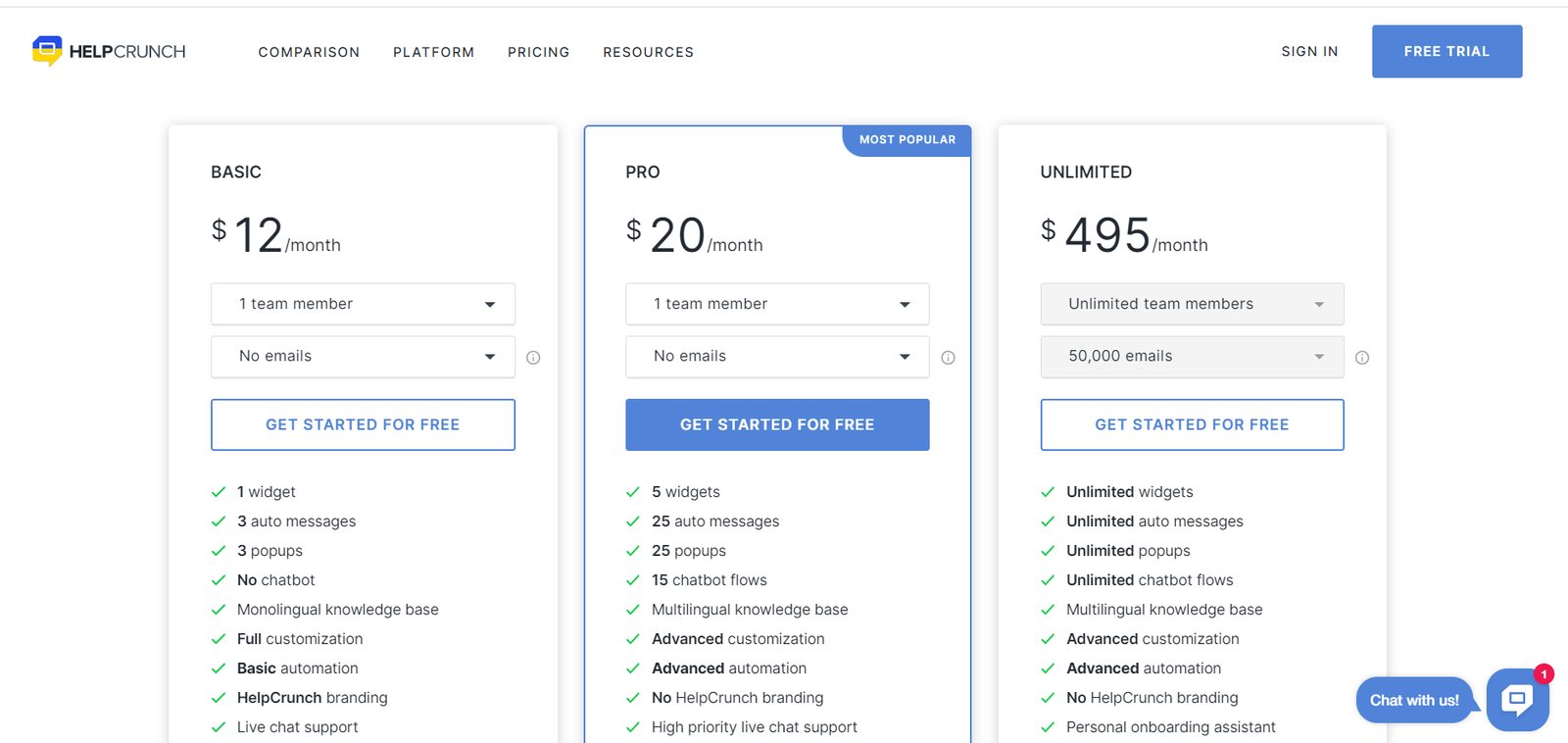 HelpCrunch has 3 plans: Basic ($12 per member/month), Pro ($20 per member/month), and Unlimited ($495/month, unlimited members).
The Basic plan includes a monolingual knowledge base, basic automation, and live chat support, while the Pro plan adds multilingual support for the knowledge base, in addition to advanced automation and customization.
The Unlimited plan is designed for large teams, with features like 50,000 emails and unlimited team members, widgets, popups, chatbot flows, and messages.
Bottom Line
HelpCrunch is an excellent knowledge management software for businesses that need to manage and automate functions like marketing and sales without paying for other tools. You can try the software for 14 days for free to see how it works in action.
Overview
Help Scout is a customer service platform that comes with a dedicated knowledge base software solution: Docs. It enables you to write and publish how-to articles quickly with an intuitive SEO-friendly text editor.
Highlights
Article viewing options: Provide your customers with helpful articles in the form of popovers, modals, sidebars, and Open-in-Beacons, ensuring that they don't miss any bits of helpful information.

Integrated analytics: Get insightful reports on the performance of your knowledge base by knowing what customers search for, what they find, and how many of them still reach out for help.

Multiple knowledge bases: Create separate knowledge bases for each of your products.

Private collections: Make some parts of the knowledge base accessible internally for your team members with private collections, so you don't have to create a separate knowledge base for your team.

Knowledge base translation: Translate the knowledge base into different languages with native functionality to make it more accessible to your audience.
Pricing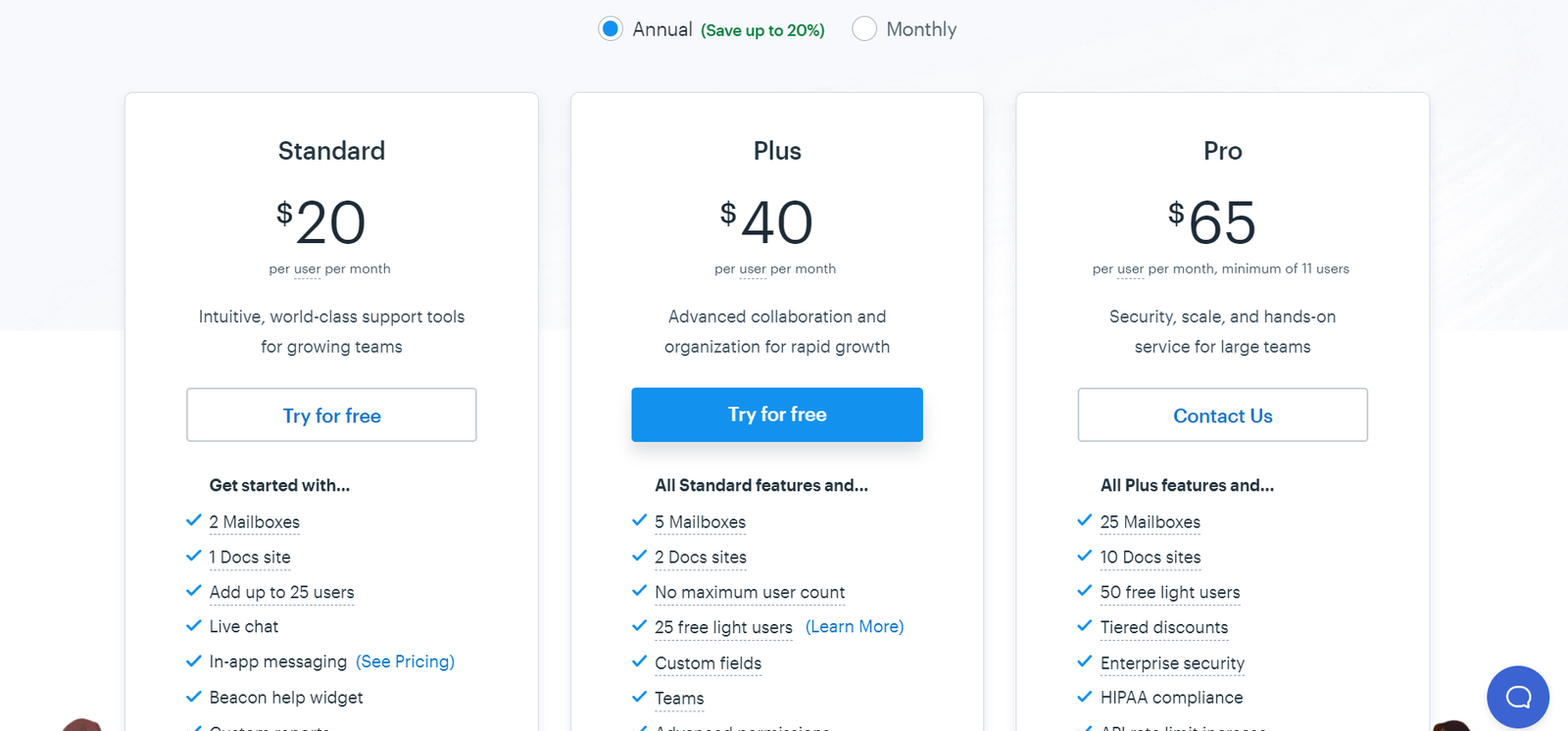 Help Scout offers 3 pricing tiers: Standard ($20 per user/month), Plus ($40 per user/month), and Pro ($65 per user/month, minimum 11 users).
The Standard plan includes custom reports, automated workflows, in-app messaging, and live chat. With the Plus plan, you also get advanced permissions, unlimited user count, and API access.
The Pro plan focuses on security and scaling, with features like Enterprise security, concierge onboarding service, HIPAA compliance, and quarterly team training.
Bottom Line
Help Scout is one of the best knowledge base tools for businesses that need to create multiple customer-facing self-service channels in different languages. You can experience the software's full features with a free trial.
What Is Knowledge Base Software?
Knowledge base software enables you to create and manage organized knowledge bases for your customers or employees.
A self-service knowledge base typically includes tutorials, Frequently Asked Questions (FAQs), how-to guides, and downloadable resources like software updates.
Summary
Now you should have a better idea of the best knowledge-base software solutions to pick from.
The primary criterion to choose the right knowledge base solution is to determine whether an internal or external knowledge base is more important for you since some solutions are focused on one over the other.