Best Onboarding Software for Small Businesses (Ranked & Reviewed)
Onboarding new hires requires a lot of paperwork and management tasks that may leave you and your new employees frustrated.
A messy onboarding process can make your new hires confused and feel left out, leaving a bad first impression on your company.
Onboarding software solutions have made the hiring and onboarding process a seamless experience, both for HR managers and new employees.
With features like application tracking, document e-signing for employees, welcome emails, and company info, using an HR onboarding tool can help you make the onboarding process more efficient.
To help you find the right onboarding tool for your business, I've reviewed some of the best onboarding software solutions for small businesses.
What Is the Best Onboarding Software?
The best employee onboarding software solutions are BambooHR, Freshteam, ClearCompany, GoCo, and Zenefits. Now, let's explore the ins and outs of each platform.
Overview
BambooHR is a popular HR management solution that allows businesses of all sizes to centralize and automate people's data. With BambooHr, you can streamline the employee onboarding process of new hires and keep them engaged, find talent easier, and manage and organize employee data more efficiently.
Highlights
Onboarding templates: Create a personalized onboarding experience for each individual hire with templates.

Seamless task assigning: Automatically send tasks to new hires so that they can complete them at their own pace.

Create relationships: BambooHR breaks the ice between new hires and existing team members with customizable new-hire packets and emails to highlight common interests.

Applicant tracking: Find the right fit for the job faster by keeping application information organized and easily accessible.

Electronic signatures: Ditch the massive piles of papers and let new hires e-sign their documents on their own.
Pricing
BambooHR has 2 plans: Essentials and Advantage. Both plans are quote-based and tailored according to your company's size and requirements, so you need to contact BambooHR's sales team to get a free quote.
The Essentials plan covers the basics like employee record-keeping, reporting and analytics, and email support. However, for onboarding features, you need to opt for the Advantage plan. It offers employee onboarding and offboarding functionalities, in addition to training tracking, customizable reports, an applicant tracking system, and e-signatures.
Bottom Line
BambooHR is a great employee onboarding software tool for small teams that also want to manage other HR functions efficiently. You can get hands-on experience with the platform using the provided free trial.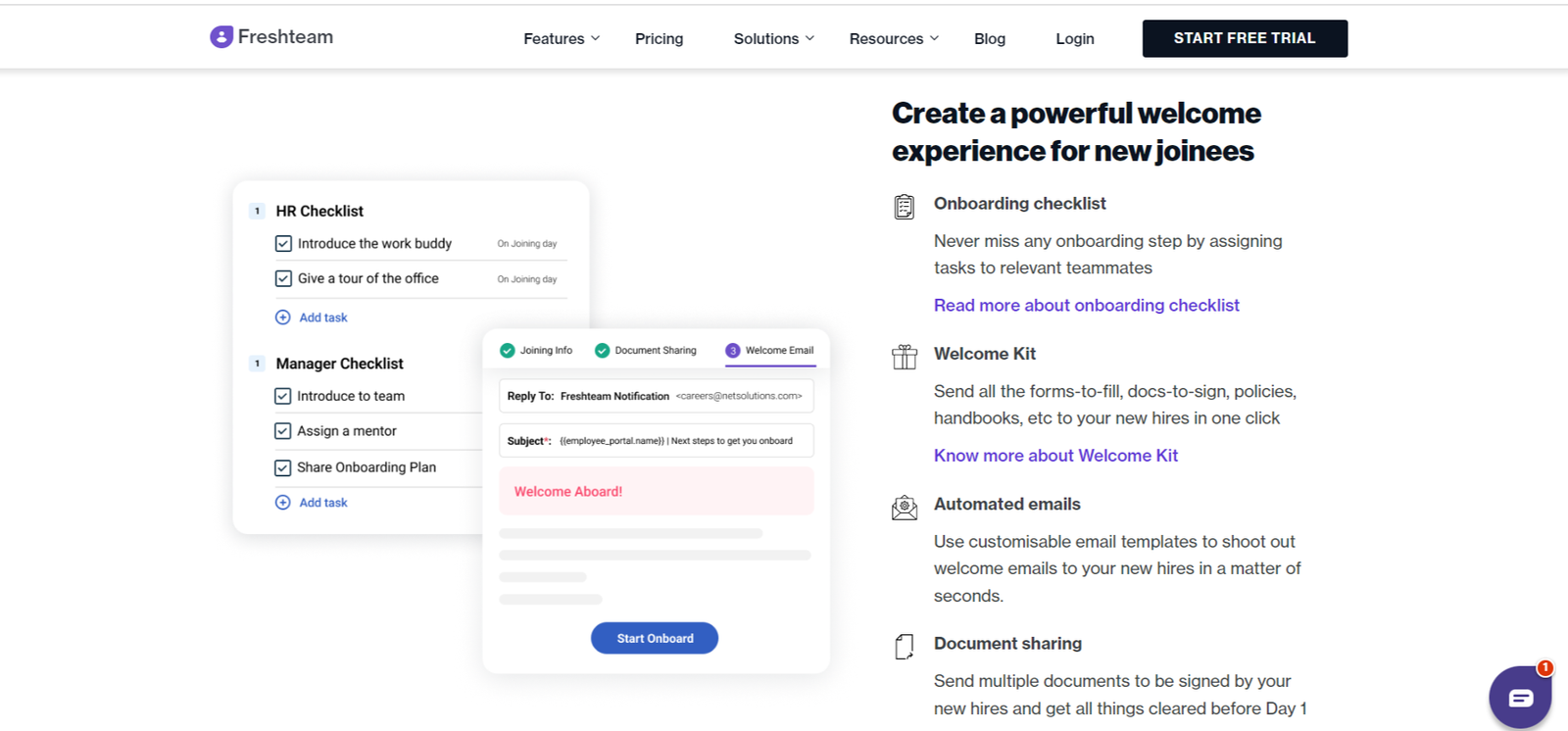 Overview
Freshteam is an HR solution for small and growing businesses that makes attracting, hiring, and onboarding new hires easier to manage. With Freshteam, you can attract, hire and onboard new employees, offboard existing employees, manage employee information, and track time off.
Highlights
Welcome kit: Send your new hires everything they need to join your company, including policies, documents to sign, forms to fill out, and handbooks.

Onboarding checklist: Ensure that new hires go through all the introductory onboarding steps by assigning relevant tasks to each hire.

Job board integrations: Freshteam integrates with many free and premium job boards to make finding talent less time-consuming.

Automated emails: Welcome your new hires easily with personalized emails.

Streamlined interviewing: Access candidate information, interview steps, and test results all in one place.
Pricing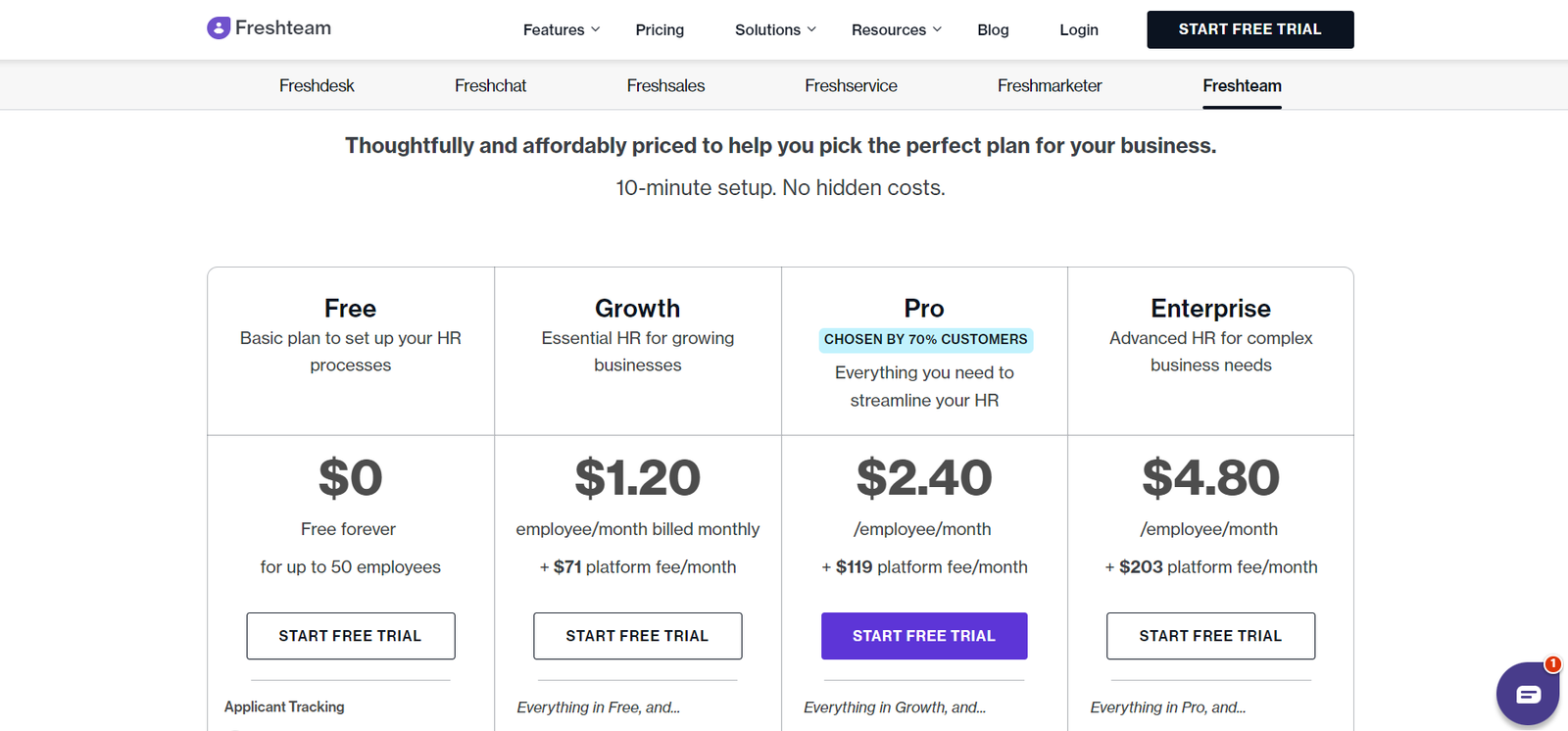 Freshteam offers 4 plans: Free, Growth ($1.20 per employee/month + $71/month platform fee), Pro ($2.40 per employee/month + $119/month platform fee), and Enterprise ($4.80 per employee/month + $203/month platform fee). Annual billing gives you 12 months for the price of 10 months.
The onboarding features are available starting from the Pro plan, which includes Welcome kits and custom onboarding and offboarding checklists. The Enterprise plan gives you Unlimited active job postings and unlimited onboarding and offboarding checklists. You can also set custom user roles.
Bottom Line
Freshteam is an excellent onboarding solution that scales with your business. You can give the Pro plan a shot with the free trial to explore the tool's employee onboarding features.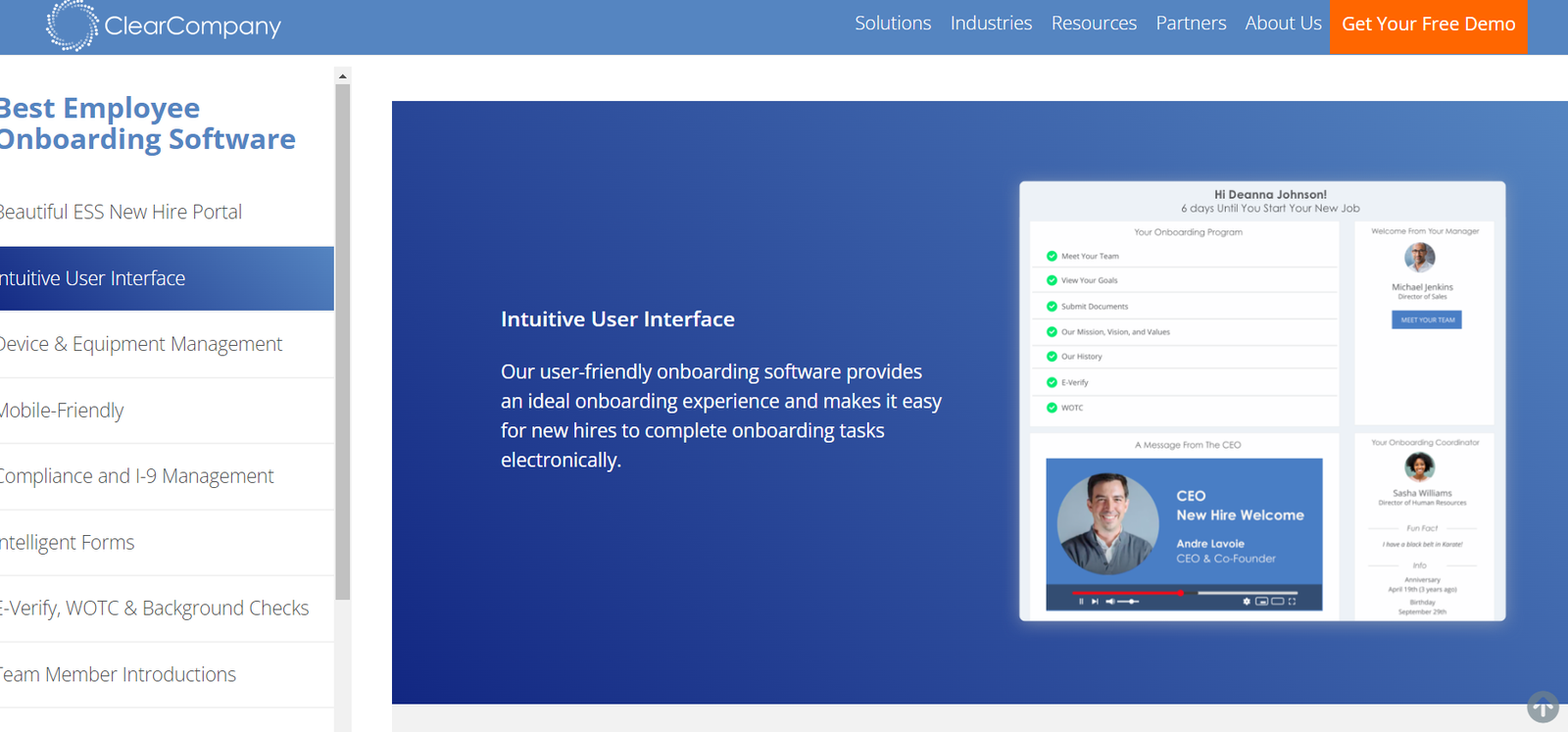 Overview
ClearCompany is a talent management solution that enables employers to find, screen, and onboard new hires efficiently. It also incorporates employee engagement features and powerful analytics and reporting functionalities.
Highlights
Fillable PDFs: Let new hires fill out forms and other documents conveniently with the integrated fillable PDF feature.

Integrations: ClearCompany natively integrates with other HR software and analytics tools like Paylocity.

Seamless interview scheduling: Quickly schedule interviews with potential candidates by letting them book a date and time that works for them.

Website integration: ClearCompany makes it easy to post jobs on your company's website without requiring you to write code.

Hiring manager training: ClearCompany makes onboarding new hiring managers and getting them accustomed to the software easier with tutorials and guided instructions.
Pricing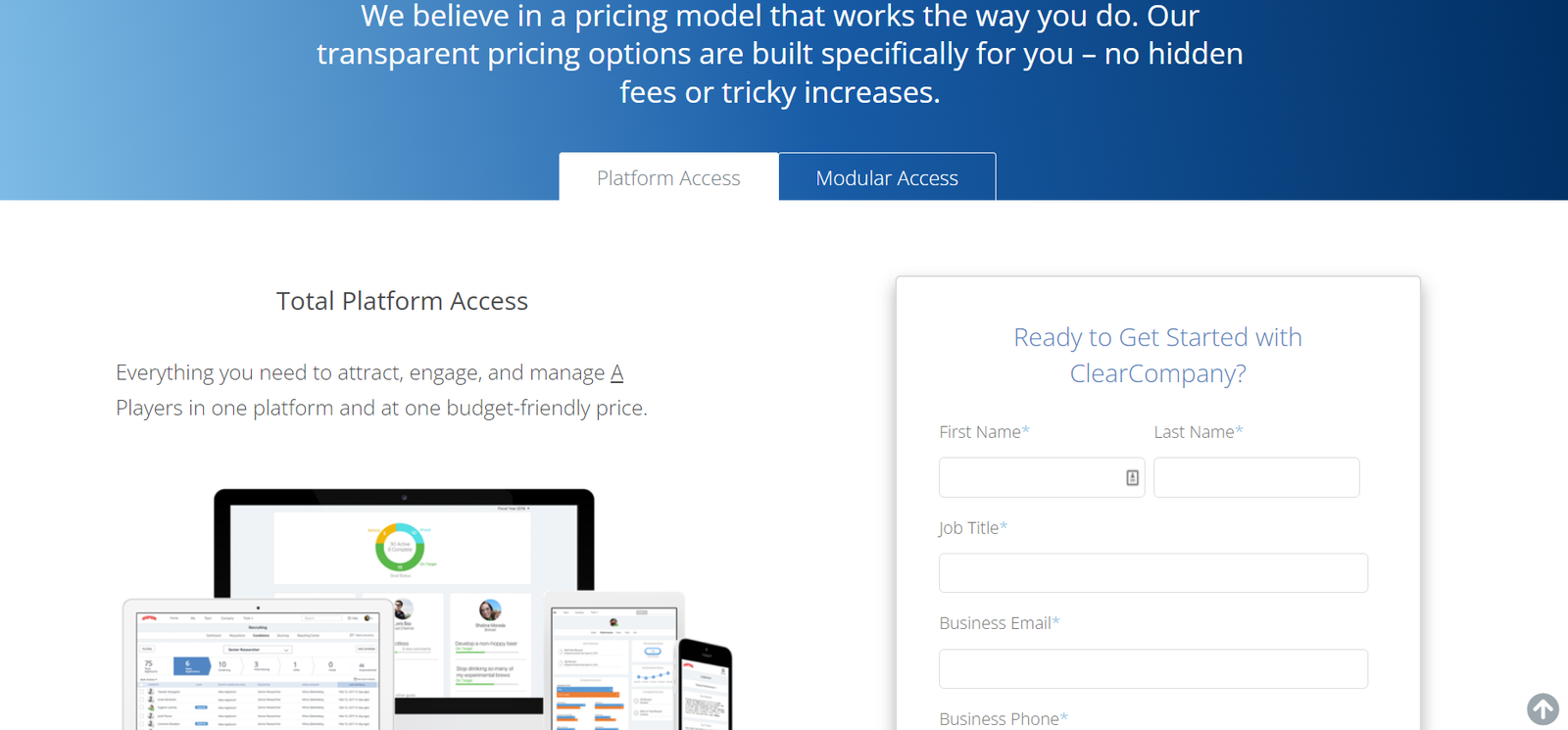 ClearCompany offers 2 levels of access based on a quote-base model: Platform access and Modular.
Platform access enables you to benefit from all the features offered by ClearCompany, including onboarding, performance management, recruiting management, workforce planning, and analytics.
If you only need to manage one part of the talent management process, like onboarding, offboarding, or applicant tracking, you can request a quote for the Modular access.
Bottom Line
If you need specialized recruiting and onboarding software, ClearCompany would be a suitable choice. You can easily request a free quote by contacting their sales team.
Overview
GoCo is a software solution that simplifies HR functions such as onboarding, PTO tracking, payrolls, and benefits administration. The platform also maintains compliance and security for HR document sharing and signing for new and existing employees.
Highlights
Customized offer letters: Attract talent with personalized offer letters based on their skills and experience.

Benefit preview tool: Allow new hires to compare plan features and enroll in benefits and calculate costs with the benefit preview tool.

I9 and w4 compliance: GoCo ensures your company is i9 and w4 compliant with features that help you verify employment eligibility and add deductions.

Paperless onboarding: Get all the required hiring documents signed by your new hires with automated emails and e-signatures.
Pricing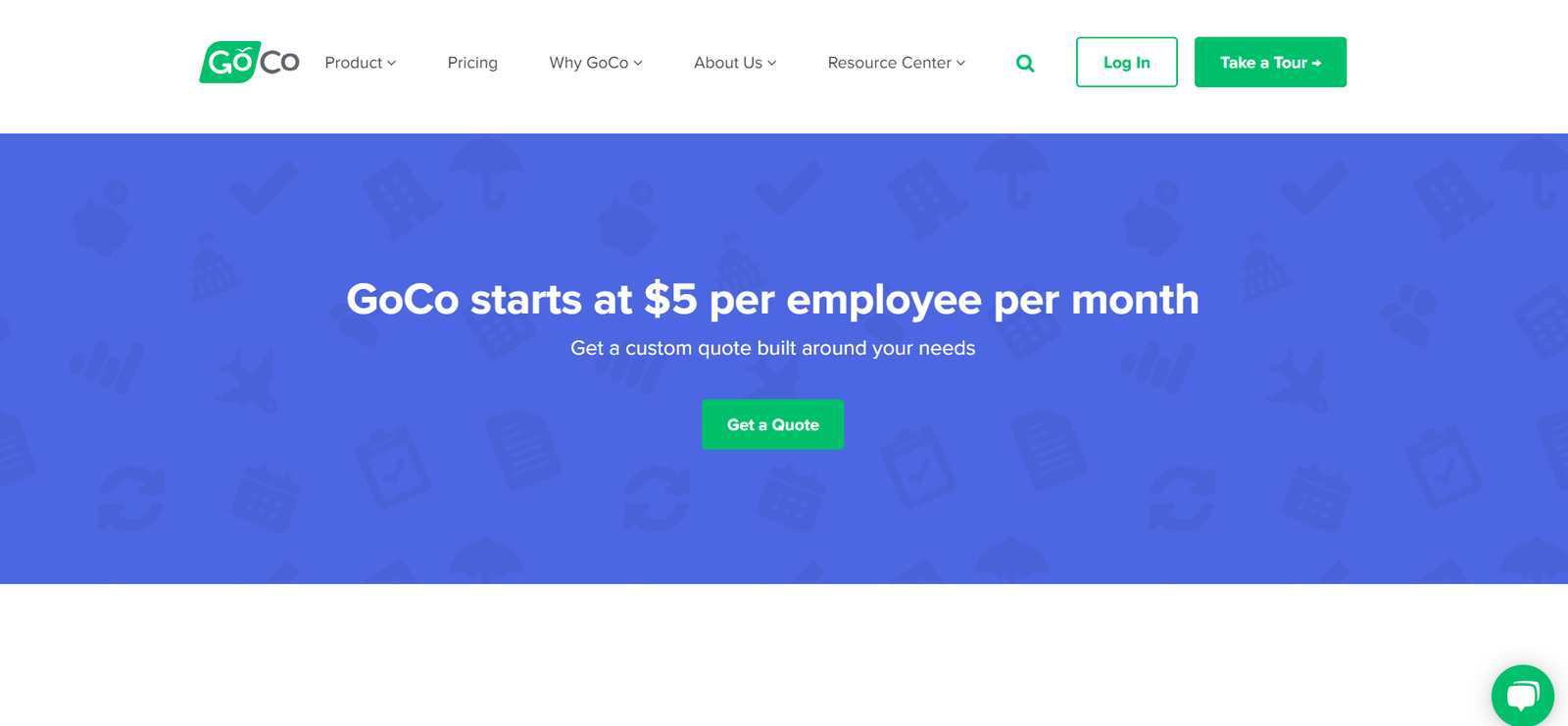 GoCo starts at $5 per employee per month. However, the pricing may change depending on your company's size and requirements. You can contact GoCo's team to get a free customized quote based on your needs.
Regardless of the quote, any plan you get will include onboarding, hiring, MagicDocs (for document organization and sharing), and employee self-service. Other features are added granularly upon request.
Bottom Line
GoCo is an affordable employee onboarding solution for small businesses that want to streamline the onboarding process. You can check out some demo videos of the software to learn more about how it works.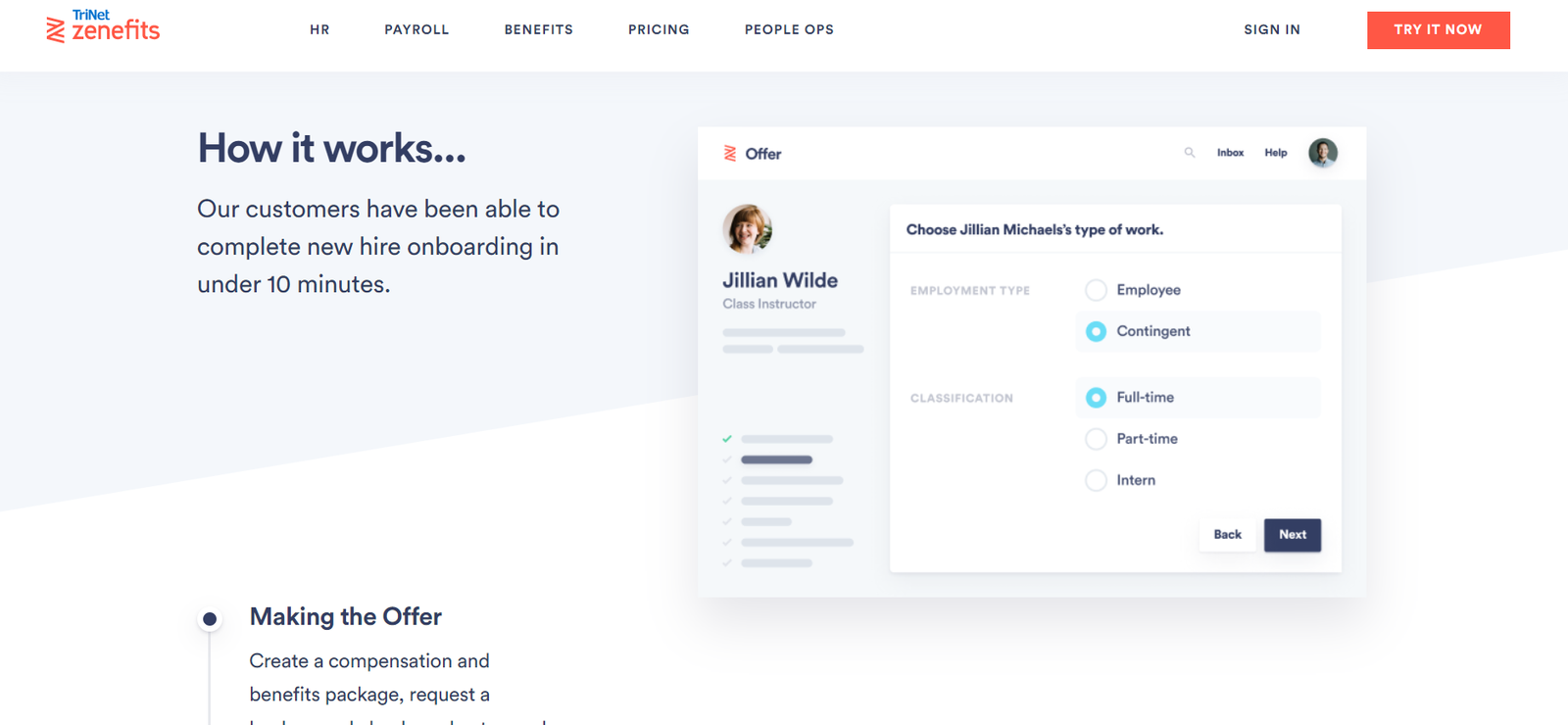 Overview
Zenefits is a SaaS cloud-based HR information management business that facilitates employee onboarding and other HR duties. These include sending offer letters, document signing, payroll management, PTO tracking, and org chart creation.
Highlights
Background checks: Conduct background checks for new hires and potential candidates to check employment eligibility.

Automated account creation: With Zenefits, new employees will get accounts and login credentials for all the apps relevant to their department automatically.

Dynamic org charts: Familiarize new hires with the company's hierarchy by creating and sharing dynamic org charts.

Freelancer and contractor management: Zenefits includes support for freelancers, independent contractors, and consultants.

Offer templates: Use customizable offer templates to easily send offers to accepted candidates.
Pricing
Zenefits has 3 subscription tiers: Essentials ($8/month per employee), Growth ($16/month per employee), and Zen ($21/month per employee).
The Essentials plan includes time off tracking, analytics, and employee management. The Growth plan covers all the features in Essentials, in addition to performance and compensation management.
As for the Zen plan, you get the People Hub for employee and admin collaboration, along with employee engagement surveys.
Automatic onboarding is available in all plans.
Bottom Line
Zenefits is a great choice for growing teams as it seamlessly scales with your business. You can try any of the plans with a free trial.
What Is Onboarding Software?
Employee Onboarding Software is a digital solution that streamlines the onboarding of new hires in your business before they officially assume the role. These tools make managing forms and document management much smoother. They also keep your new hires involved in the process.
Conclusion
That was my two cents on the best employee onboarding software solutions for small businesses.
When deciding which software to use, it's important to consult your HR team and understand their requirements to make sure the tool can deliver them. Free demos and trials can make it easier to test the onboarding solutions before committing long-term.