Canva Free vs. Paid Review 2023
In today's competitive market, most small business owners don't have the resources required to hire a graphic designer or pay for an Adobe Creative Cloud subscription.
But here's the good news: Making nice-looking designs no longer requires advanced skills or complex tools; you can just use Canva! A tool that lets you create designs by yourself for your marketing materials, even if you've never even cropped a photo before.
In this detailed Canva review, we'll explore its highlight features and introduce you to what you can do with it. We'll also compare both the free and paid versions of the software.
What Is Canva?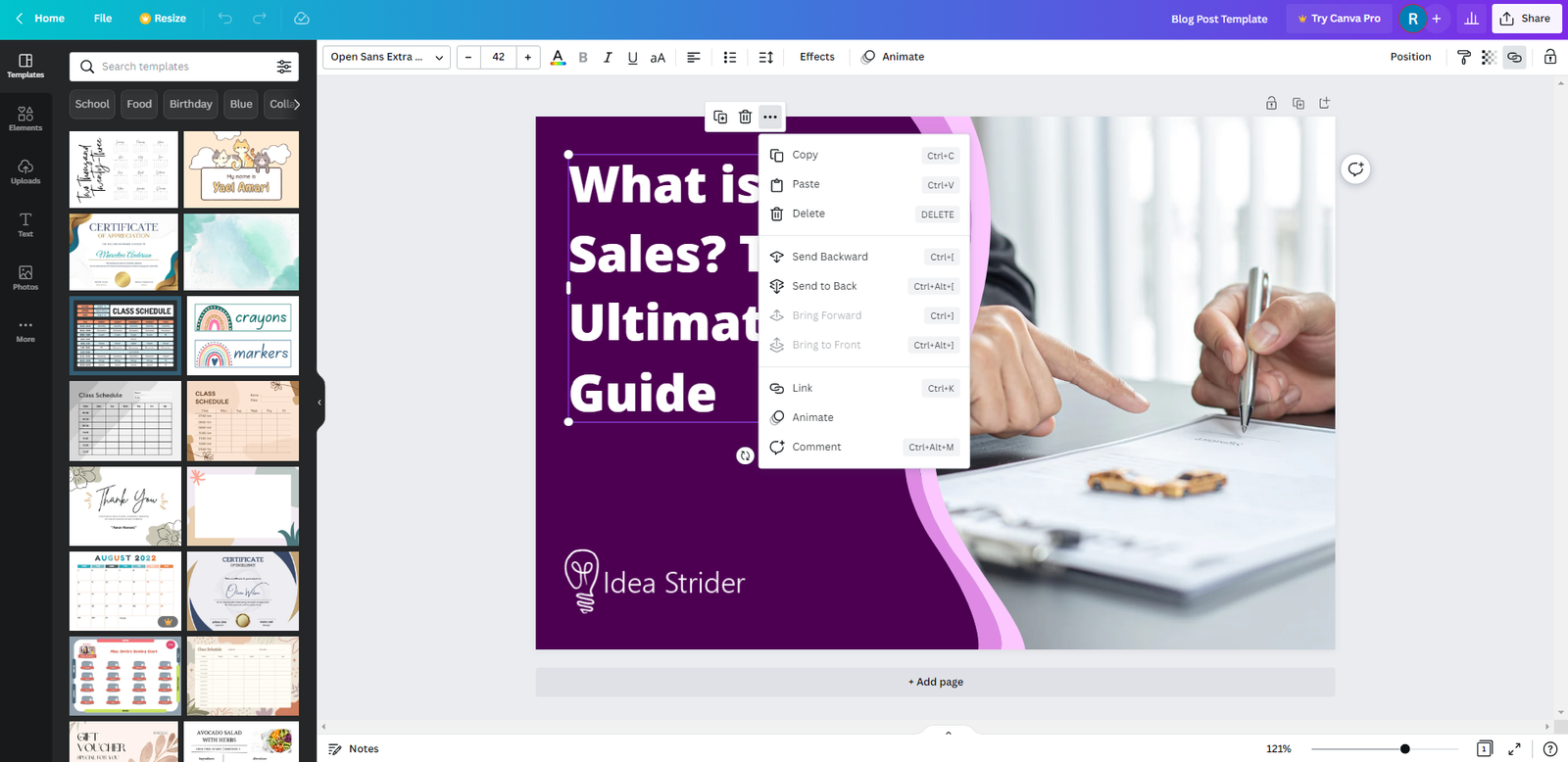 Canva is an online graphic design tool intended for people who don't have much experience in graphic design. The tool has a simple user interface that's easy for anyone to get up and running with. Its massive library of free stock images, icons, shapes, professionally made templates, and videos allow small business owners to create cool social media graphics in no time.
So, for example, if you're a small business owner who wants to create a design for your social media post, you can grab a few free elements from Canva's library, pick a nice font, add some photo effects, and you're good to go. The whole process could take you just a few minutes!
Meanwhile, the same design could take you much more time on a professional graphic design tool, even if you have some graphic design skills.
The best thing about Canva is that it's not limited to images. With Canva, you can design invoices, PDFs, videos, infographics, websites, and flyers. It's a complete solution for anyone who isn't a graphic designer.
Who Is Canva Best Suited For?
Canva can be an excellent choice for entrepreneurs and small business owners who want to publish decent-looking creatives on social media platforms without investing much time in acquiring advanced graphic design skills or using sophisticated tools like Adobe Photoshop. Thanks to the tool's simple UI, creating bulk designs with it is effortless.
It's also a good option for business owners that want to scale their B2C or B2B marketing efforts quickly. For example, Upworthy, a news and entertainment website that focuses on positive storytelling, managed to engage millions of customers on its Instagram account with the help of Canva Pro and the customizable templates it offers.
Another example is Skyscanner's rebranding campaign. Canva Pro's top-notch brand management capabilities and simple user interface have accelerated the travel agency's rebrand, making it possible in less than 6 months.
Canva Free and Paid Plans
Canva's pricing structure is broken down into 3 plans: one free plan and two paid ones.
The free plan lets you create two folders only, with maximum cloud storage of 5GB. You can also collaborate with other team members or clients, but you won't be able to make custom templates that match your brand identity. Another missing feature in the free version is the option to post your projects to your social media accounts directly.
It's also worth noting that there are two additional application-based free plans for nonprofit organizations and verified kindergarten teachers that teach grade 12 or below.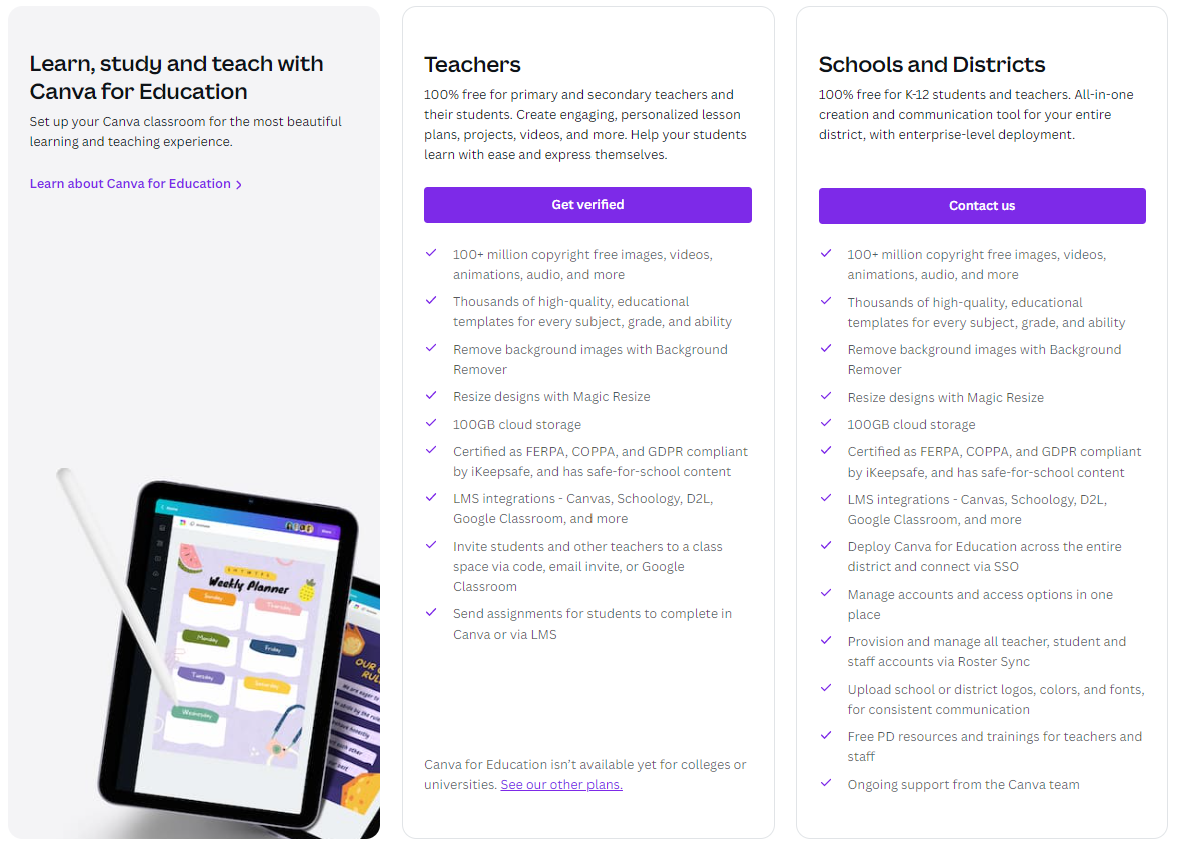 As for the paid options, you can choose between the Canva Pro plan and the Enterprise plan.
The Canva Pro plan allows you to make unlimited folders with up to 100GB of cloud storage. You also get 100 Brand Kits, so you can create multiple brand kits to maintain brand consistency. Once you set up a brand kit, you can apply it to all of your templates.
In addition, this plan lets you create custom templates and gives you access to design tools and stock photos. You can also publish your creatives directly on social media.
The Canva Pro plan costs $12.99/month for up to five people, with each additional user costing you $7/month. If you choose to pay annually, the per-month fees will be lower.
On the other hand, the Enterprise plan has all the features included in the Pro plan, as well as unlimited cloud storage (vs. 100GB in the Pro plan), workflows for design approval streamlining, and some extra administration features. It costs $30/month for each user, with a minimum user count of 25.
Canva's Top Features
Here are the key features of Canva:
Background Remover Tool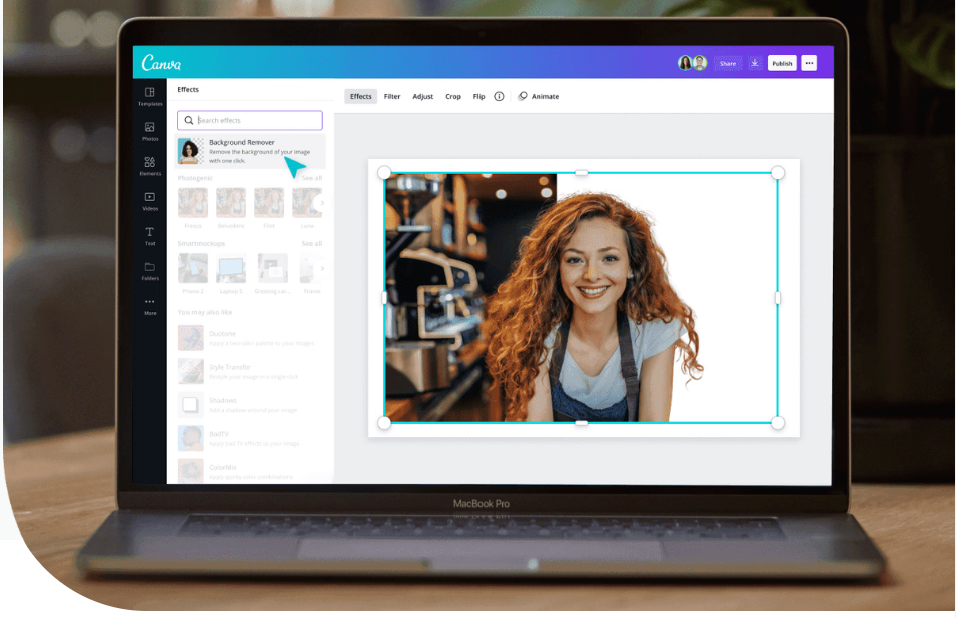 Canva has a Background Remover tool, which, as you might've guessed, makes it easy for you to erase backgrounds behind objects or people. It works like a charm, especially if you promote products with professional photoshoots. All it takes is a single mouse click, and boom, the background is gone!
The standout feature enables you to control the brightness, saturation, and contrast. It's not as sophisticated as similar features in software programs like Photoshop, but it gets the job done quickly and effortlessly.
Animation Creator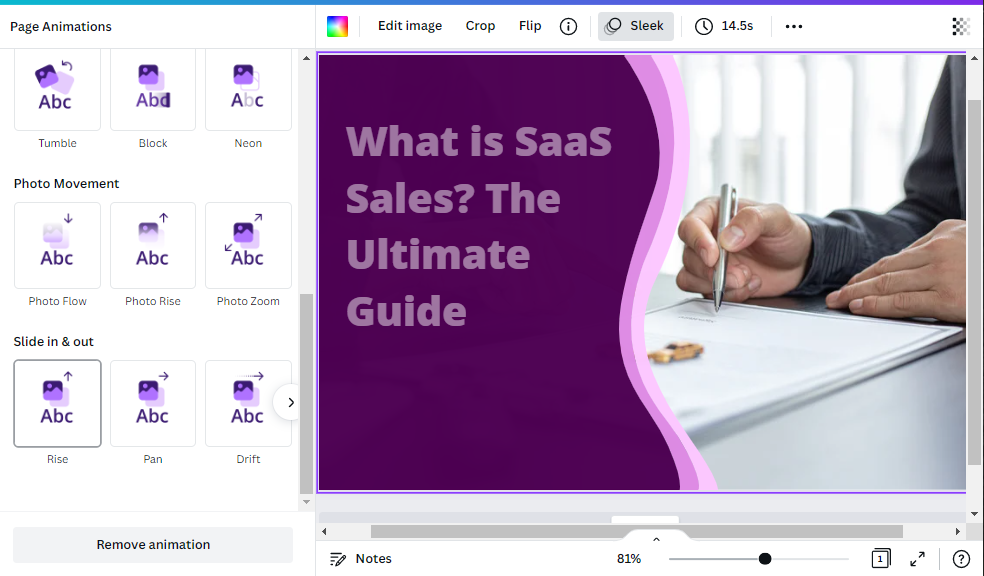 Canva's Animation Creator lets you add cool animations to your design quite easily.
To use this feature, click the animate button and choose download as video or GIF. The software gives you 14 animation styles to play with. Some of them are suitable for PowerPoint presentations, while others are intended for social media posts.
Photo Effects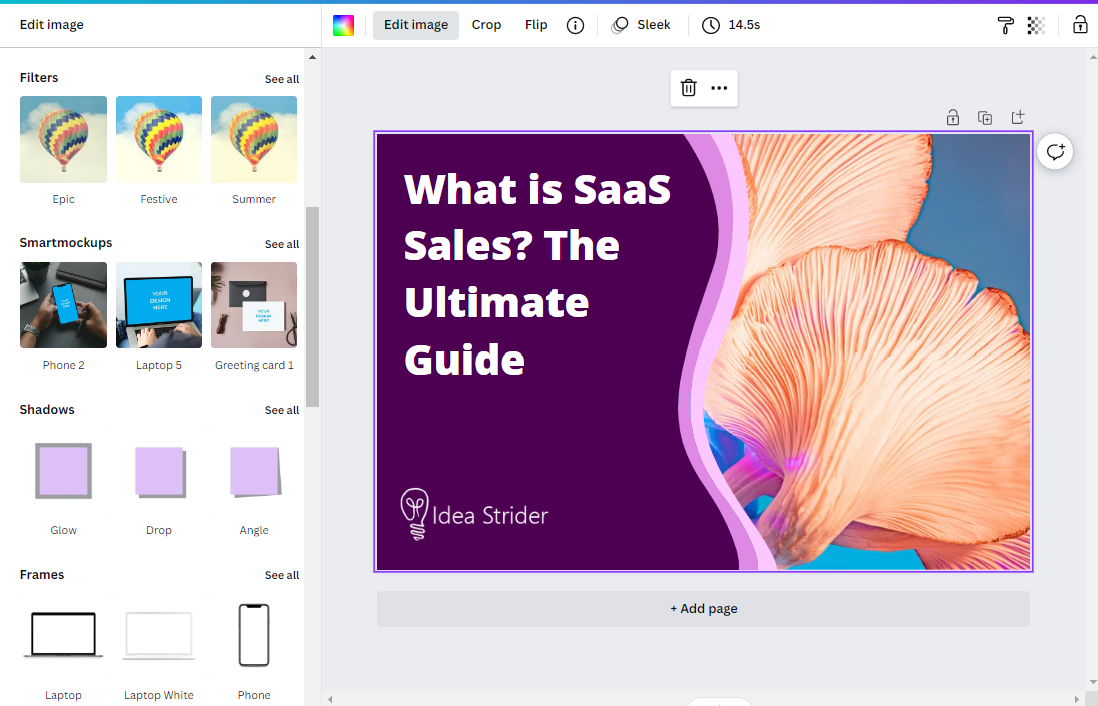 With Canva's photo effects, you can add effects to both the stock photos in the library and the photos you upload. To add an effect, simply choose one from the editor that appears at the top when working on a project.
Some of the effects include crop, flip, tint, blur, and filters, as well as contrast, saturation, and brightness adjustments. Other effects in the effects tab are Liquify, Background Remover, and Duotone.
Canva Free includes most of the effects, but some of them, like the Background Remover, require at least a Canva Pro plan.
Video Editing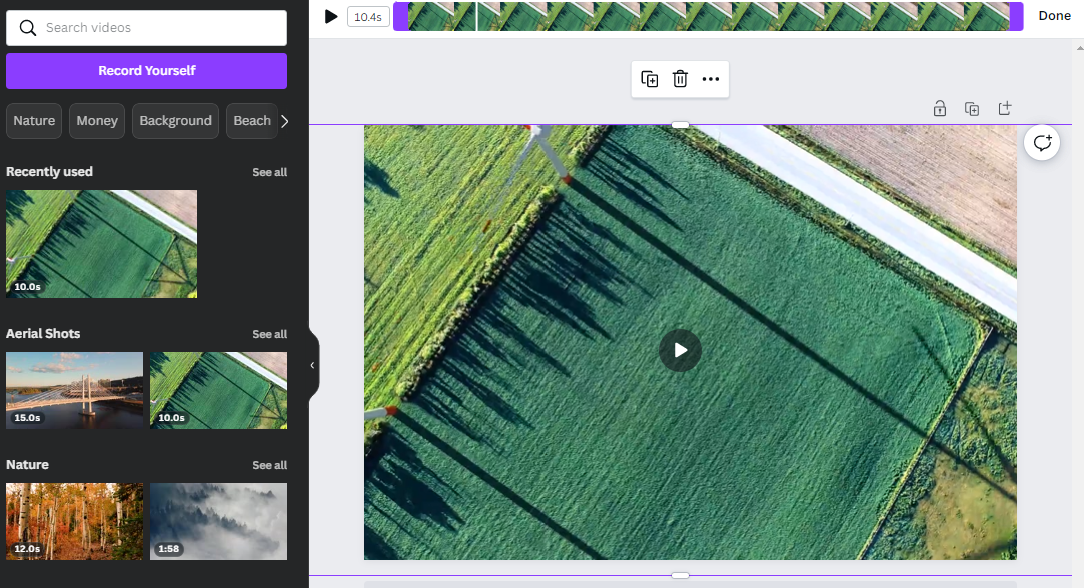 Canva's built-in video creation tools work in a similar fashion to creating static designs. You need to choose a suitable template, adjust it a bit, and add and arrange clips in the video's timeline.
There are several ways to add clips: Either use the software's library of stock videos under the "Elements" section or record videos with your webcam. Of course, you can also import videos stored on your computer to Canva's uploads section.
Once you've added all the video clips to the project's timeline, you can trim each individual clip and add audio from Canva's extensive library of royalty-free sound effects and music.
The tool's video creation capabilities are somewhat limited compared to full-blown video processing apps such as Sony Vegas Pro and Adobe AfterEffects, but they're definitely a good addition to the software's functionalities. However, if you need more advanced features like transitions and professional video grading, you're better off investing in dedicated video editing software.
Drag-and-Drop Editor
One of the most powerful features of Canva is its minimalistic drag and drop editor that makes it easy for literally anyone to create beautiful designs. In addition, Canva's interface enables you to enhance photos with various photo editing options, create high-quality templates, and import images without requiring training.
All you have to do is choose the required elements or free photos from Canva's library and use them with a simple drag and drop process.
If you have some saved templates, things get even easier since you'll need to choose a template and make some quick pre-publishing adjustments.
Content Planning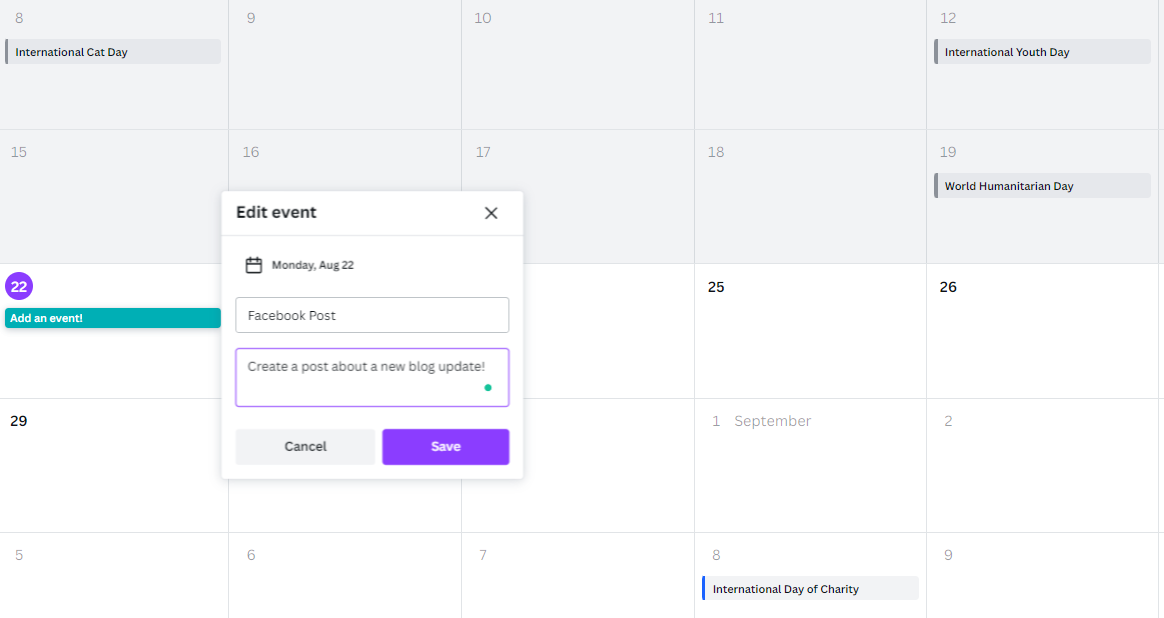 Canva has a built-in content planner that allows you to view all the scheduled images and add designs to empty days. This makes it easier for you to plan out your overall content strategy without requiring another tool.
To add a design, simply click on the little '+' icon and pick a slot in the calendar. You can also remove, replace, or reschedule designs in the planner.
Cons of Canva Free
While Canva gives you many reasons to consider giving it a shot, the tool isn't flawless. Here are some of its downsides:
Designs may not look unique compared to what you'd get with a professional tool, especially with the lack of Canva Pro features

The mobile app is far from being as good as the Desktop version

The free version is limited in terms of folders, storage, template creation, and direct publishing capabilities compared to the premium version

Lacks the ability to create unique elements; limits you to the stock elements in the library
Alternatives to Canva
There are Canva-like tools that make graphic design easier for non-experienced users. Some of them are free, while others require a subscription plan. These include:
Visme

Crello

Design Wizard

Snappa

Stencil

Easil

PicMonkey

Adobe Spark
Final Verdict
To recap, Canva is by far one of the best beginner-friendly creative tools you can find on the market today. This is a graphic design tool for anyone who isn't a graphic designer. It's like you're flying an F-16 aircraft without going through any pilot training!
With a drag and drop interface, free templates, the ability to work with various file formats, vast storage space, and a huge library of stock images and videos, creating content for your social media sites can be much easier using Canva.
Sure, it's not as powerful as advanced graphic design tools in terms of functionality, but its ease of use and efficiency are unmatchable.