Best Scheduling Software For Lead Gen in 2023
If you're a business owner, you're probably familiar with how scheduling appointments and meetings with customers or employees can be a real pain. A single busy week and you'll find yourself drowning in a pile of back-and-forth emails in a desperate attempt to find a date and time that works for you and your prospects.
This may seem too good to be true, but there's a tool out there that can make the process a whole lot easier: scheduling software!
Scheduling tools can make appointment booking more efficient, both for you and your customers and teammates. This guide will introduce you to some of the best scheduling software solutions for your business!
What Is the Best Scheduling Software?
The best scheduling software tools are Honeybook, Calendly, Resource Guru, Wrike, and Bookafy. Now, let's see what each tool has to offer.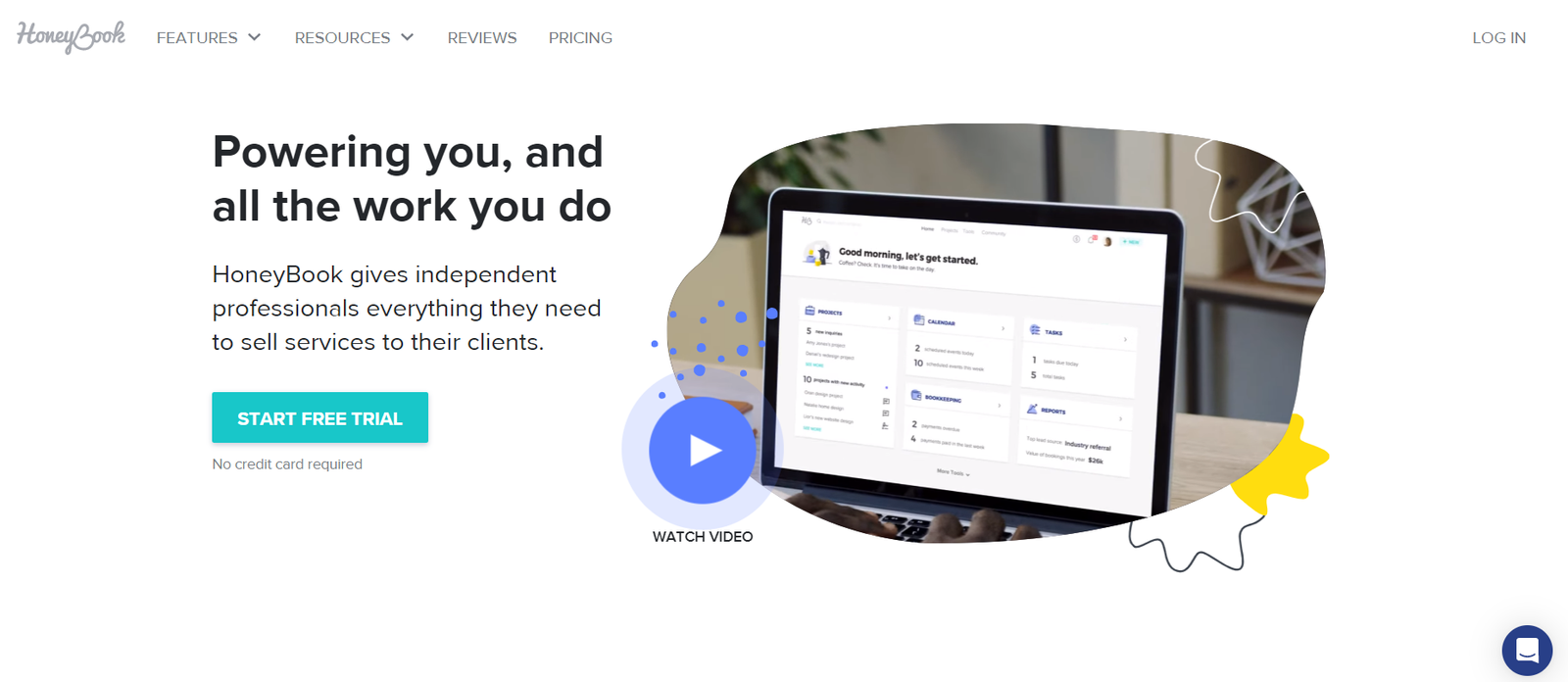 Overview
HoneyBook is a CRM (Customer Relationship Management) software solution that streamlines client bookings, project scheduling, contract management, and payment processing. It also lets you create proposals and send invoices.
Highlights
Automated appointment requests: Respond to clients easily with personalized templates using auto appointment requests and follow-ups.

Efficient invoicing: Create invoice templates and send automated payment reminders to clients.

Task reminders: Set up task reminders for multiple projects easily to align team members and manage progress.

Time tracker tool: Manage your time more effectively with this time tracker tool that helps you stay focused.

Customer questionnaires: Honeybook allows you to set up questionnaires that are always accessible to your customers, so you can get an indicator of customer experience level.
Pricing
Honeybook offers 2 pricing tiers: Unlimited Monthly ($39/month) and Unlimited Annual ($390/year). Both plans give you access to all features, and there are no limits on the number of team members, transactions, or concierge support. The only difference is that the Unlimited Annual plan lets you save 17% on the monthly subscription fees.
Bottom Line
Honeybook is a great scheduling tool for small businesses that need to schedule project tasks more efficiently and manage multiple clients. There's a 7-day free trial, and if you sign up now, you can use the code "ONLY1" to get the first 6 months for only $1/month.
Overview
Calendly is an appointment-scheduling platform that lets you schedule unlimited bookings and surveys using an intuitive interface. The tool also supports email templates, employee task management, payment processing, and automatic event notifications.
Highlights
Calendar sync: Calendly automatically syncs your appointments with the calendar of your choice (Google Calendar, iCloud, Outlook, etc).

Booking limitations: Set restrictions on when customers may be able to book an appointment in advance.

One-time booking links: The Chrome Calendly extension lets you create one-time use scheduling links so the client can't use the same link more than once to book multiple appointments.

Integrations: Calendly integrates with various collaboration tools such as Zoom, Slack, and Google Meet.

Automated meeting assignment: Team meetings are routed and assigned automatically by enabling employees to choose a suitable time for them. Then, Calendly simply sequences the meetings based on priority or availability.
Pricing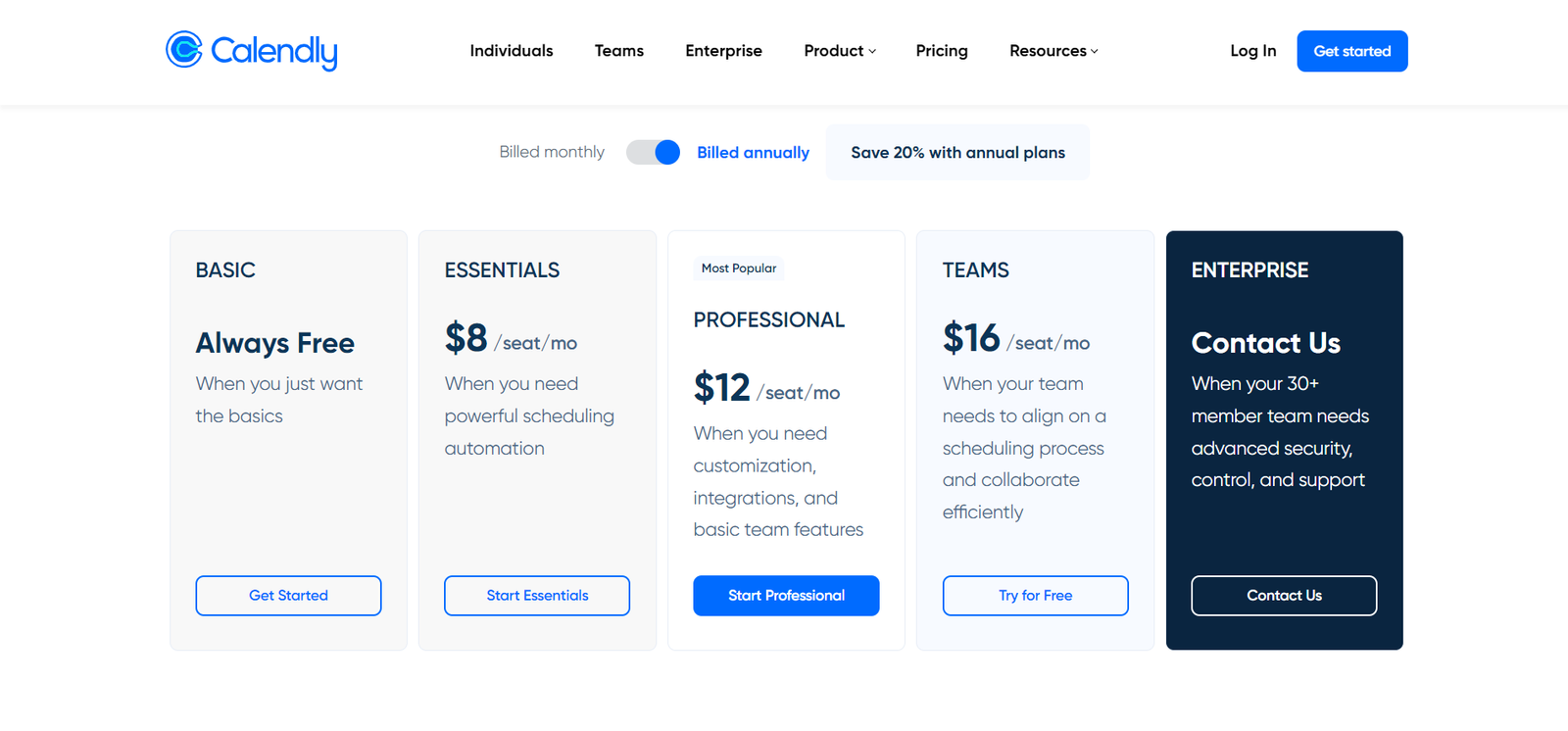 Calendly has 5 plans: Free, Essentials ($8 per user/month), Professional ($12 per user/month), Teams ($16 per user/month), and Enterprise (quota-based).
The free plan offers basic features like multi-platform access and unlimited one-on-one events, with some limitations on calendar connections per person and active event types.
Higher tier plans offer more calendar connections, in addition to advanced features such as automatic follow-up messages, more integrations, customizable booking links, and team management tools.
Bottom Line
Calendly is one of the best scheduling software solutions for businesses of all sizes that need to schedule bookings and team meetings on a day-to-day basis more efficiently. The free plan is definitely worth giving a shot if you're still starting out.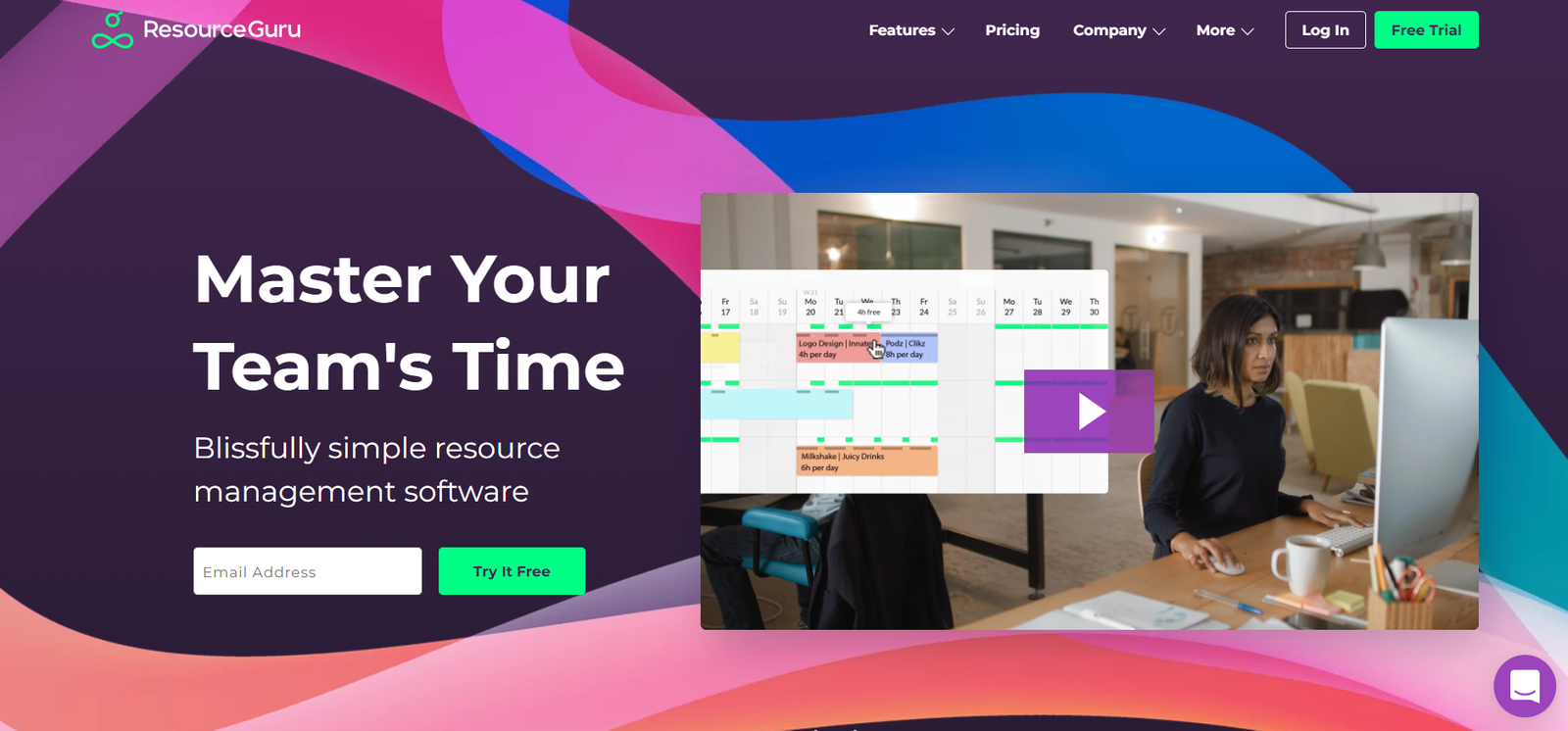 Overview
Resource Guru is a web-based scheduling software tool that lets you utilize your resources effectively, both human and non-human. It enables you to assign tasks and track performance with powerful reporting functionalities. It also makes it easier for team members to check their utilization week by week to help them stay focused.
Highlights
Color coding: Use color codes to group, prioritize, and classify different tasks or appointments.

Data tracking and reports: Get a visual representation of each department's utilization on a weekly and monthly basis to keep track of your team's performance.

Availability tracking: Check the availability of your employees in a single pane.

Managing assignments: Get visibility on your resource assignments with powerful sorting, filtering, and visualizing capabilities.

Automatic email updates: Resource Guru sends automatic daily emails that provide an overview of your meetings, tasks, and team member utilization.
Pricing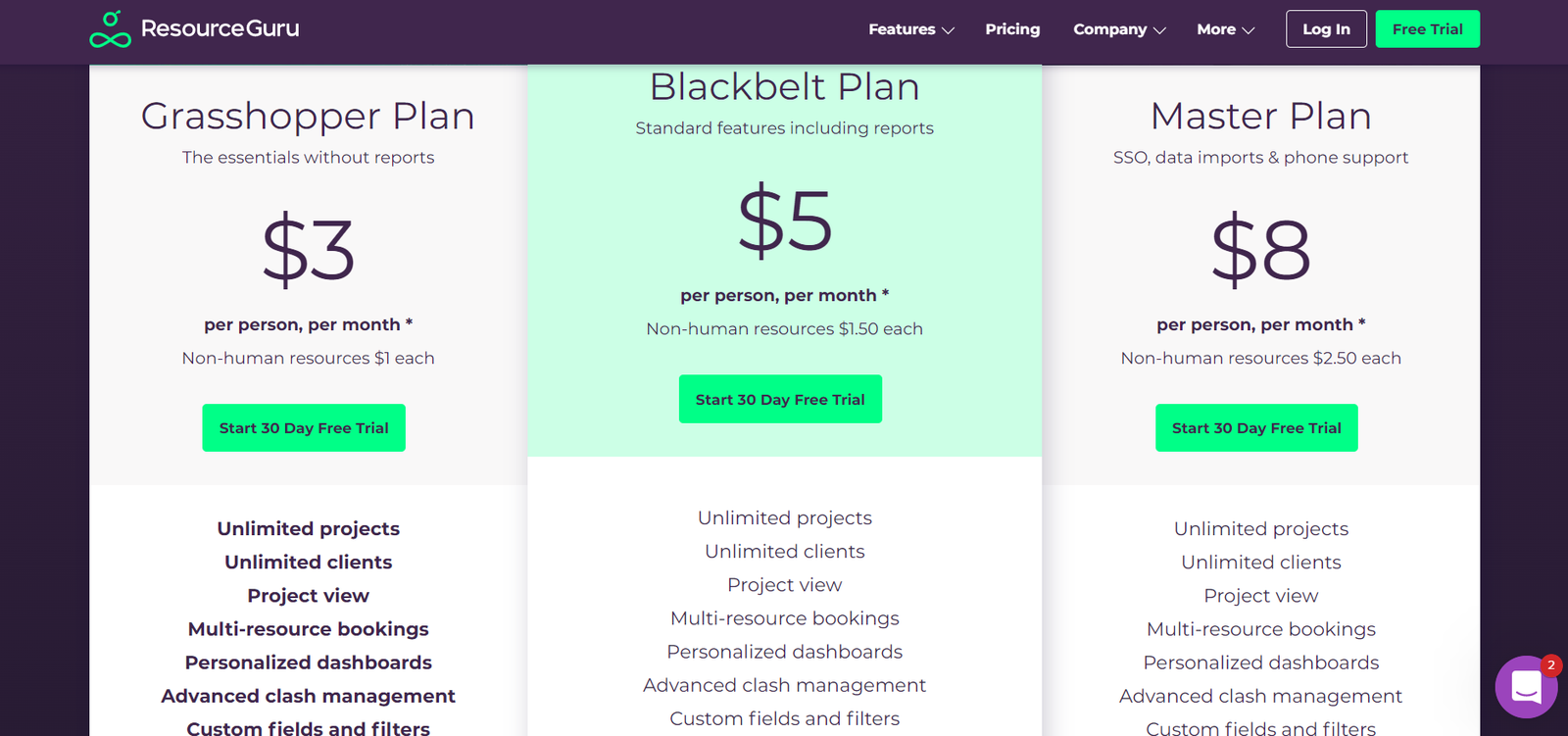 Resource Guru offers 3 subscription plans: Grasshopper ($3 per user/month), Blackbelt ($5 per user/month), and Master ($8 per user/month).
The Grasshopper plan provides essential features at an affordable price, such as unlimited projects and clients, multi-resource bookings, personalized dashboards, a vacation tracker, and repeat bookings.
The Blackbelt plan adds advanced reporting features, and the Master plan includes phone support, SSO (Single Sign-On), and data import.
Bottom Line
Resource Guru is an excellent employee scheduling software tool for small teams that need to manage resources and projects more efficiently. There's a 30-day free trial that you can use to get a glimpse of this software.
Overview
Wrike is a project management app that helps distributed teams manage and collaborate on projects in an organized way, as well as schedule client appointments and team meetings. It incorporates useful project management tools like customizable dashboards, workload visibility, and Gantt charts.
Highlights
Flexible Gantt charts: Set your project timeline with project milestones and task dependencies.

Customizable dashboards and widgets: Wrike supports customizable dashboards and widgets that let you display tasks and other items the way you prefer.

Result tracking: Keep track of your project results and KPIs (Key Performance Indicators) with charts, graphs, and extensive reports.

Video onboarding tools: Familiarize your team members with how Wrike functions so they can start working on their tasks at their own pace.

Calendar view: Optimize workload distribution for your email campaigns to keep everyone on your team aligned.
Pricing
Wrike's pricing structure comprises 4 plans: Free version, Team ($9.80 per user/month), Business ($24.80 per user/month), and Enterprise (quote-based).
The Free plan supports table and board views, in addition to project and task management, but there are limitations on active tasks.
The Team plan is designed for team collaboration, with features like 20 free collaborators, automations, Gantt charts, and unlimited projects and tasks.
The Business plan, on the other hand, adds cross-tagging, project blueprints, folder structure, time tracking, and other features that can support larger teams. As for the Enterprise plan, you get SSO, two-factor authentication, and access permissions administration.
Bottom Line
Wrike is a great software solution that simplifies project management and booking scheduling for remote teams that work on multiple projects simultaneously. Consider trying the free plan to get a feel of how it works.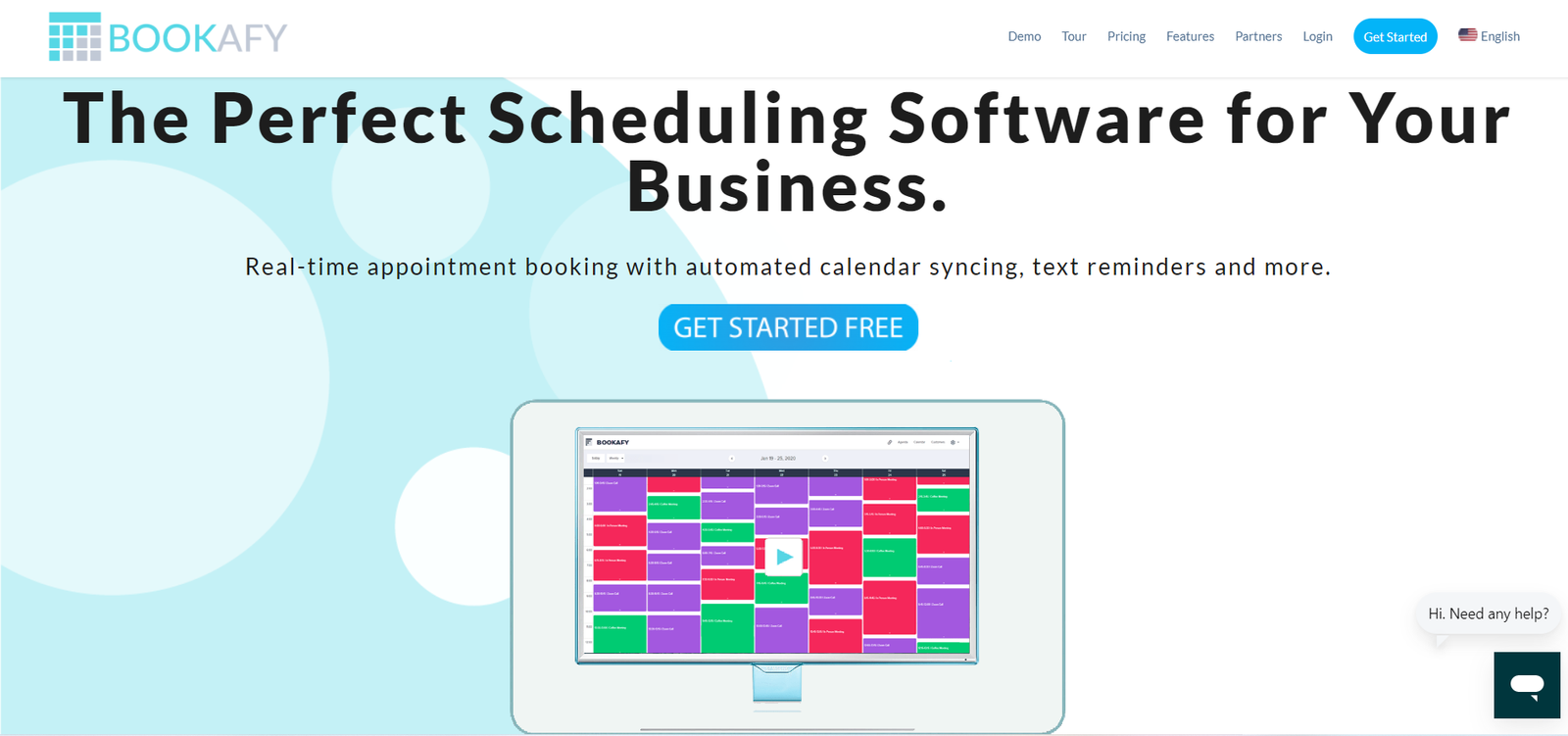 Overview
Bookafy is an appointment scheduling solution that simplifies appointment booking for your customers. It allows an unlimited number of employees to access the interface with the same account, making it a great option for teams.
Highlights
Customizable booking links: Create personalized booking links and share them with your customers easily.

Skill-based scheduling: Bookafy lets customers schedule bookings based on the skills they need, routing them to the best-matching team member.

Efficient invoicing: With Bookafy, you can create and send invoices conveniently with customizable templates and even accept payments directly through the app.

Calendar sync: Bookafy supports both one-way and two-way calendar sync with platforms like Google Cloud, Outlook, and iCloud.

Brande booking pages: Create beautiful booking pages that match your brand identity with custom fonts and colors.
Pricing
Bookafy offers 4 subscription plans: Free, Pro ($9 per month/user), Pro+ ($13 per month/user), and Enterprise (quote-based).
The Free plan provides basic features like a booking page, button code, mini-website creation, and unlimited bookings. The Pro plan adds two-way calendar sync and payment process.
With the Pro+ plan, you also get multiple reminders, advanced booking software, and custom appointment review links. The Enterprise plan includes SSO, white-label branding, and custom integrations.
Bottom Line
Bookafy is an excellent online scheduling app for small businesses with varying appointment scheduling requirements. There's a free plan that offers essential functions like bookings and mini-website creation.
What Is Scheduling Software?
Scheduling software is a cloud-based solution that allows you to schedule meetings and project tasks with employees and colleagues, as well as schedule appointments with prospects, customers, or any other external parties. Online booking tools make it much easier to process payments and manage, reschedule and plan ahead for appointments and meetings.
Wrap Up
That was a list of the best scheduling software tools that you can use to streamline your booking management for B2C or B2B marketing.
Some tools focus more on customer appointment scheduling, while other tools emphasize internal team management and meeting booking. Since each software is designed for a specific audience, we'd recommend trying a few of these appointment tools to find out which is better suited for your needs, particularly those with a free plan or trial.