Best Calendly Alternatives (Ranked and Reviewed) in 2022
Calendly is a scheduling app that helps you set your availability, schedule appointments, and send reminders and follow-ups.
However, since it's virtually impossible to create a single app that meets the requirements of all businesses, it may be worth trying out a few other Calendly alternatives with features not included with Calendly.
You may even find an appointment tool that does everything you need in the free plan with features only available in Calendly's paid plans. Who wouldn't want to save a few bucks every month anyway?
To help you out with that, we'll review some of the most promising Calendly Alternatives that are worth giving a try.
What Are the Best Calendly Alternatives?
Some of the best Calendly alternatives include Setmore, Squareup, Appointy, Bookafy, and Acuity Scheduling. Now, let's check out what each meeting software has to offer in comparison to Calendly.
1. Setmore
Overview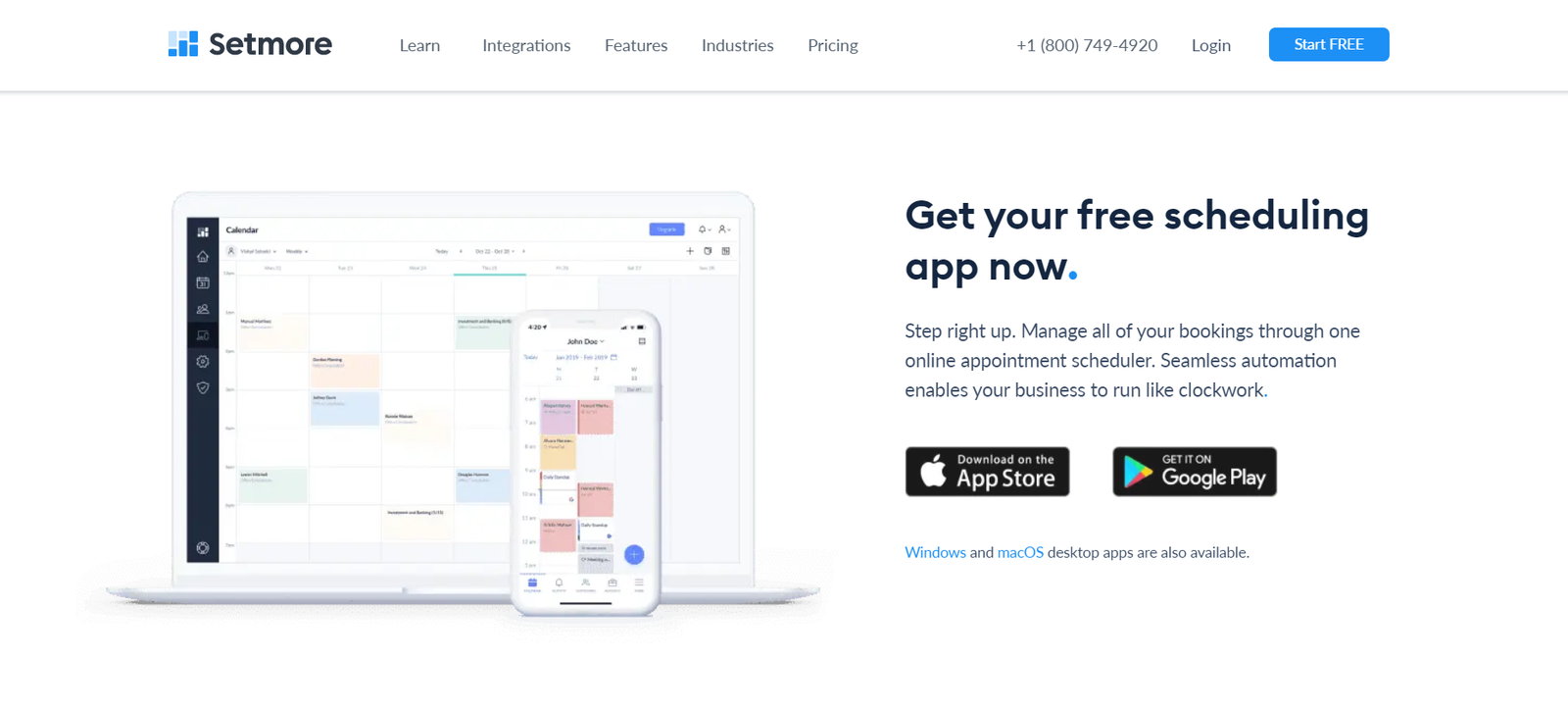 Setmore allows for up to 4 users in its Free plan. You can also accept payments with no fees, which makes Setmore one of the most attractive Calendly alternatives. Plus, you can download Setmore on your Desktop computer and use some of the features offline, something that Calendly lacks.
Highlights
Payment processing: Setmore lets you accept payments from clients directly through the app with Square, PayPal, and Stripe integrations.

User-friendly mobile app: Setmore's mobile app flaunts a sleek user interface that makes finding what you want more straightforward.

Calendar syncing: Setmore integrates with Google Calendar and Office 365.

Email and text reminders: The appointment scheduling tool sends automatic reminders to you and your prospects before the meeting.

Recurring appointments: Set recurring weekly or monthly appointments easily with priority slots for your most important appointments.
Pricing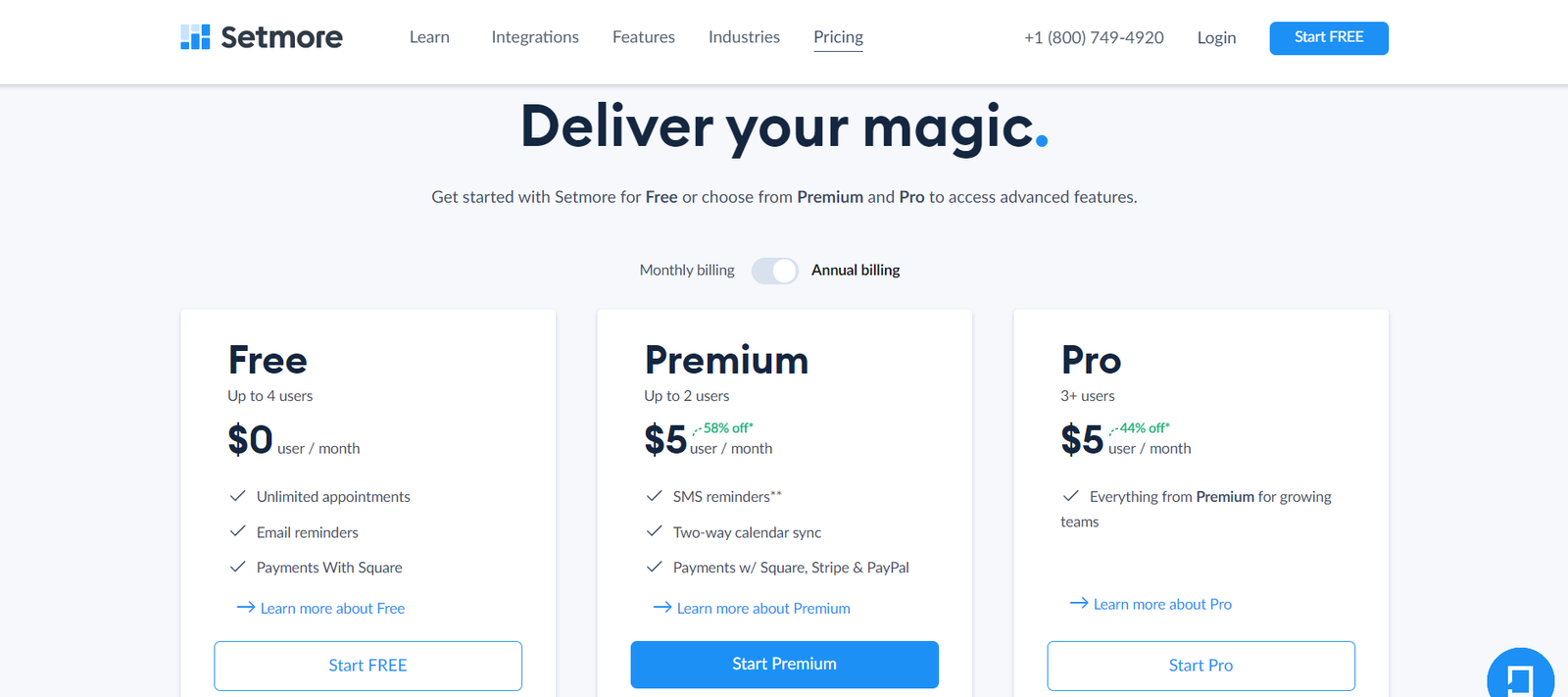 Setmore offers 3 plans: Free (max 4 users), Premium ($12 per user/month, 2+ users), and Pro ($9 per user/month, 3+ users). The Free plan includes unlimited appointments, Square payments, and Email reminders, so it's a good starting point for small teams.
With the Premium plan, you get additional features like two-way calendar sync, PayPal/Stripe payments, and SMS reminders. The Pro plan takes everything from the Premium plans and makes it available for larger teams.
Bottom Line
Setmore is a great tool for anyone looking for a meeting software program with a generous free plan. This is probably one of the best free Calendly alternatives.
2. Squareup
Overview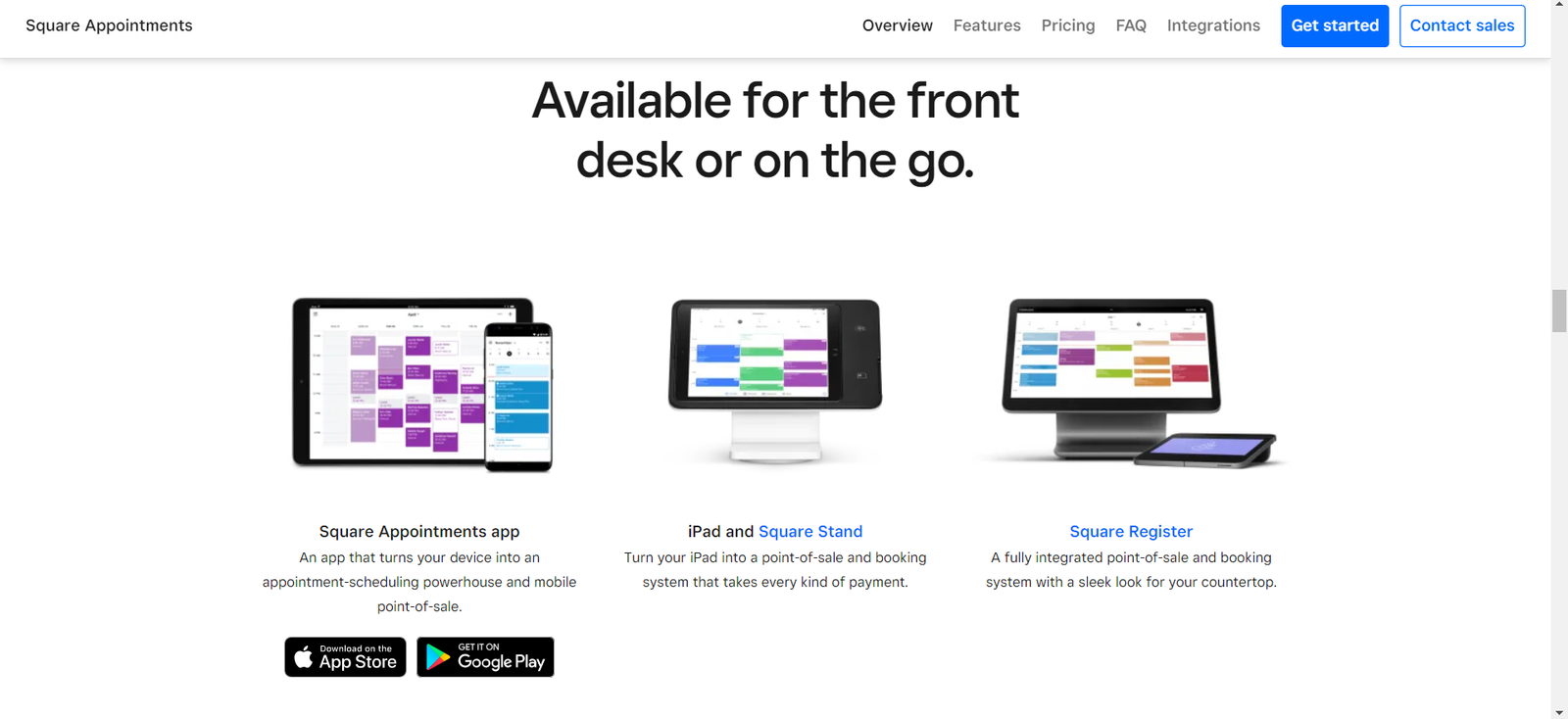 Unlike Calendly, Squareup is designed specifically for small business owners who have a physical place. These include barber shops, personal training facilities, spas, and beauty salons. You can create profiles for your customers to stay in touch and maybe even send them some personalized coupons on their birthdays or other special occasions.
Highlights
Payments: With Square, you can accept payments for appointments directly through the app and even get no-show protection.

Google Calendar sync: Keep your customer appointments in front of your eyes with Google Calendar sync.

Recurring appointments: Set weekly or monthly meetings with long-term clients.

Integrations: Squareup integrates with Google and Instagram to aid your overall marketing strategies. You also get some SEO tools that can help you gain more traffic from search engines.

Customer profiles: Build long-lasting relationships with your customers with customizable customer profiles, a feature that most other Calendly alternatives lack.
Pricing
Squareup has 3 subscription models: Free, Plus ($29 per month/location), and Premium ($69 per month/location). If your business is based in one location, the Free plan would be a good place to start, but if you've already expanded into multiple locations, the Plus or Premium plans are the way to go.
With the Plus plan, you get features like automated email/text confirmations, Google Calendar sync, and no-show protection. The Premium plan also gives you access to staff management features like multiple wage rates, custom permissions, and more.
Bottom Line
If you have a "real-world" business where you constantly set appointments with clients, Squareup will make your life easier. The Free plan is definitely worth trying out if you're looking for other Calendly alternatives.
3. Appointy
Overview
Appointy allows you to customize your booking pages for brand consistency, a feature that we miss in Calendly. You can also link each booking page to a different calendar. Additionally, the appointment tool lets you set recurring weekly or monthly appointments.
You'll also appreciate the intuitive dashboard that lets you access your appointment growth, customer satisfaction rate, estimated sales, and the number of new clients all in a single pane.
Highlights
Facebook and website booking: If you don't have a website for your business yet, you can use Appointy's subdomains, in addition to Facebook integration.

Payments: The Appointy scheduling app lets you accept payments with Square and PayPal integrations.

Guest logins: If you have a guest partner for a special event, you can let them log in to your booking pages with guest logins.

Google Calendar integration: Appointy automatically syncs your appointments with Google Calendar.

Scheduling variety: Appointy lets you schedule classes, activities, and business appointments.
Pricing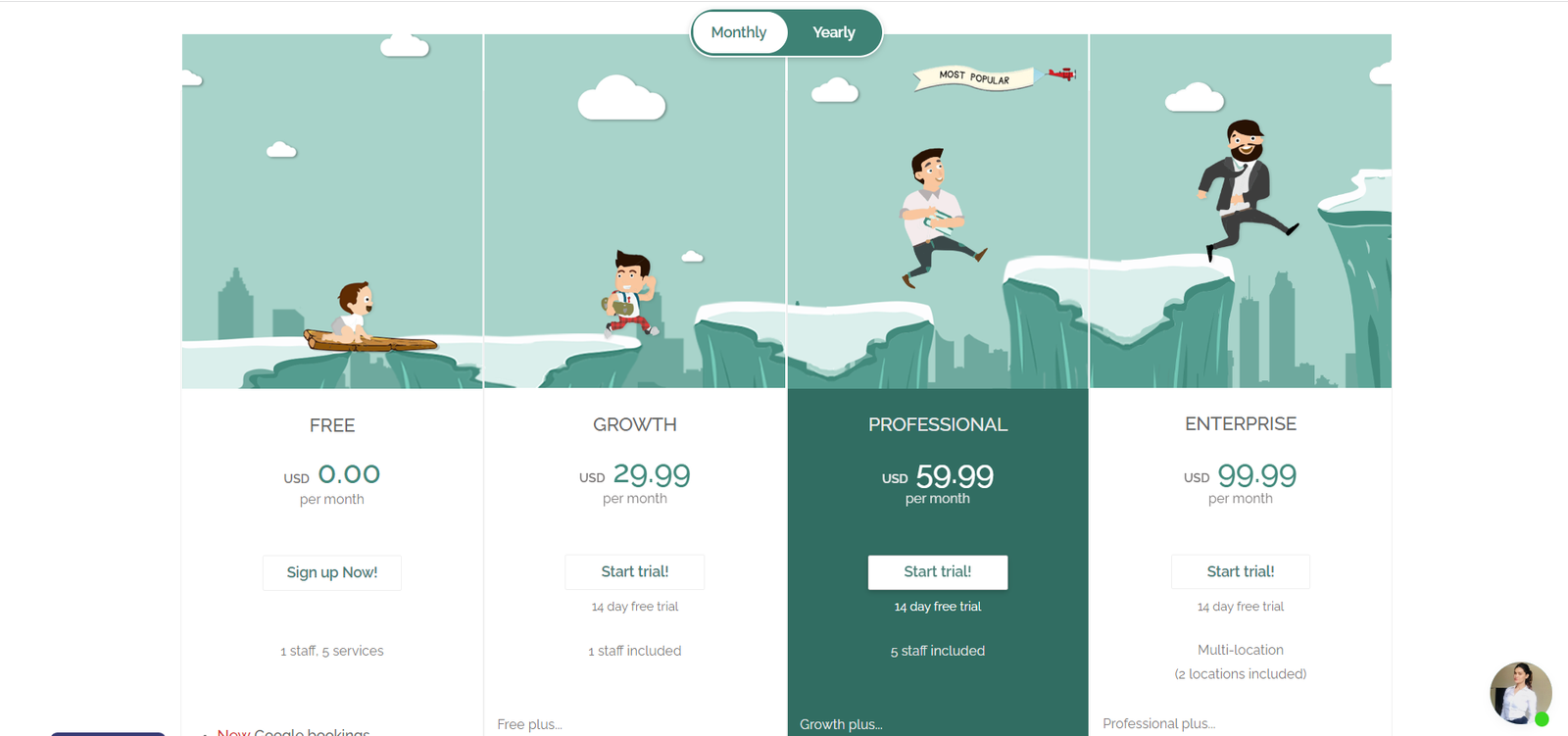 Appointy has 4 subscription plans: Free, Growth ($29.99/month), Professional ($59.99/month), and Enterprise ($99.99/month). The Free plan includes 1 user, up to 100 appointments per month, and Square payments.
Like other Calendly alternatives, the paid plans have more advanced features. Depending on which plan you opt for, you can get perks like Google Calendar, customer support, more staff logins, multi-location support, and SMS text customization.
Bottom Line
Appointy is a great option for anyone looking for an appointment scheduling app that also presents growth opportunities, with a powerful dashboard and Facebook/subdomain booking. You can either sign up for the Free plan or try one of the paid plans with a 14-day free trial to get a glimpse of the extra functionalities.
4. Bookafy
Overview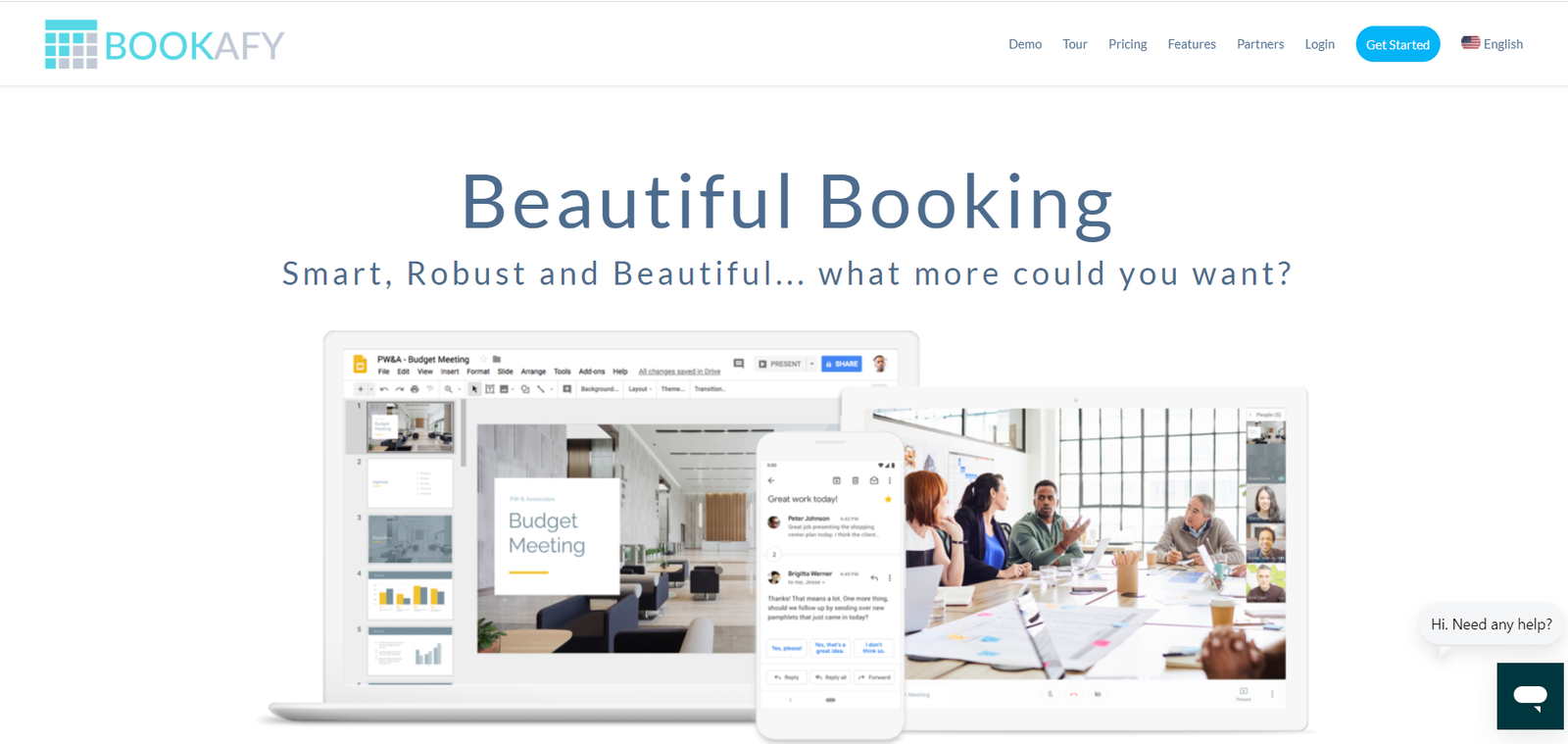 One of Bookafy's strongest selling points is its sleek user interface. Scheduling appointments with Bookafy is easier and faster than with Calendly, so there's a good chance Bookafy will do better for your conversion rate. On top of that, Bookafy allows for unlimited user access with the same account, making it one of the best Calendly alternatives.
Highlights
Personalized booking links: Send unique booking links to your clients to facilitate meeting scheduling.

Team collaboration: Each staff member can set their availability.

Payments: Accept payments directly through Bookafy with Stripe or Authorize.net.

Easy to set up: Get up and running within a few minutes with an easily-to-follow setup process.

One-way and two-way calendar sync: Bookafy syncs with iCloud, Google Cloud, Outlook, and Exchange, enabling you to use one-way or two-way sync, depending on whether you need to see the client's schedule.

Booking page customization: Customize your booking pages with custom fonts and colors.
Pricing
Bookafy offers 4 subscription packages: Free, Pro ($9 per month/user), Pro+ ($13 per month/user), and Enterprise (quote-based). The Free plan includes unlimited appointments, booking pages, button codes, and mini-websites.
On the other hand, the Pro plan features SMS reminders and two-way calendar sync, while the Pro+ plan includes more integrations and open API access. The quote-based Enterprise plan has customizable features, the ability to use your domain, and custom integrations.
Bottom Line
Bookafy is a great scheduling software for business owners that need flexible calendar sync options. You can experiment with the Free plan if you're looking for Calendly alternatives and maybe upgrade later if you find the app useful.
5. Acuity Scheduling
Overview
Acuity makes rescheduling and canceling appointments very easy compared to Calendly's built-in functionality. It's designed for people with busy schedules. It also gives you more options when it comes to payment processing compared to other Calendly alternatives that restrict you to one tool.
Highlights
Seamless scheduling: Check your schedules on the calendar in real-time with your clients to easily find a booking slot that suits you both.

Integrations: The Acuity scheduling app works with Google Meet, Zoom, and GoToMeeting, giving you multiple options in how you prefer to communicate with your clients.

Appointment packages: Show your customers how much you value them with customizable appointment packages.

Personalized confirmations: Customize your reminders and follow-up emails with branded confirmations.

Payments: Acuity lets you accept payments from clients effortlessly with multiple payment processing partners.
Pricing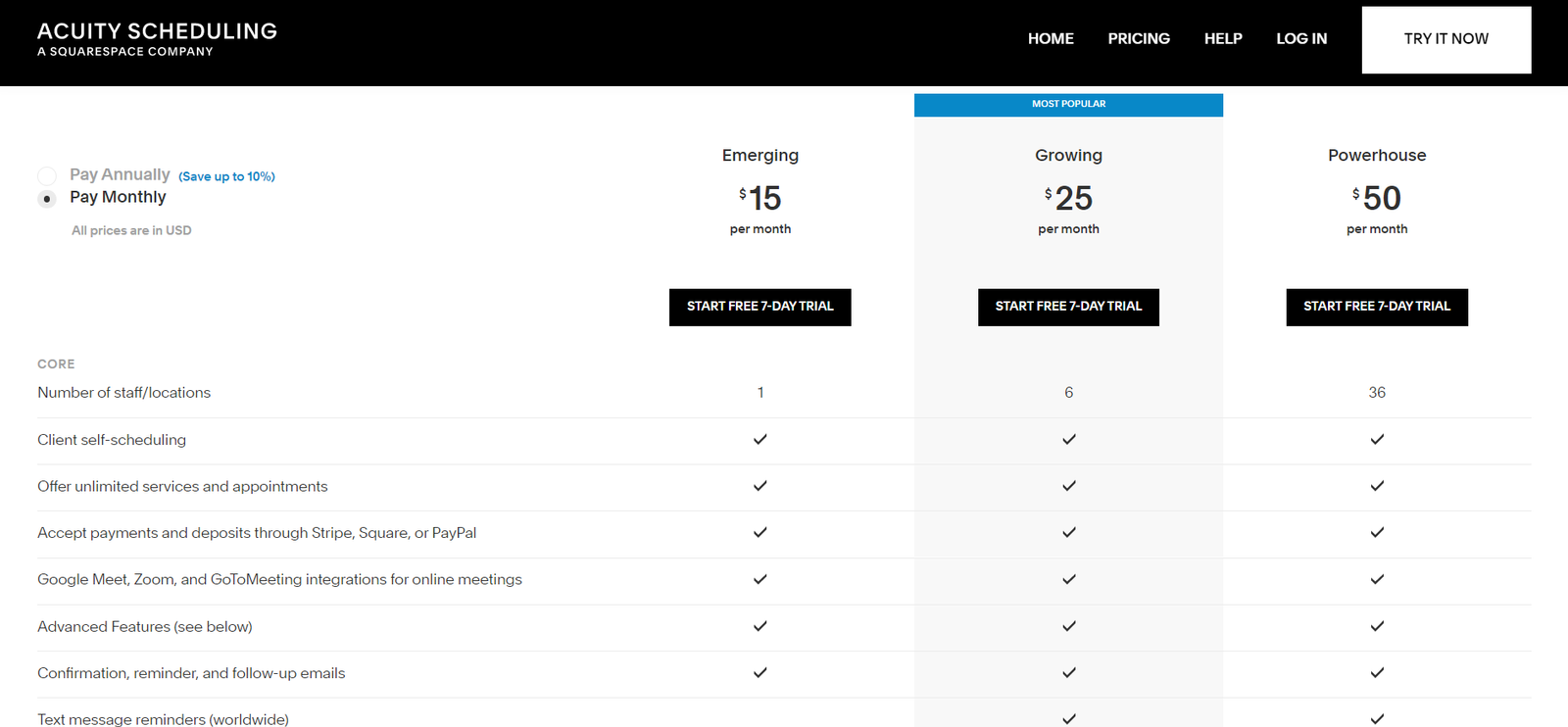 Acuity's pricing structure consists of 3 plans: Emerging ($14/month), Growing ($23/month), and Powerhouse ($45/month). You can potentially save up to 10% if you choose annual billing. The higher-tier plans are more feature-rich and enable more users to use the software without additional accounts.
Bottom Line
Acuity is one of the best Calendly alternatives for businesses that need to handle complex availabilities. And while this meeting software doesn't offer a free version, you can try any of the paid plans with a 7-day free trial.
What Are Scheduling Apps?
Scheduling apps are appointment tools that allow business owners to schedule appointments with prospects or clients efficiently. They let you set your availability, adjust each meeting's duration, coordinate multiple calendars, and reschedule appointments.
Scheduling tools can also eliminate manual data entry and back-and-forth emails, as well as automatically track meetings and facilitate the payment process.
Conclusion
These were some of the best Calendly alternatives that you can try. While Calendly is undoubtedly a robust appointment tool, some scheduling apps here offer additional functionality that can be vital for your business. A cheaper Calendly alternative won't be a bad idea either, as long as it'll help you schedule meetings efficiently and boost your B2C or B2B marketing efforts.