The 5 Best Calendly Alternatives (Reviewed) in 2023
Calendly is a scheduling app that helps you set your availability, schedule appointments, and send reminders and follow-ups.
However, since it's virtually impossible to create a single app that meets the requirements of all businesses, it may be worth trying out a few other Calendly alternatives with features not included with Calendly.
You may even find an appointment tool that does everything you need in the free plan with features only available in Calendly's paid plans. Who wouldn't want to save a few bucks every month anyway?
To help you out with that, I've reviewed some of the most promising Calendly Alternatives that might be worth switching to.
Table of Contents
What Are the Best Calendly Alternatives?
After trying out many different appointment apps, I'd say that the best Calendly alternatives are Setmore, Squareup, Appointy, Bookafy, and Acuity Scheduling. Now, let's check out what each meeting software has to offer in comparison to Calendly.
Overview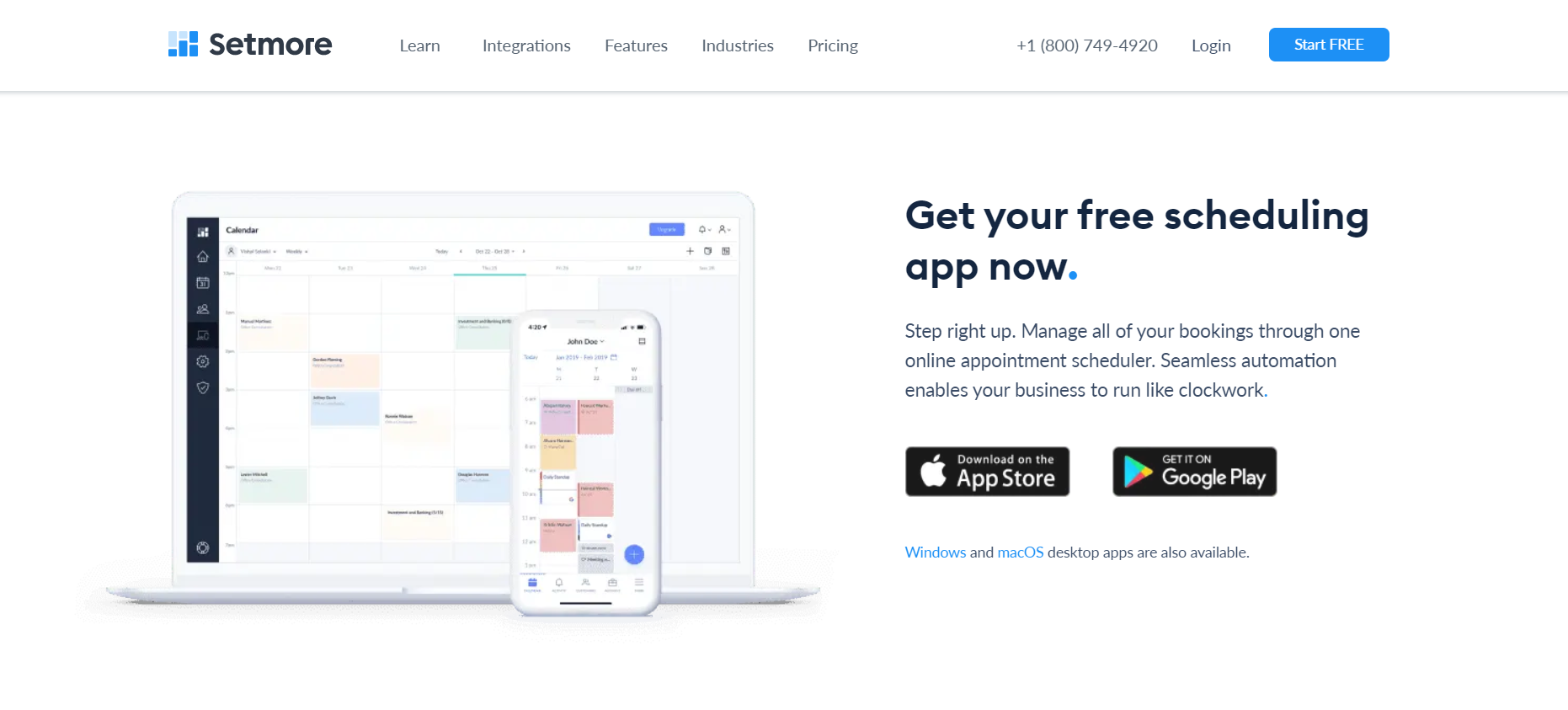 Setmore allows for up to 4 users in its Free plan, compared to Calendly that only accepts one user. You can also accept payments with no fees, which makes Setmore one of the most attractive alternatives on this list.
Plus, you can download Setmore on your Desktop computer and use some of the features offline, something that Calendly lacks.
Highlights
Payment processing: Setmore lets you accept payments from clients directly through the app with Square, PayPal, and Stripe integrations.
Calendar syncing: Setmore integrates with Google Calendar and Office 365 to keep you in the loop.
Email and text reminders: The appointment scheduling tool sends automatic reminders to you and your prospects before the meeting to prevent you from missing your appointments and losing customers.
Recurring appointments: Set recurring weekly or monthly appointments easily with priority slots for your most important appointments.
Usability
In Setmore, I can add multiple service categories for my business, making it easier for customers to book meetings. It also helps in tracking revenue and invoices for each service separately.
To add a new service category, tap on "EasyShare" and choose "New service category".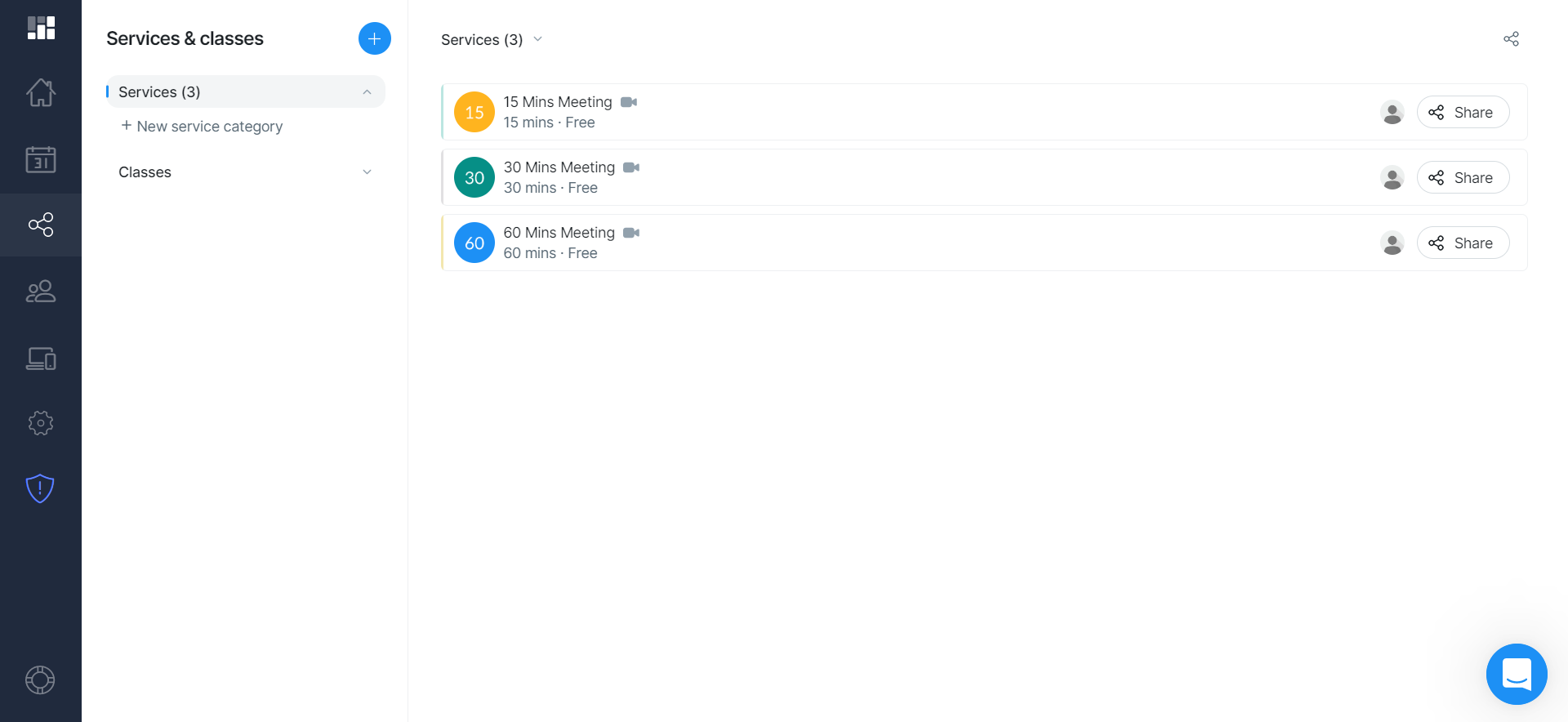 You can then add multiple services and meeting types for each category.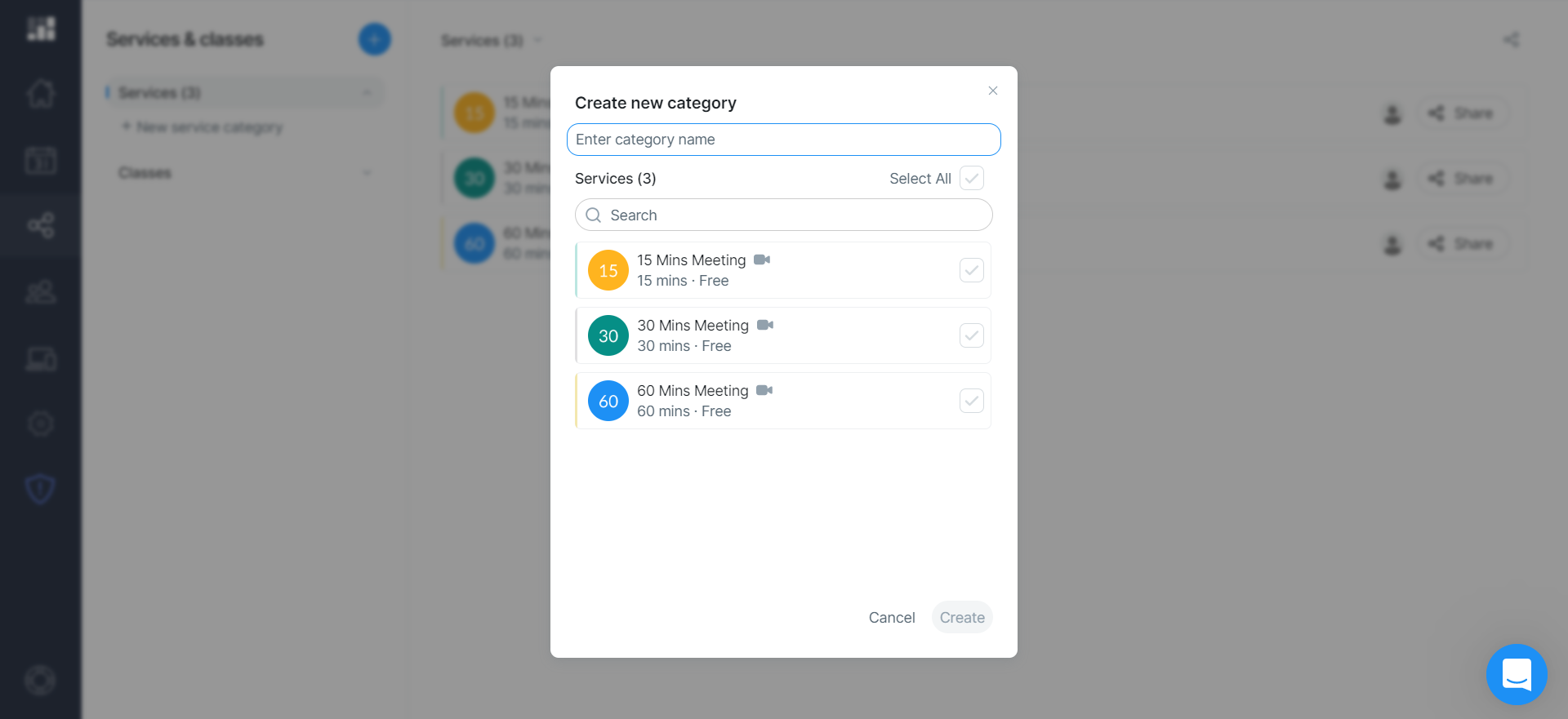 Pricing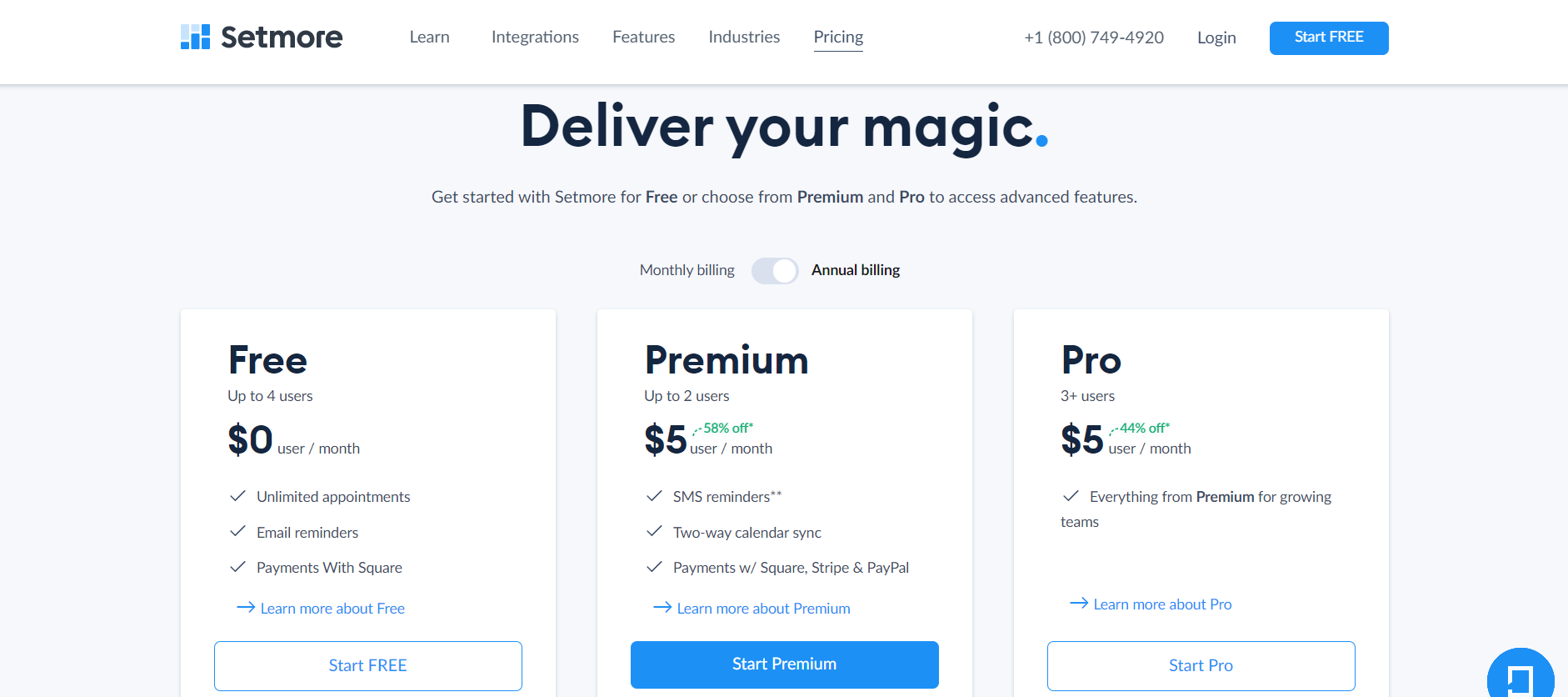 Setmore offers 3 plans: Free (max 4 users), Premium ($12 per user/month, 2+ users), and Pro ($9 per user/month, 3+ users). The Free plan includes unlimited appointments, Square payments, and Email reminders, so it's a good starting point for small teams.
With the Premium plan, you get additional features like two-way calendar sync, PayPal/Stripe payments, and SMS reminders. The Pro plan takes everything from the Premium plans and makes it available for larger teams.
Customer Thoughts
Integration with Teleport has made it much easier for us to collaborate with group and one-to-one video sessions.
Some of my customers are having trouble canceling appointments on Setmore; it's complicated for them.
I love how Setmore makes it easy for us to work as a team by letting me add team members to my calendar.
I wish Setmore could let me add more than one address to my booking pages. Makes things a bit confusing for my customers.
I like that customers can see my other services when they visit a booking page to book an appointment and that they don't need to visit another page to book more services.
I appreciate that customers don't need to create an account to schedule appointments, but a function that lets them add documents to the scheduled appointments would've made things much easier for our business model.
Bottom Line
Setmore is a great tool for anyone looking for a meeting software program with a generous free plan. In my opinion, this is one of the best free Calendly alternatives.
Overview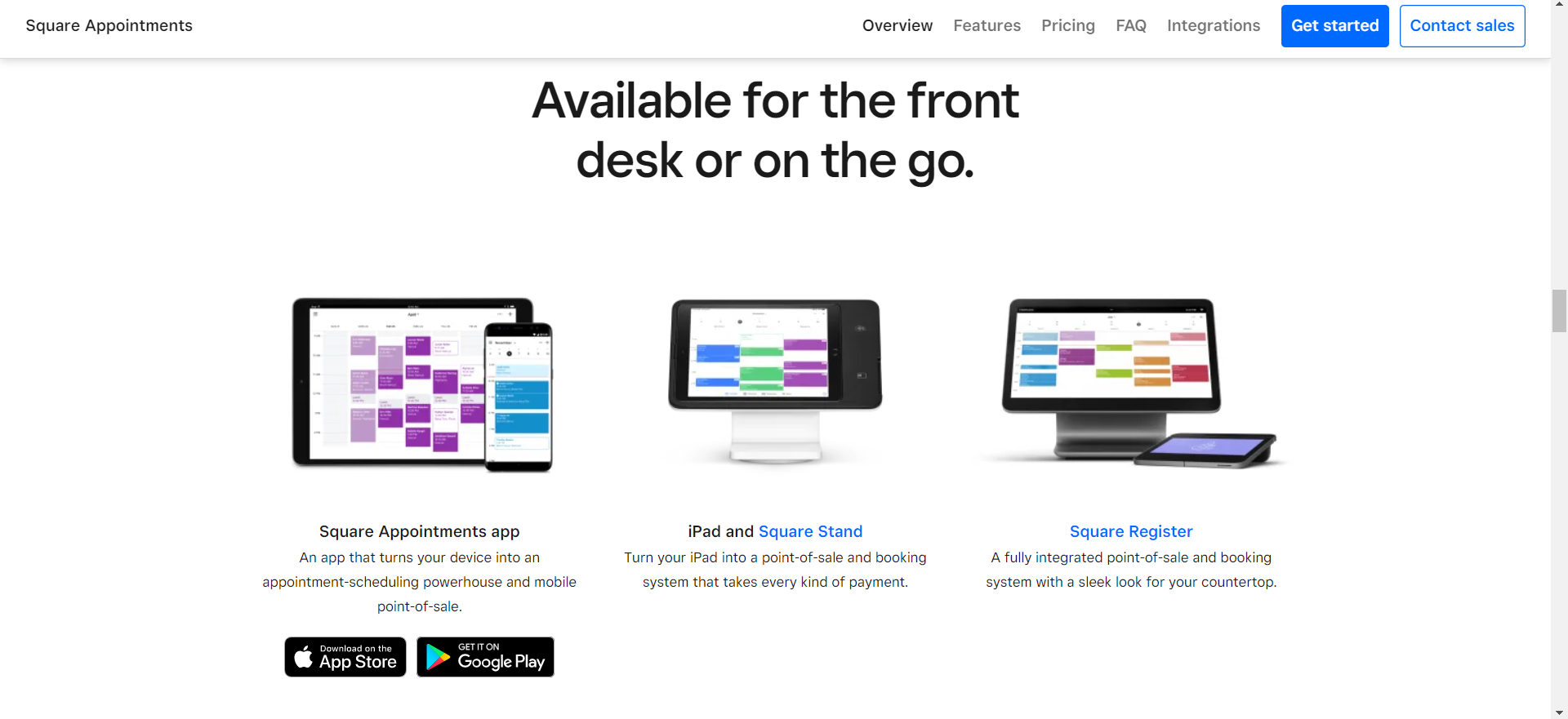 Unlike Calendly, Squareup is designed specifically for small business owners who have a physical business location. These include barber shops, personal training facilities, spas, and beauty salons.
You can create profiles for your customers to stay in touch and maybe even send them some personalized coupons on their birthdays or other special occasions.
Highlights
Payments: With Squareup, you can accept payments for appointments directly through the app and even get no-show protection.
Google Calendar sync: Keep your customer appointments in front of your eyes with Google Calendar sync and avoid missing important meetings.
Recurring appointments: Set weekly or monthly meetings with long-term clients to encourage them to continue using your services.
Integrations: Squareup integrates with Google and Instagram to aid your overall marketing strategies. You also get some SEO tools that can help you gain more traffic from search engines.
Customer profiles: Build long-lasting relationships with your customers with customizable customer profiles, a feature that most other Calendly alternatives lack.
Usability
Squareup is one of the few appointment scheduling tools out there that let me set up email marketing campaigns right on the platform.
To start a new campaign, Click on"Customers" from the left-hand side navigation bar and choose "Marketing". Then, Click on "Get Started".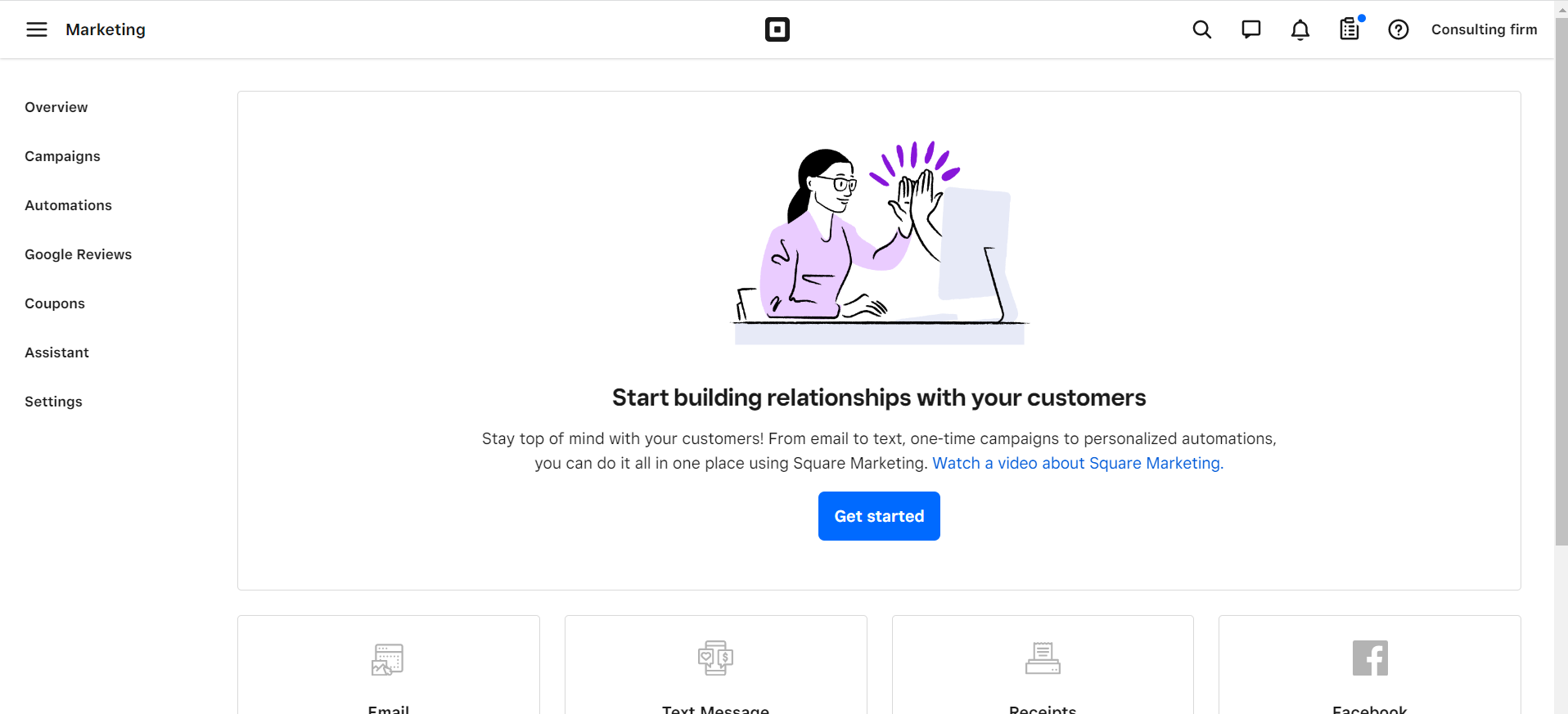 After that, the platform will prompt you to choose the type of email templates you want to include in your campaign. So, for example, if you want your customers to send you their birthdays to create special birthday packages for them, choose "Ask for your customers' birthdays".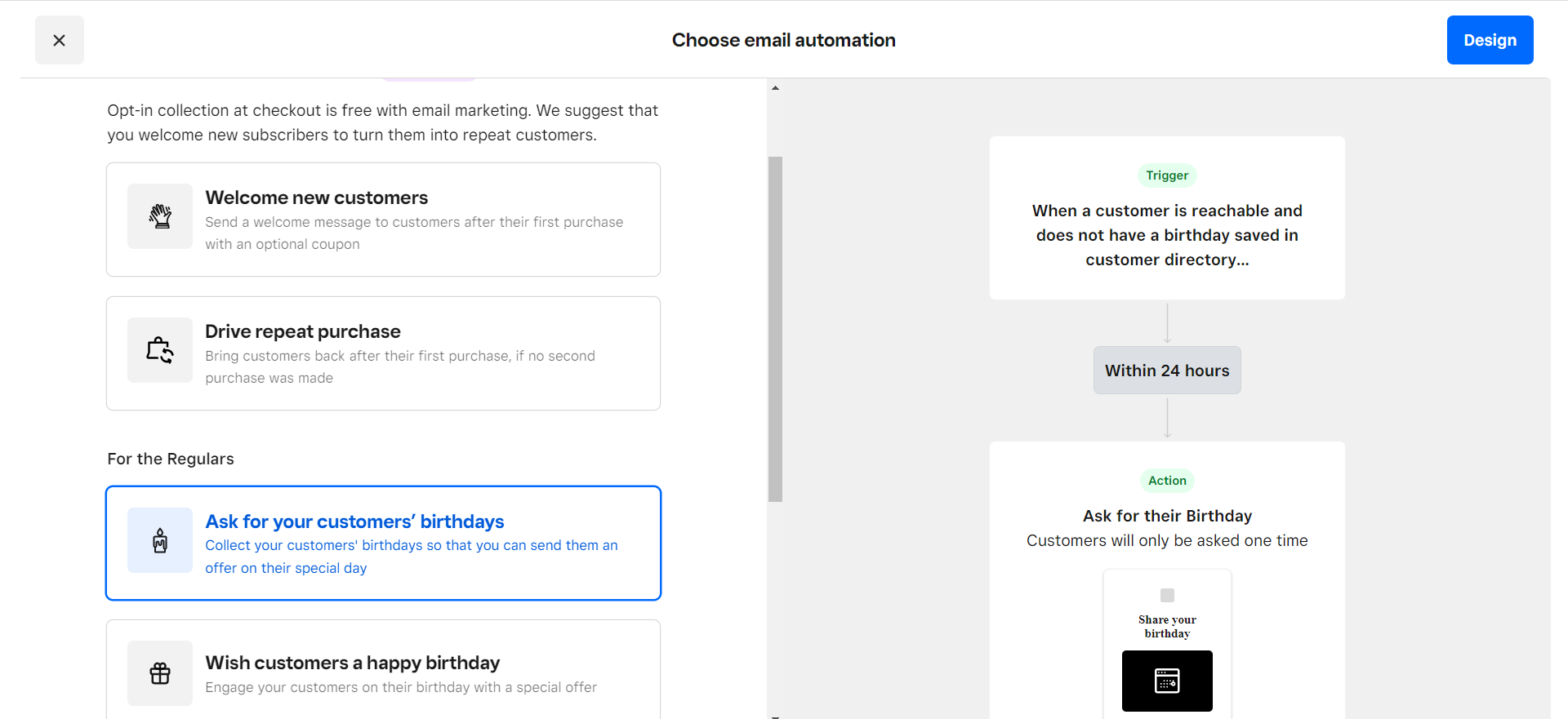 Pricing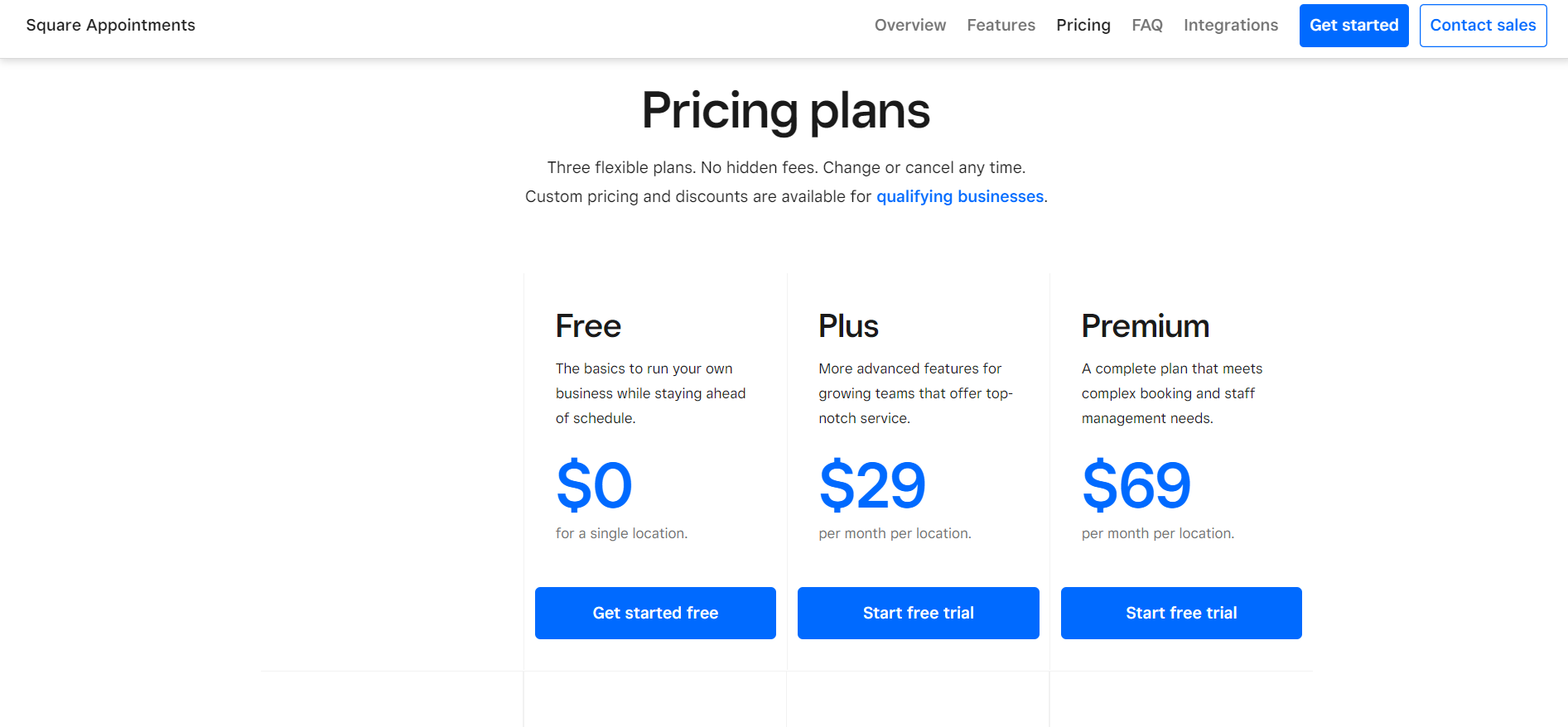 Squareup has 3 subscription models: Free, Plus ($29 per month/location), and Premium ($69 per month/location). If your business is based in one location, the Free plan would be a good place to start, but if you've already expanded into multiple locations, the Plus or Premium plans are the way to go.
With the Plus plan, you get features like automated email/text confirmations, Google Calendar sync, and no-show protection. The Premium plan also gives you access to staff management features like multiple wage rates, custom permissions, and more.
Customer Thoughts
I find being able to accept payments directly through Square to be very useful, but it won't let me schedule multiple appointments with the same customer in advance.
I wish Square supported Google Calendar sync in the free plan.
I like that I can send automated appointment reminder texts to my clients.
We'd have preferred to be able to customize the booking pages a bit further to match our brand identity.
Why is there a character limit on the service list? For a business that offers lots of services that ours, this doesn't make sense.
I love that I can collect customer feedback after my appointments using Square.
Bottom Line
If you have a "real-world" business where you constantly set appointments with clients, Squareup will make your life easier. I recommend you try the free plan if you're looking for a Calendly alternative.
Overview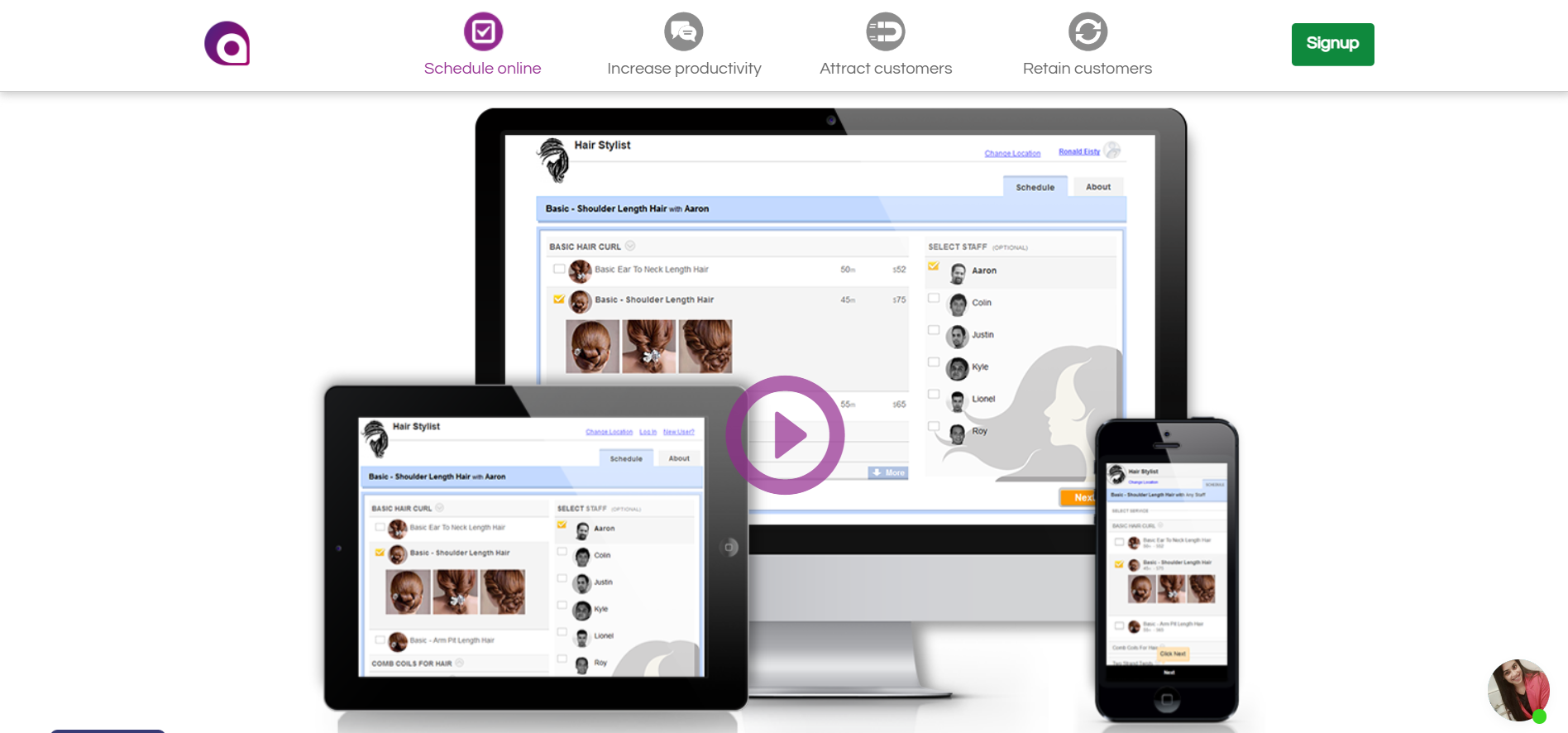 Appointy allows you to customize your booking pages for brand consistency, a feature that we miss in Calendly. You can also link each booking page to a different calendar. Additionally, the appointment tool lets you set recurring weekly or monthly appointments.
You'll also appreciate the intuitive dashboard that lets you access your appointment growth, customer satisfaction rate, estimated sales, and the number of new clients all in a single pane.
Highlights
Facebook and website booking: If you don't have a website for your business yet, you can use Appointy's subdomains, in addition to Facebook integration.
Payments: The Appointy scheduling app lets you accept payments with Square and PayPal integrations.
Guest logins: If you have a guest partner for a special event, you can let them log in to your booking pages with guest logins.
Google Calendar integration: Appointy automatically syncs your appointments with Google Calendar.
Scheduling variety: Appointy lets you schedule classes, activities, and business appointments.
Usability
In Appointy, I can create gift certificates, offers, and discount coupons to make more compelling packages for my clients.
For example, if you want to set up a new coupon or gift certificate, navigate to the "Marketing" section and choose the type of offer you want to add.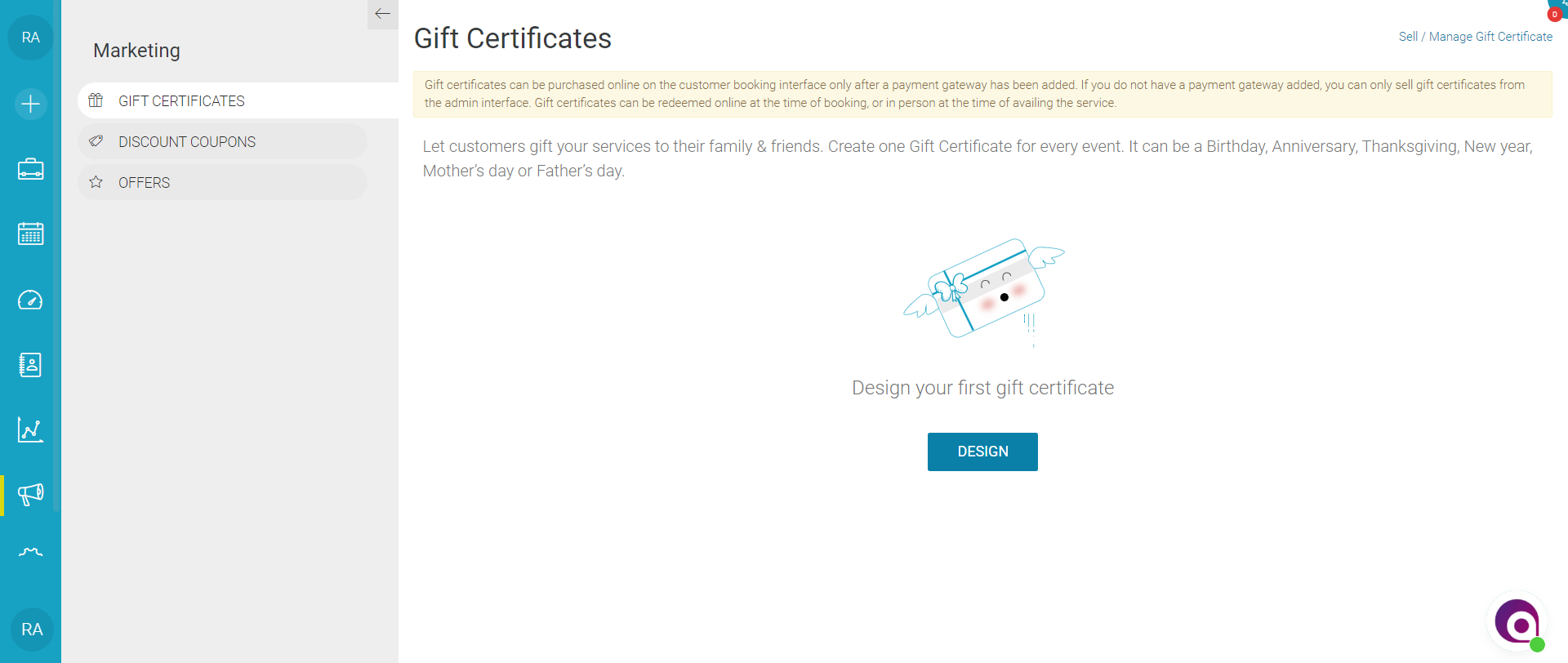 Pricing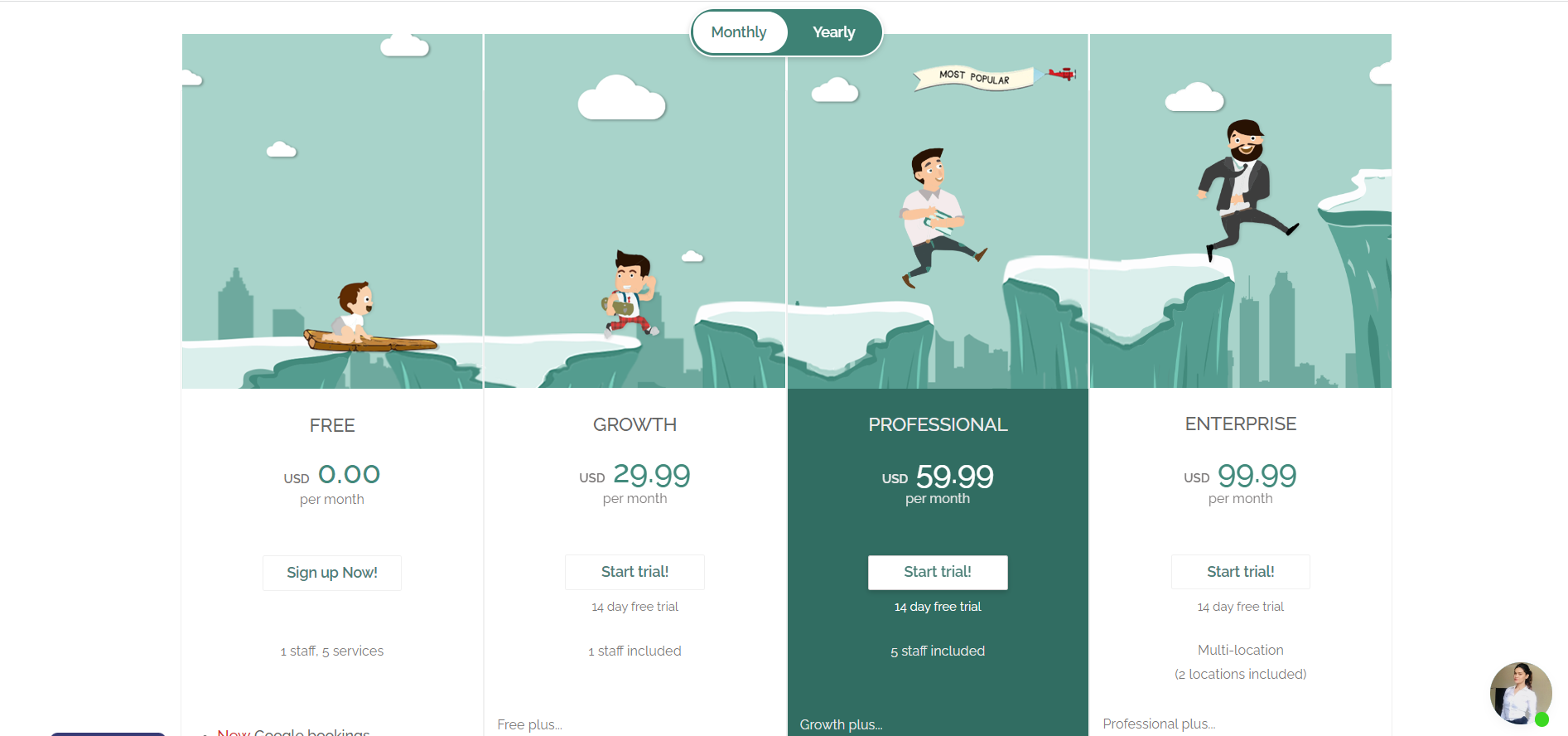 Appointy has 4 subscription plans: Free, Growth ($29.99/month), Professional ($59.99/month), and Enterprise ($99.99/month). The Free plan includes 1 user, up to 100 appointments per month, and Square payments.
Like other Calendly alternatives, the paid plans have more advanced features. Depending on which plan you opt for, you can get perks like Google Calendar, customer support, more staff logins, multi-location support, and SMS text customization.
Customer Thoughts
I love that I can add questions and request information from my clients automatically when they book an appointment; makes it easier to prepare everything before the meeting.
I prefer to pre-charge my clients before the meetings, but Appointy won't let me stop clients from making appointments if they haven't paid.
The setup assistance worked like a charm for me! I was able to start accepting appointments right after subscribing to Appointy.
Tracking things like payments, absences, and leaves on Appointy seems impossible for us; we'd really appreciate some improvement in this area.
We use 5 social media channels to market for our services, and I'm pretty impressed that I can use Appointy on all of them.
The integration with Google Calendar is a life-saver for me. I recommend Appointy for busy professionals that need to receive reminders for their appointments.
Bottom Line
From my experience, Appointy seems like a great option for anyone looking for an appointment-scheduling app that also presents growth opportunities, with a powerful dashboard and Facebook/subdomain booking. You can either sign up for the Free plan or try one of the paid plans with a 14-day free trial to get a glimpse of the extra functionalities.
Overview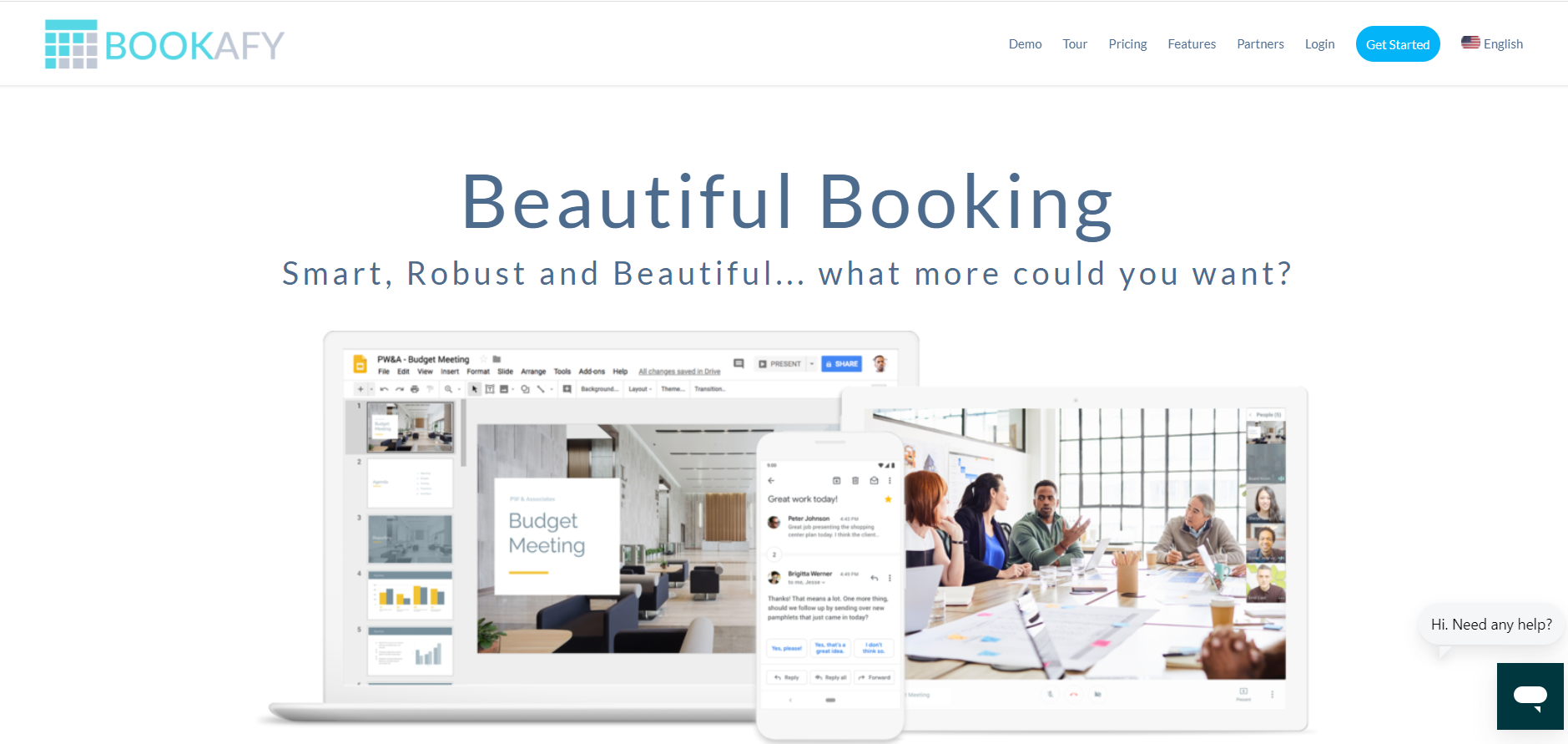 One of Bookafy's strongest selling points is its sleek user interface. Scheduling appointments with Bookafy is easier and faster than with Calendly, so there's a good chance Bookafy will do better for your conversion rate. On top of that, Bookafy allows for unlimited user access with the same account, making it one of the best Calendly alternatives.
Highlights
Personalized booking links: Send unique booking links to your clients to facilitate meeting scheduling.
Team collaboration: Each staff member can set their availability individually.
Payments: Accept payments directly through Bookafy with Stripe or Authorize.net.
One-way and two-way calendar sync: Bookafy syncs with iCloud, Google Cloud, Outlook, and Exchange, enabling you to use one-way or two-way sync, depending on whether you need to see the client's schedule.
Booking page customization: Customize your booking pages with custom fonts and colors.
Usability
I love how Bookafy lets users book multiple customers in the same event with Group Events. This makes organizing bookings and managing customers much less of a hassle.
To create a new group event, simply tap on "Group Events" in the left-hand side navigation bar and click the "New Class" button.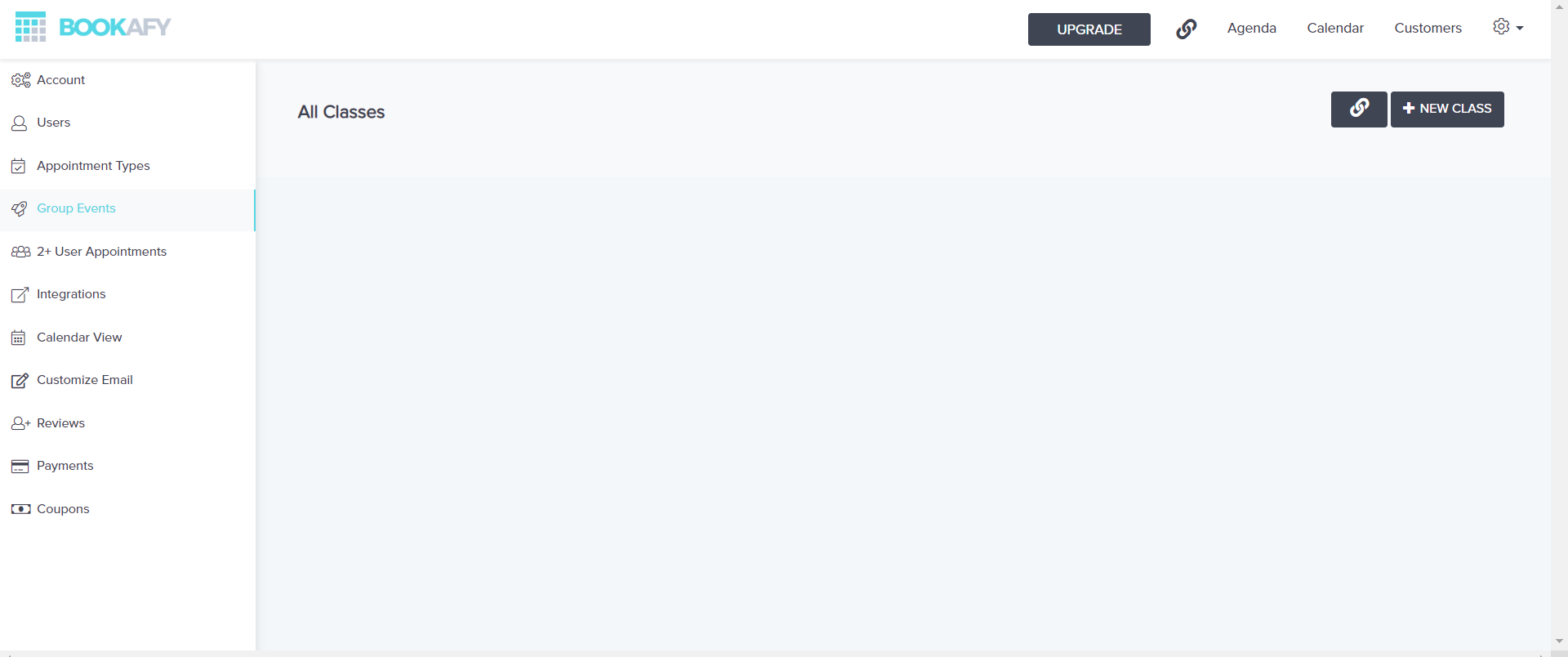 Within each class, you can set the price and number of seats, as well as the event's location and duration.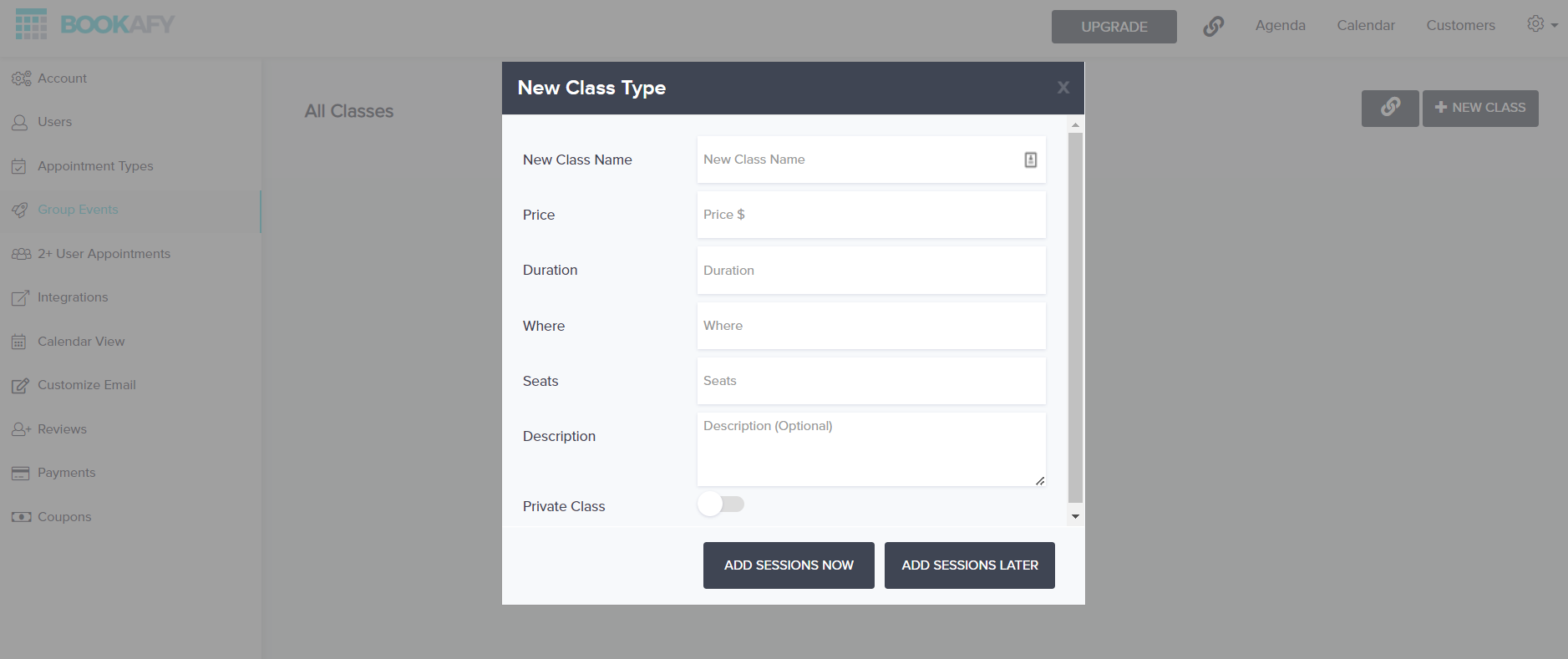 Customer Thoughts
I like that customers can leave a review after the appointment for other prospective customers to see.
The ability to send unique booking links to individual customers to they can privately book appointments has been working really well for us.
I love how Bookafy integrates with Google Calendar; this helps me avoid booking the same free slot for more than one customer.
We'd have preferred some more customization options for the customer-facing booking pages, so we can at least it match it with our brand.
The setup process was a bit confusing for me; took me a while to get the hang of it too.
I'm impressed with how easy it is to add a booking page to my website with Bookafy; thought I'd need to enter some manual code or something, but it was simpler than I thought.
Pricing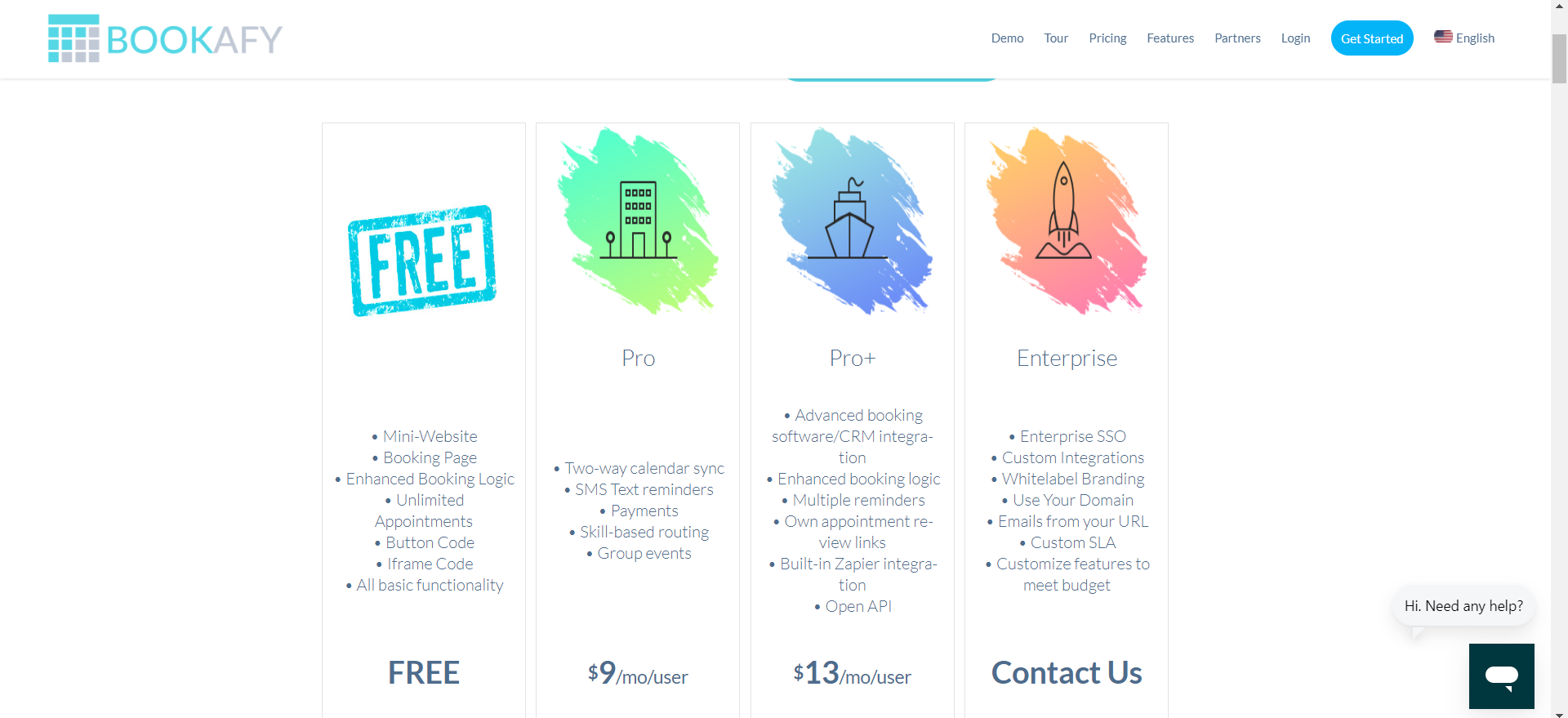 Bookafy offers 4 subscription packages: Free, Pro ($9 per month/user), Pro+ ($13 per month/user), and Enterprise (quote-based). The Free plan includes unlimited appointments, booking pages, button codes, and mini-websites.
On the other hand, the Pro plan gives you SMS reminders and two-way calendar sync, while the Pro+ plan includes more integrations and open API access. The quote-based Enterprise plan has customizable features, the ability to use your domain, and custom integrations.
Bottom Line
Bookafy is a great scheduling software for business owners that need flexible calendar sync options. I recommend experimenting with the Free plan if you're looking for Calendly alternatives and maybe upgrading later if you find the app useful.
Overview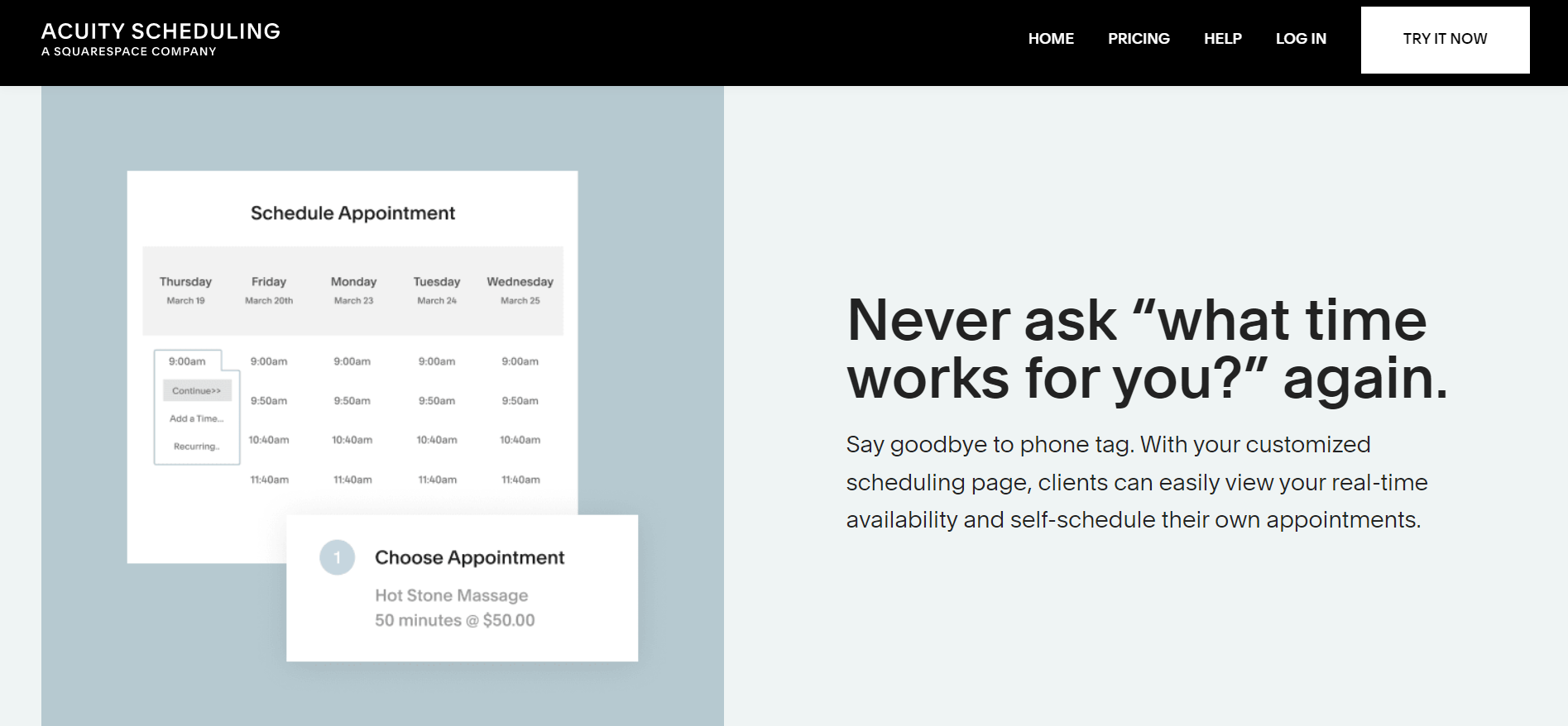 Acuity makes rescheduling and canceling appointments very easy compared to Calendly's built-in functionality. It's designed for people with busy schedules. It also gives you more options when it comes to payment processing compared to other Calendly alternatives that restrict you to one tool.
Highlights
two-way calendar scheduling: Check your schedules on the calendar in real-time with your clients to easily find a booking slot that suits you both.
Integrations: The Acuity scheduling app works with Google Meet, Zoom, and GoToMeeting, giving you multiple options for how you prefer to communicate with your clients.
Appointment packages: Show your customers how much you value them with customizable appointment packages.
Personalized confirmations: Customize your reminders and follow-up emails with branded confirmations.
Payments: Accept payments from clients effortlessly with multiple payment processing partners.
Usability
If you have more staff than the resources that your appointments count on, you can add an additional restriction to your Acuity booking pages. It won't be visible to your clients, but it'll avoid you from accepting more appointments than what your resources allow.
To add resources, click on "Set your availability" and choose "Rooms/Resources". Tap on the "New Resource" button to add your resource.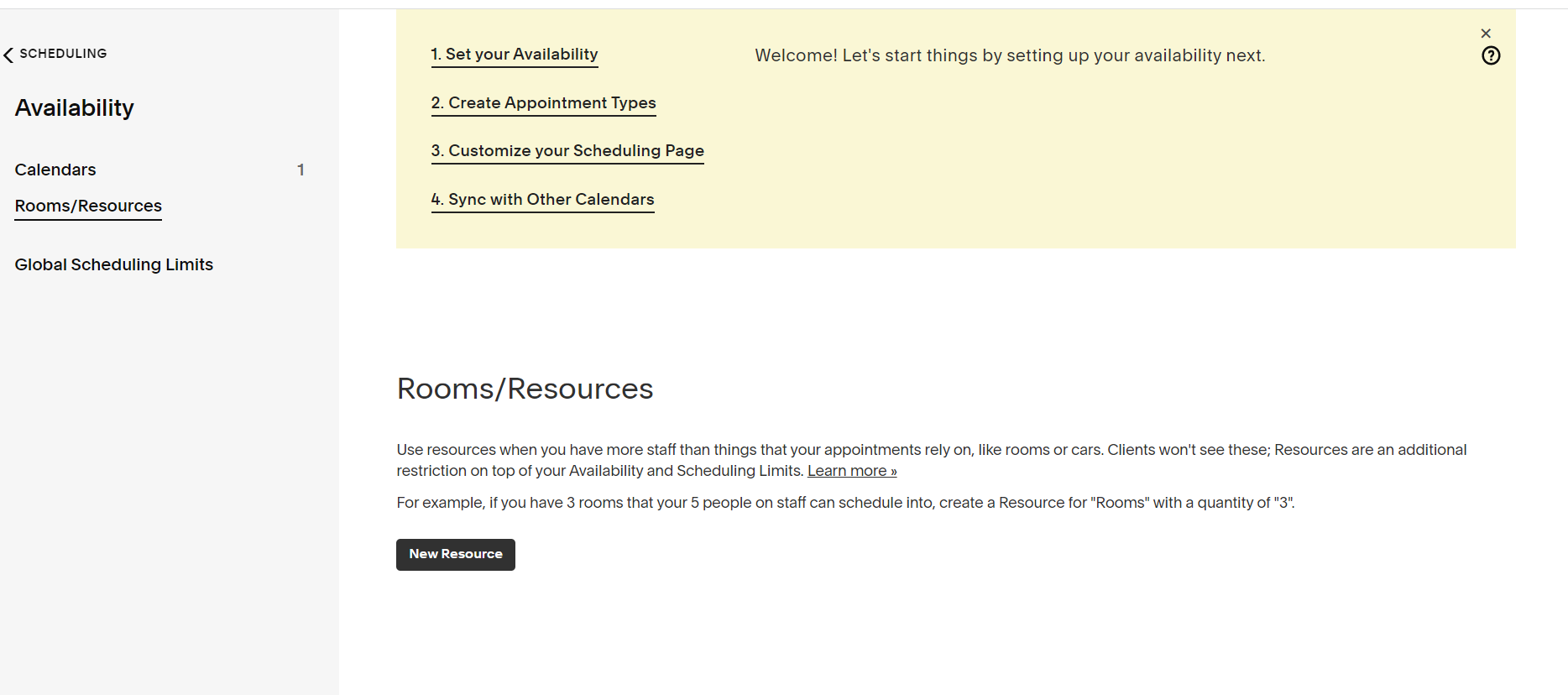 Then, you can set the maximum number of appointments for each resource or room.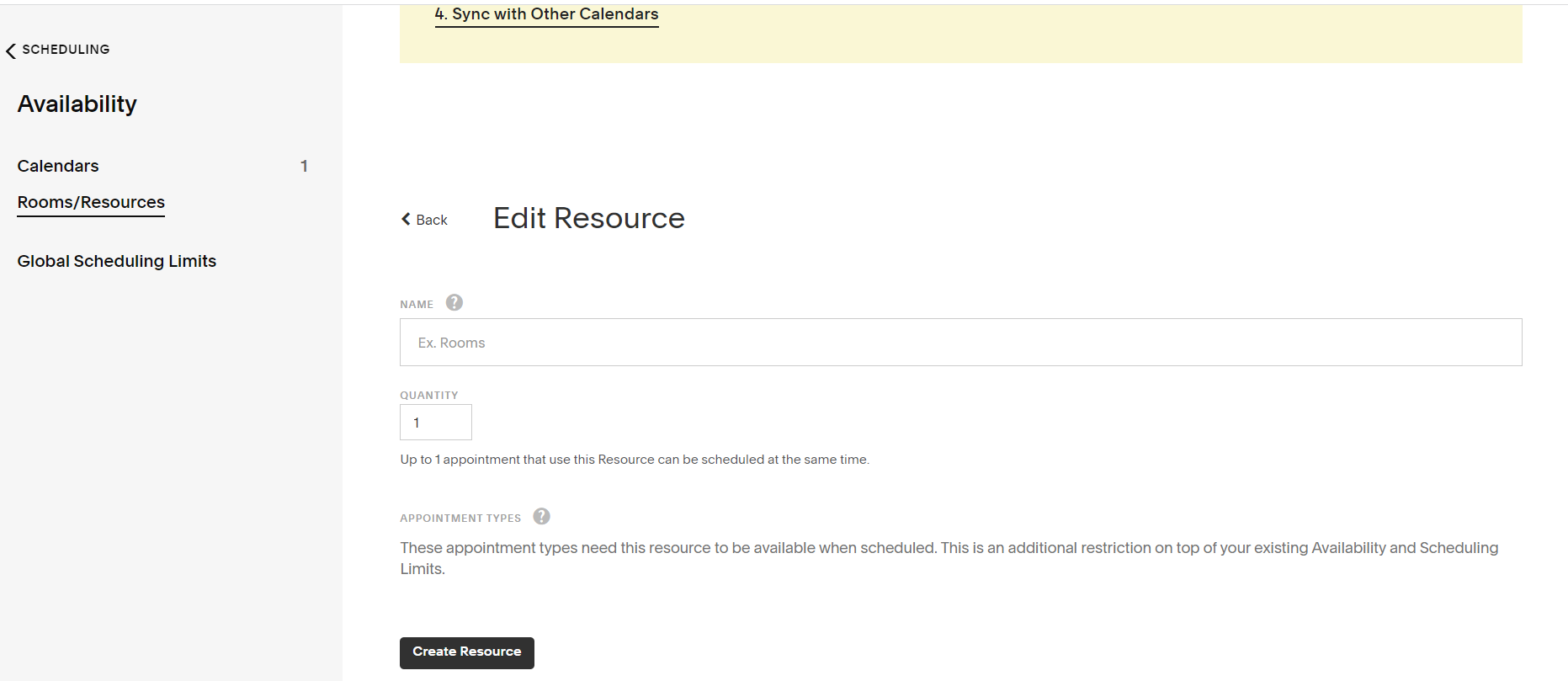 Customer Thoughts
I love the built-in search engine! It's very powerful and makes finding client info and other relevant data easy.
The email builder is a bit clumsy and buggy; I've stopped using this feature in Acuity because of how frustrating it is. Hopefully, they release an update that makes it better.
As a business that offers a wide range of services, we appreciate the ability to add multiple appointment types and set different forms, pricing, and other info.
We like that we can set a cap on the number of appointments we can accept per week for a specific appointment type.
I have clients from different countries and time zones. When they need to book an appointment, they must input their time zone manually. It'd have been more convenient if Acuity picked up time zones automatically.
Pricing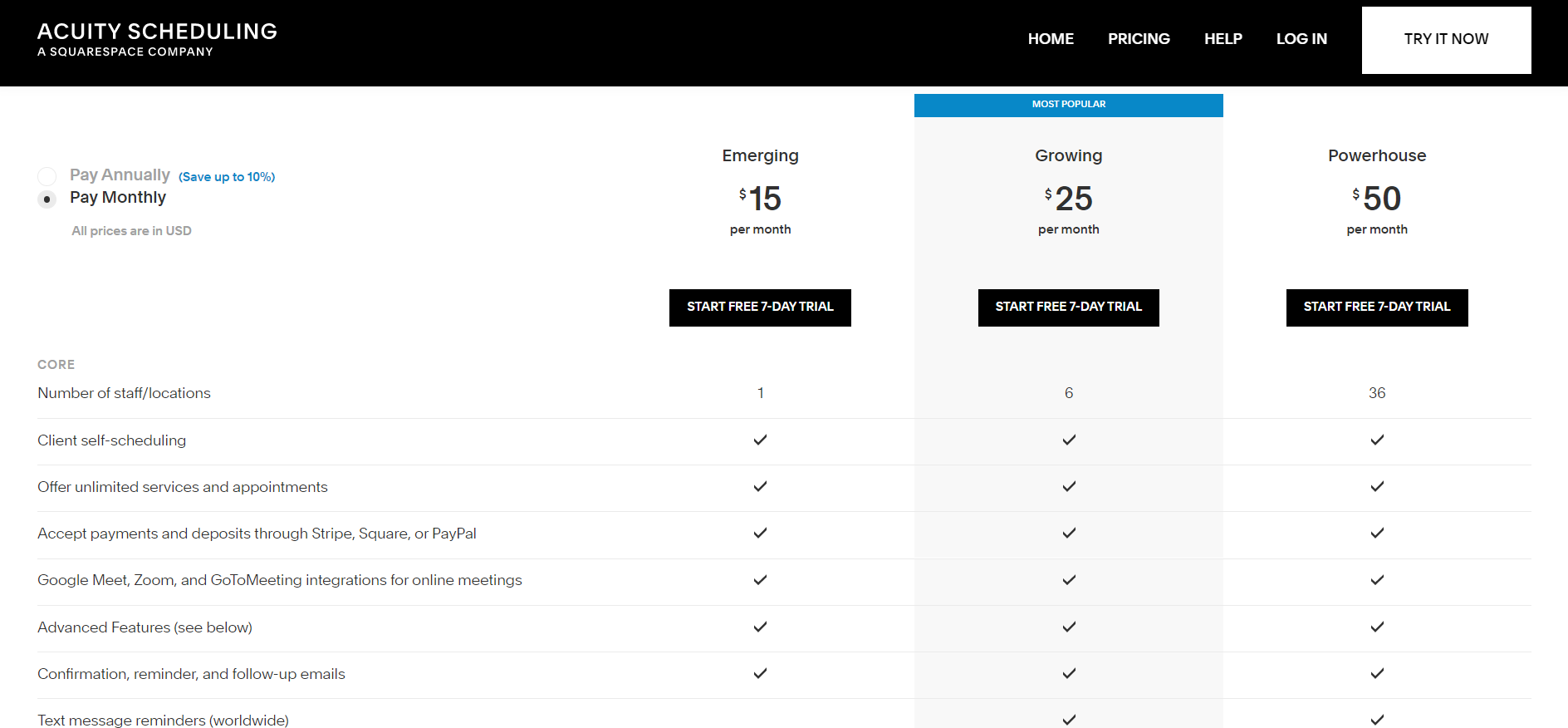 Acuity's pricing structure consists of 3 plans: Emerging ($14/month), Growing ($23/month), and Powerhouse ($45/month). You can save up to 10% if you choose annual billing. The higher-tier plans are more feature-rich and enable more users to use the software without additional accounts.
Bottom Line
Acuity is one of the best Calendly alternatives for businesses that need to handle complex availabilities. And while this meeting software doesn't offer a free version, you can try any of the paid plans with a 7-day free trial.
Why Your Business Needs an Appointment Scheduling App
An appointment scheduling tool is important for your business if you regularly have to schedule meetings and appointments with prospective customers and leads. It'll spare you the hassle of having to discuss availability with your customers, saving time for both you and your customers. A booking tool also provides a better customer experience, making your customers more likely to book your services again.
According to Zippia, businesses that integrate an online scheduling portal into their website gain an average revenue boost of 27%. Not to mention, up to 60% of customers prefer to schedule appointments with businesses online over other methods like phone calls.
What Are Scheduling Apps?
Scheduling apps are appointment tools that allow business owners to schedule appointments with prospects or clients efficiently. They let you set your availability, adjust each meeting's duration, coordinate multiple calendars, and reschedule appointments.
Scheduling tools can also eliminate manual data entry and back-and-forth emails, as well as automatically track meetings and facilitate the payment process.
Conclusion
These were some of the best Calendly alternatives that you can try.
Honestly, I think Calendly is a robust appointment tool, but some scheduling apps here offer additional functionality that can be vital for your business. A cheaper Calendly alternative won't be a bad idea either, as long as it'll help you schedule meetings efficiently and boost your B2C or B2B marketing efforts.