Best Live Chat Software in 2023
Let's face it, customers these days want their questions answered quicker than a cheetah chasing after a gazelle. So, it's time to offer them more than just outdated email threads and phone lines with 20+ minutes of waiting time.
Give them live chat support! Not only does it provide a convenient way for customers to get in touch with you but also increases customer engagement and makes them more willing to buy your product or continue using your service.
But with so many options out there, choosing the right live chat tool for your business can be a bit tricky. And that's why I've created this guide to help find the best live chat software for your specific needs. So let's cut to the chase!
5 Best Live Chat Software Solutions
From my personal experience, the best live chat platforms are Tidio, LiveChat, Freshchat, ZenDesk, and Intercom. Now, let's check out how each of them can help you provide better support for your customers.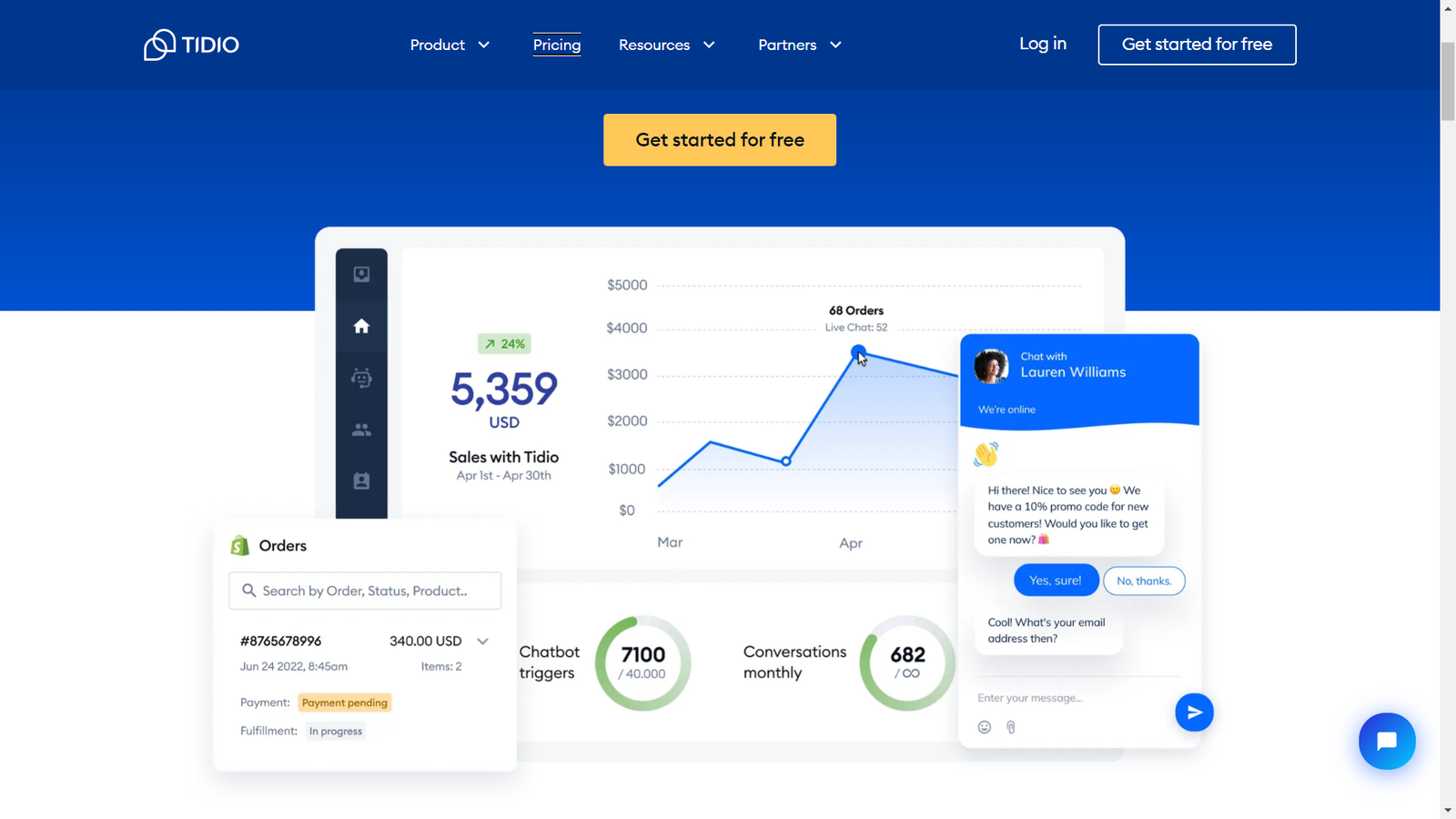 Overview
Tidio Chat is an online live chat software that consolidates messages from various channels like emails, Facebook Messenger, and website chat widgets, into a unified agent interface, along with a supplementary chat widget that can be added to your website. This allows you to manage all customer messages simultaneously, using the same tools, regardless of the source of the message.
Highlights
Live typing: See what your customers are typing in real-time to be able to respond faster.

Chat transcripts: Easily save your chat with customers for future reference and following-up.

AI chat automation: Provide fast customer support with AI chatbots and canned responses.

Integrations: Tidio integrates with Shopify, Wix, Zendesk, Zapier, WordPress, Hubspot, Mailchimp, and more.

Tracking: Monitor visitor activity using viewed pages and live visitor lists.
Functionality
One area where Tidio stands out is the sheer amount of triggers you can set for the live chatbot. You can use triggers to start a new bot workflow based on the customer's query and behavior.
After opening the chatbots tab from the left-side navigation bar, click on the "Add from scratch" button, and after setting up a workflow, you'll be prompted to choose the trigger that'd start the workflow you've created.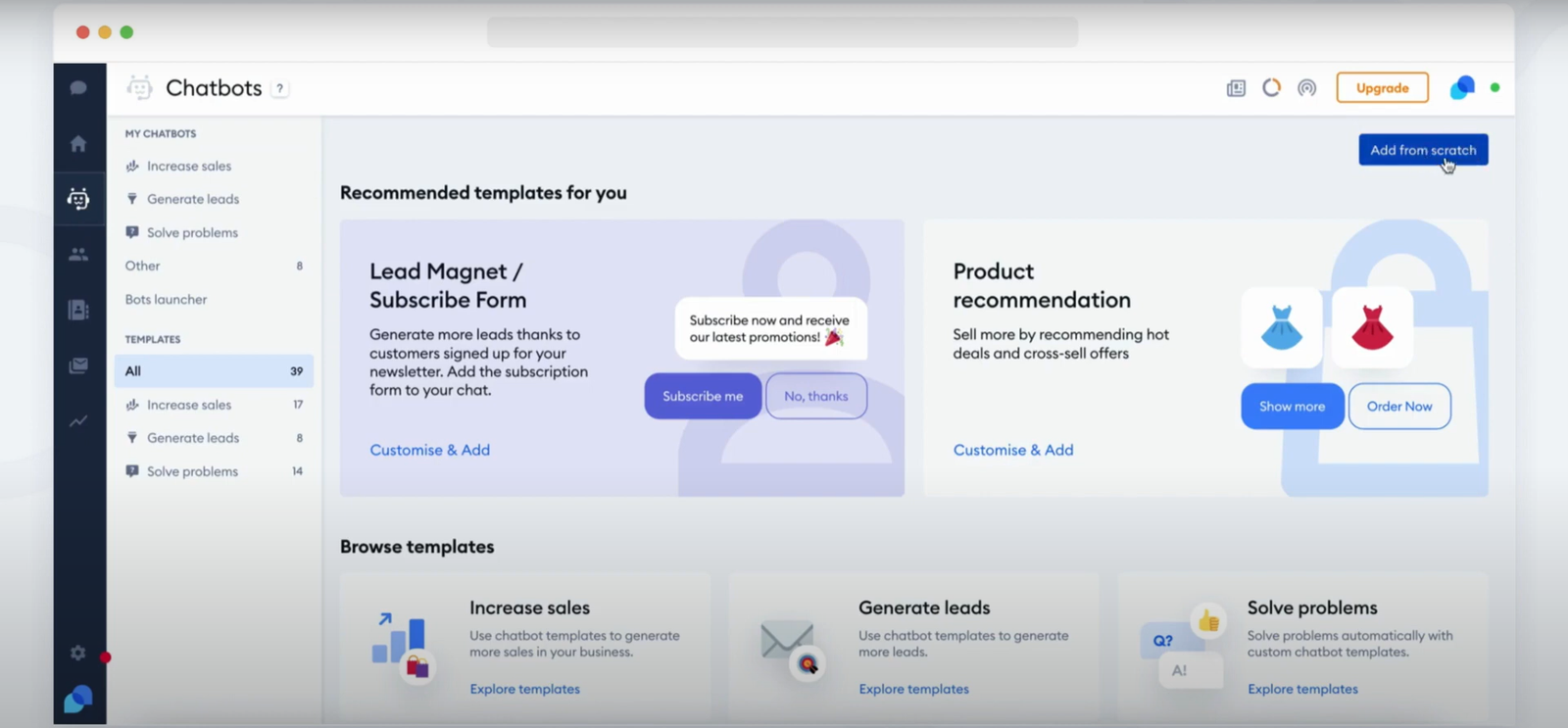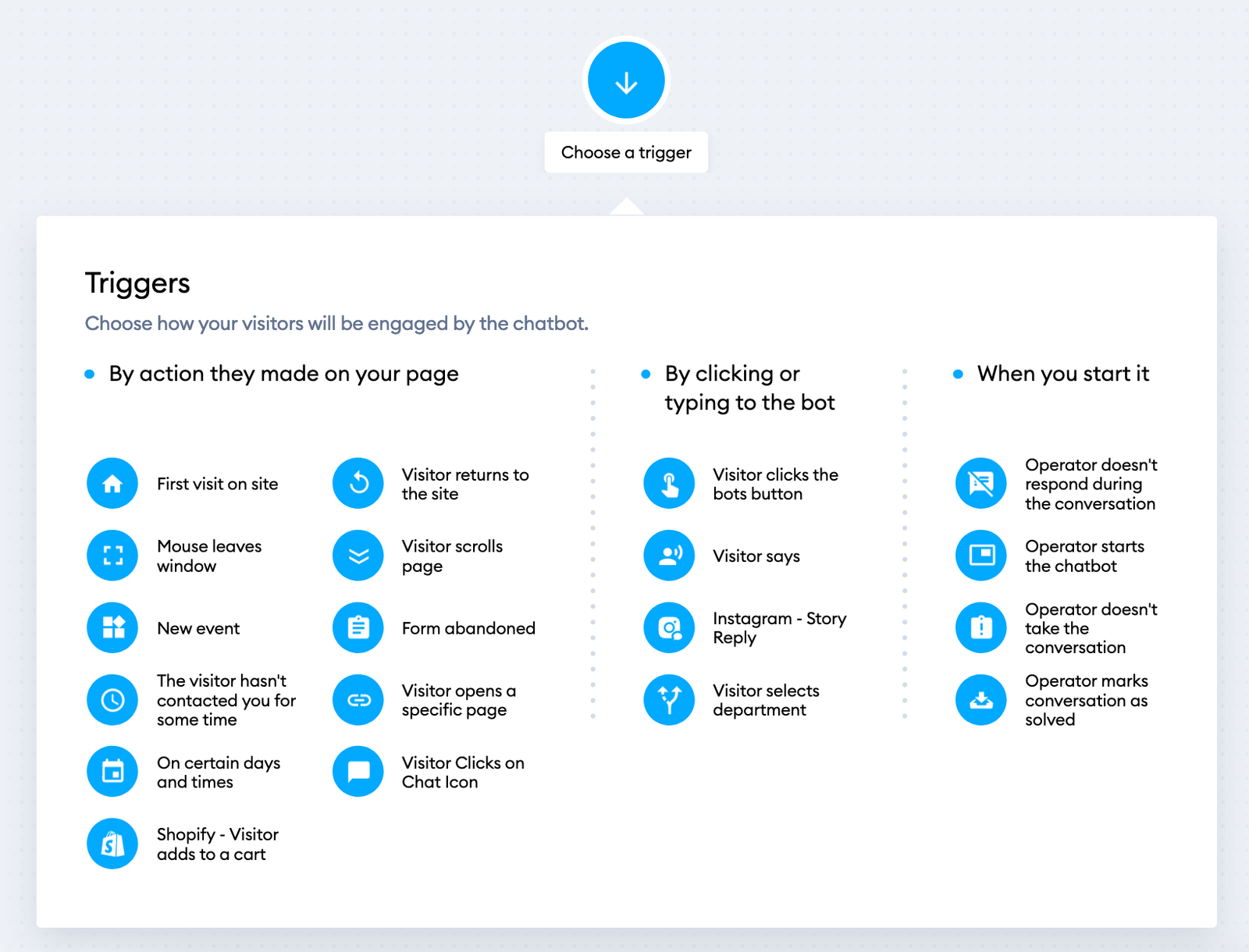 Pricing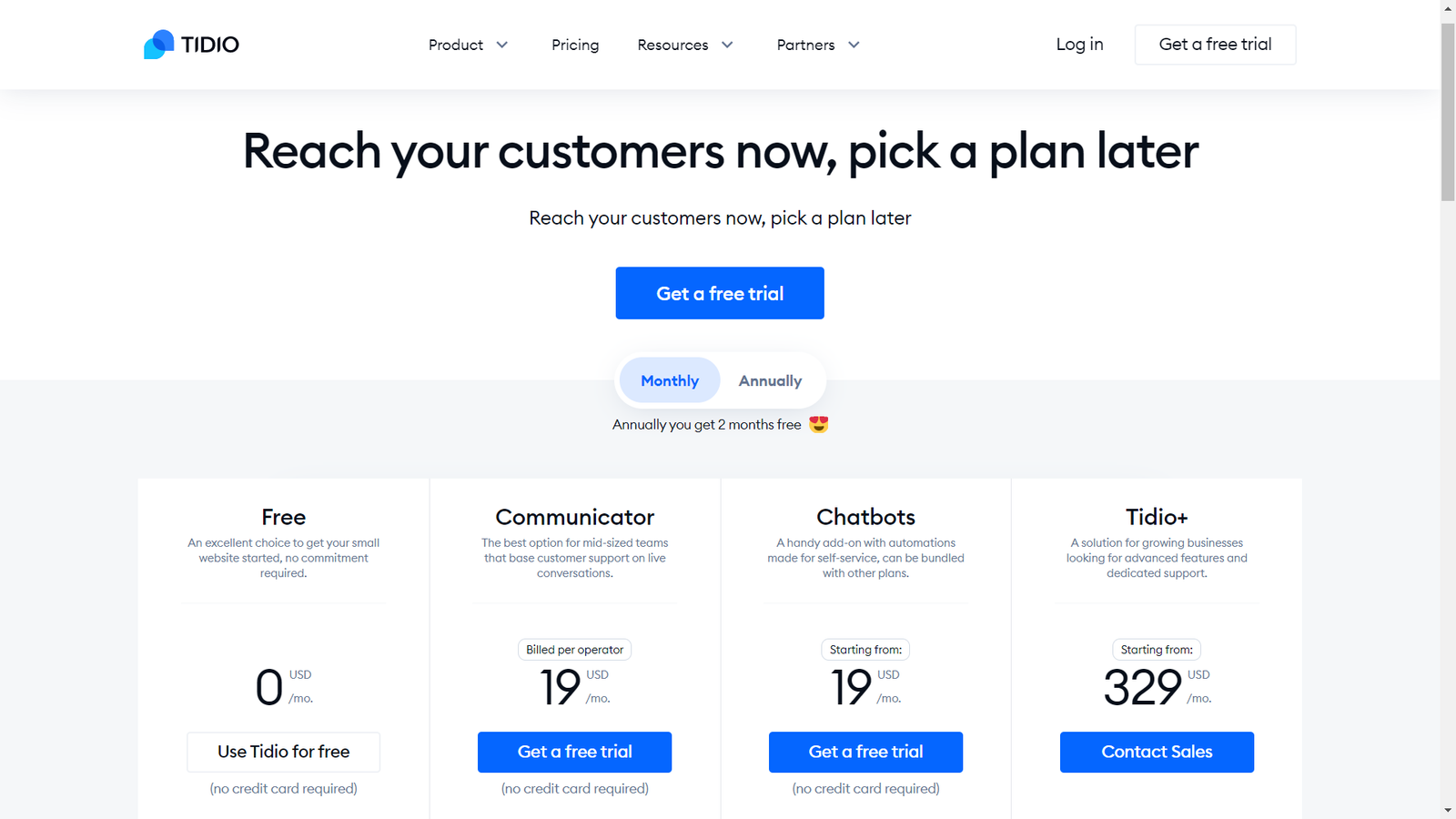 Tidio offers 4 plans: Free, Team ($19 per operator per month), Chatbots (starting from $19 per month), and Tidio+ ($329 per month).
The Free plan is a great choice for small websites. It includes live chat for up to 50 unique conversations and chatbot conversations with up to 100 users, as well as email support.
The Team plan, on the other hand, is suitable for mid-sized teams that rely on live conversations for customer support. This plan includes unlimited live chat conversations, up to 5 operators, native Shopify integration, live typing, viewed pages, live visitors list, notes, chatbots, and more.
The Chatbots plan is an add-on to any plan that offers automation made for self-service. It includes 1000 triggers for chatbots, email support, and all the features of the Free plan, plus 35+ chatbot templates, a visual chatbot editor, and Zapier integration.
For growing businesses looking for advanced features and dedicated support, Tidio+ offers unlimited live chat conversations, a custom number of operators, priority support, custom chatbot engagements, and more.
Customer Thoughts
Tidio stands out among live chat tools as it provides a mobile app, enabling us to remain connected with our customers no matter where we are.

Sometimes, Tidio sends "spammy-looking" emails to my customers.

Tidio's notification settings are easy to set up, ensuring that customer service inquiries are never missed, and their file-sharing capabilities are a plus.

Tidio's chat syncing feature between different channels, such as Instagram, Messenger, and multiple websites, makes communication easier for both the customer and the user.

The chatbot initiation limit is very restrictive for us.

I've found configuring the chat sequence to be pretty straightforward. Also, Tidio utilizes its past interactions with our customers to adapt to variations of similar inquiries.

The integration with third-party applications makes Tidio even more useful for us.
Bottom Line
In my opinion, Tidio is among the best live chat support software solutions for businesses of all sizes. There's also a free plan that lets you get started with no commitment.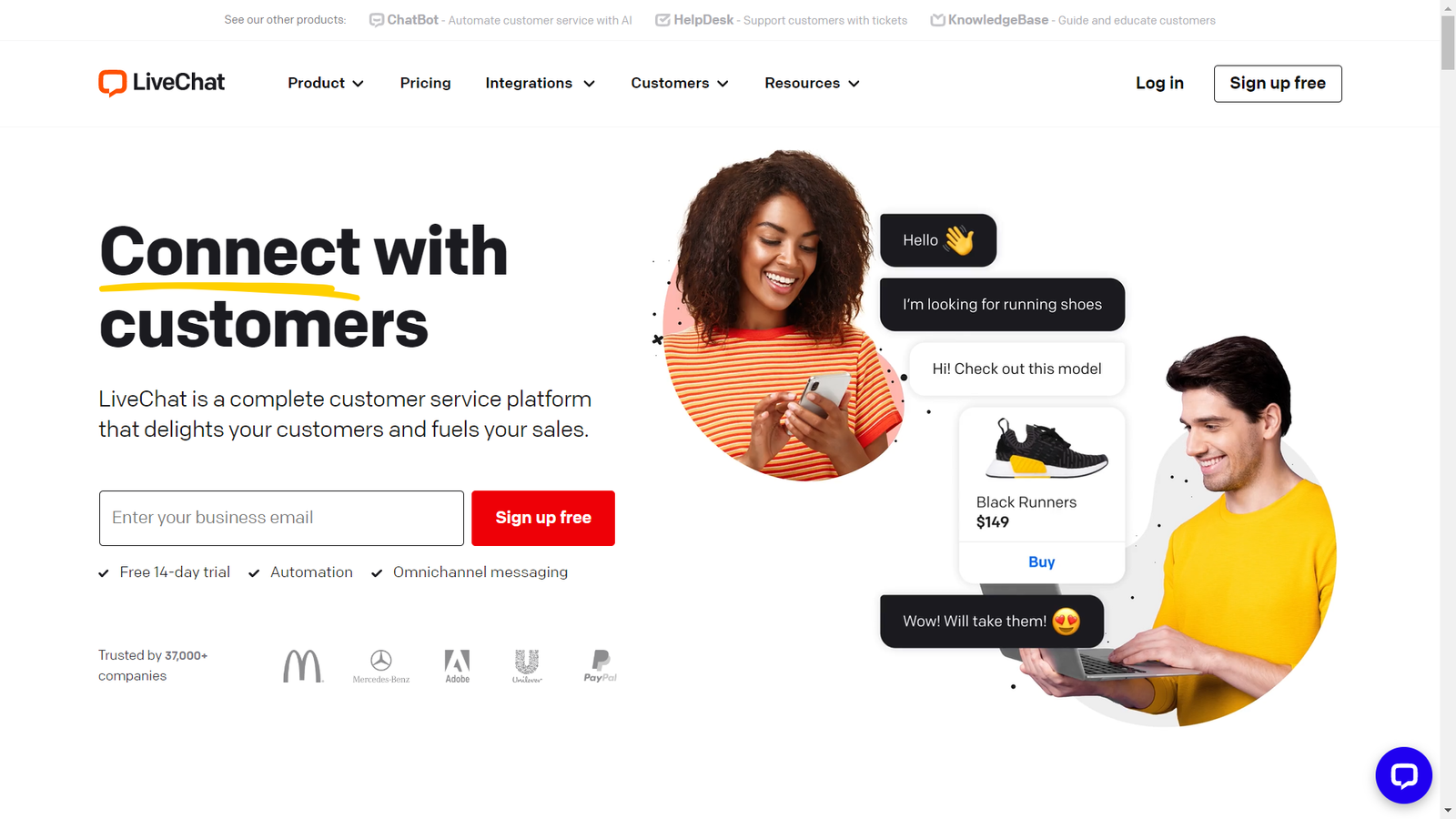 Overview
LiveChat is a chat platform that enables you to manage customer communications and generate more leads. It boasts several features such as web analytics and chat transfer that make it a powerful tool for customer acquisition and retention.
Highlights
Message Sneak-Peek: See what customers are typing before they send it, and reply faster.

Chat Ratings: Collect feedback to improve your customer service using chat ratings.

Targeted Messages: Increase customer engagement with personalized, interactive messages.

Chat Transfer: Transfer chats between team members to facilitate collaboration.

Eye-Catchers: Use eye-catching elements to grab visitors' attention.

Routing Rules: Route chats to the best-matching team members based on the customer's problem.
Functionality
For me, the best thing about LiveChat is that it lets me create automated, focused messages that serve as greetings and announcements to encourage customers and leads to engage in a chat.
These messages can be tailored based on the specific page or type of visitor. For example, you can set different greetings for first-time or returning visitors.
To set up your targeted greetings, open your LiveChat agent app and navigate to Settings>Engagement>Targeted messages.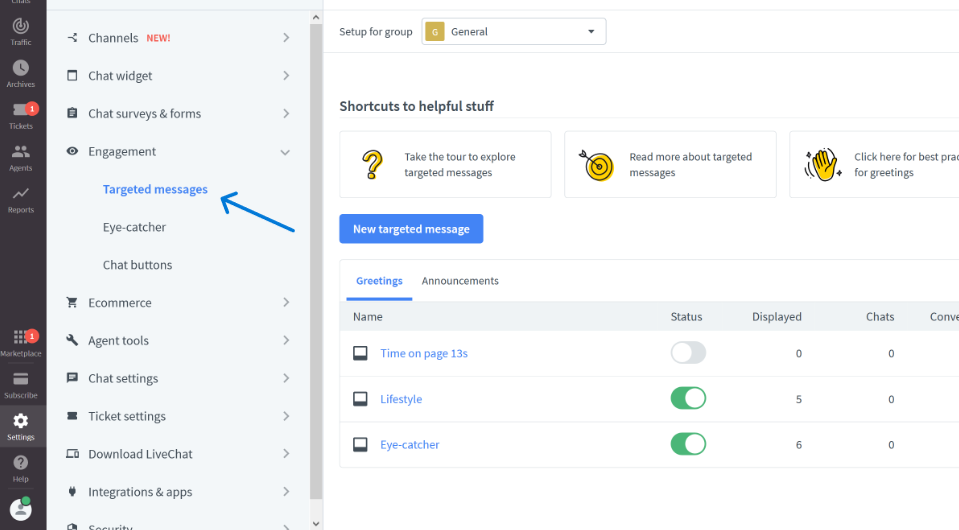 Pricing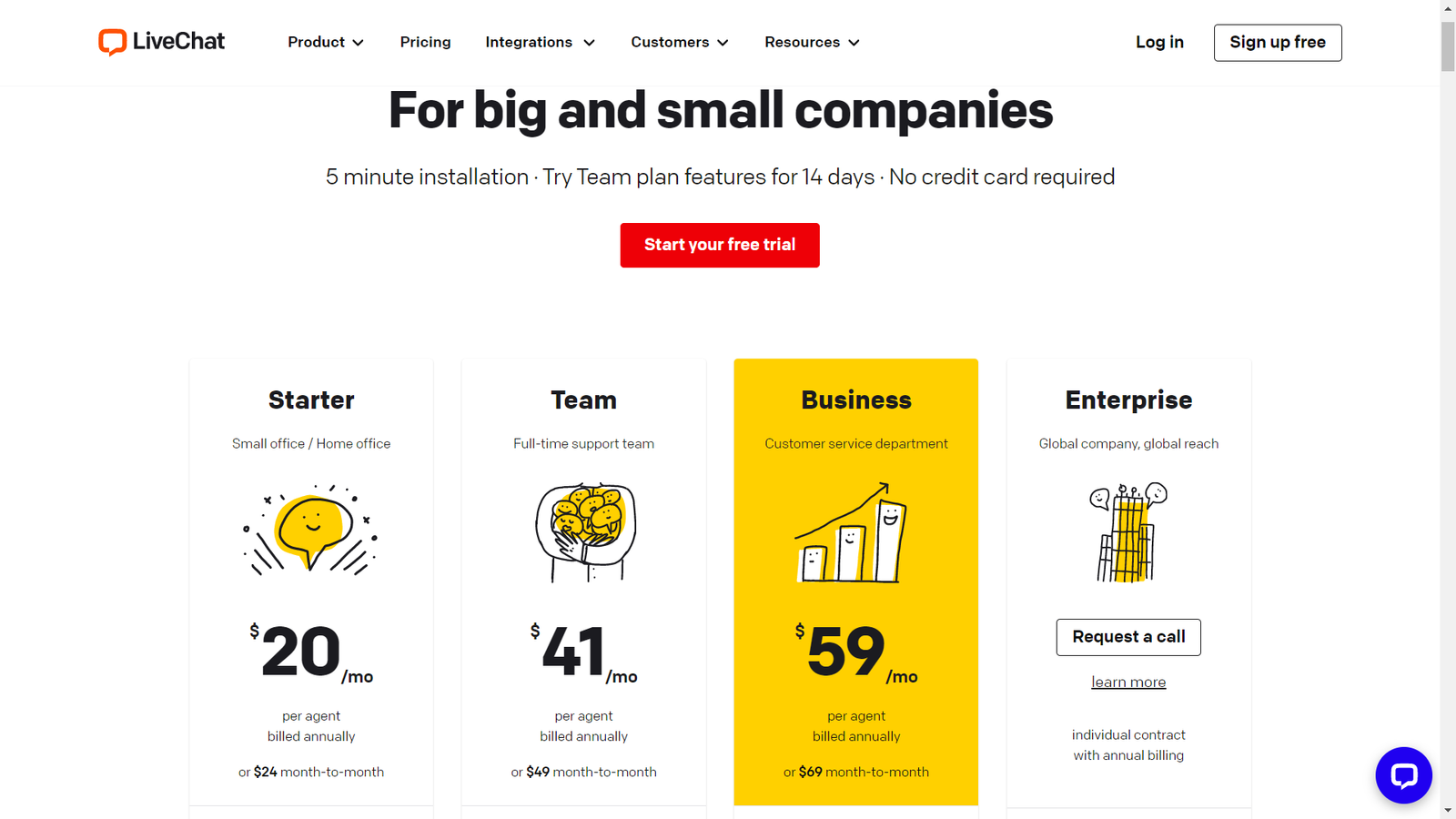 LiveChat offers 4 plans: Starter ($20/month per agent), Team ($41/month per agent), Business ($59/month per agent), and Enterprise (custom pricing with annual billing).
The Starter plan is perfect for small offices and home-based businesses, with a 60-day chat history, basic widget customization, a ticketing system, and data security.
The Team plan is for full-time support teams, providing unlimited chat history, full widget customization, data security, and basic reporting. The Business plan, on the other hand, is designed for customer service departments, with features like agent groups, multiple brandings, staffing prediction, and a work scheduler.
The Enterprise package includes all the features of the Business plan, as well as dedicated account managers, product training, software engineer support and security assistance
Customer Thoughts
The LiveChat integration with Shopify has been a lifesaver for me as it helps me share product information and articles directly with my clients in the chat.

I love LiveChat's customization options that let me personalize my chat box and messages to suit my brand.

LiveChat's automation and asynchronous communication have been beneficial to my small business, making it easy to engage with leads and manage customer inquiries.

I appreciate LiveChat's seamless integration with different messaging apps, which allows our customers to interact with our support team through their favorite messaging app.

LiveChat's ticket management system can sometimes be confusing, and tickets go unresolved due to poor notifications.

For us, LiveChat's time lag can sometimes frustrate customers and decrease employee efficiency.
Bottom Line
From my experience, LiveChat is a great live chat solution that makes it possible to proactively engage your customers and increase customer satisfaction. You can try one of the plans for 14 days to get hands-on experience with the platform.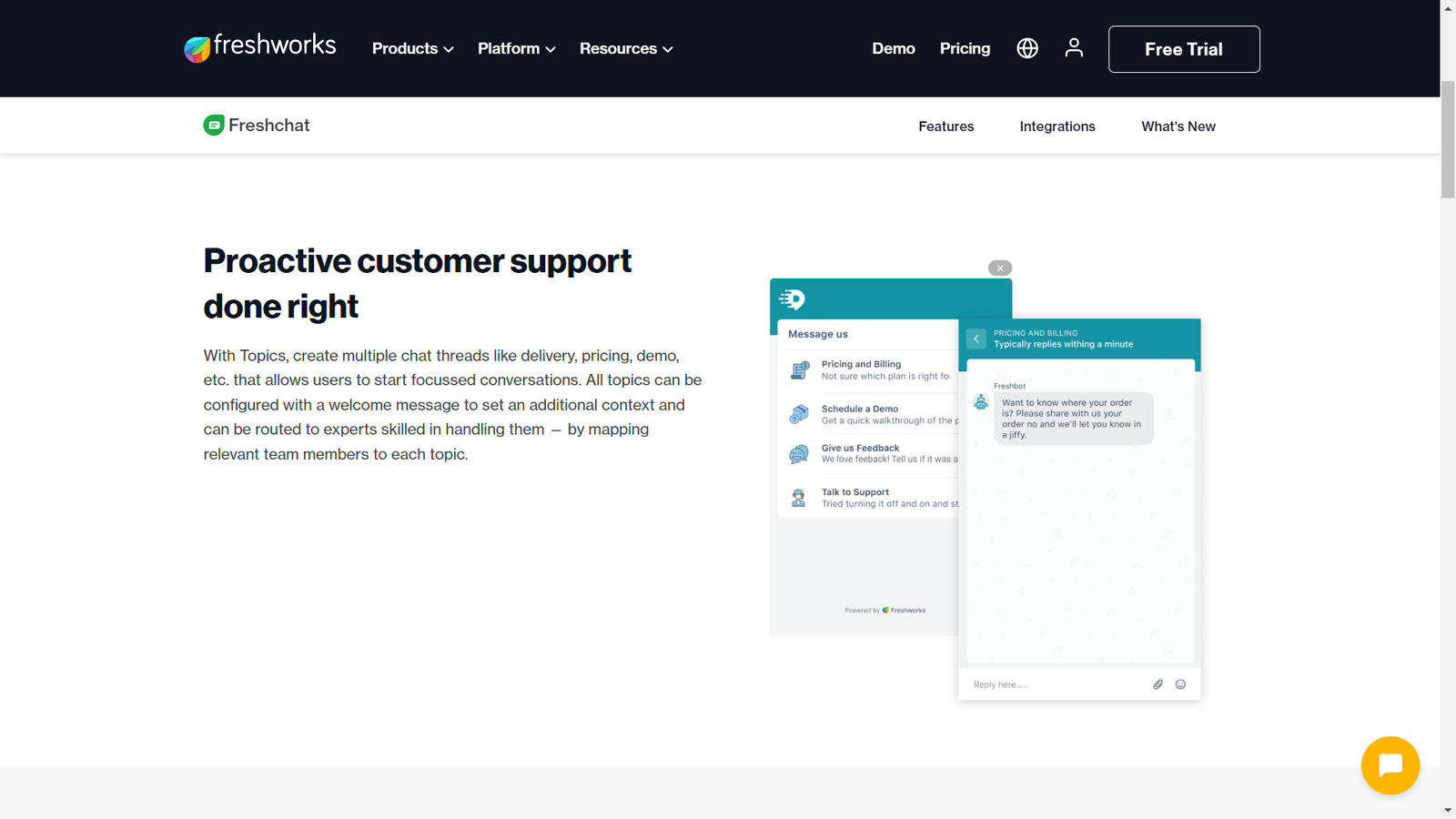 Overview
Freshchat is a live chat service that provides top-notch support for your customers by combining human expertise with AI. Freshchat has omnichannel support, which enables your agents to respond quickly to customers regardless of the channel they use.
Highlights
Messaging channels: Engage customers on their preferred channels such as WhatsApp, Facebook Messenger, and Apple Business Chat.

Chatbots: Utilize AI-enabled chatbots to provide your customers with instant and accurate responses, even outside business hours.

Team Inbox: Access customer data and third-party apps from a single inbox to quickly resolve conversations.

Live Translate: Reply to customers with different ethnic backgrounds in real-time using live translation.

Powerful Insights: Collect data-driven insights into team performance and customer behavior to boost agent and customer satisfaction.
Functionality
Navigating through customer chats can be tricky in many live chat apps. Freshchat has solved this problem with custom views, which enable agents to filter through chats by topic.
So, for example, if you want to view the chats related to billing and returning issues, simply add the "billing" and "returns" tags to the topics textbox to view them.
Pricing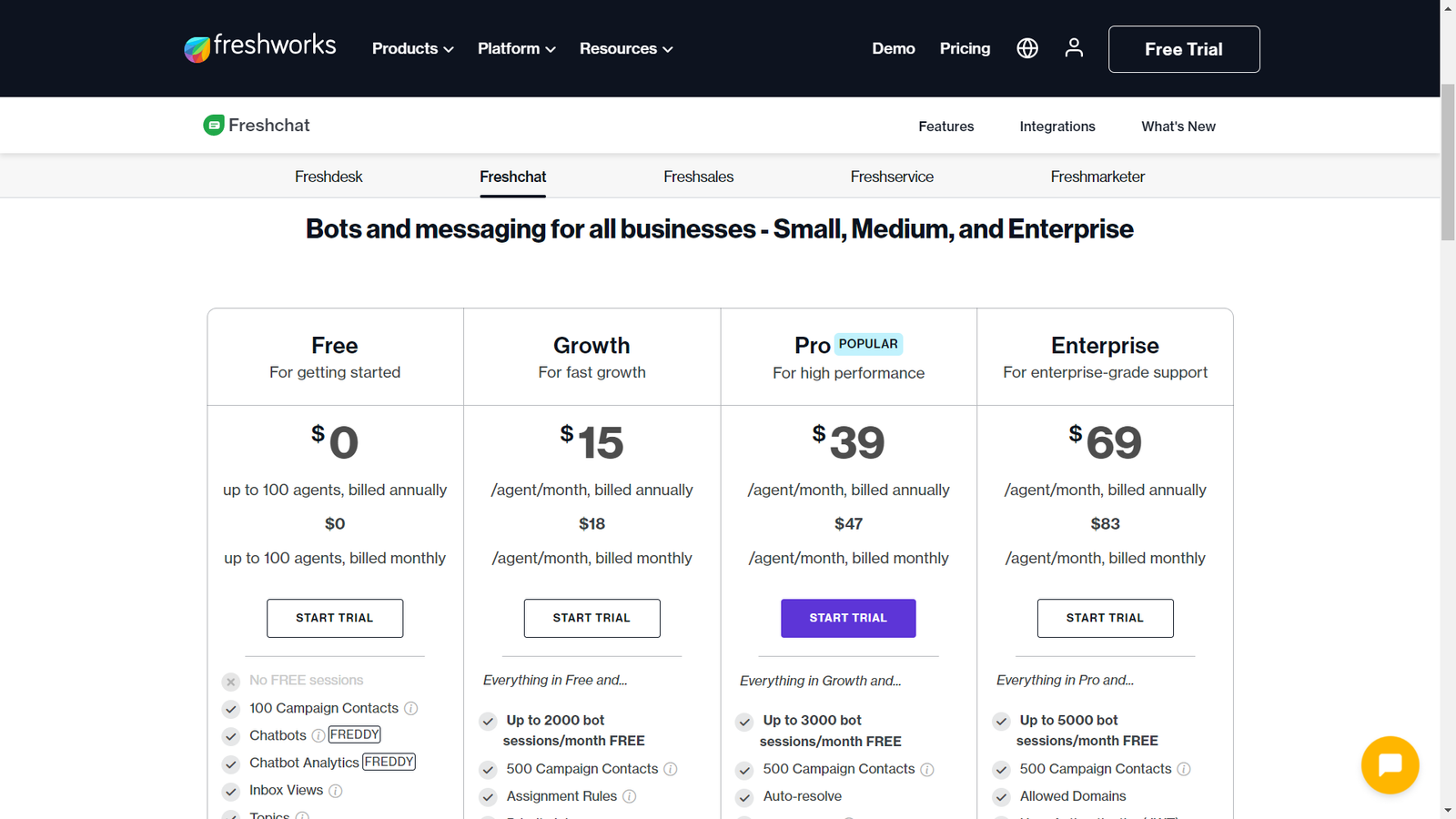 Freshchat offers 4 pricing plans: Free, Growth ($15/agent per month), Pro ($39/agent per month), and Enterprise ($69/agent per month).
The Free plan is perfect for getting started, allowing up to 100 agents. It includes chatbots, inbox views, conversation switches, and more.
The Growth plan, on the flip side, includes everything in the Free plan, plus up to 2000 bot sessions per month, 500 campaign contacts, assignment rules, canned responses, and user segmentation, among other things.
The Pro plan offers 3000 bot sessions per month, 500 campaign contacts, auto-resolve, live translation, advanced automations, team performance and agent availability reports, and conversation APIs.
As for the Enterprise plan, you get up to 5000 bot sessions per month, 500 campaign contacts, allowed domains, user authentication and more.
Customer Thoughts
I like the automation and workflow features in Freshchat; they make it easier for me to automate repetitive tasks and streamline support processes.

The integration with multiple channels, especially Slack, is a nice addition to Freshchat.

The dashboard setup and integration to my WordPress website were simple, and the chat was clean and easy for my team to use.

I found it a bit tricky to incorporate Freshchat into my website, and the inbox messages did not include real customer names, which made it hard to know who was who.

I appreciate the feature that notifies me when someone intends to chat. It indicates that they have visited my website, gone through my content and are willing to interact with me before leaving.

Figuring out how to transfer chats was very difficult for us.
Bottom Line
Freshchat is a great live chat software that enables you to leverage extensive AI and automation capabilities to streamline your customer support operations. If you're looking for free live chat software, you can sign up for the free plan, or try one of the higher-tier plans with a 21-day free trial.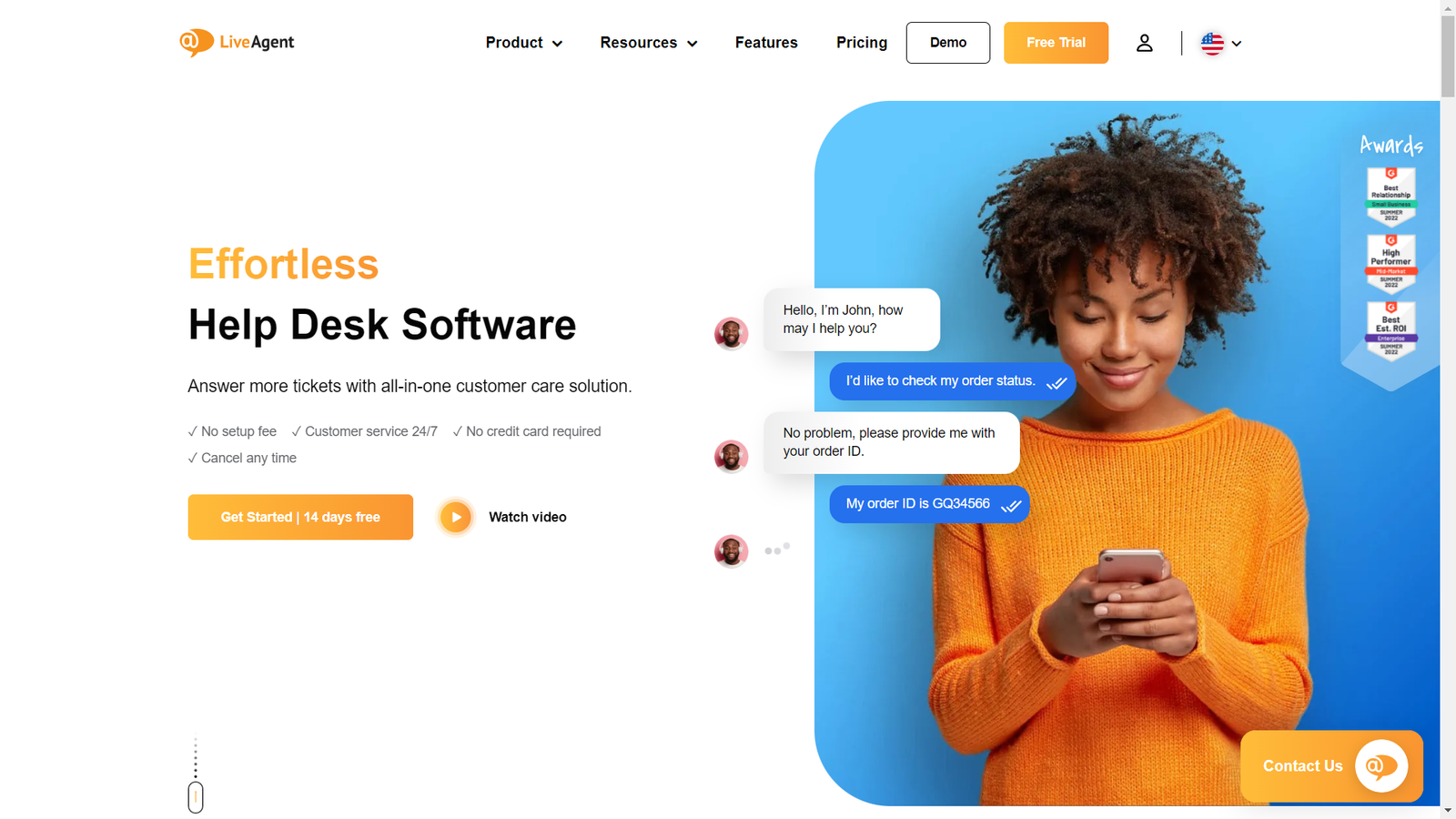 Overview
LiveAgent is a comprehensive help desk and live-chat software solution that enables you to personalize customer interactions with one of the fastest chat widgets out there. Its features comprise real-time live chat, omnichannel universal inbox, customer service portal, customer segmentation, knowledge base, and built-in call center.
Highlights
Proactive chat invitations: Catch customers' attention and prompt them to chat with customizable messages, turning visitors into paying customers.

Website monitoring: Track website visitors, view active agents and ongoing chats, and interact with potential customers by sending chat messages.

Real-time typing view: See what customers are typing before they send the message, allowing you to prepare answers faster and provide speedy customer support.

Flexible chat integration: Easily integrate LiveAgent's live chat widget into your website with customizable settings, including branding, appearance, and pre-chat form.

Chat button customization: Create your own chat button or choose one from the gallery. Then, customize its position, colors, animation, and mobile options.

Chat history and distribution: View previous and current chats, filter search results, distribute chats randomly or based on priorities, and monitor chat distribution methods for efficient handling.
Functionality
LiveAgent has a very handy feature that lets you set a max queue length for the chat buttons. This can help you provide support more effectively based on your team's capacity, without frustrating your customers.
To set a max queue length, right-click on the chat button and click edit. Under the Overview settings, write the maximum number of customers that can wait in the queue in the textbox next to "Max Queue Length".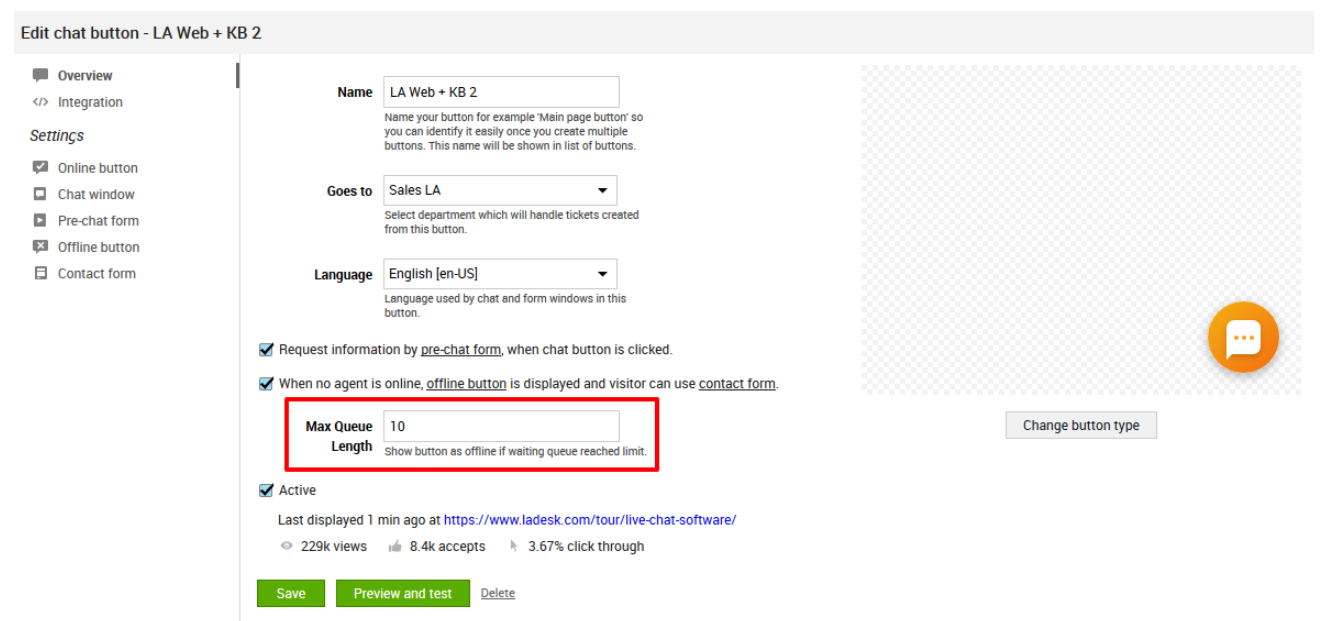 Pricing
LiveAgent has four plans: Small business ($9/agent per month), Medium business ($29/agent per month), Large business ($49/agent per month), and Enterprise ($69/agent per month).
The first plan is ideal for small businesses with 1 incoming and 3 outgoing email accounts, 10 departments, and 1 live chat button.
The Medium business plan offers 10 incoming and outgoing email accounts, 20 departments, call center support, and 10 SLA levels. The Large business plan, on the other hand, includes 40 incoming and outgoing email accounts, 50 departments, 3 WhatsApp accounts, and an audit log.
The Enterprise plan accommodates up to 100 incoming and outgoing email accounts, 100 departments, 6 WhatsApp accounts, and custom billing setup.
Customer Thoughts
LiveAgent's Department functionality is the best part of this product as an admin. It helps me manage different areas efficiently, and the out-of-the-box automations are great.

LiveAgent puts Facebook or email in one inbox, making it a very good software that benefits both customers and agents.

The ability to add chat buttons and customize them has been quite beneficial for our company.

The spam filter in LiveAgent doesn't work well, as we keep receiving spam emails from the same address despite marking them as spam multiple times.

I love how LiveAgent gives me an overview of all my projects, making it easy to get organized and divide tasks across my team.

Some embedding options in LiveAgent were hard to get running for us.
Bottom Line
From where I stand, LiveAgent is a pretty solid customer service solution with flexible functionality, customization, and pricing. All plans come with a 7 or 30 day free trial.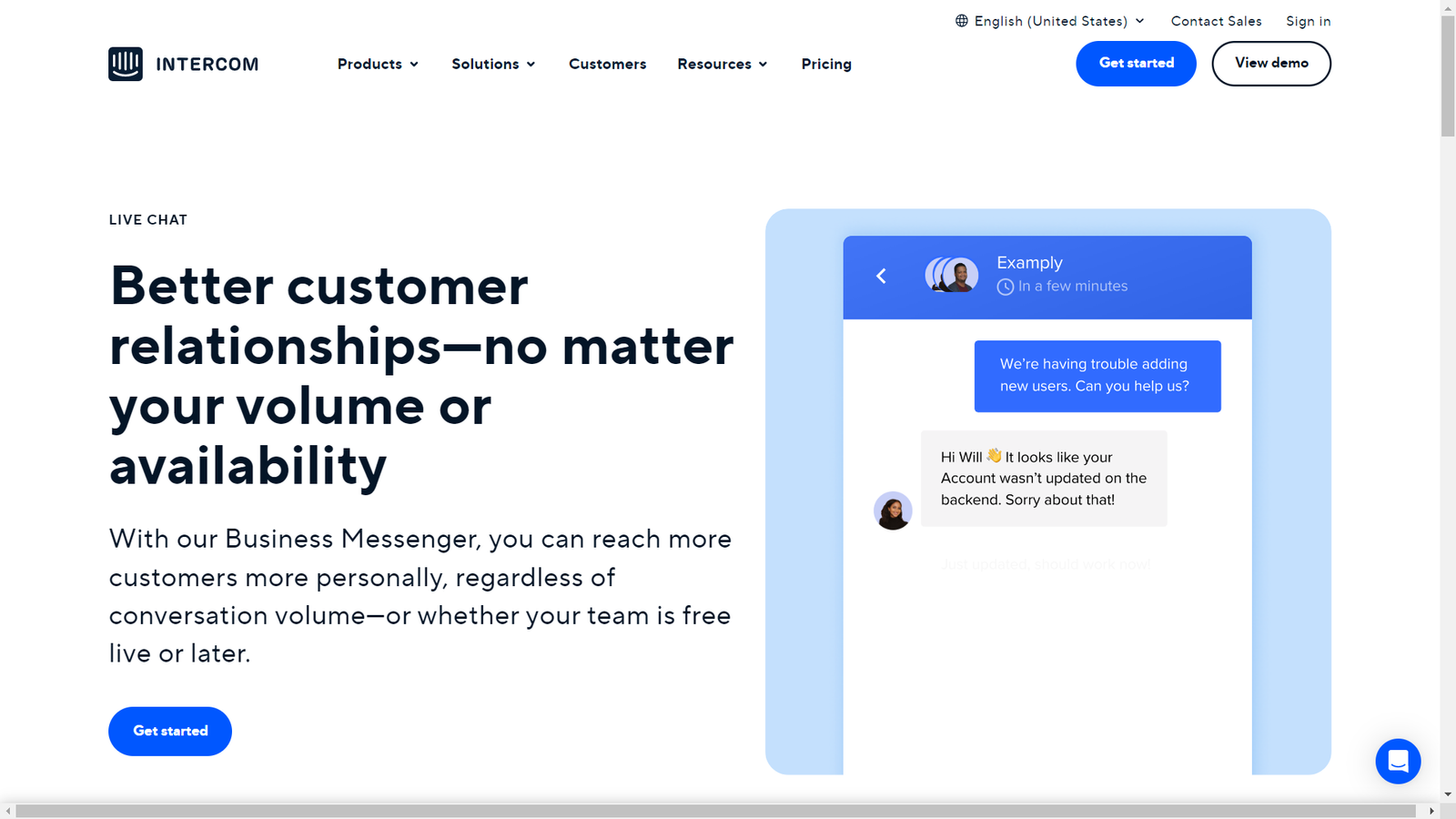 Overview
Intercom is a comprehensive customer service chat tool that combines automation and human support to create an exceptional customer experience. Its aim is to enhance customer satisfaction while keeping costs under control with self-service AI chatbots.
Highlights
Multi-Channel Chat: Chat with customers in the product or on their favorite messaging app in one, centralized platform and a unified inbox.

Workflows: Engage customers more effectively with automated, personalized workflows.

Customer Data Platform: Get context that helps you personalize support for each customer.

Proactive and Self-Serve Support: Enable customers to get the answer to their queries proactively by addressing common issues with bots and apps.

Training Resources: Help your agents learn how to get the most out of Intercom with a large library of training materials.
Functionality
Intercom's predictive answer feature suggests relevant responses to customers as they type, increasing the likelihood of resolving conversations before they even begin.
When a customer initiates a conversation, Resolution Bot/Fin utilizes contextual information such as the page they are on within your app to provide the most frequently useful answers.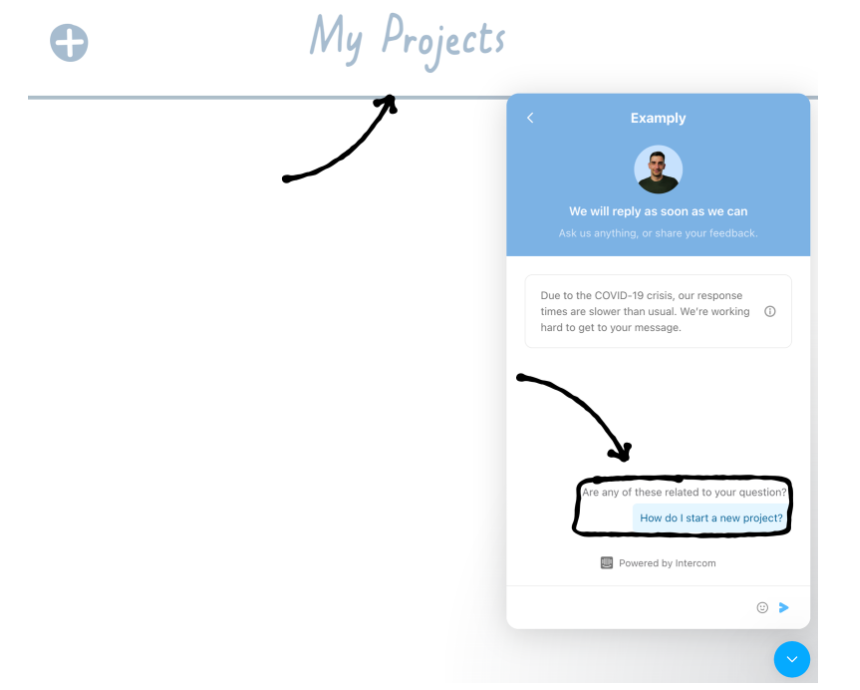 To enable this feature, go to Automation>Settings and adjust your preferences under the "Suggest relevant custom answers" section.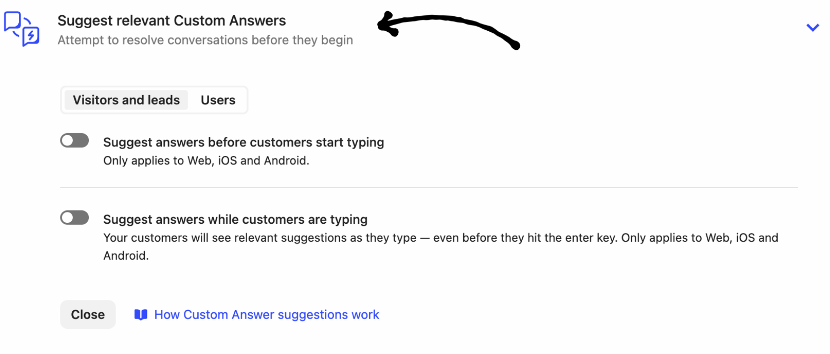 Pricing
Intercom offers 3 pricing plans.
The Starter plan is perfect for startups and small teams. It starts at $74 per month and includes features such as the Intercom Messenger, chat and email channels, a shared inbox, a basic help center, and integrations with Slack, HubSpot, and Pipedrive.
The Pro plan is intended for businesses that need to scale their personalized support. This plan is custom priced and includes features like team inboxes, ticketing, assignment rules and macros, chatbots, the Resolution Bot, and a multilingual help center.
As for the top-tier Premium plan, which is also custom priced, you get SLA rules, workload management, role-based permissions, team-level workflows, custom and real-time reporting, and more.
Customer Thoughts
The training materials are very helpful for our team.

The embedded chats with history are very convenient.

Integrations with Intercom are great, and once they're done, every marketer or customer care person will be delighted.

I like that I can see what users are doing on my website and send targeted messages accordingly.

There's no API call to archive a segment.

Some ad blockers catch Intercom as an ad and block it, creating a less-than-stellar experience for my customers.
Bottom Line
Intercom is great for small businesses looking for a live chat solution with a fixed monthly fee regardless of the team's capacity. You can try it with another team member using the 14-day free trial.
What Is Live Chat Software?
Live chat software is a digital tool that lets you offer quick, real-time human or AI-assisted support for your customers through a chat window. It provides your customers with one more method to reach out to you for sales or support requests.
Why Your Business Needs Live Chat Software
Live chat software can be an important asset to your business, both for sales and customer support. Equipping your customer support team with a live chat tool can help you improve customer service, boost sales, build customer loyalty, and make your customer more satisfied.
Not to mention, offering live chat as a support channel can help you save costs by enabling each agent to handle multiple customers at once, which is typically not possible with phone support.
According to Kayako, 52% of customers are more likely to buy again from you if you offer high-quality live chat support. This gives you an idea of how vital offering live chat as part of your support ecosystem is.
Conclusion
That was my two cents on the best live chat software platforms.
If I were you, I'd write down a list of the essential and nice-to-have features and functionality that I need in a live chat window tool. Then, after setting a budget, I'd pick the solution that closely matches my business needs without breaking the bank for it.
And remember, it's always a good idea to try the free plan or trial first before committing long-term.